I've researched and compared the best bbq smokers on the UK market. My top recommendation is the ProQ BBQ Smoker.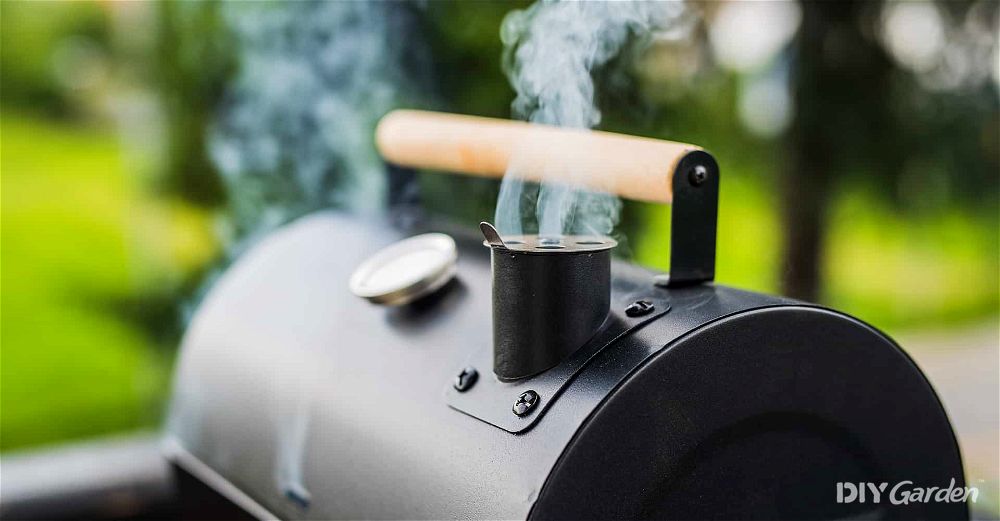 My Top Recommended BBQ Smokers
My Product Reviews & Opinions
Compare Product Features Here
Use the dropdown to sort the table by the feature that's most important to you.


Our score
Power Source
Grill Size
Number of Functions
Dimensions
Outer Materials
Weight
Wheels?
Cover Included?
Tips For Buying a Quality BBQ Smoker
If you want to get the most flexibility out of a BBQ smoker, look for a multi-functional model that can grill, smoke and bake. At the very least, look for a combined smoker and grill. If you're passionate about al-fresco dining, smokers that also offer the possibility to bake food often have facilities for cooking bread and pizza as well as meat.
Cylindrical smokers are the best type for taking camping and to the beach

. They're more compact and can generally fit in the back of the car.

If transporting your BBQ smoker is a priority, go for an option that weighs around 20 kg

. These will generally be made of steel and may have porcelain coatings to help retain heat and stop food sticking.

Some of the best BBQ smokers are made from ceramic. This retains heat well which is great for slow cooking, but is extremely heavy so only appropriate for cooking at home.
As a general guide, when grilling food, a grill that's 30 cm in diameter will cater to small-to-medium groups

. A 50 cm grill will feed around 10 people. If entertaining guests is a main priority, large 'range' smokers will offer a lot of space to cook different foods.

A warming rack can also be useful to look out for if cooking for a lot of people

.

To generally facilitate the cooking process, there are some additional features that it can help to look out for, such as foldable side tables, built-in thermometers and cool-touch tabs and handles.
After comparing a range of BBQ smokers, my top choice is the ProQ BBQ Smoker. It offers four functions, making it possible to BBQ, grill, roast and smoke food, and is big enough to feed up to 12 people. At the same time, it's lightweight at 16 kg, so can be taken on trips.
Why You Can Trust DIY Garden
At DIY Garden, we believe your trust is earned through our knowledge and transparency. Our team of experts has over 75 years collective experience in the gardening and DIY space. Since the website's creation in 2016 we've tested over 275 products, ensuring our recommendations are based on real experience. We're open about what we've tried and what we've researched, and this is clearly labelled in our product reviews. Every year, we revisit and update our suggestions to include worthy new additions to the market. Our aim is to give you straightforward, honest, and helpful recommendations, so you can confidently choose the best tools and equipment for your projects.
How to Choose The Best BBQ Smoker
The joy of owning a BBQ smoker is that you have the ability to be so much more creative with your summer food choices.
Not only that, but most smokers have an impressive capacity and make it so much easier to juggle cooking several meals and portions at the same time. Plus, built-in thermometers in BBQ smokers take the guesswork (and stress!) out of BBQ cooking.
So, summer's on its way! What are you waiting for! Let's make sure you get the best BBQ smoker for your money and don't end up with something sub-par. The following advice should help you make an informed decision.
READ NEXT: The Best Gas BBQ
BBQ Smoker Design
The most important things to consider are versatility, portability and capacity.
Versatility
The best BBQ smokers can be used for various functions – not just smoking meat and veg. A unit that can be used as at least a grill and smoker will offer more versatility. If you're really passionate about outdoor cooking, look for a smoker that can bake food as well. This opens up even more possibilities, making it possible to cook items like bread and pizza.
Portability
If you're an outdoorsy person, you might want a BBQ smoker that you can take on camping trips or to the beach. In this case, it's got to be sufficiently small. Look out for a grilling area of around 30 cm in diameter, this should make the unit easy enough to manage and fit in the car. When it comes to weight, you'll want to go for something around the 20 kg mark. Some smokers, even reasonably compact ones, can weigh in excess of 80 kg – needless to say, these aren't ideal for taking on holiday!
If you want a smoker to use in your garden, you're obviously much less limited in terms of size and design. If you do choose a bigger, heavier smoker, make sure it has wheels so you don't have to carry it.
Capacity
Depending on the size and design of the smoker, you'll be able to cater to different numbers of people and cook different types of meat.
Cylindrical smokers can have a good capacity for fitting entire chickens, and cook them evenly, as the meat hangs in the centre of the smoker. If there is a grill, a 50 cm diameter grill will be able to accommodate upwards of 10 burger patties, whilst a 30 cm grill will fit approximately five.
Additional Features
Additional features aren't always necessary, but they can greatly improve your cooking experience so some you might want to look out for are the following:
Built-in Temperature Gauge
A built-in thermometer ensures you to know that the correct temperature is set and helps you maintain the fire correctly for whatever you are cooking. This is essential when smoke-cooking food. Having a thermometer also gets rid of the necessity to keep opening the BBQ/smoker to check on how the food is doing, ultimately detrimental in the long run as this lets heat escape!
Access Points for Meat Probes
Meat probes tend to be long metal probes with a thermometer on the end which can be inserted into food to check it's cooked/is cooking in the middle. They're an easy tool to determine when things are cooked and to what level. If your smoker has an access point for a meat probe you can check the meat without opening the smoker and losing the heat and smoke.
Ventilation
Having ventilation on your smoker is important. If you are slow-cooking something for 8 hours you will want ventilation so that the older smoke doesn't linger as this will affect the taste of the food negatively. On the other hand, if you are cooking something fast you won't want the smoke escaping so it's nice to be able to toggle the ventilation.
Good ventilation also helps you control the temperature allowing you to smoke things faster or slower.
Choosing the Right Size
Smokers come in a range of sizes. Some are large enough to cook several whole chickens which is great for parties, and others are portable so can easily be taken to the beach or camping.
As a general guide, a smoker with a 30 cm grilling area will generally be compact enough to travel with, but can feed at least five people. A 50 cm grill, or more, will feed upwards of 10 people.
Number of Compartments
The number of compartments will also effect the size of the unit. Most BBQ smokers have two or  three main compartments. The first section is at the bottom and this is the heat source. The second section is in the middle and is filled with water to provide smoke. The third section is the cooking section.
If these are stacked on top of each other, the smoker remains fairly compact. If these compartments are spread out across a range, the smoker can be pretty wide.
Wood Type for Smoking
Different types of wood create different flavours in food when smoking. Part of the fun of using a smoker is experimenting with different wood chips and creating new flavours.
Below, you'll find a list of some of the most popular wood types to use for smoking grills. Be aware that not all wood is safe for use with food, and you should never use a wood if you don't know what it is. If you're planning to try out a new wood type, research it first to make sure that it's not toxic and is safe for cooking with.
Apple Wood – gives a light, fruity flavour and goes well with both poultry and pork. Crab apple wood also gives a similar effect.
Ash Wood – a subtle flavour that is quite distinctive, may be preferred by some and not others! Good with fish.
Hickory Wood  – one of the most common woods used for smoking, gives a strong smoked flavour. Good with beef, pork and ham.
Maple Wood – creates a slightly sweet flavour. Goes well with poultry and cheese.
Oak Wood – a thick, strong smoked flavour. Commonly used for a range of different meats.
Red Oak Wood – touted as going particularly well with ribs
READ NEXT: The Best Charcoal BBQ
BBQ Smoker FAQs
How do I use a smoker BBQ?
The first thing to do is to light your heat source. This could be starting a wood or charcoal fire at the bottom, or lighting the gas, or simply turning it on if it's an electric smoker.
The heat source you use will affect the taste of your food. Using a nice smelling wood like cherry can really add to the taste. Experiment with different heat sources from charcoal to different woods to find out what you like.
For added smoke, you can use wood chips wrapped in pierced aluminium foil. This can add good flavour to your food and save you money. A good method is to use charcoal to start a nice long fire and add wood chips inside the foil pouch to add a nice smoky flavour of your choice.
The next step is to fill the water pan compartment. Water is often used on its own, however, you can use this water compartment to add flavour to your food. Adding a mixture of water and wine can add nice flavour to your meal. You can also use stock and add herbs and spices to really impress your guests.
Place the top compartment over the water pan and secure it tightly. You can then place what you are cooking inside this top compartment and cover it with the lid.
From here it's a matter of patience and maintaining the fire. You might need to top the fire and water up depending on what you are cooking and for how long for.
How does a BBQ smoker work?
Smokers are designed to smoke food to add flavour and to maintain a low heat for a long period of time to slow cook things. The most common type is the vertical smoker.
Vertical smokers have three compartments. At the lowest compartment, you put whatever you are using to generate heat and smoke. This can be wood or charcoal depending on personal preference and what your smoker is designed for.
The middle compartment is for water. This is a key component to your smoker as it regulates the heat of the smoker keeping it from running too hot and allowing you to cook things low and slow. It also adds moisture to whatever you are smoking keeping it tender and juicy.
Finally, you have what's called the smoking chamber. This is positioned above the water and is where you place the food.
Can you use a smoker as a BBQ?
This depends on the model you buy. A lot of smokers will have multiple functions, allowing you to use them as a traditional BBQ among other functions such as roasting or baking your food. Be sure to double-check this in the description if you want that option.
What's the difference between a smoker and a grill?
The main difference between a smoker and a grill is the cooking time and temperature. With a grill, food is cooked at a higher temperature and is cooked quickly. On the other hand, a smoker cooks food on a lower heat, cooking via indirect heat, over a longer period of time. With smoking, meat tends to be juicer and more tender. The fuel you use to produce the smoke and the smoke itself adds to the flavour of your food.
Is there any wood type that shouldn't be used in a BBQ smoker?
Yes. You should be careful about what type of wood you burn. Avoid any softwoods like pine, conifers, redwood, spruce etc. Not only do these give foods an unpleasant taste, they contain a large amount of terpenes which can cause sickness.
You should also avoid wood that has been chemically treated (this includes trees that have been sprayed with pesticides), has mould on it, or wood that comes from toxic trees like yew.
Don't use any wood if you don't know what it is, and always research if the wood you're planning to use is safe for smoking food.
Start typing and press enter to search