Our
Makita DUC353Z Twin 18V Cordless Chainsaw

Review

Surprisingly, I had nothing bad at all to say about this chainsaw (which doesn't often happen!). Not only was it my favourite out of all the cordless chainsaws that I tested, but I would choose this one over a petrol chainsaw too. It's a machine that lends itself well to light use around the home and garden, yet, as confirmed by my tree surgeon, it's also a tool that offers a number of merits for professional use too. No matter what you're hoping to achieve with a chainsaw (other than heavy-duty tree felling, for which you'd need a good petrol chainsaw anyway), this one won't let you down.

B01MQIAZ7J

0088381832724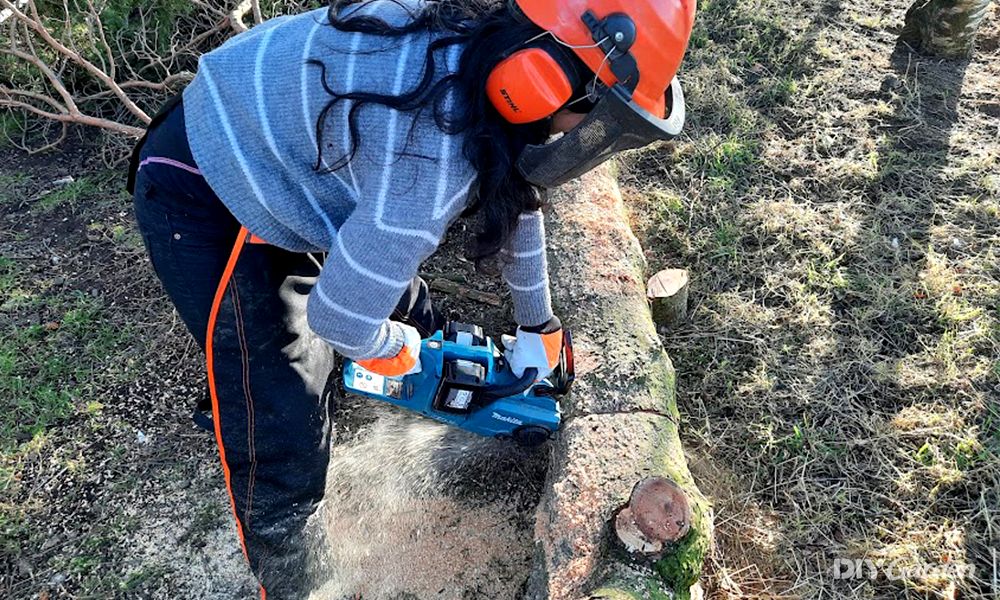 When it comes to power tools, Makita products are usually a big hit. This Japanese brand, which has been around for over 100 years, is known for producing superior products, something that I can personally confirm in terms of their cordless leaf blower that I recently reviewed.
However, Storm Arwen left me longing for the days when it was just leaves that littered my farm. The super-strong winds took down several mature trees, along with plenty of other branches, so I needed a good chainsaw to help me tidy up. As much as I love Makita products, I was doubtful as to whether a cordless chainsaw would be powerful enough for the job, so I was eager to find out whether or not I would be proved wrong.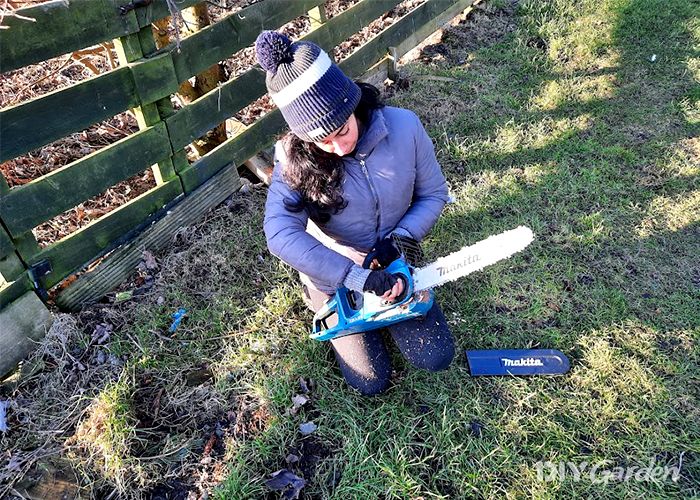 The first thing I noticed when I sat down to assemble this chainsaw was that there weren't any tools included in the box. Turns out, this is because you don't actually need any to put this chainsaw together.
The first step is unlocking and unscrewing the side panel (the lock is to prevent you from accidentally unscrewing it). Then, attach the bar, place the chain into the grooves of the bar, and then put the side panel back on, before locking it back into place.
When it comes to tightening the chain, Makita claims that this chainsaw has an easy adjustment lever. It's definitely a unique mechanism that none of the other chainsaws that I tested had. It makes things very easy to begin with, but once you have the chain relatively tight and you need to just finish things off, it's tricky to get your fingers in the right place to do so. Nevertheless, I really appreciated the fact that all of this could be done without the need for any tools.
The final step was filling the chainsaw with oil. There's a large window in the oil port that clearly shows how much oil is in the machine, so, again, this was a simple task, especially since the chainsaw came with a small bottle of oil.
Overall, it took just under ten minutes to put this chainsaw together.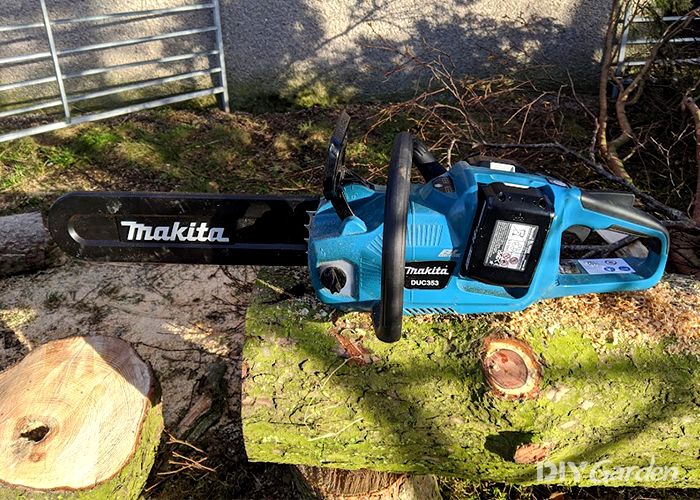 This Makita cordless chainsaw boasts a pretty unique design, mainly because of how it holds two 18V batteries, rather than one. There's also a battery indicator on the machine that takes both batteries into account.
Next up – chain length. At 35cm, which is the longest chainsaw bar of the cordless chainsaws I tested, this machine should be able to handle large branches and small tree trunks. It's worth noting that the chain included with this chainsaw is an Oregon chain – a brand known for producing high-performance chains that many professionals swear by.
Other than that, the rest of its design features were pretty standard. It boasts the signature blue colour of all Makita products, along with ergonomic handles, an on/off button, and a metal spike bumper/claw stop that allows the machine to establish a stronger grip on wood.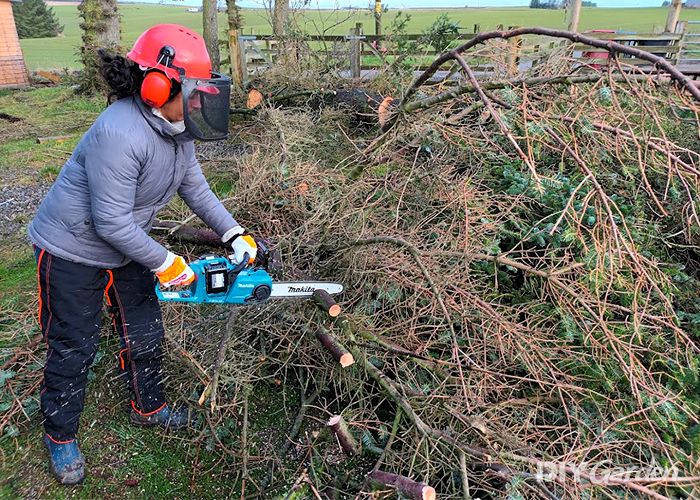 I genuinely have nothing negative to say about how this chainsaw performed. I started off with some smaller branches and it sliced through all of these so quickly. I then moved on to larger tree trunks and, again, it handled these without any problems.
I would say that 65cm is roughly the maximum diameter that this chainsaw can handle (when you do a cut from both sides). However, even if you use it on something thicker, it's not going to stutter and splutter – it'll still slice through as far as it can go.
You don't need to use any force at all when using this chainsaw. Just hold it steady and it does all of the hard work for you – it really couldn't have performed any better than it did. The results it produced were easily comparable to that of a petrol chainsaw.
I even had a professional tree surgeon over to fell a tree that Storm Arwen had loosened. He gave all of the chainsaws that I was testing a try and the Makita was by far his favourite among the cordless machines, to the point where he used it, instead of his own, to prune off several branches that were in the way of the tree that was coming down.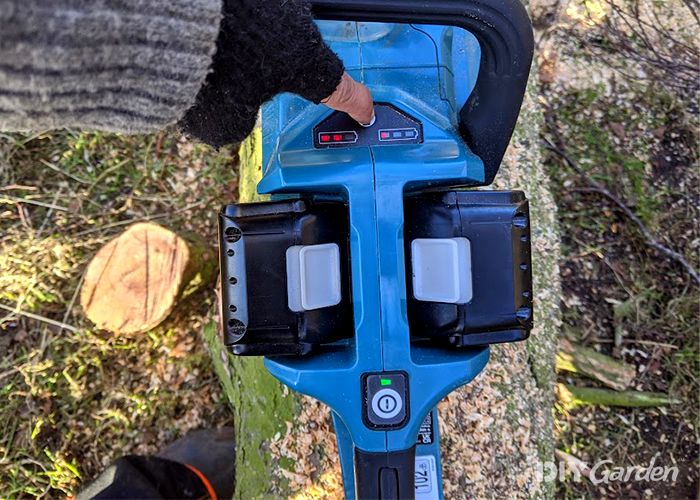 As mentioned, this chainsaw holds two batteries 18V batteries, which is why it has a 36V motor. Speaking of the motor, this is brushless, which didn't mean much to me at first. However, a little research taught me that a brushless motor is meant to be significantly more efficient, meaning a longer runtime for the battery.
In terms of battery life, I used two 5aH batteries with this chainsaw and it gave me a continuous run time of about half an hour when used at its maximum speed. This may not seem like much when compared to a petrol chainsaw, but it's not bad for a cordless. The fact that both batteries can be charged at the same time (if you have a double charger), and take less than an hour to reach full charge is a bonus.
In terms of cutting power, this chainsaw runs at a maximum speed of 20 m/s. Again, this is much faster than most other cordless chainsaws – it's more in the realm of a petrol chainsaw. That said, you have the option of variable speeds (depending on how far you pull the trigger back), or you can set it at a constant speed if you're needing to keep it at its max.
It's worth noting that, with the power offered by this machine, you could possibly swap the bar and chain for something slightly larger. However, the word "slightly" is key here – don't go overboard and attach a 50cm bar on, as you'll just end up burning the motor out.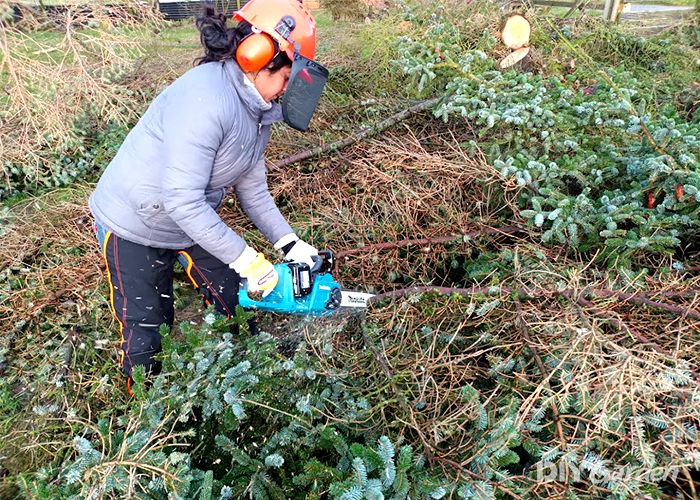 I loved how easy this chainsaw was to use. I don't have a huge amount of chainsaw experience, but I was able to quickly develop a good technique when using this machine.
It weighs about 5kg, which is heavier than many other cordless chainsaws (for example, the Bosch weighs just 3kg), but not significantly so. It also has an adjustable automatic chain lubrication feature that keeps the chain perfectly oiled for whatever you may be doing.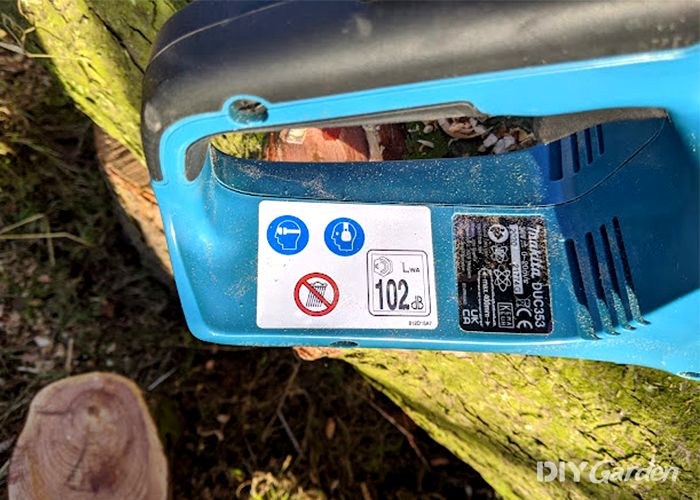 Safety features are crucial when it comes to chainsaws, which is why Makita has incorporated several of them into this model. To start with, it has an electric chain brake that'll stop the chain from whipping back and slicing into you should it ever de-rail. It also has a kickback brake to keep you safe in case a kickback should occur.
Makita has also designed this chainsaw to automatically turn off if you happen to set it down. In my opinion, this is such an important feature – not only does it help you conserve battery power, but it will also prevent accidents.
It's worth mentioning that this chainsaw will only run when you have two batteries inserted. If you try it with just one, or if you haven't inserted one of the batteries in correctly, the machine won't turn on.
In terms of noise level, this chainsaw comes in at 100db(A). This is definitely not a quiet machine, but it's not as loud as a petrol chainsaw either. I would definitely recommend wearing ear defenders when using this chainsaw, although if you're wearing all of the right protective gear (which you should be doing, even when using a cordless chainsaw), then your safety helmet should already have ear defenders attached.
Compared to the other cordless chainsaws that I tested, this one costs significantly more. In fact, it even comes in at double the price of some of the petrol chainsaws that I reviewed.
That said, the Makita DUC353Z cordless chainsaw is still a machine that I would highly recommend buying. Yes, it's relatively expensive, especially when you factor in the cost of the two batteries and the double charger, but it truly is a fantastic machine. It performs well and, most importantly for me, it's so easy to use. The results that it produces are just as good as a petrol chainsaw, yet this one is so much more convenient to just "grab and go".
It also looks and feels like a quality machine that'll last the years. It boasts increased water and dust resistance, which should help to increase its lifespan, although Makita products are already known for withstanding the test of time.
Surprisingly, I had nothing bad at all to say about this chainsaw (which doesn't often happen!). Not only was it my favourite out of all the cordless chainsaws that I tested, but I would choose this one over a petrol chainsaw too. It's a machine that lends itself well to light use around the home and garden, yet, as confirmed by my tree surgeon, it's also a tool that offers a number of merits for professional use too. No matter what you're hoping to achieve with a chainsaw (other than heavy-duty tree felling, for which you'd need a good petrol chainsaw anyway), this one won't let you down.
Why You Can Trust DIY Garden
At DIY Garden, we believe your trust is earned through our knowledge and transparency. Our team of experts has over 75 years collective experience in the gardening and DIY space. Since the website's creation in 2016 we've tested over 275 products, ensuring our recommendations are based on real experience. We're open about what we've tried and what we've researched, and this is clearly labelled in our product reviews. Every year, we revisit and update our suggestions to include worthy new additions to the market. Our aim is to give you straightforward, honest, and helpful recommendations, so you can confidently choose the best tools and equipment for your projects.
Our Scores:
Assembly Ease

Design

Performance

Power

Ease of Use

Safety

Value for Money

Overall
Features:
Voltage

Twin 18V (36V)

Battery

Not Included

Bar Size

35cm

Weight

4.04kg
About Your Guides
Alina Jumabhoy has spent several years learning about, and experimenting with, different organic growing techniques at various gardens and farms around the country. Fuelled by her quest for self-sufficiency, she's now putting that information to good use on her own rural farm.

Sarah's role as chief editor at DIY Garden is about more than just making sure we're literally dotting the i's and crossing the t's (although she's a stickler for detail, so it's certainly about that too!). It's about proof-reading, fact-checking and continuously researching everything we publish, ensuring that it adheres to our

editorial standards

, so that everyone can really get the most out of their green space.
You May Be Interested In These Other Chainsaw Reviews