Our
WORX WG322E.9 Cordless Chainsaw Review

Review

This chainsaw definitely has a good mix of both pros and cons. Out of the six cordless chainsaws that I tested, it's not my favourite, but I can also see why it would appeal to many. It's lacking in power and speed but it makes up for this with its lightweight and compact nature, which makes it easier to use than many of the other chainsaws out there. If this is something that's important to you, then this WORX cordless chainsaw would be a worthwhile purchase.

B077MFNJ99

6924328315308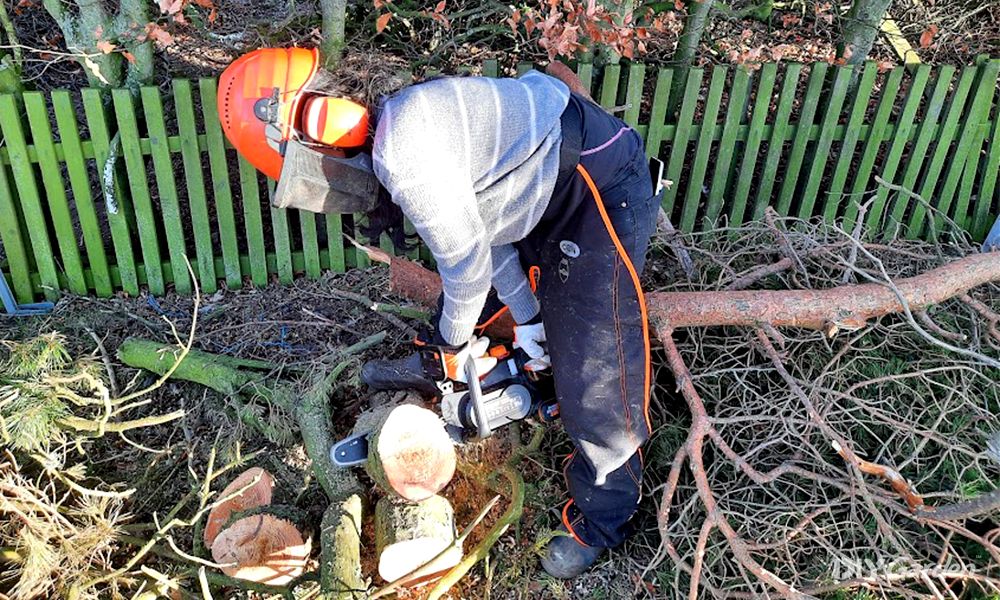 An American company that manufactures their products in China, WORX is all about producing innovative tools at low, affordable prices. I was expecting good things from their Cordless Compact Chainsaw; a tool that was hopefully going to help me tidy up the tree damage that Storm Arwen caused around my farm. Let's see how it performed…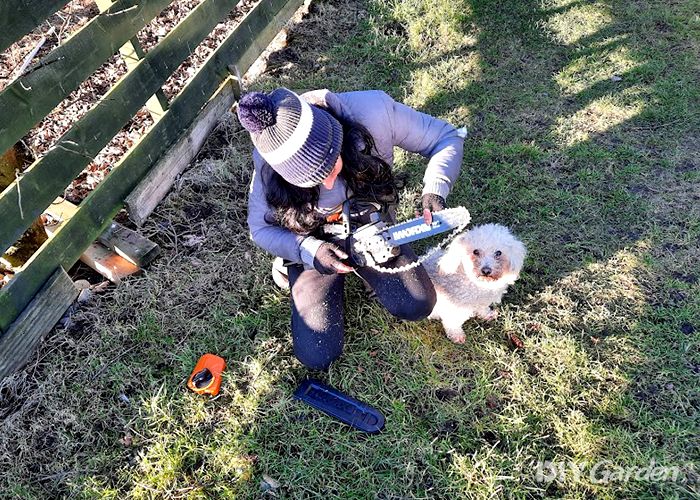 Attaching a chain to a chainsaw bar may not be an overly difficult task, but it's still fiddly, especially if you're new to chainsaws. Fortunately, unlike the majority of the chainsaws I reviewed, the WORX had its chain already attached to the bar, which saved several minutes of assembly time.
That said, the bar still needs to be attached to the main body. To do this, turn the plastic screw on the side of the unit to remove the side panel. Then, simply attach the bar, place the cover back on, and tighten the chain. You'll need to tighten it again once you've run the chainsaw for a couple of minutes. However, WORX has made this easy by fitting the machine with a chain tensioner that doesn't need to tools to adjust.
Assembling the machine only took five minutes, plus an extra couple of minutes to fill it with oil. Sadly, WORX didn't include any chainsaw oil with this machine, but I had some kicking about. Since the oil cap is at the top of the unit, rather than on the side, I found this chainsaw to be very easy to fill with oil.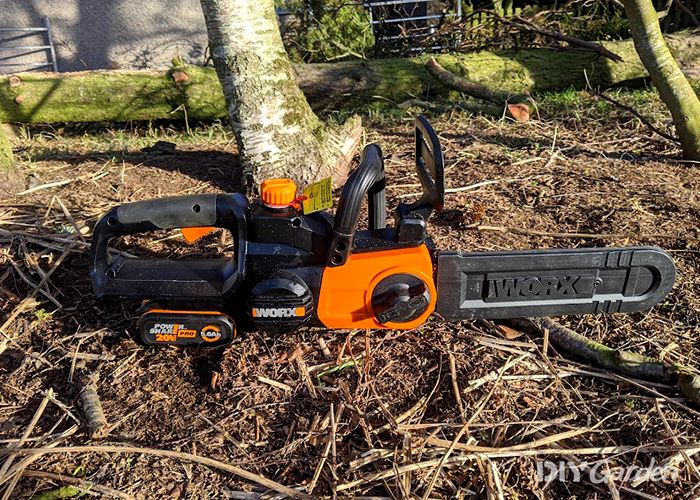 This WORX Cordless Chainsaw has been designed to be a very compact machine – something that I appreciated. It wasn't quite as bulky as some of the other cordless chainsaws that I reviewed, so I can see why this tool would appeal to those who don't have much chainsaw experience, which is exactly who WORX is targeting with this machine.
That said, it does also feel a little flimsier than some of the other chainsaws, which isn't going to impress anyone that does have chainsaw experience.
In terms of design features, this machine has been kitted out with a 25cm bar and a chain that feels pretty strong and sturdy. Its oil level window will make it easy to see when the chainsaw needs to be topped up with oil, and I appreciate how the battery is neatly tucked away underneath the rear handle. This should save it from accidental knocks, which often happens when a battery fits into the side of a chainsaw.
One thing that I didn't like was the set of bumper spikes at the front of the machine. These help the chainsaw to grip onto the wood that it's cutting, which gives you much more leverage and makes it easier to use the machine. On most of the other chainsaws that I tested, the spikes were made from metal. However, on the WORX, they're plastic. Not only does this give the machine a slightly cheaper feel, but it also left me doubtful as to how well they would actually work.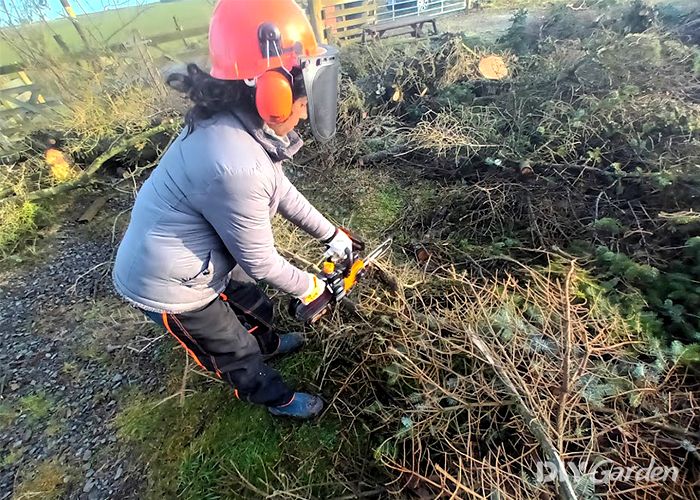 I started by using this chainsaw on some of the smaller branches that were scattered through my driveway. It cut through these without any problems and I was able to quickly clear them away.
Next up was some of the larger trunks that the storm had uprooted. Bearing in mind that this chainsaw isn't designed for such heavy-duty work, it performed pretty well. I was able to use it to slice through trunks that were roughly 35cm in diameter (by cutting from both sides).
In terms of the plastic bumper spikes that I was so doubtful about – they proved me wrong. They may not have had quite as strong a hold as metal spikes, but they were still able to grip onto large pieces of wood to provide me with extra leverage when cutting.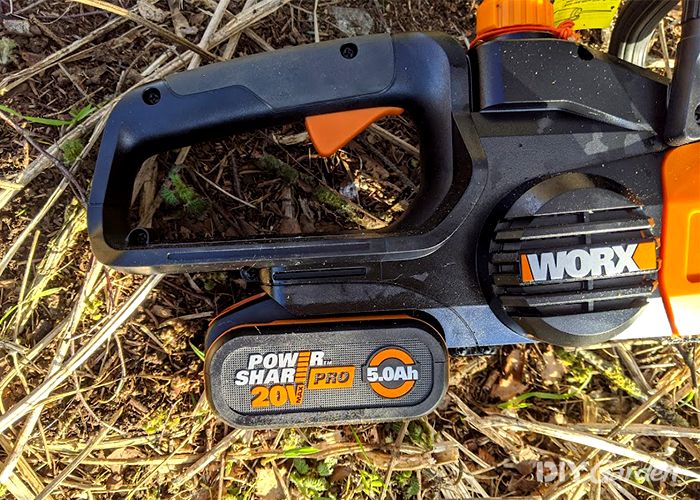 This WORX cordless chainsaw can run on either an 18V or a 20V battery, which I found interesting as most of the other chainsaws of this calibre don't give you the 20V option. I used a 20V 5aH battery with mine and enjoyed a continuous cutting time of about an hour. It's worth noting that once battery power drops down to one bar, cutting power decreases too.
In terms of speed, this chainsaw runs at 3.7 m/s. This is actually pretty slow – all of the other chainsaws that I reviewed were faster than this, and it really does make a difference when you have a huge pile of wood waiting to be cut up.
The fact that the battery takes a few hours to charge is a bit of a downer too. However, if you already own other WORX Powershare batteries, you'll be able to use them in this chainsaw, which will at least give you a spare battery.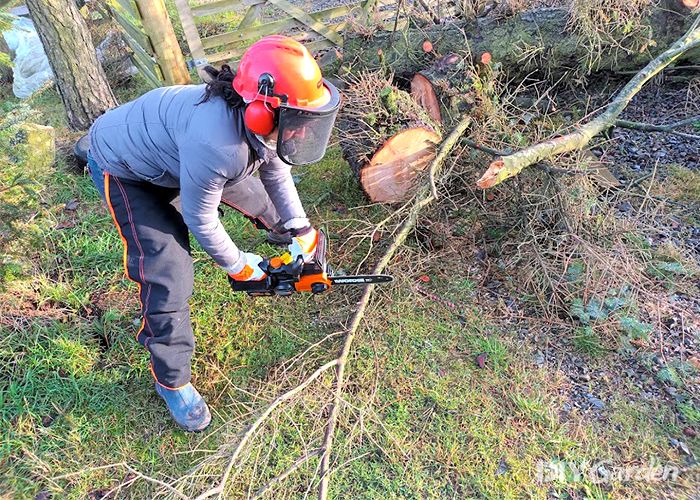 I was very impressed with how lightweight this chainsaw is. Even with the battery in, it weighs around 3kg, making it the lightest of all of the chainsaws that I tested. For those of you who don't like heavy and cumbersome power tools, you'll love the weightlessness of this machine.
As a result, this chainsaw was so easy to use and manoeuvre. Its automatic chain lubrication feature worked well too, but this is something that pretty much all chainsaws have these days.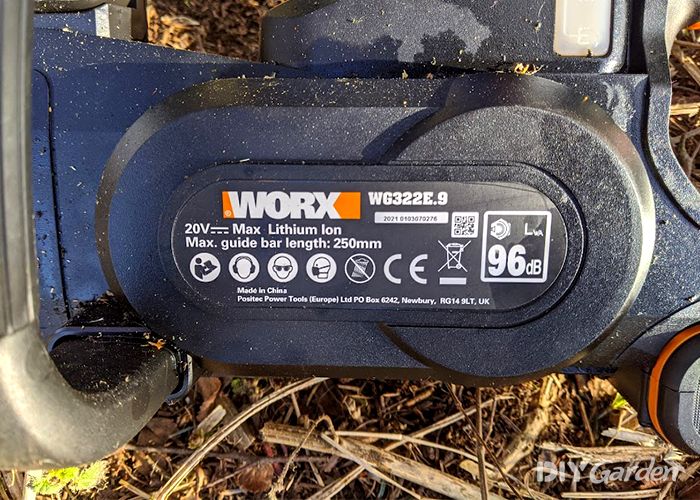 When it comes to chainsaw safety features, these are usually pretty standard…or so I thought until trying this WORX cordless chainsaw. Let's start with its good points – it has a lock button that you need to press down before pulling the trigger, which prevents anyone from accidentally starting the chainsaw up. It also has a solid hand guard and a protective plastic cover that slides over the bar and chain when the chainsaw isn't in use.
However, that's pretty much it when it comes to safety. All of the other chainsaws that I tested had a chain brake and low kickback features, but this one lacked both. In my opinion, this is a huge oversight, especially for a chainsaw that's geared towards beginners. I would have expected WORX to put the effort into making this machine as safe for newbies as possible.
To be fair, there are a few safety stickers dotted around the machine. There's also plenty of safety information in the manual but, let's face it, not many people are actually going to take the time to read this. Plus, no amount of reading is going to protect you if the chain happens to snap or derail mid-cut.
I always recommend wearing the right protective gear when using any chainsaw, but this becomes even more important when using one that doesn't offer many safety features.
In terms of noise, I couldn't find any official stats declaring this machine's noise level. However, I would say that it is quieter than most of the other chainsaws that I tested.
In my opinion, this chainsaw is slightly overpriced, especially when you take into account its low speed and lack of safety features. For a similar price, you could purchase another machine that does better on both counts, such as the Einhell or the Ryobi that I also reviewed.
However, what this one does have going for it is how lightweight it is. You'd struggle to find another chainsaw that's this light, so some people may be willing to pay a little more for this. Needless to say, if you already own a WORX battery and charger, then you'll be able to purchase the chainsaw on its own, without those extras, which does make it a better deal.
It's worth noting that WORX advertises that a 3m extension bar can be purchased for this chainsaw. This would allow you to use the machine to prune high, out-of-reach branches on trees. However, a little digging taught me that purchasing the bar in the UK isn't quite as easy as WORX makes it out to be. If this is what has swayed you to go with WORX, check that the bar is actually available before buying the chainsaw.
This chainsaw definitely has a good mix of both pros and cons. Out of the six cordless chainsaws that I tested, it's not my favourite, but I can also see why it would appeal to many. It's lacking in power and speed but it makes up for this with its lightweight and compact nature, which makes it easier to use than many of the other chainsaws out there. If this is something that's important to you, then this WORX cordless chainsaw would be a worthwhile purchase.
Why You Can Trust DIY Garden
At DIY Garden, we believe your trust is earned through our knowledge and transparency. Our team of experts has over 75 years collective experience in the gardening and DIY space. Since the website's creation in 2016 we've tested over 275 products, ensuring our recommendations are based on real experience. We're open about what we've tried and what we've researched, and this is clearly labelled in our product reviews. Every year, we revisit and update our suggestions to include worthy new additions to the market. Our aim is to give you straightforward, honest, and helpful recommendations, so you can confidently choose the best tools and equipment for your projects.
WORX WG322E.9 Cordless Chainsaw Review Price Comparison
Price History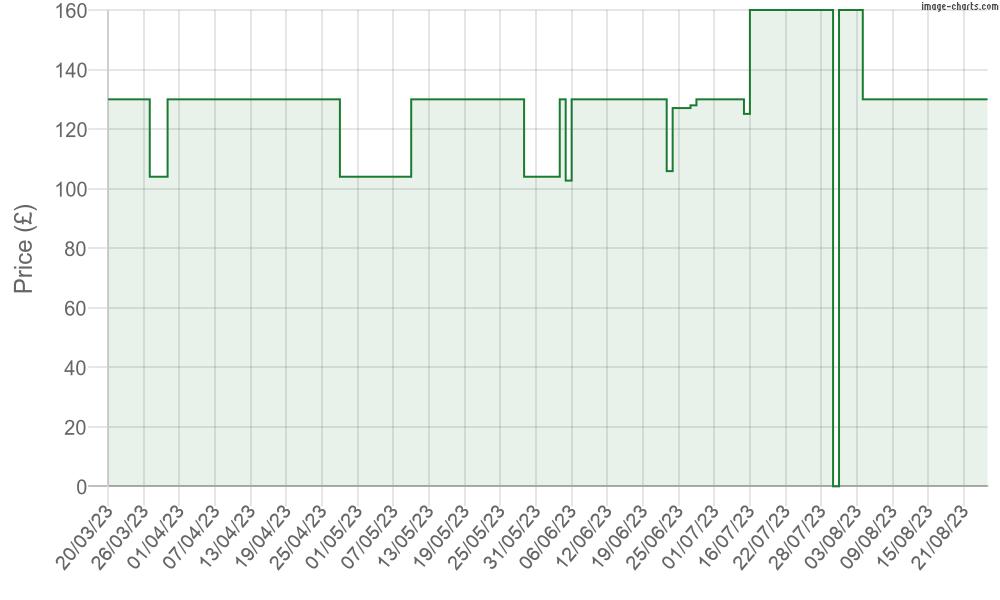 Our Scores:
Assembly Ease

Design

Performance

Power

Ease of Use

Safety

Value for Money

Overall
Features:
Voltage

20V

Battery

x1 2Ah

Bar Size

25cm

Weight

3.1kg
About Your Guides
Alina Jumabhoy has spent several years learning about, and experimenting with, different organic growing techniques at various gardens and farms around the country. Fuelled by her quest for self-sufficiency, she's now putting that information to good use on her own rural farm.

Sarah's role as chief editor at DIY Garden is about more than just making sure we're literally dotting the i's and crossing the t's (although she's a stickler for detail, so it's certainly about that too!). It's about proof-reading, fact-checking and continuously researching everything we publish, ensuring that it adheres to our

editorial standards

, so that everyone can really get the most out of their green space.
You May Be Interested In These Other Chainsaw Reviews