Is your artificial grass covered in leaves and debris? Perhaps it's flat and looking a bit sorry for itself! That's what happened to mine. So I set out to find the best artificial grass brush, to make it look new again. After hours of researching and testing, my top recommendation is the Hyundai HYSW1600E Artificial Grass Sweeper. Read on to see my full review (with photos) on how easy assembly was, how it performed, and if I think it's good value for money.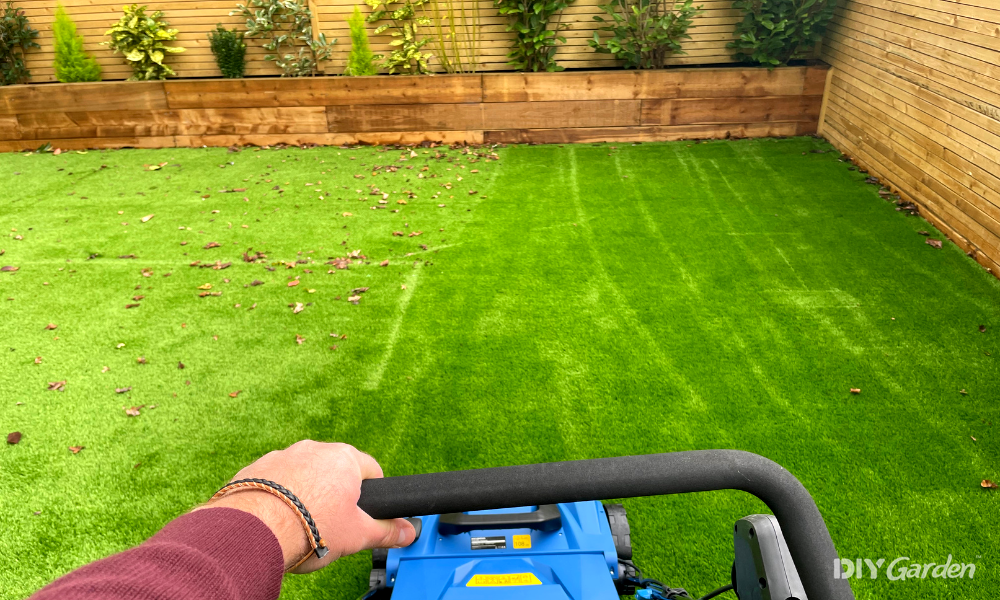 My Top Recommended Artificial Grass Brushes
My Top Recommendation Based on Real-world Testing
Other Artificial Grass Brushes Worth Considering
Tips For Buying an Artificial Grass Brush
Artificial grass brushes are either electric or manual. If you've got a large area of artificial lawn, an electric brush may be the best option. Electric brushes require less manual labour, and many of them are self propelled. For maximum efficiency, you might want to look for a brush that has a collection box that stores the debris and dust as it goes.
If you're on a budget, or just want something that's quick to use and store, consider a manual brush

. They're very effective, but you'll need to collect the debris after you've lifted it from the artificial grass.

Manual brushes are better suited to smaller lawns

.

Also, handle length can have a significant effect on user comfort, so it's worth looking for a telescopic shaft or a brush that's at least 100 cm long

. If you opt for an electric brush, take note of the cable length.

A cable length of around 10 m will give you the freedom to move around a medium-size lawn

.

Another thing to be aware of is whether the brush lifts the pile of the artificial grass (which can dramatically improve the lawn's appearance), whilst also removing debris. Look for options that specifically mention lifting the pile

; this style of brush can even be used to create stripes!

Finally, take a look at the sweeping width. For most medium size lawns, a sweeping width of around 30 – 45 cm wide is perfect.

If you've got a lot of obstacles or furniture in your garden, you may find wider brushes inconvenient, so look for a narrower brush or a width under 30 cm.
Why You Can Trust DIY Garden
At DIY Garden, we believe your trust is earned through our knowledge and transparency. Our team of experts has over 75 years collective experience in the gardening and DIY space. Since the website's creation in 2016 we've tested over 275 products, ensuring our recommendations are based on real experience. We're open about what we've tried and what we've researched, and this is clearly labelled in our product reviews. Every year, we revisit and update our suggestions to include worthy new additions to the market. Our aim is to give you straightforward, honest, and helpful recommendations, so you can confidently choose the best tools and equipment for your projects.
How to Choose the Best Brush for Artificial Grass and Astro Turf
Artificial grass can be a lot easier to look after than the real deal, but keeping on top of maintenance and cleaning is key when it comes to keeping a thick, luscious-looking artificial lawn.
Whilst it's true that artificial grass doesn't need mowing, it still needs a bit of attention sometimes; anything that's outside 24/7, exposed to the elements, is bound to experience some wear and tear.
Fortunately, looking after artificial grass is simple – forget lawn mowers, grass seed and fertiliser, all you really need is a good brush!
Choosing the best brush for artificial grass will depend on your budget, grass length, and the type of debris causing problems. The following information will give you more of an idea about what to look out for:
Four Steps Towards Maintaining Artificial Grass
First, let's look at the most important aspects of maintaining artificial grass.
Keep it Clean
Artificial grass is generally very easy to keep clean, with rainfall doing a lot of the work for us. However, during a dry period, hosing down artificial turf lawn is a good option and can help remove stubborn dirt, dust and debris.
An artificial turf brush will also help remove dirt. It's also useful to use a brush before hosing the lawn, to loosen any stubborn dirt first.
If your lawn is especially dirty, you may find it useful to use a specially-made artificial grass cleaner rather than water alone.
Remove Leaves and Debris on a Regular Basis
Particularly in the autumn months, artificial turf can end up trapping a lot of leaves and debris. Besides looking messy, this can also lead to weed growth over time if it's allowed to build up.
Using a cordless leaf blower, an artificial grass rake or an artificial grass broom can all help rid your lawn of leaves and debris.
Also, if you have a dog or a cat, you will find that their hair also gets trapped in artificial grass. This can be harder to remove with a leaf blower or garden vacuum, and is often most effectively treated with a rake or broom designed specifically for artificial grass.
Regularly Brush the Fibres
Over time, artificial grass can start to look a little flat and lacklustre. This is due to wear, causing the grass strands to get flattened. It's easily rectified by using a brush designed for artificial turf.
Brushing the grass in the opposite direction of the fibres will encourage them to stand up, 'fluffing' the grass upwards can help it look revitalised and new.
Prevent Weeds from Growing
Whilst weed growth on artificial lawns isn't nearly as much of an issue as it can be on regular lawns, seeds can still germinate within the fibres. You may find moss growing on your artificial lawn which can be removed by rakes and brushed designed for artificial grass.
Weeds on your artificial lawn can usually be removed by hand, as they will have only grown on the surface of the artificial turf and not developed deep roots.
As a last resort, it is possible to use some weed killers and moss killers on artificial grass – but make sure they're suitable first.
Electric and Manual Lawn Brushes
As you'll have seen from the products on this page, there are manual brushes and rakes available for sweeping artificial grass, as well as electric machines.
Manual rakes and brushes are better suited to small patches of lawn. They do an effective job and are great value for money. However, they're slow going so you won't want to be using one across a large expanse of artificial lawn. This is also true because you often need to go over the lawn a second time with an artificial grass vacuum, after using a manual rake or brush, to suck up the dislodged debris.
Here we'll look at each type of tool in more detail:
Manual Rakes and Brushes 
Artificial-lawn brushes look similar to a standard household broom. They have bristles that are compatible with artificial grass and won't cause damage to grass fibres. Compared to rakes, brushes have a lot of bristles and are useful for removing smaller pieces of dirt and debris from the lawn, as well as larger leaves.
Artificial-lawn rakes have fewer bristles/tines. They often have just one or two rows of tines. These are particularly useful for collecting larger pieces of debris like leaves and twigs, but they can end up flicking small pieces of dirt around, instead of rounding them up. Rakes are generally better at getting deeper into the grass, closer to the base, as the fewer tines provide more accuracy.
Rakes can be used to dislodge debris on artificial turf, making it easier to collect with a lawn hoover.
For the most part, rakes and brooms are most suited to small lawns with artificial turf. However, if you have a large lawn, you may still want an artificial grass rake in order to reach the edges where electric powered brushes can't fit.
Both styles can be used to brush artificial grass in the opposite direction so that it stands up better.
Electric Powered Brushes
Originally, electric powered brushes were most commonly used in professional environments. Nowadays, there's a range on the market suitable for domestic gardens. Electric powered brushes make it much quicker to clean a medium/large artificial lawn. For smaller artificial lawns they're also very effective, but you may decide that they're not worth the expenditure. Electric powered brushes work using a motor that rotates a rolling bristle brush.  
Mains-powered brushes are powerful and capable of removing small particles, like dust and dirt, as well as larger particles, likes twigs and small stones, from the lawn. They can even be used to create aesthetically-pleasing stripes across the lawn. 
There are pros and cons to using an electric brush over a manual brush. These are some of the advantages:
Far less labour intensive – you'll be able to sweep your artificial lawn in a fraction of the time

Most are self propelled and require much less physical effort 

Many have a box attached which collects the debris, dust and dirt meaning there's no need to vacuum the lawn afterwards

More effective than many brushes – have different sweeping heights to accommodate different types of artificial lawns

Most are very versatile and can also be used to clean patios, decking and paving
These are some of the disadvantages:
Although electric powered brushes save you time, they are a lot more expensive

While generally compact, they still take up a lot more space in a garden shed than a traditional brush

Noisier and less eco-friendly than traditional brushes

They are heavier than standard brushes 
Choosing the Best Artificial Lawn Brush
Bristle Material and Length
Artificial brushes usually have synthetic bristles. Metal or wire bristles will damage the fibres of your artificial lawn. Bristles made from polyamide or nylon work well on artificial grass. They are sufficiently stiff to remove debris without damaging the lawn.
Brushes for artificial turf can have either straight or curved bristles. Straighter bristles make it easier to sweep up large pieces of debris in open areas, while curved bristles are designed for awkward areas and can capture smaller bits of debris too.
Bristles on brushes are not a uniform length, and if you will want to make sure that your artificial grass and the bristles on your brush are roughly the same length. This will ensure that all of the debris gets caught.
Synthetic bristles can be used on both wet and dry surfaces and they're easy to clean after use if needed.
Sweeping Width
Wider brushes are better for covering large gardens quickly, meaning the job takes less time. However, if you have a lot of obstacles in your garden, or smaller sections, you may find a wide brush inconvenient.
Standard brushes for artificial grass can range from around 30 – 45 cm in width.
Wide brushes may be harder to store, but on manual rakes/brooms the head can often detach from the handle for easier storage.
Artificial Grass Brush FAQs
How often do I need to sweep my artificial grass?
Artificial grass is loved for its low maintenance, so there's no need to go overboard when it comes to sweeping.
During the majority of the year, you only need to brush your artificial lawn once a month. In autumn, if there's a lot of debris you may need to brush more frequently. Similarly, when the lawn gets more use in summer it may benefit from a few extra brushes. 
Brushing your lawn will both remove debris and help the grass to stand up straighter, so if you've got a special occasion coming up, you may want to give your lawn a quick once over. 
It's also important to note that pet owners may need to brush their lawn more often as animal hair can get easily caught in the artificial grass.
How do you bring artificial grass back to life? 
Artificial grass can start looking a little tired if it's not well maintained, but this doesn't mean it can't be salvaged.
Regularly brushing the grass with a specially made broom will encourage the bristles to rise – leading to a newer looking lawn.
Rinsing and cleaning your lawn on a regular basis is also important. If you live in a particularly dry area, you may need to use a hose. Don't be tempted to use a power washer as this can damage the fibres. 
Non-toxic turf cleaners can help remove bacteria and reduce the build up of debris. There are products available that are specifically designed for artificial grass.
Can you pressure wash Astro turf?
No, you should not pressure wash Astro turf. 
While artificial grass is tough, it's not that tough. Even standard home pressure washers are very powerful, and can damage the fibres. Use a hose instead – it'll get the job done just the same, whilst protecting your grass.
Do I need to brush sand into artificial grass?
Sand infill is sometimes brushed into artificial grass to improve stability and support the fibres. The issue with artificial turf is that it weakens and flattens easily. With repeated footfall, artificial grass can quickly look lifeless. Sand adds the necessary support to keep the blades upright.
The two main downsides of using sand infill are that it clogs draining holes and it can make a mess. If kids and pets like to play on the lawn, you may find that they come inside covered in sand! Sand infill can also encourage weeds to grow.
Whilst many people choose to brush infill into their lawns, many manufacturers are now producing grass that claims to require no infill during installation. A lot of artificial grass products are now described as 'non-infill'.
Using an artificial brush can also help encourage grass blades to adopt a more upright position.
Can you vacuum artificial turf?
There are specific artificial grass vacuums on the market for artificial turf. Using a standard indoor vacuum can easily damage artificial grass.
A garden vacuum will be a lot gentler and will be able to pick up dust and debris from artificial grass without damaging its fibres.
If you have applied sand infill to your artificial lawn during installation, the artificial grass vacuum will likely suck this up. This means that you'll need to top up the infill, which can be expensive. For this reason, if your artificial lawn has infill, it's recommended that you avoid using a vacuum.