Our
4smile Garden Compost Bin

Review

Although this bin isn't ideal if you want to add kitchen and garden scraps on a daily basis, or turn the contents regularly, it can still be very useful. Iif, like me, you usually fill your compost bins in bulk, and you prioritise a bin that's large and sturdy, then this is one of the best compost bins to go for. Yes, it has a few flaws, but these won't interfere with its ability to make good compost. Pair that with its low price and you've got yourself a great deal!

B002DXRJBA

4034127440025,8711295776861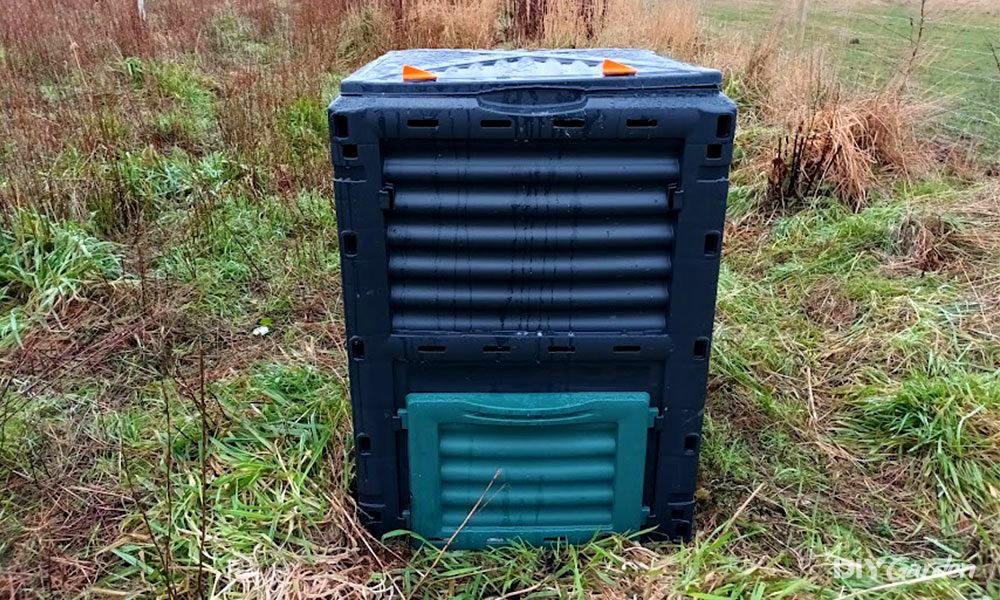 At first glance, it's easy to see why the 4smile Garden Compost Bin is such a bestseller – it has a good capacity, can slot in neatly alongside other rectangular bins, and is simple enough to use. Granted, there are several other compost bins out there that look very similar to this one, but this bin seems to offer a few extra features, so I was excited to get it up and running on my farm to see how it compared to the rest.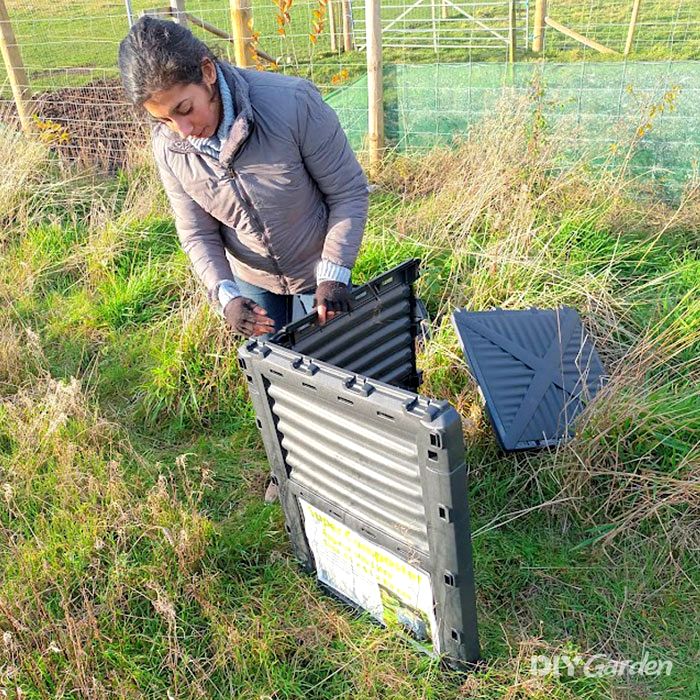 Like many of the other compost bins that I reviewed, this one comes flat-packed. However, unlike some of the others, it didn't require any tools for assembly. All of the parts click together pretty easily. You most likely won't need the instructions, which is good seeing as the ones provided are pretty poor.
I started by assembling the sides, before clicking the front hatch and the lid into place. Unfortunately, while doing so, I ended up snapping off one of the plastic lugs on the lid. This didn't affect how the compost bin functioned, but the brittleness of the plastic did put me off slightly. That said, I did appreciate the simple assembly. All in all, it took me about 10 minutes to put this compost bin together.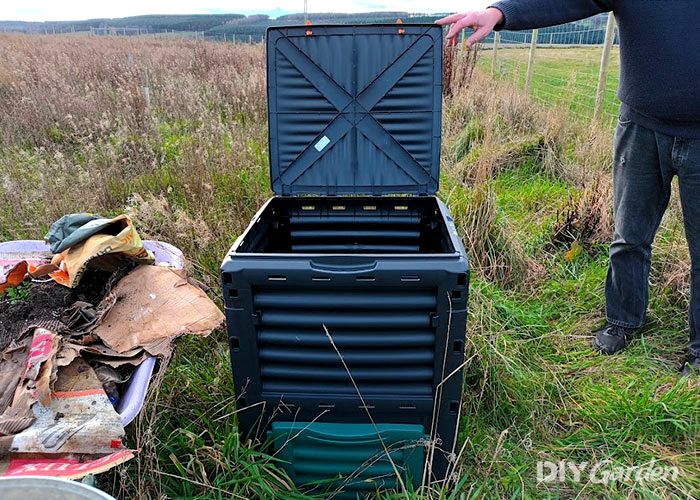 With a 300 litre volume, this compost bin has quite a large capacity. You wouldn't really want to go too much larger, as this would mean that the waste would take longer to break down.
It's 83 cm tall and 61 cm wide/deep, which, again, is an ideal size. The bin is rectangular, so can easily be lined up next to other straight-edged bins. At just under 5 kg, it's also light enough to move around the garden if you ever need to. Keep in mind that there's no base to this bin (which, in my opinion, is a good thing as it encourages the worms to enter), so, if you do move it, you'll be leaving your compost behind.
A couple of other design features that I appreciated were the orange tabs that lock the lid down (very important when you live in an exposed and windy area!), and the small hatch at the front that opens up to give you access to the finished compost. There are also plenty of holes all over the bin to allow for good ventilation.
Now, things that I didn't like: the plastic that has been used to create this compost bin is quite thin. Most plastic compost bins out there, including the Blackwall Composter that I reviewed, are made from a hard, flexible plastic. However, for some reason, the designers of this product chose to go with a very thin and brittle plastic. It makes the bin feel flimsy and left me with doubts about how the material would hold up to multiple seasons of hard frosts.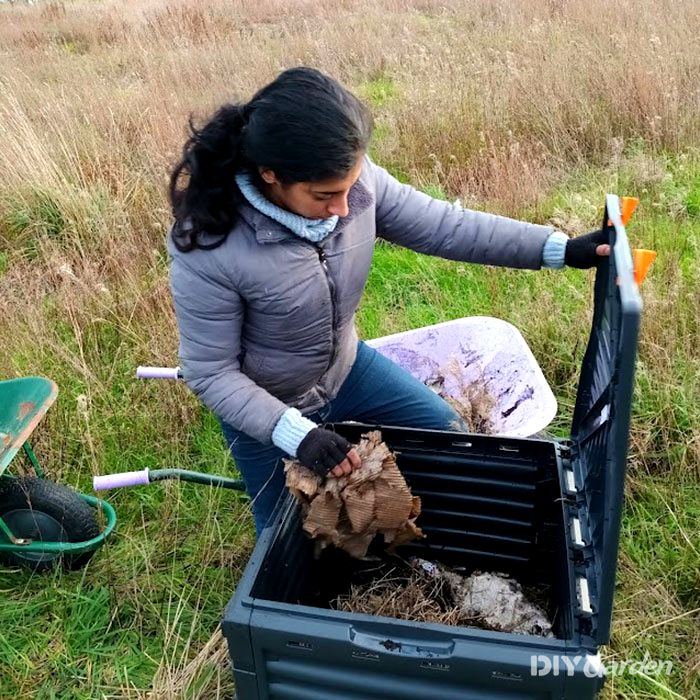 I genuinely thought that, out of all of the compost bins I tested, this one would be the easiest and most convenient to use. It's a great size and shape, but there were a couple of points that left me disappointed.
To start with, there's no way to prop the lid up when you're filling the bin. On a windy day, it's a constant battle to keep the lid open while you're filling it. If you plan on only occasionally adding new material in, then this won't be a huge issue, but it's not a bin that I would want to be filling every day.
Also, because of the brittle plastic, you have to be very careful when turning your compost. Hit the plastic too hard with your garden fork and you'll end up breaking some of it off or piercing a hole into it. Again, not an issue if you don't plan on turning your compost, but this isn't a bin for those who like to turn their compost regularly.
Fortunately, neither of those problems were deal-breakers for me. I have compost bins dotted all around my farm, some of which I fill in a day and then leave for a year, without turning the contents. So, this bin fits in just fine!
This compost bin seems like a bargain at first, but it's easy to see how it can be priced so low once you've felt how thin the plastic is. When I first set it up and started using it, I wasn't sure how durable this bin would be, and therefore I was uncertain as to how much value for money it actually offered.
However, two weeks later, Storm Arwen hit my farm hard. Like I said earlier, I have several compost bins dotted all around the place, and this was the only one that stayed standing. It was in a windier and more exposed spot than my other compost bins, to the point where half of my nearby field shelter went flying over the top of this bin, but this compost bin didn't budge. After that, I was very impressed – there's nothing holding this bin to the ground and it was only half full at the time, so it's definitely a lot sturdier and more robust than it seems.
For this reason, I'd say that it offers fantastic value for money, and I have no concerns at all about this bin holding strong for several more windy winters.
Although this bin isn't ideal if you want to add kitchen and garden scraps on a daily basis, or turn the contents regularly, it can still be very useful. Iif, like me, you usually fill your compost bins in bulk, and you prioritise a bin that's large and sturdy, then this is one of the best compost bins to go for. Yes, it has a few flaws, but these won't interfere with its ability to make good compost. Pair that with its low price and you've got yourself a great deal!
Why You Can Trust DIY Garden
At DIY Garden, we believe your trust is earned through our knowledge and transparency. Our team of experts has over 75 years collective experience in the gardening and DIY space. Since the website's creation in 2016 we've tested over 275 products, ensuring our recommendations are based on real experience. We're open about what we've tried and what we've researched, and this is clearly labelled in our product reviews. Every year, we revisit and update our suggestions to include worthy new additions to the market. Our aim is to give you straightforward, honest, and helpful recommendations, so you can confidently choose the best tools and equipment for your projects.
4smile Garden Compost Bin Price Comparison
Price History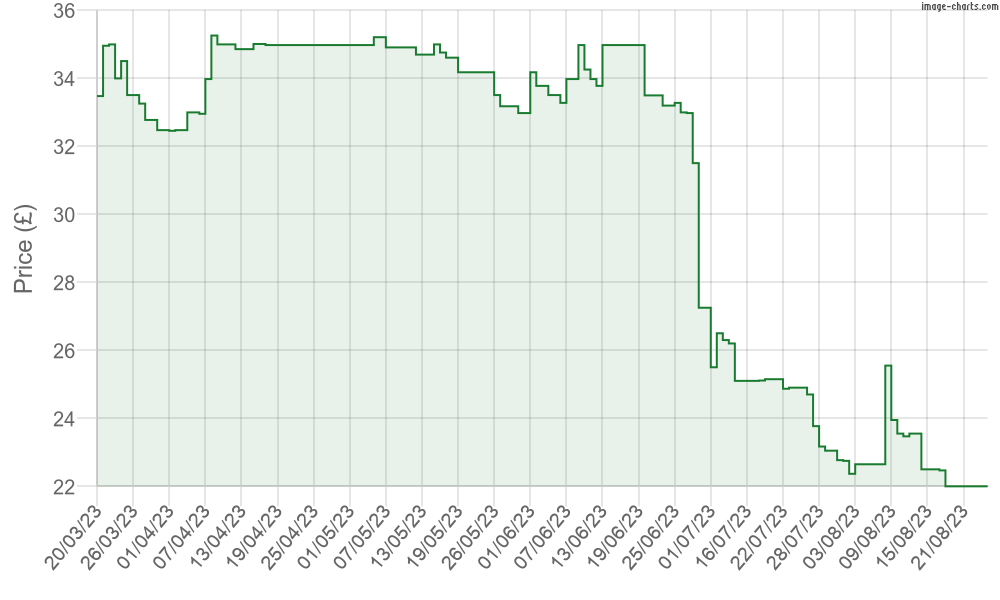 Our Scores:
Assembly Ease

Design

Ease of Use

Value for Money

Overall
Features:
Capacity

300 L

Shape

Rectangular

Assembly Required

Yes
About Your Guides
Alina Jumabhoy has spent several years learning about, and experimenting with, different organic growing techniques at various gardens and farms around the country. Fuelled by her quest for self-sufficiency, she's now putting that information to good use on her own rural farm.

Sarah's role as chief editor at DIY Garden is about more than just making sure we're literally dotting the i's and crossing the t's (although she's a stickler for detail, so it's certainly about that too!). It's about proof-reading, fact-checking and continuously researching everything we publish, ensuring that it adheres to our

editorial standards

, so that everyone can really get the most out of their green space.
You May Be Interested In These Other Composting Reviews