Our
Blackwall Compost Bin

Review

Although this isn't the best compost bin to pick if you live somewhere windy and exposed (I advise you take a look at the 4smile Compost Bin instead), it's a great bin for more sheltered spots. This Blackwall Composter is well-designed, made from high-quality materials, and is easy to use. Even better, you won't need to assemble anything, making it ideal for those of you who are eager to get composting ASAP!

B0030ZJZMQ

5060030152624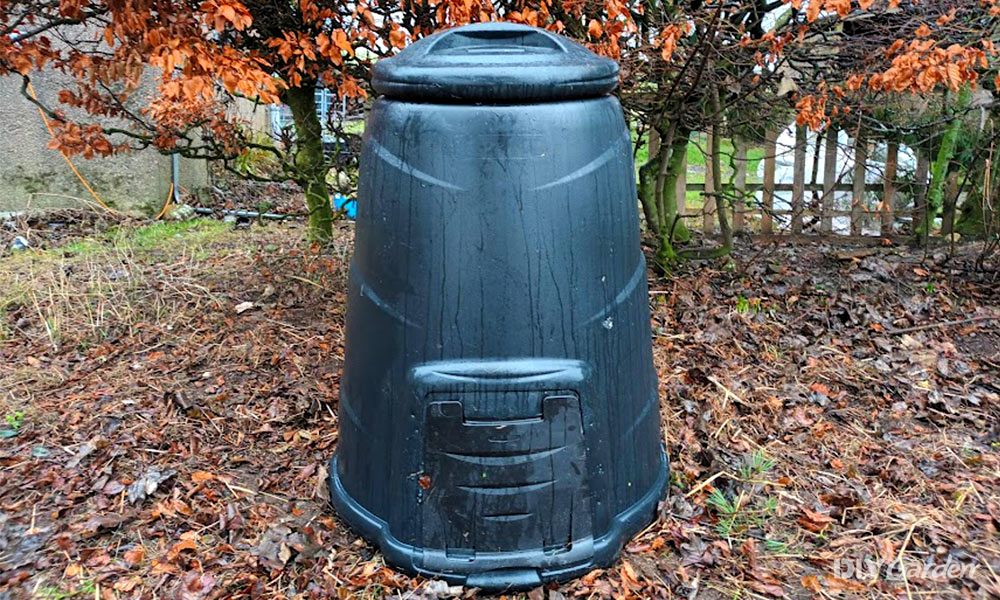 Compost bins come in all shapes and sizes, but if you're looking for something relatively simple and traditional, you'll probably find the Blackwall Composter appealing. I know several people that have compost bins like this yet have never actually used one myself, so I was curious to see how it would compare to some of the more innovative models out there.
If you hate assembling garden products, this is one of the best compost bins to go for. It's the only one that I tested that didn't require any assembly at all.
It arrived wrapped in plastic, rather than in a box. Once I removed the plastic, the bin was all set up and ready to be placed in my garden. It really doesn't get any easier than that!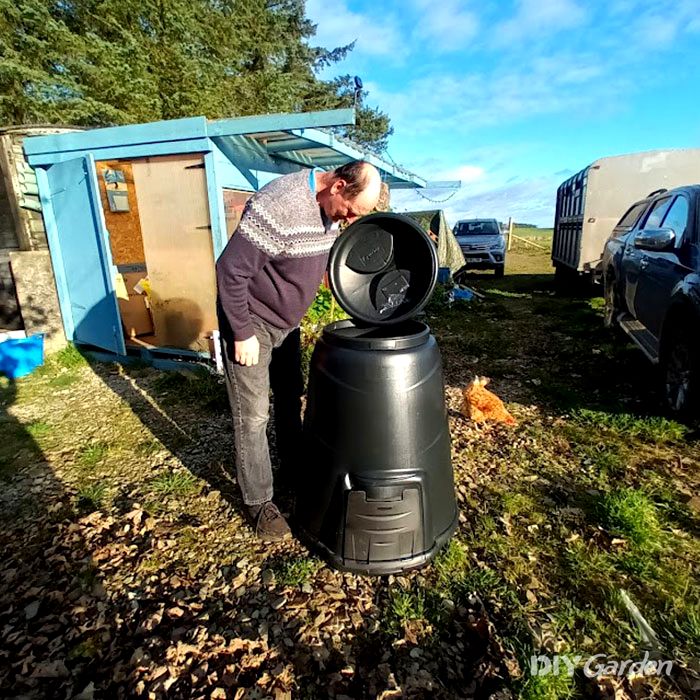 The design of this compost bin is pretty classic. It has a conical shape and a capacity of approximately 220 litres. Whilst this will likely be enough for residential gardens of any size, it's a little on the small side for smallholdings and farms. They do however do a 330 litre option too for those who want a larger capacity.
The bin is made from a hard and flexible weather-resistant plastic. I do try to avoid plastic in my garden whenever possible, but the fact that the plastic used for this composter comes from recycled materials makes it feel like a sustainable choice.
There are two removable parts to this compost bin – the lid, which has a well-designed handle that's easy to grab even with gardening gloves on, and the front hatch, which gives you access to your finished compost. Unfortunately, although the lid is supposedly windproof, it doesn't always stay in play during high winds.
It's also worth noting that there isn't a base to this bin. In my opinion, that's a good thing as worms will have easy access to the material within.All in all, a simple but effective design. There's nothing revolutionary about it, but there aren't many flaws either.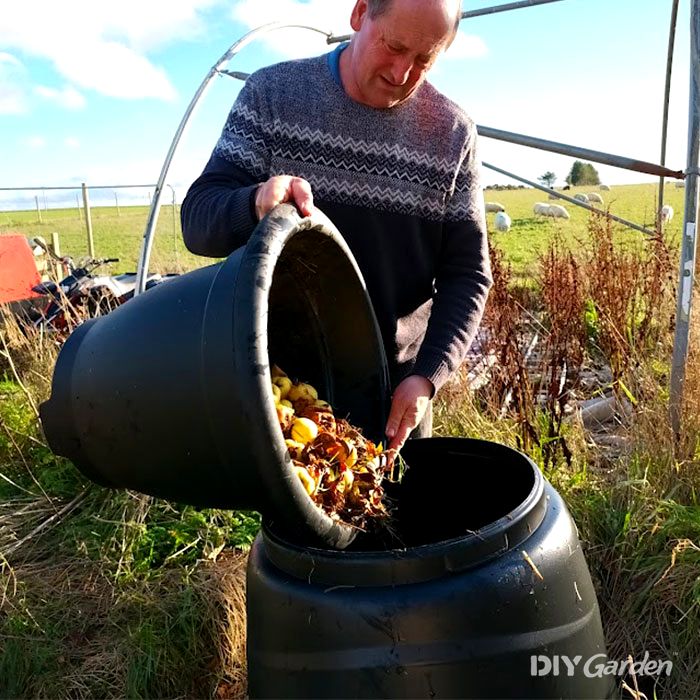 Being simple in design meant that this compost bin was extremely easy to use. When filling the bin, I really appreciated the removable lid. For me, this was much more convenient than a lid that props up. It means that you can fill the bin from every angle rather than having to stand directly in front of it each time.
The top opening could have done with being slightly bigger. This would have made it more convenient to tip a wheelbarrow-load of material in, but this is still easy enough to do if you have another person around to help.
The height of this bin (86 cm) was pretty much spot-on. Some of the other bins that I tested were much shorter, but this one meant that I didn't have to bend over quite so much, which is always a good thing!
When it came to turning the compost – again, a slightly bigger opening at the top would have been beneficial. However, other than that, it was easy enough to reach in with a garden fork and give the materials a quick stir. Since the plastic is so strong, I didn't feel like I needed to worry about piercing the bin or snapping any parts off.
The hatch at the bottom clicked in and out of place without any issues. I don't foresee any problems in using the hatch to remove finished compost, although I'd most likely lift the whole bin off instead, and then start a new heap elsewhere. The bin is light enough for this to be easily done.
Compare this to some of the other similar-looking plastic compost bins out there, such as the 4smile Compost Bin I also reviewed, and it'll seem a little expensive, especially considering its smaller size. However, its higher price can be attributed to the quality of the plastic used to make this bin, which, in my opinion, is worth paying a little more for.
If you're planning on keeping this compost bin in a sheltered spot in your garden, then I would say that this one offers great value for money.
However, if, like me, you live in a windy area, then, unfortunately, this compost bin likely won't cut it. For starters, the windproof lid isn't very windproof – expect to be retrieving it from somewhere in your garden after a windy night. You'll probably also find that the bin itself frequently blows away too.
The bin seems to go flying on a weekly basis – I still haven't found a sheltered enough spot to keep it in. Unlike some of the other bins that I tested, such as the GR8 Garden Metal Wire Mesh Compost Bin, there's no way to peg this one down to the ground either. This is a shame, since I end up losing some of my material each time the bin goes for a wander. This means I'll have to wait significantly longer for the material to decompose since the heat in the bin is continuously being lost.
Although this isn't the best compost bin to pick if you live somewhere windy and exposed (I advise you take a look at the 4smile Compost Bin instead), it's a great bin for more sheltered spots. This Blackwall Composter is well-designed, made from high-quality materials, and is easy to use. Even better, you won't need to assemble anything, making it ideal for those of you who are eager to get composting ASAP!
Why You Can Trust DIY Garden
At DIY Garden, we believe your trust is earned through our knowledge and transparency. Our team of experts has over 75 years collective experience in the gardening and DIY space. Since the website's creation in 2016 we've tested over 275 products, ensuring our recommendations are based on real experience. We're open about what we've tried and what we've researched, and this is clearly labelled in our product reviews. Every year, we revisit and update our suggestions to include worthy new additions to the market. Our aim is to give you straightforward, honest, and helpful recommendations, so you can confidently choose the best tools and equipment for your projects.
Blackwall Compost Bin Price Comparison
Price History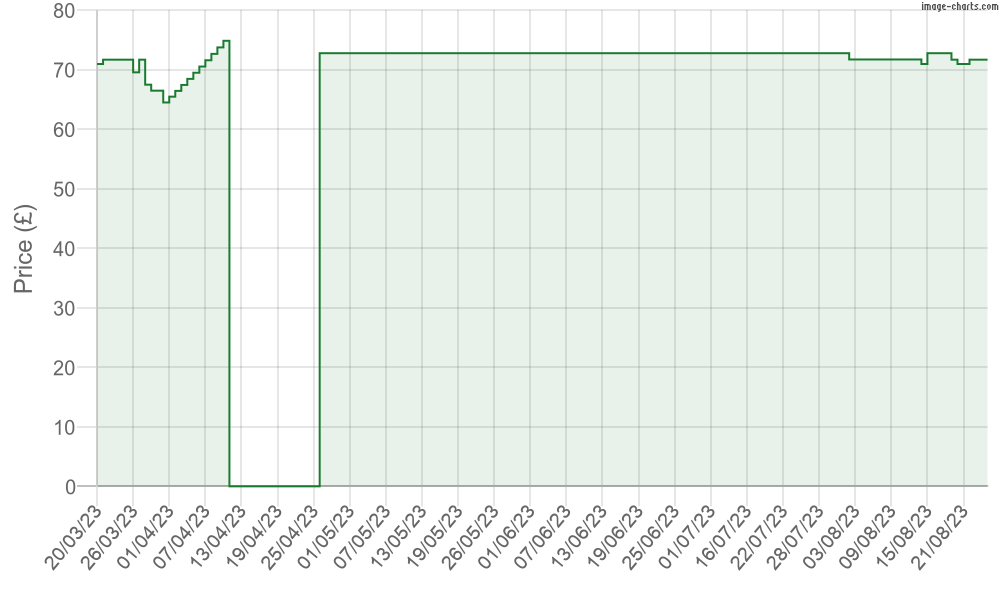 Our Scores:
Assembly Ease

Design

Ease of Use

Value for Money

Overall
Features:
Capacity

220 L or 330 L

Shape

Cone

Assembly Required

No
About Your Guides
Derek Smith has been farming all of his life, and is an professional landscape gardener with over 22 years experience. He owns a 25-acre farm in Aberdeenshire with a focus on self-sufficiency, living off the land, and working with nature.

Sarah's role as chief editor at DIY Garden is about more than just making sure we're literally dotting the i's and crossing the t's (although she's a stickler for detail, so it's certainly about that too!). It's about proof-reading, fact-checking and continuously researching everything we publish, ensuring that it adheres to our

editorial standards

, so that everyone can really get the most out of their green space.
You May Be Interested In These Other Composting Reviews