Our
Garden Point Dual Chamber Tumbling Composter Bin

Review

Between trying to recycle, but also wanting to deter rodents, dogs, and cats, I never quite know what to do with a lot of my kitchen waste. The fact that the Garden Point Dual Chamber Tumbling Composter Bin provides a protected area for compost is a real game changer. This compost bin is thoughtfully designed and so easy to use. I would highly recommend this to anyone looking for a way to put their kitchen waste to good use, it's the best compost bin that I tested – there's truly nothing about it that I would change. Out of all of the products that I have reviewed to date (not just on this page!), this is the first time that I've been able to say that! The only reason it's not a full marks overall is because you may need strong hands to push some of the pieces together initially. 

B07SGL4Y94

5060163281642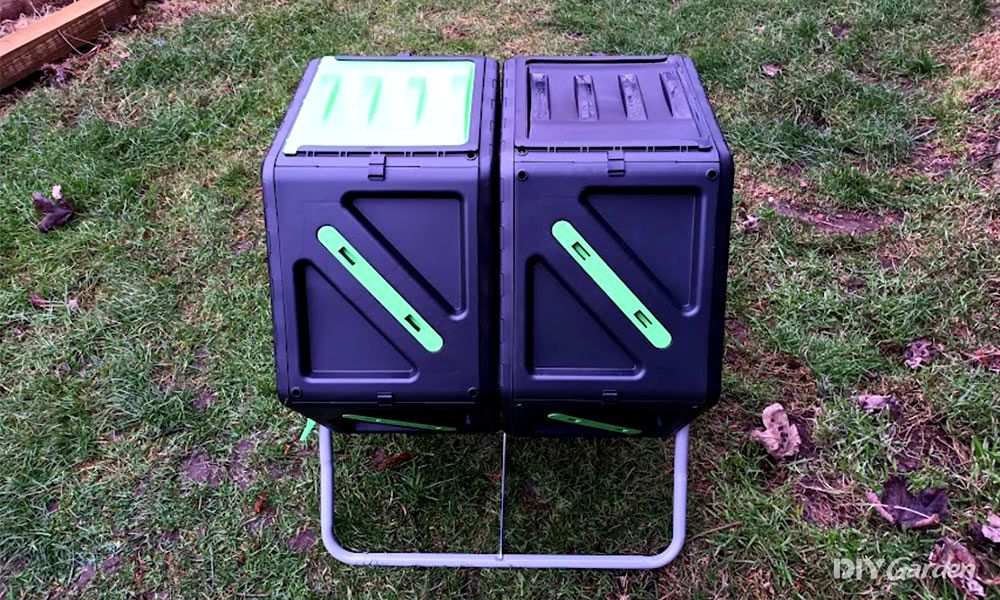 Hate turning compost? So do I, which is why I was excited to give the Garden Point Dual Chamber Tumbling Composter Bin a try. I had high hopes for this bin – by making it so easy to regularly turn waste material, it should theoretically produce finished compost faster than the more traditional compost bins out there.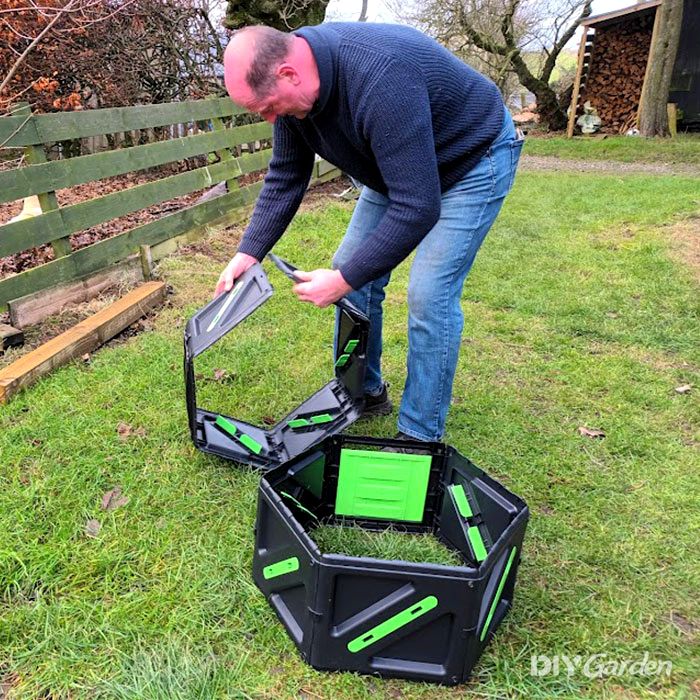 My heart sank a little when I opened the box and saw how many pieces lay inside, but, fortunately, this compost bin didn't take too long to assemble – I'd say about 20 minutes in total. The instructions are helpful, which definitely makes the assembly process less frustrating.
To start with, you'll need to clip together the side panels for each of the two chambers. Plastic clips are provided for this but you do need to use a little force to clip them in. I ended up using my fist to "hammer" each clip into place – if you don't have strong hands, then you may struggle with this.
After this, I attached the chambers to the stand, screwed on the locks, and the bin was ready to use. Keep in mind that you'll need a screwdriver to put this compost bin together – I used a manual rather than an electric to give me better control.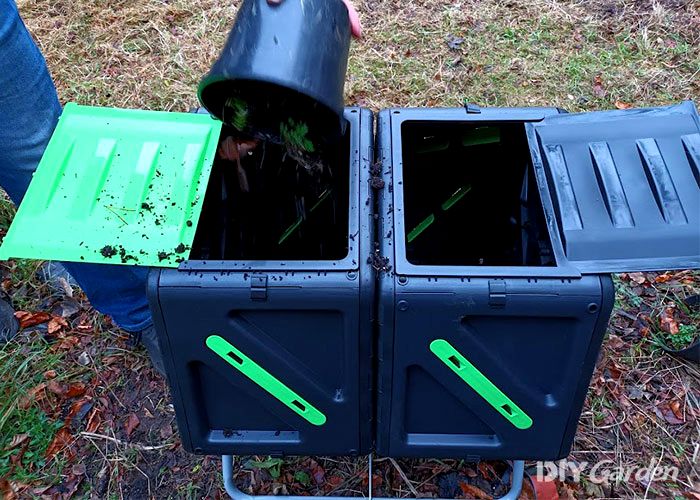 Right from the beginning, I was impressed with the design of this compost bin. It consists of two chambers, each one 70 litres in capacity. The idea behind this is that you fill one chamber and then leave the contents to decompose while you fill the other. By the time the second is full, the compost in the first should be ready to use.
The chambers, which are made from polypropylene plastic, sit on a steel frame. They spin easily, and can turn independently of each other, but each chamber also has its own lock on the side to hold it in place when you don't need it to spin, as well as its own sliding door.
Both chambers have plenty of ventilation holes dotted around them.
Unlike some of the other bins that I tested, which had holes that were so large that kitchen waste would fall through, these holes are small enough to hold both material and heat in.
One problem that I often have with putting kitchen waste into compost bins is rodents. This is a common problem, enough to deter many from putting cooked food waste into their compost bins. However, from what I can see, this compost bin seems to be pretty rodent-proof. The holes seem far too small for even a tiny mouse to fit through, and the fact that this bin is raised up off the ground will make it near-impossible for anything to chew their way into the chambers.
All in all, a fantastic design. It may be a little smaller than some of the other compost bins out there, but I plan on using this one primarily for kitchen scraps rather than garden waste, so its size is ideal for that. If I could give it a higher design rating than 5/5, I would!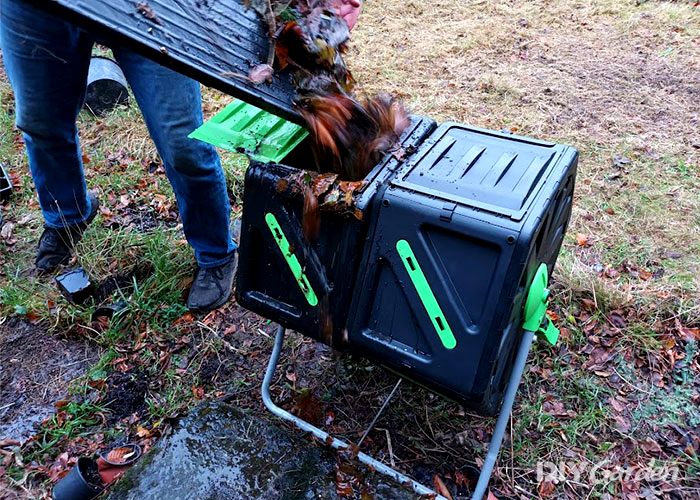 Since I want to use this bin for kitchen waste, I placed it just outside my back door for convenience. The metal stand works well when placed on a concrete base; however, it's not quite as sturdy on grass when it's empty, but it feels much stronger once you start to fill it.
Filling this bin couldn't be any easier. Simply slide one of the doors open, pour your contents in, slide the door closed, and give the bin a spin. The opening for each section is much smaller than the other compost bins that I reviewed. You wouldn't be able to tip the contents of a wheelbarrow in, but it's just the right size for smaller handfuls of waste.
As mentioned, where this compost bin really shines is with its tumbling feature. This part worked really well. Both chambers were both easy to get moving, even once they started to fill up.
The tumbling also makes it easier to access the finished compost too – with a bucket placed under the bin, it's possible to turn the barrel so that the door is facing downwards, when the door is opened, the compost will fall easily into the bucket.
Even though there are several larger compost bins out there, many of which come in at half the price of this one, I would still say that this tumbling composter offers fantastic value for money. Its tumbling design is well worth paying more for – not only does it make turning compost so much easier, but it'll also turn it more effectively than using a garden fork. In my experience, this means that compost can be produced even faster.
The fact that it's made from plastic could detract a little from its value, but it actually works symbiotically with the design. The plastic construction gives the bin a lightweight quality that makes it so much easier to use. It wouldn't be as effective if it was made from wood or anything else.
This bin really does offer a safe and effective way to compost kitchen waste – something that none of the other compost bins that I tested were able to compete with.
Between trying to recycle, but also wanting to deter rodents, dogs, and cats, I never quite know what to do with a lot of my kitchen waste. The fact that the Garden Point Dual Chamber Tumbling Composter Bin provides a protected area for compost is a real game changer. This compost bin is thoughtfully designed and so easy to use. I would highly recommend this to anyone looking for a way to put their kitchen waste to good use, it's the best compost bin that I tested – there's truly nothing about it that I would change. Out of all of the products that I have reviewed to date (not just on this page!), this is the first time that I've been able to say that! The only reason it's not a full marks overall is because you may need strong hands to push some of the pieces together initially. 
Why You Can Trust DIY Garden
At DIY Garden, we believe your trust is earned through our knowledge and transparency. Our team of experts has over 75 years collective experience in the gardening and DIY space. Since the website's creation in 2016 we've tested over 275 products, ensuring our recommendations are based on real experience. We're open about what we've tried and what we've researched, and this is clearly labelled in our product reviews. Every year, we revisit and update our suggestions to include worthy new additions to the market. Our aim is to give you straightforward, honest, and helpful recommendations, so you can confidently choose the best tools and equipment for your projects.
Garden Point Dual Chamber Tumbling Composter Bin Price Comparison
Price History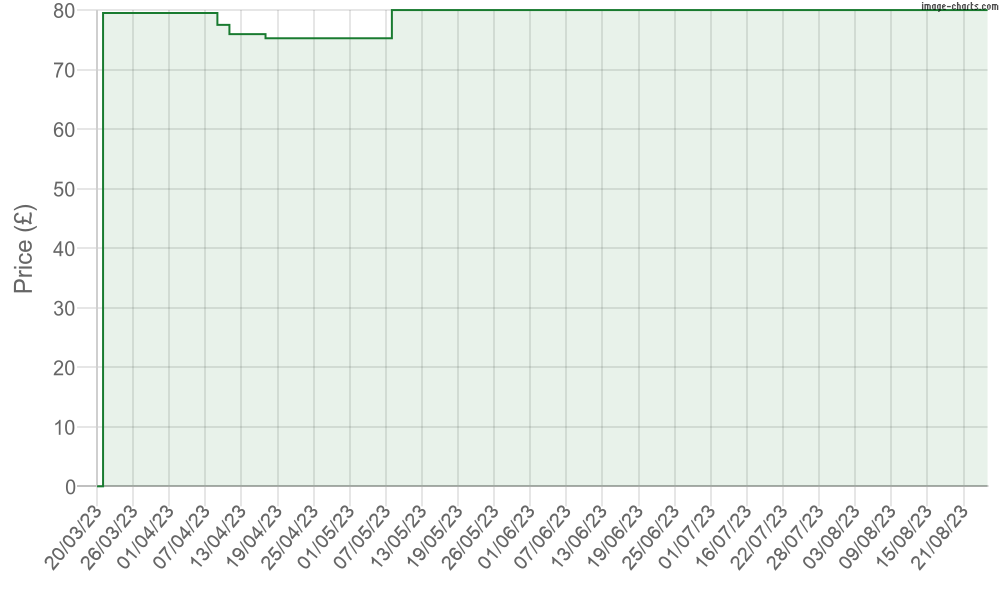 Our Scores:
Assembly Ease

Design

Ease of Use

Value for Money

Overall
Features:
Capacity

140 L

Shape

Hexagonal

Assembly Required

Yes
About Your Guides
Derek Smith has been farming all of his life, and is an professional landscape gardener with over 22 years experience. He owns a 25-acre farm in Aberdeenshire with a focus on self-sufficiency, living off the land, and working with nature.

Sarah's role as chief editor at DIY Garden is about more than just making sure we're literally dotting the i's and crossing the t's (although she's a stickler for detail, so it's certainly about that too!). It's about proof-reading, fact-checking and continuously researching everything we publish, ensuring that it adheres to our

editorial standards

, so that everyone can really get the most out of their green space.
You May Be Interested In These Other Composting Reviews