Our
GR8 Garden Metal Wire Mesh Compost Bin

Review

It's difficult to do a side-by-side comparison of this compost bin against the others that I tested; like I mentioned, this one is designed mainly for leaves, rather than garden and kitchen waste. Yes, you can put leaves into a regular compost bin too, but they often form a thick layer that stops air and water from penetrating through, thus affecting the quality of your finished compost. Placing your leaves into a bin like this is a much better alternative. It's simple, easy to use, and will more than likely give me some beautiful leaf mould in a year or two. 

If you're usually left with massive piles of leaves each autumn and are never quite sure what to do with them, this will be one of the best compost bins to add to your garden.

B071X8WB15

5057102002963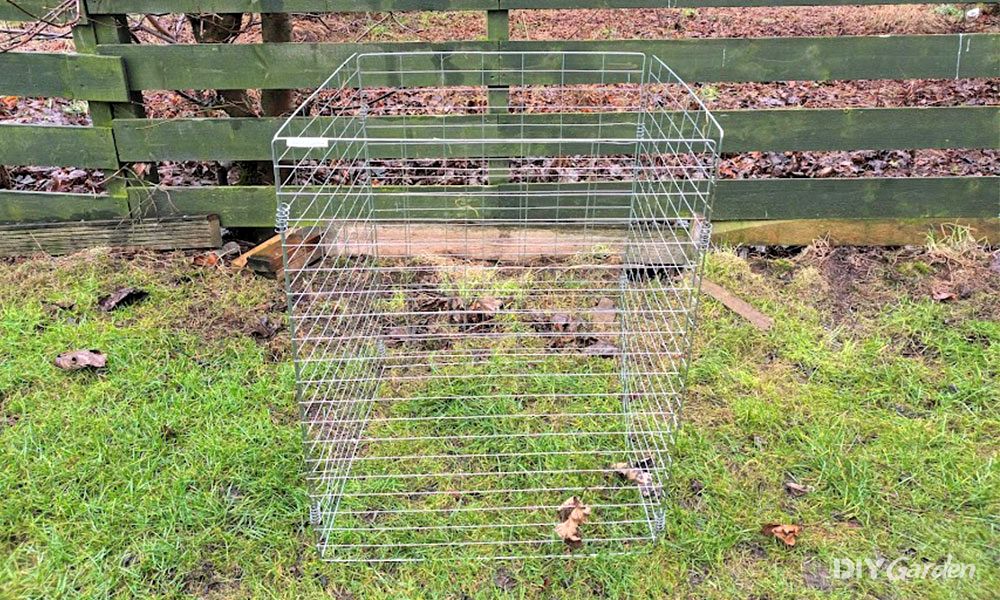 Whilst the majority of the compost bins out there have solid sides, this Metal Wire Mesh Compost Bin from GR8 Garden is a little different. You can still use it for garden and kitchen waste, but this style of compost bin is primarily designed to hold leaves. When the leaves break down, they create a nutrient-rich leaf mould that's perfect as a soil conditioner.
I have several mature deciduous trees around my farm and, up until now, have always made leaf mould by gathering the leaves into perforated black bin bags. However, this GR8 Garden bin seems to offer a more eco-friendly, yet equally effective, alternative.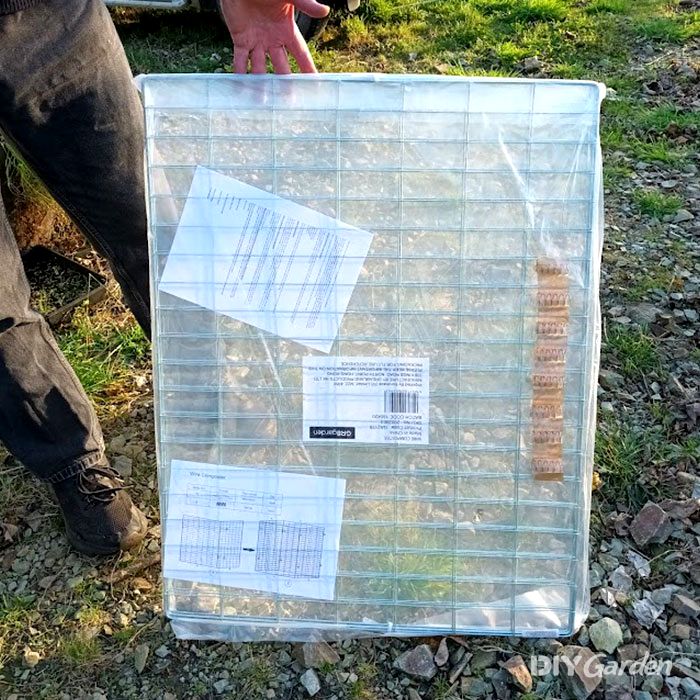 The GR8 Garden Metal Wire Mesh Compost Bin comes with four wire mesh panels and eight metal spring connectors. Very basic instructions are provided, but you probably won't need them.
To assemble the bin you simply need to hold two panels together and hook one end of a spring into one panel. Then, keep twirling the spring around until it's fully inserted. Repeat this seven more times until all four panels are connected together and you're good to go!
Although assembly is a little fiddly, it's easy enough to do. That said, if you'd like to avoid all of the twirling and fiddling, you could just as easily use some cable ties instead – they may even help to keep the bin a little sturdier. Overall, assembly only took about 10 minutes.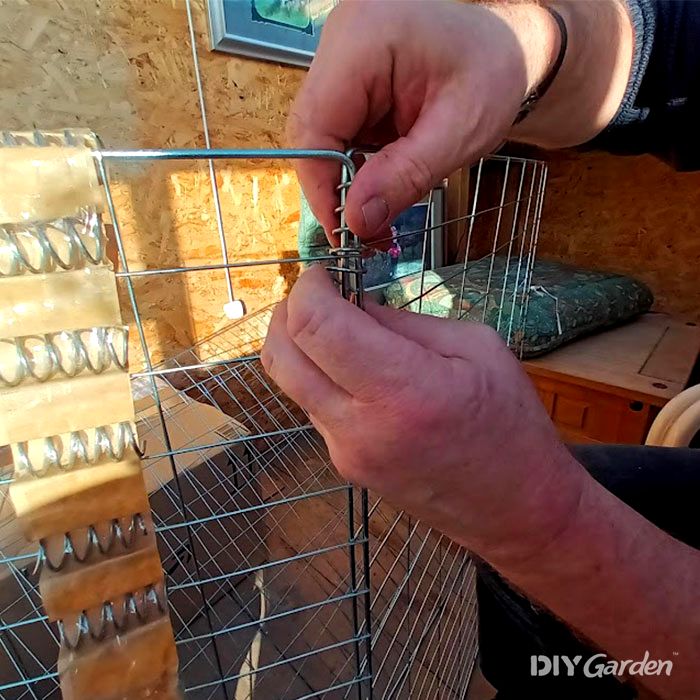 One thing that I didn't do was secure this compost bin to the ground. I didn't think that I would need to, since I had set it up in a relatively sheltered spot on my farm. However, Storm Arwen arrived a couple of weeks later and sent this compost bin, along with its contents, flying. Fortunately, the bin was easy enough to reassemble, and, this time, I pegged it to the ground too, which was easy to do.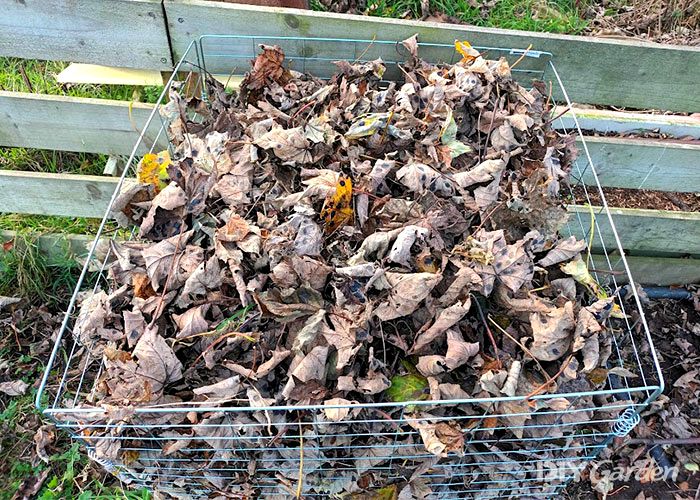 This compost bin has a relatively simple design, but this isn't a bad thing. Granted, it could be a little sturdier than it is, but, as mentioned, this can be rectified by adding on some cable ties to better hold the panels together. The side panels themselves feel relatively strong and are made from powder-coated metal.
This compost bin has a capacity of 458 litres. Measuring 91 cm high and 71 cm wide/deep, it's small enough to sit unobtrusively in the corner of a garden, yet large enough to hold a significant amount of leaves. This is important because if the bin was much smaller, the leaves within would take far longer to break down.
It's worth noting that each of the "squares" that make up the mesh are 10 x 4cm. These gaps are pretty large, which means that the bin would be unsuitable for certain types of garden or kitchen waste – anything smaller than 10 x 4 cm would end up falling out of the bin. For leaves, the mesh size isn't a problem, but it's a shame that the mesh isn't slightly smaller as this would have made the bin more versatile.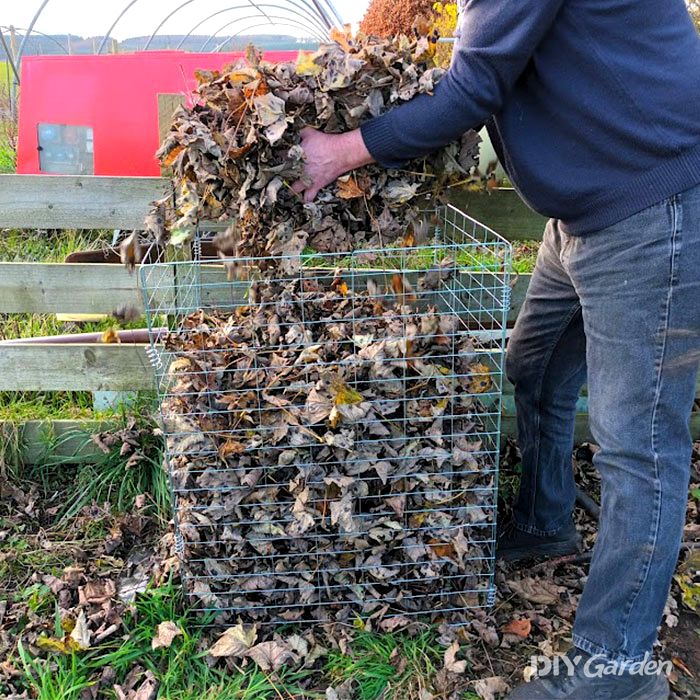 Once you've got this compost bin set up, it really couldn't be easier to use. There's nothing complicated about it – simply throw your leaves (or garden waste, if you choose to add that in too), over the top to fill the bin. The height of the bin makes this especially convenient – it's low enough that you don't need to reach upwards with a handful of leaves, you can simply drop them down instead.
It didn't take me long to fill this compost bin. I'd say that it was large enough to hold the leaves from 2-3 mature deciduous (sycamore) trees. Since I had placed the bin underneath these trees and was using a leaf blower to gather the leaves up, it only took about 10 minutes before the bin was full.
The more the bin filled, the sturdier it felt. As I thought, the size of the mesh was also ideal for leaves – much to my relief, none of the leaves fell out from the sides. Instead, they were all held in well, and each new load that I added on helped to weigh down the leaves that were already in there.
Like I said, this is a very simple compost bin, and its price reflects that. For what you're paying, you're getting a functional and easy-to-use product that looks and feels durable enough to last for several seasons.
The panels are high-quality and a good size. Even if you choose to use cable ties instead of the provided spring connectors, this compost bin would still offer great value for money.
If you're concerned that the size of this bin may be too small for what you need, don't scroll away just yet. There's one more tip to bear in mind – what really appeals to me about this product is that it would be easy enough to purchase a second one and connect it together with the first, therefore doubling the size of the final bin. In my opinion, this versatility makes it worth even more.
It's difficult to do a side-by-side comparison of this compost bin against the others that I tested; like I mentioned, this one is designed mainly for leaves, rather than garden and kitchen waste. Yes, you can put leaves into a regular compost bin too, but they often form a thick layer that stops air and water from penetrating through, thus affecting the quality of your finished compost. Placing your leaves into a bin like this is a much better alternative. It's simple, easy to use, and will more than likely give me some beautiful leaf mould in a year or two. 
If you're usually left with massive piles of leaves each autumn and are never quite sure what to do with them, this will be one of the best compost bins to add to your garden.
Why You Can Trust DIY Garden
At DIY Garden, we believe your trust is earned through our knowledge and transparency. Our team of experts has over 75 years collective experience in the gardening and DIY space. Since the website's creation in 2016 we've tested over 275 products, ensuring our recommendations are based on real experience. We're open about what we've tried and what we've researched, and this is clearly labelled in our product reviews. Every year, we revisit and update our suggestions to include worthy new additions to the market. Our aim is to give you straightforward, honest, and helpful recommendations, so you can confidently choose the best tools and equipment for your projects.
Our Scores:
Assembly Ease

Design

Ease of Use

Value for Money

Overall
Features:
Capacity

458 L

Shape

Rectangular

Assembly Required

Yes
About Your Guides
Derek Smith has been farming all of his life, and is an professional landscape gardener with over 22 years experience. He owns a 25-acre farm in Aberdeenshire with a focus on self-sufficiency, living off the land, and working with nature.

Sarah's role as chief editor at DIY Garden is about more than just making sure we're literally dotting the i's and crossing the t's (although she's a stickler for detail, so it's certainly about that too!). It's about proof-reading, fact-checking and continuously researching everything we publish, ensuring that it adheres to our

editorial standards

, so that everyone can really get the most out of their green space.
You May Be Interested In These Other Composting Reviews