In this quiet fan review, I thoroughly compared noise level, power, design, adjustability and value for money for multiple products. After hours of research and testing, I recommend the MYCARBON Quiet Cooling Bedroom Fan as the best quiet fan on the UK market.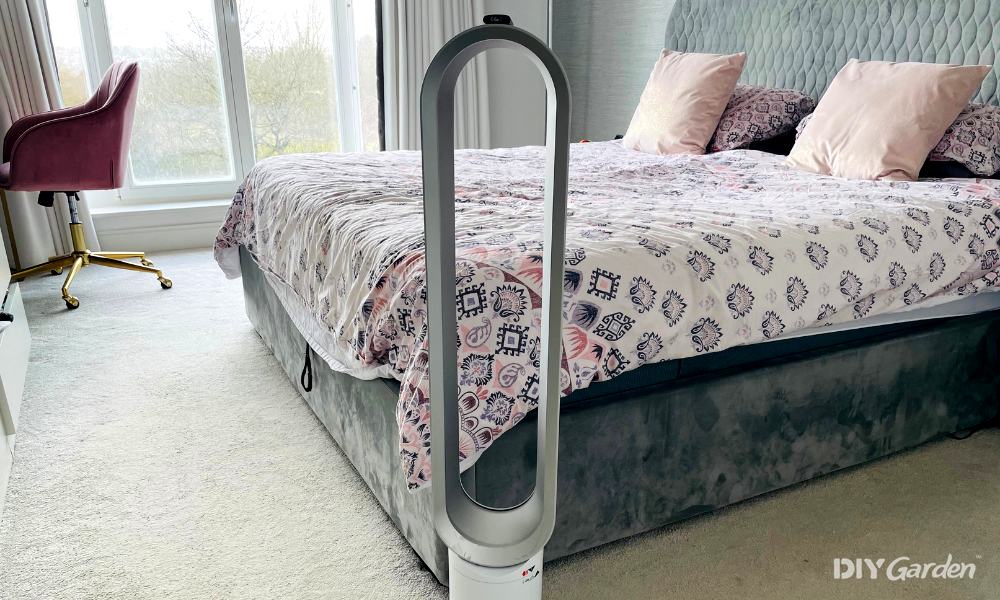 My Top Recommended Quiet Fans
My Top Recommendation Based on Real-world Testing
Other Quiet Fans Worth Considering
Compare Product Features Here
Use the dropdown to sort the table by the feature that's most important to you.


Our score
Noise (dB)
Speed Settings
Type
Oscillating
Oscillation Degree
Adjustable Angle
Power
Weight
Remote
Cord Length
Tips For Buying a Quiet Fan
As you can imagine, the most important thing to keep an eye on is the fan's decibel output. This is generally advertised by the manufacturer, particularly if the fan is presented as a 'quiet fan'.
The best quiet fan will stay below 50dB, even on its highest setting

. Anyone with concerns about being disturbed should make sure to choose a fan with a 'sleep mode' setting. This gives a particularly quiet, low-power option.

If you're particularly sensitive to noise, I recommend looking at quiet fans that produce 20 – 25dB on sleep mode

. These are ideal for office work as well as sleeping.

A timer function is great if you want to use the fan whilst you sleep.

This considerably reduces energy consumption, finding a good balance between energy usage and cooling power.

Then, there's fan size to consider. If portability is a priority for you, choose a clip-on or table-top fan

. These can be taken in a bag to different locations and are great when working and sleeping in different locations over summer.

Alternatively, a desk fan or standing fan are best for home office and bedroom use

.

If you have a small home with limited floor space, there's always the option of a wall-mounted fan

. Of course, the disadvantage of these is that they have to stay in just one spot and can't easily be moved from room to room.
After comparing several different quiet fans, my top recommendation is the 4UMOR Standing Quiet Fan. This fan has a super quiet sleep mode, producing just 20dB. It then has nine speed settings, making it ideal for finding the perfect noise/fan balance. There's an integrated timer, as well as a remote control, both of which are excellent for overnight use.
Why You Can Trust DIY Garden
At DIY Garden, we believe your trust is earned through our knowledge and transparency. Our team of experts has over 75 years collective experience in the gardening and DIY space. Since the website's creation in 2016 we've tested over 275 products, ensuring our recommendations are based on real experience. We're open about what we've tried and what we've researched, and this is clearly labelled in our product reviews. Every year, we revisit and update our suggestions to include worthy new additions to the market. Our aim is to give you straightforward, honest, and helpful recommendations, so you can confidently choose the best tools and equipment for your projects.
How to Choose The Best Quiet Fan
I think we've all been there: it's a hot night and you can't sleep so you put the fan on. Then you lie in bed, wide awake, listening to the loud whirring of the fan. Spending the next 6 restless hours flipping between being too hot to sleep, or turning the fan on and being too irritated.
Fortunately, fans exist which have often been specifically designed with a quiet sleep mode in mind.
Check out the following tips to help you decide between the best quiet fans:
Quiet Fan Shape/Style
There's a surprising amount of style variation in the world of quiet fans – tower fans, circular fans, desk fans and wall-mounted machines. So, which is the best quiet fan for you?
Desk Fans
Smaller desk fans are great for portability. You can move them around between rooms, and also position them right next to you on your bedside table if you want. If you buy one which can tilt vertically, like the MYCARBON Bedroom Fan, you'll also be able to place it on the floor and aim the air upwards. As a result, a table-top fan is a very versatile option.
Tower Fans
Tower fans look fantastic. They are streamlined and tuck neatly into the corner of a room (round standing fans, for example, are harder to store discreetly like this). Tower fans may not be quite as powerful as round fans – they do not have spinning blades creating the airflow – but they can still cool rooms effectively. They lend themselves to having more features, owing to their more digital nature, and will often have more fan speeds.
READ NEXT: The Best Bladeless Fans
Wall Fans
Wall-mounted fans are an excellent option if you really don't want to spend any floor space on your fan. They're great if you only want to use the fan in one room, and have a suitable place to mount it on the wall where the airflow will reach where you want it to. Some fans, such as the Honeywell Turbo Fan, can be mounted on the wall or can stand independently. This is a good option if you're not sure whether you want to commit to the static nature of a wall-mounted fan.
Clip-On Fans
Finally, there is a slightly more unusual style of quiet fan available: the clip-on fan. These fans are a lot smaller, and come with a clip so that they can attach directly onto the bed frame or the side of a desk. Whilst not the biggest fans, for example the Pro Breeze Professional 6" Mini Clip Fan has a diameter of 15 cm, they are effective one-person fans and can actually do a great job of keeping you cool. Plus, they're extremely portable.
Decibel Noise Level
Of course, when looking for a quiet fan, noise level is one of the top things to consider.
When purchasing a quiet fan, look at how many decibels of sound it produces.
On this top 10 list, the quietest fan produces 15 dB whilst the loudest (on its fastest non-sleep-mode setting) produces 51 dB.
To get an idea of what this means, here are these sound levels put into context:
10 dB – the sound of breathing
20 dB – rustling leaves
30 dB – whispering
40 dB – the sound of light rain
50 dB – the hum of a refrigerator
60 dB – normal conversation
So, as you can see – the fans on this list are extremely quiet. It's unlikely that any one of them would disturb your sleep, but if you're worried you can look for ones on the lower end of the above chart.
Adjustable Settings
A standard fan is great and doesn't need too many mod cons to be effective. However, when you're trying to find the absolute best quiet fan, you might find it useful if your fan has some adjustable settings.
For example, you can buy fans which specifically have a 'sleep' mode – designed with very quiet operation in mind. It's certainly something to consider looking out for if you really want to ensure your sleep isn't disturbed.
Another really useful setting for a fan is a timer function. If you set your fan running as you're going to sleep, you can use a timer function to program it to turn off after two hours. This is great if you want to save electricity but need your fan on to help you nod off.
Remote Control Operation
One particularly handy feature for a quiet fan is a remote control. Controlling your fan remotely is great, especially if you're using it when it bed. If you're too hot or too cold, you won't even have to leave the comfort of your mattress – you can just use your fan's remote control to change the settings! It's definitely a useful feature to look out for, although of course not the end of the world if it doesn't have one!
Quiet Fan FAQs
How can I be sure that quiet fans won't disturb me when I sleep?
Decibels are a really easy way to gauge if the fan is going to be quiet enough for you.
For example, the quietest fans only emit 15/20 dB of sound. For context, 10 dB is the sound of breathing, and 20 dB is the sound of whispering from 5 ft away. Likelihood is, you'll barely notice 20 dB of fan noise.
How big a fan do I need to buy to make sure my home keeps cool?
If you live alone then you'll be able to use a much smaller personal fan, this could be anywhere from 15 to 30 cm in diameter. If you're trying to keep a larger space cool, and you want better air circulation, you'll probably want a fan with a diameter of 30 cm +.
Is a tower fan better than a pedestal fan?
Tower fans generally take up less floor space than stand fans and look more stylish. However, pedestal fans are often a bit more powerful and better suited to larger areas – you have more control over oscillation, height, and air circulation potential.