Fresh & Contemporary Garden Decking Ideas
Decking has been a popular garden feature for some time now, making statements in yards across the UK.
If you haven't jumped on the trend yet, this could be your year.
Decking creates a perfect place to hang out, relax and entertain guests. It also doesn't have to exclusively be for those with large gardens or big budgets.
The best place to start when planning something new is a detailed 'inspo' list, so here are 23 of the best garden decking ideas to help you visualise your new garden makeover.
1. Create a Small Decked Area on a Budget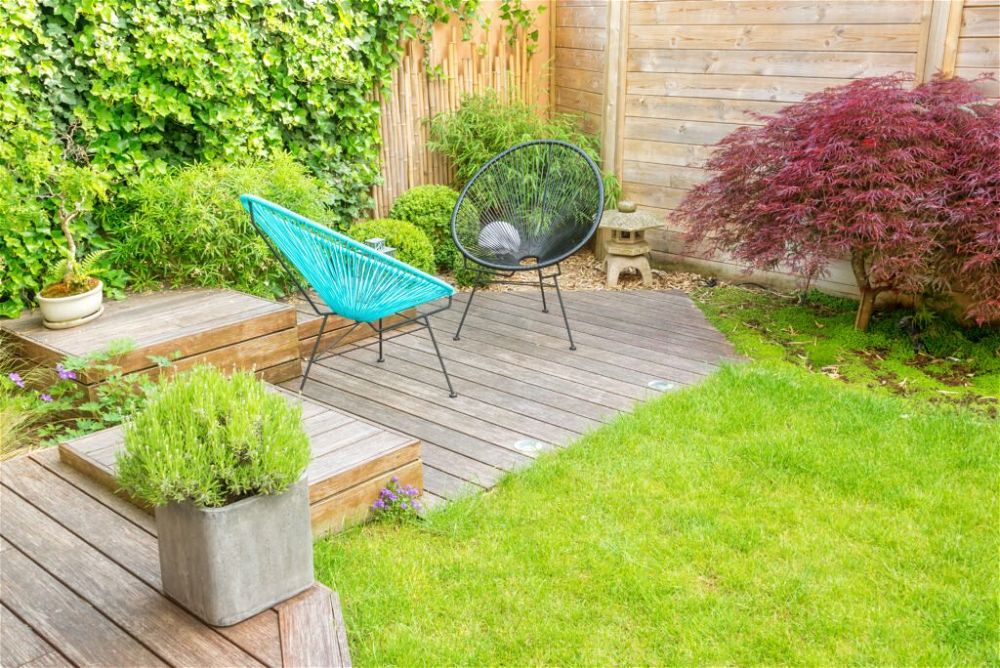 If you want a deck but cash is tight your best bet is to create a small area that's big enough for two seats. This brings down the cost of wood and makes it easy to install yourself. Fill in any extra spaces with loose bark on weed membrane to extend the area.
Choose a sunny spot – decking doesn't have to be right outside your patio door.
2. Use Decking to Create Two Separate Areas in Small Gardens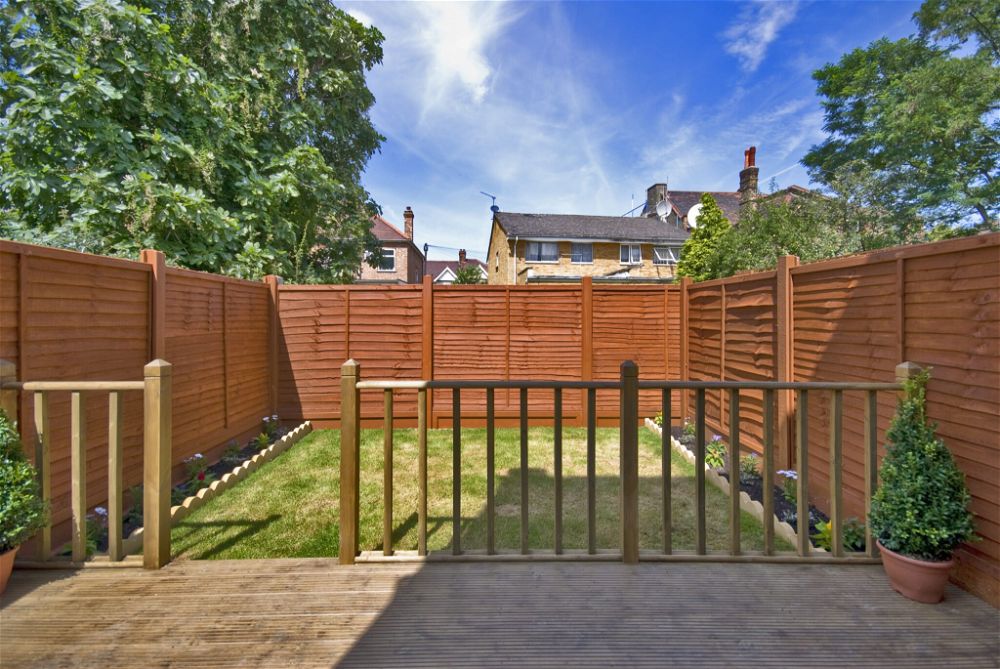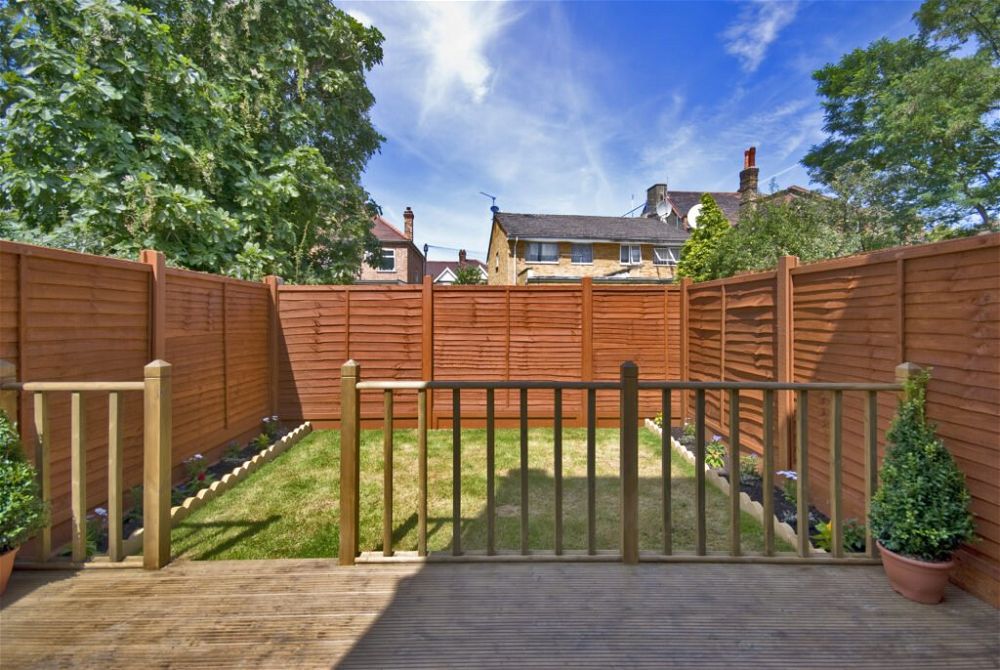 A small townhouse garden is transformed with decking that runs the width of the house.
This makes two garden 'rooms' – one for adults to relax on and one for kids to play on! The square layout including straight borders gives a very contemporary feel. Don't forget a safety rail if your decking has any height.
3. Build Stacked Decking if you Have a Sloping Garden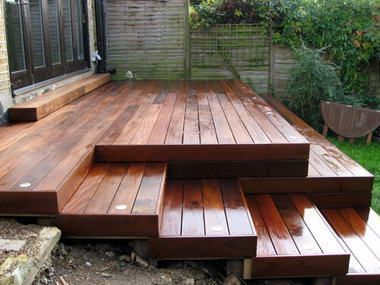 Tiered decking suits a sloped garden. By building tiers you conquer the slopes and make several practical flat decks to work and play on.
This useful two-tier deck incorporates four-tier stairs so the stretch is comfortable. This design creates a stylish and practical solution to a sloped garden right outside your back door.
4. Combine Landscaping with Decking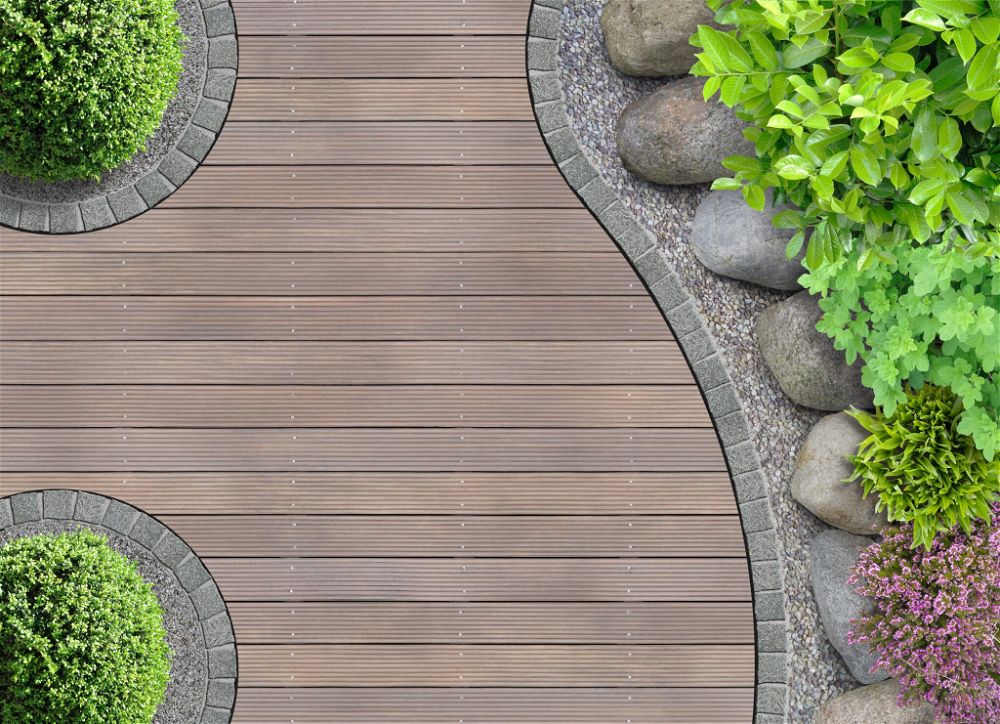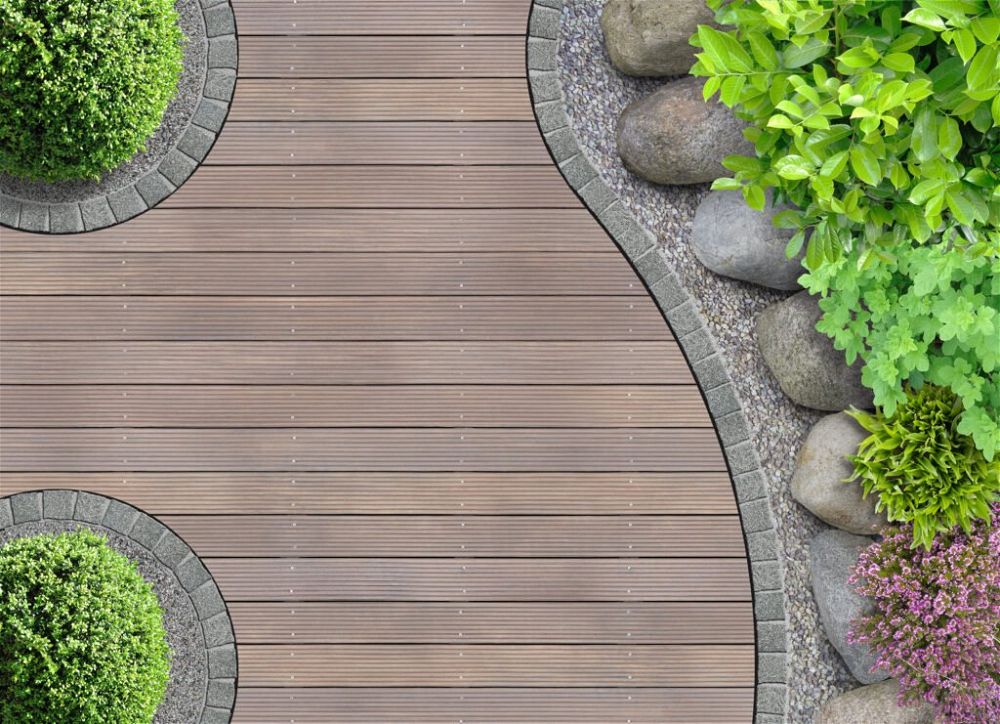 Back garden decking doesn't have to be that rectangle we all know. This design is curvy which brings movement and interest to your garden.
Incorporating rocks and contemporary evergreens such as box balls also help break up the monotony of an ocean of wood.
5. Move the Decking into the Centre of a Small Garden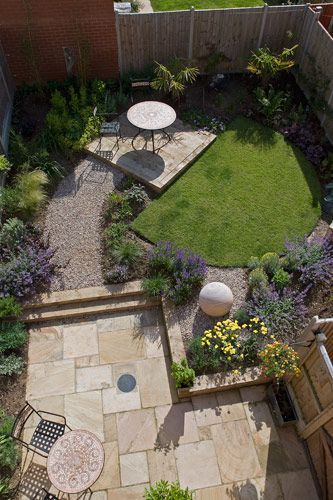 Even a small garden can benefit from decking, as a small deck can infuse your garden with life.
Here the deck has been moved into the middle of the space to catch the sun. A stone path and small curvy lawn adds to the movement and creates a pretty little garden with low-cost decking.
6. Combine Textures with Decking, Grass & Stone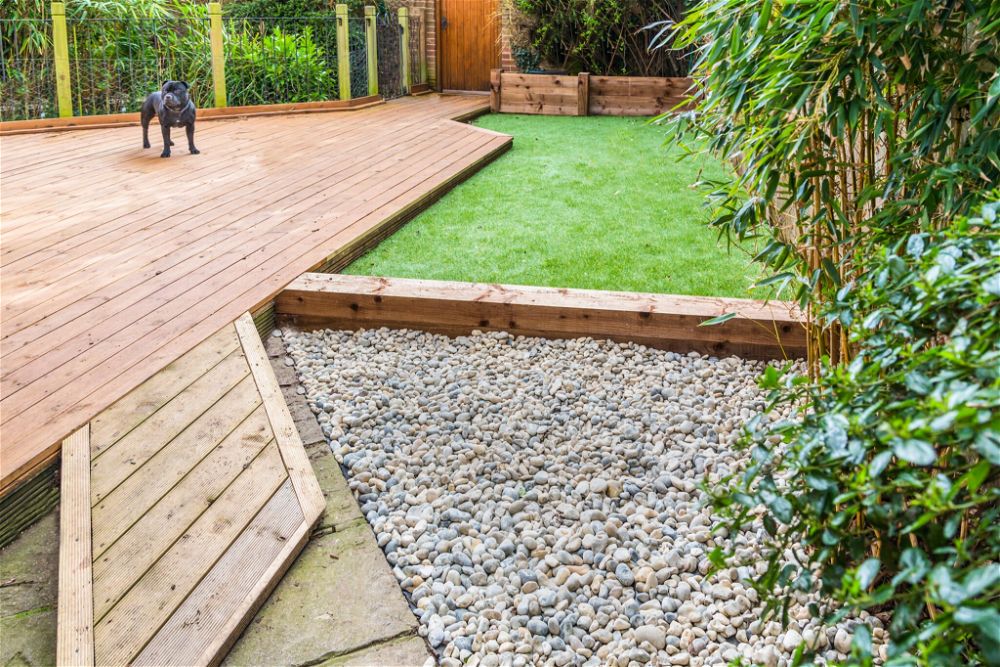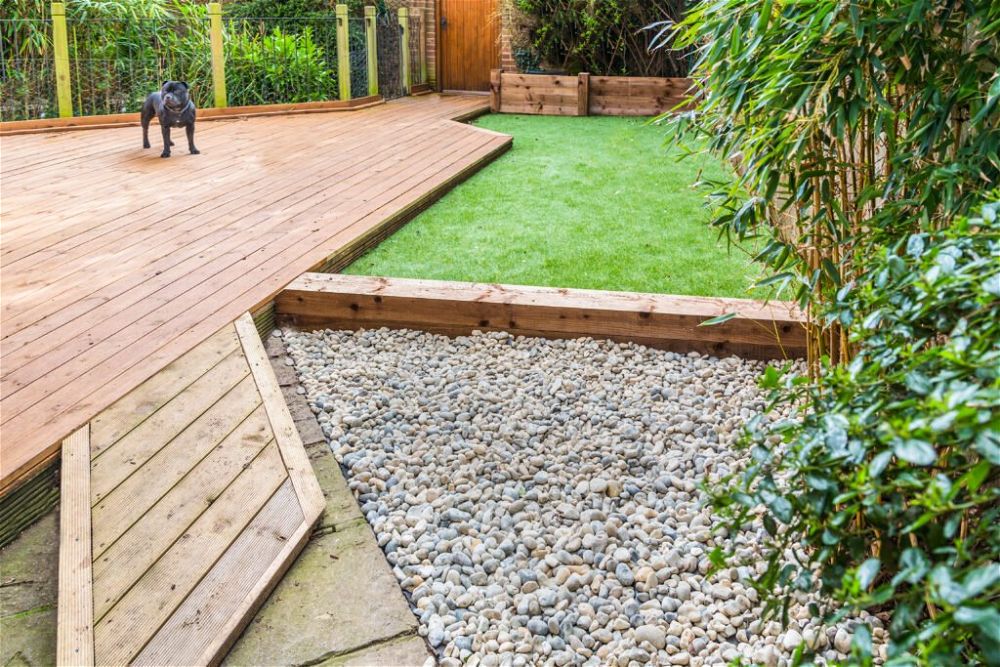 When you have kids or pets they need a grassy area to play in. Luckily decking and grass look good together! Here we have a large deck with a small lawn that's perfect for play. The stone area adds more texture to complete the look.
7. Build a Raised Decking Area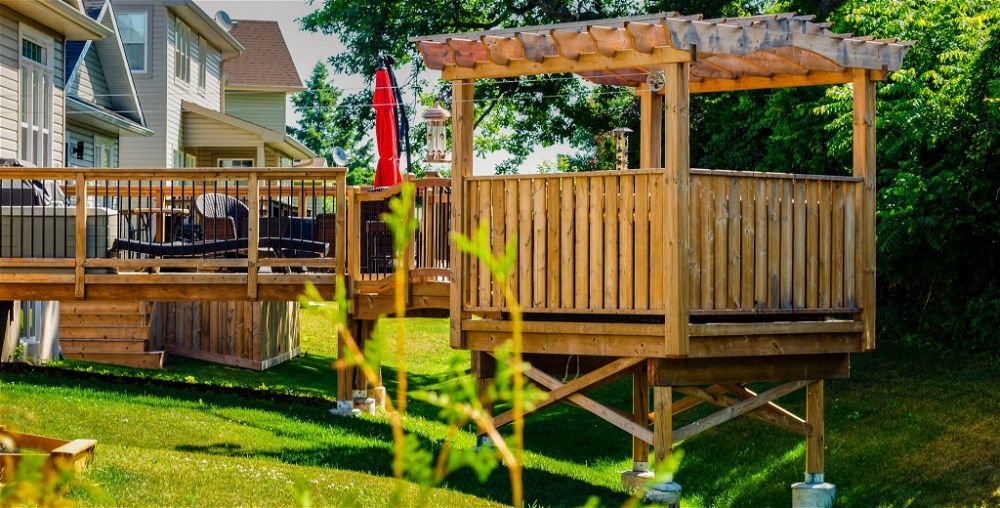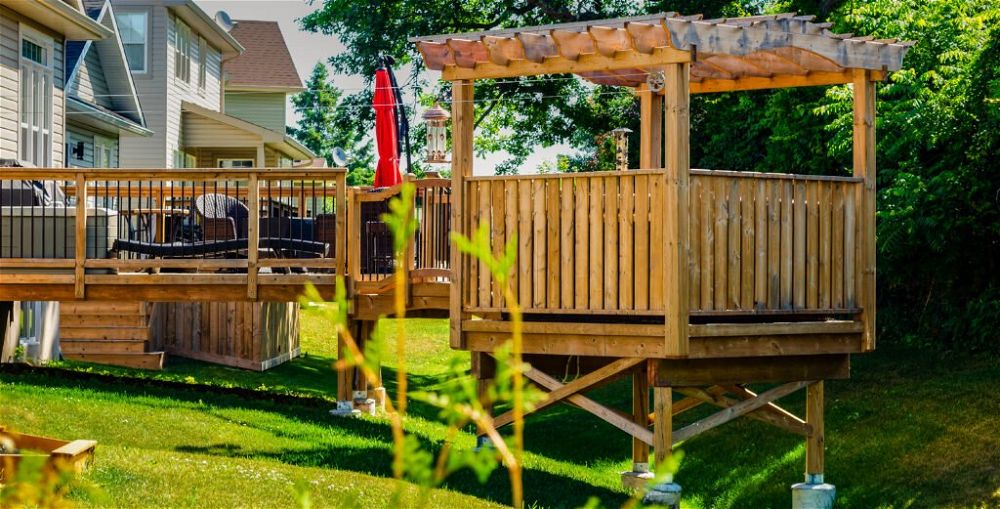 Raised decking helps cope with sloping gardens, which can offer some really interesting decking opportunities such as this pagoda on stilts – it's a grown-up treehouse!
Decking leads from the back door and remains level so you don't have to negotiate steps. The privacy and shade created beneath is a great area for kids to play in too.
8. Go Contemporary with Composite Garden Decking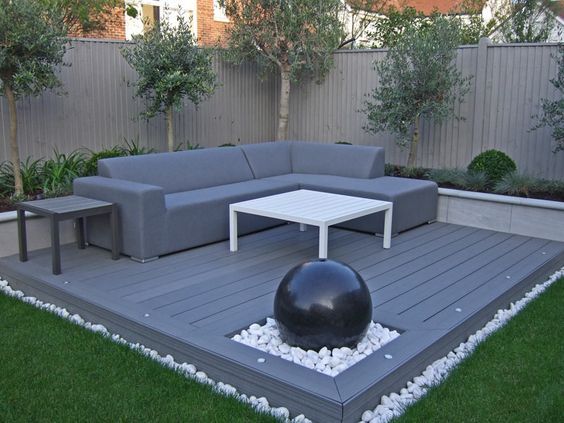 Composite decking comes with a higher price tag than natural wood, but it lasts longer, is less slippery, and is just as useful.
One of the great aspects of composite decking is the colour. There are many available, but the current trend is grey. This picture shows grey composite decking with a matching grey contemporary water feature. It's inspirational and it'll last decades!
9. Choose Modern Coloured Decking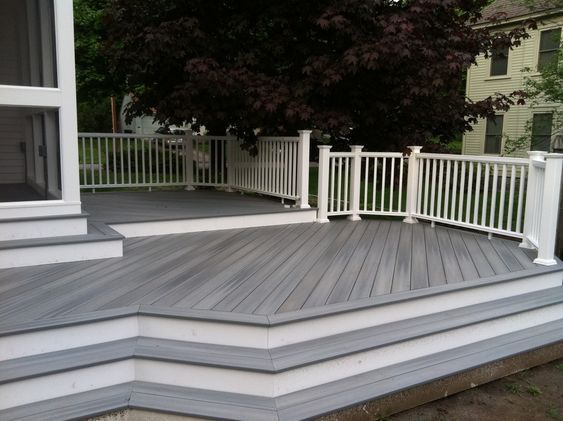 On-trend grey looks good in a garden and a deck is a perfect place to showcase it.
But while everyone else is going full grey, why not jazz yours up with white for a fresher look? This deck has diagonal boards and striped steps so you don't have a large slab of grey darkening your outdoor space.
10. Customise Decking with Stencils and Paint
Why not paint a rug on the decking? It looks cosy and is certainly inspirational for a contemporary garden.
This picture has a nautical feel with blue and white, but you could stencil Moroccan shapes or go bright pink – there are plenty of decking paints to choose from.
11. Shape Your Decking Around a Pond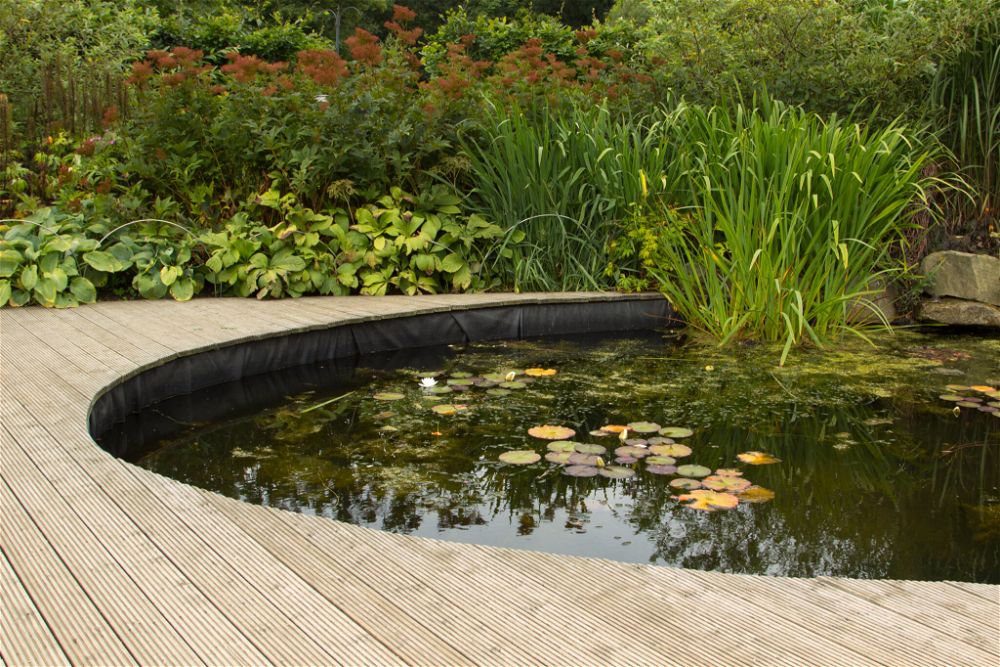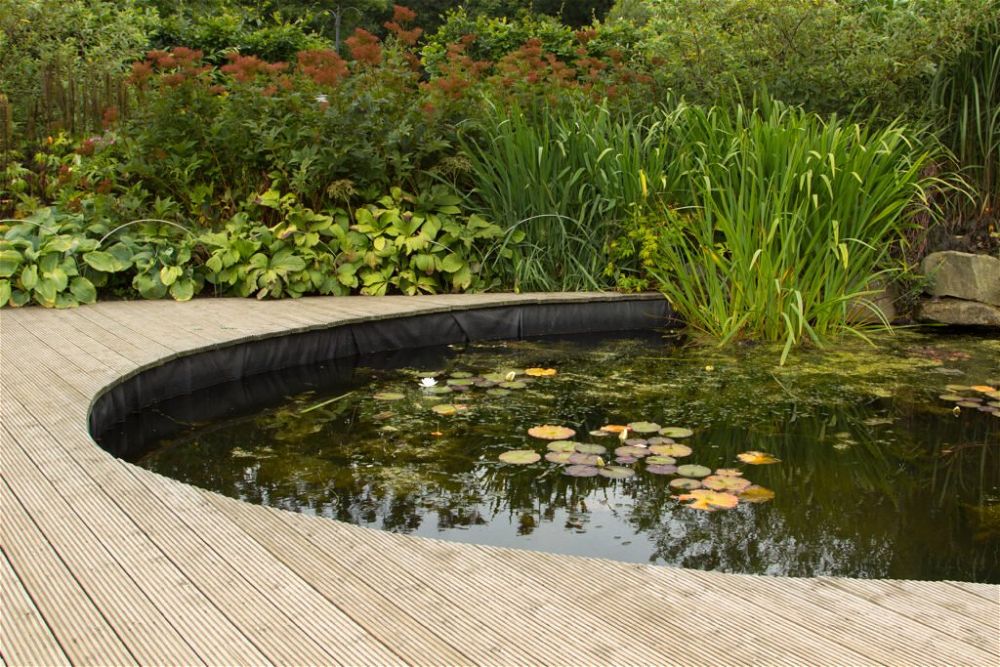 Designing garden decking around a pond looks great, and also makes it a lot easier to feed your fish in the winter months – no more wet muddy grass to contend with.
Sitting outside on a warm evening next to your pond is a relaxing way to spend time – and when it looks this good, you'll be outside more than in. Don't forget to add a way for wildlife such as hedgehogs to escape should they fall in.
12. Build Seating into the Decking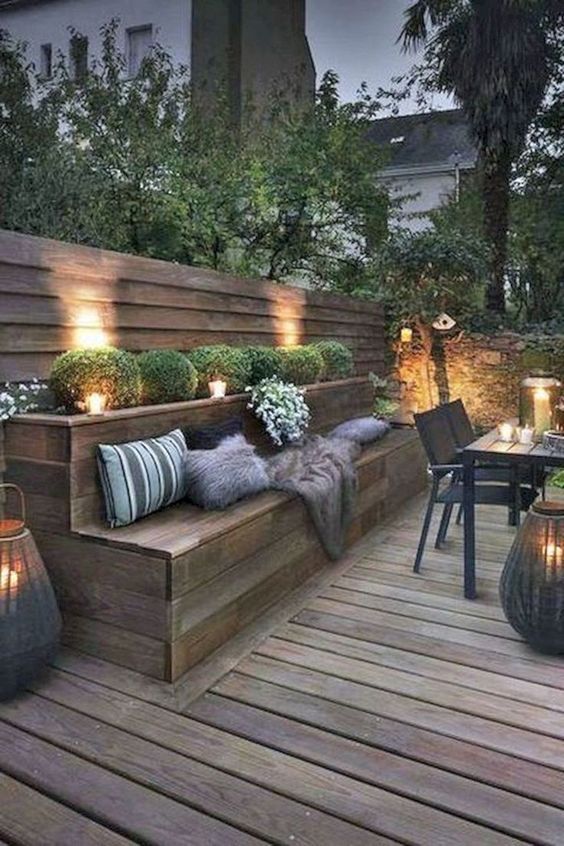 This is a great design for garden patio decking as it incorporates three ideas into one.
You have the wooden deck to keep your feet dry, built-in seating (you can never have enough of that), and a planter. Contemporary box balls are the perfect choice for a modern patio deck.
13. Create a Corner Podium with Garden Decking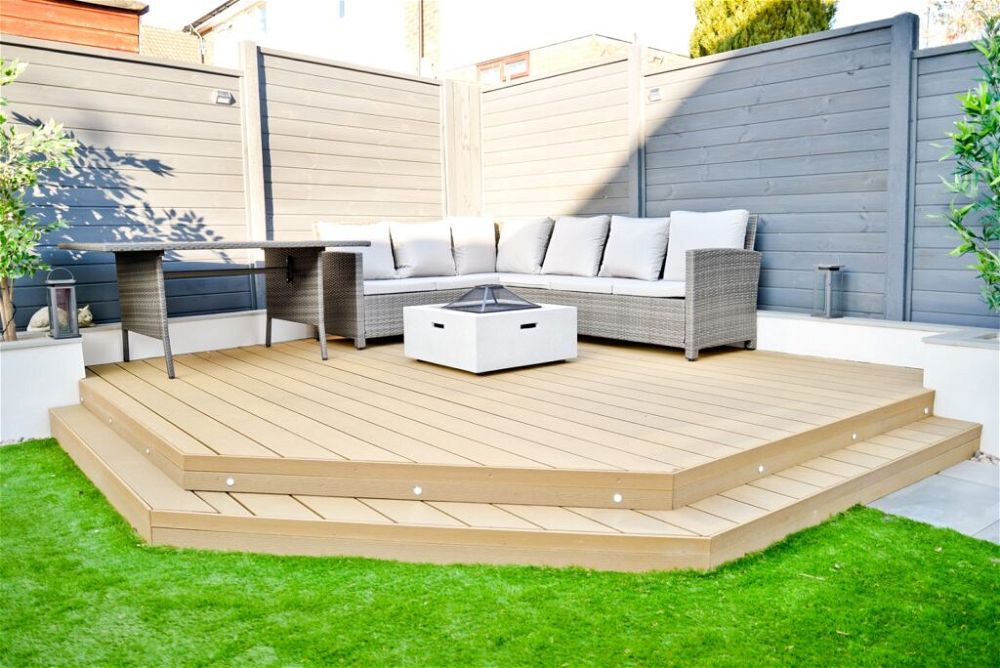 This corner patio decking is welcoming and makes a great feature. Patios don't have to sit by the back door. This one makes the most of a sunny spot whilst maximising space. Add lighting to your steps for evening fun and safe ankles!
14. Use a Pallet Foundation to Keep Decking Costs Down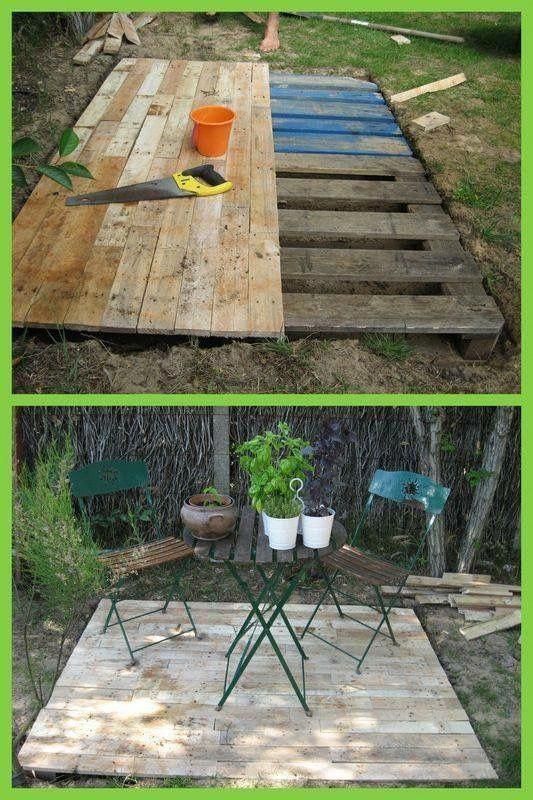 Deck boards are not expensive, but the price bumps up when you have to buy the framework that fits beneath. Here pallets are used to keep deck boards from the soil. It's a good idea if you need to cut costs.
15. Add Decorative Accessories for a Finishing Touch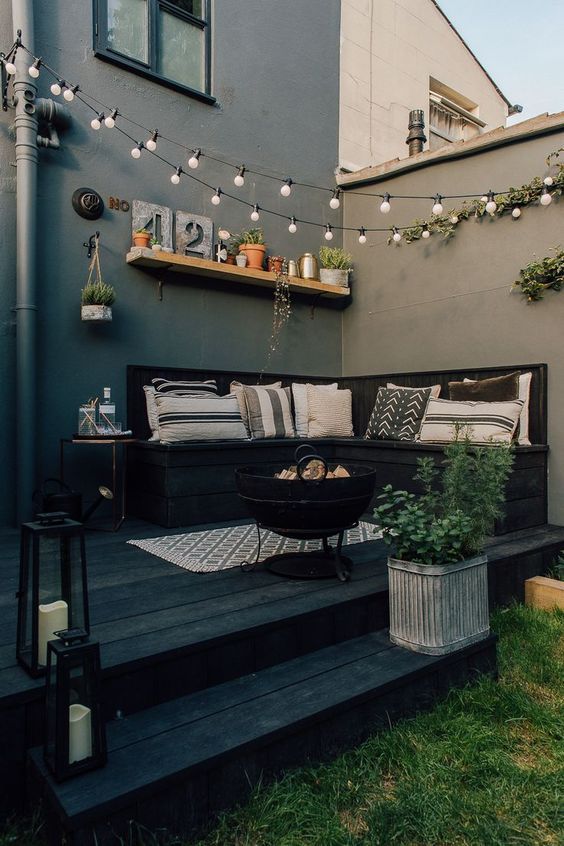 Take inspiration from so many ideas here! From the shelf to the seating, the cushions, lanterns, firepit, and the hanging lights – they all combine to make a cosy nook you'll love to sit and relax in. It's like having your sitting room outside.
16. Combine Dark Wood Decking and Foliage for a Jungle Feel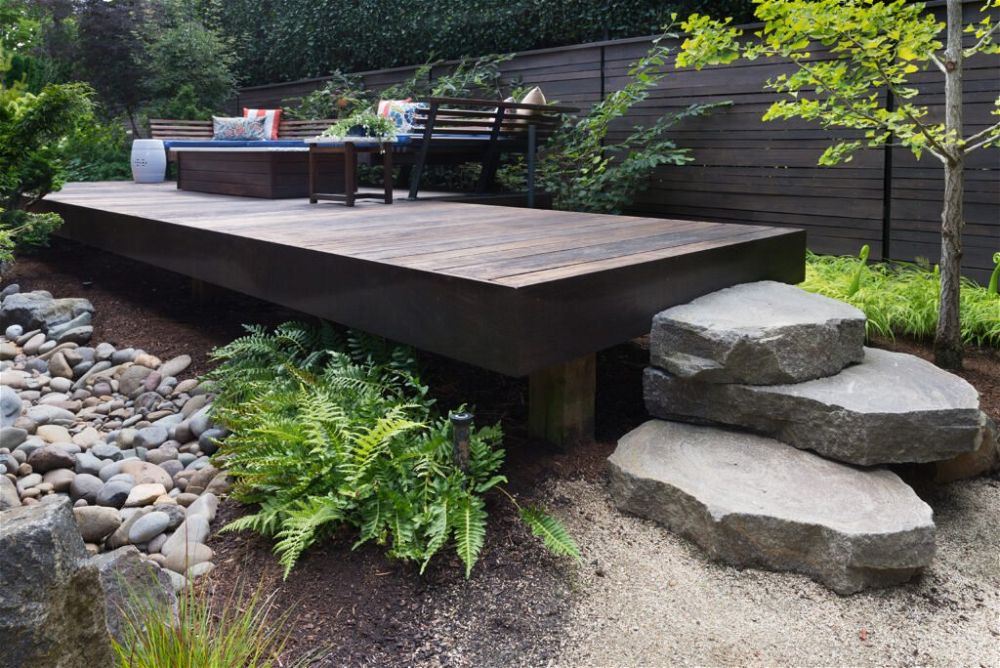 This raised deck is gorgeous landscaping with a natural feel. Its dark wood contrasts nicely with green ferns and the three large stones that create unusual steps. This is how you bring a touch of jungle landscaping to a plain urban garden.
17. Incorporate Lights into Garden Decking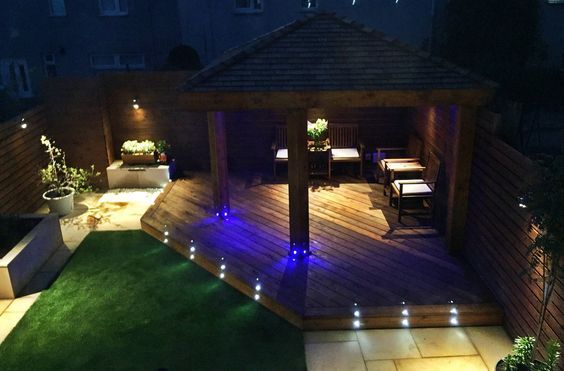 A combination of lighting on this deck lights up areas safely but casts a warm inviting glow.
Spotlights shining from above coupled with receded white and blue lights in the deck look contemporary and cosy. If you need extra lights, twist a few ropes of fairy lights along the gazebo roof.
18. Be Original: Make a Statement with Front Garden Decking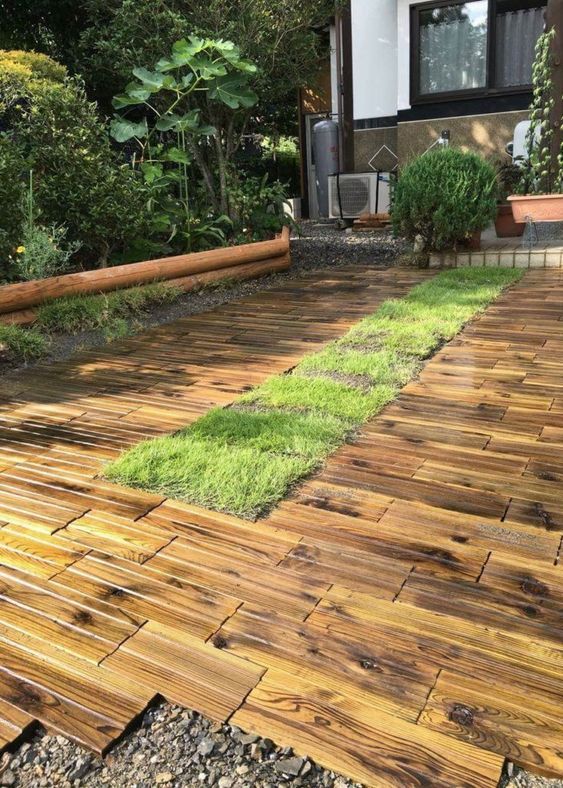 Decking isn't the first thing that springs to mind during a front garden makeover, but here decking has been placed on a firm stone foundation to create a parking space.
The natural centre area is a great way to attract pollinating insects while you're at work. Contemporary and eco-friendly, you can't get better than that.
19. Integrate Garden Decking with a Water Feature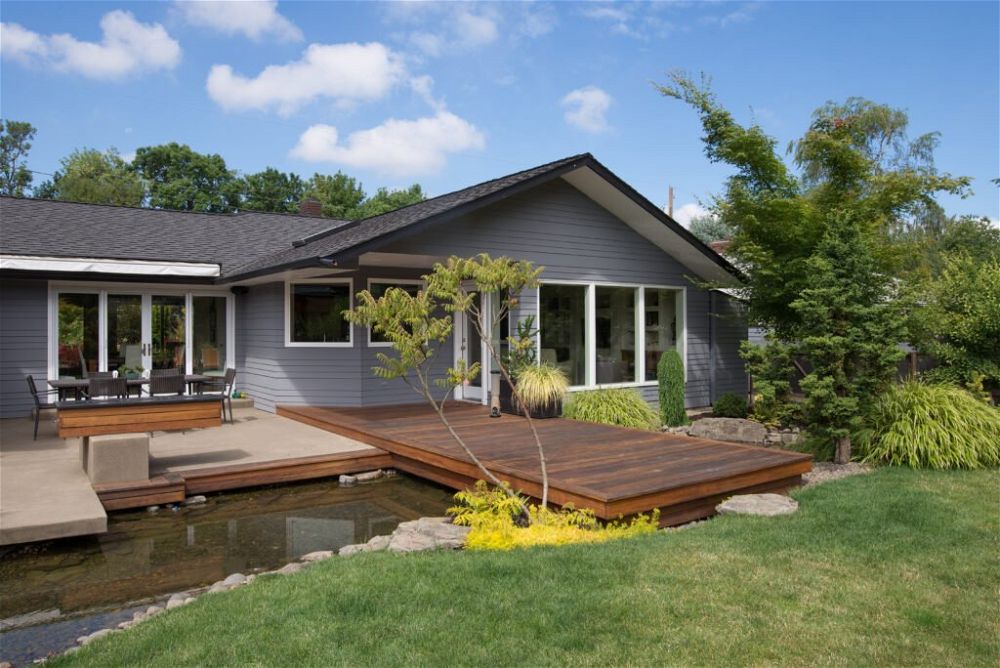 Garden decking water features can be a simple butler sink of water, but how about going all out and building your deck over a large but shallow water riverbed?
Watch koi swim beneath and dip your toes on hot days – this is the perfect way to combine a love of practicality with the water feature you've always wanted.
20. Construct a Canopy over Garden Decking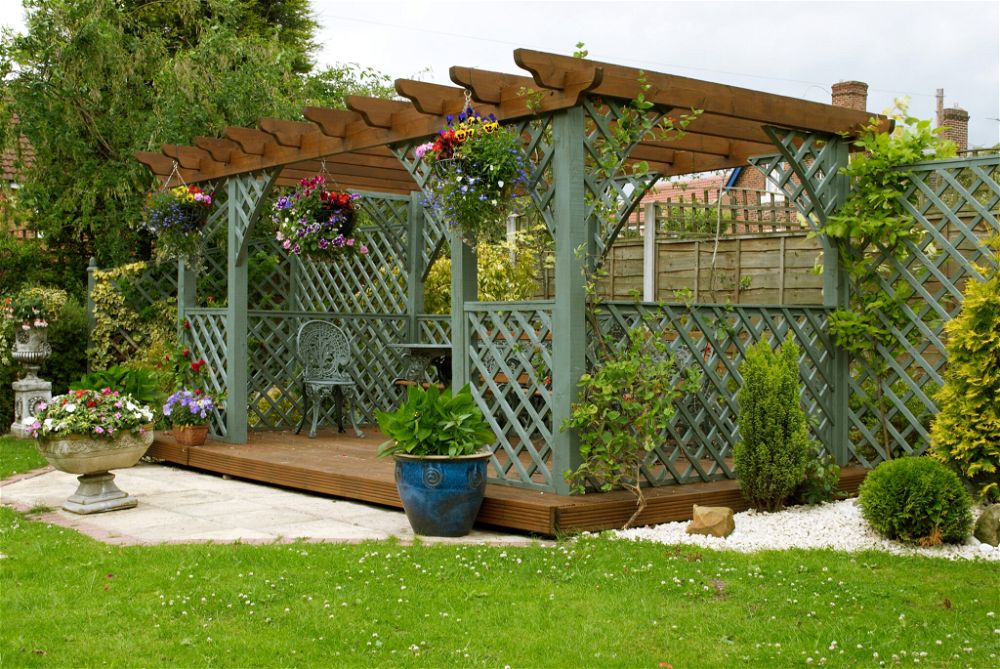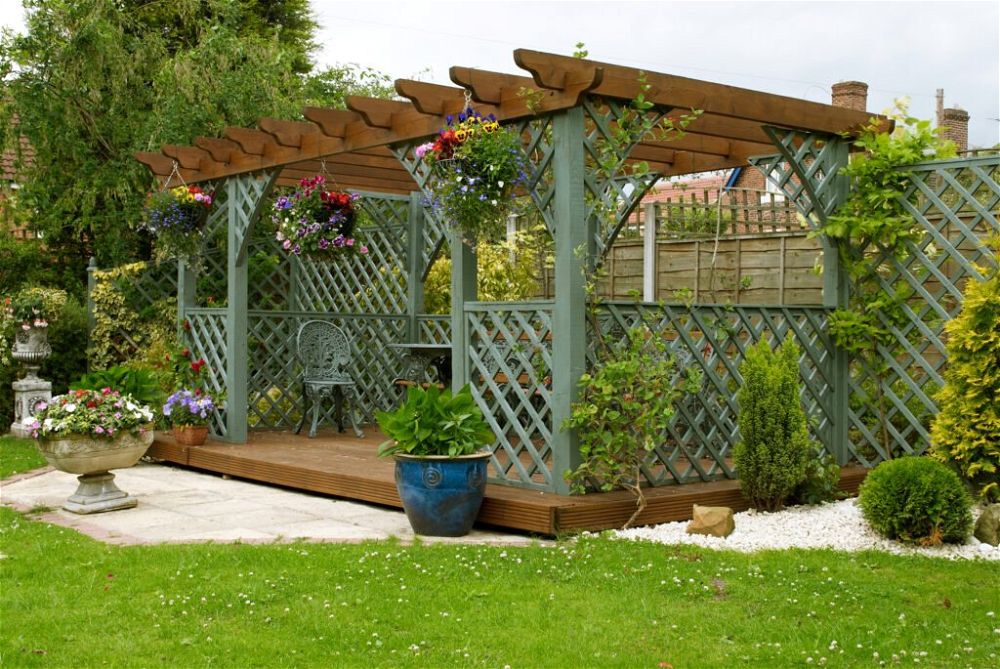 Building a pergola over your decking is a simple way to create shade, a barrier against the wind, and to keep rain off – not to mention it looks good!
There are lots of modern pergola styles out there. This one has big contemporary beams and is more traditional with willow coloured trellis walls. But you can build as much or as little as you'd like.
21. Elevate Decking to Incorporate Planters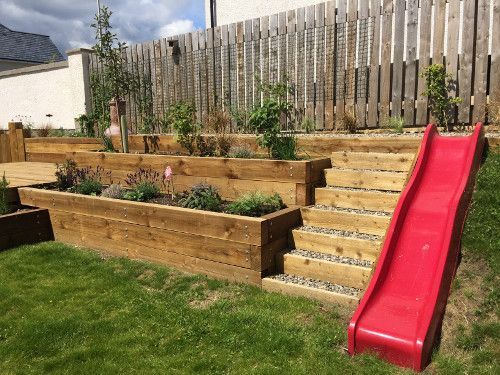 Elevating your deck can help make the most of a sloping garden. It gives access to a beautiful view, perfect a pointless muddy patch, and it lets you catch the last of the evening sun.
Let's not forget a slide – it's the very best way for kids to get down from an elevated deck!
22. Build Steps into Decking for a Contemporary Look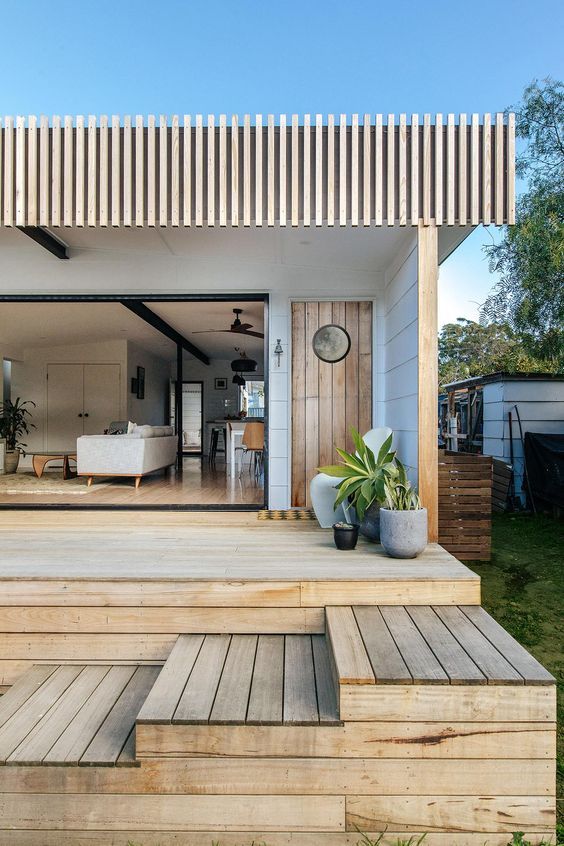 Not many houses have completely flat gardens, so in most cases garden decking steps are important.
Here the steps have been made extra-wide. This makes them safer and gives you an extra platform for décor, such as flower containers, a water feature, or just another place to sit when the sun moves.
23. Add a Sunken Seating Area into Garden Decking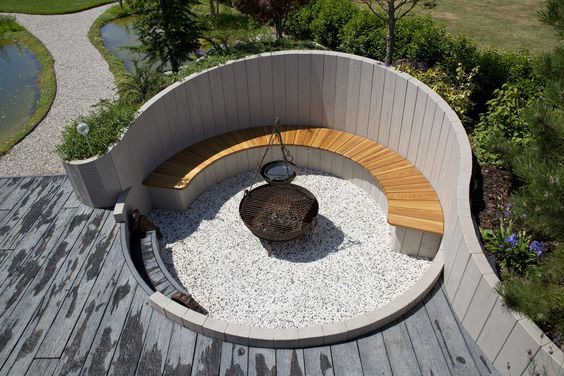 There are lots of seats that can be used on a deck – from wooden, wicker, deckchairs, and loungers. But if you want something really contemporary, how about built-in seating?
Here a sunken firepit in the decking has bespoke circular seats that lift off to store the cushions. Plus you'll love that high back to keep off chilly winds!
How to Realise Your Garden Decking Dream
Once you've settled on a decking idea that you love, you'll probably start wondering how to turn that dream into a reality.
If you've chosen a relatively simple design, and are fairly handy, you'll probably be able to source the materials yourself and go about building your ideal garden decking. Make sure to plan and measure the space accurately – this can save a lot of money when it comes to buying materials.
If you've got your eye on a more complicated design, your best bet is to contact a landscaper or decking professional.
Landscapers will be able to plan your garden space to realise your vision. This is particularly useful if there are elements like water features involved. Decking professionals will know how to design and build the deck based on the terrain and your desired plan.