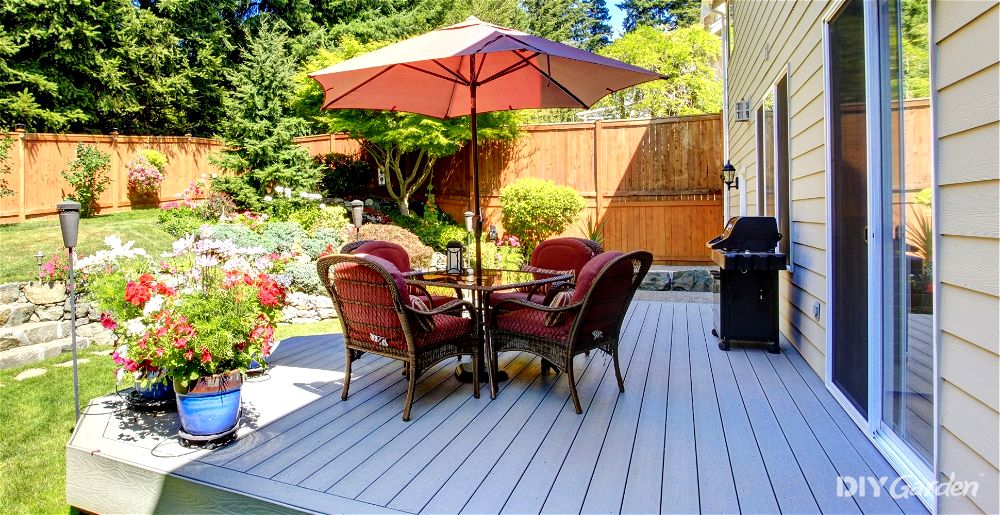 The Best Garden Decking Ideas UK
If you're struggling for inspiration for your next decking project, you've come to the right place! We've scoured hundreds of backyards to collect the best garden decking ideas – and you'll find them all here on this page.
Whether you want to add the finishing touches to your existing deck, or you're looking to create new decking from scratch, we've got ideas to suit any outdoor space, as well as every budget.
Ready to get inspired? Check out these 87 best garden decking ideas.
1. Keep it Compact
Let's start with something subtle. If you've got a small garden, a compact raised deck in the corner is all you need. Small corner decks are a great way to create a separate seating area in the garden and they look particularly striking when covered with a pergola like the deck above.
As small decking ideas go, this is one of the best – you only need a space of around 2.5 x 2.5 m.
2. Create Sections in Townhouse Gardens
View this post on Instagram
Bring depth to townhouse gardens by installing stepped decking. This will give the illusion of more space and, when combined with plenty of plant pots and greenery, can create a calming atmosphere that feels far removed from city life.
This is one of the best deck ideas if your garden is currently paved or covered in gravel. Although there's no lawn in sight, having an outdoor area covered in stepped decking looks extremely modern and aesthetically pleasing.
3. Opt for Tiered Decking
View this post on Instagram
A tiered decking area suits a sloping garden, giving you several useful flat decks to work with as opposed to uneven ground. You can even cover some or all of the levels with artificial grass, to give the levels more of a lawn-like quality. Integrate steps for easy access.
4. Build Flower Beds Into Decking
Add character to your garden decking by integrating flower beds in the centre. This is one of the best decking ideas for incorporating more greenery into the space. Grow tall grasses and flowers to make a real statement.
5. Contrast Materials in Small Gardens
Using a variety of materials, with different colours and textures to the decking, will visually elevate the garden. Use gravel, stone and concrete as well as wood to create an outdoor space worth showing off. If you have a small garden, this technique is easy to achieve even without a lot of space to work with.
6. Raise Decking at the Back
Create a raised decked platform at the back of your garden for a sophisticated, private place to relax. This decking idea can help make a small garden look bigger, as it utilises vertical space.
7. Install Corner Steps for Easy Access
View this post on Instagram
Corner steps make the deck accessible from all angles and it's an idea that we love here at DIY Garden. Having steps around the front and sides of the decking help the deck flow into the garden, avoiding restrictive barriers. This is a one of the best decking ideas for opening up your outdoor area.
8. Go Contemporary with Composite Decking
View this post on Instagram
Composite decking is an easy, low-maintenance alternative to traditional wooden decking. It's made from wood fibres that have been combined with plastic and a bonding agent. As a result, composite decking is strong and isn't susceptible to rot. Although more expensive than traditional decking materials, the longevity of composite decking makes it good value for money.
It's also easy to lay as you can get composite deck tiles, which look like wood boards, that simply slot together.
9. Choose Lighter Colours
View this post on Instagram
Although traditional decking usually features warm wood tones, cool grey makes a stylish statement. You can either use decking paint on traditional decking boards, or buy composite decking in a specific colour. To finish off the look, add white and grey accessories as finishing touches.
10. Add a Pond
View this post on Instagram
A raised pond with a wooden border looks striking sitting on top of decking. Alternatively, you could sink the pond into your decking for a hyper-modern finish.
Don't forget to add a way for wildlife such as hedgehogs to escape should they fall in!
11. Create a Corner Podium
View this post on Instagram
A corner podium adds dynamic visual interest to decking, raising one specific area above the rest. In the decked garden above, there are several different levels at work which is a feature that looks great aesthetically. Also, as an additional style note: the slatted wooden fence works well against the wooden texture of the decking and could be something else to consider.
Add plenty of lighting to help define the space.
12. Use Pallet Foundations to Reduce Costs
View this post on Instagram
The usefulness of pallets knows no end! If you fancy a bit of a decking project, wooden pallets can be sourced very cheaply – you just need the patience to pull them apart! This is one of the best garden decking ideas for tight budgets.
13. Combine Dark Wood and Foliage
Dark wood and deep green foliage creates a unique rainforest-feel. Use exotic plants to add to the tropical vibe and consider potted plants so that you can move them indoors or into greenhouses when necessary.
This has the potential to be one of the most striking decking ideas if done properly – make sure to use a dark deck stain and incorporate lots of plants with large leaves.
One tropical plant to consider, which grows well in UK conditions, is Chamaerops Humilis (the dwarf fan palm). This small palm can be grown in pots and has large fanned leaves with plenty of architectural interest..
14. Edge Your Decking with Solar Lights
Bring elegance to your garden decking by lining the edges with solar lights. Not only will this stop you from tripping over when the sun goes down, it's also a stylish way to illuminate your outdoor space.
15. Integrate a Living Wall
If you love the idea of decking but you're not keen on sacrificing greenery, a living wall is a fantastic compromise. Living walls can be made up of loads of different plants including annuals, perennials, vegetables and herbs. You can buy a living wall in 'kit form', with everything you'll need for the structure of the wall, meaning all you'll need it to assemble it and add plants.
Another benefit of creating a vertical garden like this is that it can add privacy to the decked area. Plus, living walls create shade and help remove air pollutants – a must for city gardens!
16. Make a Statement with Water Features
Water features instantly elevate the appearance and ambiance of any outdoor space. In the garden above, a contemporary metal channel cuts through the decking, creating a modern stream. If you've got the budget, a water feature is one of the best contemporary decking ideas.
17. Install a Pergola Over Decking
View this post on Instagram
Create the feeling of an outdoor room and add privacy to your decked garden by installing a pergola. Both wooden and metal pergolas look stunning when left bare, but can also be accessorised in several different ways. For example, you can grow climbing plants, hang curtains or add horizontal slats to create more privacy in this outdoor living space.
18. Build Planters into Sunken Decking
Integrating tiered planters into a decking area is a great way to incorporate more greenery into the garden. Plus, it can also work for small gardens: creating a vertical garden is one of the best ways to maximise space.
Plant your favourite herbs so you've got gorgeous scents and drink garnishes within arm's reach!
19. Opt for Rainbow Décor
View this post on Instagram
Go bright and bold with rainbow-coloured garden decking. This garden design isn't for the faint hearted, but painting decking boards in rainbow colours makes a real statement.
Of course, you don't have to go all out if a full rainbow deck isn't your style. For a more subtle look, simply add pops of multicoloured décor or paint a select few decking boards.
20. Fill Empty Space with a Hot Tub
If you've got a large decked area, you could consider adding a hot tub into the mix. Hot tubs are the perfect way to enjoy the garden in any season.
If you're tempted, remember that inflatable hot tubs offer a more of an affordable and practical solution compared to permanent fixtures.
21. Go Low Maintenance with Faux Plants
View this post on Instagram
If you've not got the time to look after real greenery, adding some faux foliage to garden decking can have the same effect (with none of the maintenance!).
Alternatively, you could use a combination of faux plants with real plants; this is a great way to boost the amount of greenery you have without anything looking too artificial.
In the garden above, they've tastefully mixed artificial potted plants amongst real plants. It just goes to show – if you choose your faux plants wisely, no one will even know the difference!
22. Embrace a 'Pretty in Pink' Aesthetic
View this post on Instagram
Soft and subtle, this 'pretty in pink' aesthetic brings some pastel-coloured charm to your outdoor space. Paint the decking boards in pastel shades as pictured above, or simply highlight the decked area with blankets, colourful cushions and soft furnishings.
23. Sink Seating into Decking for Privacy
View this post on Instagram
Sunken decking is a stand-out feature and it also feels cosy and welcoming. Your seating area will feel secluded and private, built into the decking itself.
24. Add Heated Accessories for Chilly Evenings
View this post on Instagram
Stay cosy when the sun goes down by kitting out your garden decking with a patio heater (or two!). These will light up the space with a warm and cosy glow, so you can enjoy your outdoor space well into the night.
25. Welcome the Mediterranean with Neutral Colours
View this post on Instagram
Recreate beachy style with drought-resistant plants, light, neutral colour schemes and decking paint. Paint your decking boards in white or cream to feel as though you're sunning yourself on the Amalfi Coast!
26. Set Up an Outdoor Bar
View this post on Instagram
Garden bars have become extremely popular in the past few years, and for good reason! They're a great place for entertaining, whether you're having a summer BBQ or an autumnal fire-pit. Take your parties to a new level by integrating an outdoor bar on your garden decking. Create a drinks menu and stock with your favourite gins, wines and locally sourced beers.
For more inspiration, check out this list of the best garden bar ideas.
27. Extend Interior Space
View this post on Instagram
If you've got a small garden, blending your intetior living space with your decking can make your outdoor space look bigger. Use similar floor materials across the deck and inside of your house to create flow. Then, use plenty of potted plants to blend the exterior and interior.
28. Create All-Weather Decking with a Gazebo
Turn your decking into a usable outdoor room, whatever the weather, by installing a garden gazebo above the decked area. Plus, there's no need to move your cushions inside every time clouds threaten!
29. Incorporate Patterns into Decking
View this post on Instagram
Lay decking in unique, aesthetically-pleasing patterns. Patterned garden decking is a great way to liven up your outdoor space – it doesn't just have to be all about straight vertical lines with decking boards!
You might need to get a professional in to help with this decking idea, depending on how DIY adept you are – it's a little more specialised, but definitely extremely effective!
30. Create a Tranquil Space with Earthy Colours
View this post on Instagram
Sage and terracotta, alongside natural materials and plants, will bring warmth to your garden space.
31. Set Up an Outdoor Dining Space
View this post on Instagram
Dine al-fresco as often as you like by setting up an informal outdoor dining space on your decking. This is one of the best deck ideas for entertaining. When it comes to garden furniture, faux rattan (as pictured above) is affordable and easy to maintain.
32. Tile Edges on a Raised Deck
Inject rich colours and bold patterns into your decking by using deck tiles around the edges. Azulejos tiles are particularly striking in the garden.
33. Add a Beautiful Outdoor Rug
View this post on Instagram
Jazz up drab decking boards with a patterned rug. Whether it features bold patterns, bright colours, or a combination of the two, an outdoor rug will have an instant impact. Just ensure it's weather resistant.
34. Mix Textures for a Bohemian Vibe
Mix and match textures, then add billowing curtains for good measure in order to create bohemian style decking that you'll never want to leave! While the colours in the image above are very neutral, the range of textures and patterns add vibrancy to the space.
35. Read and Relax in a Hammock
View this post on Instagram
String a hammock across your decking to create a spot that's hard to beat when it comes to relaxation! A hammock is the perfect place to get lost in a book.
36. Add a Pop of Colour
View this post on Instagram
Whatever your garden size, shape or budget, there's no excuse for dreary decking! Take inspiration from this decking design and add a pop of colour with a bright and bold rug, cushions or flowers.
37. Integrate Freestanding Screens
Freestanding screens can be both decorative and practical, adding privacy and shade where you need it. Plus, screens bring a feeling of elegance to the garden.
38. Add Atmosphere with Strings of Light
View this post on Instagram
More sophisticated than fairy lights, strings of lightbulbs bring a touch of elegance and magic to any outdoor setting. String them between trees, from fence to fence or around your pergola.
39. Expand the Decking with a Garden Mirror
View this post on Instagram
Although you might not be able to physically expand your decking, why not make it look bigger? Using garden mirrors can open up outdoor spaces and make a small garden appear larger.
The window-style mirrors pictured above give the illusion of a secret garden beyond the fence.
40. Add Greenery with Climbing Plants
Surrounding your decking with climbing plants will give you a healthy dose of greenery without sacrificing floor space. If you've got a shady garden, climbing hydrangeas, common ivy and fragrant honeysuckle thrive in dim light.
41. Reduce Clutter with Clever Storage
View this post on Instagram
If space is at a premium, go for seating that doubles up as storage. This will allow you to store any cushions, blankets or kids toys when not in use, keeping your space neat and tidy.
42. Soften Edges with Overgrown Planting
For a soft and relaxed vibe, allow plants at the edge of your decking to grow over. This creates a better flow through the garden, stopping decking from becoming a harsh barrier.
43. Keep Lines Crisp to Create Structure
Contrasting with the previous entry on this list: crisp lines and contrasting colours are also a favourite for garden design. They look very striking against decking.
44. Host Cook-Offs in an Outdoor Kitchen
View this post on Instagram
An outdoor kitchen is the epitome of #gardengoals and it doesn't have to be complicated! Pictured above is a gas BBQ, a few outdoor cupboards, a food prep area and hooks for utensils. This is a simple way to create a basic garden room for cooking.
45. Surround Decking with Fragrant Lavender
View this post on Instagram
Producing a beautiful scent and a gorgeous colour (while simultaneously repelling mosquitos and other bugs!) planting lavender around your decking has a range of benefits.
46. Shade Decking with a Retractable Awning
View this post on Instagram
Extending and retracting as needed, a garden awning is a great way to keep your decking area concealed and sheltered on hot days. When it isn't required, it will take up no space at all.
47. Install Built-In Seating
View this post on Instagram
A built-in bench seat will make the most of the space and can be dressed with blankets and comfy cushions. Combine with raised beds so you can sit amongst the plants.
48. Create a Focal Fire Pit
Providing a focal point, while also keeping you and your family warm on colder evenings, fire pits are a timeless and practical addition to your decking. They can be purchased in contemporary or more rustic styles.
49. Dazzle with Spotlights
View this post on Instagram
Dramatic and practical in equal measure, spotlights really bring the wow factor to decking. Solar spotlights require no mains power which makes them extremely easy to install.
50. Add Depth with Light-Up Planters
View this post on Instagram
If budget allows, install lights in raised beds and planters to frame your decking. Opt for solar lights and there will be no cabling required.
51. Screen Your Deck with Lattice Fencing
One of the best garden deck ideas for those who want to add privacy to their seating area without blocking sunlight, decorative lattice fencing can be either freestanding or added on top of your existing garden fence.
52. Use Exotic Plants to Create Privacy
Providing both shade and privacy, large-leafed exotic plants will have you feeling like the only person in the world! Canna Musifolia, Colocasia and Fatsia Polycarpa will bring some tropical magic to your decking.
53. Draw the Eye with a Feature Wall
If you're struggling to make your decking area stand out, a feature wall is a great way to add interest. This garden design idea has the added benefit of drawing the eye upwards, which can actually make a small outdoor space look larger.
54. Incorporate a Sound System for Parties
View this post on Instagram
Party animals should make sure their decking area is wired for sound to give some background ambiance. A cordless wall-mounted speaker, which can be easily removed, is a great way to go.
55. Use Non-Slip Decking Around Pools
View this post on Instagram
If you've got an outdoor pool, non-slip decking boards will provide you with a spot to sit and relax when you're not taking a dip! This is also a great idea for decks with jacuzzis and paddling pools.
56. Add Colour with Flowers
View this post on Instagram
Add pops of colour to decking with bright flowers and pots. Fuchsia, hydrangeas and sunflowers will all cheer up a drab deck!
57. Create an Outdoor Cinema
View this post on Instagram
Use a projector screen on decking to create a secluded cinema in your own garden. Make sure to have all the essentials on hand for the decked area: blankets, cushions and buckets of popcorn!
58. Use Borders to Showcase Decking
View this post on Instagram
Give your decking an edge (literally!) with creative borders. Whether you surround your decking with wooden planters (as pictured above) or bright pebbles (also pictured above!), choosing the right borders can make your decking pop.
Check out this list of The Best Garden Border Ideas for more inspiration!
59. Opt for a Multifunctional Parasol
View this post on Instagram
Create shade in the day, and illuminate your deck at night, with a multi-functional parasol. You can find models that come with LED solar lights already attached, or you can attach your own lights.
60. Add Subtle Interest by Varying Panel Direction
If dull decking is a concern, but you don't want to do anything too dramatic, why not lay decking boards in different ways, as pictured above. This garden design technique adds interest and depth, but won't overwhelm the space.
61. Incorporate a Ramp for Accessibility
Make your decked area more accessible by opting for a ramp as opposed to stairs. This will allow wheelchair users, and children in pushchairs to easily get onto the decking.
62. Create Movement with Sweeping Curves
View this post on Instagram
Go against the grain with sweeping curves as opposed to straight lines. A curved deck, like the one pictured above, can open up your lawn and is a great choice for a small garden.
63. Add Rope Fencing for Safety
If you've got raised decking, but you don't want to obstruct the view with bulky fencing, rope fencing is a great alternative. This won't block off your decked area completely but still provides extra security.
64. Make a Statement with Hot Pink
View this post on Instagram
If subtlety isn't really your jam, a hot pink deck makes a real statement. This is one of the best modern decking ideas. Contrast bright colours with a jazzy monochrome rug if you want to make even more of a style statement.
65. Surround Decking with a Pebble Border
View this post on Instagram
Dress up your timber decking by surrounding it with a light pebble border. This is a great way to separate areas of your garden and create a floating effect.
66. Integrate Hanging Seating
View this post on Instagram
Swing seats are not only visually striking, they're also very space-efficient. Hanging seats free up floor space and bring a welcoming, laid-back vibe to the decking. Plus, if you get a soft design, like in the garden above, they can be folded and stored when not needed.
67. Create a Relaxed Spot for Yoga
View this post on Instagram
Keen yogis will know that nothing beats practising in the garden on a sunny morning. Create a relaxing space to flow in peace with potted plants, floor cushions and a yoga mat.
68. Utilise Unused Space
View this post on Instagram
The spot at the far end of the garden often goes unused, but this is actually a great place for decking. In many gardens, this is the most private and secluded area. Alternatively, you could consider decking down the side of the house.
69. Upcycle Pallets to Reduce Costs
View this post on Instagram
If you've spent a lot on the decking itself, save money on garden furniture by upcycling wooden pallets. Create a sofa and coffee table, then sit back and feel good about your eco-friendly choices!
70. Add a Sunken Hot Tub
View this post on Instagram
Sinking a hot tub into raised decking is the epitome of opulence. Even inflatable hot tubs can be sunk into timber decking, as pictured above.
71. Create Shade with Natural Materials
View this post on Instagram
Willow, brushwood and bamboo are some of the best natural screening materials. They look ultra modern and, with the right care, they should last for several years.
72. Give Your Decking a Floating Effect
View this post on Instagram
Break up a boring garden by creating a floating deck. Stylish, space efficient and relatively easy to install, these add a new dimension to your garden space. They're also perfect for gardens with a slight slope.
73. Don't Forget the Personal Touches
View this post on Instagram
It might not be for everyone, but if you want a deck that's truly unique, wall art is the way forward. Parents can get children involved with decorating exterior walls and, well, you can always paint over it!
74. Never Underestimate the Power of Pizza
View this post on Instagram
Make your garden the go-to place for get-togethers with a pizza oven. From Friday night pizza parties to speedy weeknight dinners, a pizza oven is a welcome addition to any outdoor area.
75. Paint Walls and Furniture White
View this post on Instagram
If you're struggling to make the most of a small decking, painting your exterior walls white and either buying or painting white furniture will give the illusion of more space.
76. Stick to the Rule of Three
View this post on Instagram
If you're lacking inspiration when it comes to decking design, simply keep the rule of three in mind. As pictured above, try to stick to three key materials and three key colours for timeless style.
77. Section Off Decking with Glass Fencing
If you're looking for fencing to use around your decking, clear or frosted glass are great options. The latter will give you privacy while still allowing light to pass through.
78. Create Zones with a Decorative Archway
View this post on Instagram
If you'd like a decking area to relax in, that's separate from the rest of your garden, consider a decorative archway. Dress it with climbing plants to create a serene and welcoming entryway.
79. Use Subtle Borders to Separate Areas
If you've got one large deck, split it into zones with subtle borders. Create an outdoor dining area, socialising area and reading nook by subtly changing the angle of the wood.
80. Invest in Light-Up Panels
View this post on Instagram
One step further than using spotlights, light-up panels can be used to brighten your garden space when the sun goes down. They have a modern look and are a great choice for a contemporary garden.
81. Contrast Decking with Garden Fencing
For an ultra-modern look, contrast decking with your garden fencing. This will immediately draw the eye, turning an ordinary decking into a memorable outdoor space.
82. Alternatively, Match Decking and Fence Colours
If you love a bit of colour coordination, match the colour of your decking boards with the colour of your fence. This could involve keeping everything a neutral colour, or making a bright statement with blues, pinks or yellows.
Another good thing about matching deck and fence colours is that it can help the garden appear larger by avoiding harsh boundary lines – everything just blends instead.
83. Go Against the Grain
Who said you can only have one deck? If you've got a large garden, why not have a lounging area at one end, and a dining area at the other? Connect them with a garden path like in the example above.
84. Don't Be Afraid to Fill the Space
View this post on Instagram
Those with a small garden often make the mistake of leaving the space too empty. Although you can embrace a minimalist style if you want to, don't be afraid to fill the space! Packing in plenty of foliage, plant pots and garden furniture can make a small decking feel safe and secluded whilst hiding harsh garden boundaries.
85. Embrace Ultra-Minimalist Style
View this post on Instagram
If you get it right, minimalism can work exceptionally well on decking. Not only does it look effortlessly stylish, it's also very affordable – you don't need to purchase loads of furniture as the whole style revolves around a few, select pieces (great news for the wallet!).
Use striking angles and invest in a couple of chairs, a coffee table and a few key accessories.
86. Create a Private Decking Area with Curtains
View this post on Instagram
Billowing curtains bring both privacy and a sense of luxury to decking. White and cream curtains work best to bring a sense of Mediterranean-chic to UK gardens. The best thing about curtains is that they can also provide shade and helps keep bugs out, this makes curtains one of the most useful decking ideas for decks that are frequently used for dining.
87. If in Doubt, Grow a Herb Garden
If you really don't know what to do with your decking, you simply can't go wrong with a herb garden. Herb gardens smell great and provide instant cooking ingredients and drink garnishes. They can also help to repel bugs, so this is one of the most beneficial decking ideas for summer! Pop some rosemary, thyme and mint into some raised beds.
Do I need planning permission to install decking?
For the most part, you won't need planning permission to install garden decking. However, there are two exceptions to this statement.
You will need planning permission before installing decking in your garden if:
The decking is higher than 30 cm off the ground. Raised decking like this will require planning permission.
The area of the decking, combined with the area of other outbuildings in your garden, covers over 50% of the total garden area.
What's the best material to use for garden decking?
If you value longevity and ease of maintenance over anything else, composite decking is probably the best material for you. Made from wood fibres and plastic, these decking boards require minimal upkeep and last a very long time.
Note: If you choose composite decking, just make sure to pay attention to its weight limitations. Some composite decking has a lower weight capacity compared to traditional decking materials.
Other popular options include pressure-treated wood, which is affordable and strong, but does require some maintenance.
Concrete is versatile and modern, and will suit a contemporary garden, though some people feel it lacks the character of wood or composite deck boards.
How can I deck my garden on a budget?
To create garden decking on a budget, you'll need to use affordable decking materials. A budget-friendly option is pallet decking. Simply use pre-constructed pallets then add decking boards on top.
Other alternatives to wooden decking include gravel, paving slabs, concrete and rubber mats.
If you're set on traditional wooden or composite decking, but want to keep things cheap, stick to budget décor. Personalise the decking with an inexpensive exterior paint, or create a feature wall to add interest. Layer textiles to update the space without blowing your budget. Instead of a pergola or gazebo, shelter the outdoor area with a shade sail.
What's the most low maintenance decking material?
The best option for low maintenance decking boards will be composite wood. Composite decking boards won't rot or warp, and require no treatment. It also looks just like real wood.
Other low maintenance options include:
Vinyl (which can be cleaned with just water)
Concrete
Fibre cement