After a winter that has seen plenty of rain and snow, the colour of your decking may well have faded to a weathered grey, while moss, dirt and grit will have worked their way into the gaps between boards.
There is a confusing array of products on sale in DIY and decorating stores to revive timber decking, depending on the condition of the wood and your personal preferences. Here's our guide to deck oils, stains and paints, plus everything in between, including brand-new products from Ronseal and V33.
Clean the Decks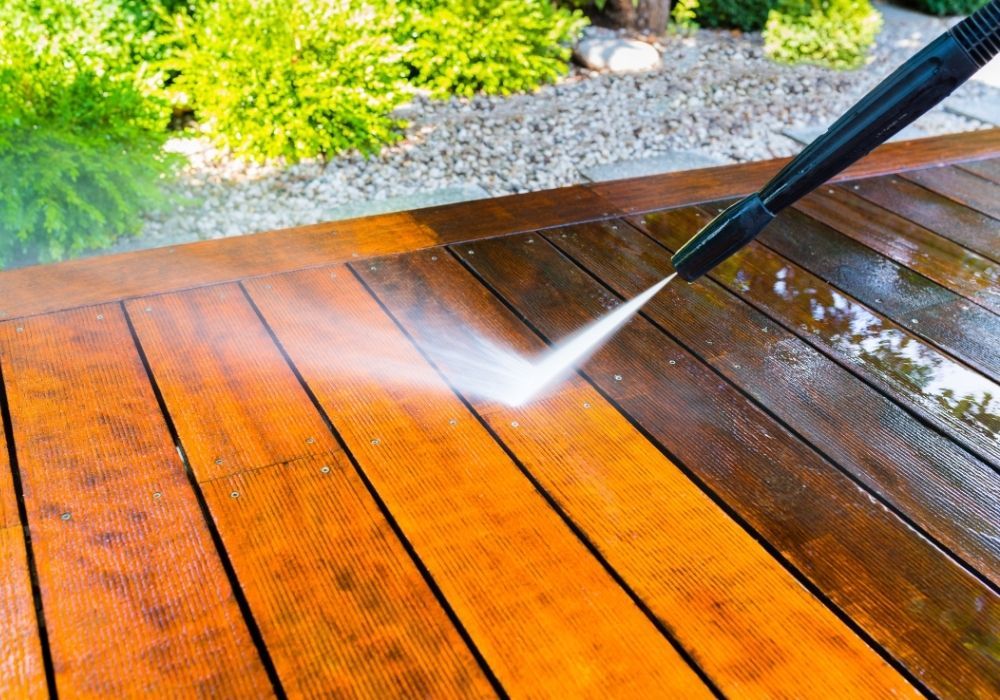 As with any DIY job, thorough preparation is key to achieving a good finish – particularly if dirt has worked its way into every groove in the timber.
Specialist cleaners include Liberon Tough Deck Clean and Revive, Ronseal Decking Cleaner and Reviver and V33's Tough Deck Clean & Revive.
Sweep your decking to remove any loose debris before you start. Then all you need is a scrubbing brush or stiff broom and a bucket of water to dilute the cleaner, scrubbing until you have removed even stubborn marks.
Alternatively, you can use a jet wash to clean decking or mild detergent and water if it is not very dirty. Wipe off excess water and allow the timber to dry for a day or two before applying a new finish.
Remember to protect surrounding plants and grass with a dust sheet when you move on to the next steps. Apply the products below on to dry timber in warm, dry weather.
Strip Back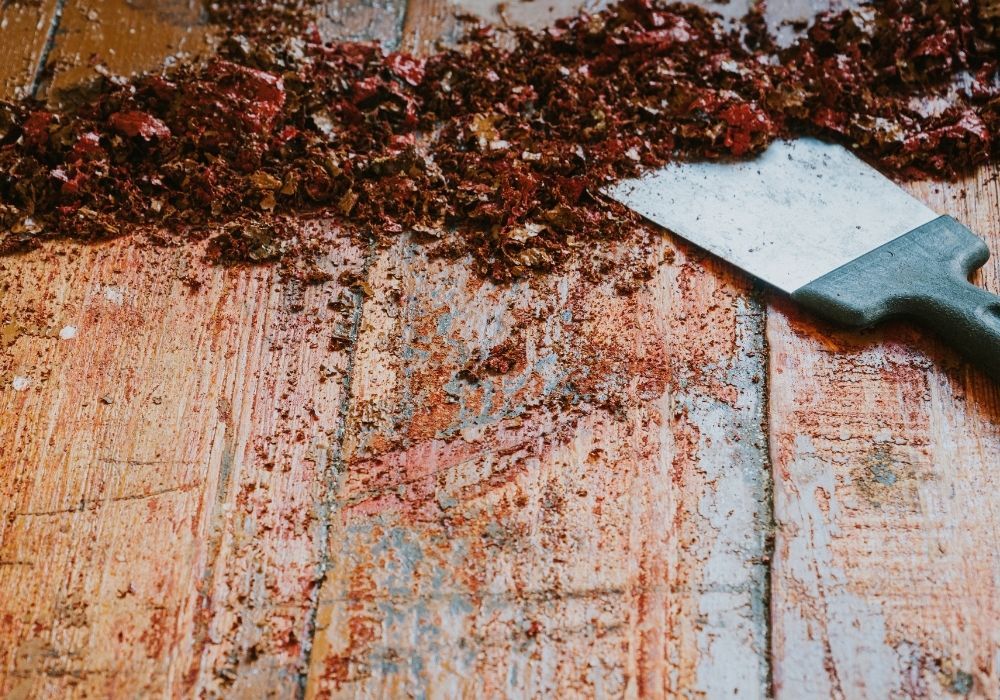 You will need to strip off old layers of oil and stain before applying a new finish. Use a specialist product, such as Ronseal One Coat Decking Stripper or Cuprinol Stain Stripper, which is described as a 'pre-treatment for used decks'.
Apply the stripper with a paint brush and, once the old coating starts to blister, use a sharp scraper and scrubbing brush to remove the finish, washing the decking afterwards.
Restore Wood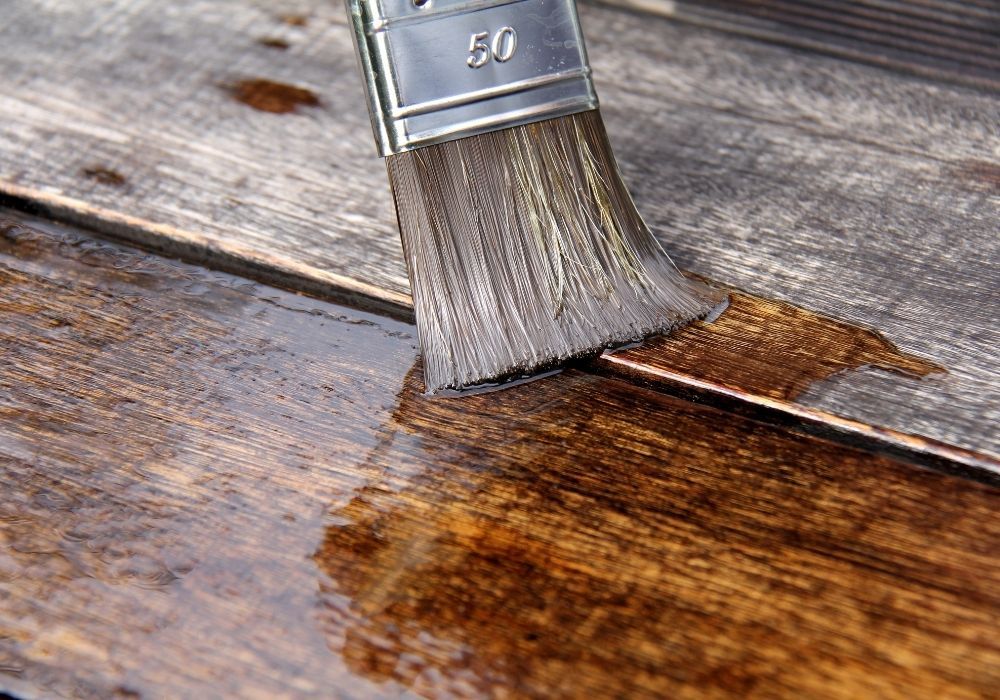 You don't have to apply a stripper if your decking has not been stained. If it is just weathered and grey, you can use a product, such as Cuprinol Greyaway Restorer or Ronseal Fast Acting Decking Restorer to bring the wood back to life before applying an oil or stain.
Decking Oils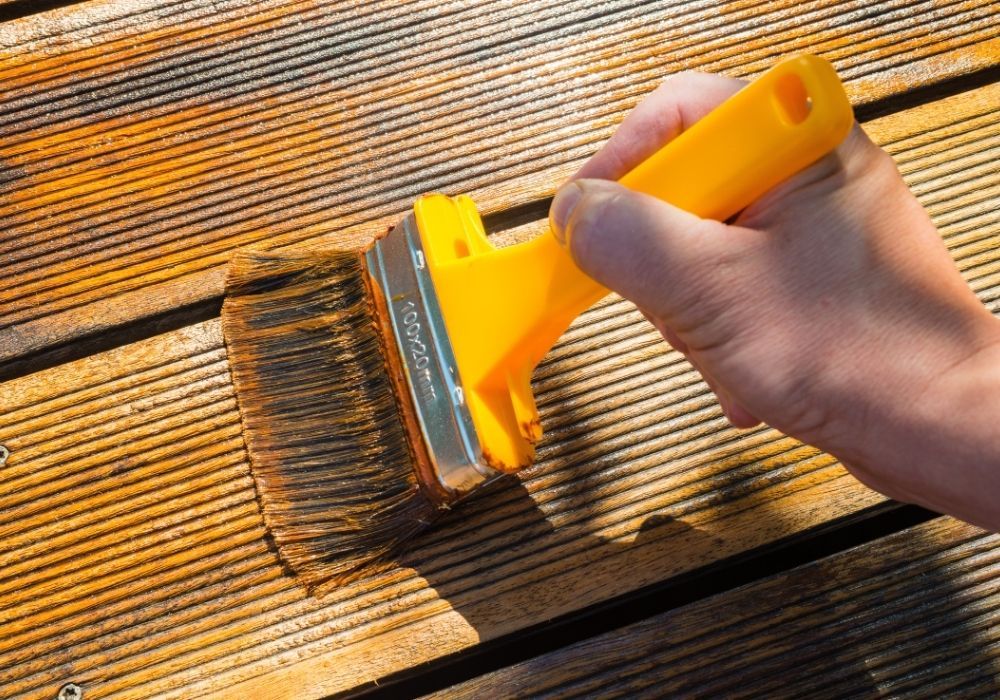 Once your decking is clean and dry, it will be ready for oiling. While lightly tinted or clear decking oils are designed to restore wood and protect it from fading and greying, some offer extra protection from UV rays.
Decking oils are available from household names such as Cuprinol, Liberon and Ronseal. However, colour choices are limited to a few woody shades such as dark, medium or natural oak, teak, pine and cedar, and clear. V33's new High Performance Decking Oil, which is water-based, also comes in grey.
If weather protection is important – perhaps your decking is in a particularly sunny or exposed spot – then choose a UV-resistant oil to prevent fading, such as Cuprinol UV Guard, Ronseal Ultimate Protection Decking Oil or V33 UV-Resistant Decking Oil.
Treat sawn-off ends of boards with an end grain protector to stop water seeping through and causing damage – like Ronseal Waterproof Decking End Grain Protector.
Decking Stains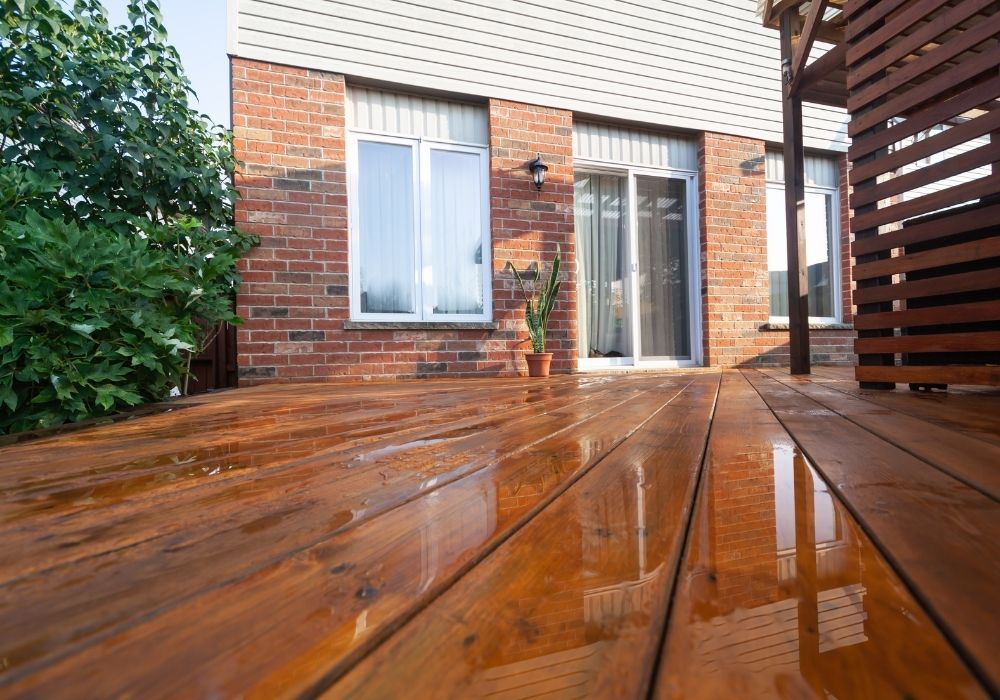 If you prefer a more semi-transparent finish, then decking stain will suit you better.
Stains also offer a much wider choice of colours – for instance, Cuprinol Anti-Slip Decking Stain comes in Urban Slate, City Stone and Vermont Green, as well as the natural oak, teak and cedar finishes you might expect to find. It includes anti-slip microbeads and an algicide to help protect the surface from green algae and mould.
Ronseal's new Quick Drying Decking Stain is a good choice if you are in a hurry, as you can apply a second coat in just 15 minutes. It comes in four woody shades plus Rocky Grey.
For a longer-lasting finish – Ronseal claims it protects decks for twice as long as a standard decking stain – try its Ultimate Protection Decking Stain, which comes in 13 shades including Willow, Sage, Stone Grey, Slate and Blackcurrant.
Also look out for Paint People's Firmtread® Anti Slip Deck Coating, an oil-based tint with minute particles for a non-slip finish. Its eight shades include Sage Green, Putty, Charcoal, Slate and Clear. It's available on its own or as a kit with cleaner from Watco.co.uk/paintpeople.
Decking Paints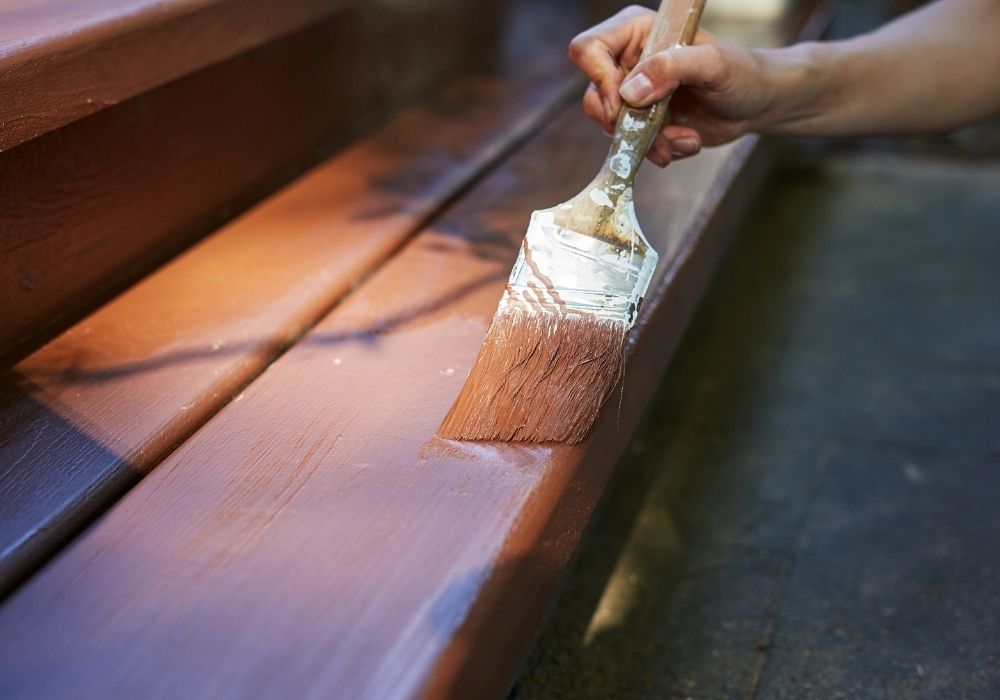 When your old decking is beyond reviving, then why not lock in splinters and fill cracks by painting it? You'll still see the texture of the wood and it is also a practical way to cover up a dark stain with a lighter shade of paint.
Whether applied on old or new decking, deck paint can help achieve an inside-outside look, where indoor spaces lead seamlessly into your garden. For instance, Ronseal's new Ultimate Protection Decking Paint comes in nine shades including Deep Blue, Warm Stone, Slate, Sage, Willow, Bramble and Blackcurrant. Pick a similar shade for the room inside to create an up-to-the-minute look that will lift the whole area.
To blend with the greys that have been so popular indoors, Liberon Garden ColourCare Decking Paint comes in six shades including Dark Silver, Light Silver and Gun Metal. Water-based but with natural oils to prevent water and UV damage, it can be used on garden furniture too.
V33's Decking Paint features anti-slip properties and a matt finish to hide imperfections in the wood. It is available in Light Brown, Medium Brown, Dark Silver, Gun Metal and Light Silver.
Aftercare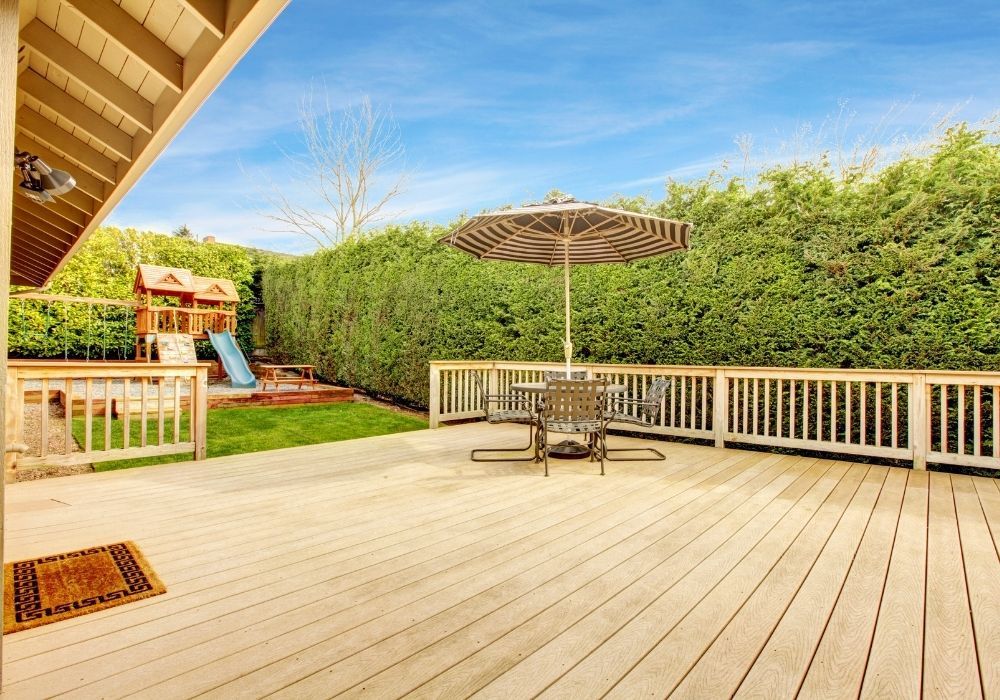 While it's tempting to put all your garden furniture back as soon as possible, leave your decking for 24 to 48 hours so it is bone dry.
To keep it in good condition, regularly brush off dirt, dust and leaves. Check it every six months for wear and tear, so you can repair any minor problems and touch up your finish before it becomes a big task. And if you notice any mould or mildew, use decking cleaner to remove it.
Some decking brands can be used on other treated wood, so check this out before you buy as it could save you money. As once you have revived your decking, you could apply the same or a similar shade of oil, stain or paint on treated wood on fences, sheds and garden furniture.
By building up a colour scheme, you can create a subtle link with your interior and turn your garden into the fifth room of the house.