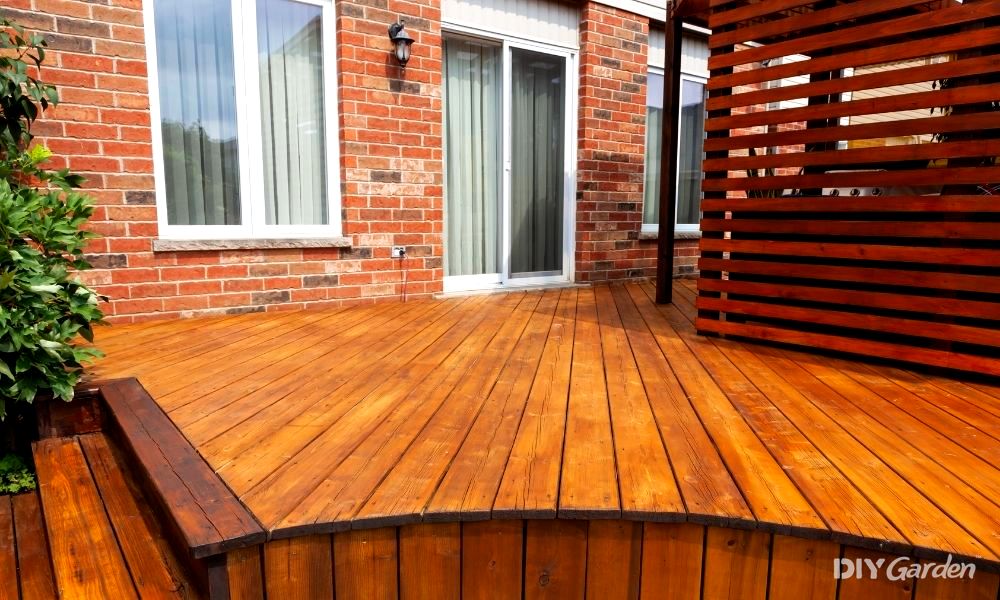 There's no doubt about it, we Brits love a bit of decking. For me, it's the ability to have a party even if it's a bit wet. A deck prevents grass churning and stops guests traipsing mud through the house.
Decking also makes a great feature in the garden whether it's outside your back door or built in a sunny spot – but there's one big downfall and it put me off having a deck for years.
It gets slippery.
My mother-in-law slipped on frosty decking a few years ago and broke her ankle, so I've been wary.
The lure of a smart deck became too much for me though, and this year we finally built one, but I've had to learn how to keep it safe.
Here's how to make decking non slip
First of all – how does decking become slippery?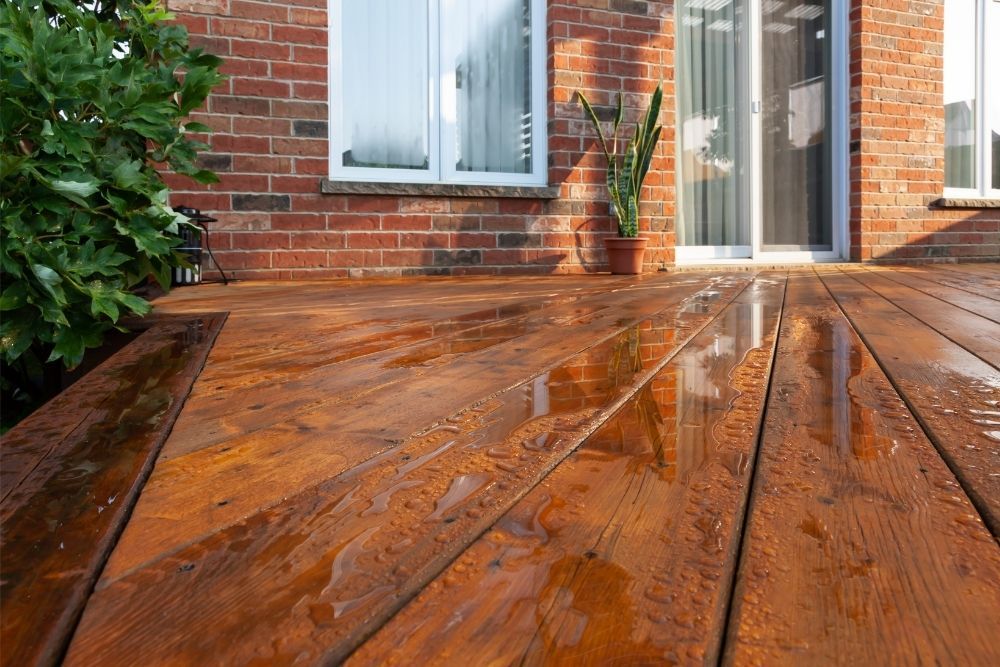 Wood fibres easily soak up liquid. Dead wood rotting down is a natural process, but we can slow the process and minimise slips.
Damp wood that's consistently moist, or pools of collected rainwater, are the perfect places for algae, moss, mould, and other growths which are slippery in nature.
They grow in the winter months when your deck doesn't dry out (god bless the British weather eh?) Low light levels and dropping temperatures encourage algae and its friends.
Another issue is leaf build-up that quickly rots on the decking. Leaves are not only dangerously slippery, but they leave marks, stains and help speed up decking rot.
And of course, we have the winter's frosts and ice to deal with too!
How To Stop Make Decking Non-Slip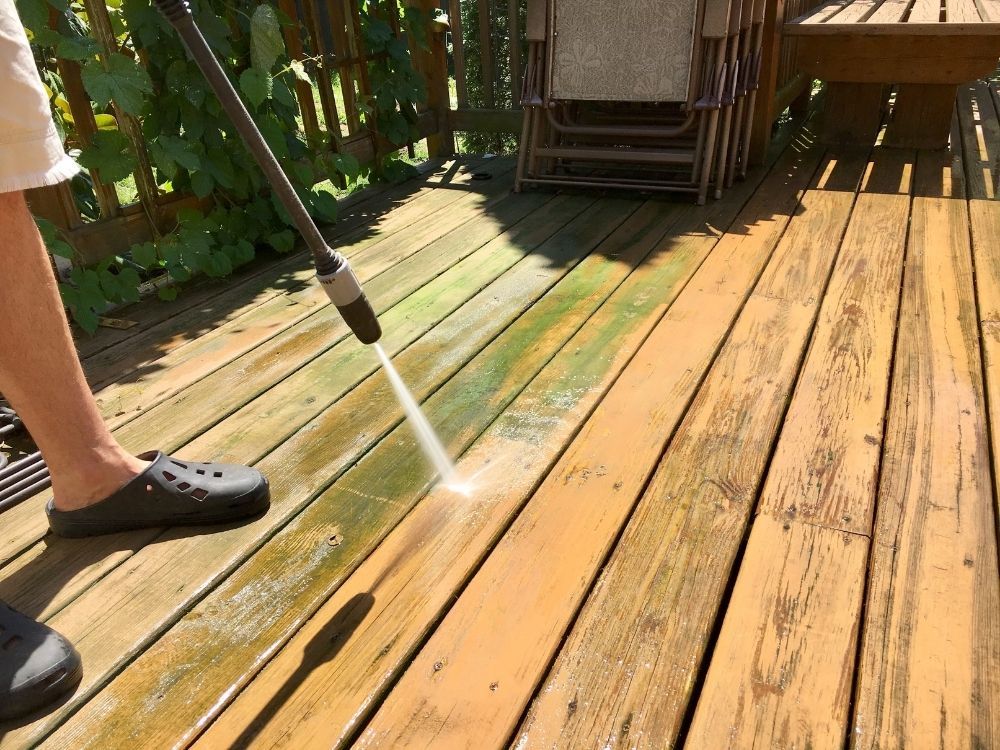 Cleaning is essential, here's how to clean the decking
Always clear leaves, moss or any type of build-up such as squirrel peanut shavings from the decking as these are a major cause of slips.
The more that accumulates, the more slippery it gets. You'll have a Torvill and Dean routine on your hands each time you step outside without regular cleaning.
Use a stiff brush to clear debris on a dry day. Brush all debris in the direction of the decking board grooves to avoid bits getting stuck in the gaps.
You can use a pressure washer o the decking, but be gentle. Use the lowest pressure and move in the direction of the grooves or wood grain. Brush off excess water.
You can use a decking cleaner if things have really gotten out of hand.
Use a moss or algae killer on the decking after it's cleaned, but try it on a small area first. Mos modern algae killers don't stain the wood but it's best to be safe.
How To Clear Snow And Frost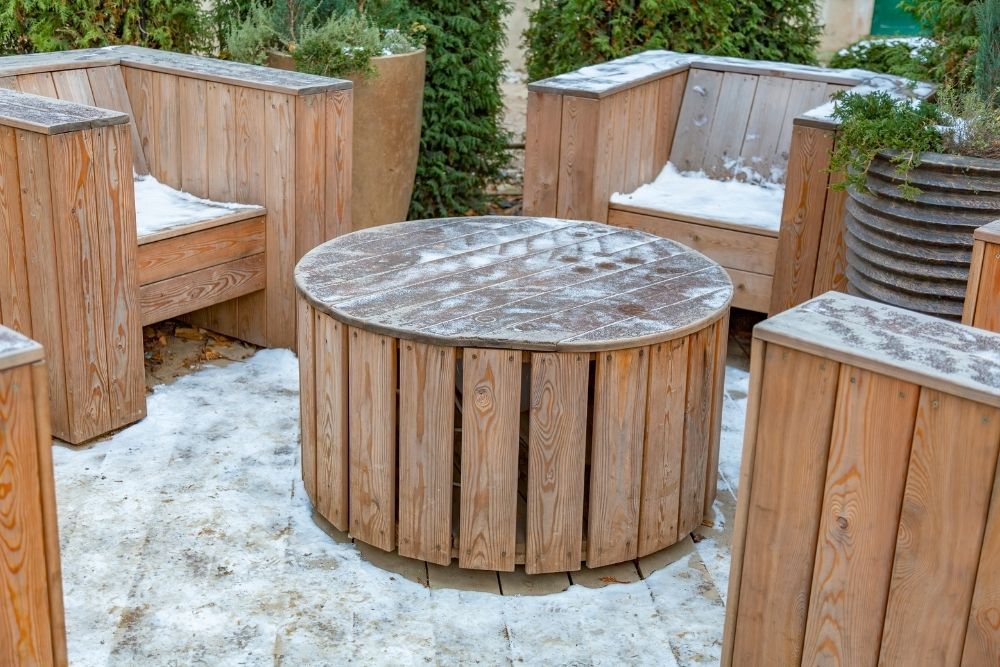 Collected rain, or even just consistent damp, turns your decking into an ice rink during a frost. Use a plastic shovel to scrape it away because metal tools damage the wood.
Don't use rock salt on the deck or that ice melt stuff unless you're out of options. Both damage timber decking and will lead to even more slipperiness. If you want to use ice melt look for one that specifically says it's suitable for timber.
In an emergency, you could sprinkle a little non-clumping cat litter to create temporary grip. I heard this from a friend years ago – just brush it all off on a dry day.
How To Make Decking Non-Slip – Products For An Existing Deck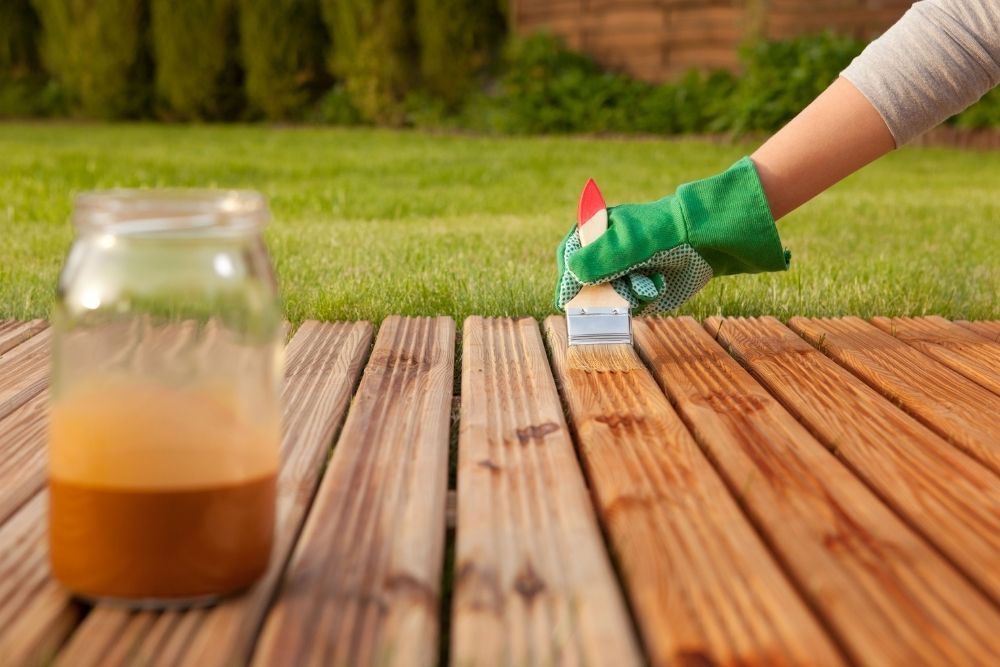 Apply A Coating To The Deck
I prefer my deck to look natural, so I coat it in decking oil on dry days.
Choose a reliable make and apply the oil with a large brush in the direction of the grooves allowing it to soak in between coats.
Oil seals out water. It enters the wood fibers and helps keep it dry and less slippery. Using deck oil is especially important if the deck is consistently in shade.
Without much sun e.g. by the back door or beneath trees in north-facing gardens it will never dry out.
Slip-resistant coating
You can buy full-on nonslip paint or oil coating that's applied to dry decking boards.
This product slips into the grooves to keep out water, algae, dirt, and moss. This is probably the best way to make your decking anti-slip.
A word of warning though, you can't use anti-slip oil or paint on top of other products such as a painted or varnished deck. This is because the product needs to soak into the wood – and if you've already applied an anti-rain product it can't.
Any existing coat will need removing first.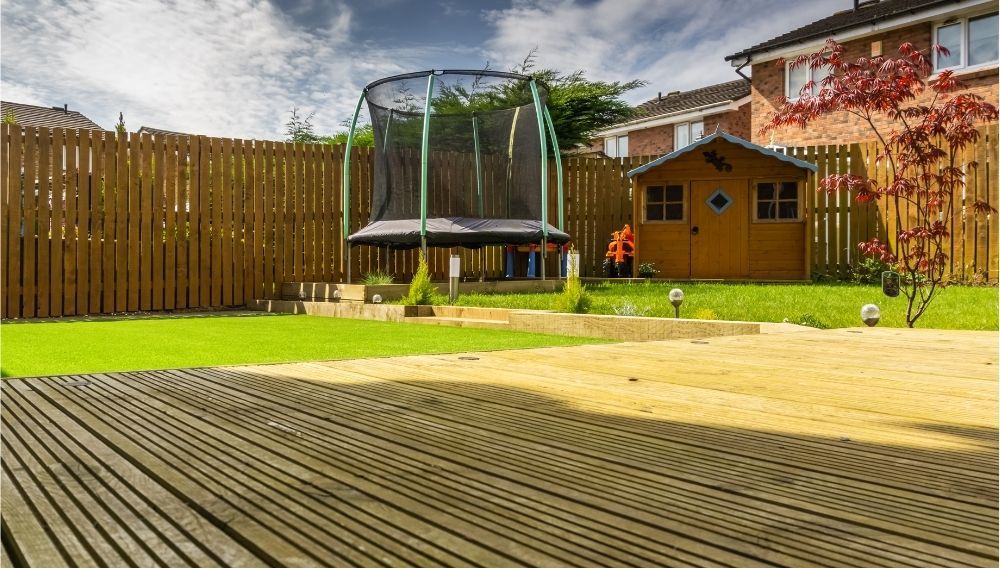 Can I Use Sand In Decking Paint?
Some people swear by adding sand to decking paint for grip. If you prefer to paint your deck than oil it's a good idea.
Add one-part fine-grained silica sand to exterior decking paint and apply. Stir the mix frequently to ensure the sand hasn't sunk. Patch test first!
Apply Strips
Stick-down strips are a great way to make decking non-slip. They're screwed into the wood so it's a permanent feature, but modern versions match paint jobs and don't show up much.
Anti-slip tape is another option. It simply sticks onto decking and is a cheap and effective slippery deck solution. The tape is removable and biodegrades, but if you're worried about slipping in the winter and don't want screw-on anti-slip strips it's a good choice.
Cover your Decking
With a gazebo!
A covered deck is less likely to become slippery. It's a big investment, but if the decking is your garden access point it's worth thinking about an awning, a pergola, or a veranda. It'll make taking the dog outside on cold dark nights safer for sure!
You'll still need to clean and treat the decking beneath, but a cover will protect the wood from the worst of our weather.
If an awning is out of the question use mats. Look for weatherproof exterior mats and clean the decking first. Pull them off in Spring – voila!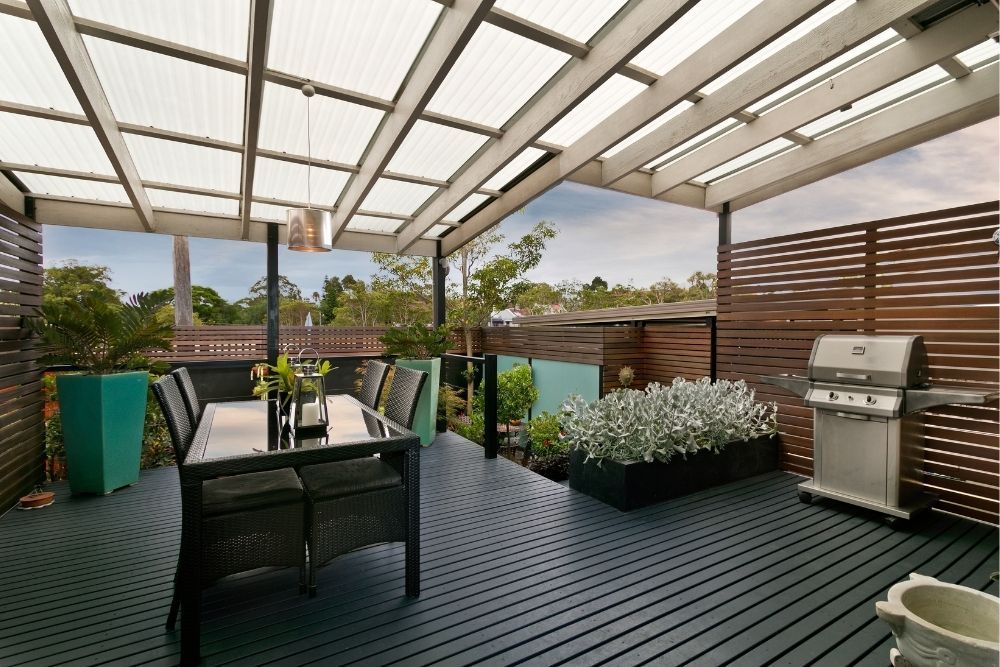 Building A New Non-Slip Deck
If your decking is beyond repair, or you're looking to build a nonslip deck from scratch, here are some tips.
Choose Decking Boards Wisely
Buy nonslip timber decking boards. These are treated with insecticides, antifungals and coated to last a long time. Another option is composite decking which is made from plastic. It's more expensive but needs less work than timber to keep clean and dry.
Use Physics!
Lay boards so their grooves are at right-angles to your heel when you step on. This gives a bit of traction when it's wet or frosty.
It's also a good idea to make sure your decking is level. If your garden is on a slope, think about digging out some lawn to create a flat area.
Use a retaining wall to hold back the soil and research decking steps. It might seem a lot of hard work, but tilted decking is a death trap in winter.
No More Slippery Deck!
Considering how to make a decking nonslip is one of the first things you should think about if you're building, renovating, or sprucing up your deck.
They are notorious for slipping accidents and cause plenty of tumbles every year. It's best to think 'How can I stop the deck getting slippery' rather than 'will the decking get slippery?' because I can confirm it definitely will and you'll have constant scares.
The very best method is to keep it clean and apply a non-slip oil each year, but if that's not for you try out the above tips to keep safe.
Remember that good upkeep of your deck will keep you from harm. Slippery deck solutions are really important.