Our
DeWalt DCD796N 18 Volt XR Brushless Hammer Drill Driver

Review

Just by looking at the stats that this cordless drill can put out, I was reasonably certain it would be one of the best combi drills for testing. The capability of the DeWalt DCD796N is noticeable in comparison to any of the others on my list. It breezes through aerated concrete block, drills through a 3 mm steel plate in no time at all, and chews up CLS timber all day long.

What sets this drill apart from DIY-level tools like the Bosch PSB 1800, are the extra drilling speed, wicked bpm for hammer drilling, and a super bright work light. They're the sorts of things that make a tradesperson's life easier every day, and would help out a keen DIYer just as much.

The fact is that this is a trade-level tool that produces professional results. And you must pay for that privilege. I'm not sure the average DIYer needs an all-metal chuck and 70 Nm of torque, but it's there. If you don't mind shelling out for a cordless drill that doesn't come with a battery or a charger, it's worth every penny.

READ NEXT:

INDIVIDUAL CORDLESS DRILL REVIEWS:

B07NS2KNJ6

4204215891163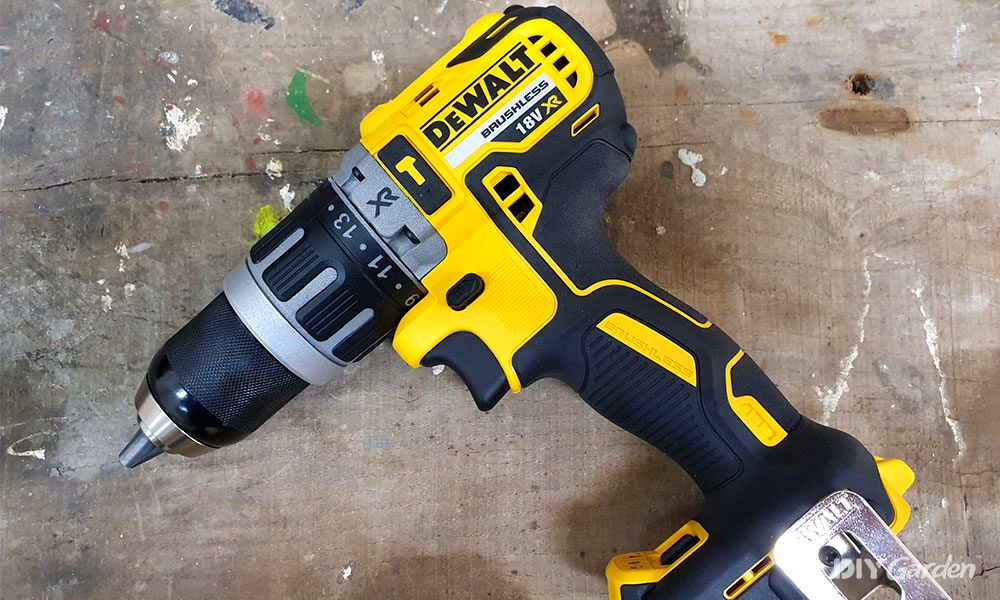 Boasting incredible performance in a seriously small package, the DeWalt DCD796N is a proper tradesperson's drill. It might almost be overkill for casual DIYers, but I put it to the test to see what it can do!
Read our product testing methodology here.
How I Tested
The only way to thoroughly test the best combi drills is to throw them together and test them all side-by-side. I set up a test rig to make things clear and put all this beast of a drill through its paces, tackling timber, brick, and steel plate.
It was also important to rate this drill in terms of its size, weight, and comfort during use. I expected more refined features and power from this professional-level tool compared to some of the more budget-friendly options.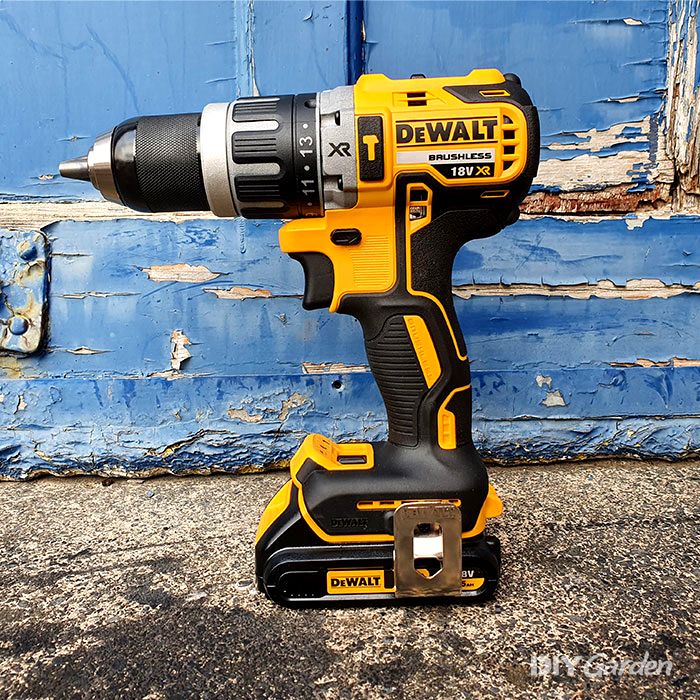 On first impression, I'm blown away by the look and feel of this cordless drill. It's a stunning example of how a drill should feel in the hand. The multi-panelled rubberised grip is incredibly comfortable to hold. You don't need to use it for long to realise how well balanced the drill is. This is thanks to the streamlined brushless motor that takes up barely any room at all on the back of the drill.
As you might expect from one of the best professional cordless drills, there's a lot of metal used in the construction of the DeWalt DCD796N. The chuck is all metal and well knurled for extra grip when tightening down on drill bits, and there's a lot of metal behind it where you change the torque settings. Everything certainly feels solid, professional and well machined.
Measuring just 195 mm in length, this little cordless drill will fit into tight spaces that other drills just can't match. Weighing 1.3 kg without the battery, it's not the lightest cordless drill on my list but it's certainly one of the most capable.
DeWalt have included a belt hanging hook with the DCD796. This is something that I look for in every drill that is simple, but incredibly useful. It comes fully installed, but if you want to switch it to the other side you only need to remove a little Phillips head screw.
An almost hidden little feature that DeWalt have included on the other side of the grip is another little bit of genius. It might look like a piece of plastic, but there's a powerful bit holder magnet screwed in opposite the belt hanger. If you're working in a confined space or up a ladder, the ability to hold a spare bit or even a couple of screws is just brilliant. I love this little thing!
It's worth mentioning the multifunctional work light you get with this cordless drill. It's a much more powerful LED compared with the one on the DCD776 and comes with three settings controlled by a dedicated switch. Set to shine for 20 seconds once you've released the trigger, you can choose from three levels of brightness. What sets this cordless drill apart from the competition though is the third setting. On "spotlight" mode, the strong LED light stays on for 20 minutes. It's the little features like this that make DeWalt one of the best brands around. It's not just a drill, it's a work light!
Now for the annoying problem that I also happened to notice on the other DeWalt cordless drill on my list, the DCD776. Installing the battery is easy, but it rattles about in the drill. I really expected more from one of DeWalt's professional-level drills, it spoils an otherwise brilliantly designed bit of kit.
Surprisingly, there are only 13 torque settings on the DCD796. I would expect to have a little more control over the clutch with a premium cordless drill like this, but it's not a deal-breaker. Unless you're planning on doing a lot of precision driving into a variety of materials, it's not a big deal. There are 15 positions if you count drill and hammer mode though.
Even though this is sold as a "bare" tool, it arrived packaged in one of DeWalt's excellent TSTAK cases. This tough plastic box has a comfortable carry handle and big, chunky metal catches to keep everything secure, but that's not the best thing about this case.
As you might guess from the name, this box can be stacked up with other ones to save space and create a modular set of cases for all your tools. You can get trolleys for them; van or workshop racks or even sets of drawers that all lock together using the big yellow catches. It's an excellent system, and it comes "free" with this supposedly bare tool. I love it!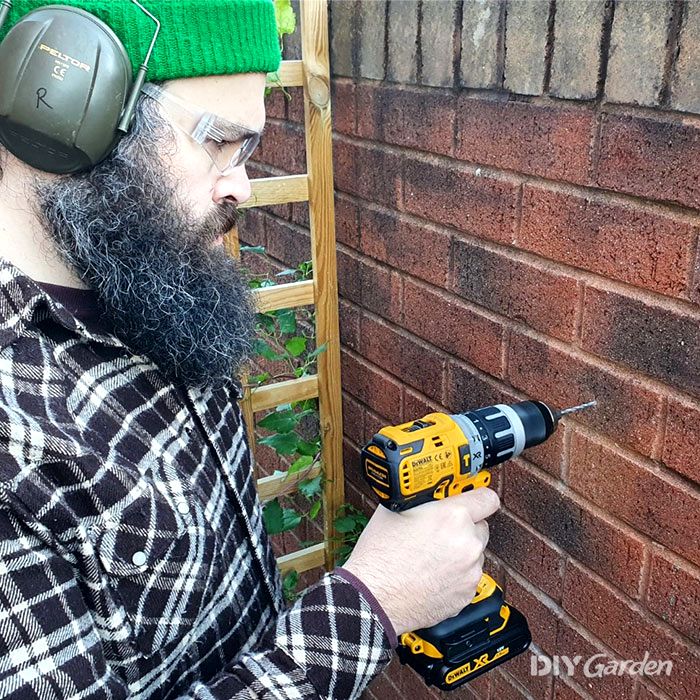 Making 30 holes in 38 mm thick CLS timber with a 5 mm wood bit was almost too easy! The instant power you get from the brushless motor made for a smooth drilling experience. It was incredibly quick work and comfortable too. The DeWalt DCD796 benefits from an impressive top speed, making this sort of work a doddle. A downside of all this power was clear on the underside of the timber though, as the drill caused quite a lot of tear-out. It was almost too fast.
If you're looking for a powerful and confident way to drive screws, this is the cordless drill for you. Driving ten 70 mm screws in and out of some CLS timber was simple and fast. The 150 mm wood screw could have been 500 mm long, it just went in without complaint or any kickback. A very impressive bit of driving.
There were no big surprises when it came to putting a hole in 3 mm of steel plate. The DCD796 made it through in no less than 45 seconds! An incredible performance compared with some of the more budget cordless drills that I've tested. It was comfortable, not too noisy, and simply ate through the steel.
The last test was on a London house brick. As I expected, the hard material was no match for the impressive hammer action on this drill. A 5 mm hole sunk into the surface took just 15 seconds without much downward pressure needed at all.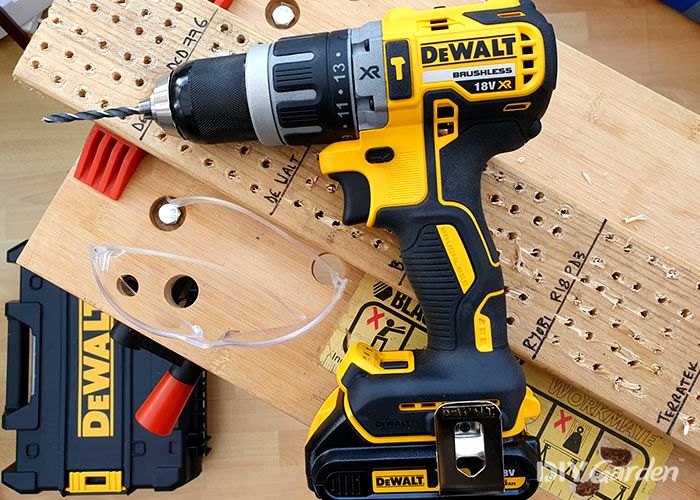 One of the most recognisable battery systems out there, DeWalt's XR series stands for "eXtreme Runtime". These capable 18 Volt Lithium-Ion batteries are regarded as some of the best in the business.
What makes them even more useful in the case of the DCD796N is the brushless motor on board. Brushless motors don't require maintenance and they're generally better performing than their brushed cousins. For this cordless drill, it means it can operate for longer on a smaller battery but still produce an awful lot of power.
Where this drill really comes into its own is the amount of torque it can put out. With a maximum of 70 Newton metres, it outperforms the DCD776 with almost double the torque! That's an awful lot of power in a small package. The maximum drilling speed of 2,000 rpm is capable of getting through any material you throw at it. It's a beast.
Rated with a sound power of 100 dB, this is in no way a quiet drill! Equivalent to standing one metre away from a loudspeaker in a club, it's important to always wear proper ear protection. It's not always putting out 100 dB, especially when in driver mode, but the hammer action turns the DeWalt DCD796N into a loud beast.
A strange quirk of this cordless drill may have something to do with the all-metal transmission and the electronic brake. When I take my finger off the trigger at high rpm's, it makes a loud clicking noise before stopping.
One safety issue that I thought of during my cordless drill testing is the sheer power of this tool. 70 Nm of torque is a lot to deal with, even for experienced tradespeople. One of the most dangerous things that can happen during drilling is when the bit binds in the hole and forces the drill to kickback.
This powerful tool needs to be treated with respect; make sure you always have a firm grip during drilling and use a side handle if you've got one. It's also incredibly important to wear the correct level of personal protective equipment (PPE) when drilling or driving.
What instantly counts against the DCD796N for some DIYers is the lack of batteries or a charger included with the tool. You can't buy this bit of kit on its own and expect to get working immediately, unless you've already bought into DeWalt's stable of 18 Volt batteries.
However, if you've already got the correct power supply and batteries, this is an awful lot of drill for the money. The stats speak for themselves: you can drill up to 40 mm wide holes in timber, you get 34,000 bpm in hammer mode, and power output of a whopping 420 Watts. Add it all up together and you've got an extremely capable cordless drill that isn't much more expensive than some of the budget cordless drills that I've tested.
And don't forget that DeWalt include one of their TSTAK boxes with this "bare" tool. Usually, I expect to get a drill for this price in a cardboard box, not a rugged stacking case to add to my collection!
Just by looking at the stats that this cordless drill can put out, I was reasonably certain it would be one of the best combi drills for testing. The capability of the DeWalt DCD796N is noticeable in comparison to any of the others on my list. It breezes through aerated concrete block, drills through a 3 mm steel plate in no time at all, and chews up CLS timber all day long.
What sets this drill apart from DIY-level tools like the Bosch PSB 1800, are the extra drilling speed, wicked bpm for hammer drilling, and a super bright work light. They're the sorts of things that make a tradesperson's life easier every day, and would help out a keen DIYer just as much.
The fact is that this is a trade-level tool that produces professional results. And you must pay for that privilege. I'm not sure the average DIYer needs an all-metal chuck and 70 Nm of torque, but it's there. If you don't mind shelling out for a cordless drill that doesn't come with a battery or a charger, it's worth every penny.
READ NEXT:
INDIVIDUAL CORDLESS DRILL REVIEWS:
Why You Can Trust DIY Garden
At DIY Garden, we believe your trust is earned through our knowledge and transparency. Our team of experts has over 75 years collective experience in the gardening and DIY space. Since the website's creation in 2016 we've tested over 275 products, ensuring our recommendations are based on real experience. We're open about what we've tried and what we've researched, and this is clearly labelled in our product reviews. Every year, we revisit and update our suggestions to include worthy new additions to the market. Our aim is to give you straightforward, honest, and helpful recommendations, so you can confidently choose the best tools and equipment for your projects.
DeWalt DCD796N 18 Volt XR Brushless Hammer Drill Driver Price Comparison
Price History
Our Scores:
Design

Performance

Power

Noise

Safety

Value for Money

Overall
Features:
Type

Hammer Drill

Power

18V

Battery Included

Bare

Charge Time

1 hour

No-Load Speed

0-550, 0-2,000rpm

Torque Settings

15+1+1

Max. Torque

70Nm

Chuck Size

13mm

Max. BPM

34,000bpm

Weight

1.3kg

Accessories?

No
About Your Guides
Harry Duncton is a jack of all trades with experience ranging from carpentry and furniture restoration to tree surgery and gardening. Happiest when found in his shed, he hopes his daughter will find a passion for making things as well.

Sarah's role as chief editor at DIY Garden is about more than just making sure we're literally dotting the i's and crossing the t's (although she's a stickler for detail, so it's certainly about that too!). It's about proof-reading, fact-checking and continuously researching everything we publish, ensuring that it adheres to our

editorial standards

, so that everyone can really get the most out of their green space.
You May Be Interested In These Other Drills & Driver Reviews