Our
Terratek FUT18V01-3 18V Lithium Cordless Drill

Review

Putting the Terratek 18V cordless drill next to a professional-level DeWalt or Makita isn't very fair. It's like comparing apples and oranges in some respects. This is not a cordless drill that's designed to drill 40 mm wide holes in hardwood or for drilling holes in 10 mm thick steel plate. What it's really good at is being light, easy to use, and not costing much money.

As some other users have said, you should just treat this as a comfortable electric screwdriver. It does that job well. You can drill holes with this tool, but it's not the best at it, especially when there's a bit of chuck wobble to deal with.

Buying this cordless drill depends on what your priorities are. It's incredibly affordable, as long as you don't expect it to do a lot of heavy work. As a backup, it's ideal. As a full-time workhorse, forget it! I wouldn't go out to buy this cordless drill over any of the competition, but I'd use it in an emergency.

READ NEXT:

INDIVIDUAL CORDLESS DRILL REVIEWS:

B00I506718

5060452746685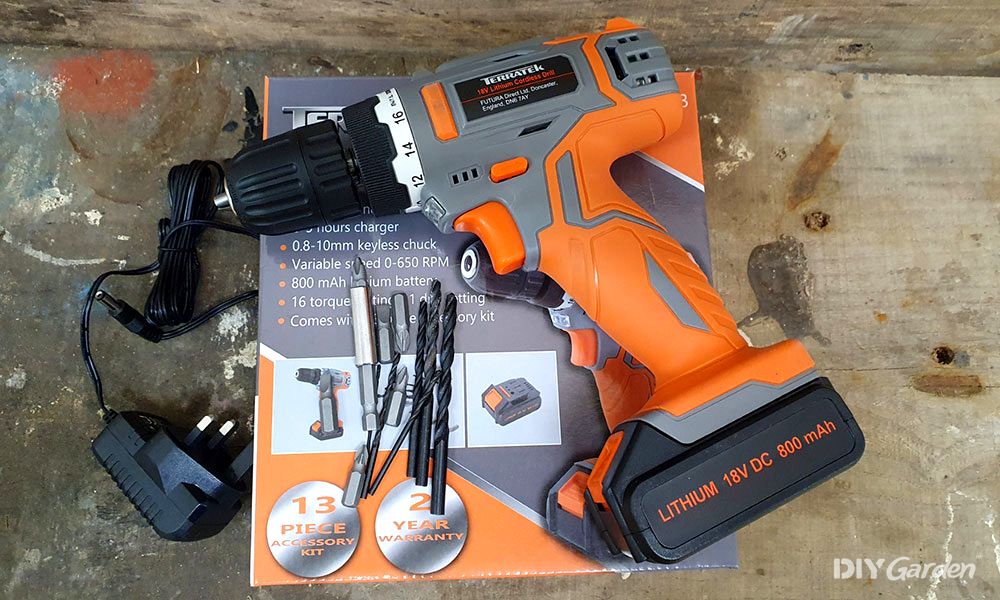 Belonging to the Futura Direct family of brands, Terratek make a decent range of budget-friendly power tools and clever kit for the garden. It's not the flashiest kit out there, but they're honest products for modest prices.
The Terratek 18V cordless drill is small, extremely lightweight, and costs just a fraction of what you'd spend on one of the professional tools on my list. It's the ideal little drill for DIYers that don't need tons of grunt, but a comfortable and reliable drill driver for those little jobs around the house.
Read our product testing methodology here.
How I Tested
It makes sense to me to put all the best drills available on the UK market right now in a head-to-head competition. Literally lining them up, side by side, drilling holes through a variety of materials, and driving screws into timber. It's the best way I can think of to find out which one is the king of cordless drills.
Now, seeing as this little Terratek 18V cordless drill doesn't feature a hammer drill function, I'm not going to try to blast holes through bricks. It's not what it's designed for, and it probably wouldn't do it very well anyway. But it's just as important to pay attention to how this drill feels in the hand, and if you'd reach for it when it's next to a much more expensive tool.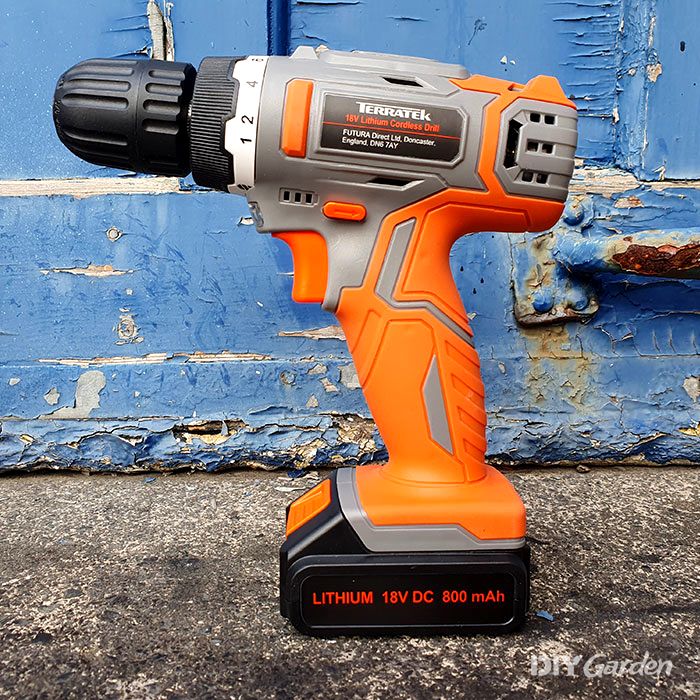 I honestly wasn't sure there was going to be a drill in the box when it arrived at my front door. I couldn't believe that a 13 piece drill driver set would fit into a box that measures just 22 x 20 x 70 mm! It started off the trend with this Terratek 18V cordless drill; small, lightweight, and with absolutely no frills.
The design of the plastic chuck had me confused for a moment. Instead of a "normal" chuck that tightens down by turning the entire assembly, this one has a separate ring at the back to close the jaws down on the bit. It doesn't feel incredibly strong and there's a bit of play in the shaft when you tighten it down.
Behind the chuck is the torque selector ring with 16 driver settings to choose from and a drill setting. Unfortunately, some of the markings were already rubbing off, and the click between settings felt a bit flimsy and not the positive "clunks" you get from a premium cordless drill.
Something I was really impressed by was the grip. I expected something a lot less comfortable and ergonomic, so it was a bit of a treat to get such a comfy handle. The rubberised overmoulding is in all the right places, and it fits my large hand like a glove!
It's just a small thing, but I was impressed by the rubberised bumpers built into the body on both sides. These will go a long way to protecting the drill against the many knocks and bumps it'll get when it falls over.
I'm not sure about the durability of the rubberised parts of the grip as they feel slightly stickier compared with the top-quality TPE found on the Makita DHP484. I'm sure they will last well for most light DIYers, but if you're a mechanic with greasy hands it might not last long before the rubber perishes.
The play I noticed in the shaft unfortunately translates to chuck wobble. It's barely noticeable if you just look at the chuck, but once a drill bit is fitted the deviation at the tip is obvious. It's not a precision tool, and it could just be the one that I received, but it's not the best start.
You get a work light with this drill driver. It's not going to light up a dark basement, but it means you can see where you're drilling. It turns off as soon as you let go of the trigger, but that's still better than the Black+Decker cordless drill that forgot to add a light altogether.
What's interesting about this drill's design is more about what's not there. You don't get two gears to select from but the plastic moulding on top shows where it should be. Also, you don't get a battery level indicator, but the plastic moulding on the side shows where one should be. They're not deal-breakers for a drill at this price, but it shows that the parts are simply taken off the shelf and put together.
The little accessory kit is worth a quick mention. Supplied in a little baggie, I don't know how long any of the bits will stay together for, but it's nice to have something to start with. You get a magnetised bit holder, six assorted driver bits, and six different-sized HSS/multipurpose drill bits. Not bad.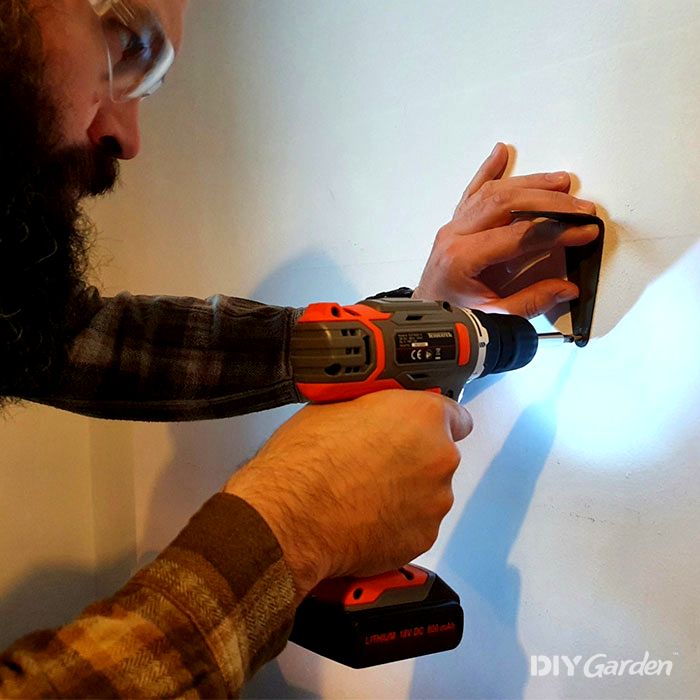 Drilling 30 holes in 38 mm thick CLS timber with a 5 mm wood bit was a bit of a slog. It took more than twice as long as the DeWalt DCD796 to drill the holes, at just under two minutes. The Terratek 18V cordless drill's light weight didn't help matters as I needed to push down a lot more with this little thing. It's fine for drilling a hole here and there, but I wouldn't want to use this for a big job. The underside of the timber was pretty awful as well.
Driving ten 70 mm long wood screws felt like it was pushing this little drill driver to the limit. It got there, but the motor had to work hard. Even though I had set the torque selector to 16, the maximum, it still engaged when the screw head hit the material. There's no chance of burying the head! I was forced to put it into drill mode to remove the screws as well. Although it took a bit longer, I was happy to see the Terratek put the 150 mm long wood screw neatly into the timber!
It seemed like pushing this little drill too far when I drilled through some 3 mm thick steel plate. It got there in the end but took a few seconds under two minutes to get through. I was only drilling a 3 mm wide hole, but the Terratek really struggled. I'd hate to have to drill anything bigger than this.
And seeing as this cordless drill doesn't have a hammer mode, I'm going to spare it from trying to drill through a London house brick.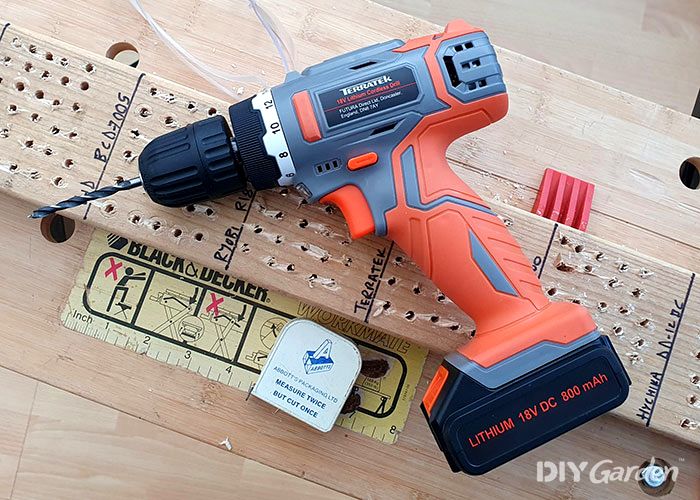 Terratek haven't gone down the 12V route compared with the Hychika cordless drill I tested, they're using full power 18 Volt batteries in their cordless drills.
If you want a slimline charger, it doesn't get much smaller than this! It's just a 22 Volt DC cable that you plug directly into the battery. Compared with the fast charger you get with the Ryobi R18PD3 kit, you could put this thing in your pocket and take it with you.
Ease of transport aside, there is a bit of a problem with this device. Terratek rate it as a 3 – 5 hour charger. That's an awfully long time when you consider that this is just an 800 mAh battery, or 0.8 Ah.
Compared with the 1.5 Ah battery supplied with the Ryobi R18PD3 that can charge in just one hour, this is really slow. There's nothing worse than having a battery die during a job and needing to wait for several hours before you can get working again.
The little battery system powers the drill driver up to a pretty ordinary 650 rpm. That's not fast enough for some drilling jobs, and seeing as you don't get hammer mode there's no bpm information to report.
This little drill is rated to a noise power level of 90 dB. That's equal to a motorbike riding past, but I honestly don't think that that's accurate. I ran the drill driver at top speed next to my sound meter app, and only managed a maximum of 80 dB, or the noise of a dishwasher.
I think it's down to the low speeds that this cordless drill is capable of. Maxing out at just 650 rpm, the drill is never spinning fast enough to make all that much noise. So, if you're reaching for a tool at 2 am to put in a screw, this is a decent option!
In terms of how good the Terratek 18V cordless drill sounds, it's really smooth and doesn't come with any of the clicks or bangs you might expect from a budget tool.
Even though this isn't a high-performance cordless drill that can reach thousands of rpm with a slight pull of the trigger, it's still a capable machine. It could still cause injuries if not respected and used properly. However, with the correct level of personal protective equipment (PPE) and the right technique, it should be an incredibly safe piece of kit to use.
The only points I would deduct from the Terratek 18V cordless drill relate to the overall quality of the finish. The plastic parts don't look like they're glass fibre reinforced. Compared to what you'd find on the Makita DHP484, I don't know how durable this cordless drill is.
Some DIYers and heavy tool users wouldn't last a week with a little drill like this. None of the parts are massively sturdy and it's not the most powerful of the cordless drills I've tested. However, for the price, it's a whole lot of drill!
If you're planning on putting up a few shelves and the thought of using a manual screwdriver sends chills up your spine, this is a great choice. It's so affordable that you could even throw one in the boot of your car for emergencies. Or just have another drill driver around so you don't need to change bits in your "good" drill every time.
If you understand the limitations of a drill driver at this price, the Terratek 18V cordless drill is a real bargain for something that works rather well. It can't compete with the torque and raw power of the DeWalt DCD796, but it's not what you should be buying it for.
Putting the Terratek 18V cordless drill next to a professional-level DeWalt or Makita isn't very fair. It's like comparing apples and oranges in some respects. This is not a cordless drill that's designed to drill 40 mm wide holes in hardwood or for drilling holes in 10 mm thick steel plate. What it's really good at is being light, easy to use, and not costing much money.
As some other users have said, you should just treat this as a comfortable electric screwdriver. It does that job well. You can drill holes with this tool, but it's not the best at it, especially when there's a bit of chuck wobble to deal with.
Buying this cordless drill depends on what your priorities are. It's incredibly affordable, as long as you don't expect it to do a lot of heavy work. As a backup, it's ideal. As a full-time workhorse, forget it! I wouldn't go out to buy this cordless drill over any of the competition, but I'd use it in an emergency.
READ NEXT:
INDIVIDUAL CORDLESS DRILL REVIEWS:
Why You Can Trust DIY Garden
At DIY Garden, we believe your trust is earned through our knowledge and transparency. Our team of experts has over 75 years collective experience in the gardening and DIY space. Since the website's creation in 2016 we've tested over 275 products, ensuring our recommendations are based on real experience. We're open about what we've tried and what we've researched, and this is clearly labelled in our product reviews. Every year, we revisit and update our suggestions to include worthy new additions to the market. Our aim is to give you straightforward, honest, and helpful recommendations, so you can confidently choose the best tools and equipment for your projects.
Terratek FUT18V01-3 18V Lithium Cordless Drill Price Comparison
Price History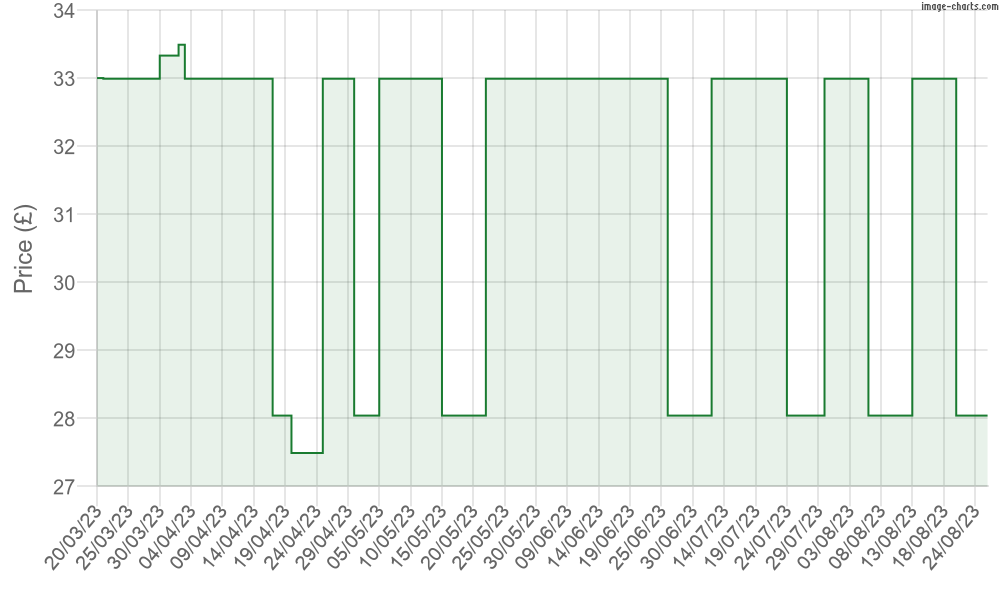 Our Scores:
Design

Performance

Power

Noise

Safety

Value for Money

Overall
Features:
Type

Drill Driver

Power

18V

Battery

1 x 0.8Ah

Charge Time

3-5 hours

No-Load Speed

0-650rpm

Torque Settings

16+1

Max. Torque

19Nm

Chuck Size

10mm

Max. BPM

n/a

Weight

0.85kg

Accessories?

Yes, 13 pieces
About Your Guides
Harry Duncton is a jack of all trades with experience ranging from carpentry and furniture restoration to tree surgery and gardening. Happiest when found in his shed, he hopes his daughter will find a passion for making things as well.

Sarah's role as chief editor at DIY Garden is about more than just making sure we're literally dotting the i's and crossing the t's (although she's a stickler for detail, so it's certainly about that too!). It's about proof-reading, fact-checking and continuously researching everything we publish, ensuring that it adheres to our

editorial standards

, so that everyone can really get the most out of their green space.
You May Be Interested In These Other Drills & Driver Reviews