Not everyone enjoys lazing on a recliner in sunny weather, and for those who prefer to be active, lawn games are the ideal compromise for a lively yet relaxing pastime. We came across this amazing DIY bowling alley that is sure to keep the whole family entertained all summer long, and we couldn't wait to share it with you!
Everyone is familiar with the primitive plastic outdoor bowling set, but Imgur user Makgyver87 took lawn bowling to extreme heights with his fully functioning garden bowling alley.
This project isn't for the faint hearted, and you will need a passion for bowling and some carpentry skills to execute it precisely. Another pair of hands will ease the workload considerably, making it an excellent father/son venture, or an ideal opportunity to invite your best buddies over to crack open their toolboxes (and maybe even a few cold beers!).
A backyard bowling alley requires moderate planning, engineering and effort, but the result is so impressive that you won't regret your labour.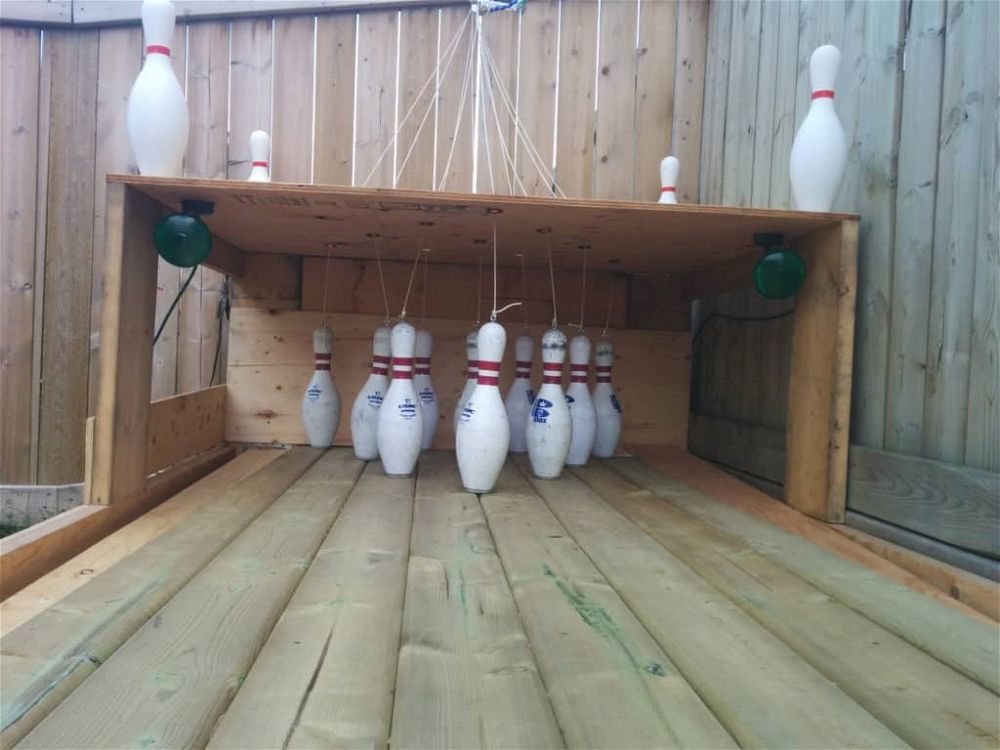 Here's how to build a bowling alley in your back garden…
1. The Legwork
As with most DIY projects, the key lies in the planning. Sounds tedious, but perfecting the design before you start construction will prevent problems down the line.
The first step is to pick a location in your garden to build your alley. A nice shady nook where vision won't be impaired by sunshine is ideal. Can you think of a better way to add interest and brighten up the darkest corner of your garden than with an operational bowling lane?
Next, plot your measurements. You don't need to be a mathematician, but accuracy is important so pay attention to detail. Sketching out your ideas like Makgyver87 did, and going over the figures a few times will fortify your blueprint and help to identify any potential pitfalls or problems.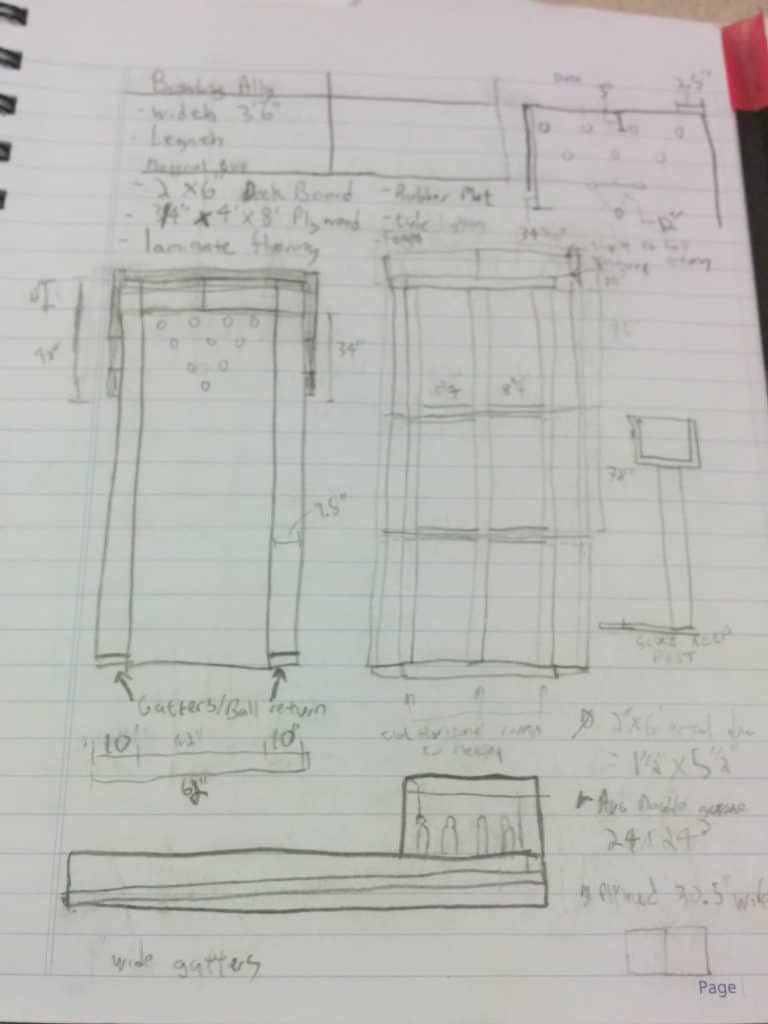 Put any CAD skills to good use and impress your friends with an elaborate plan. This will help your collaborators to easily visualise what you are building, without the hassle of trying to decipher your handwriting and wonky drawing skills. However, it's not strictly necessary provided you can convey exactly what you want to build, and your measurements are accurate.
Unfortunately, most people won't have the garden space to accommodate a standard 60-foot alley. Work with what you have, but ensure your lane has enough length to make it challenging. 3.5 feet is the average width, anything narrower than this will compromise your game. You also need to allow at least 10 inches on either side for the gutters.
The platform needs to be completely level or your bowling balls will have a mind of their own. Ensuring the ground is as flat as possible helps, and if there is any incline in the land, you may need to dig a shallow trench to even it out. Use a laser level for accuracy.
Once all the prep is done, it's time to get to the workbench!
2. Materials
Apart from a table saw and a well-stocked toolbox, you will need-
2×6 Deck Boards (opt for unrounded decking with a smooth finish)
4'x8′ 3/4″ Plywood
Rubber Mat
Fittings- screws, nails etc
If you're a hardcore bowler and you want the added luxury of the automatic pin reset system, you will also need a pulley mechanism, rope and eye hooks to screw into your pins. Constructing this requires some engineering ingenuity and a lot of patient adjusting, but it will give an unrivalled professional finish to your backyard alley.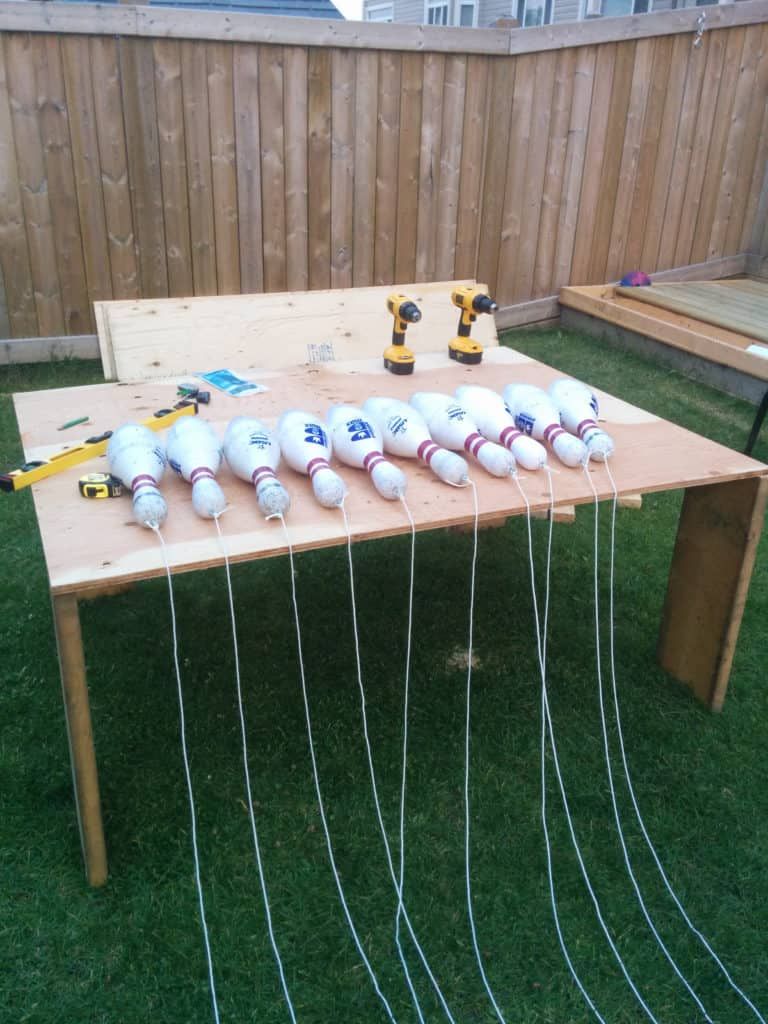 3. The Base
The base is the backbone of your alley, the main support without all the pretty veneer. A good solid frame is crucial for the optimal functioning of your lane, so all your planning and sketching will stand to you here. However, even the best laid plans go awry so prepare yourself for some hitches along the way. You may need to think on your feet to find your way around any unforeseen issues. The path to true love never runs smoothly!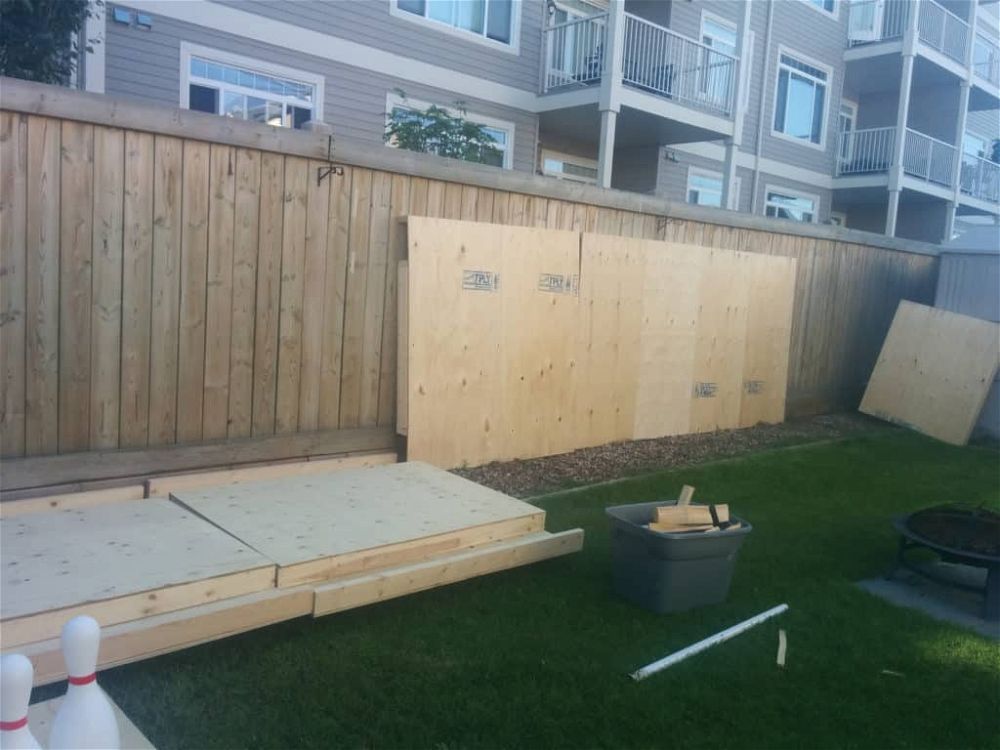 Checking that your base is level after each step prevents any unexpected problems at the end, when they will be more difficult to rectify.
If you are brave enough to attempt the pin reset pulley, you will need to add a plywood sheet above the pins to thread the rope through.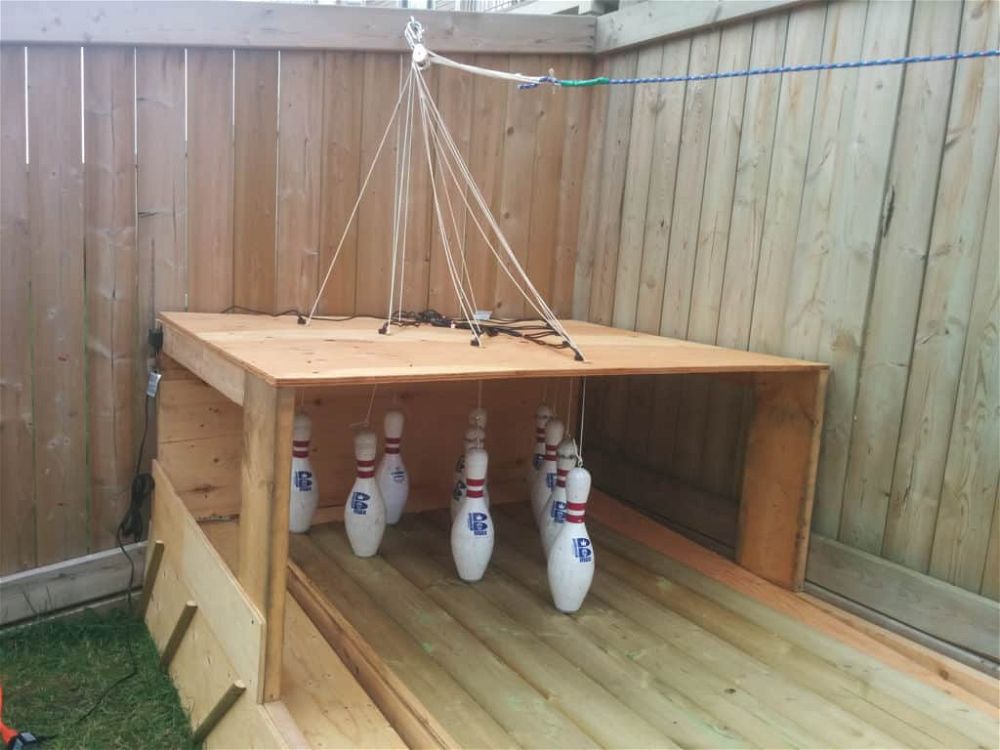 4. The Final Flourishes
The grafting is done, now it's time for the finish! Lay your decking boards and check the level one last time. Et voila! Behold the thing of beauty- your very own personal bowling alley, right in in the comfort of your backyard.
By this stage, you've already guaranteed that anyone who sees it will be awestruck. But people who build their own bowling alleys aren't the type to go for the basic model of anything, so now it's time to pimp it up.
A few strategically placed spotlights above the end of your alley will allow you to practise that swing late into the night, but for the ultimate cosmic bowling experience, install some coloured glow lights in the pin housing. Adding some strip lighting along the lengths of the gutters will give a more authentic feel.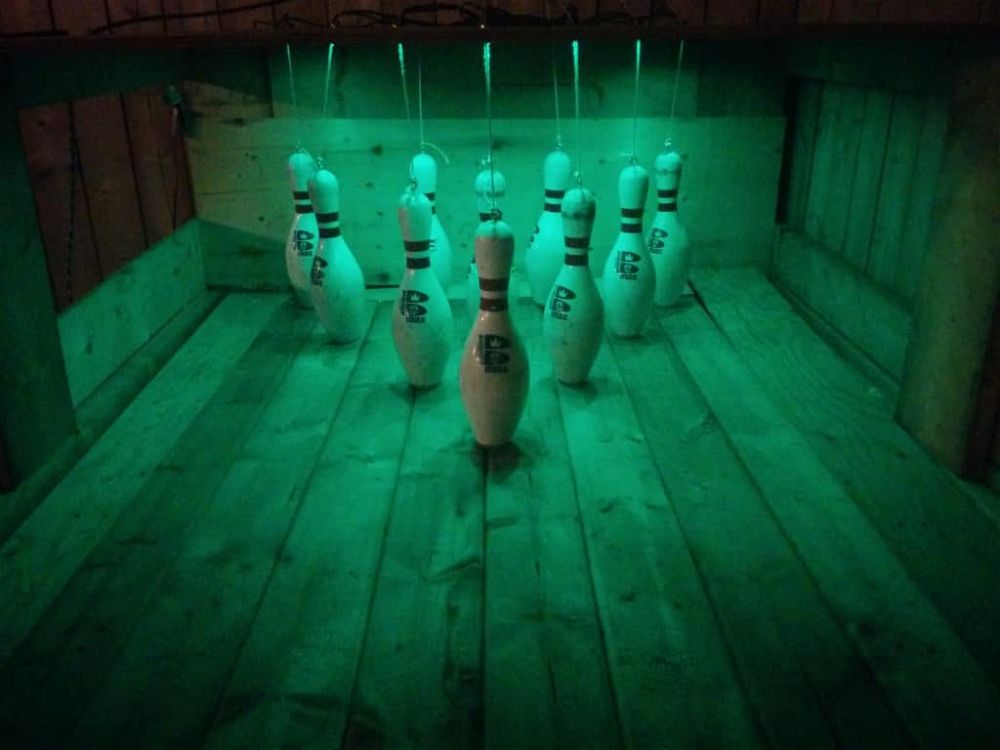 5. Enjoy!
A backyard bowling alley is fantastic in so many ways. A unique garden feature, it can be enjoyed and used in a practical sense to perfect your bowling technique. It's also a great focal point for children's birthday celebrations, and is an excellent activity for barbecues and dinner parties. You won't find a more distinctive garden showpiece than this!
And for advice on keeping it clean, check out our guide to the best pressure washers!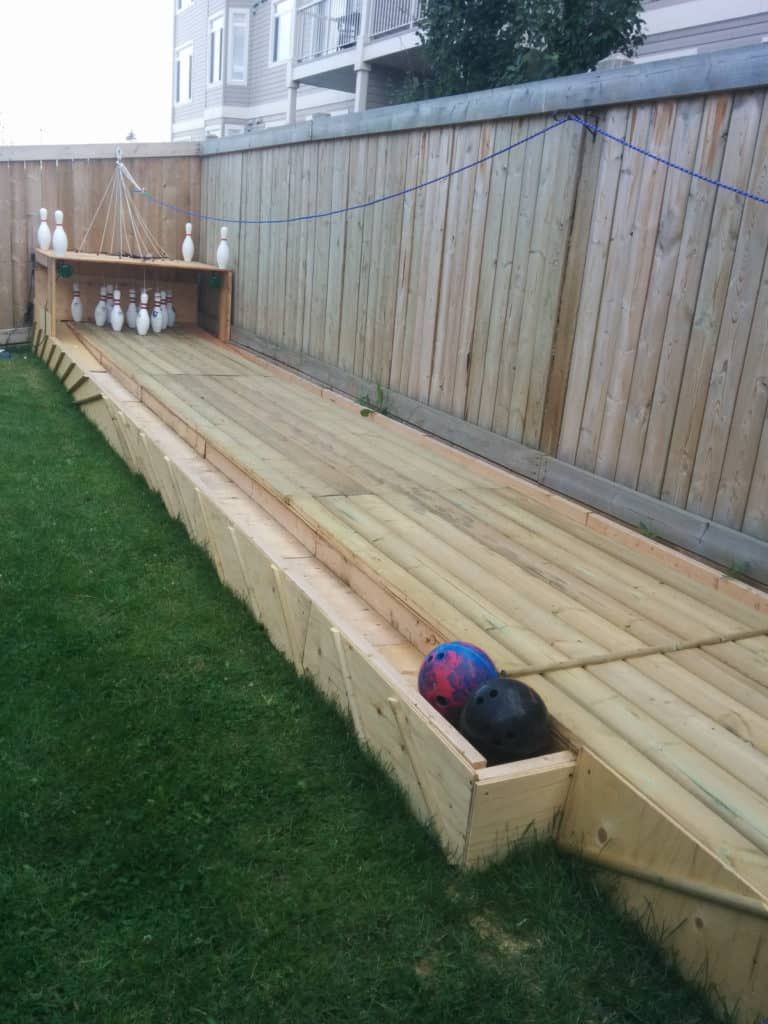 Images courtesy of Imgur user Makgyver87