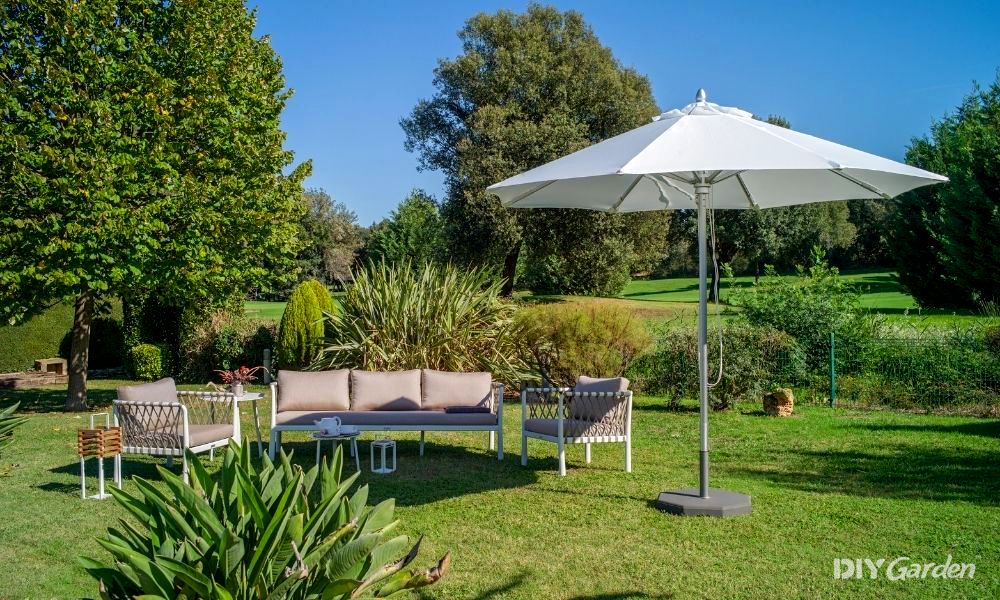 When picking a parasol, it's all about the base. Without a sturdy, heavy base, your parasol will blow over at the slightest gust of wind. And nobody wants to chase their parasol around their garden.
So, let's discover what base is suitable for your parasol. Then, we'll share some cheap tips to solve your parasol problems.
READ NEXT: Sorara Roma Cantilever Parasol Review
What Weight Parasol Base Do I Need?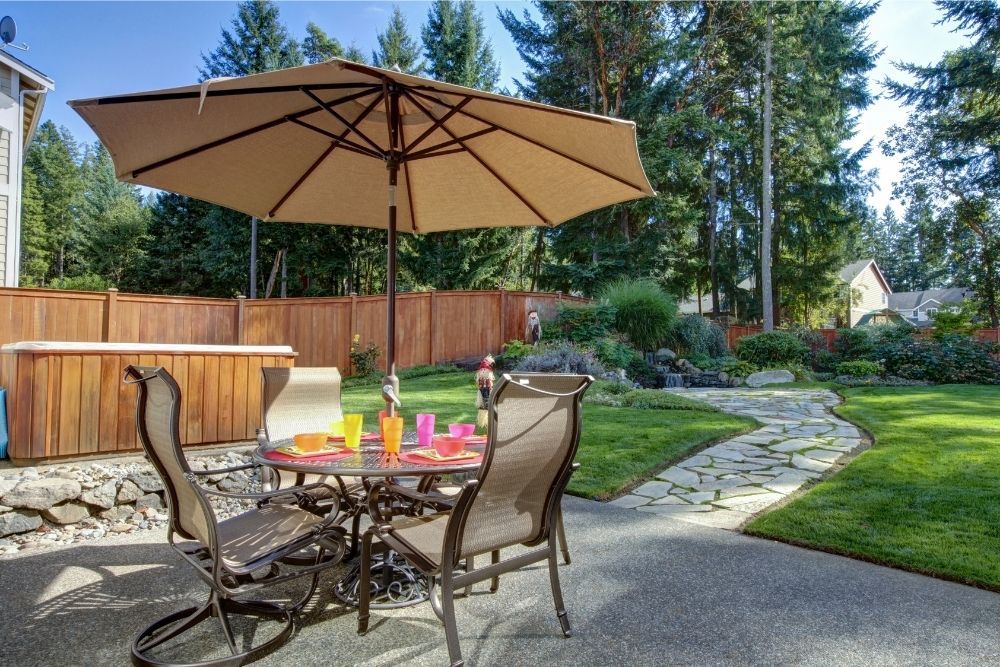 If your parasol fits snuggly through a table, there's no need for an overly heavy base. A 15kg base, in this instance, will do just fine. The table will do most of the hard work, keeping your parasol in place and stopping it from falling prey to strong winds.
If your parasol is freestanding, we recommend a base of no less than 25kg. This extra weight will prevent your umbrella from blowing all over the place.
But the weight of the base you need depends on the size of your parasol's canopy. For example, a 9-12kg base suits a 2-metre parasol, while a parasol above 4 metres will need a base of over 50kg. Here's a detailed breakdown to help you identify the base weight you need.
| | |
| --- | --- |
| Parasol Canopy Size (m) | Correct Base Weight (kg) |
| 2 | 9-12 |
| 2 – 2.3 | 12-15 |
| 2.5 – 2.7 | 15-20 |
| 3 and 3 x 2 | 20-30 |
| 3 x 4 | 30-50 |
| 4+ | 50+ |
Although weight is essential, it's not the only important factor. Have you thought about the pole?
Does the Base Fit Your Parasol Pole?
There's no point forking out for a swanky parasol and base if they don't fit together. A post of 42mm or less will sit well in a 15kg parasol base. For a post with a diameter any greater than this, you'll need a 25kg base.
But double-check your measurements here. A parasol that's loose in its base is less sturdy. It'll likely blow over, and on blustery days, you may never see it again! Measure the pole's diameter and find a base that fits just right.
Now, onto style.
What Style of Parasol Base to Choose
Take a look at the bases available. They come in all different materials; you have the pick of the litter. But remember, it's not all about style – weight is fundamentally more important. You need to choose a material that's weighty enough to keep your parasol on the ground.
That means staying away from a hollow plastic base unless you intend to fill it with sand or water. This choice is perfect if you're on a budget, as plastic bases are typically the cheapest of those available. My advice? Choose sand over water. Sand is denser than water, so it's better at stopping your parasol from tipping over.
Granite bases are also available. Choose a black granite option if you want something sleek and sophisticated. But be prepared to pay – these don't come cheap!
Another option is metal. Opt for a stainless steel base that's powder-coated, as this has better durability and won't succumb to rust. You can also get these in various styles, but again, they're a little pricey.
Concrete is cheap – it won't cost you an arm and a leg. Unfortunately, it doesn't always look the best. But if you're after an industrial look, this will certainly do the trick!
What Base to Choose for a Cantilever Parasol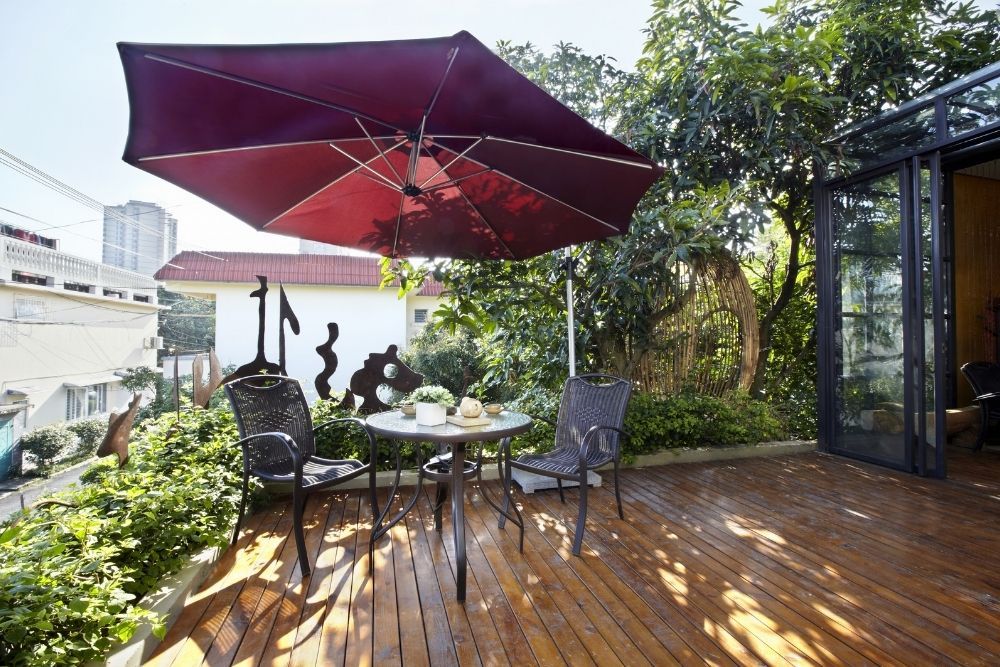 Cantilever parasols are made up of two poles rather than just one. This lets the base sit at the side, extending the umbrella over your seating area. These are an excellent seating solution as they remove the central pole, allowing you to enjoy unobstructed views.
But there's one problem, and it involves their centre of gravity. Cantilever parasols have a trickier time in the wind because their centre of gravity doesn't lie in the middle of the umbrella.
That's where centre post parasols stand out – they possess greater wind resistance because of their centre of gravity.
To fix your parasol woes, counteract the balance issue with a super heavy base or stick to the centre post parasol.
Choose Your Parasol Wisely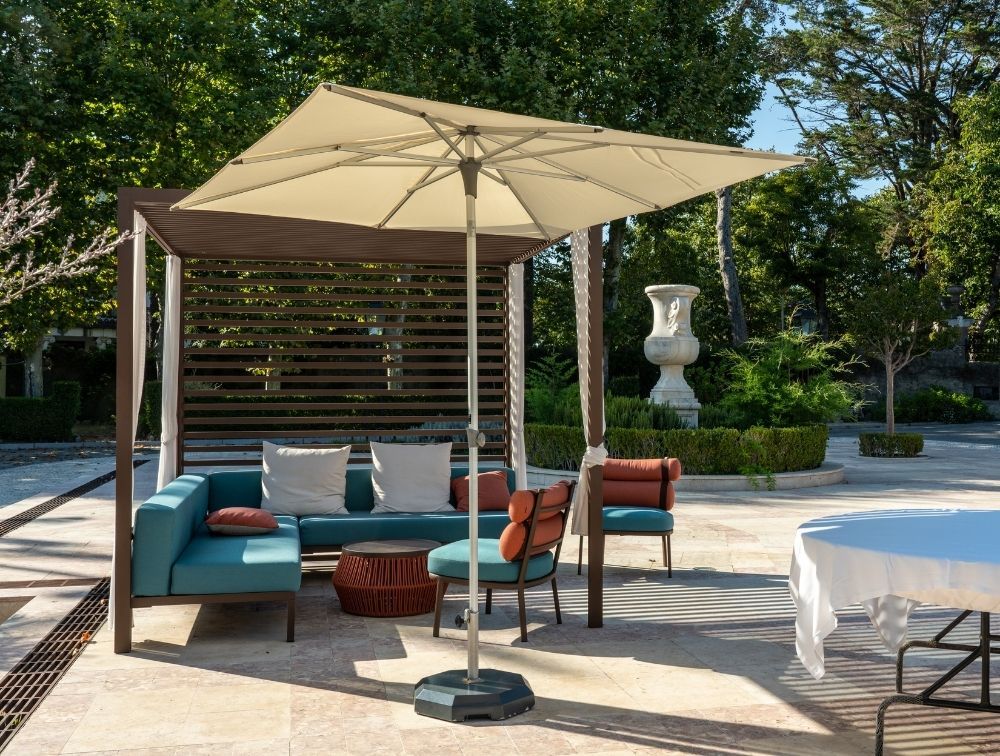 Choosing your parasol wisely will solve all of your problems. High-end manufacturers have thought of the issues you're worried about, and they've created heavy bases to solve these problems.
When purchasing a parasol, ensure you check the weight of the base. Follow the guidance in this article to choose the canopy size that's a good fit for the base weight.
The best way to add weight to a base is by making it out of robust and sturdy material. So, it pays to look out for bases made of top-quality materials.
Yes, the plastic bases are cheap. But I guarantee you won't regret paying slightly more on a granite, metal, or concrete base. These hefty materials keep your parasol firmly fixed in place.
If you've already bought your parasol or can't afford to fork out on the expensive, heavy options, try some of our clever parasol solutions below.
Get Clever With Parasol Bases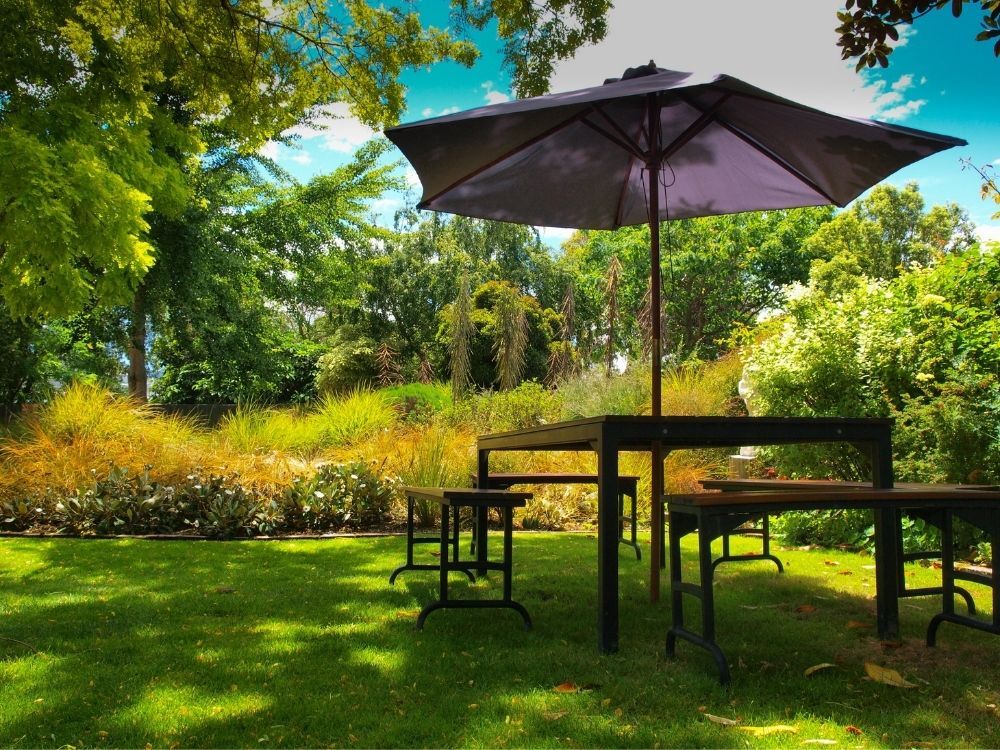 Sometimes, all it takes is some out-of-the-box thinking to solve your parasol problems. Here are 3 handy tips to keep your parasol securely on the ground.
1. Buy a Table Fit for a Parasol
Many outdoor tables come with a central hole for a parasol. There's no need for a monstrous base when you've got one of these.
You'll still need a base to anchor it down, but the table will do most of the hard work, saving you money on a fancy weighted base.
2. Come Up With DIY Solutions
No one said the weight had to be in the base. Why not load your base up with sandbags or Breeze Blocks? This will keep it firmly on the ground.
Or, if your base is filled with water, try replacing this with sand. Sand weighs much more and is a cost-effective, simple solution to your tricky situation.
3. Attach Your Parasol to the Ground
How about you throw out the base altogether? Get rid of it, and secure your parasol to the ground instead. This is the best option if you're sick of fetching your parasol on windy days and are not fussed about moving it.
To do this, dig a hole and cement it in place or purchase a ground anchor or spike.
Bring on The Base
Choosing a parasol base takes careful consideration. But the general rule is the heavier, the better. Are you umming and ahhing over a heavy parasol base? The vision of you running after the umbrella on windy days may be enough to sway you.
But don't neglect the pole while you're worrying about the base's weight. The post needs to fit nice and snug in the base, or it'll move all over the place.
Then, there's style. Expect to pay more for the super-stylish, weighty bases like granite and metal. Concrete doesn't hit the style spot but is spot-on when it comes to price. Or choose plastic, but make sure it's full to the brim with sand.