A parasol will protect you from the unexpected UK elements, whether it be rain, wind, or sun. But it must be the correct size. What's the point in buying a parasol that's umbrella only covers half of the desired space?
Uncover what size parasol you need for your garden using our size guide. And is size the only important element? Find out what you may have overlooked.
What Shape Parasol Do I Want?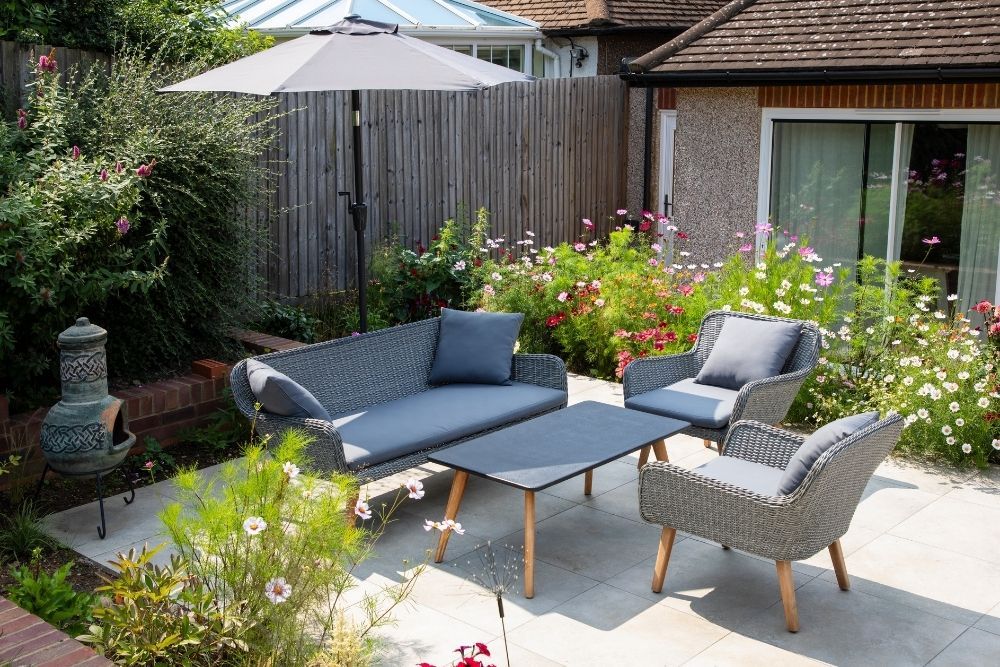 The first task is thinking about what shape you want your parasol umbrella to be. There are several options:
Round
Square
Rectangular
Cantilever
Round, square and rectangular parasols are all centre post parasols. These feature a single upright pole that sits in a weighted base. The base and post will be at the centre of your seating area. You can even get patio tables that have a hole fit for a parasol pole!
Strangely, round parasols aren't actually round, but they're close to it. They're either hexagonal in shape with 6 ribs or octagonal with 8 ribs. Square and rectangular parasols live up to their name and have either 4 or 8 ribs.
These centre post parasols are sturdy but get in the way of your line of vision. There's nothing worse than trying to talk to someone and a pole getting in your way.
That's where the cantilever parasol steps in. It's made of two poles, one upright post and a second angled bar that connects the umbrella to the vertical pole. The weighted base sits to the side of the seating area, so there's no pole obstructing your view.
It features a second pole because this enables the umbrella to be tilted. Cantilever parasols can be adjusted, allowing you to move the umbrella backwards, forwards, left, right, up or down.
What Size Parasol Do I Need?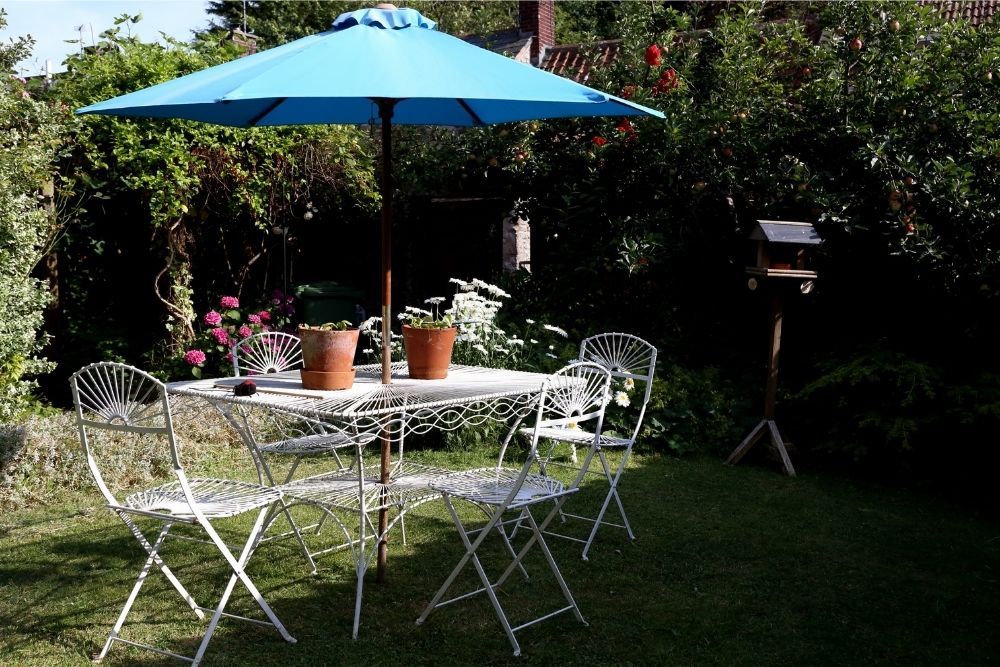 Let's get this straight. When we refer to "parasol size," we mean the size of the umbrella, as this is the crucial part that gives you protection.
To identify how big your parasol needs to be, you need to know the size of your designated shading spot. All patio seating differs in size and shape. So, think about this before choosing the size of your parasol.
Here's a guide on the parasol size you'll likely need for different furniture choices.
Parasol Size Guide
2 Seater Table
For a 2-seater table, you'll only need a 2m parasol. Of course, you can choose a bigger one, but 2m will be sufficient to keep you both in the shade. A 2m parasol is perfect for a patio lacking space, as it won't shield every part of your garden from the sun.
2-4 Seater Table
A 2-4 seater requires a slightly bigger parasol, between 2 and 2.3m. These are the smallest parasols available but will be ideal for your little secluded space.
4-6 Seater Table
You'll want a 2.5 – 2.7m parasol for this table size. The canopy will be enough to shield you from the sun on scorching days and give you adequate protection from getting wet when it's rainy.
6-8 Seater Table
You'll need a 2.7 – 3m table to keep 8 people safe from the elements. This canopy size is also the top choice when you're out on your own on a sun lounger.
8-10 Seater Table
A canopy of over 3m gives cover to many. Whether you're big on entertaining or want to lounge outside with a companion, this large parasol is perfect for you.
10+ Seater Table
Any parasol that exceeds 4m works for this table size. You'll want a big umbrella to cover that many people and a 4m parasol will do the trick.
What Have I Overlooked?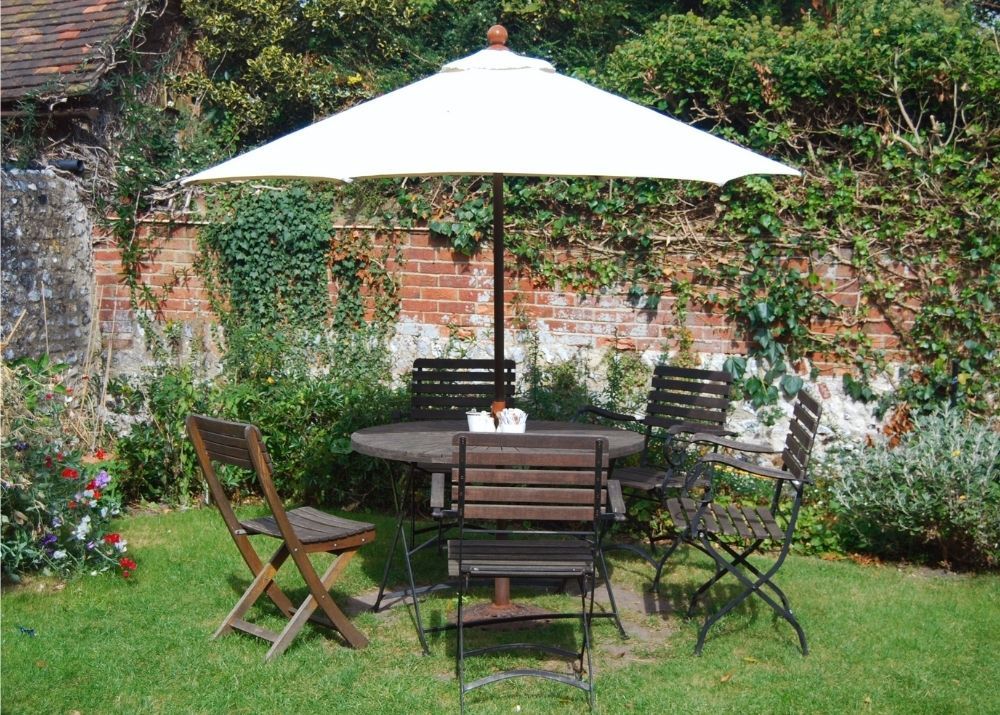 It's easy to get carried away obsessing over the right canopy size. But what about everything else? After all, size isn't the only factor that matters. Below, you'll find the elements that also bear thinking about.
Considering Base Weight
You've figured out the size you need. Now, it's time to consider the weight of the base. A 2m parasol requires a base of 9-12kg. For a 3m parasol, you'll want a 12-15kg base. And for anything above that, a base of over 20kg is required.
If your parasol doesn't come weighted already, you can keep it firmly on the ground using sandbags, Breeze Blocks or weight bags. Alternatively, you could give up the idea of a weighted base altogether and secure it to the floor!
Think About the Pole
To ensure you're well-protected, you need to check what the pole is made of. Parasol poles are typically made from wood, aluminium or steel.
A wooden post has that authentic, bohemian feel and sits nicely in a super-green garden but, unfortunately, lacks resilience.
Parasols with aluminium poles are light but solid. You can move your parasol around your garden without fear of it breaking or getting damaged.
Steel is the most robust material out of the lot. It's highly wind-resistant and benefits from better stability. But, once you've put your steel-poled parasol down, you best want to keep it in that place. They're not the easiest to move due to their weight!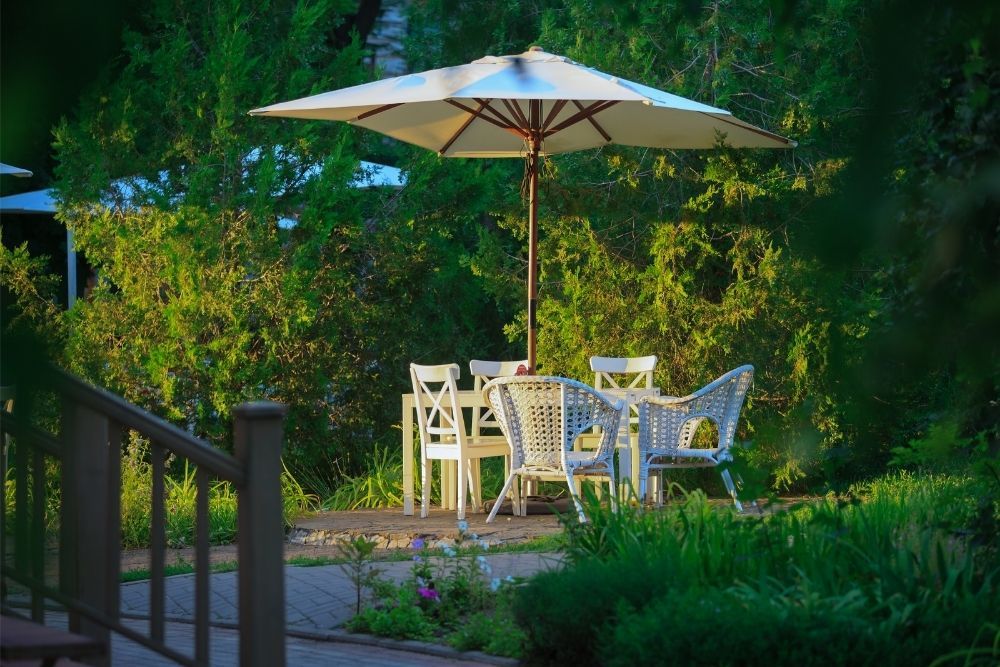 Check Canopy Material
If your primary aim is to shield yourself from the rain, UV protection isn't so much of a worry for you. A canopy made up of 180g polyester fabric is your best bet, as it has excellent water resistance, keeping you dry at all times.
But if it's sun you're thinking of, you'll want to check the canopy material's UV protection. A canopy material with a UPF 30+ will keep you shaded and protected from those harmful UV rays.
Live on top of a hill or beside the sea? You'll likely suffer from heavy winds, and this needs careful planning. As I'm sure you know, parasols and wind don't get along. If the parasol is too weak, it'll blow straight over on a blustery day.
Get a parasol with air vents to save yourself from running around after it. This will allow the wind to pass through. The vent works well in summer, too, as it gets rid of all the stifling hot air.
Enjoy Parasol Paradise
We've covered everything parasol-related. No stone has been left unturned. This gives you the best possible chance of finding the perfect parasol for you. So, choose wisely, keeping your seating in mind.
And don't forget that there are other factors, including base weight, the pole and canopy material.
Without further ado, go get your parasol!