Your garage is a great place to store just about anything. You've put up shelves, your workbench is on wheels and there's space to park your car. But you still need more room. Look up, there's plenty of space above your head if you know how to use it. We're going to show you the best kept secrets in garage ceiling storage.
Before you start
Using your garage ceiling is a great way to maximise the space you have for storage, but you need to make sure your ceiling can take the added weight. You need to attach any fixings to roof joists and remember that your ceiling is strongest next to the walls. If you're not sure about how strong your ceiling is, talk to a local builder and get them to check it out.
Down to the wire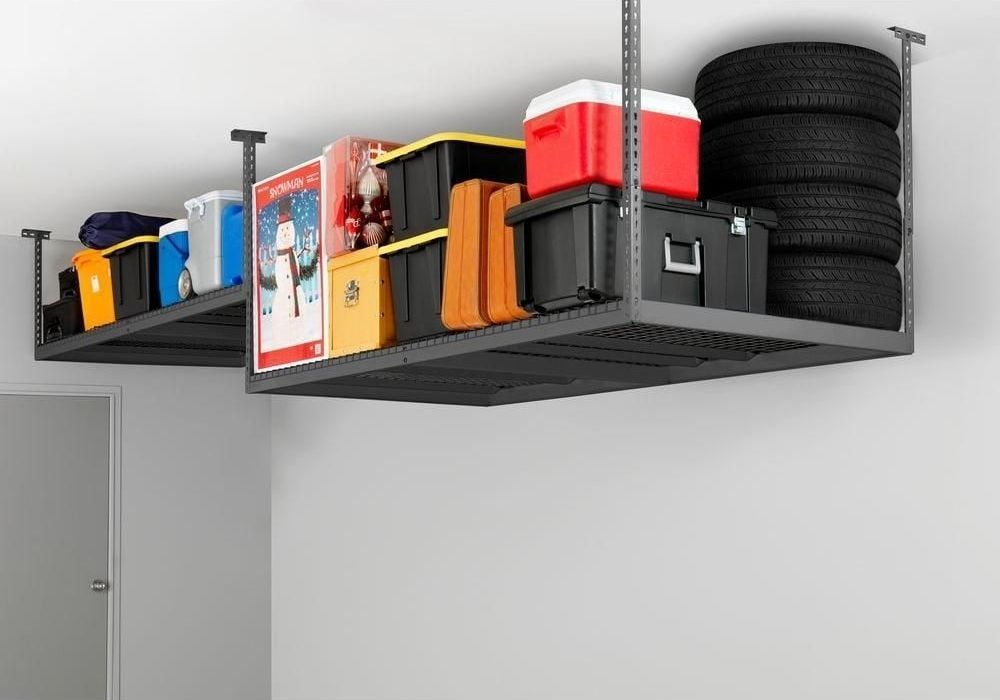 Probably one of the simpler storage systems for your garage ceiling are wire storage racks. All you need to do is find your ceiling joists and screw in the mounting plates for tons of extra storage up above your head. And because they're made from a wire mesh, you can see precisely what's in there.
Rack and pack away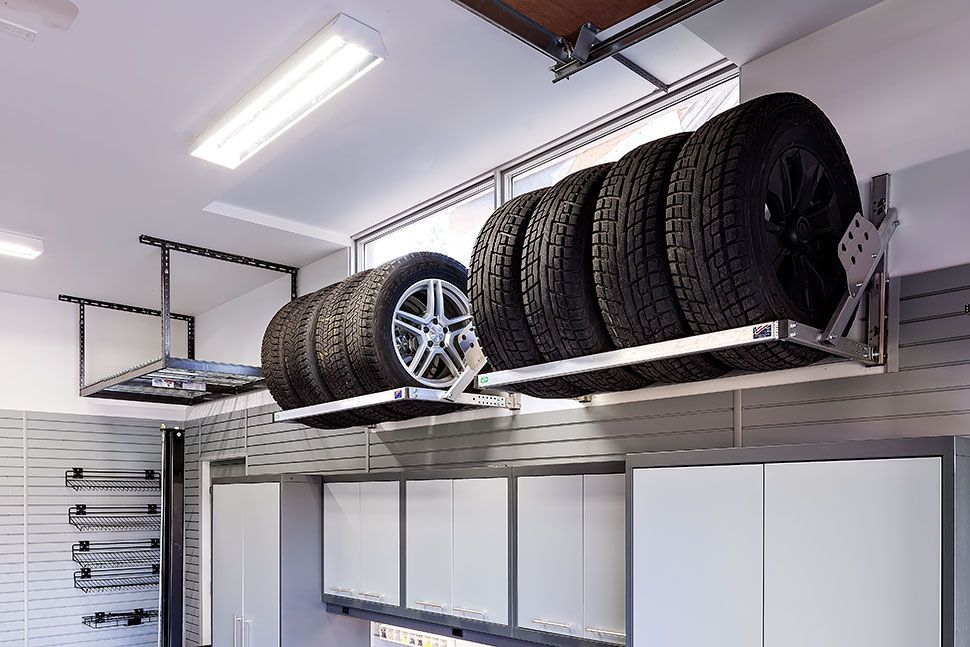 The most popular choice for garage ceiling storage are racks – available in all sorts of sizes and colours, they're ideal if you want to store even heavy items up above your head. You can even get adjustable height racks if your garage space isn't completely square. Made from steel, aluminium or plastic, they're straightforward and particularly useful.
Get hooked up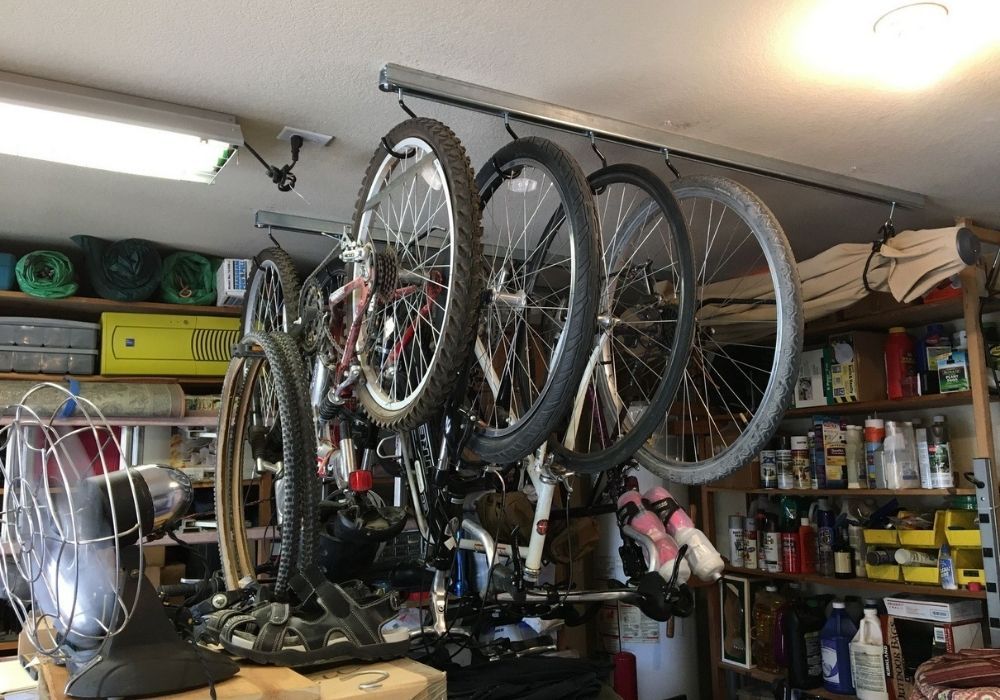 You can make a lot of your overhead space if you get hold of a good set of hooks. Depending on the size and shape, you could hang just about anything including a bicycle by the front wheel. You can even get handy "T shaped" hooks that offer double the hanging capacity.
Plastic coated hooks are cheap and available in tons of different shapes and sizes- large, square hooks in a row are ideal for holding a ladder up and out of the way, while "U" shaped ones are ideal for hanging long handled tools. Simple, but effective.
Bring it down to your level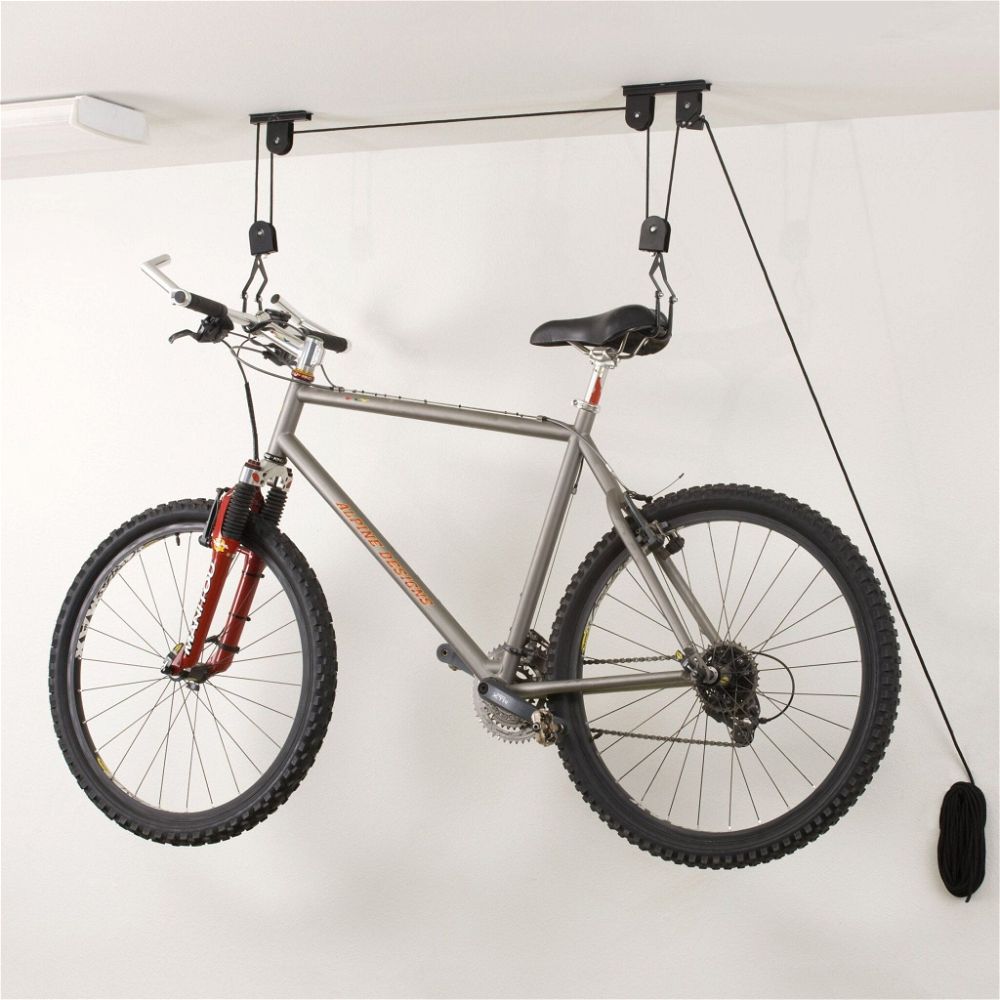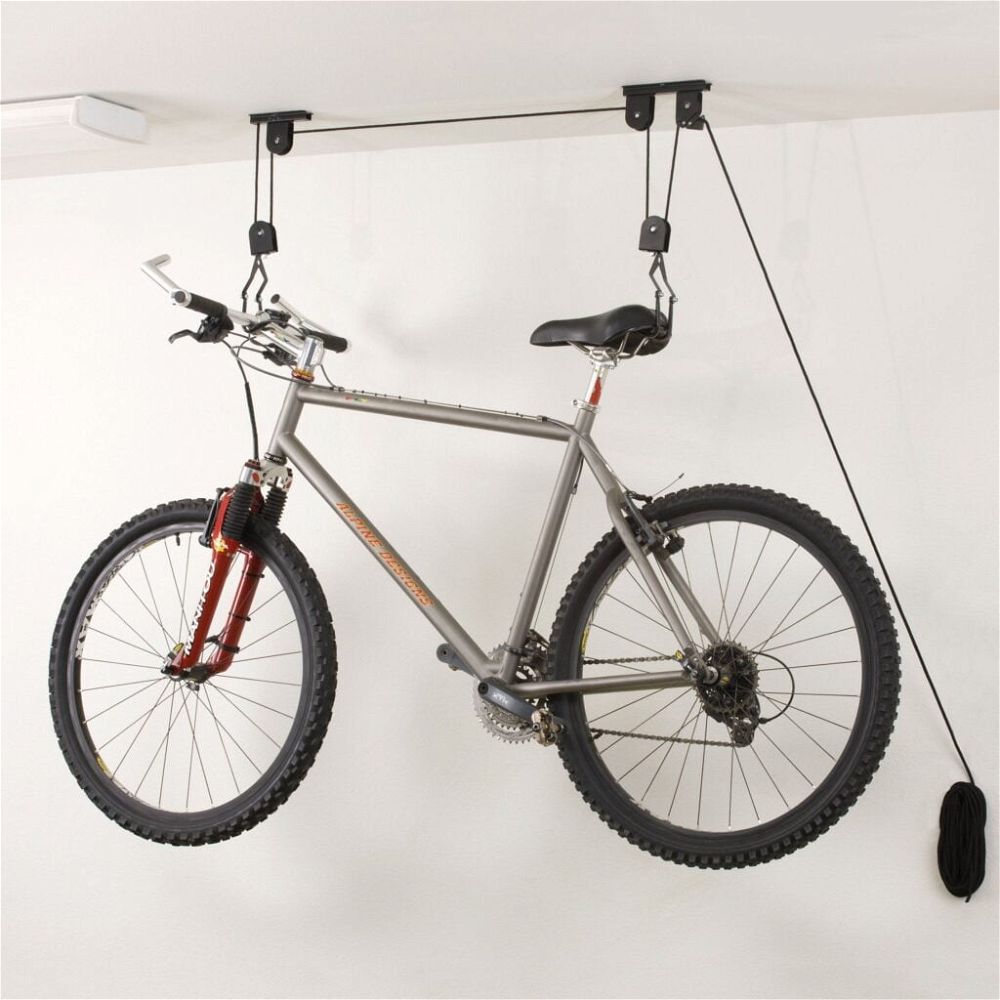 You might wonder how you're going to get at all this stuff you've stowed up on the ceiling without a ladder. Some of the most impressive looking garage ceiling storage solutions have solved this problem by bringing your stuff down to you. For example, this clever bit of kit uses pulleys and wires to lift your bicycle all the way up to the ceiling, freeing up floor space and making your garage look a bit like the Bat Cave at the same time.
Get the net
Sometimes it's the awkward shaped things that seem to take up the most room in your garage. If you want to stow things up and out of the way, get hold of a cargo net and attach it to your rafters. You can get cargo netting with handy hooks all the way round the edge, making it a cinch to put up.
If you don't want to permanently screw anything into your rafters, you could always use flat bungee straps to secure your cargo net. Wrap them around a rafter and through the hooks, and you've got a storage system that you can take down or move in seconds.
Straps for long items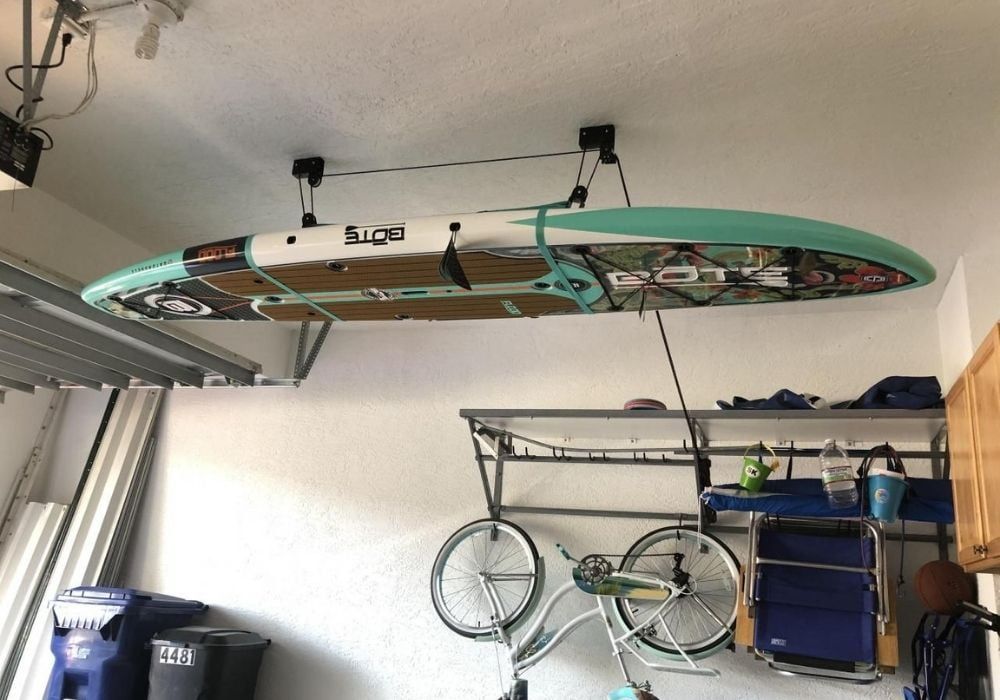 Another low-tech solution for storing long things like pipes, strips of wood or even a canoe are webbing slings. Used for tying down heavy loads, they're perfect for ceiling storage because they're light, super strong and available in almost any length.
DIY ceiling shelves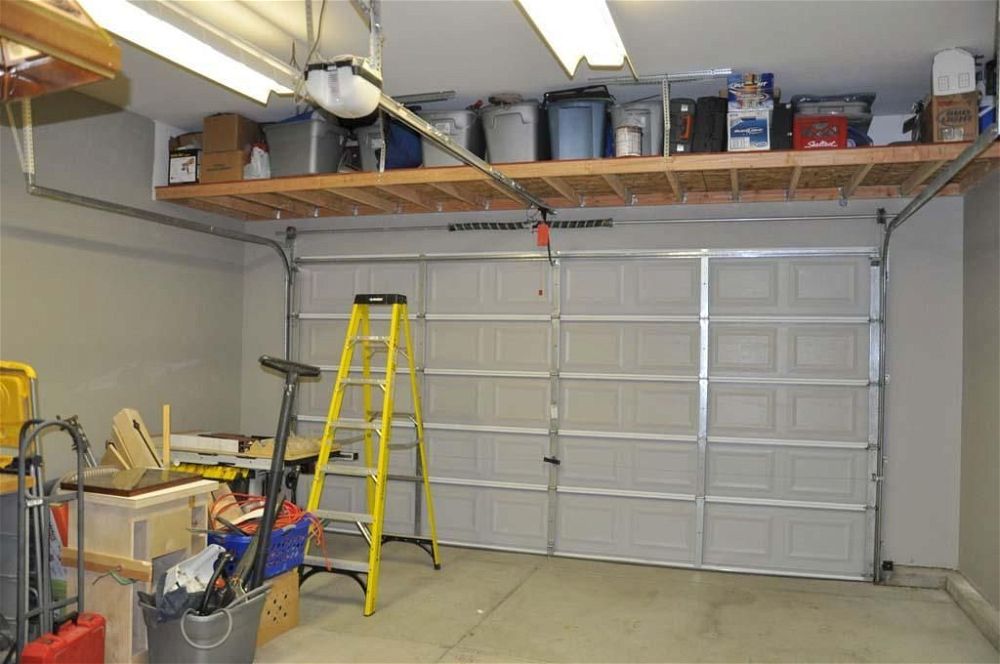 Shelving on your garage ceiling doesn't have to cost a fortune. If you're comfortable with a drill, driver and saw, you can make sturdy shelves on a budget. Get hold of 12 mm plywood sheets, some studwork timber and "L" shape brackets first.
Cut the timbers to length and screw them into your ceiling joists using the brackets. Cut the plywood to size and use more brackets to attach it to the upright timbers. There are plenty of step-by-step guides online, so don't think you need to spend a wad of cash to get some heavy-duty shelves.
Tote box storage rails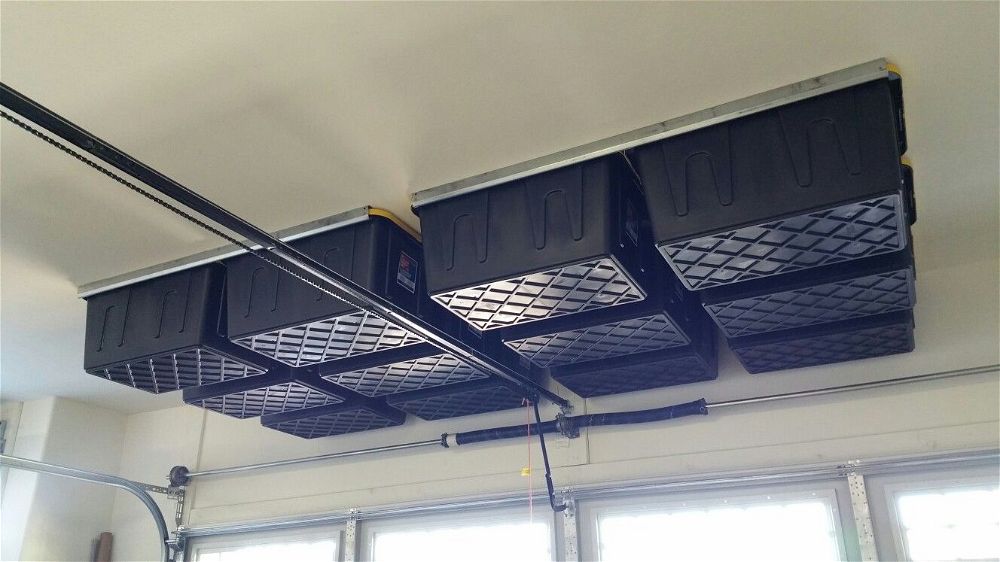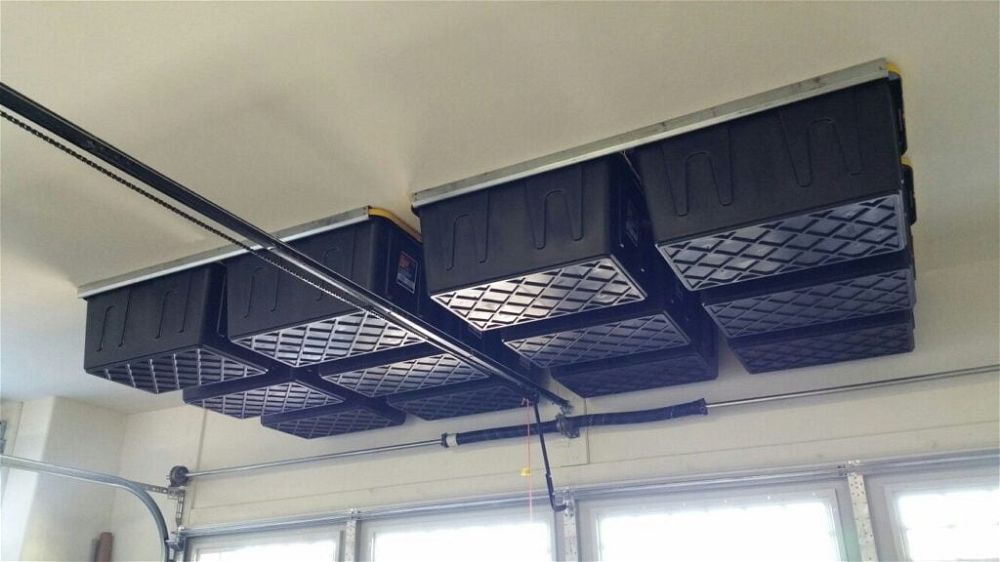 One of the best ways to maximise space in your garage is with tote boxes. Sturdy and weatherproof, they're ideal for keeping everything organised, but will take up a lot of room if left on the floor. You can buy a clever rail system or you can make simple storage rails yourself with aluminium "U" profile – it's more affordable and light enough to not add too much weight to your ceiling joists.
All you need to do is get tote boxes with a wide top lip- measure the width of the top and space the "U" profile out across the roof joists so you can slide the tote boxes away when you don't need them. The aluminium is soft enough to drill through and can be attached to roof joists wherever you need them.
Conclusion
If you find yourself standing in the middle of your garage surrounded by boxes, desperately looking for space, garage ceiling storage is going to be your new best friend. You can go for clever pulley systems that hoist your gear up out of sight, or just throw it all up in a big cargo net, it's up to you. Just remember that there's always a bit more room up there.