From professional finishes to DIY flooring on a budget, we're going to show you the best ways to keep your feet, and your car, on solid ground when you're in your garage.
1. Polished concrete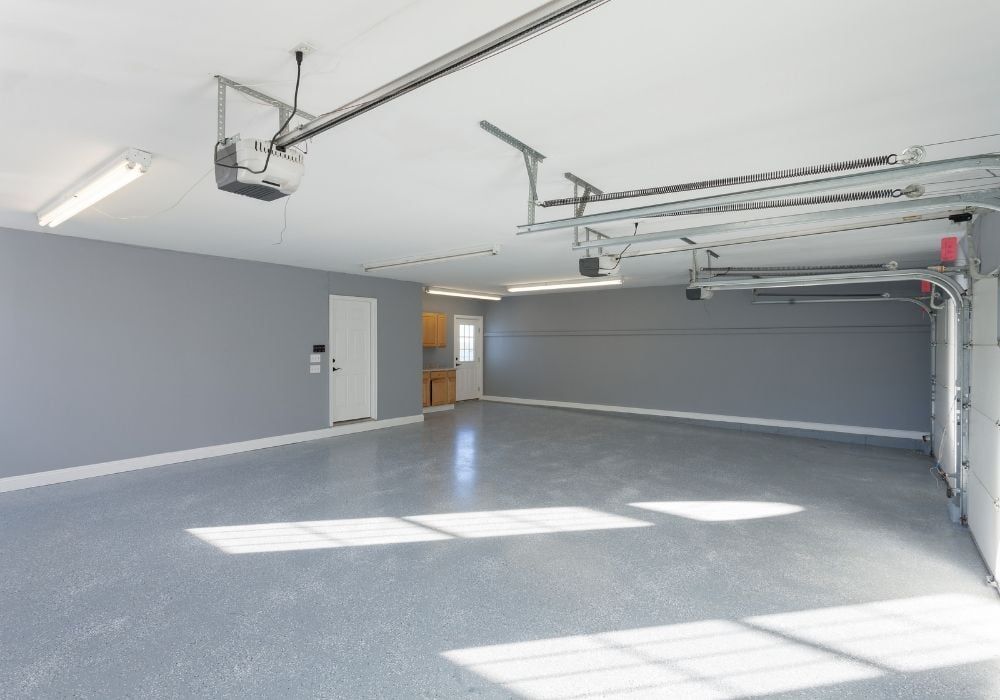 Polished concrete is a hard-wearing floor type that suits newly poured concrete slab floors. Boasting brilliant light reflective properties and an impressive non-slip surface, it's also easy to keep clean. You can get creative with concrete stain and pick from a wide range of colours as well.
It's the perfect flooring solution if you want to show off your classic car, but it's also an expensive option that needs to be left to the professionals. It takes a lot of honing and sanding with special diamond dust blades to get a mirror-like finish.
2. Garage floor paint
Floor paint is probably the cheapest and most straightforward garage floor covering you can get. It's a tough and durable paint designed for floors and stairs. Some floor paints even contain grit for extra grip.
There's no special preparation required for painting your garage floor this way either. As long as your floor is dry and relatively dust free you can just slap it on with a big roller. On the downside, it's not the most durable floor covering.
3. Epoxy floor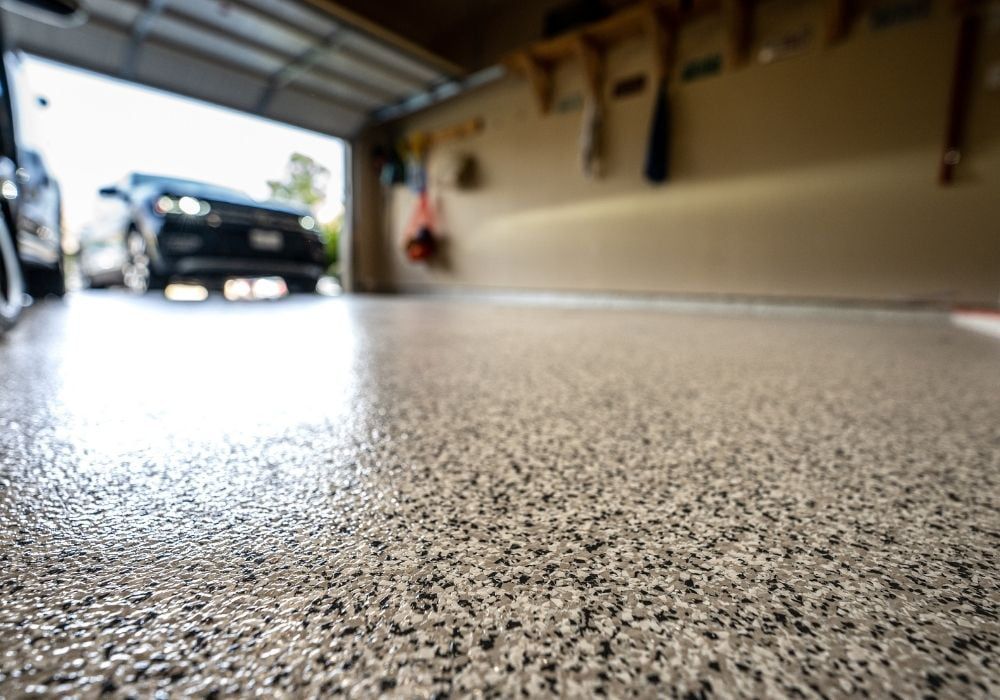 Epoxy resin is one of the toughest paint-on floor coverings you can find. Resistant to impacts and chemical spills, it's the reason why you'll find epoxy floors in factories and workshops around the world. It leaves a smooth and glossy finish that should last for ages.
Our favourite thing about using epoxy resin is that you can do it yourself. It's a thick floor paint that you can apply with a long-handled roller and tray. There's a lot of prep work to do though, you need a spotless floor and concrete sealer to do the best job.
4. Polyurethane
Polyurethane is another hardy paint-on garage flooring. It's like epoxy but more flexible and it won't turn yellow over time. It's also less prone to scratches and leaves a glass-like finish. It will extend the lifetime of your concrete floor and you can even sprinkle metallic flakes across the floor for a striking finish.
The downside of polyurethane is that it's not a thick covering like epoxy. It's not good for filling cracks and it's more slippery than other paint-on finishes. The best use of polyurethane is to combine it with an epoxy floor covering for the ultimate hard-wearing finish.
5. "Roll Out" rubber flooring
"Roll Out" rubber flooring is exactly what you'd think- a big roll of heavy-duty rubber that you throw in the garage, roll out to the walls and trim to fit. They come in standard sheet sizes, but you can also go for a custom cut to fit your space for a little extra.
We like that you can get rubber flooring rolls in a variety of colours and industrial grip shapes like checker plate for an industrial look that's easy to clean, plus it's a great way to cover cracks. The downside of a large sheet of rubber is when it gets damaged. If you wear a hole in it, it's not an easy thing to repair.
6. Interlocking floor mat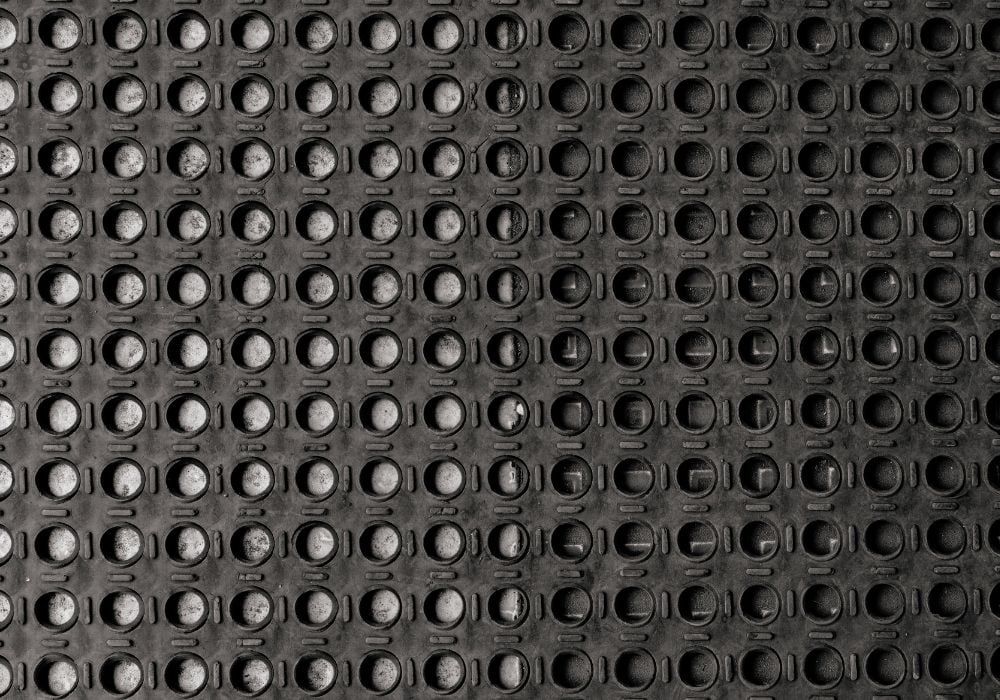 Interlocking floor mats probably offer the best all-round solution for your garage floor. They're not too expensive, give you a grippy surface to work on and are as easy to put together as a jigsaw puzzle. What's not to like? You could even buy different colours and create your own unique floor design if that's your sort of thing.
Compared to roll out flooring, it's easily repairable as well- if you wear a hole in one of the tiles you can pull it up and replace it without any special tools. They come in different thicknesses and grip shapes, but if your garage is an odd shape, you'll have to do some serious trimming.
7. Garage carpet

Carpet in your garage? You could always throw down some old carpet remnants over the floor and be done with it, but if you want a car showroom look go for garage carpet tiles. Hard-wearing, tactile and easy to lay, they're not the same as the carpet you'd have in your house but the sort of tiles you could park a car on.
One of the benefits of garage carpet is insulation. Rubber flooring might help with acoustic insulation, but it's not going to help keep the warmth in during the winter like carpet will. Garage floor carpet isn't exactly a good idea if you've got a dirty workshop though.
8. Garage floor board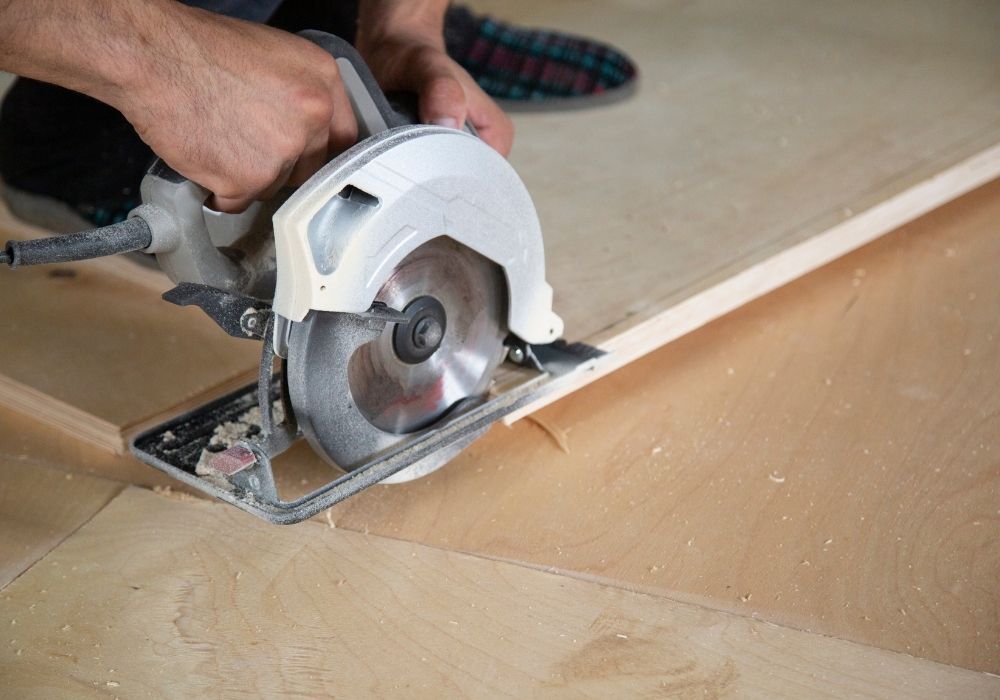 Chipboard sheets, plywood, or OSB are candidates for good garage floors. They're hard wearing and available as tongue-and-groove for a seamless fit. You'll get an unbeatable level of comfort from these boards, especially if you team them up with another layer of insulation underneath.
Aim for at least 20 mm thick boards to avoid sagging and avoid laying them directly onto concrete. If you build a framework of timber underneath and fill the gaps with insulation, you'll be on our way to a cosy garage all year round. Make sure you get boards that are treated to resist moisture.
9. Vinyl flooring
Vinyl flooring, like the stuff you'd find in your kitchen isn't designed to be used in a garage. But unless you're doing heavy work, kitchen floor vinyl is cheap, grippy and easy to keep clean. If you've got a small garage you might even be able to use off cuts from your local flooring dealer.
Installing vinyl is easy. You roll it out, push it into the edges of the room and cut along the edge with a sharp blade. If you want a professional finish, use a wide bladed scraper to push the vinyl in tight and cut along the edge of the blade. Don't expect it to last a lifetime, but vinyl flooring is fine if you're on a budget.
10. Ceramic floor tiles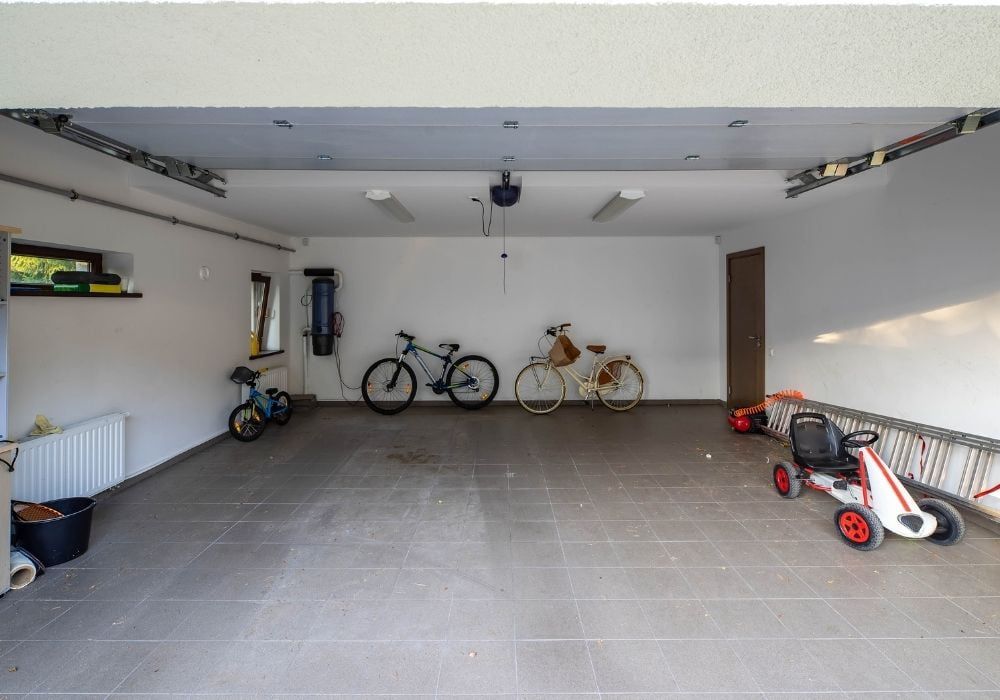 Ceramic floor tiles will add a touch of class to your garage floor if that's what you want. Porcelain tiles are stronger than you might think, they'll stand up to plenty of punishment and give your garage that luxury car showroom look you didn't know you needed.
You can get ceramic tiles in almost any colour, size, shape or finish to suit your taste which makes them the ultimate choice for a personalised garage. The downside is that it's an expensive way to fit out a room you don't use every day.
Conclusion
Now you know that there's more than one way to cover your garage floor, it's up to you to choose what's most important. From cheap and cheerful paints to high-performance interlocking rubber mats, we hope this guide helps you hit the ground running.