You want to work out in your garage this winter, but it's colder than a polar bear's behind. The best way to beat the cold is with proper insulation. We're going to look at a few clever ways to do it, from professional solutions to some DIY projects that'll raise the temperature without breaking the bank.
Why should you insulate your garage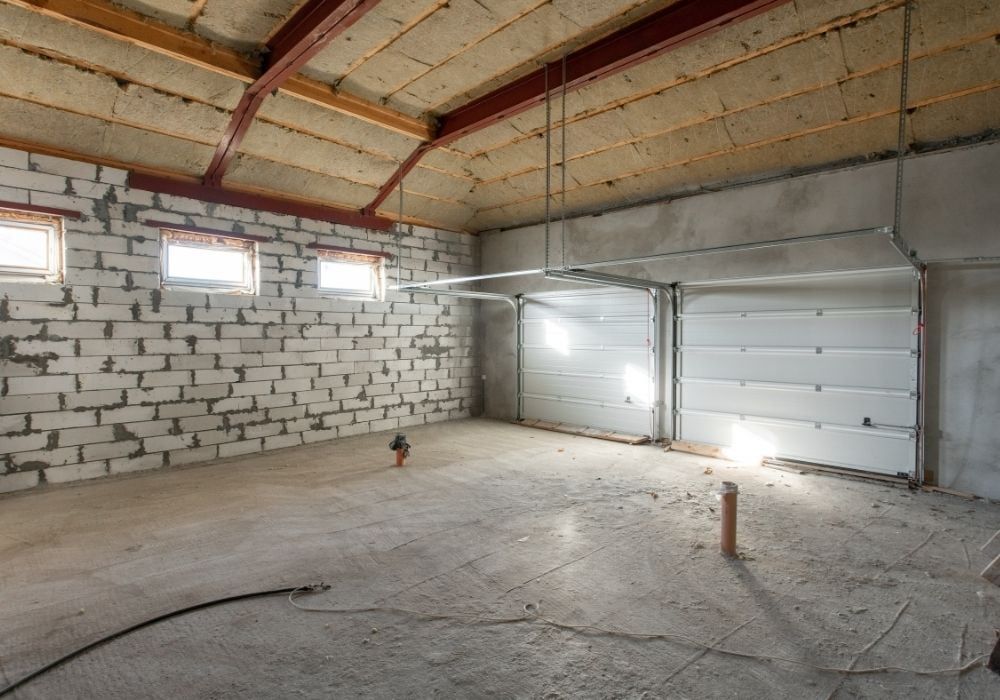 Insulation doesn't make your garage warm on its own, but it slows down heat loss and protects the building from rapid changes in temperature. Think of it as a winter coat for you garage. And as a bonus, it keeps the noise down if you want to stay friendly with your neighbours.
If you keep your car in a well-insulated garage, it'll protect it from weather changes and keep your battery in good shape as well. You can store your tools without them rusting or keep the family valuables safe and dry. And if your garage is connected to your house, it can improve the insulation of your whole living space.
Before you start
You must bear in mind that garages are not usually built to the same standards as living accommodation. Unless you plan on living out in your garage you need to ask yourself if it's worth the time and effort of fully insulating an outbuilding when you can get away with making a few clever changes. You can make your garage more comfortable without dropping thousands of pounds or weeks of labour.
The garage door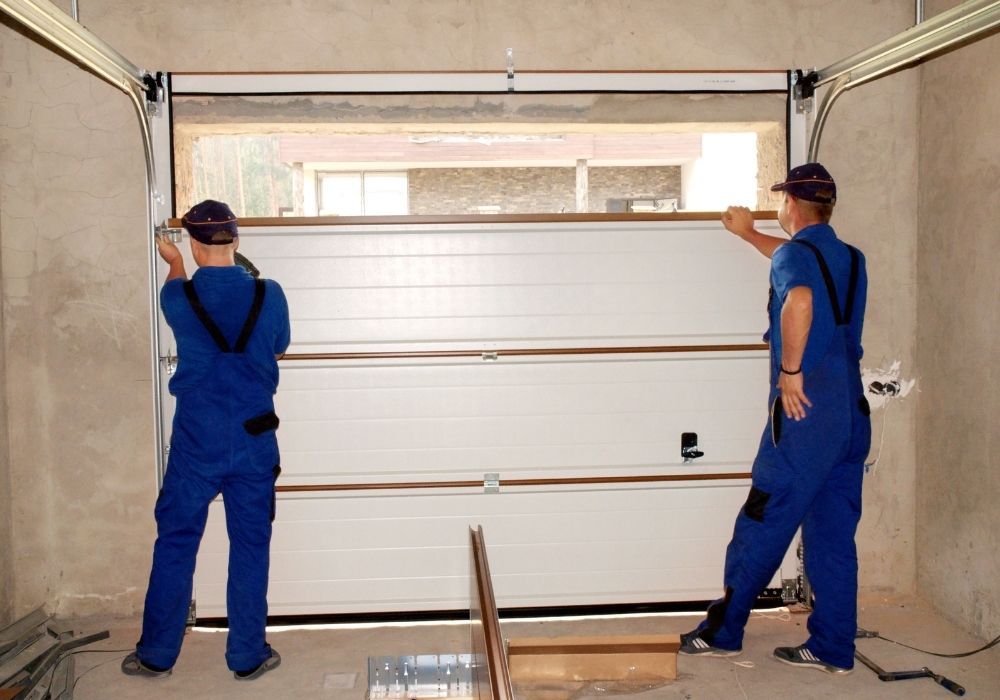 It's the number one way that cold gets into your garage. Whether you have an up-and-over or sectional garage door, chances are it's made of a single skin of metal. The gaps on all sides are usually big enough to see through as well, making it as windproof as an old sieve.
If you can insulate your garage door, you'll make a massive difference to the overall temperature. Here's how we would tackle it:
1. Weather stripping around the edge of your garage door can help to keep out the draughts but make sure you can still open and close it. This works best for up-and-over doors, but you can still apply it to sectional garage doors by cutting the strips into small sections for each section of your door.
2. Foam pipe lagging is an affordable and effective way to close the gap at the bottom of your garage door. Simply cut through the lagging along its length and fit it around the bottom of the garage door to stop draughts and insects from getting in.
3. Self-adhesive insulation sheets are made from layers of foam and foil that can be cut and stuck to just about any surface, which makes it ideal for the inside of your garage door. They don't give the greatest level of insulation, but you could get the whole job done quickly and cheaply.
4. Spray foam insulation is an effective way to insulate your garage door, and you won't have to call in the professionals. Spray foam is available in cans so you could cover the inside of your garage door with it and not add much extra weight. Be prepared to make a mess and spend time sanding back the high spots though.
5. PIR boards are lightweight and offer great insulation properties. If the inside of your garage door has sections and a lip it should be possible to cut the sheets to size and friction fit them to the door without using adhesive.
Defeat the draughts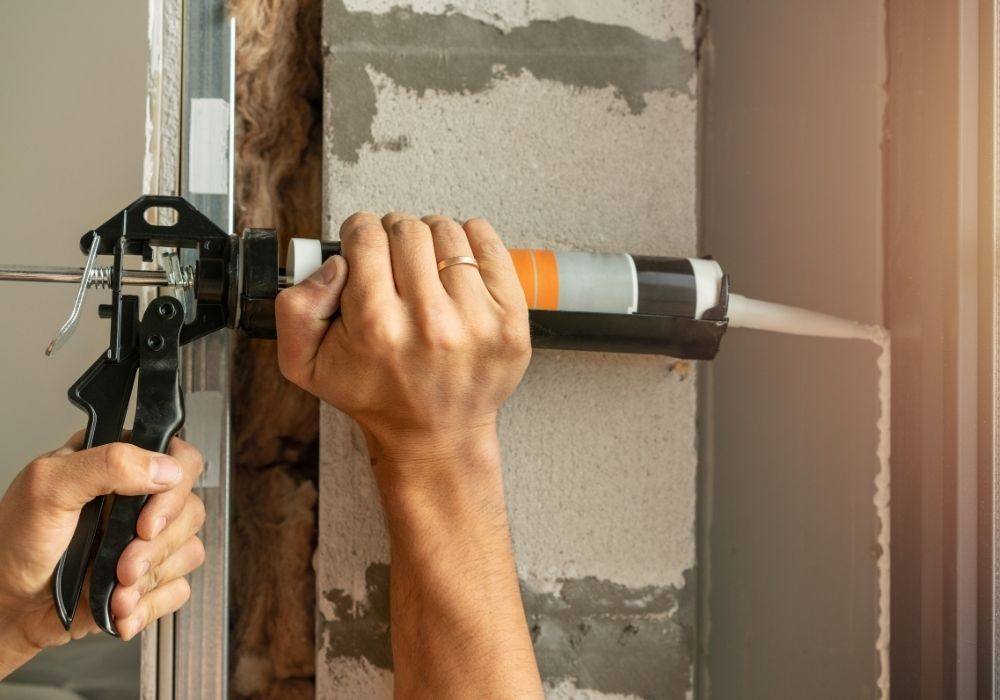 If you're looking to get the biggest improvement for the least effort in your chilly garage, you need to get draught hunting. Garages are likely to be leaky buildings with gaps around the doors and windows and plenty of places where the cold can seep in. Even hairline cracks and gaps between wall and floor panels can lower temperatures and make it unbearable. Here's how to beat the draught:
6. Weather stripping is your best weapon in the fight against draughts around your doors. Supplied in rolls, weather strip is self-adhesive, cheap and easy to apply around door frames. It stops cold air from leaking in through gaps, but make sure you can still close the door afterwards.
7. Draught excluders under the doors do exactly what they promise- a combination of stiff brushes and a rubber seal goes a long way to improve the tightness of your garage and will help keep out insects as well.
8. Silicone sealant or filler works a charm on small gaps and cracks that let in the cold. Cut the applicator nozzle at a 45° angle for the best results. Use a wet finger to smooth it down afterwards and you'll create an effective seal where wall panels meet.
9. Repair tape is a bit more expensive than a tube of filler, but there's a lot less mess to deal with afterwards. Peel off the protective backing and run the tape across any cracks or gaps, or even down the length of the corner of your garage.
10. Keyhole draught excluders make a surprising difference to the temperature in your garage- they fit over the existing back plate and stop the cold from entering. Or if you only use the key from one side, a bit of tape over the other side will do.
Insulate your ceiling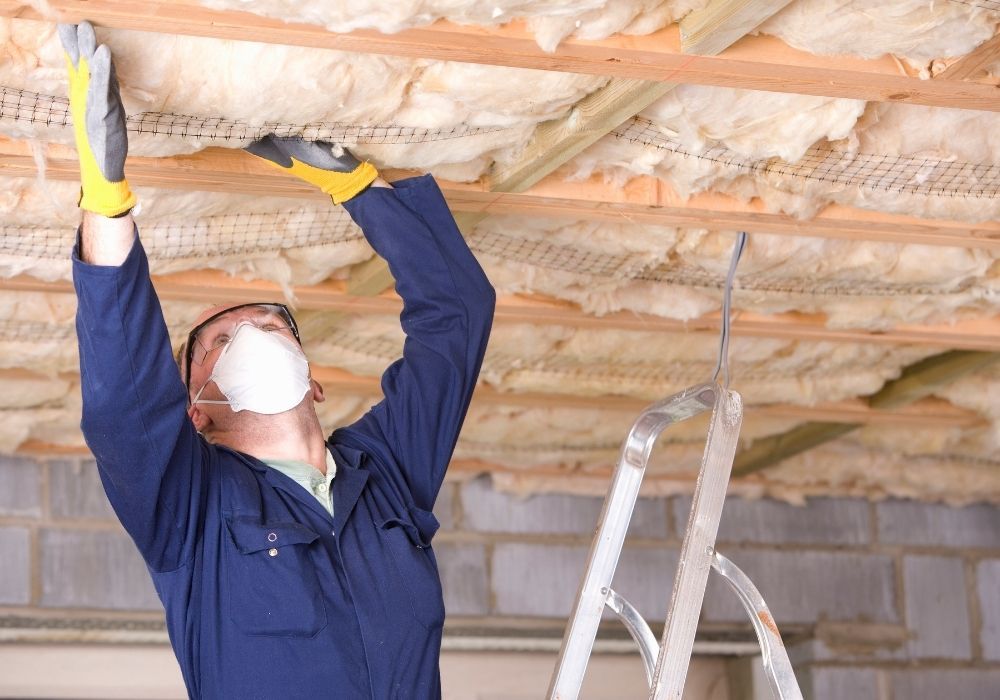 Heat rises. If your garage ceiling isn't insulated, you may as well open the doors and windows as well because you're just not holding on to your heat. Luckily, there are plenty of ways to improve this situation.
First off, you need to look at how your garage roof has been built. The two types we'll focus on are apex timber frame roofs where you can see the exposed trusses from the inside and pent roofs where all you can see is a flat ceiling from the inside.
Apex roofs in garages are built the same way as the roof in your house, and you can use the same methods to insulate them. The most common method is to fill the gaps between the roof joists with insulation. Here are a few common types of insulation:
11. Fibreglass insulation is probably the most common type of insulation found in cavity walls and works just as well in between roof joists. It's not expensive and does a good job, but it's not sustainable and takes a more effort to attach to a ceiling.
12. PIR insulation board is relatively cheap and easy to work with. Anyone with a steady hand and basic tools can cut boards to fit snugly between the roof joists. Just make sure you fill any gaps with expanding foam and seal the seams with insulation board tape.
13. Sheep's wool insulation is an eco-friendly and high-performing insulation choice that might cost more but is much friendlier to the environment. Another bonus of sheep's wool is that it absorbs moisture but doesn't lose its thermal properties when damp.
14. Mineral wool is an excellent insulating material that can be easily cut to size and pressed into the gaps in roof joists for a friction fit. It's a bit more expensive than its closest rival, fibreglass insulation, but it's also a slightly better insulator and is made up of more recycled materials.
15. Spray foam insulation is the ultimate choice for any garage owner. Professional installers spray expanding foam between the joists for an airtight layer of insulation that lasts a lifetime but is the most expensive option by far.
If you have a flat ceiling with no exposed trusses, you'll need to add them yourself.
16. Attach strips of timber across the ceiling to provide air gaps, then cover it with insulated plasterboard or similar insulated board to keep things nice and toasty.
A word or two about ventilation
There's a lot of information available about properly ventilating your roof to avoid condensation problems that can rot out timbers and cause costly damage. Simply put- when warm and damp air rises and touches your cold roof, it condenses. You want to stop this process from happening especially in a timber framed garage.
17. You should always try to leave at least 50 mm of gap between the cold roof and your insulation to allow for air flow, and vents on either side of the building to let air pass through.
18. A breathable membrane stapled on top of your insulation is another way to stop moisture from collecting and causing serious damage in the long run.
What about the walls?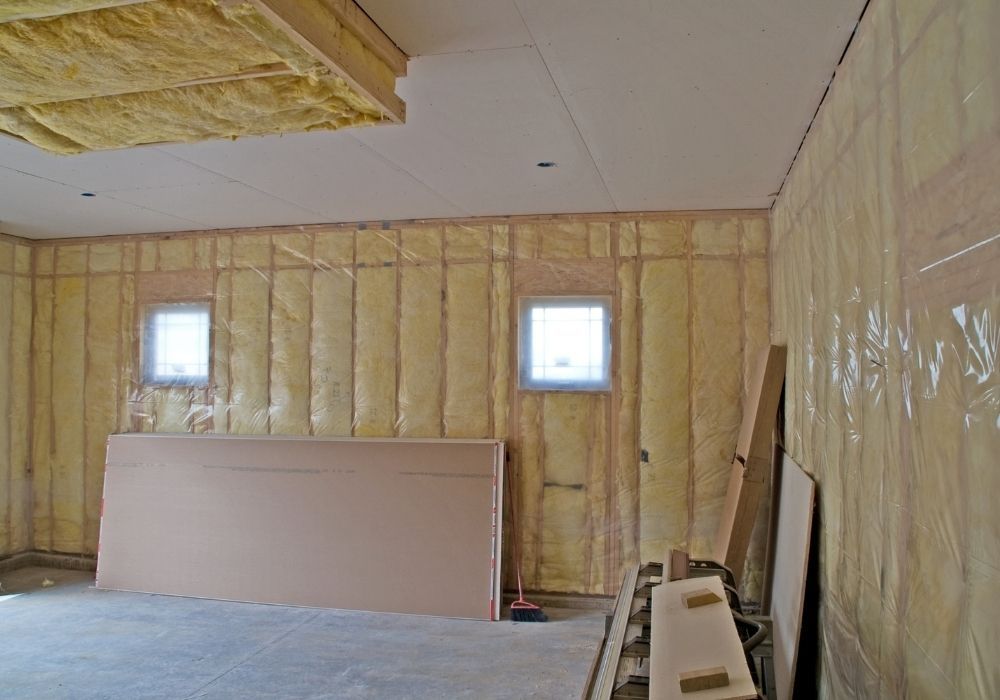 Insulating your garage walls is almost as important as the roof. If you have a concrete garage or a single brick wall, there's not much insulation there to keep in the heat. The same goes for a timber framed garage. Most garages aren't built for much more than storage, but if you're prepared to put in a bit of work you can make it comfortable enough to move in permanently.
19. Foil insulation is probably the quickest (and cheapest) way to improve the insulation of your garage. Attach vertical battens from floor to ceiling, then stretch and staple foil insulation across them to create a cavity behind. This method is affordable and quick to install, but unless you cover it over with plywood, you might feel like the inside of your garage has become the set of a cheap sci-fi film.
20. For more effective garage wall insulation, you'll need to install a more substantial timber frame on the inside of the walls. You can then use any of the insulating materials we listed for your garage ceiling, provided you leave room for good ventilation.
Don't forget the floor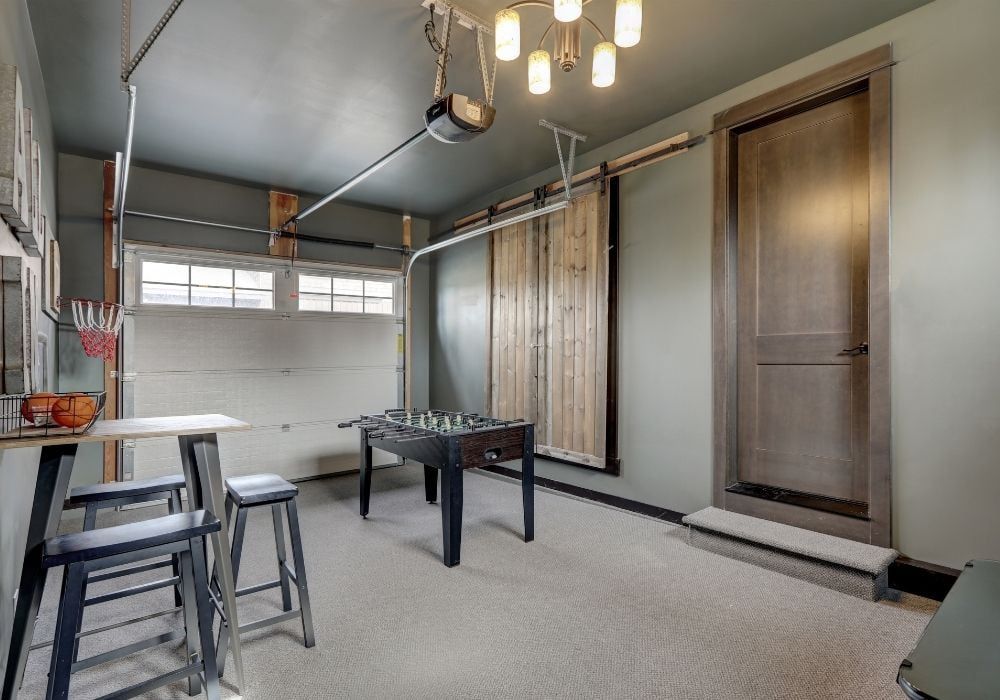 You could spend a lot of time and whole lot of money insulating your walls and roof, but to fully insulate your garage you need to think from the ground up. If it's built on a concrete slab, you're going to need to build up some layers of insulation.
21. If you're planning on laying any type of insulation directly onto a concrete floor, you need to check if it has a vapour barrier underneath. If you can, dig down around the slab and look for a thick black plastic layer. If you can't see one, you'll have to install a membrane to stop moisture from seeping into your floor.
22. You can choose between a damp proof membrane, a plastic sheet you lay on top of the concrete, or a liquid membrane that seals the floor and stops water from getting in and ruining your garage. Both are easy to get hold of and install if you follow the instructions. Now you have a sealed floor, you need to choose your floor insulation:
23. Garage floor tiles are specially made for the job and are ridiculously easy to install- it's like doing the world's easiest jigsaw puzzle- the tiles interlock to create a layer of insulation that's nice and grippy as well. They're not the best insulators but you can lay it down and walk on it straight away.
24. Rigid wood fibre sheets offer excellent insulation values and are eco friendly too. They're breathable and easy to cut to shape but can work out expensive if you have a large floor. The downside is that you'll need to lay timber battens out and a floating floor on top to walk on because fibre sheets aren't strong enough to walk on.
25. Foam insulation board offers brilliant levels of insulation for a cosy floor but are quite expensive and only work as an underlay. Like fibre sheets, you'll have to lay a floating floor on top of the boards.
26. Carpet might not seem like the ideal choice for a dirty garage, but it can offer good insulation values without costing the earth. Look for offcuts from your local carpet supplier and stick it down at the edges with spray adhesive.
Turn up the heat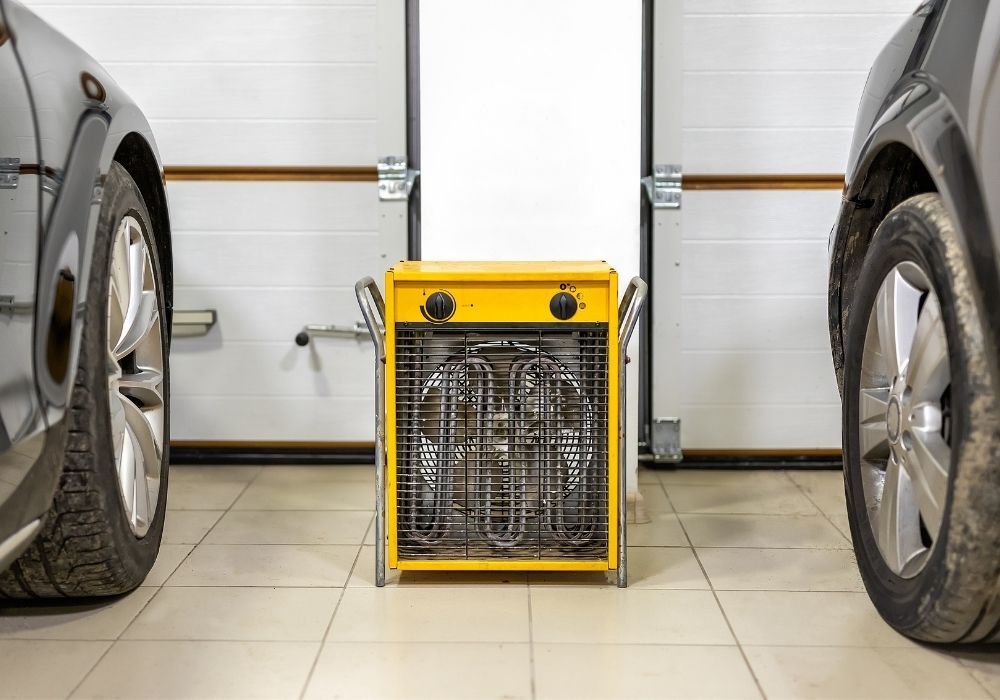 Insulating your garage and cutting out the draughts is a great way to prevent radiant heat loss, but you won't warm up a big room without heating it. Insulation doesn't create any warmth; it just helps to hold in what's already there. But what types of heaters are the best?
27. Garage heaters are built for the job- they can run on electricity if you're connected to the mains or liquid fuels like diesel or kerosene if you have an off-grid setup. They'll heat your garage up quickly but they can cost a lot to keep running.
28. Oil filled radiators are cost-effective and quiet heat sources that will keep the chill out. Some models have anti-frost modes that will keep your garage at a stable temperature even when you're not there.
29. Ceramic radiant heaters are brilliant if you want instant heat in a small space. Wires embedded in ceramic plates are heated with electricity to keep things toasty. They're not the best if you have a huge garage though.
30. Multi-fuel stoves are the original off-grid way to heat up garages or workshops. Fill it up with wood or coal and beat the cold with a roaring fire. You'll need a chimney and a carbon monoxide detector, but nothing beats the smell of a proper fire.
Conclusion
If you want a cosy garage, or at least one that isn't freezing cold, you're going to have to put in a bit of effort. But as long as you tackle the draughts and add some insulation where you can, you'll feel a difference right away.