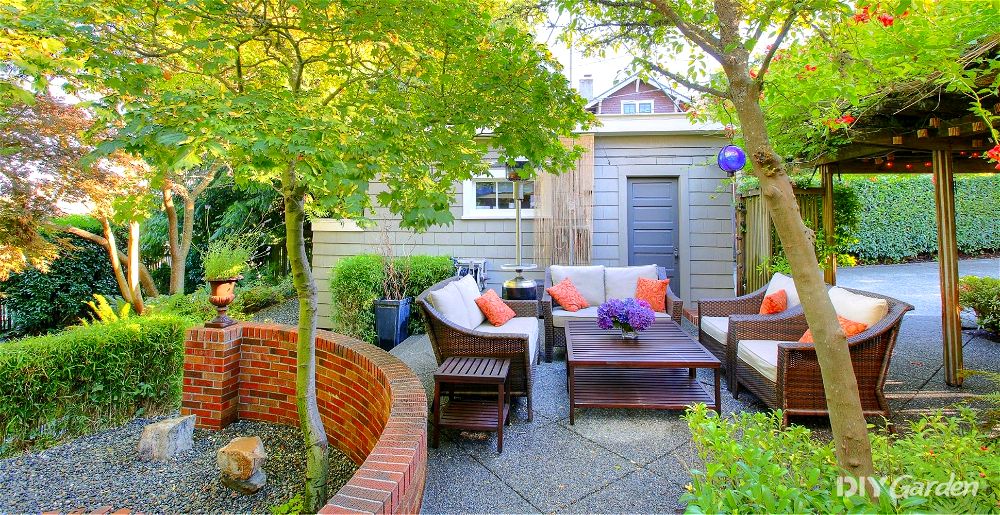 In this article, you'll find my favourite back garden ideas – the majority of which are simple, cheap and low maintenance. From modern patio designs to practical decking solutions, I'm about to share with you clever landscaping concepts on a budget. Let's get into it…
---
My Favourite Back Garden Ideas
1. Meticulously Plan Small Gardens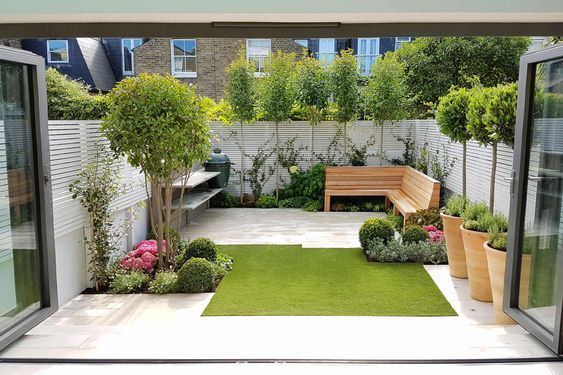 If you've got a small garden, you've still got plenty to work with when it comes to designing the space.
The most important thing is to meticulously plan the garden before you start adding furniture and plants – if you add anything that isn't cohesive with the rest of the small space, it will stick out like a sore thumb.
Take inspiration from the garden above and choose a theme using three or four colours. Also, don't be afraid to divide up the space, just make sure that each area has its own clear identity. You'll notice that even though the featured garden is short on space, it still manages to fit in a seating area, BBQ, and plenty of flowers for pollinators. The oversized pots make the space look bigger and the pleached trees block out the neighbour's view.
2. Create a Central Patio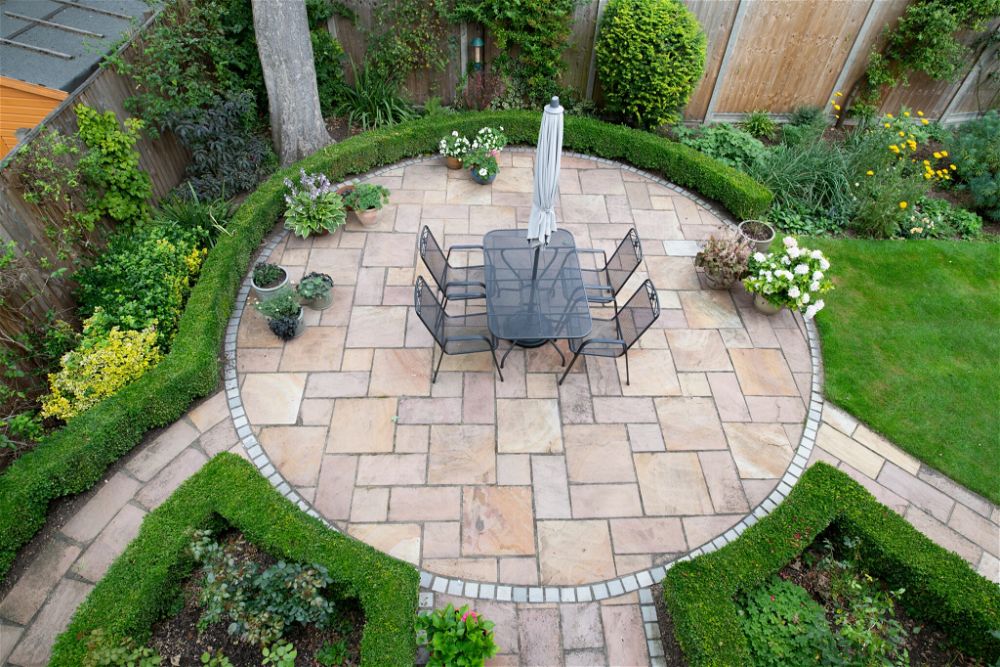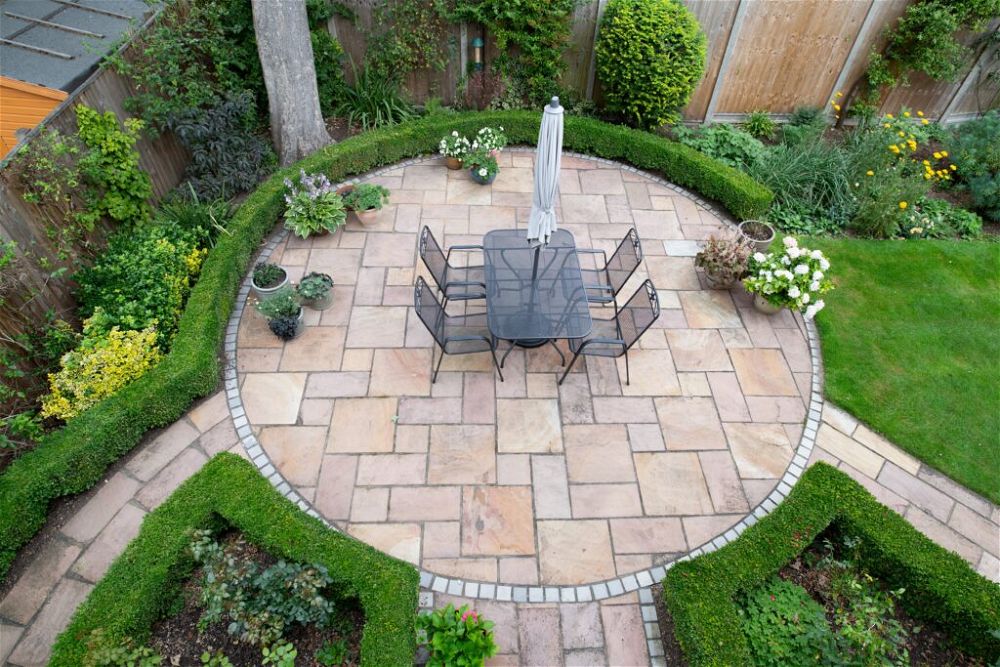 Garden patios don't have to be positioned right next to the house. In fact, they can be used as a focal garden feature when positioned elsewhere in the garden. In the example above, the circular patio offers a welcome twist on traditional rectangle designs.
The circular shape creates plenty of movement and the three paths add character. There's still plenty of grass for kids and pets to play on, which is worth bearing in mind – it's a family garden space that everyone can use.
3. Elevate Appearances with Decking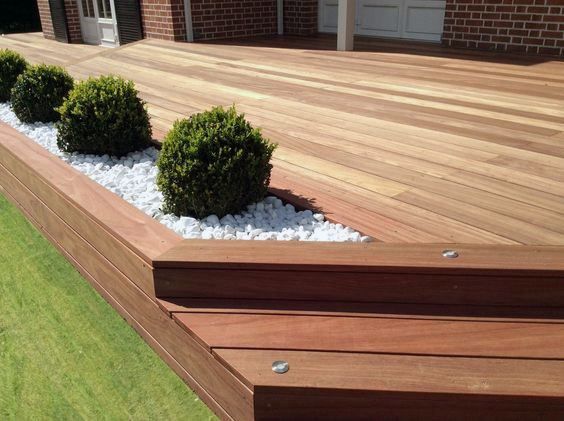 Decking is a great addition to any garden – big or small.
It offers an easy and stylish way to divide the space, creating clear zones in the garden. Not only that, but decking is an excellent way to add texture and colour into gardens which is a classic way to add more aesthetic appeal.
There are loads of things that you can do with decking as well, as demonstrated by the garden above. They've expertly incorporated planting space and lighting to make their decking an integral part of the garden. The plants are modern with easy-care box balls and white stones, but you could plant whatever you liked – why not add herbs? This would create a simply kitchen garden and it would only require a short stroll to jazz up your curry or pasta.
READ NEXT: The Best Garden Decking Ideas
4. Choose Landscaping for Minimal Maintenance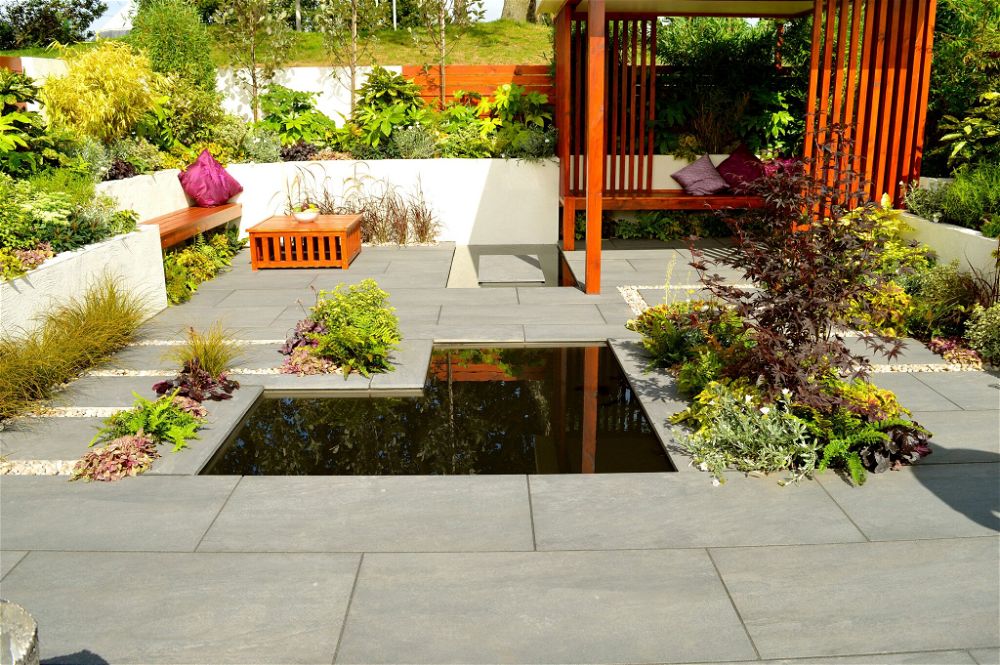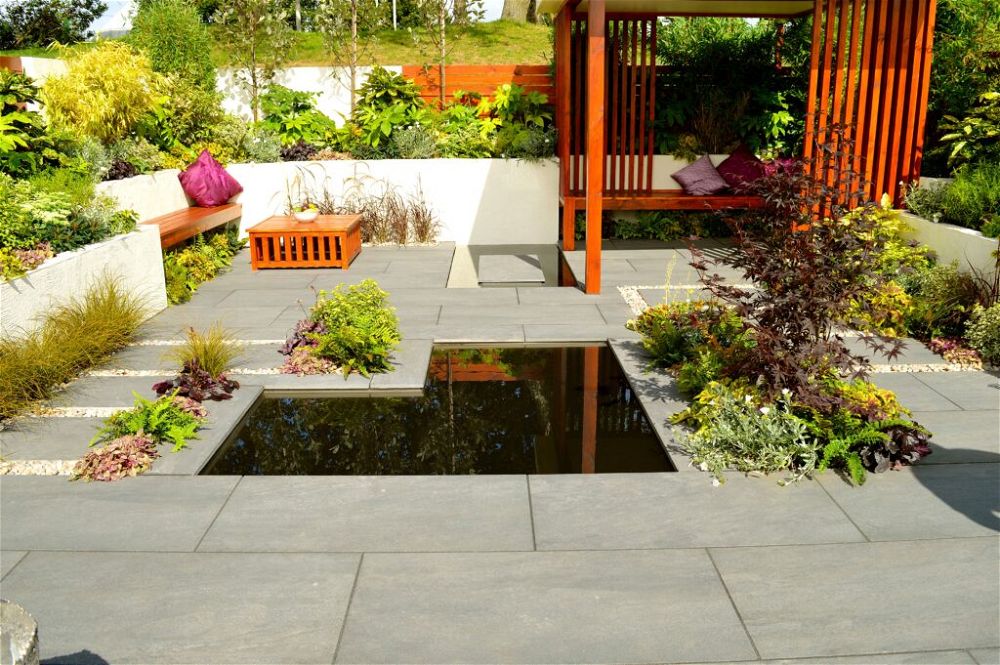 Creating a beautifully landscaped garden is a great way to reduce the amount of maintenance required in the future. Although gardens traditionally have lawns, the garden above expertly shows how that's not the only way to go. Although a lot of effort may have gone into the initial planning, the onwards upkeep will be simple.
This is one of the best garden landscaping ideas if you want something that doesn't require a lot of maintenance – there's no grass to mow or difficult plants to tend. The ground is paved with modern slabs and the small integral pond stops it looking dull. Plus, including two seating areas is a clever move – it means you can enjoy the sunshine no matter the time of day.
5. Keep Things Rounded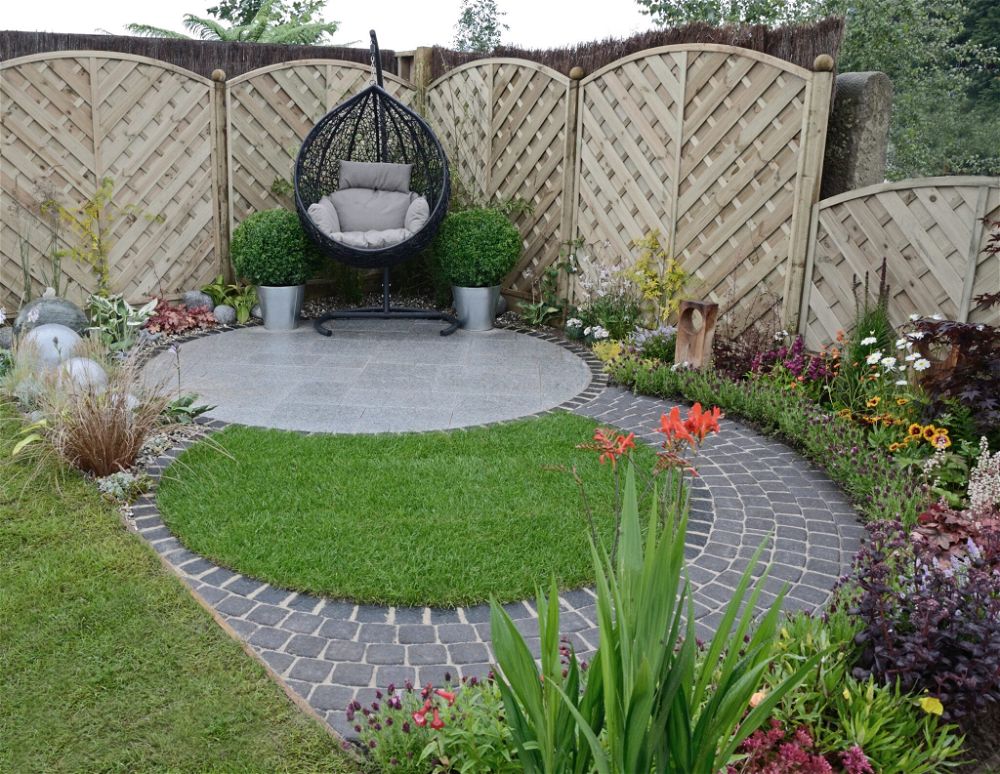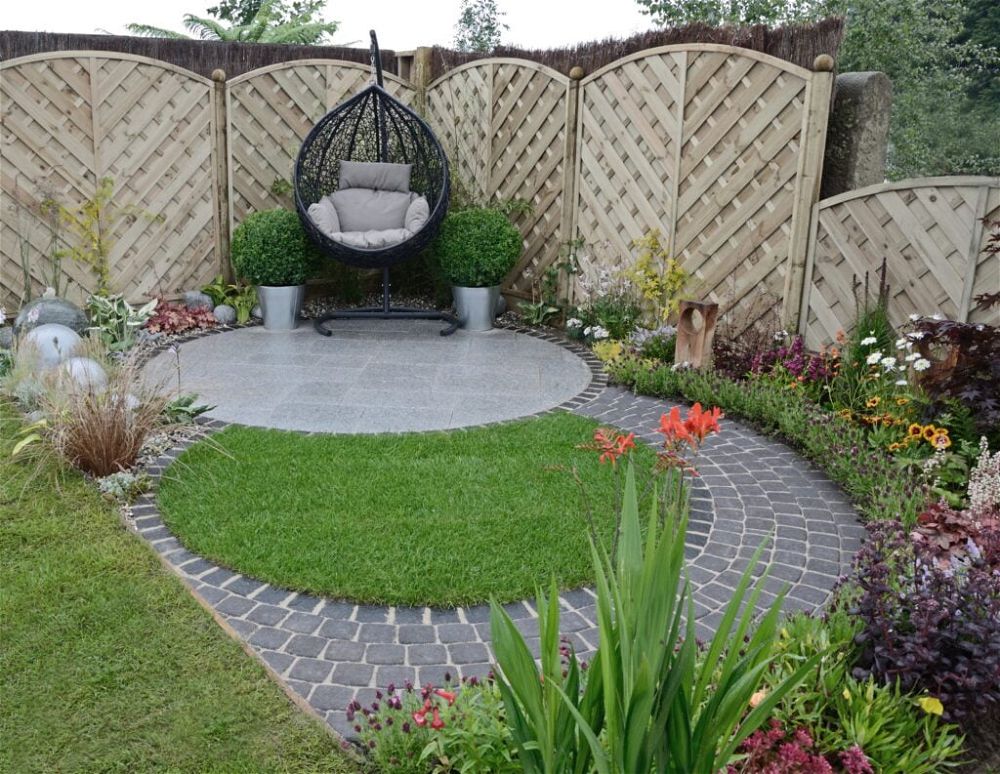 Carefully designing a small space, and ensuring it has purpose, is a great way to make the most of a small garden.
The beautiful garden above makes great use of rounded shapes to create a comfortable seating space. Using rounded, flowing lines can help make a space look larger and a hanging chair will prevent spaces being blocked off by garden furniture.
You'll notice in this garden uses spherical ornaments, box ball plants and rounded plant containers to keep the circular theme going – in fact, even the fence panels have curves.
READ NEXT: The Best Hanging Rattan Egg Chairs
6. Create Shelter and Privacy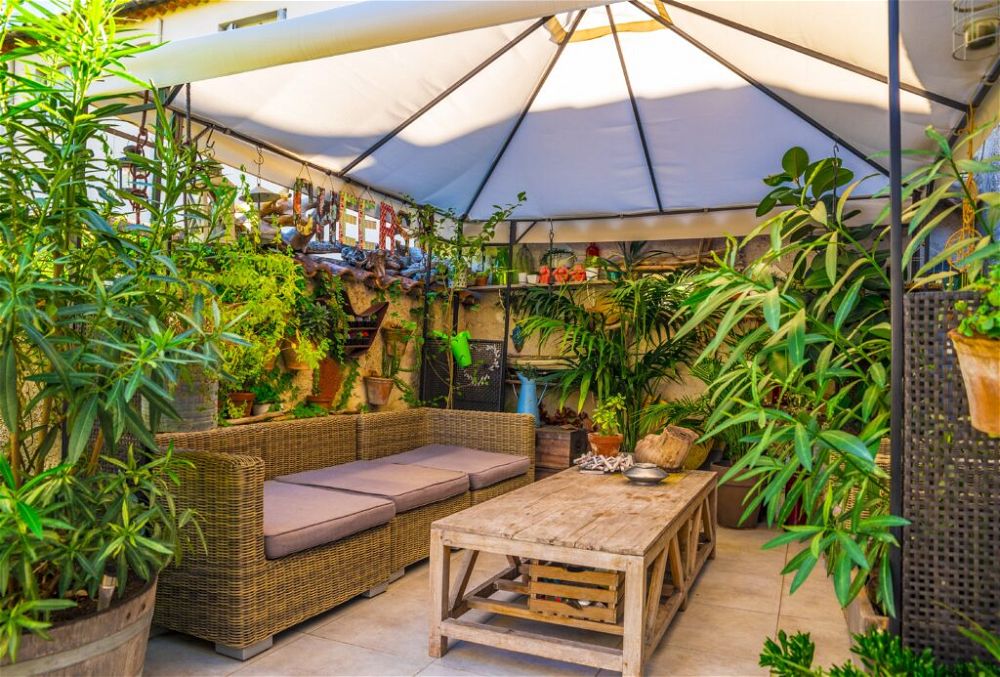 Installing a large, permanent gazebo over a seating area is a great way to create a private area in your garden that is useable in all weathers. If you live in a terraced house, where your garden is always overlooked by neighbours from all sides, this idea is particularly worth considering.
What's more, the warmer, sheltered space will be a great spot to grow tender plants; plus, what a great way to get fresh air during the colder months.
To create even more of a sense of privacy, use tall plants to screen the entrance of the gazebo. This will make it feel like a protected, secure area from all angles.
7. Employ a Landscaper for Large Gardens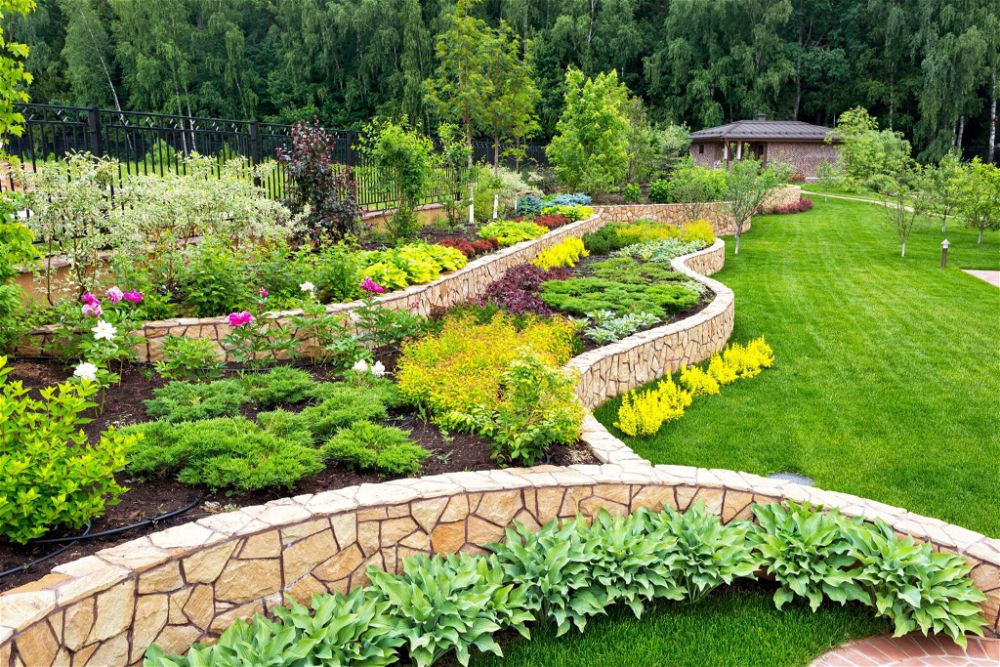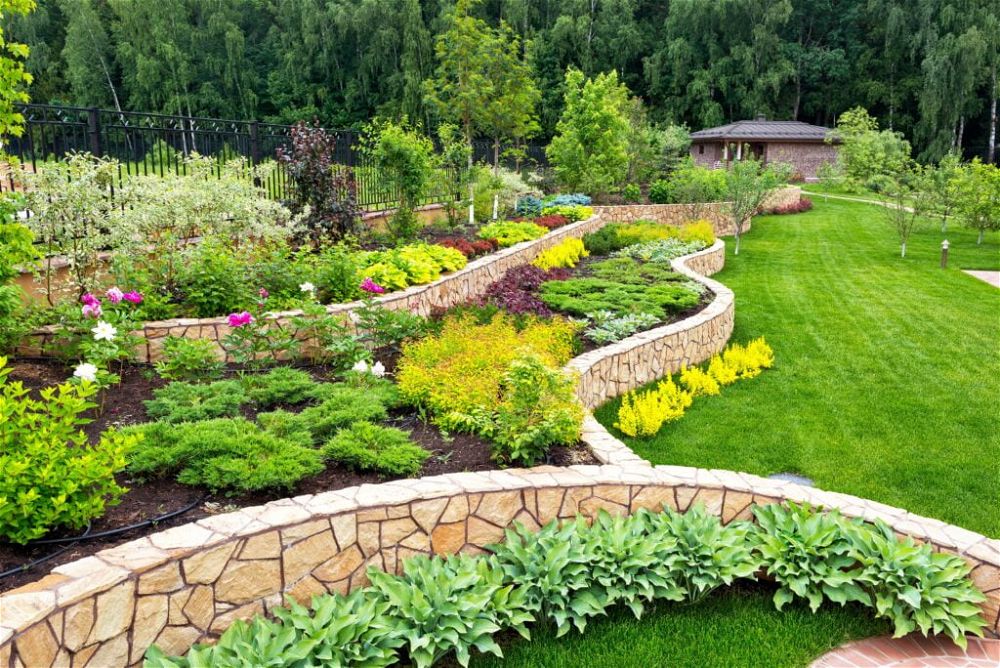 A large, plain lawn can be transformed into a much more dynamic and visually-appealing garden with the help of some clever landscaping.
When working across a large space, you will likely benefit from the assistance of a professional – it's not easy to create a sense of flow and cohesion through big gardens when you're new to garden design.
If you've got the budget, working with a professional landscaper to transform your garden will undoubtedly be money well spent. They'll bring plenty of garden landscaping ideas to the space and you'll end up with a beautifully considered garden where everything has been well thought through – from the seasonality of each plant, to the functionality of each garden area.
8. Design an Urban Oasis in a Small Garden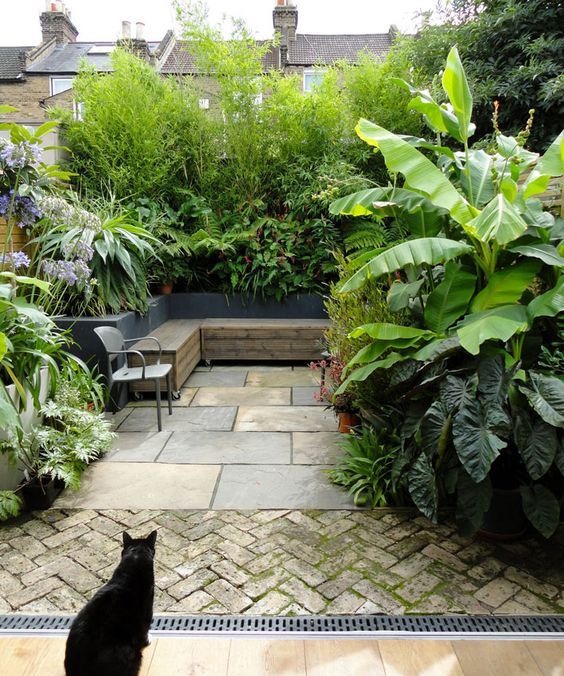 The compact size of a small garden can easily be used to your advantage. You don't have to work out how to fill a large, outdoor space, and can easily create a comfortable, cosy oasis outside that you will love to spend time in.
Choose large, leafy plants to create a welcome feeling of privacy and simultaneously benefit from the way they'll oxygenate your seating space – a dream come true for city dwellers! Keeping things simple with neutral paving and large plants is an easy way to design a small garden that doesn't require a lot of planning.
Another great technique, to create a tranquil place to sit in a courtyard garden, is to use natural wooden benches for seating. This will result in a clear and cohesive seating area in a small garden space without requiring large amounts of garden furniture which could make the area feel crowded.
9. Create a Playground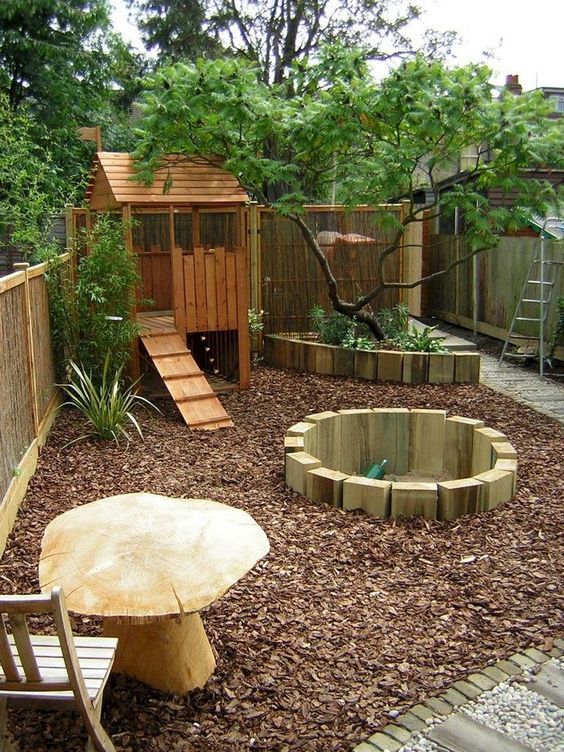 If you've got kids, you'll know how the absolutely love spending time outside. This is excellent news, of course, but it can play a bit of havoc when trying to maintain a neat, sophisticated garden that you enjoy spending time in too. All too often, children's play equipment features lurid plastic and messy-looking designs.
Fear not – there is another way! Consider a play area for kids inspired by natural materials, creating a stylish yet fun play area in your own garden.
In the family garden above, soft play bark keeps mud at bay, but there's still that all-important playhouse, a sandpit, and a quirky mushroom table. Any kid would love playing here and it won't give you a primary colour headache as you step outside.
10. Add Decoration to Walls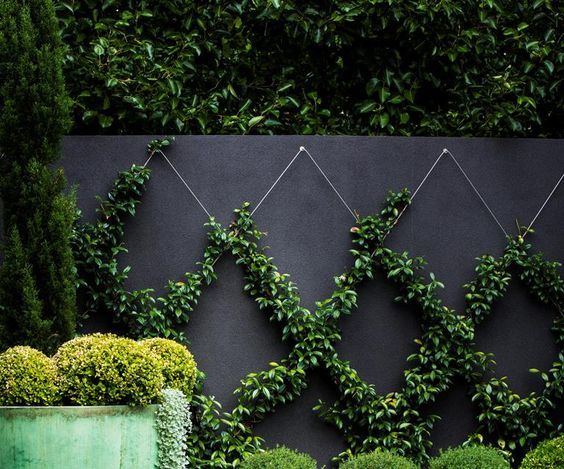 If you're bored of the back wall how about this cheap and easy fix?
Crossed wires on a wall or fence create a framework for ivy or other climbers such as jasmine or clematis. Once they've grown, you'll have a diamond pattern on the back wall that's loved by pollinators and birds.
There are plenty of way your can add decoration and interest to your garden walls, making them a design feature in their own right as opposed to just a functional garden border.
READ NEXT: Garden Wall Ideas
11. Play with Grass and Paving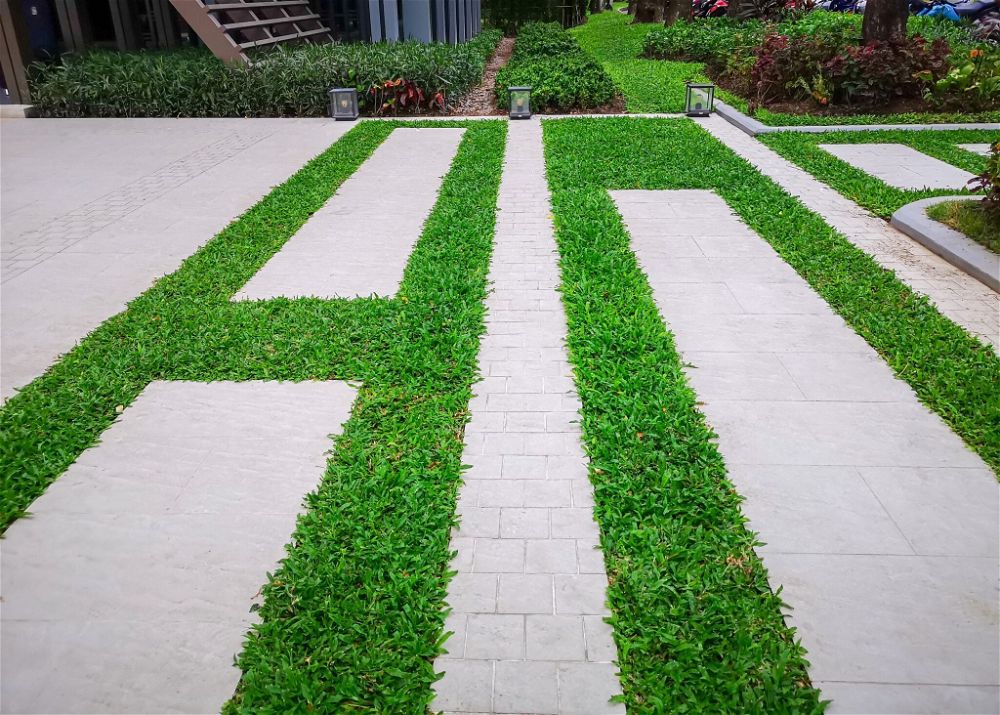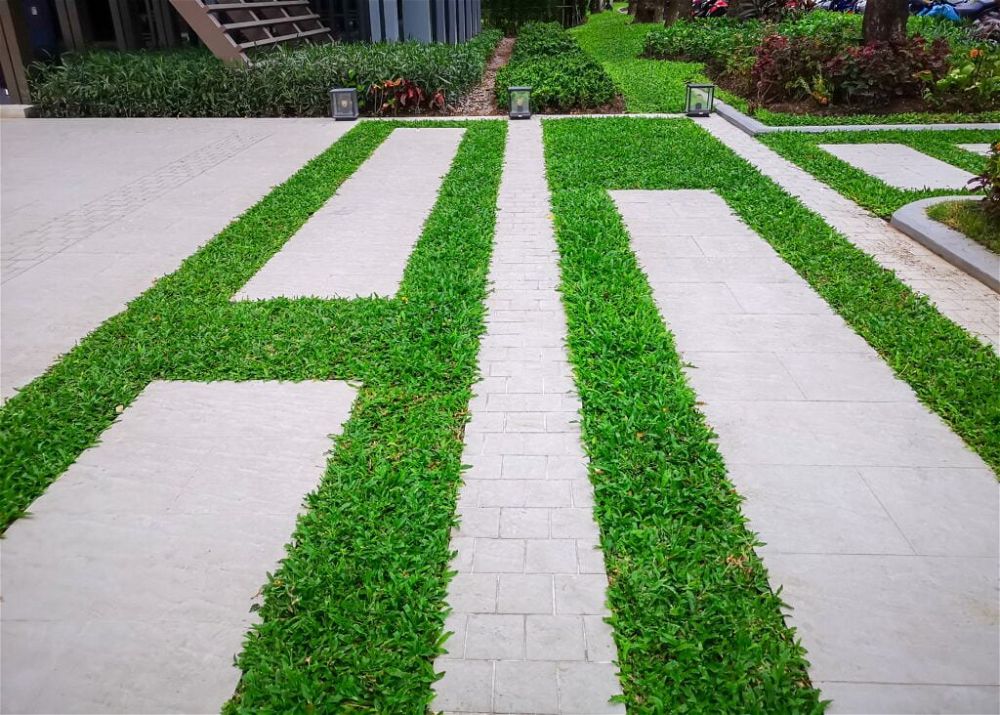 Whether you've got a lot of space to play with, or are working with a small garden, there are lots of fun garden designs that involve combining paving with grass to create visually striking areas.
In the garden above, a combination of stones and foliage are used to blend the patio on the left with the rest of the garden. It creates a stylish, interesting feature that can also be used as a pathway. There are loads of possibilities when it comes to this idea as well: you could always plant up flowers or a vegetable garden in one of the grass strips instead.
12. Use Pallets and Work to a Budget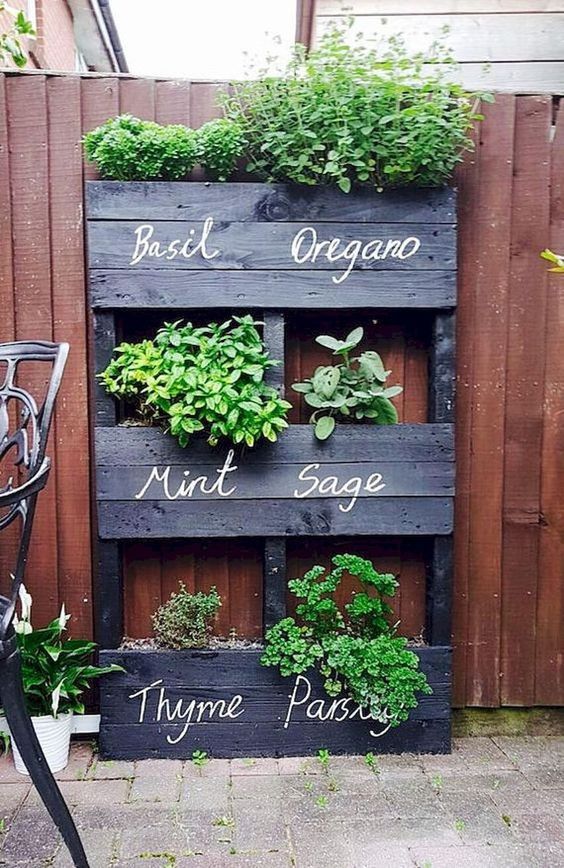 Upcycling old wooden pallets is one of the best ways to create new features in the garden without spending a lot of money. If you live in a large town or city, you can often find pallets being given away for free. Alternatively, check social media marketplaces and keep an eye out for anyone giving away pallets.
Wooden pallets can be used for anything from decking to furniture .In the garden above, pallets have been painted and stencilled to create a useful and beautiful herb garden. Herbs enjoy well-drained conditions, which is easy to achieve with a pallet planter, and can be bought inexpensively at the supermarket.
13. Use Walls in the Middle of Large Gardens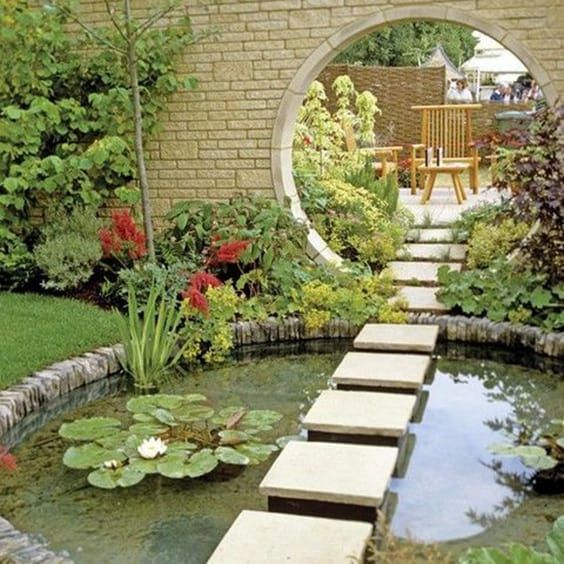 If you have a large garden, one design idea is to create a series of outdoor rooms rather than one large space.
An unusual but effective idea is to use a wall to your advantage in the middle of the garden. You can use it to create a portal or archway to a separate area of the garden.
In the garden above, the circular archway adds a lot of visual interest and a sense of flow through the garden. Positioning a circular pond in front of the archway is an inspired choice, as it seems to mirror the arch itself.
One idea for laying out this style of garden space would be to position a dining table on the other size of the archway. This will give the impression that the whole garden is focusing around the dining area, which will make a great focal point when entertaining.
14. Forget Grass for a Country Feel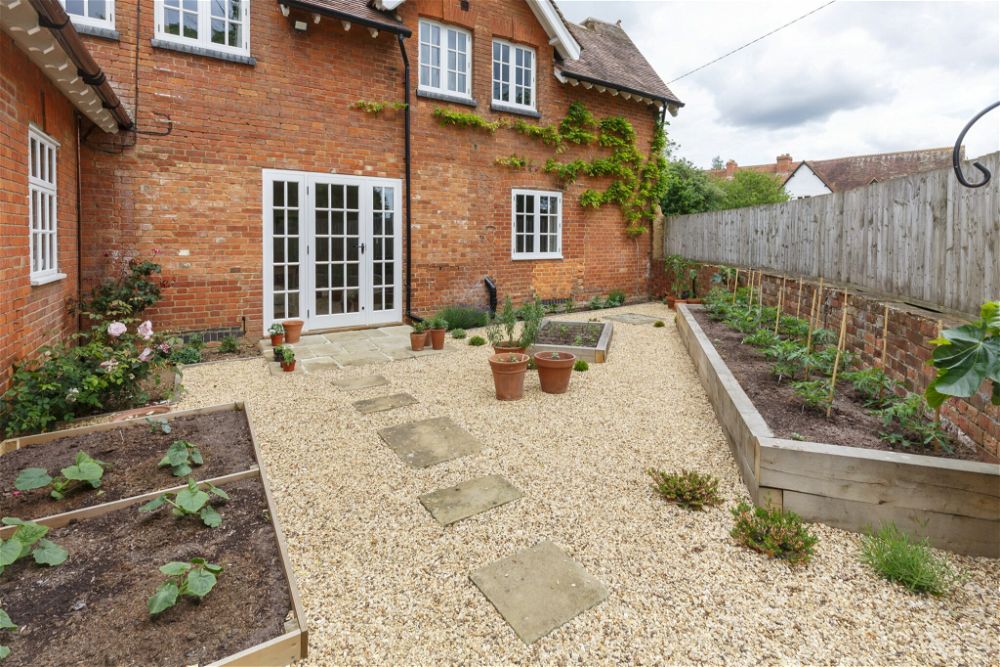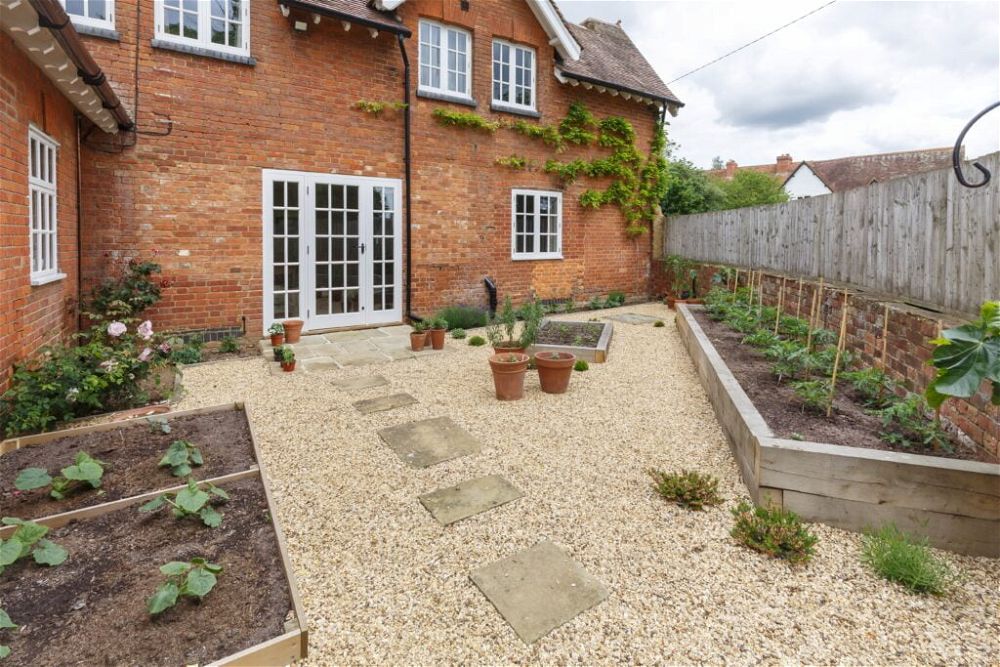 Trading grass for gravel is not only an excellent way to create a garden that doesn't need a lot of maintenance, it also creates a laidback country feel. If you're inspired by this idea, the key is to incorporate plenty of plants. Raised beds are a must, as are plenty of herbs – they can be placed in pots or grown through the gravel. In the garden above, the roses by the back door really help to promote the sense of a country garden.
To plant herbs directly into the ground, use a weed-proof membrane and then cover in shingle/gravel covering. This is a great way to grow herbs that like dry Mediterranean conditions. You could put a rock rose in there too for extra interest.
15. Spruce Up Garden Fencing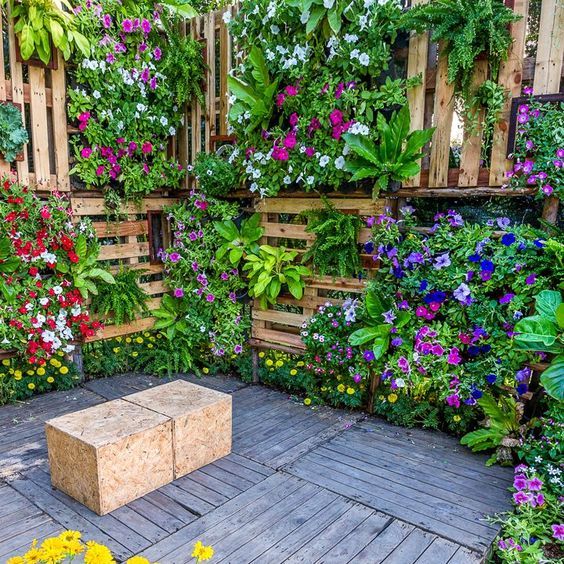 Fences are functional, but that doesn't mean they have to be dull. One of the most interesting ways to spruce up an existing fence is to turn it into a living wall. An easy way to do this is to attach wooden pallets and use them as planters. Choose a combination of large-leaf green plants along with colourful flowers, and make sure to select plants based on their seasonality.
If you plan it right, you'll be able to have a beautiful wall of living plants in your garden all through the year.
In the winter, you could replace the flowers with ivy and winter pansies. Pop a few bird boxes and bee hotels in there too. This garden design is perfect for urban and country back fences; plus, it's an easy way to get lots of plants into a small garden without using up floor space.
16. Make the Most of a Sloping Garden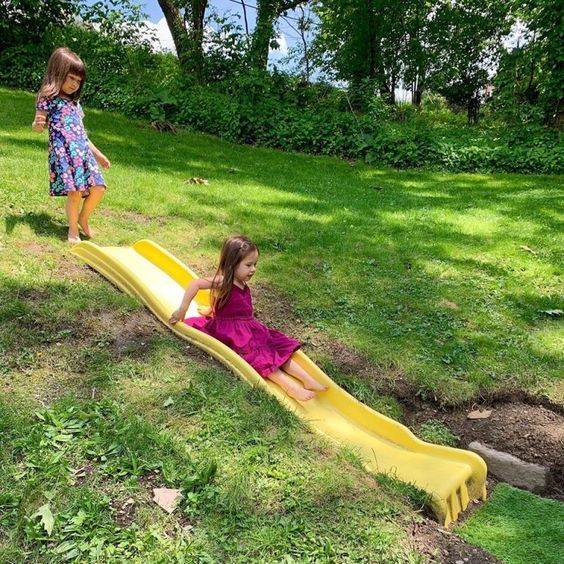 For some people, a sloping garden can feel like a bit of a nuisance. However, there are plenty of ways to use the sloped terrain to your advantage.
For example, if you have children, why not make the most of the slope and create a built-in slide. The kids will absolutely love it and a sloping garden makes a slide extra safe as there's no height to fall from.
Why not add a net or ladder to scramble up the other side – you'll create a garden where kids will have hours of fun away from screens.
If you eventually decide that you'd like to even out your sloping lawn, check out our guide on how to level your garden.
17. Avoid Straight Lines in Small Gardens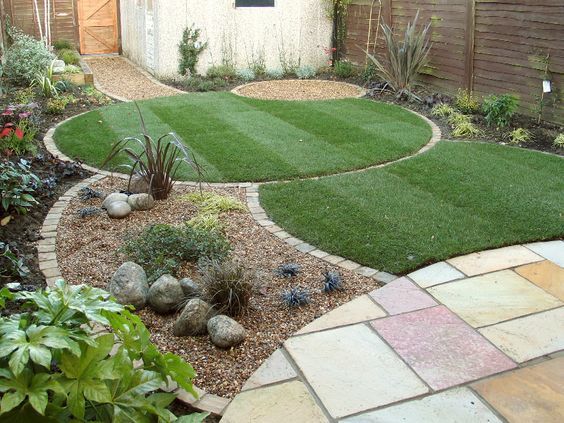 Small gardens need long, curved, circular movements to look larger. This is because straight lines can create abrupt borders which draw attention to themselves, something that can cause a small garden to look even smaller.
For this reason, one of the best small garden ideas is to take advantage of circular and rounded shapes. In the small garden above, they have effectively incorporated circles into a carefully landscaped design.
Another technique that the garden above uses to its advantage is the use of multiple textures. Grass, gravel, coloured pavers, soil, large rocks, and wood all neatly sit in their designated spots. These create clearly defined areas, for visual impact, without harsh boundaries.
18. Create Levels for Dynamic Interest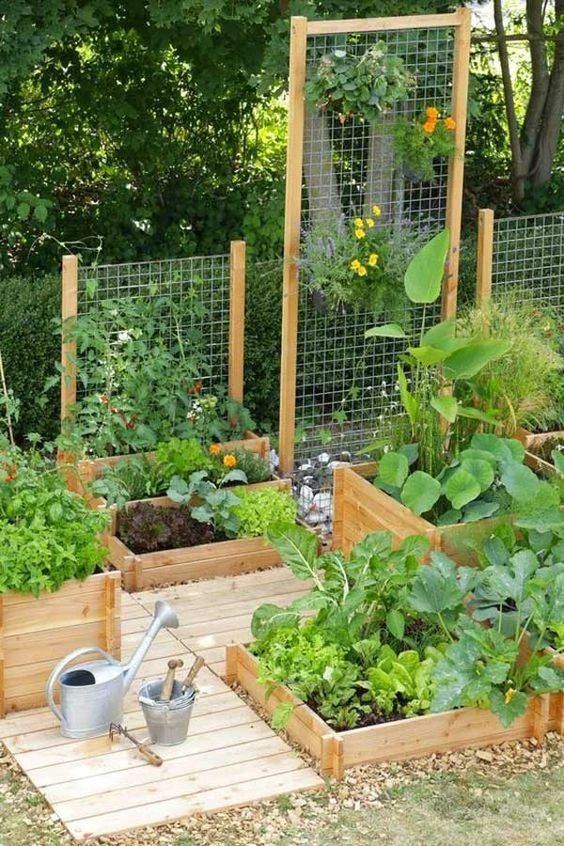 Build inexpensive planters, and climbing walls for plants, to create a visually-interesting area in the garden that makes use of different levels. These different styles of flower bed help create height which – something that many gardens lack.
Not only does this garden design have aesthetic appeal, it's also highly functional. Planters will provide a great place for growing vegetables or flowers and you can also grow sweet peas, peas or beans up against the climbing wall.
Cheaply built from batons and wire this is a great idea for adults and children to build together.
19. Use Retaining Walls for Seating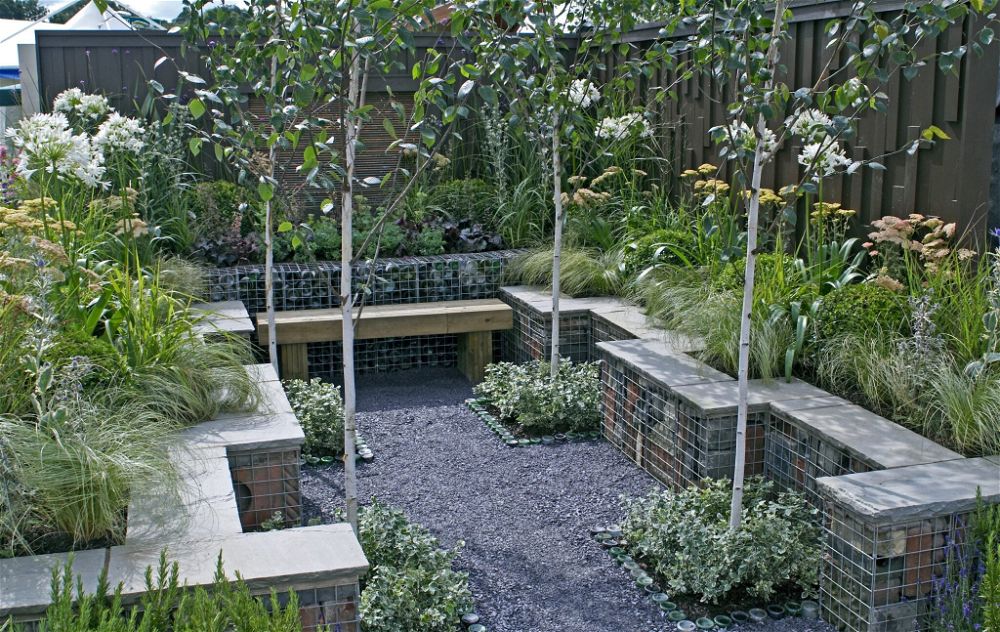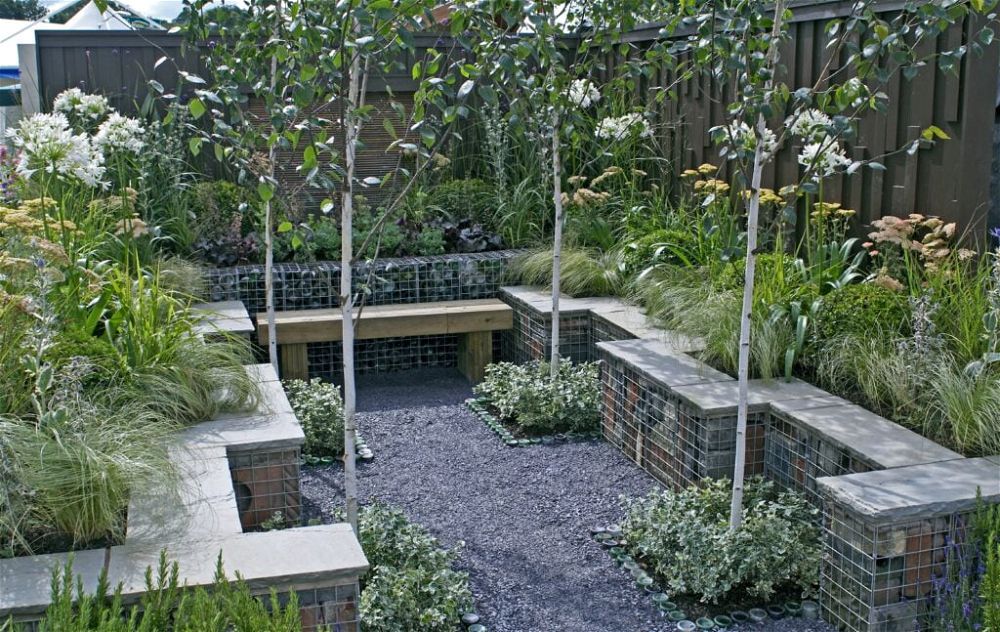 This tiny garden is punching above its weight. Who wouldn't want to spend time here?
There's plenty of seating, contemporary design, trees and plants for pollinators, and stone gabions for insects to hibernate in. Not only do the gabions provide a great habitat for wildlife, they create places to sit without making the space cramped. Using retaining walls in this way is one of the best small garden ideas to avoid overcrowding – it prevents the space from being overstuffed with garden furniture.
This excellent design makes it possible to have a group of friends over and not feel hemmed in despite the minimal square footage.
20. Add an Enchanting Gate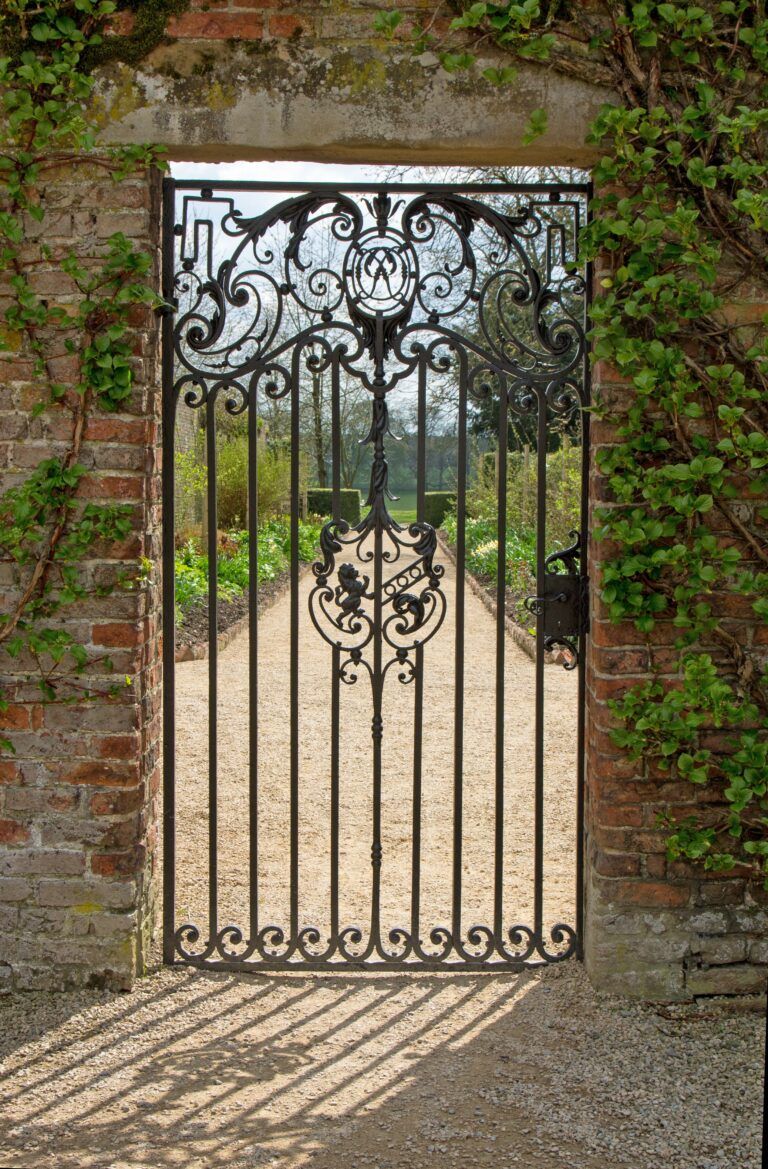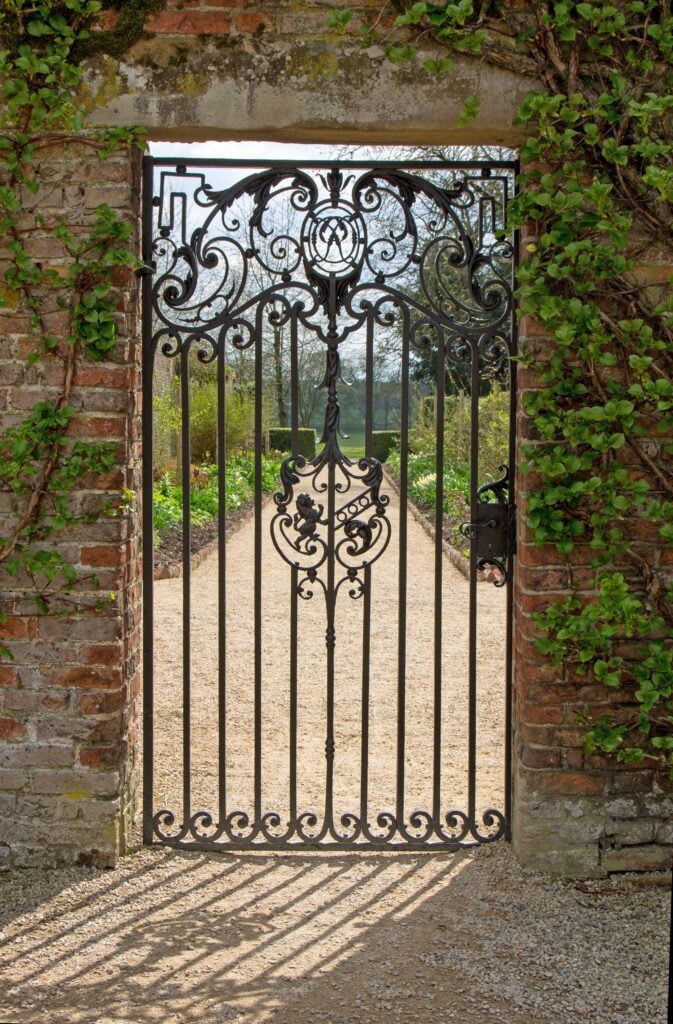 Most people have wooden back garden gates for cost, privacy and security reasons but why not consider wrought iron instead? They look better than wooden panel gates and are strong enough to keep out unwanted guests, but don't block your view from your garden into the space beyond.
Additionally, an iron gate lets in lots of light and is one of the simplest garden ideas for making garden spaces feel more open.
21. Embrace Contemporary Materials for a Modern Aesthetic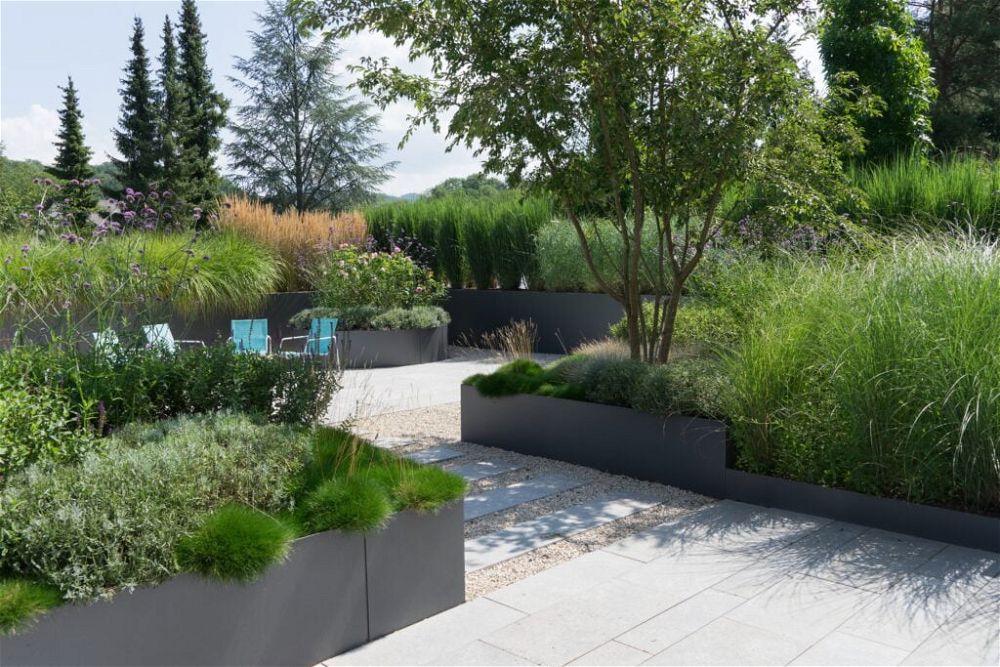 Modern gardens often incorporate clean lines, slate colours, neutral stones and plenty of greenery. In fact, the modern back garden featured above wouldn't like out of place on the cover of a home and garden magazine.
One of the easiest ways to achieve this look is to section of parts of the garden with metal raised beds and do away with lawn grass. Replace grass with contemporary stone, gravel and clean white paving.
In the garden above, they have made good use of prairie-style planting, with very few flowers other than structural verbena. There are several statement trees and plenty of grasses – grasses are a great option as they are low-maintenance plants that are wonderfully drought tolerant. This style is right-up-to-date and perfect for an urban garden.
22. Use a Combination of Gravel Colours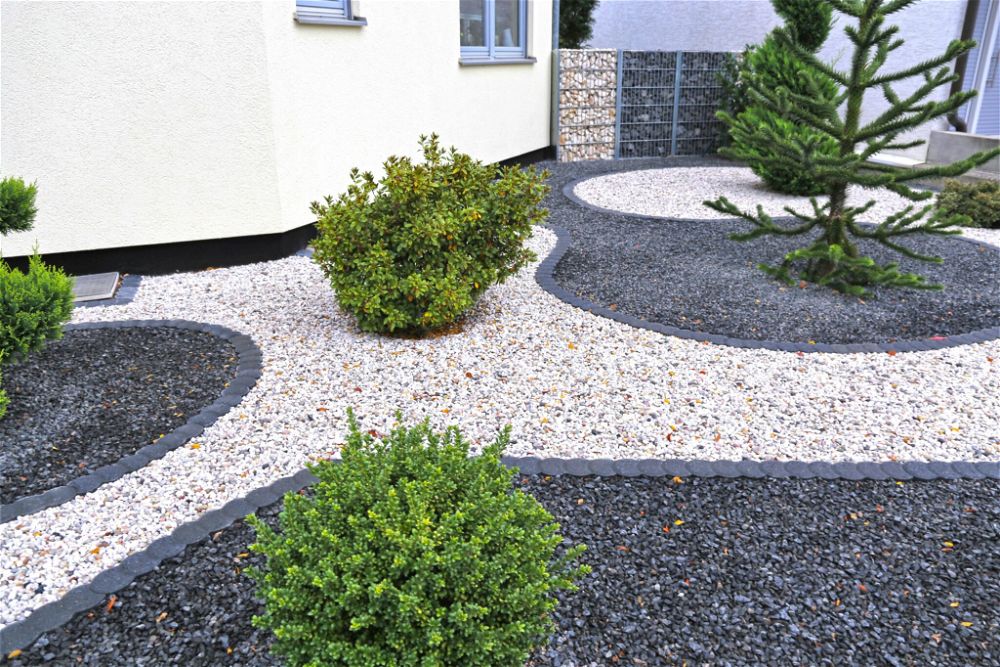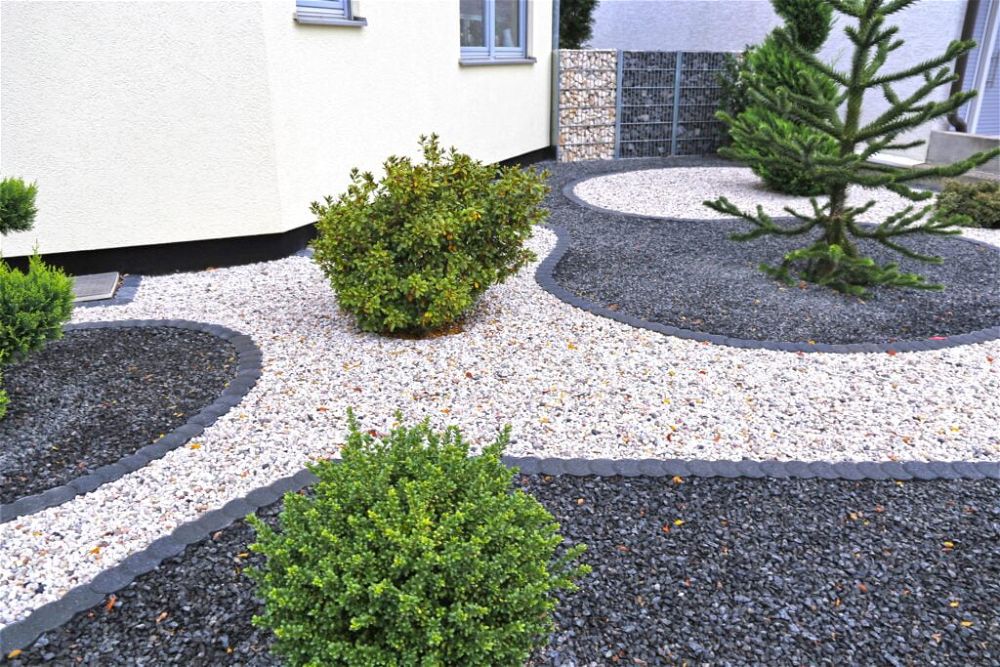 If you're looking for a way to add more interest to a grass-free garden, consider using different gravel tones to create patterns and highlight different areas.
In the garden above, dark gravel has been used to indicate flower beds whilst light gravel marks out the garden path. The stone gabions in the background pull the gravel design together. There are loads of inspiring ways that you could use this gravel technique to add aesthetic interest to your outdoor space.
An additional tip: just make sure to use some sort of additional bordering material between the areas of gravel to stop one colour from bleeding into the other.
23. Upcycle Old Furniture for Planters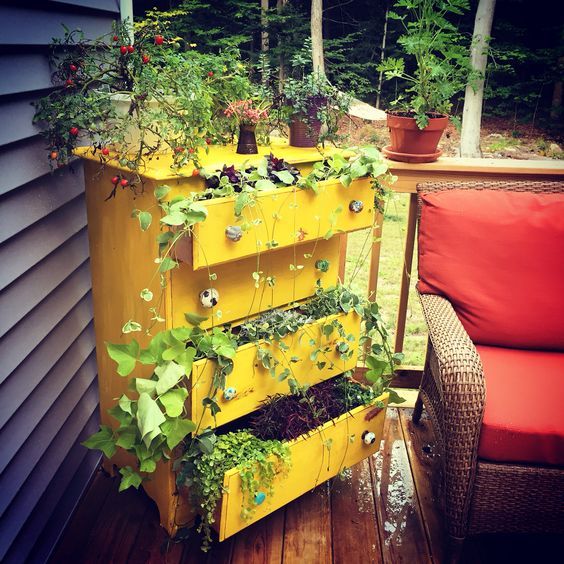 This design idea can be utilised in all areas of the garden. An old chest of drawers, painted in a bright colour or decorated in a way that suits your garden theme, makes a wonderful planter.
There's something very enchanted about the way that furniture looks 'reclaimed' by nature when combined with evergreen climbing plants. This is a great option for porches and decks, as well as lawns and vegetable patches.
My tip is to try to decorate the furniture as boldly as possible, this will help it stand out and create the most striking juxtaposition against the nature and plants.
24. Use Up-Lighting in Plant Pots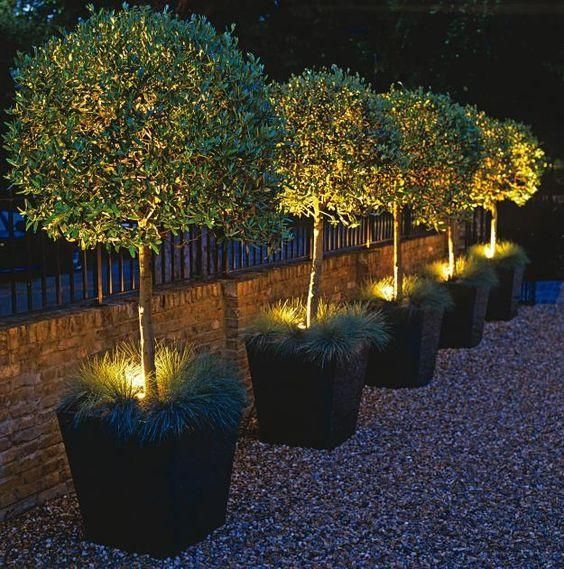 A great way to illuminate your outdoor space, without waking the neighbours and blinding wildlife, is taking advantage of a technique called 'up-lighting'. Up-lighting pushes brightness away from the eyes but still creates enough light to see by.
Choose your favourite plant, ornament, or birdbath and up-light it to create gentle outdoor lighting that's more friendly to nocturnal mammals.
In the garden above, the up-lighting technique works well with the shaped box trees and underplanted festuca grass.
25. Stencil a Rug onto Garden Decking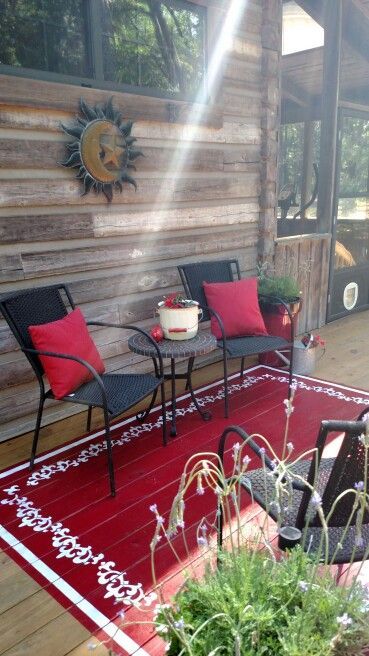 If you love the look of outdoor rugs, but worry about them getting damp and soggy in the garden, consider a stencil instead.
In the garden above, the appearance of a rug has been created very effectively using stencils and paint. At a glance, it looks like a genuine carpet.
You could also take the idea of stencilling to another level – there's no reason to be confined simply to rug-based designs. You could stencil motifs, mandalas, shapes and other designs onto your deck or patio to create a unique, creative space.
26. Create a Haven for Dogs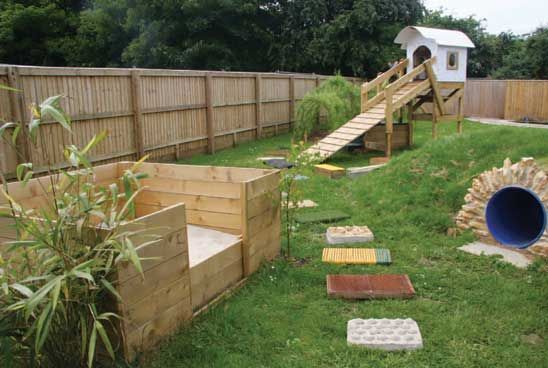 If your world revolves around your pup, why not make your outdoor space the ultimate place for them to play? The garden above features a sandpit to dig in, tunnels to run through, lots of grass, and even a raised kennel with a safe entranceway so Rover can watch the neighbours.
There are lots of places to explore and play and you're sure to get a lot of enjoyment from watching your dog outside as well. It's a win-win situation!
FAQs
What's an easy, cheap way to add some landscaping to my garden?
One of the easiest ways to do a bit of cheap garden landscaping is to add trees. Small trees are inexpensive to buy and you can plant them yourself, simply requiring a spade and a bit of mulch.
If you plan the tree's placement and positioning well, this idea can make a real difference to the overall appearance of your garden.
What are some basic garden design ideas?
If you're starting from scratch, why not focus the design of your garden around some specific features. For example, you could choose to use a dining table, pond or water feature as a focal point for your outdoor space. If you place this in the centre of your garden, or at the end of your garden, this will give you something to concentrate the design of your garden around.
Making use of what you already have in the garden is also another great technique. Focus on upcycling any existing walls and fences by adding colour, decoration, plants and light. This will quickly transform your garden, easily creating a beautiful space which you can steadily add on to.
WHERE TO GO NEXT: The Best Garden Screening Ideas to Add Privacy to Your Garden