Back Garden Ideas
1. Small Back Garden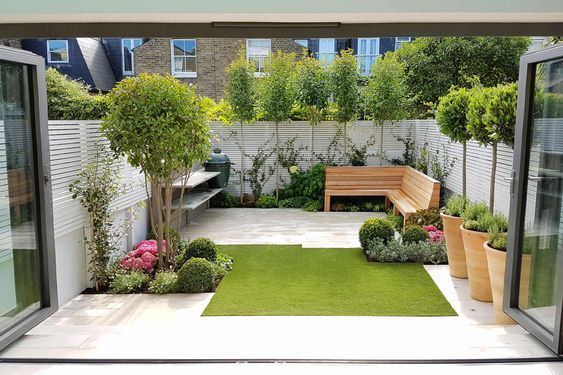 This small back garden is small but perfectly formed.
It's short on space but still manages to fit in a seating area, BBQ, and plenty of flowers for pollinators. The oversized pots make the space look bigger and what a great idea to add pleached trees that block out the neighbour's view.
2. Back Garden Patio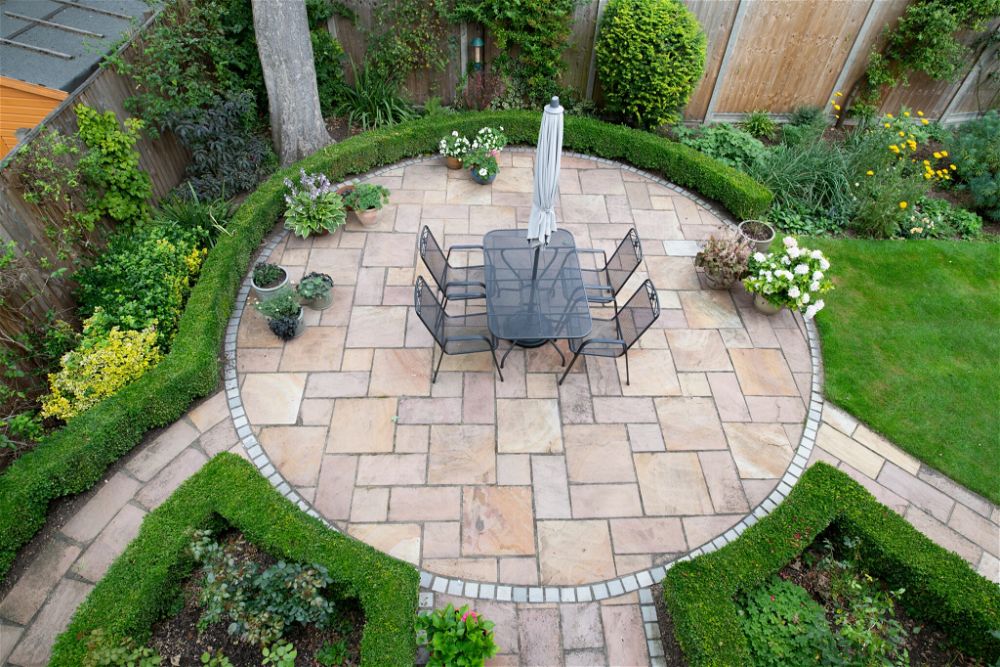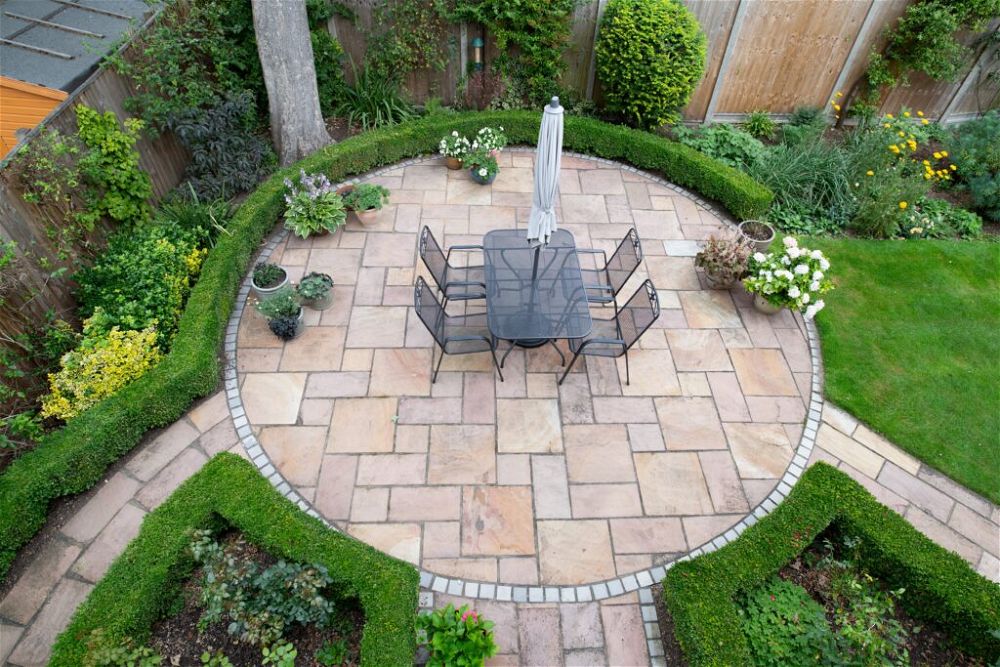 This back garden patio is a twist on the traditional rectangle of patio slabs.
The circular shape creates plenty of movement and the three paths add character. There's still plenty of grass for kids and pets to play on though – it's a space everyone can use.
3. Back Garden Decking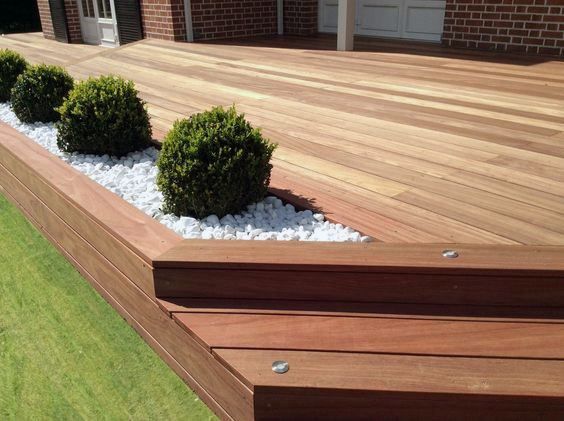 Here's some contemporary decking for inspiration.
Not only is it raised, but there's also planting space and integral lighting for the evenings. The plants are modern with easy-care box balls and white stones, but you could plant whatever you liked – why not add herbs? It would only be a short, dry stroll to jazz up your curry or pasta.
4. Low Maintenance Back Garden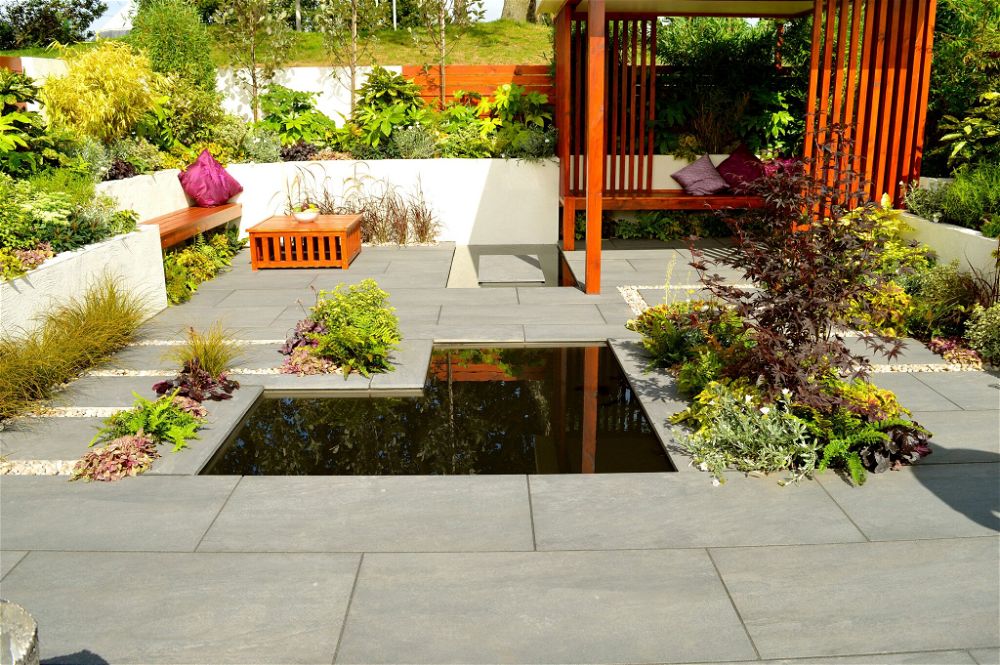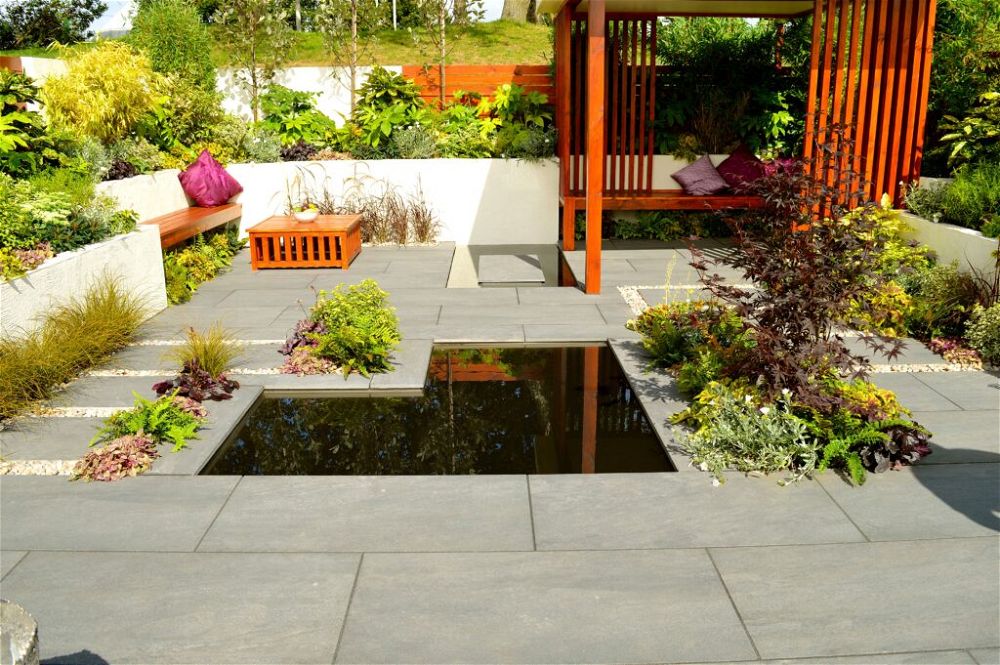 A beautifully landscaped back garden that's the ultimate in low maintenance.
There's no grass to mow or difficult plants to tend. The ground is paved with modern slabs and the small integral pond stops it looking dull. Two seating areas means you can enjoy the sunshine no matter what time of day.
5. Back Garden Design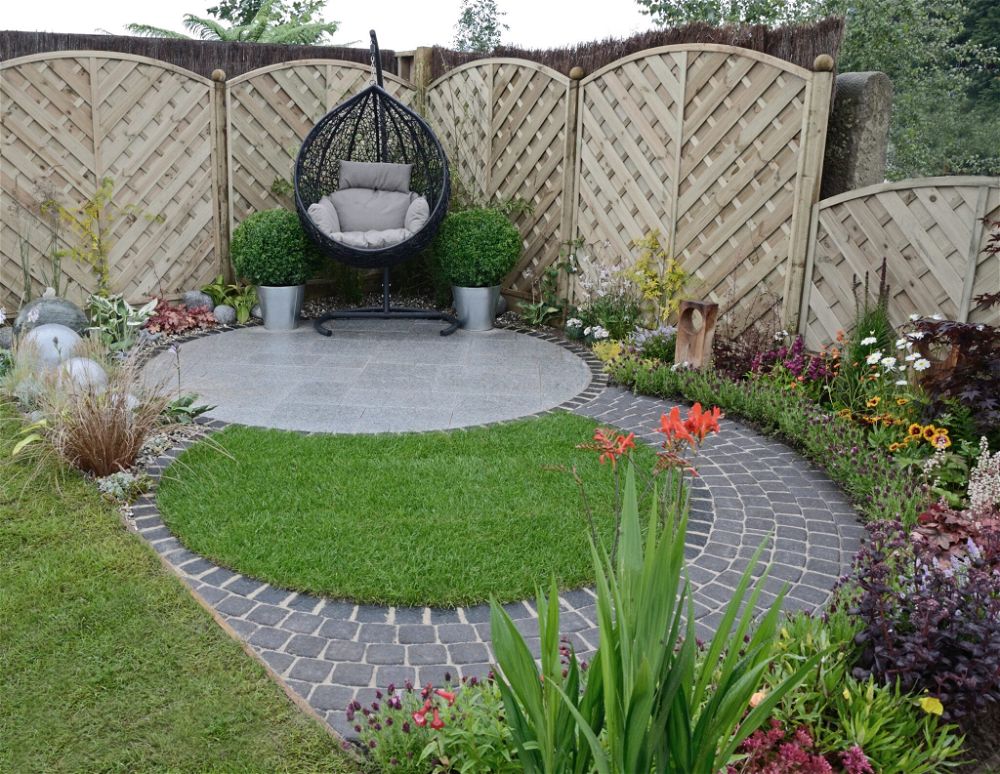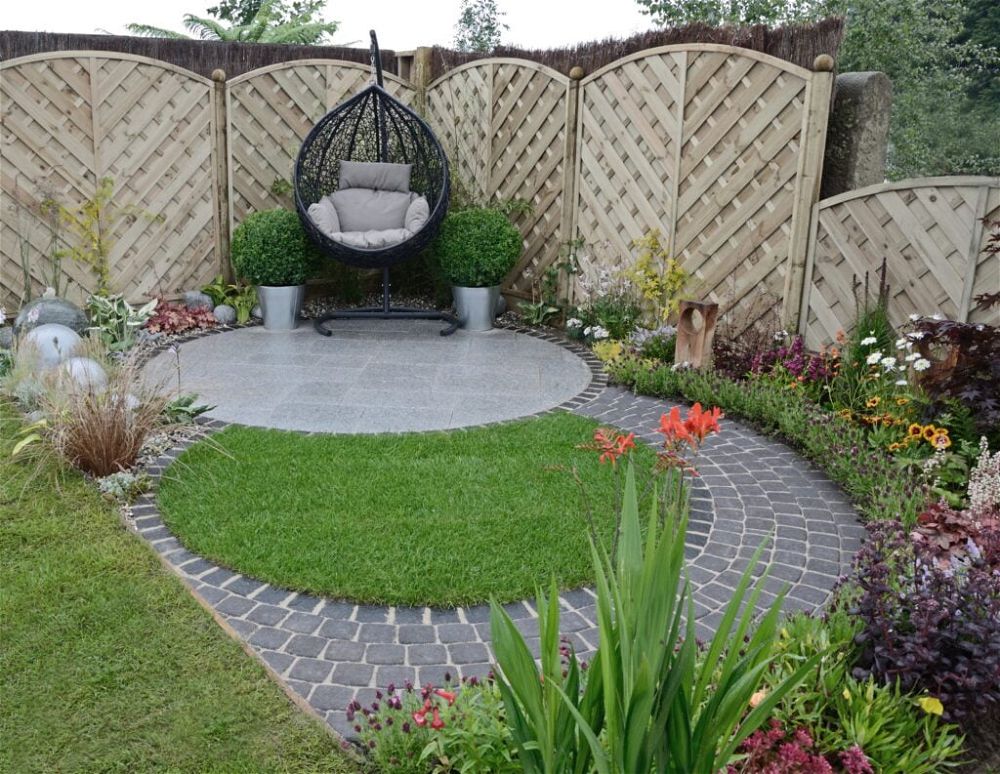 This back garden design is a real winner. It's a small space but the flowing lines make it look larger, and that egg chair is the perfect finishing touch.
Spherical ornaments, box balls, and rounded plant containers keep the circular theme going – even the fence panels have curves.
6. Terraced House Back Garden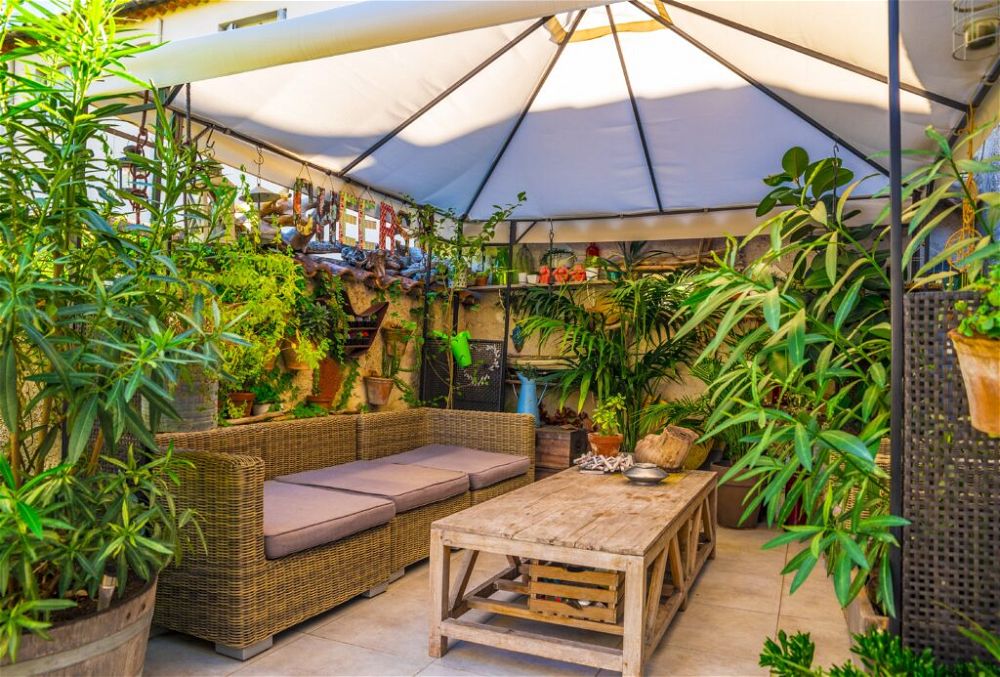 Here's a great idea for a terraced house back garden.
This large permanent gazebo not only keeps your outdoor space private it makes it useable in all weathers. The warmer, sheltered space is a great spot to grow tender plants and what a great way to get fresh air during the colder months.
7. Back Garden Landscaping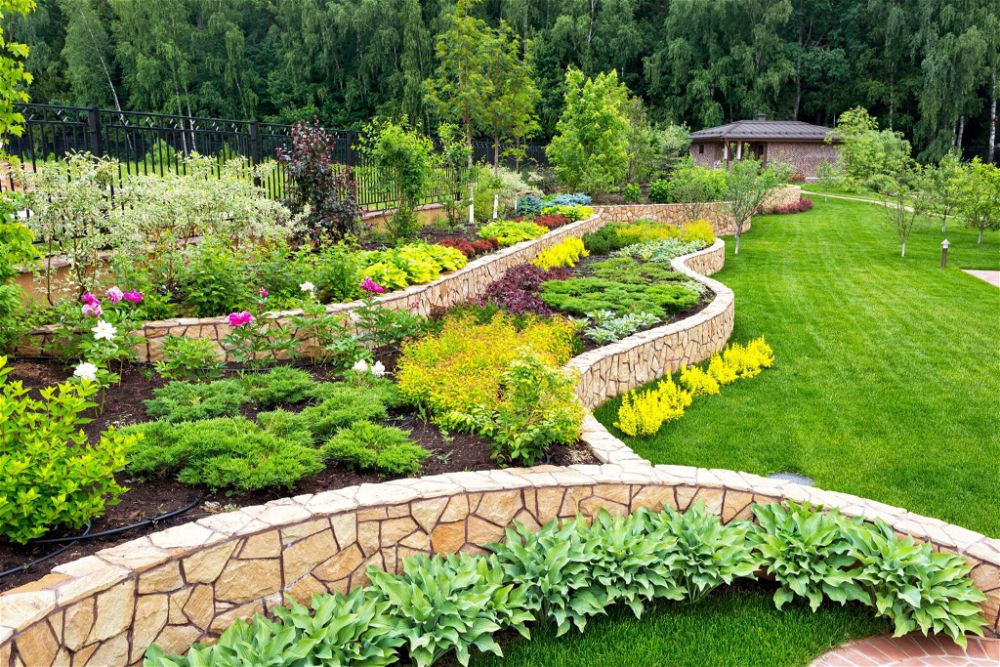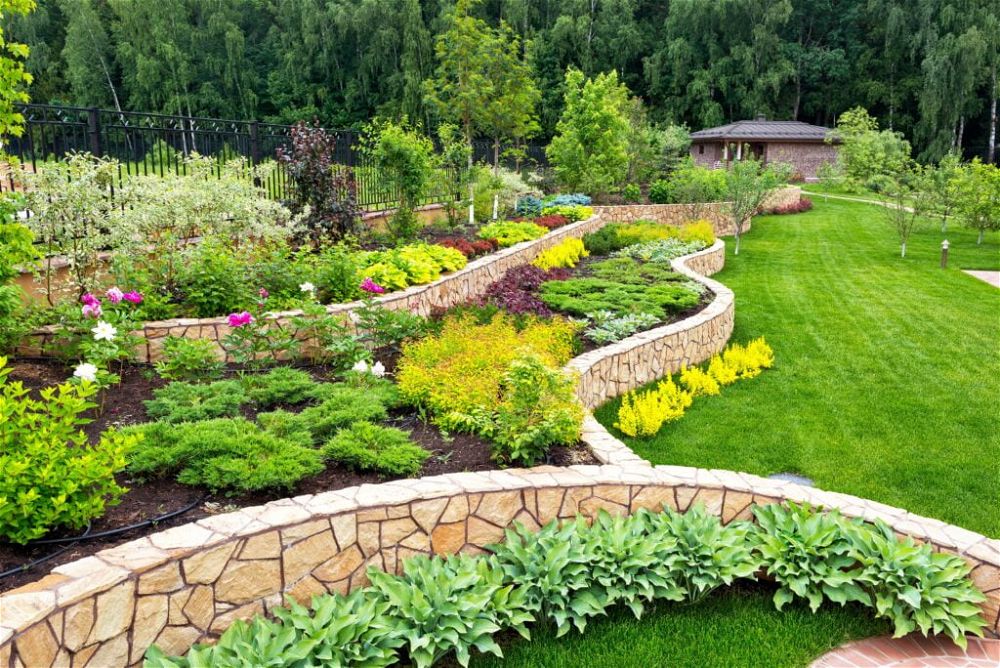 Starting from scratch in your garden is exciting! A landscaped back garden can transform your outdoor space into a place you want to spend time.
Here they have added lots of tiered walls, flower beds, and trees. This breaks up the space, makes it usable, and it looks fabulous. The trees and flowers are good for wildlife too.
8. Small Back Garden Design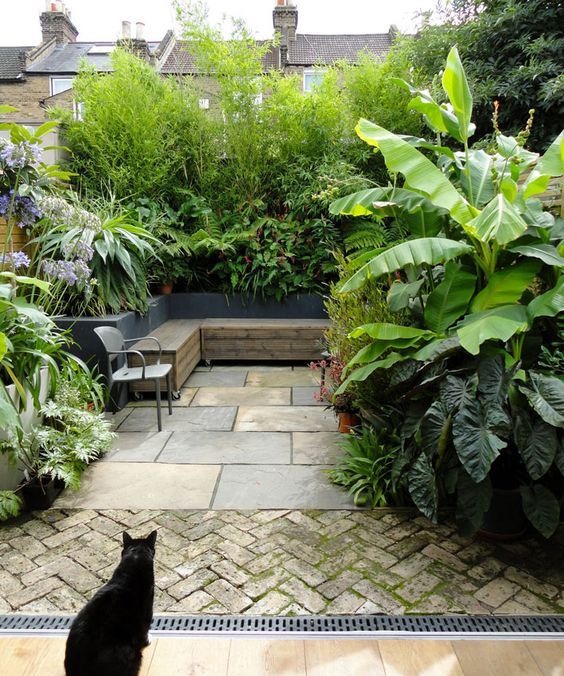 This small back garden is a chill-out paradise for an urban garden.
Those leafy green plants oxygenating your seating space is a dream come true for city dwellers that need some natural world love. Excellent use of tall bamboo to block out the neighbours. Cat optional!
9. Back Garden for Kids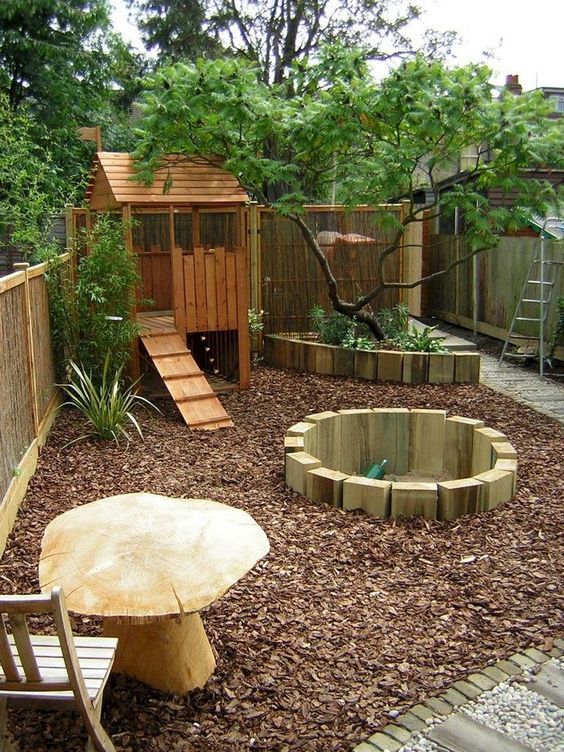 Forget lurid plastic houses in your back garden! This play area for kids is inspired by natural materials.
Soft play bark keeps mud at bay, there's the all-important playhouse, a sandpit, and their own little mushroom table. Any kid would love playing here and it won't give you a primary colour headache as you watch them play.
10. Back Garden Wall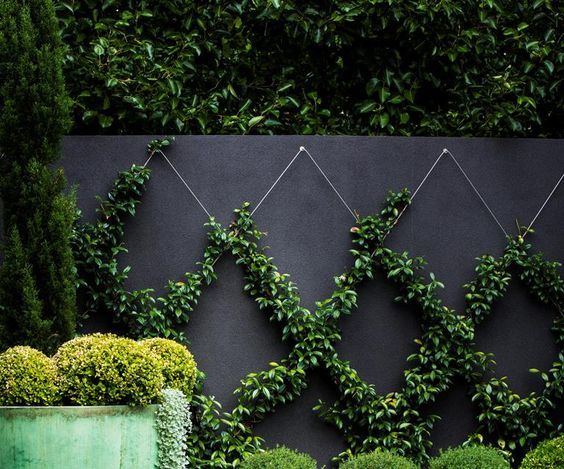 If you're bored of the back wall how about this cheap and easy fix?
Crossed wires on the wall or fence create a framework for ivy or other climbers such as jasmine or clematis. Once they've grown, you'll have a diamond pattern on the back wall that's loved by pollinators and birds.
11. Back Garden Paving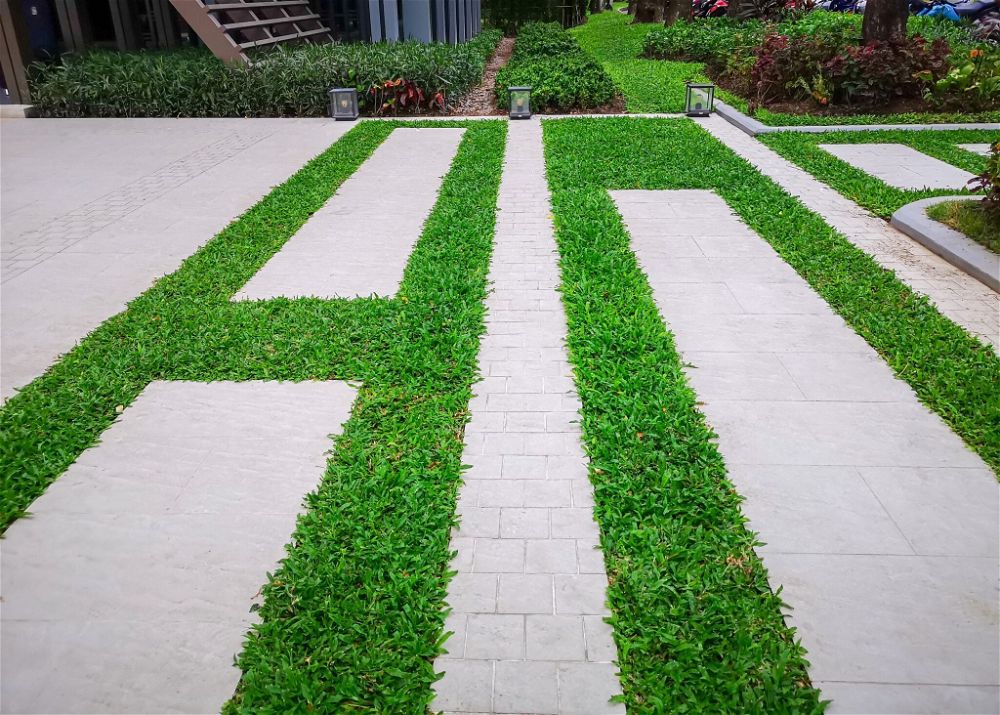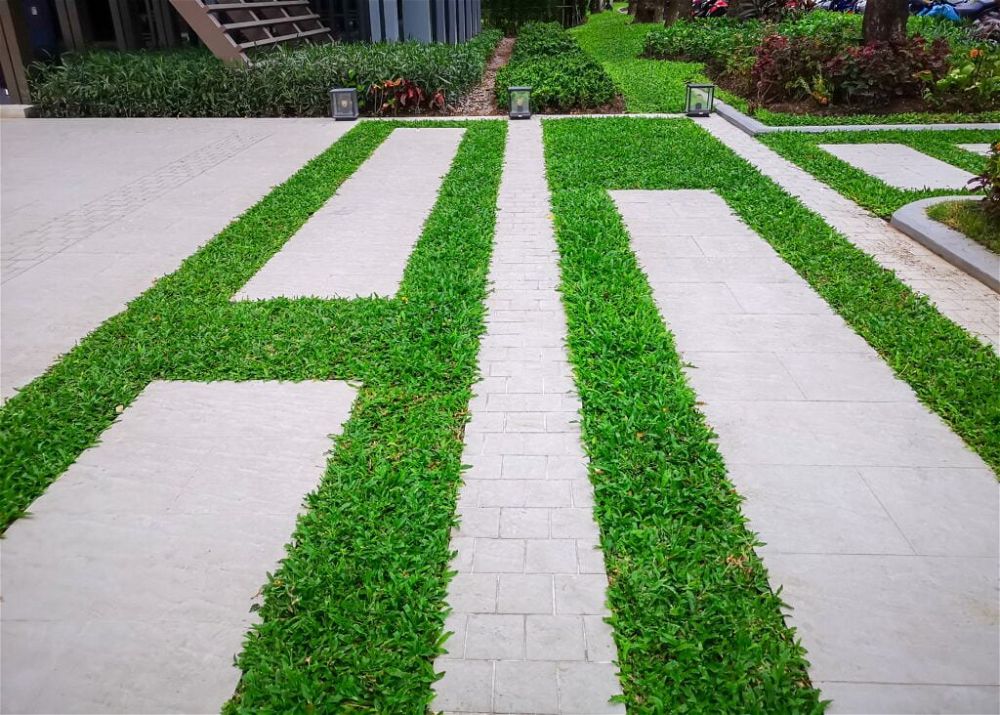 Paving doesn't have to be a large block of stones. Here they've created an unusual feature that doubles as a path!
The alternate paving and grass are eye-catching and a practical way to incorporate back garden paving. You could always plant up flowers or vegetables in one of the grass strips instead.
12. Back Garden Ideas on a Budget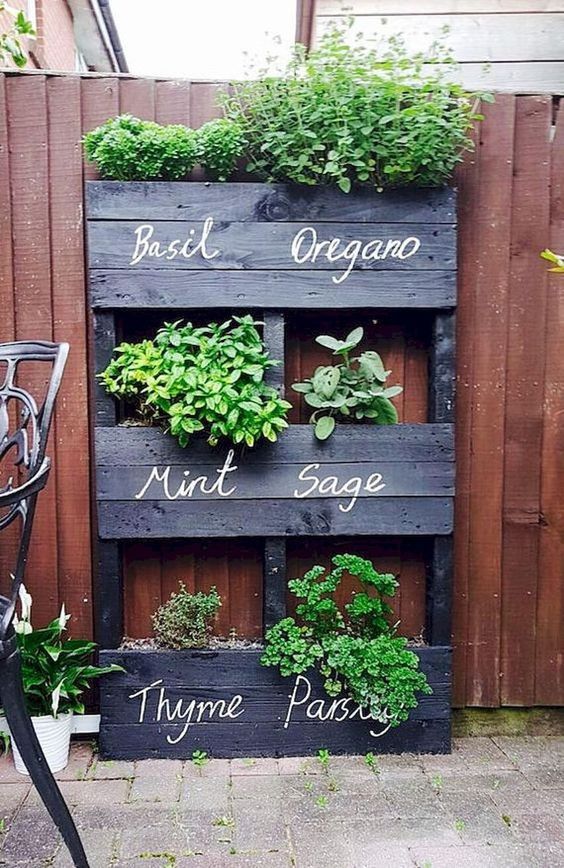 Back garden design on a budget doesn't get cheaper than the old friend – a wooden pallet.
This one has been painted and stencilled to create a useful and beautiful herb garden. Herbs enjoy well-drained conditions and most of these herbs can be bought inexpensively in the supermarket.
13. Large Back Garden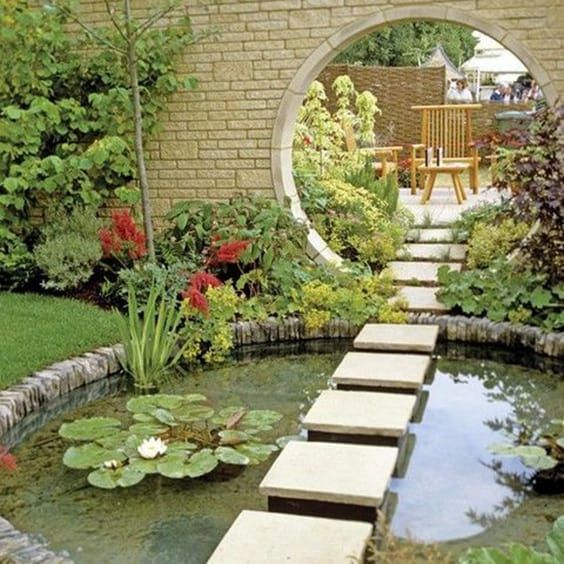 If you have a large back garden it's a good idea to create a series of rooms rather than one large space.
Here they've added several moon gates to separate the garden into different areas. One with a fish pond for relaxing comes first, beyond this there could be a kids' play area, an eating area, and a kitchen garden.
14. Back Garden Without Grass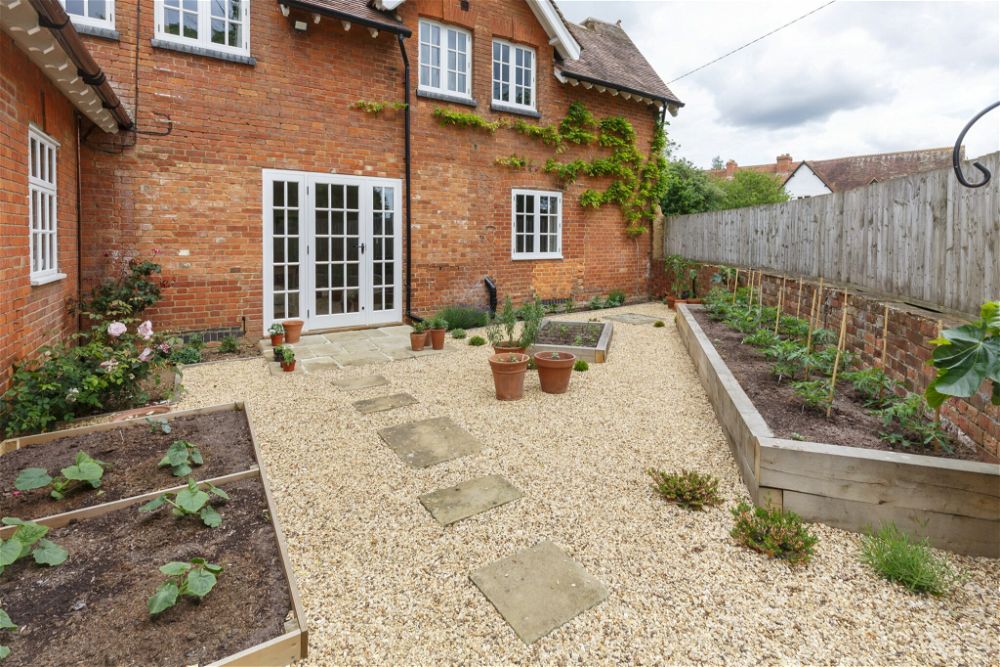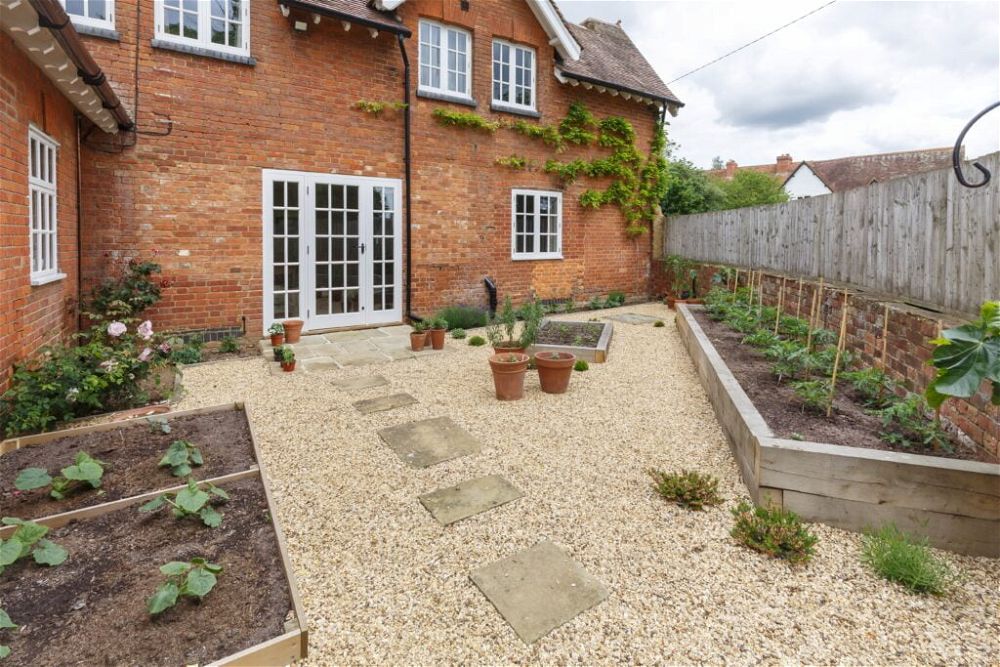 This back garden has no grass and what a blessing that is! It's not short of plants though. Check out the raised beds for vegetables, herbs in pots, and roses by the back door.
The herbs are planted directly into the ground through a weed-proof membrane and shingle covering. It's a great way to grow herbs that like dry Mediterranean conditions. You could put a rock rose in there too for extra interest.
15. Back Garden Fence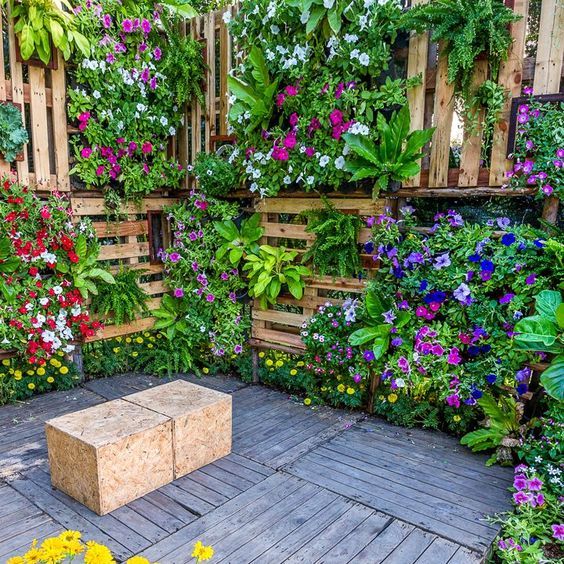 You spend a lot of time looking at the back garden fence, so it needs to look good!
This beautiful wildlife-attracting back fence is a construction of pallet wood, ferns, and bright seasonal flowers in containers.
In the winter you could replace the flowers with ivy and winter pansies. Pop a few bird boxes and bee hotels in there too. It's perfect for urban and country back fences.
16. Sloping Back Garden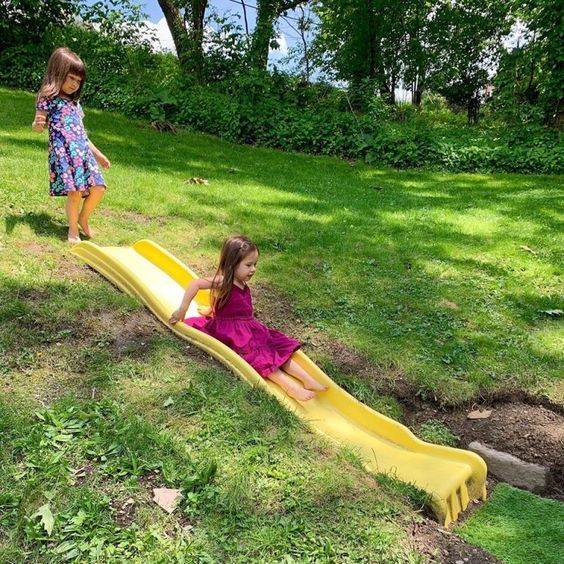 Turn that sloping garden into a fun space for kids! No kid can resist a slide, and a sloping back garden makes a slide extra safe as there's no height to fall from.
A net or ladder to scramble up the other side and they'll have hours of fun away from screens.
17. Small Back Garden Landscape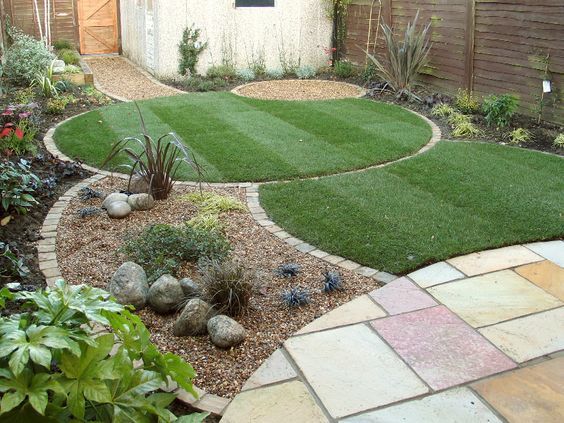 Small gardens need long curvy circular movements to look larger. Here they have incorporated circles in a landscaped design.
The multiple textures give you something to look at in this small space. We have grass, gravel, coloured pavers, soil, large rocks, and wood all neatly in their designated spots. It's a beautiful design for a small back garden.
18. Small Back Garden Ideas on a Budget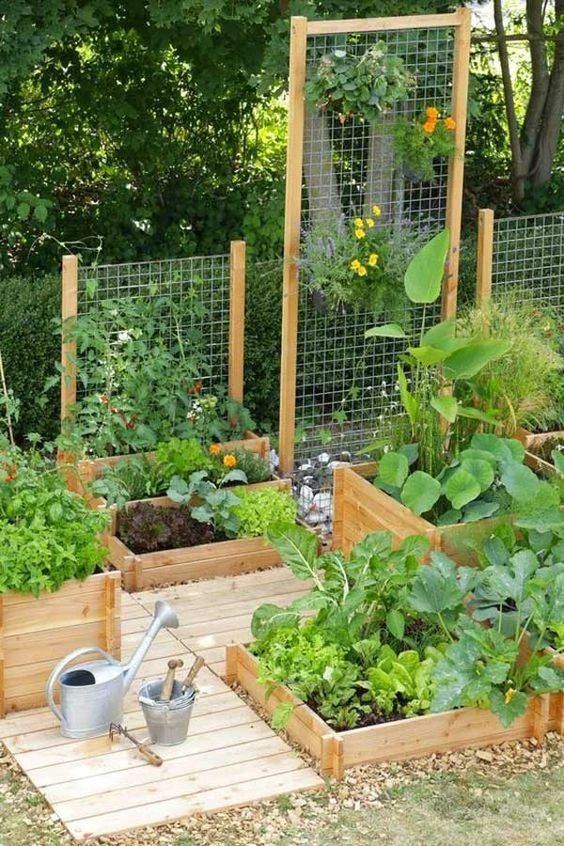 These inexpensive planters lift a small back garden. Firstly, they are filled with tasty vegetables and herbs you can use in the kitchen, and secondly, they create height which is something many gardens lack.
Cheaply built from batons and wire this is a great idea for adults and children to build together.
19. Tiny Back Garden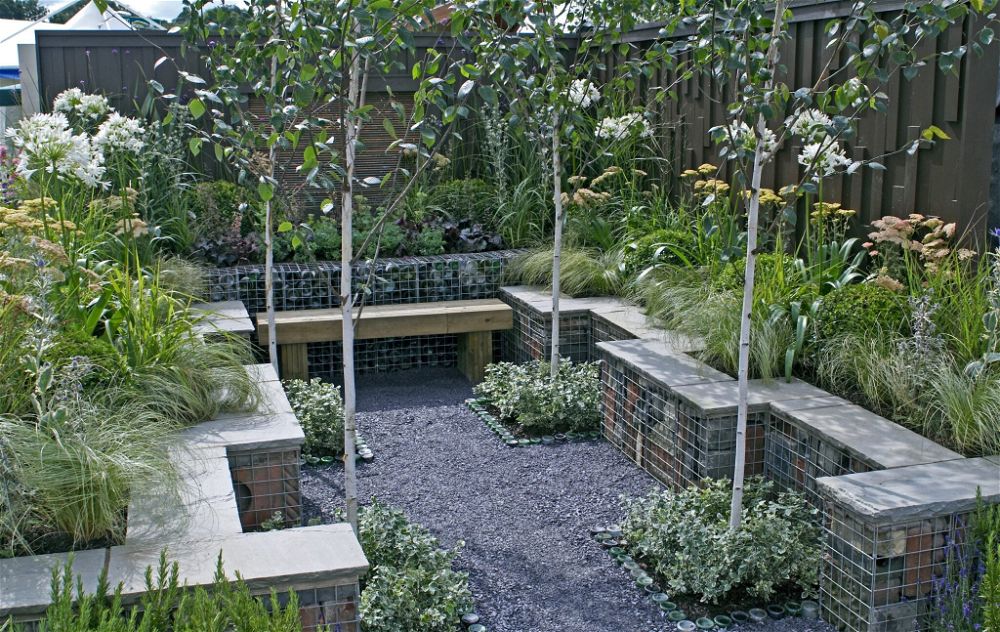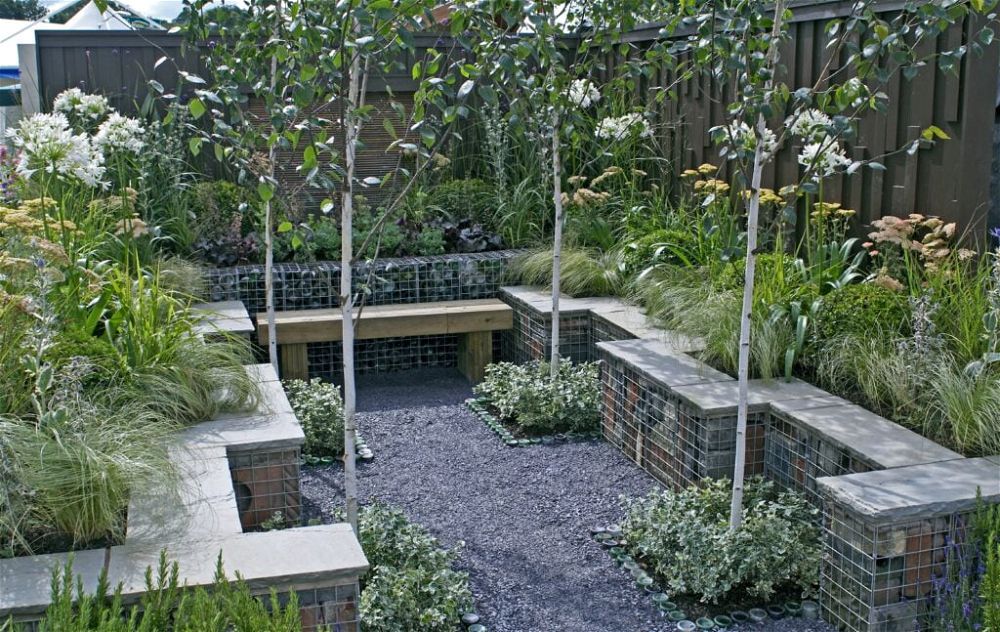 This tiny back garden is punching above its weight. Who wouldn't want to spend time here?
There's plenty of seating, contemporary design, trees and plants for pollinators, and stone gabions for insects to hibernate in – oh and you can sit there too!
This excellent design makes it possible to have a group of friends over and not feel hemmed in despite the tiny square footage.
20. Back Garden Gate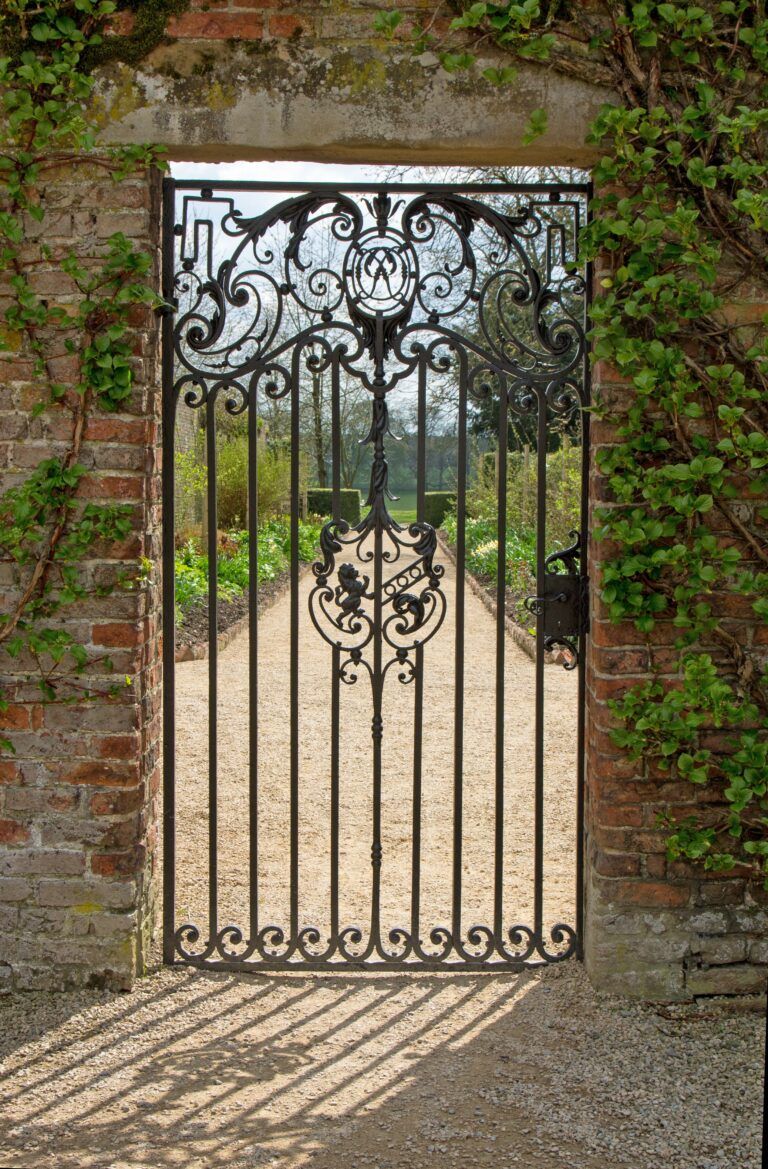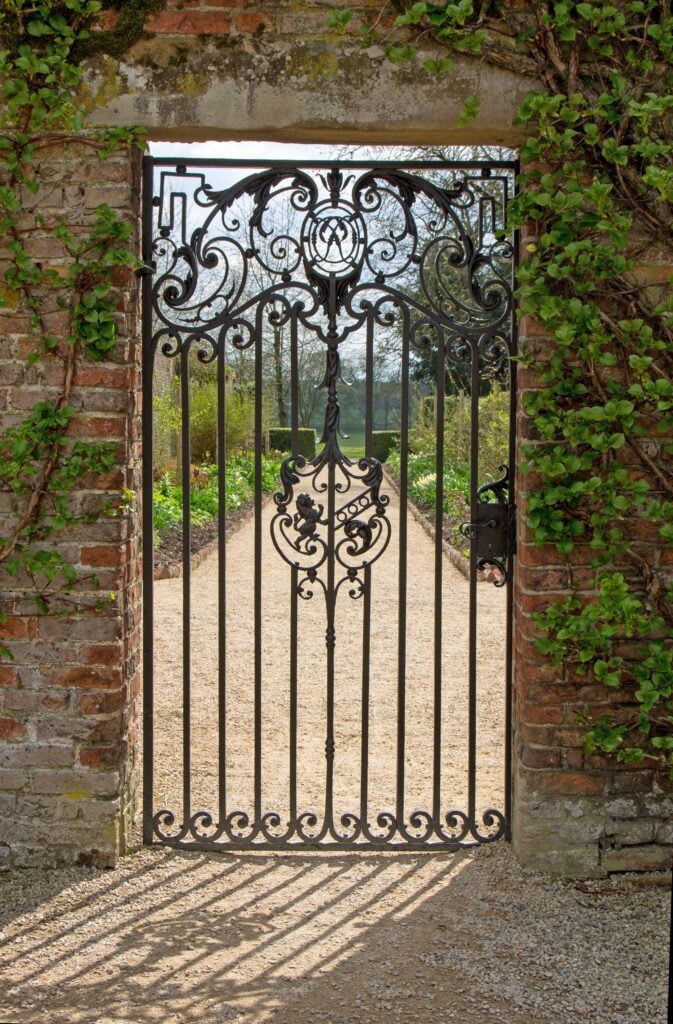 Most people have wooden back garden gates for cost, privacy, and security reasons but why not buy a wrought iron gate? They look better than wooden panel gates and are strong enough to keep out unwanted guests, but still allow small parcel deliveries to slip straight through!
An iron gate also lets in lots of light and makes the space feel more open.
21. Modern Back Garden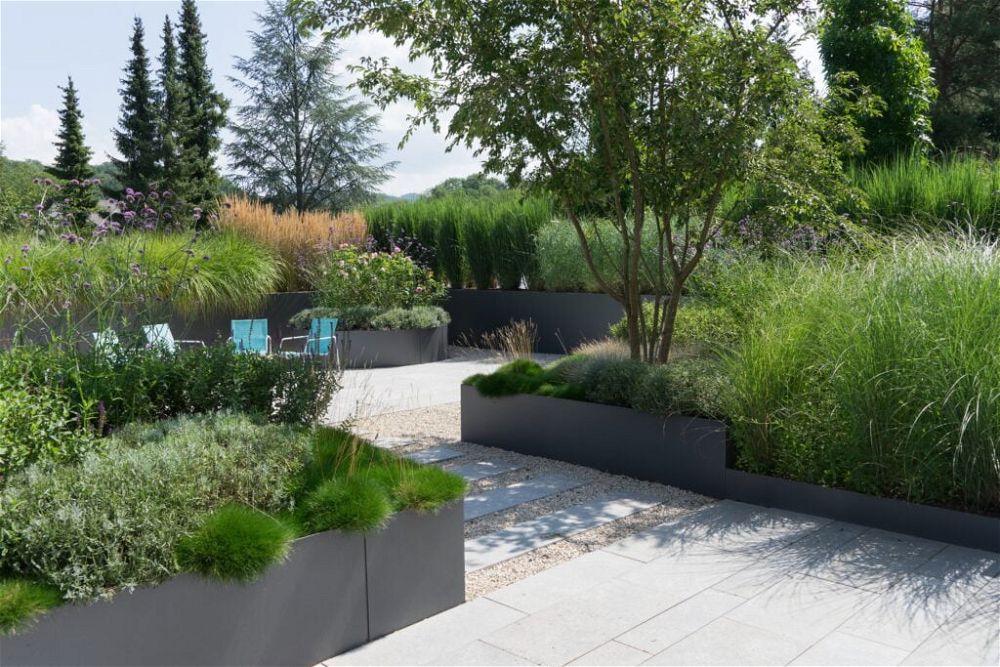 This modern back garden looks like a home and garden magazine cover.
A simple square-shaped garden has been sectioned off with metal raised beds and the grass replaced with contemporary stone and clean white pavers.
The planting is prairie style, very few flowers other than structural verbena, but statement trees and plenty of grasses which are drought tolerant. It's right-up-to-date and perfect for an urban garden.
22. Gravel Back Garden Design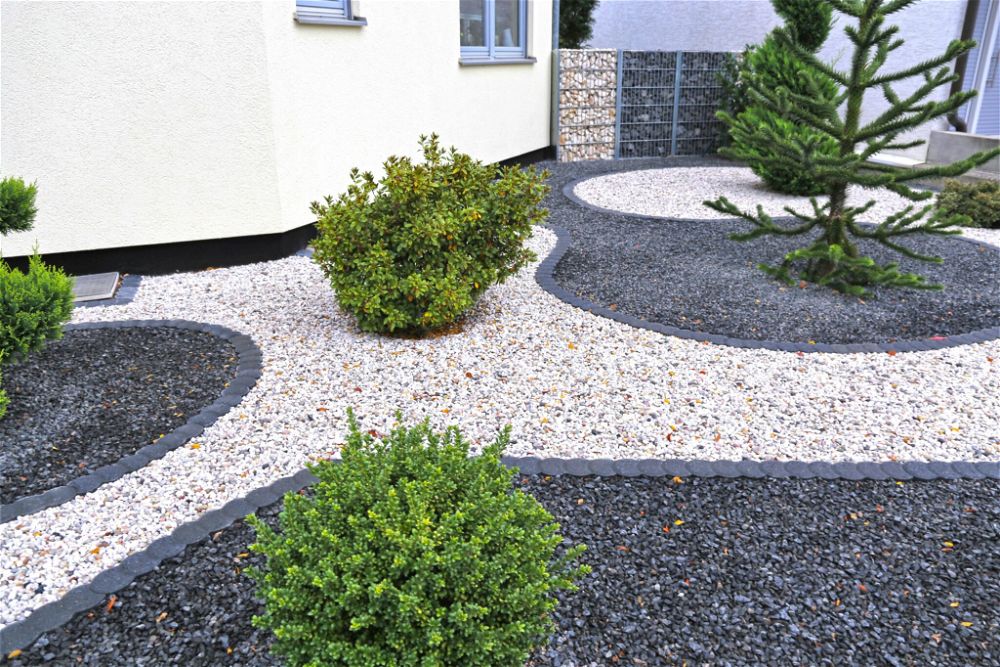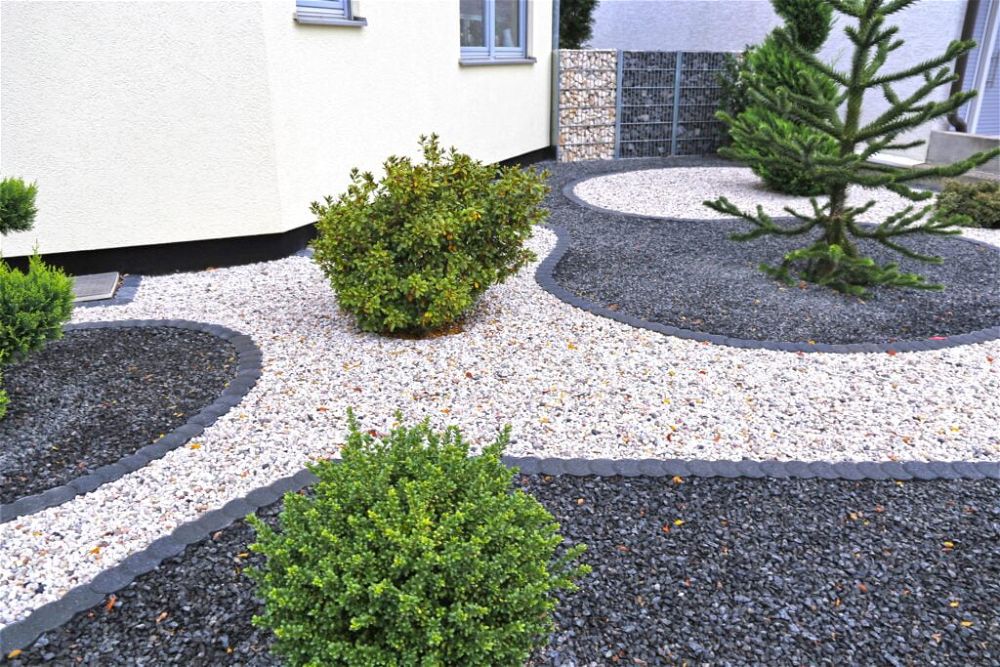 This gravel garden has a touch of the Far East about it.
Love that coloured stone neatly sectioned off to create a feature and over-planted with structural privet, hebe, and a monkey puzzle tree that won't get too large. The stone gabions in the background pull the gravel garden design together.
23. Back Porch Garden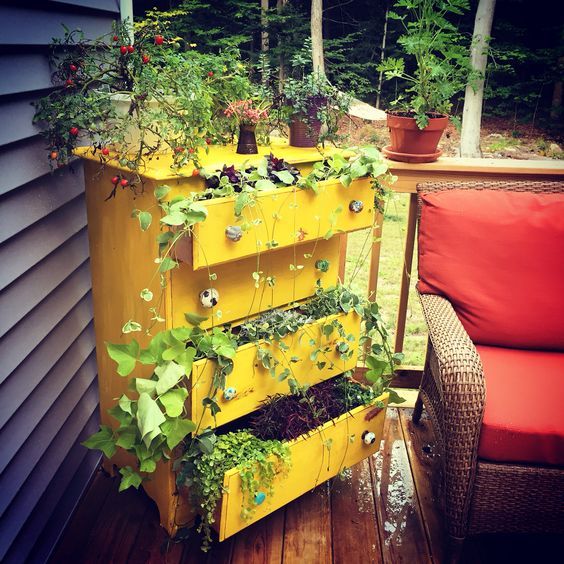 A back porch garden can be a tricky spot. Here's some inspiration!
An old chest-of-drawers repurposed to contain plants and garden ornaments. It's a great place to keep small tools and outside necessities too. If your porch is hot choose herbs but if it's shady then ferns are a better choice.
24. Back Garden Lighting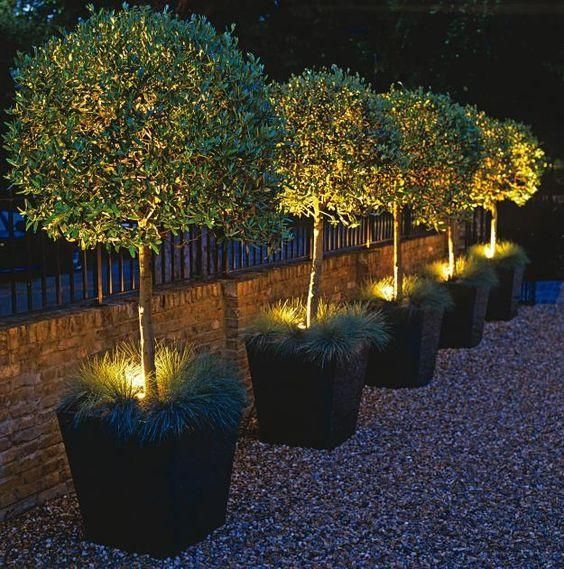 A great way to illuminate your back garden without waking the neighbours and blinding wildlife is up-lighting. Up-lighting pushes brightness away from eyes but it's still enough light to see by.
Choose your favourite plant, ornament, or birdbath and up-light it in this nocturnal mammal friendly way. The standard shaped box trees with underplanted festuca grass look fabulous here.
25. Small Back Garden Decking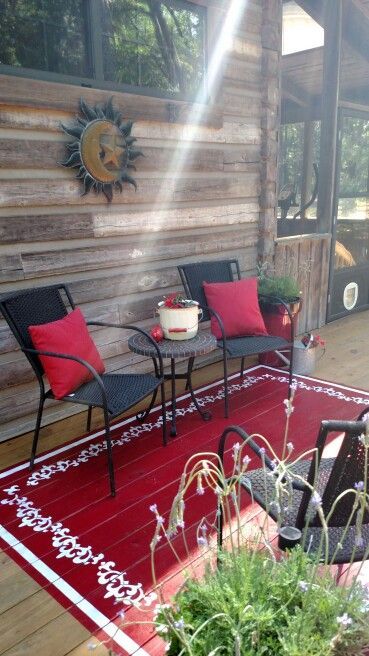 If you have a small back garden and want to make a feature of the deck, try a stencil.
Stencil kits come in all colours and sizes for decking. This one resembles an oriental rug, but there are nautical themes, mandalas, checkerboards – all kinds to suit all tastes.
26. Back Garden for Dogs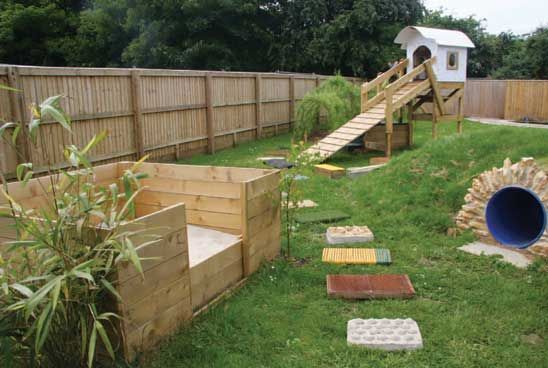 This is the ultimate doggy playground for your pup! A sandpit to dig in, tunnels to run through, lots of grass, and even a raised kennel with a safe entranceway so Rover can watch the neighbours.
There are lots of places to hide from the rain, sniff, bark at, and pee on. What more could a dog possibly want?
Create An Inspirational Back Garden Space
Back gardens can be so much more than a square of lawn with flower borders along the edges. Take inspiration from our suggestions and turn your back garden into a space that you, your kids, and the pets will all want to spend time in.