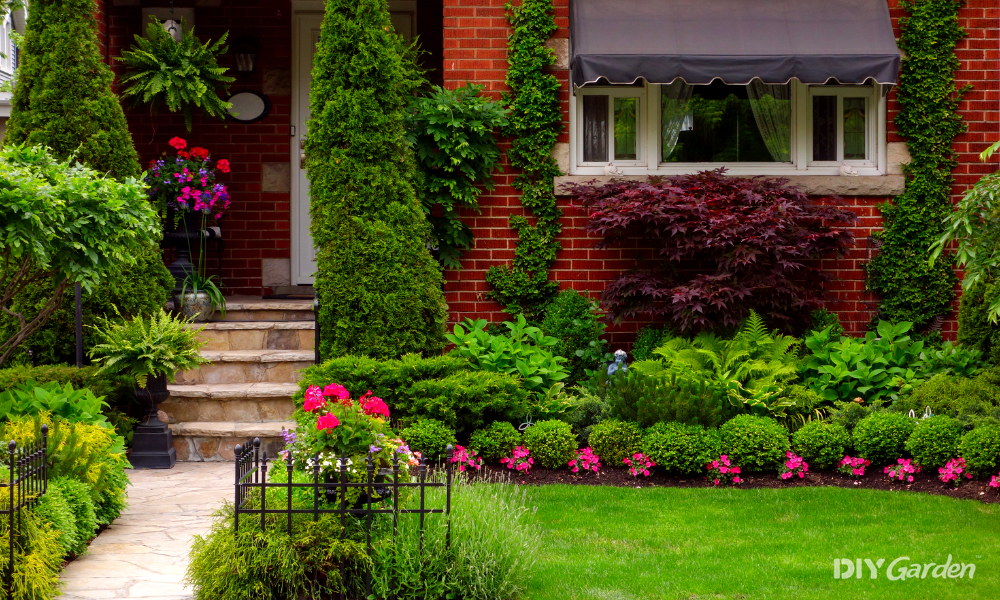 Improving your front garden is a wonderful way to add kerb appeal to your house. It can wow your guests and put a smile on your face every time you return home! Having redesigned my small front garden this past year, I've done a lot of research on the topic. In this article you'll find my favourite ideas, and plenty of inspiration for your new frontage! Let's get into it…
---
My Favourite Small Front Garden Ideas
1. Border the Path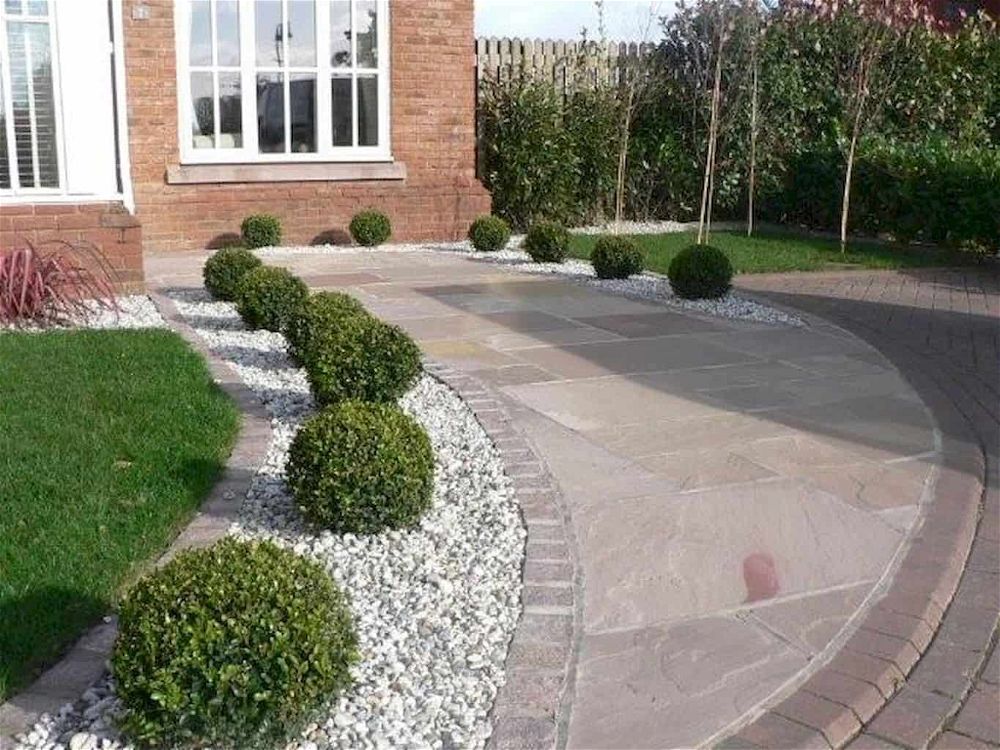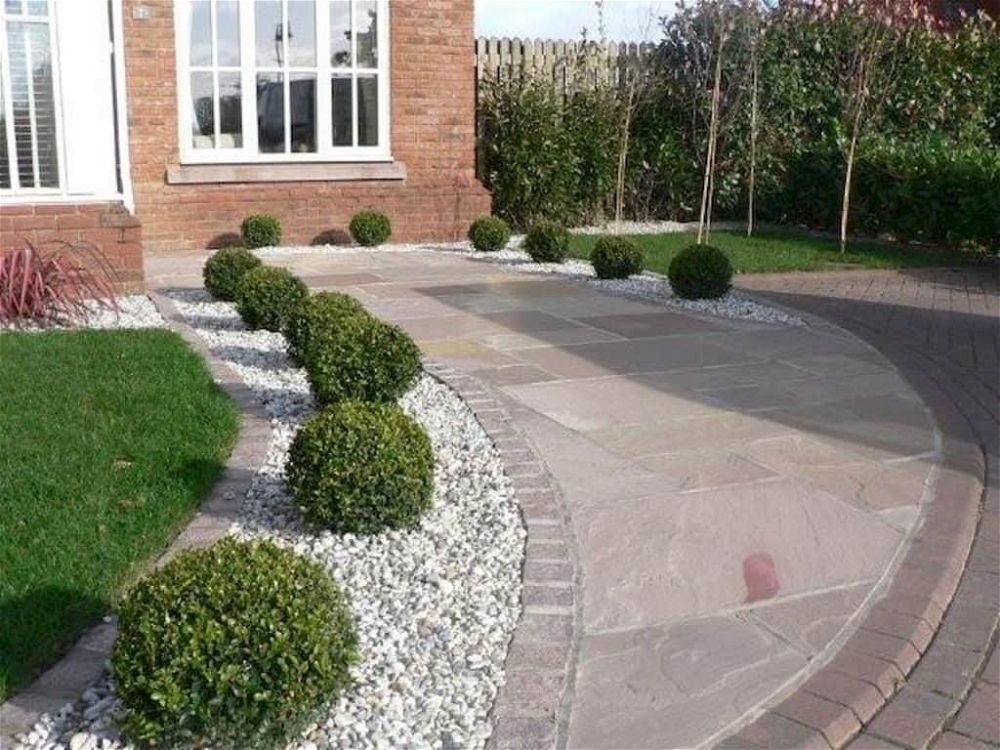 Why not switch up a standard garden path by including a striking curved border with gravel and box balls. This is one of those front garden ideas that greatly improves kerb appeal yet doesn't require a lot of effort to maintain. Plus, there's still space for a driveway as well, if desired.
2. Add Lavender and Blue Slate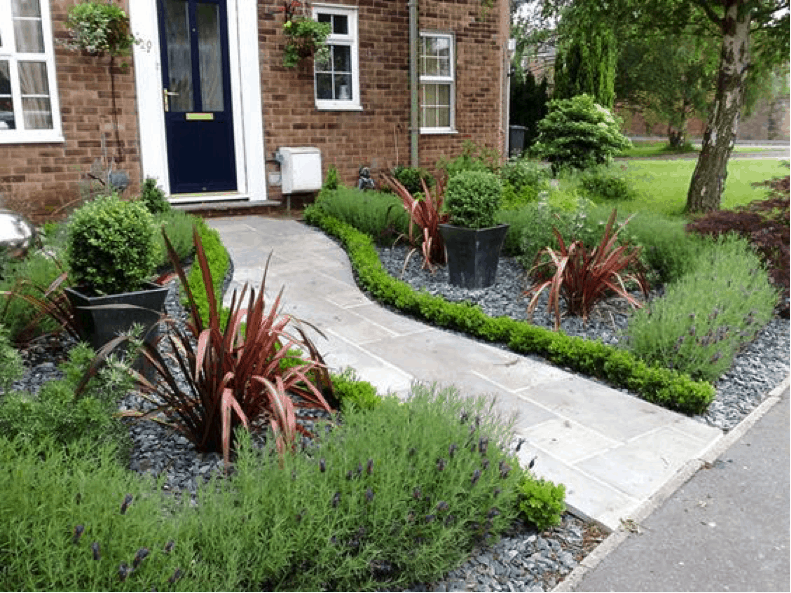 Edge a path to your front door with short neat box hedge and backfill the border with soft lavender for contrast. Blue coloured gravel over exposed soil matches the lavender blooms and keeps the garden weed free. Boost height with plants in containers such as long-term box, or swap them out for something seasonal. It's one of the best garden ideas if you want a busy but cohesive space; there's a lot going on but it works – stick to just three or four tones to keep things under control.
3. Underplant Trees with Ferns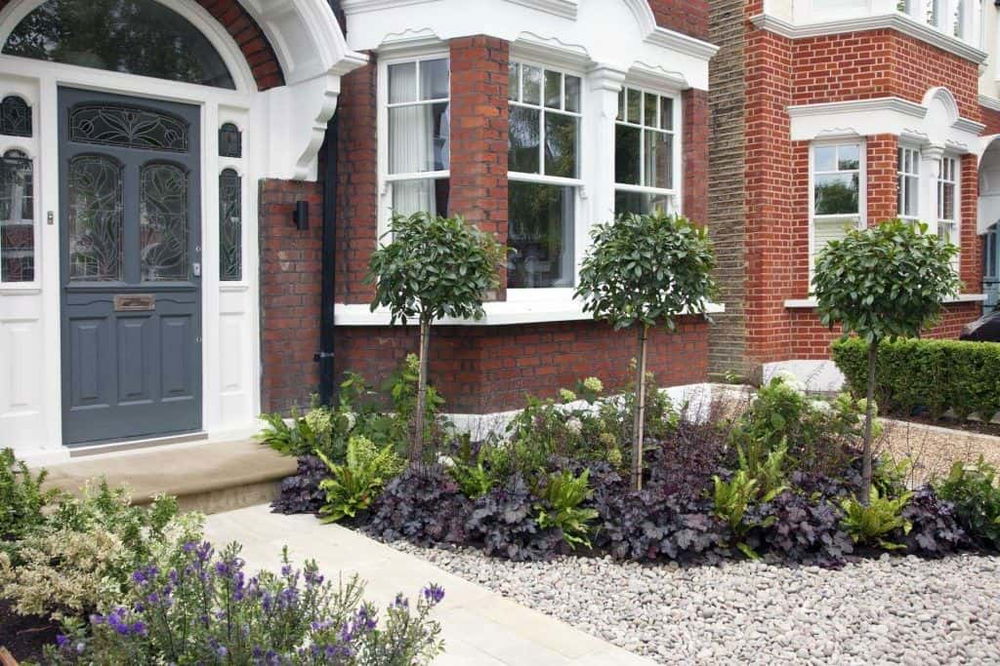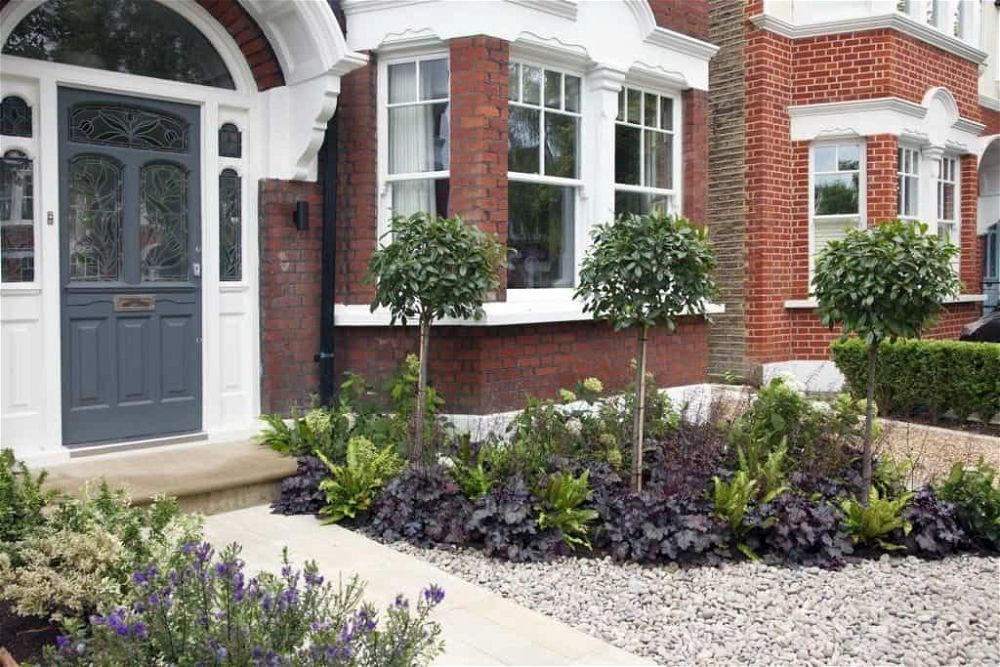 Some of the simplest front garden ideas are often the most effective. Choose a few lollipop trees to give your front room a bit of privacy and guide people in towards the house. The key to making this work is repeating the same plants throughout. Use the same type of lollipop tree and then underplant them with multicoloured heuchera and green ferns. Don't overcomplicate the underplanting – using the same plants is what makes this design work so well.
Complete the look with light-coloured gravel for a low-maintenance garden.
4. Create a City Cottage Garden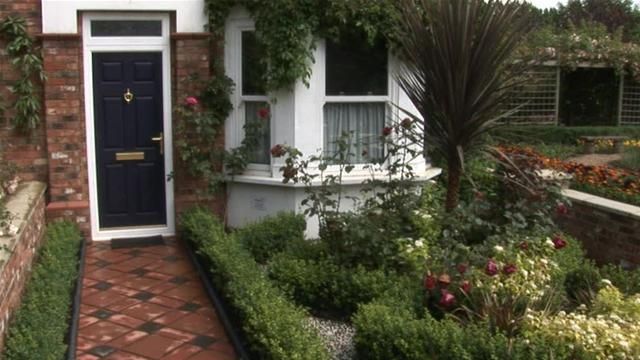 A vintage tiled pathway lined with box or yew that leads to a rose framed front door is one of the most classic garden ideas for cities. It creates a vintage look, whilst also guiding visitors easily to your door. Then, you can play with the rest of the space to create a striking garden that also creates privacy. Add a modern touch with a large evergreen yucca, then underplant it with lavenders, tea roses, and peonies. Classic cottage garden style in the city!
5. Let Wisteria Do The Talking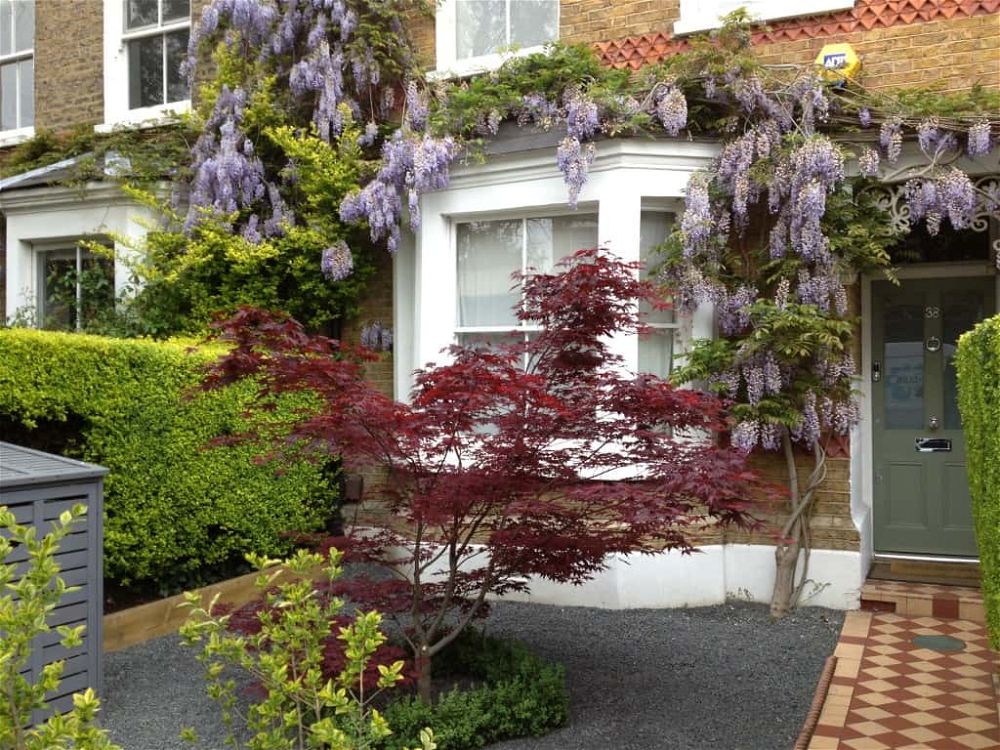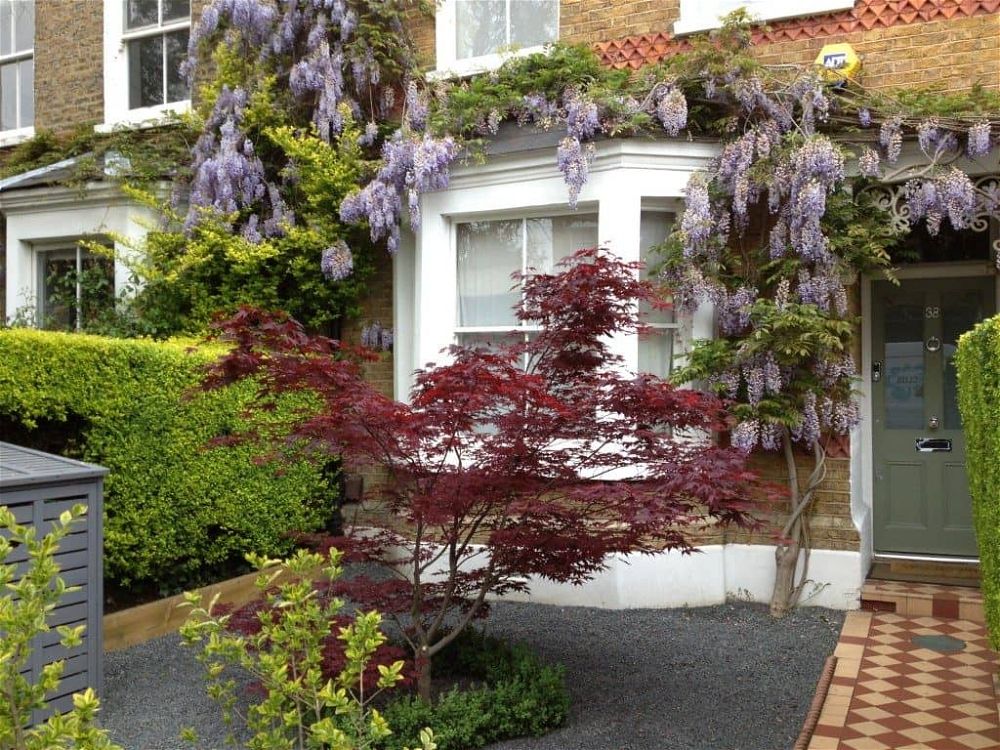 Keep it simple and let mighty wisteria do most of the talking. This is one of those front garden ideas that has boomed in popularity over recent years. Wisteria blooms in April/June and can sometimes have a second wind in August, making it a worthwhile consideration. When it comes to the rest of the garden, keep things basic: match your bin storage with coloured gravel so it doesn't stand out so much, and pop a brightly coloured plant in as a centrepiece. A low circle of box around the planted hole finished off the look.
6. Make Use of Geometry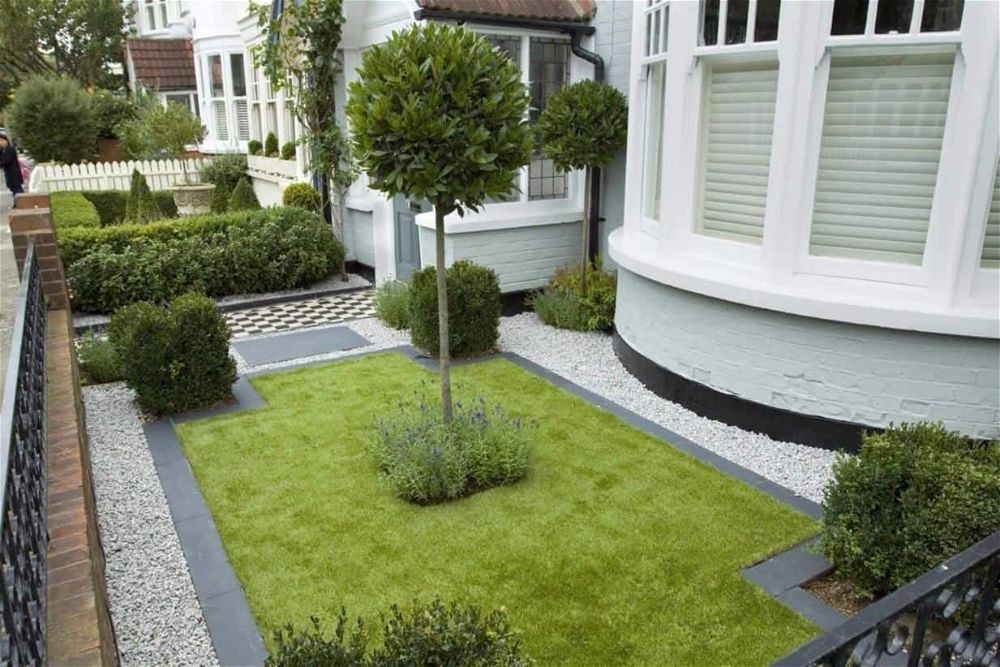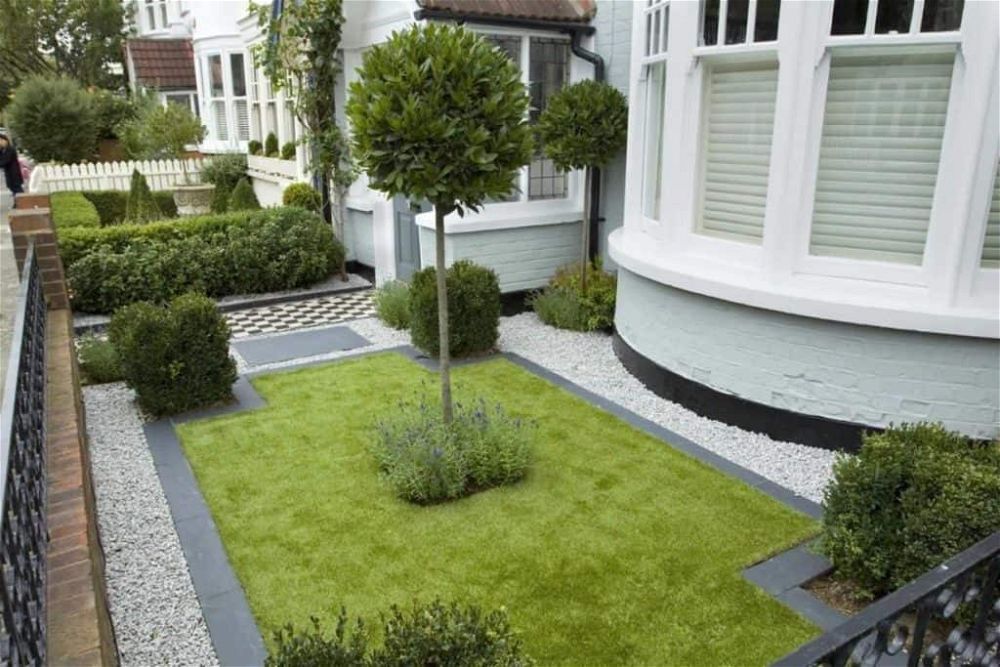 When it comes to contemporary garden ideas, using geometric prints and angles is a great way to create a modern, stylish look. In the garden above, the monochrome path tiles help tie everything together, from the pruned box hedges to the minimalist lollipop-tree centrepiece. It's a masterclass in how minimal design can have maximum impact.
7. Use Reclaimed Brick

Even if you're not working to a strict budget, there's nothing better than front garden ideas that use reclaimed materials – it's a great move for the planet which in turn feels fab for the soul.
Reclaimed brick can be used to make a stunning pathway to your door and then works harmoniously when blended in with the rest of the garden too. In the garden above, brick has been used very effectively as borders throughout the space. Contrasting the terracotta brick colour with plenty of evergreen planting is an excellent tip – the contrasting colours make the garden pop.
8. Pave a Striking Path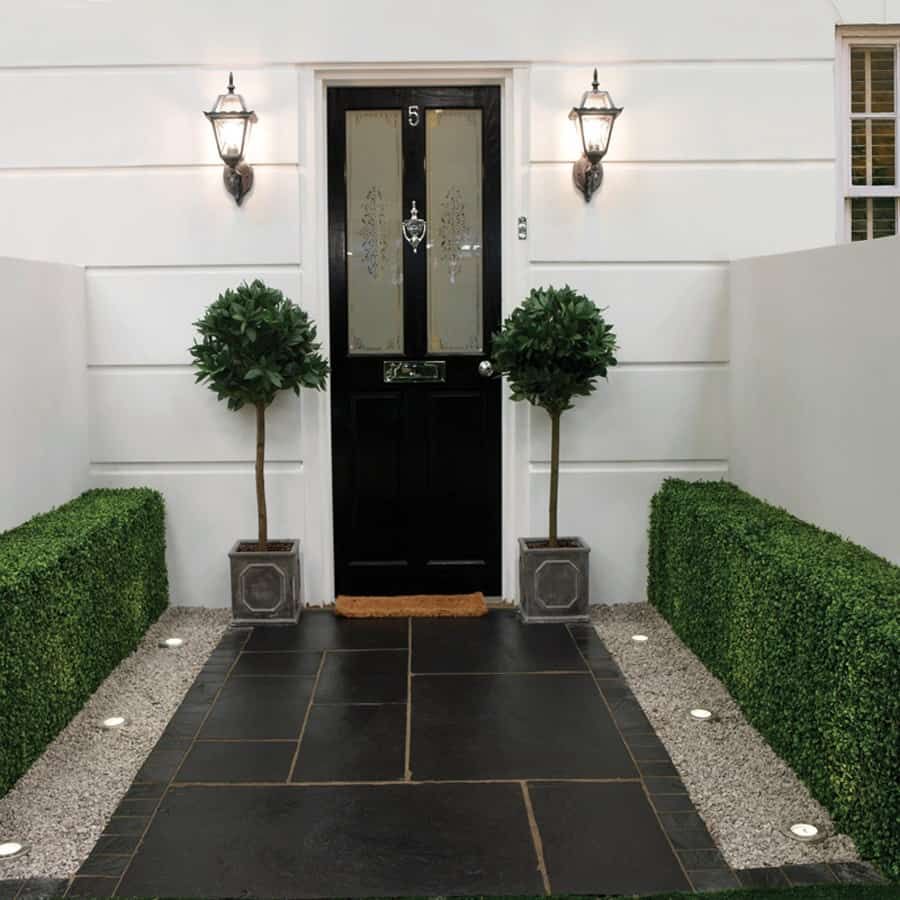 This is one of the most low-maintenance front garden ideas out there – once complete, this garden won't need any time spent on it.
It's a particularly useful option for small front gardens, but is also a technique that could be incorporated as part of a larger space. Create a pathway with dark paving stones of varying sizes to create a contemporary, modern look. Gravel borders, with solar powered lighting and artificial hedges all look stylish whilst keeping maintenance down.
Framing the doorway with two matching trees is the centrepiece here, and don't forget the matching dual lamps to keep the balanced effect.
9. Be Creative with Borders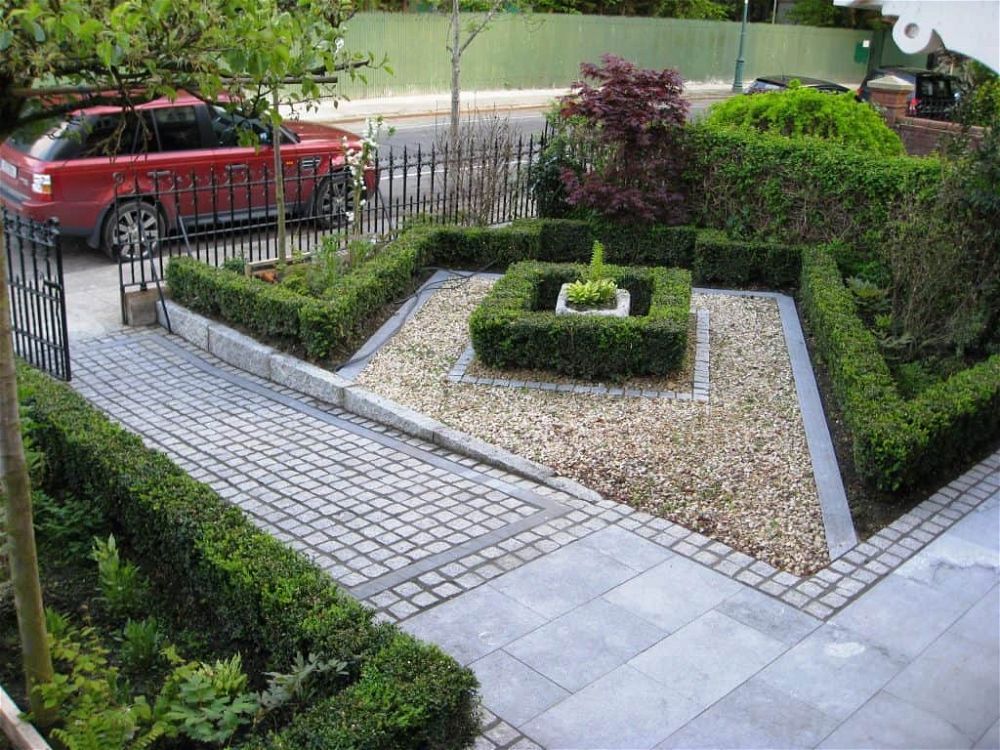 If you have a large space, get creative with angled planting. In the garden above, the 45 degree turn on the box and gravel design is striking and modern. It pairs well with the small brickwork pathway in a contrasting colour. If you don't fancy clipping hedges you could use artificial plants, but it will help to include a few real trees to provide some levels and height.
READ NEXT: The Fastest Growing Trees to Add Privacy to Your Garden
10. Build a Zig-Zag Path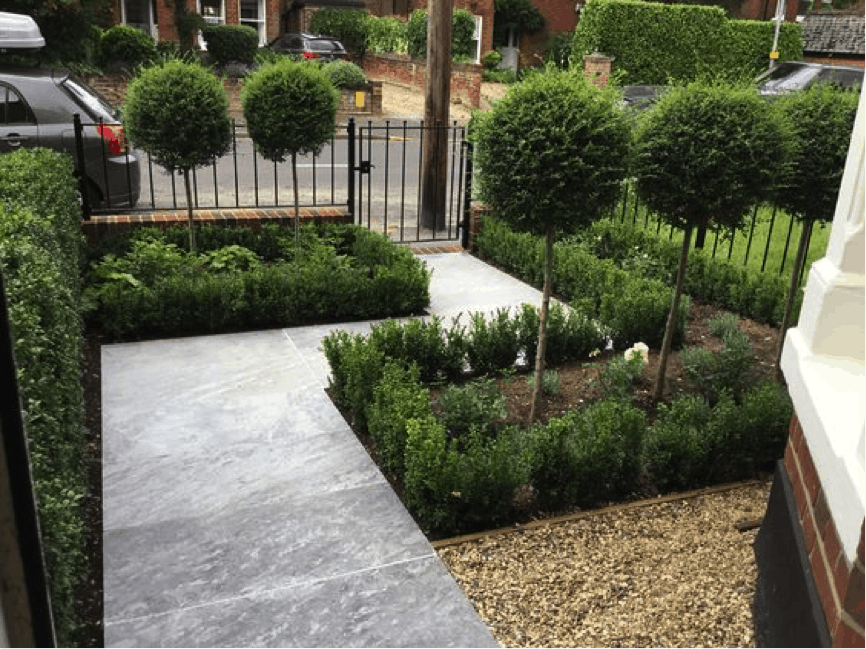 Many garden ideas often employ clever tactics to create the illusion of a larger space. A zig-zag garden path is no different – it can help the garden feel longer because the pathway covers more ground than it would if it were simply a direct route to the door.
The smooth grey tiles are modern and the paired standard box trees look like sentries to your own palace. Edge them out with matching box hedging and line your plot with a large hedge to pull the greenery together.
READ NEXT: When to Prune Box Hedges
11. Maintain Spherical Shrubs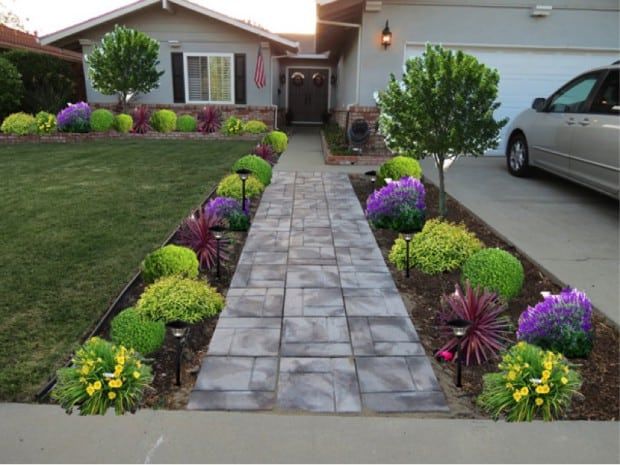 If you have a large front garden, it can get pretty expensive buying lots of plants to fill it. Instead, take inspiration from these useful front garden ideas – keep a large lawn neatly trimmed and create a multi coloured walkway to your front door with solar lights, green box balls, purple lavender and red toned yucca.
Space out two trees for height. Low cost, high impact!
12. Design a Front Patio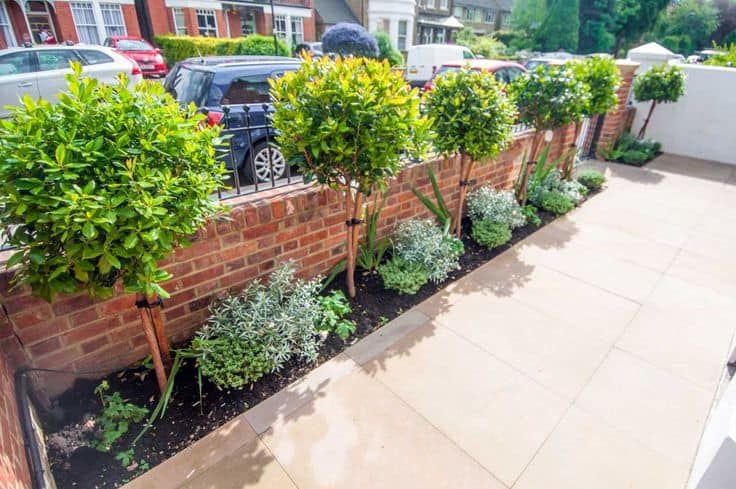 If you don't want to worry about a lot of maintenance, but still want some space for planting in your front garden, one of the best garden ideas is to pave the majority of the space but leave a narrow flower bed free. You can see from the garden above that even a little space can make a big impression.
The skinny border holds six lollipop trees and still leaves room for underplanting with bulbs and herbs. Choose large pale toned paving slabs to create the impression of a larger space, and top a brick wall with iron railings to let in lots of light.
13. Frame Trees Against Light Walls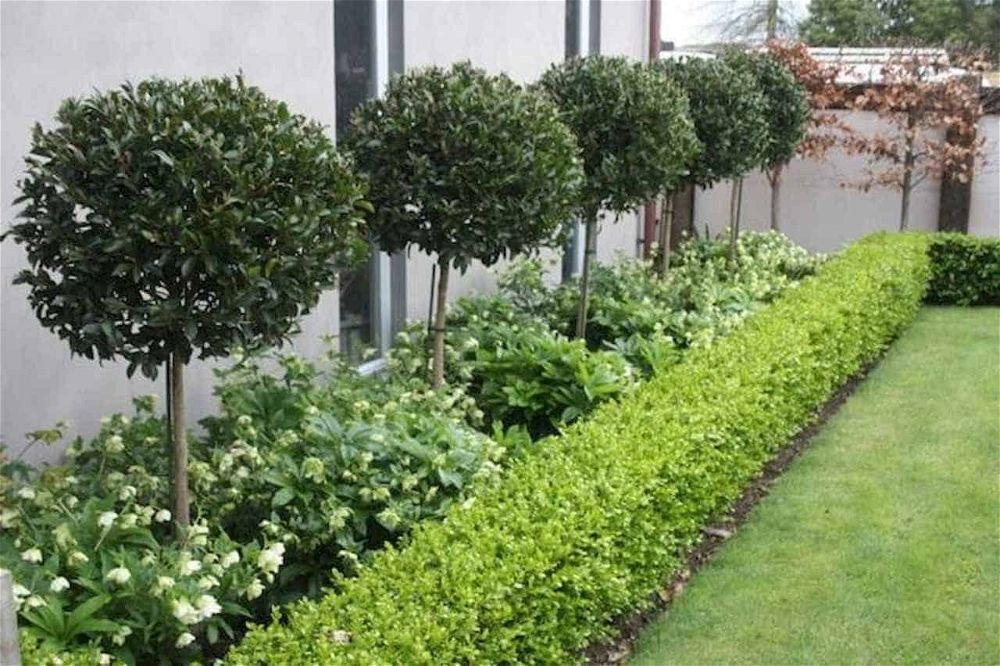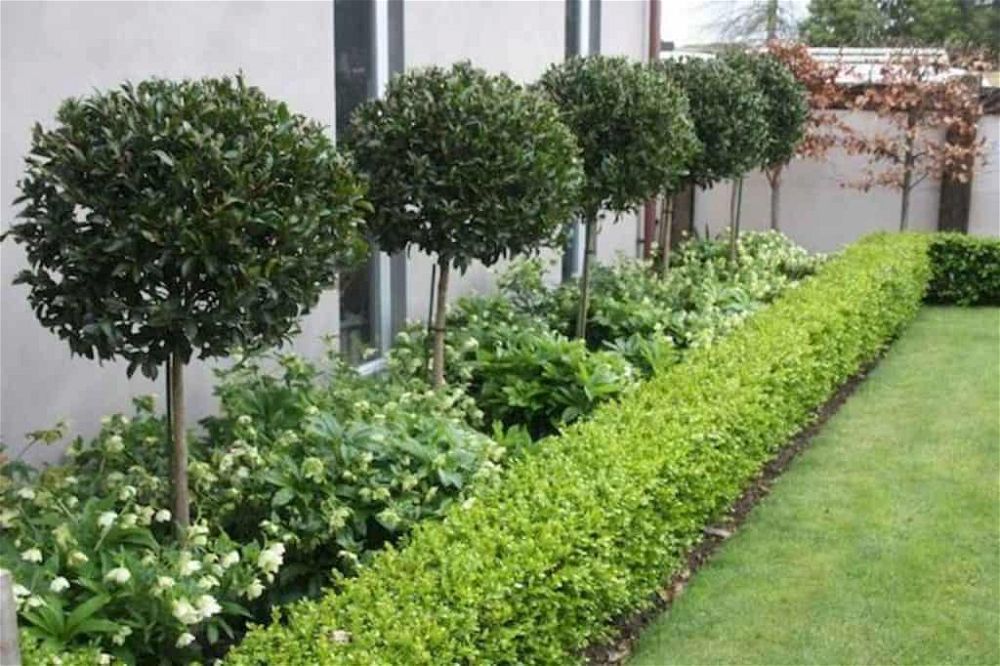 If you have plenty of time to cut back and trim your garden, choose standard lollipop trees such as bay or holly and line them up against a white wall for inspection.
In the garden above, they've implemented some additional garden ideas worth considering – underplanting the lollipop trees with white hellebore for winter flowering and protecting the planting with a sturdy low hedge line of box or yew.
If you're not against spending the time doing some pruning, this is a striking front garden option.
14. Include Curved Borders and Planters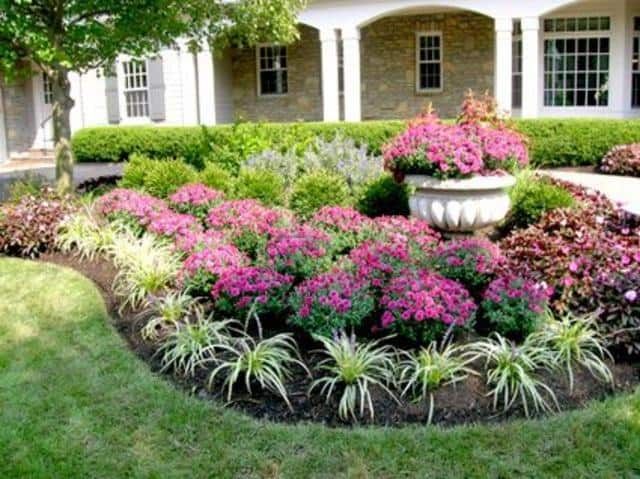 If you're not a fan of straight lines but love curves and colour then take inspiration from the front garden ideas featured above. Create a bubble border and fill it with a riot of your favourite blooms such as everlasting geranium, but make sure you also pop in some evergreens for winter structure like these yuccas and box topiary. A planter gives some height to this striking display of modern and traditional planting.
15. Choose Consistency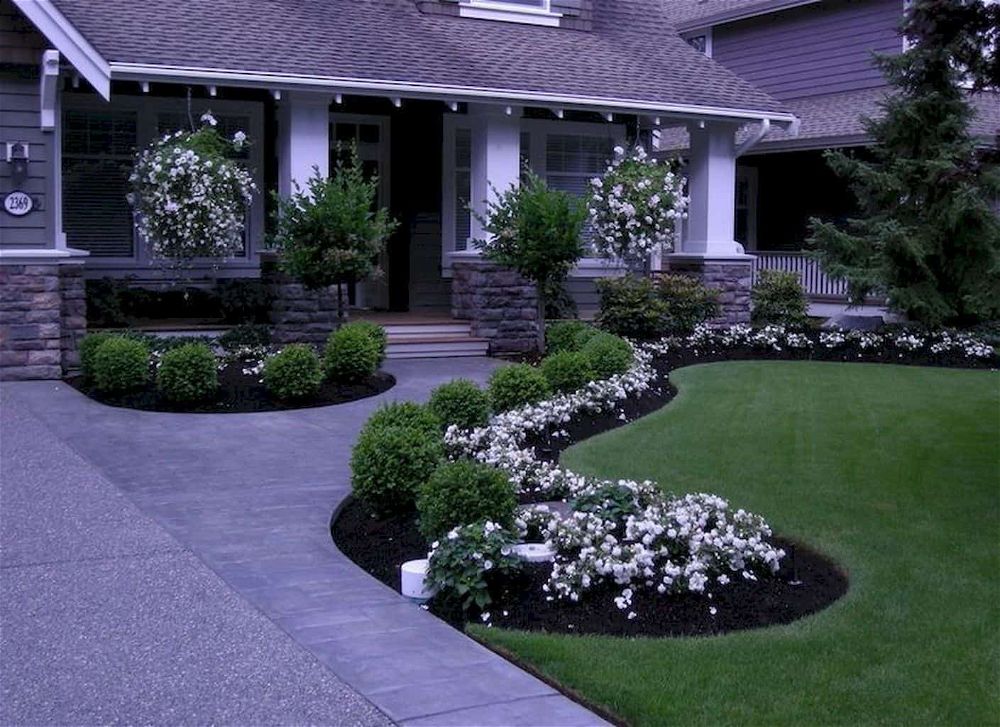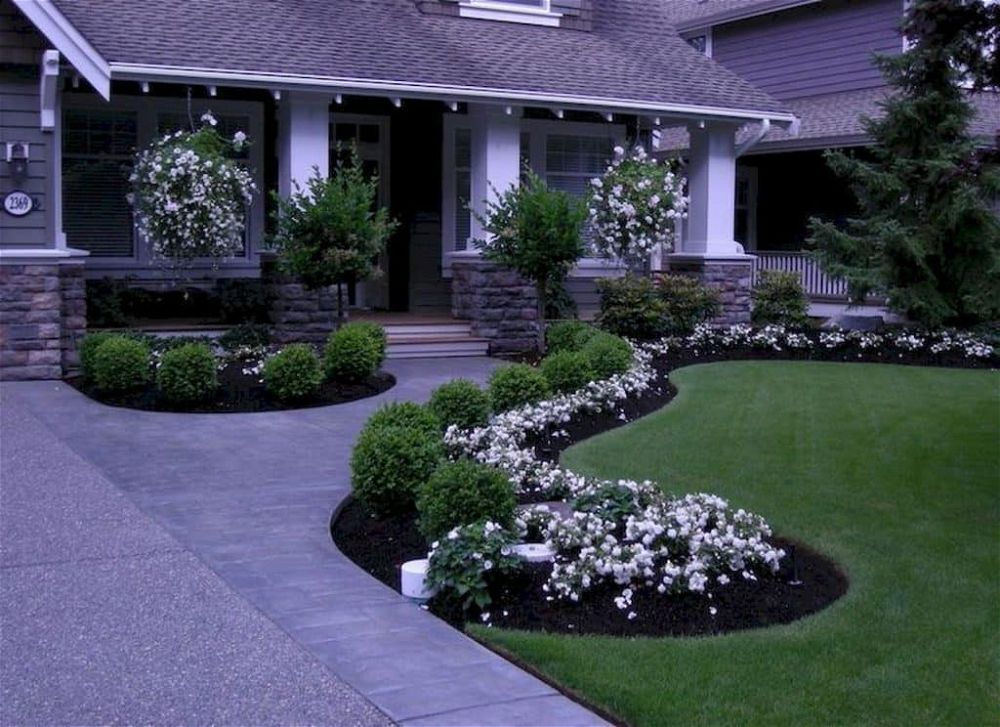 When it comes to choosing between different front garden ideas, one thing that comes up time and again is sticking to a colour scheme. The easiest way to do this is to choose just one colour to repeat through your design. Create rounded borders along your pathway, plant a back bone of evergreen balls like yew or box and run alongside it with your favourite flowering plant. As you approach the front door the level rises with trees and hanging baskets that match the border plants.
16. Include a Water Feature in Small Spaces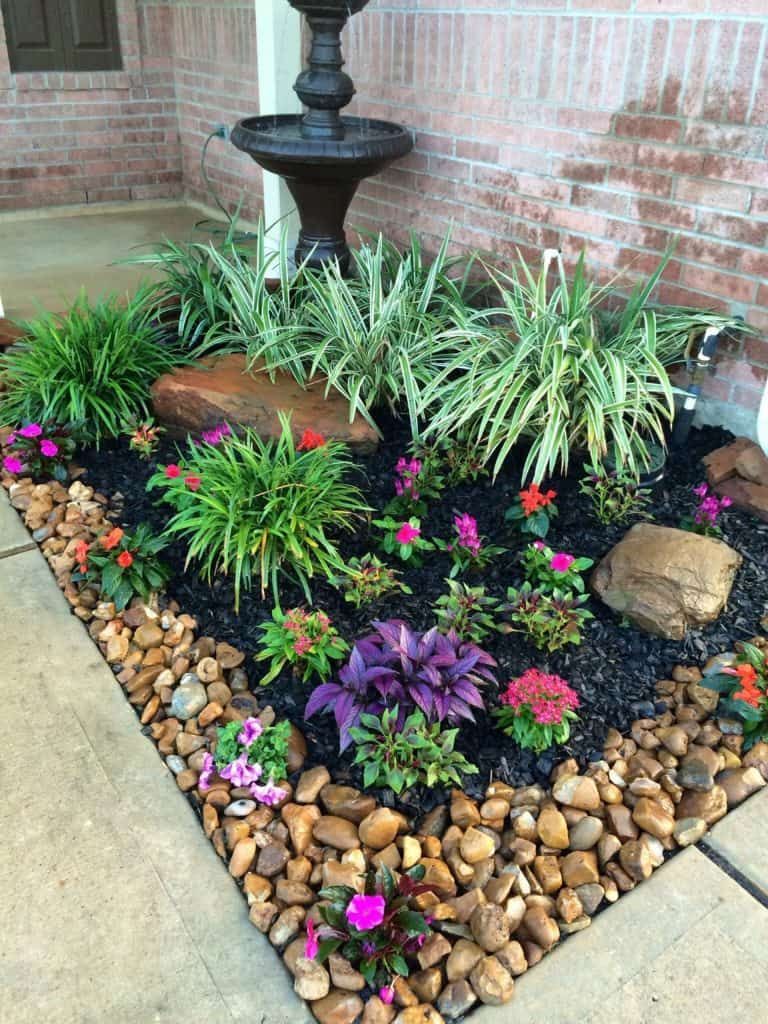 Don't think that you can't have a striking front garden just because you have a small space. There are plenty of small front garden ideas to take inspiration from. For example, installing a water feature in a border is just one way to elevate the space – it creates movement, sound, and a haven for wildlife all in one.
Place the water feature near the back of the border so you can admire the planting first. The small garden above provides a plethora of ideas – large rocks create the backbone with evergreen strappy grasses and a pop of busy lizzies and snapdragons for colour. Edge the garden with loose pebbles and wood chippings over the soil to protect it from next door's cat.
READ NEXT: Plants That Repel Cats From Your Garden
17. Use Mirror Planting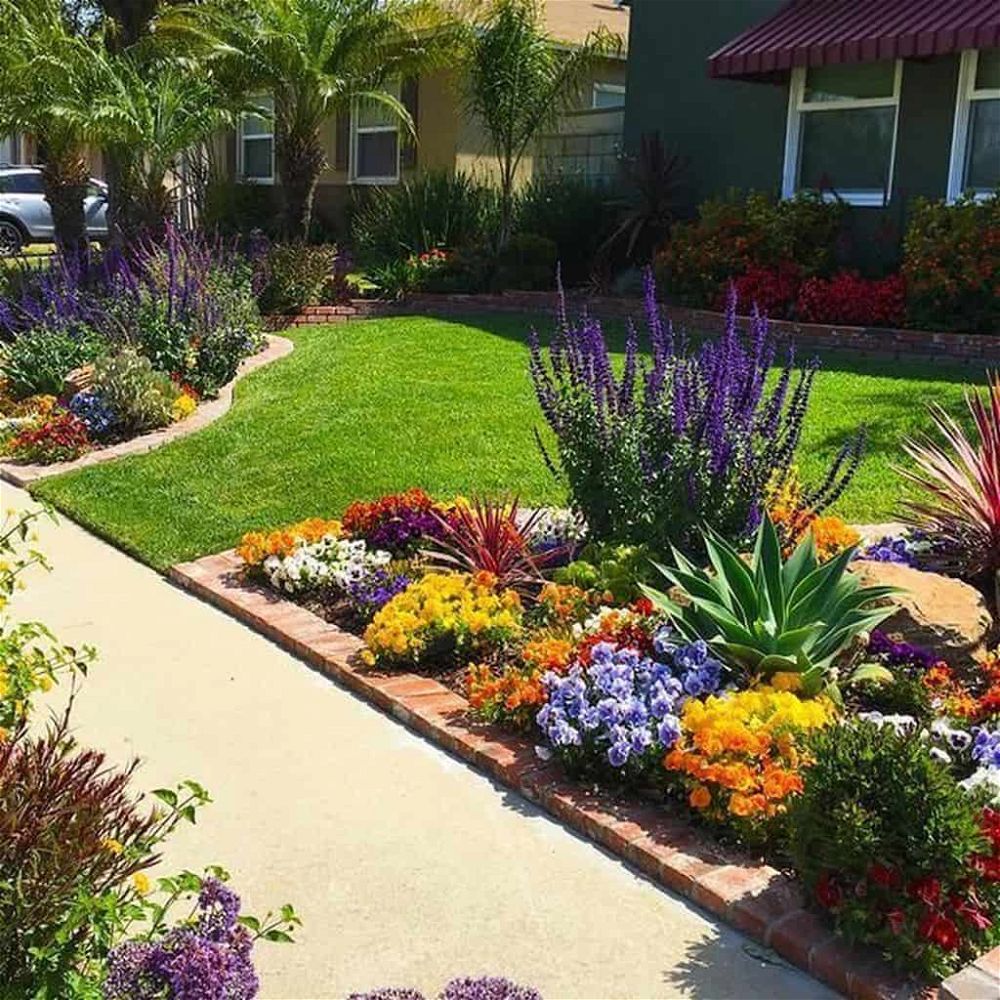 There are front garden ideas that are based on specific principles and rules, and the 'mirror' effect is one of them. Cut your space in half right down the middle and mirror plant on either side. This will easily help to create a sense of cohesion across a large space.
In the garden above, a curved border edged in traditional red bricks marks out stunning flower borders packed with colour from salvias, yucca and pansies for a bright and beautiful display that can be changed every year.
18. Create a Centrepiece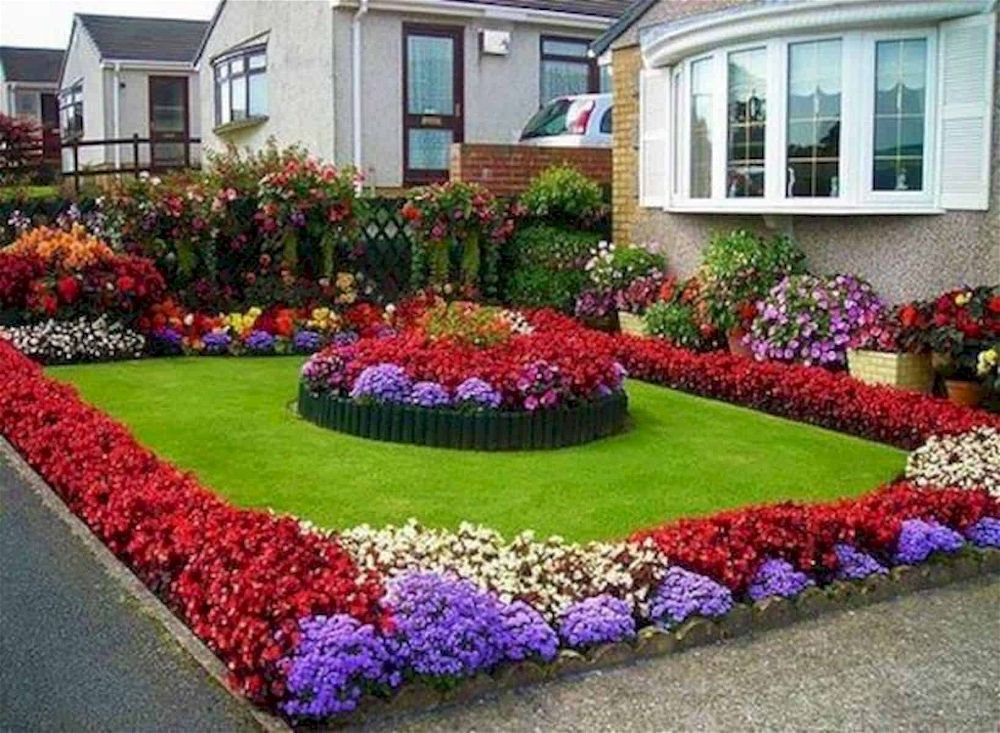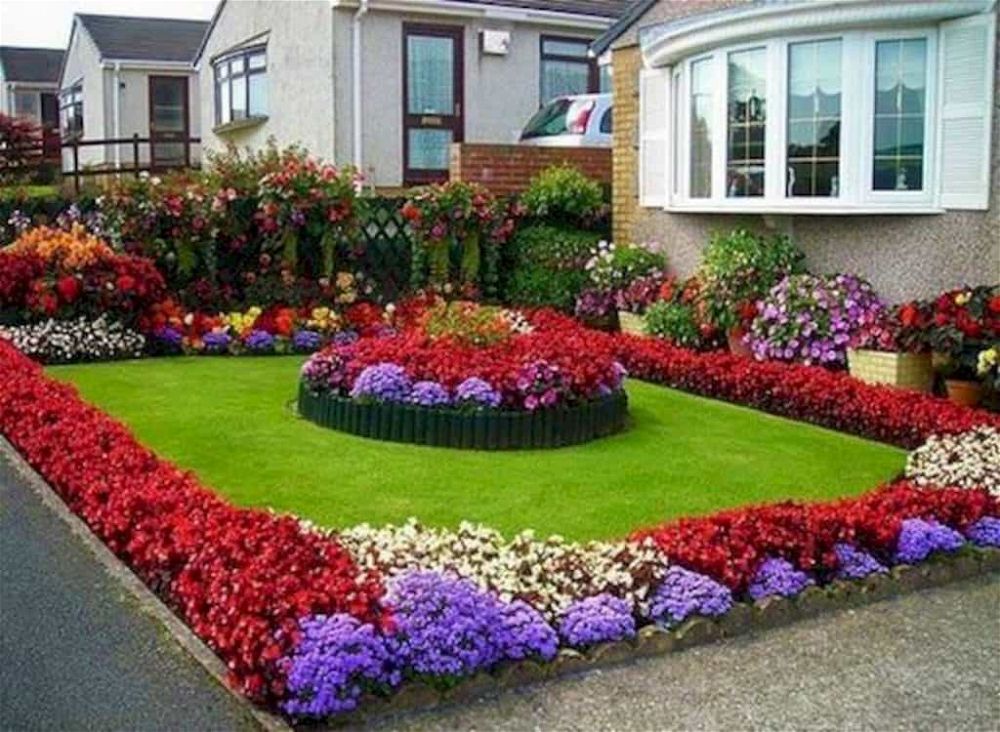 Creating a raised centrepiece can really boost your garden appeal. Fill a wooden edged centre circle with bright asters, pansies and fuchsia, then bring it all together with matching borders. Complete the 'full-to-the-brim' look by filling your fences with hanging baskets of trailing lobelia, and begonias and geraniums.
19. Go Low Maintenance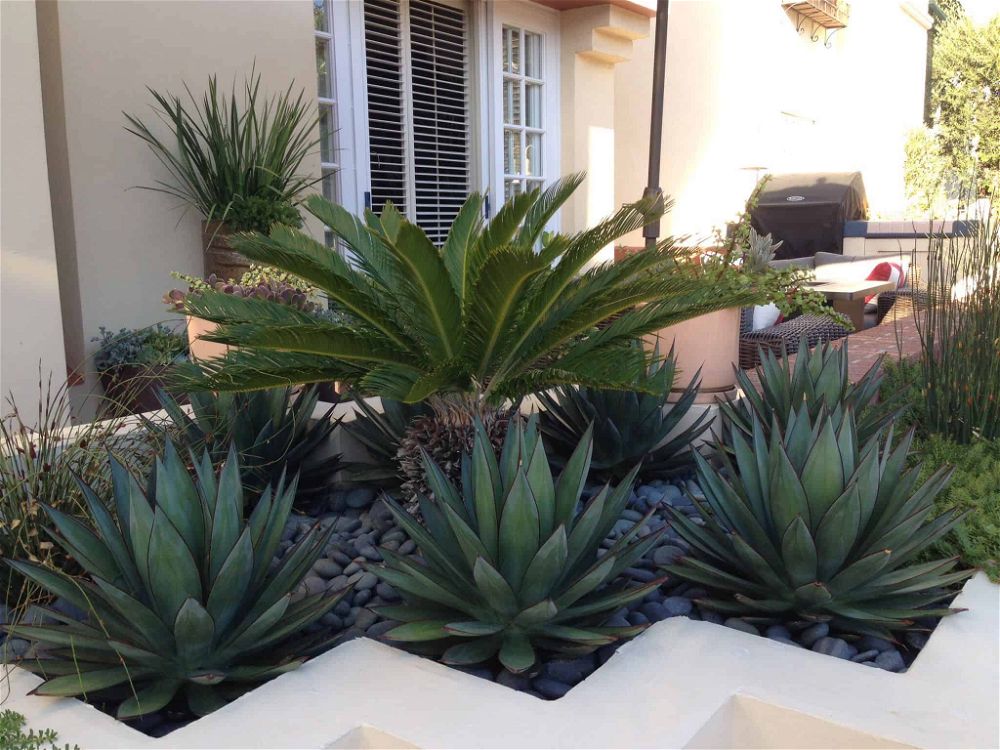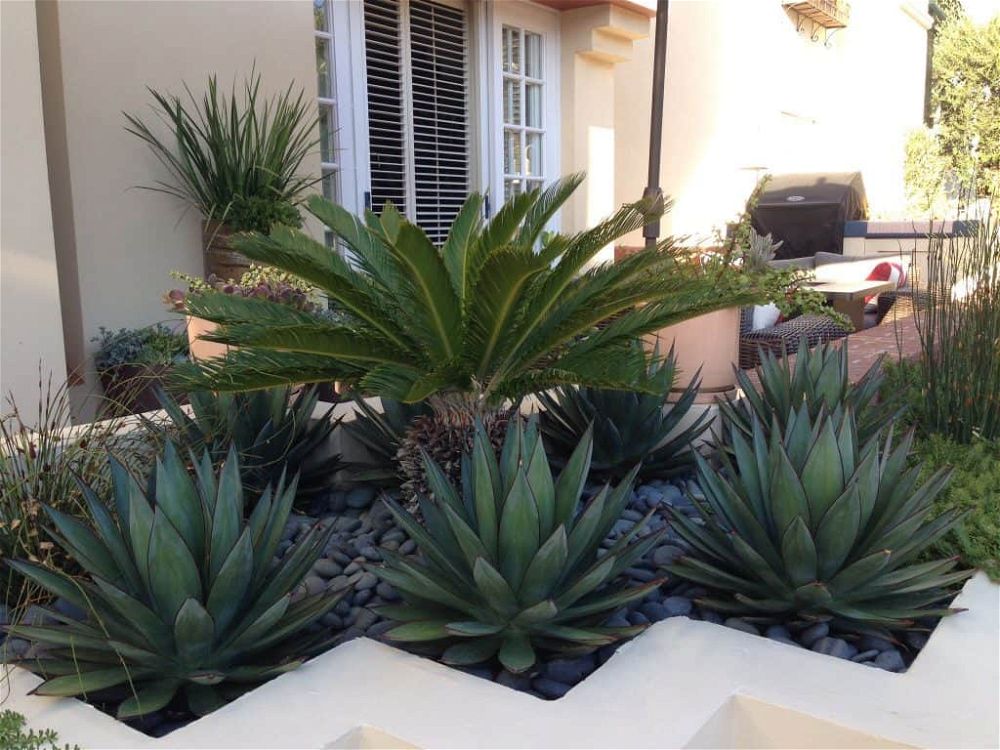 The ultimate low maintenance power couple are evergreen succulents and coloured gravel! Filling a small border with large plants tricks the eye into seeing a bigger space. Here a textured fern behind stiff leaved succulents brings height, and coloured stones keep weeds and cats at bay. Some floaty perennial grasses soften the edges – this is clever planting that won't need your attention.
20. Invite a Tropical Feel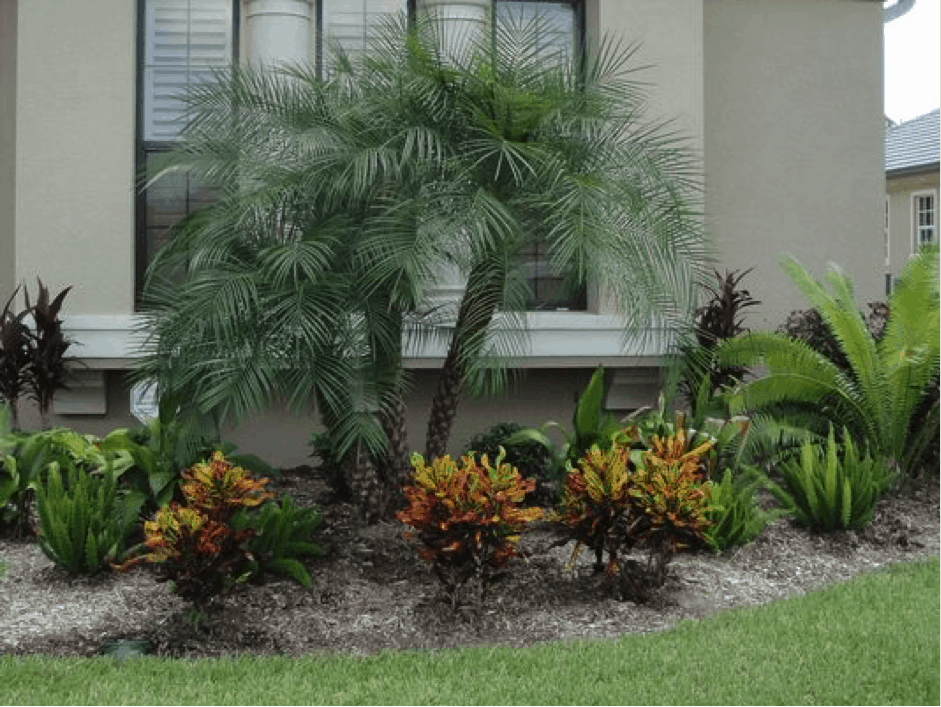 A tropical look can work well but it may struggle in northern climates. Here a large palm is surrounded by ferns and evergreens and mulched with pale chopped bark or pale stone. It brings relaxing memories of holidays and is incredibly low maintenance.
21. Layer Up Stones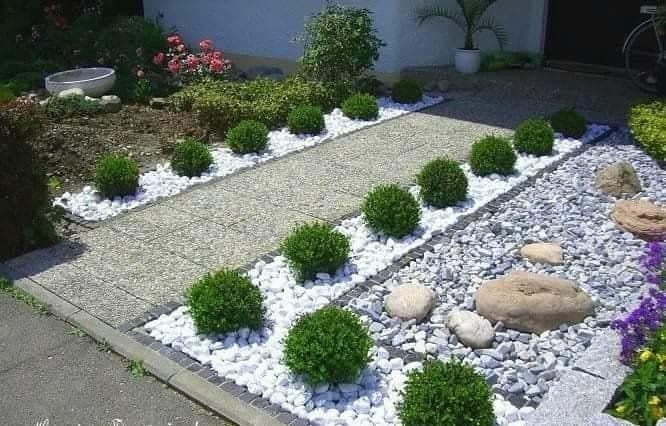 If you have a killer thumb, lines and structure can make a front garden appealing, so try laying a smart pathway and edging it out with bright white stone. A slightly darker stone centrepiece highlights the contrast and makes these tough evergreen box plants pop out. This clean and bright maintenance free line up escorts you to the front door with pleasure.
22. Install a Smart Fence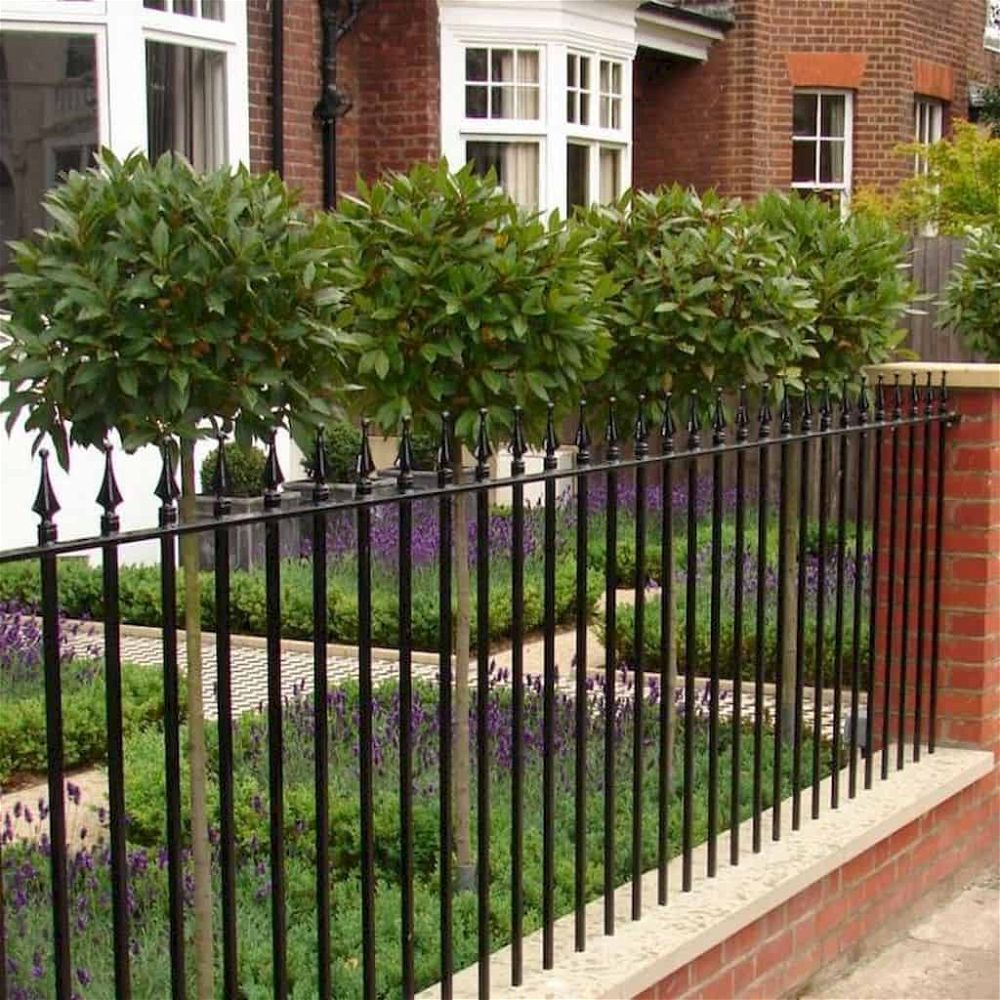 A classy wrought iron fence is a beautiful alternative to a wooden panel and it means passers-by can admire your exquisite taste Here standard bay trees let in light but create some privacy, and a simple crossroad pathway is infilled with large fragrant lavender that's boxed off with well, box! Use yew if box blight is an issue in your area.
READ NEXT: Unique Garden Path Ideas
23. Landscape the Space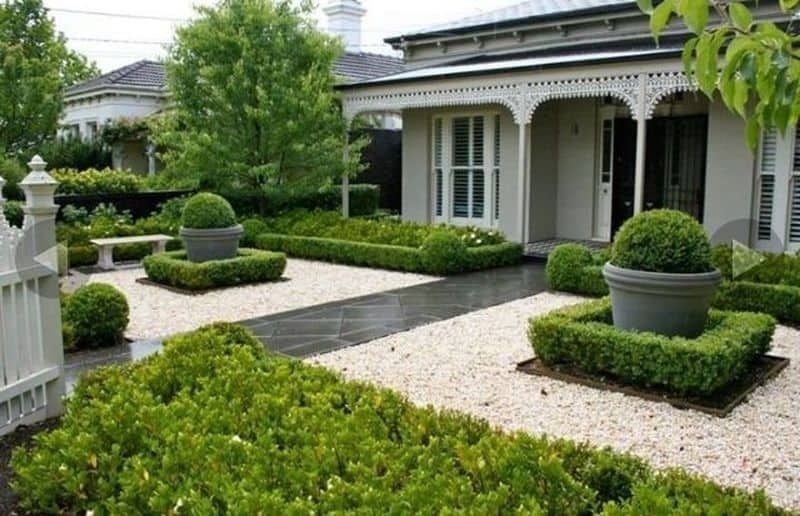 Clean, green and maintenance free, this front garden is large but the simple mirror image structure balances it out. Two mirror image planters contain evergreen box and are edged with more box for continuity. The lawn has been replaced with a bright clean stone and the modern grey pathway neatly divided it into two halves. Why not add a garden bench so you can admire your hard work!
24. Use Identical Planters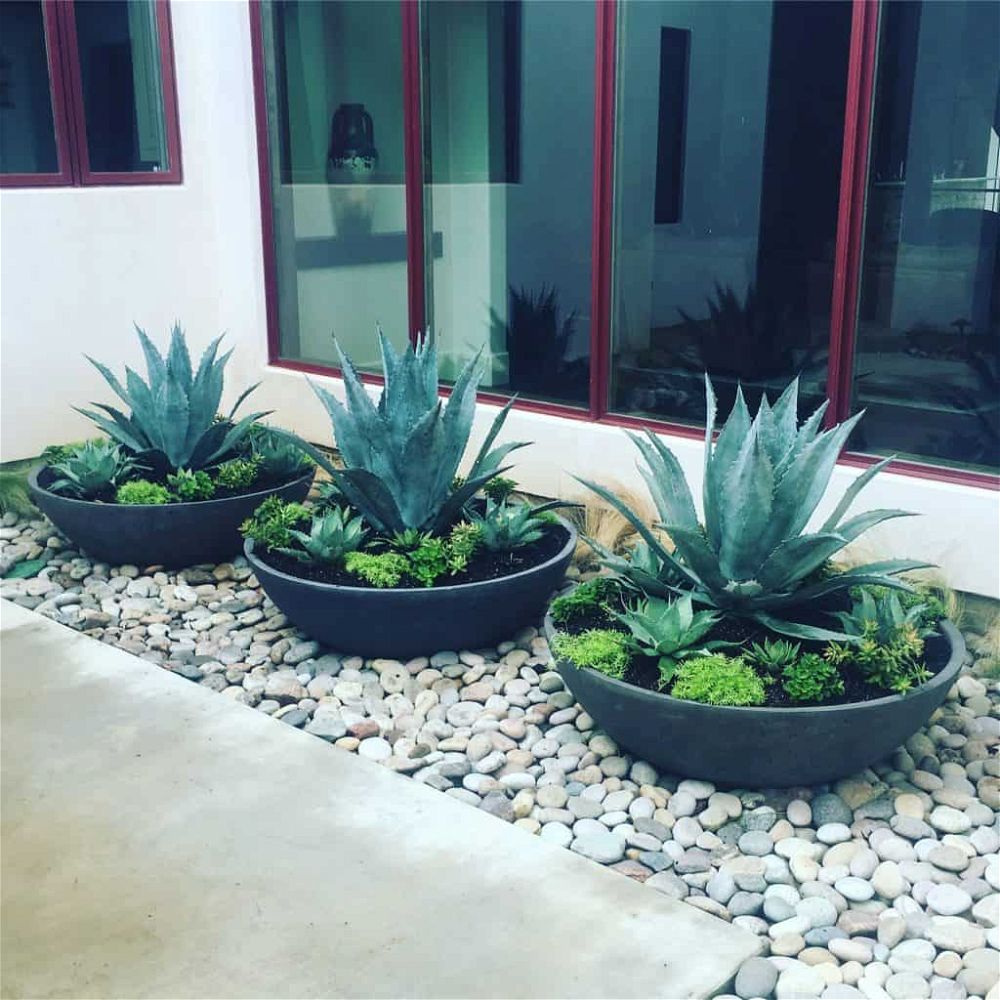 Simple but effective, these three large saucer planters on a pebble border are filled with a variety of green toned succulents. They allow lots of light through the window and won't require replanting next year if the drainage is adequate – result!
25. Select Mediterranean Plants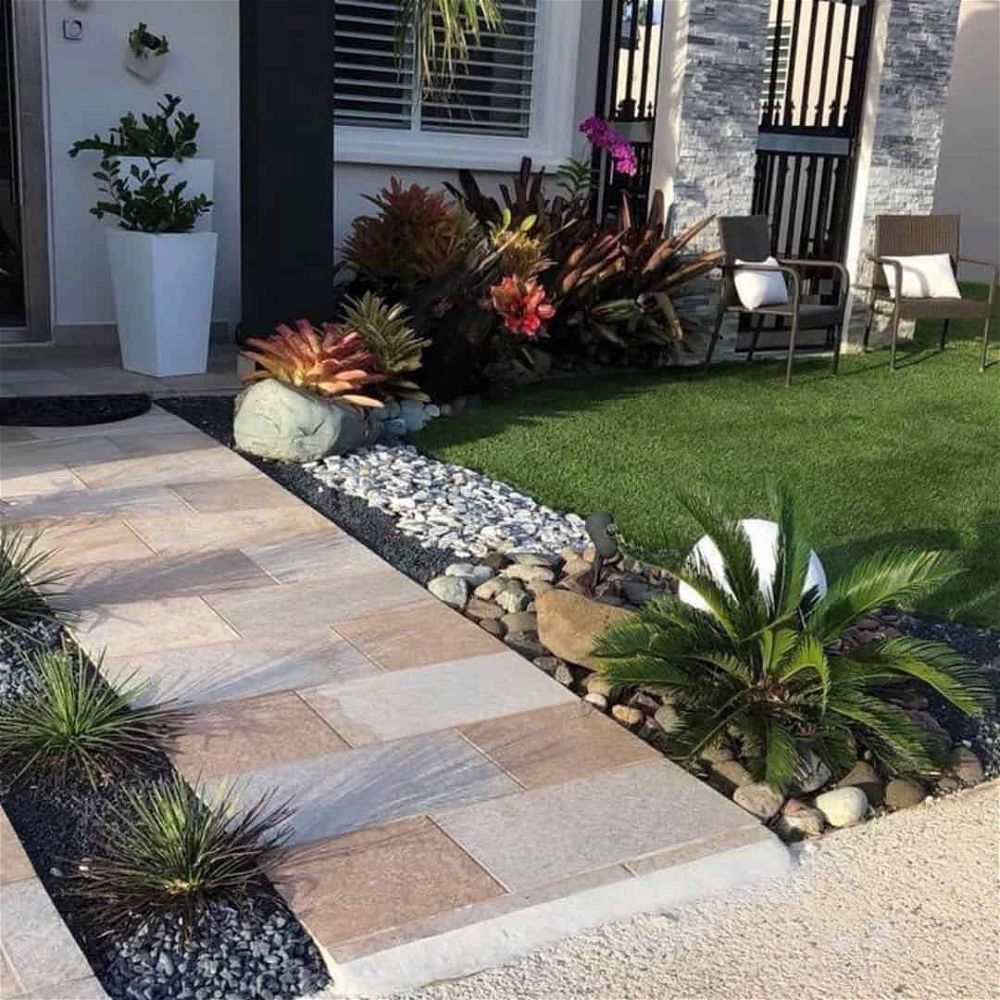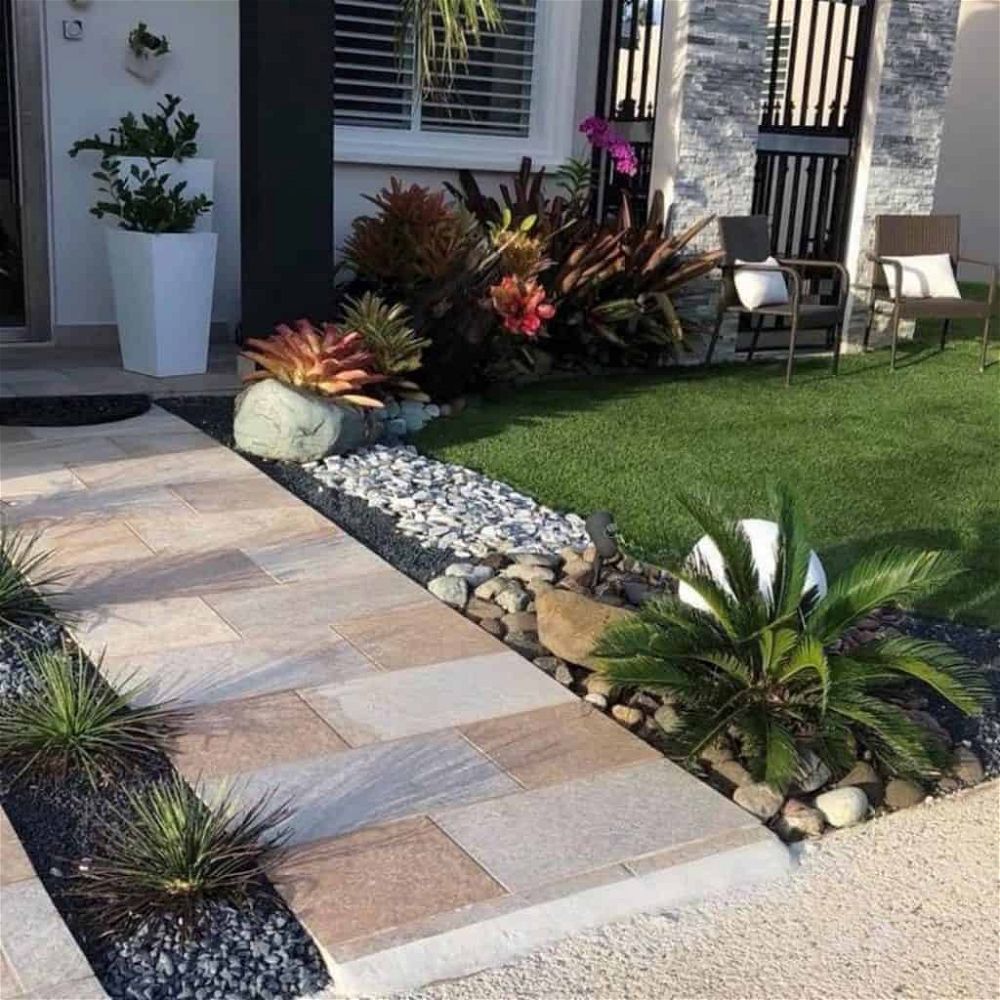 Contrasting slabs brings interest to a pared back planting scheme. To get the look create your path with different coloured and sized paving slabs, then dig a wide border for a couple of drought tolerant Mediterranean plants. Fill gaps with grey and white stone, then add some artificial turf to keep mowing to a minimum. A bright white container near the front door adds some height.
READ NEXT: The Benefits of Artificial Grass
26. Build Raised Planters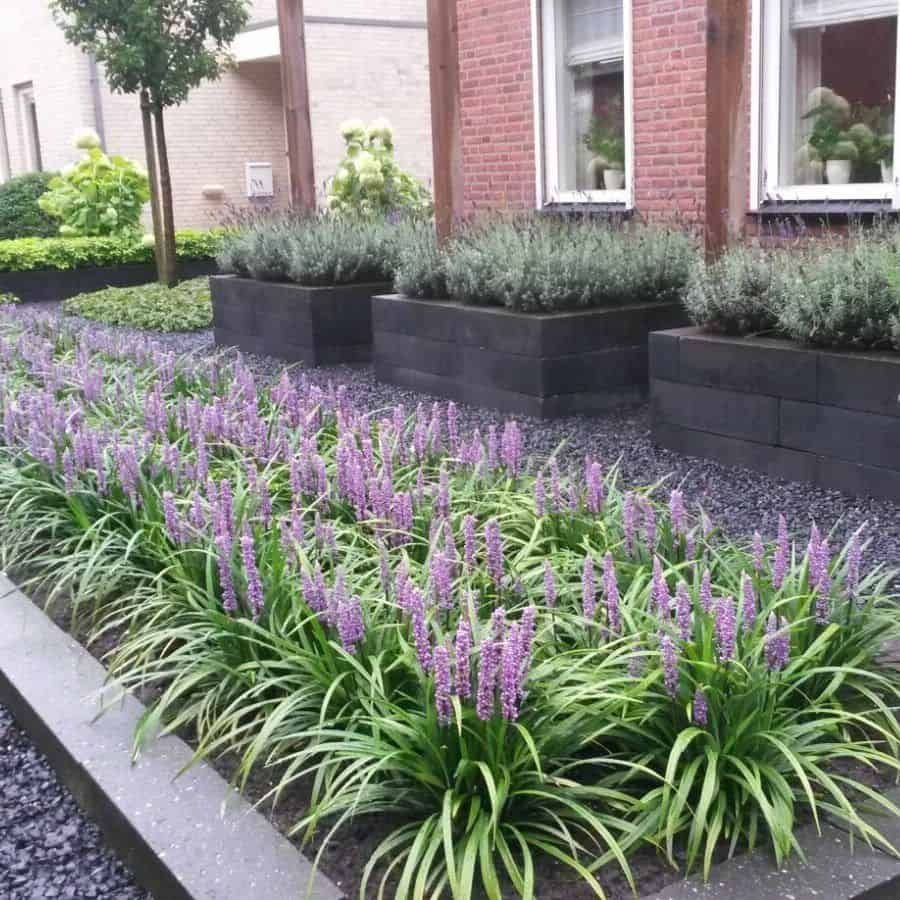 If you like a regimented front garden that's tightly under control, section it up. Here a strip along the front is filled with purple muscari and the under-window space holds three raised beds stuffed with fragrant bee-loving lavender. Away from the window a tree gives height. Coloured gravel cuts out mowing and don't forget to pop some indoor plants on your window sill to keep the theme going.
27. Decorate Driveways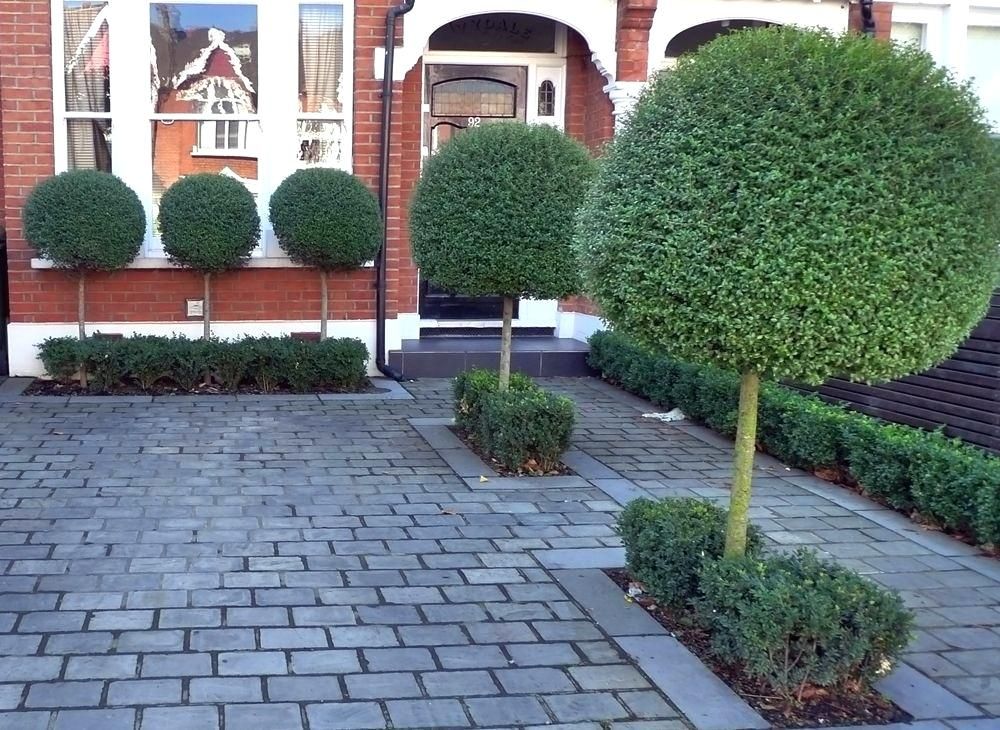 Garden-phobes will love this no maintenance front garden. Choose a paving stone that contrasts with your house bricks and build in a planting area to separate your car parking space from the pathway. Standard lollipop evergreens like holly, box or bay create continuity and smartness without the hard work.
28. Welcome Wildlife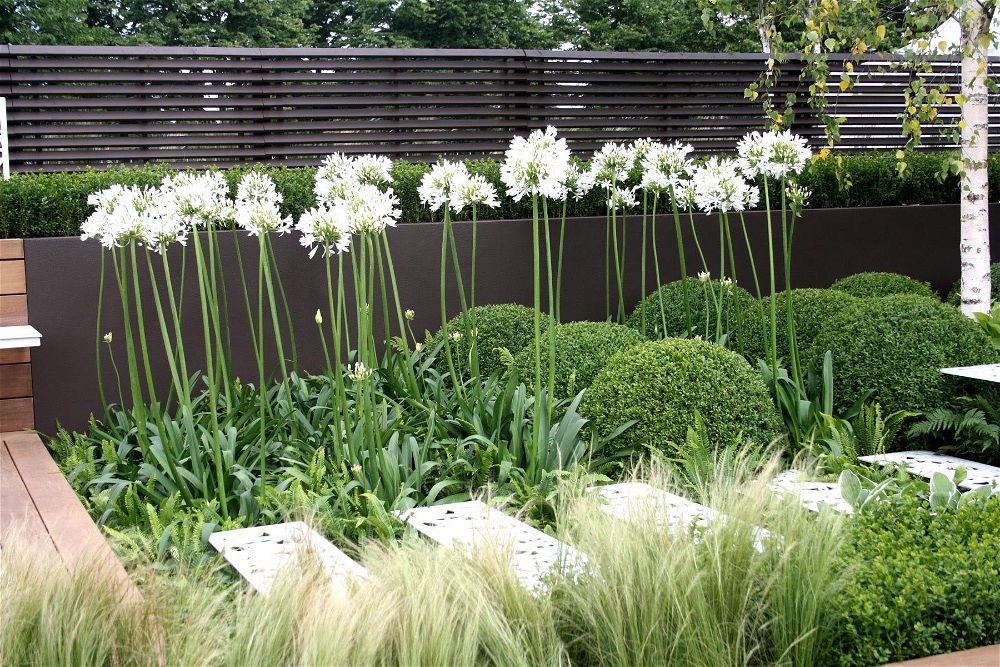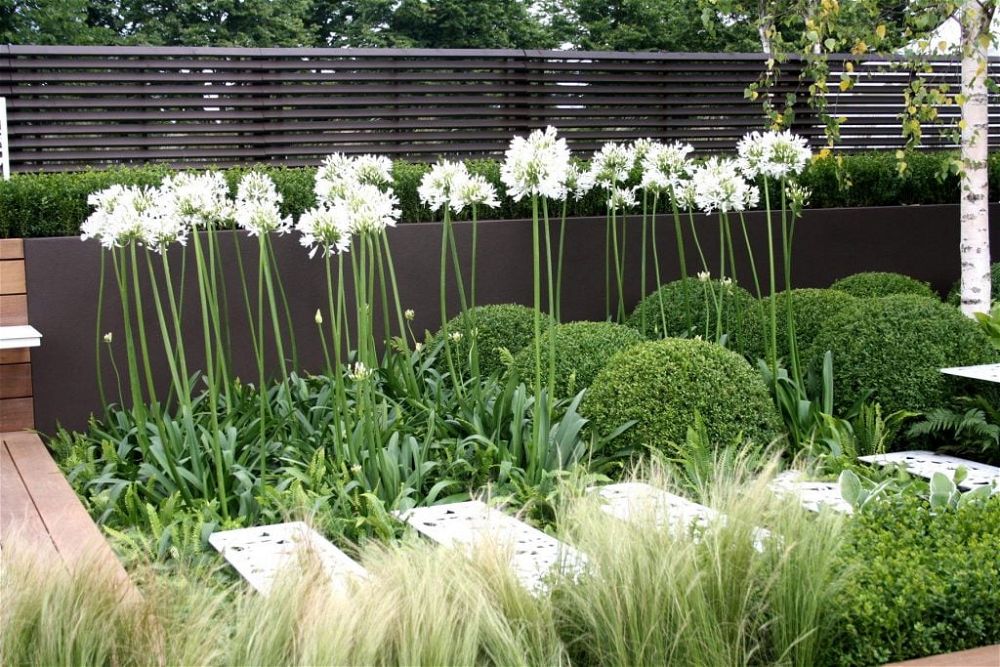 This white-themed front space is filled with structural box balls, wispy waving perennial grass, tall white agapanthus, and a silver birch for height and interest. Add some white stepping stones for access. This is a wildlife friendly front garden that will require effort, but it's certainly worth it.
29. Keep Tones Light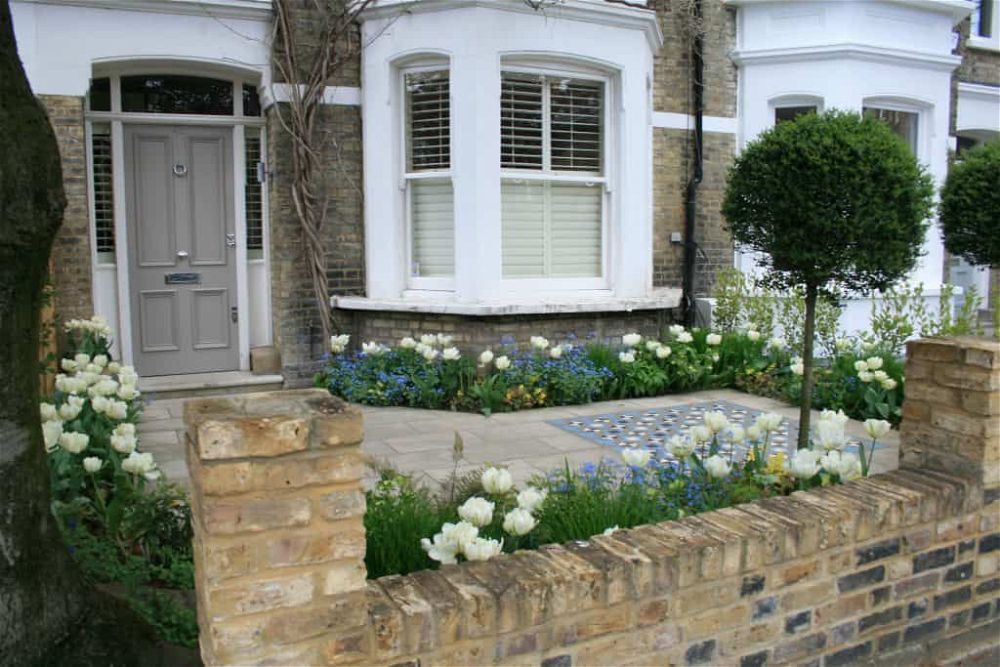 A traditional cottage garden is always popular and this one ticks the boxes. A pale grey paving stone and matching front door sets off a blue and white mosaic with white tulips and blue forget-me-knots framing the borders. A zigzag path reaches the door eventually but gives time to soak up the fragrance and atmosphere. For all important height add evergreen box and a window-hugging wisteria.
30. Make it Modern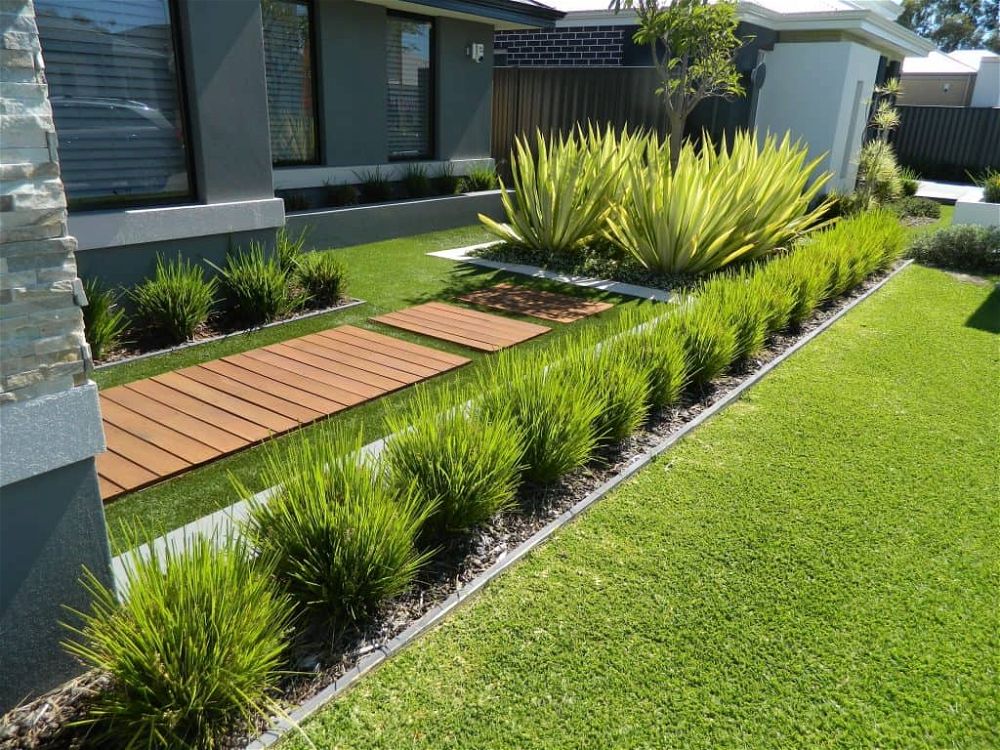 If you have a large front space a focal point is important. This one is interestingly off centre, filled with a single tree and large evergreen yucca. A regimental line of evergreens surrounded with bark chippings draw the eye along the property, and its repeated for continuity alongside the house wall. The lawn is kept short and neat and warm nut-brown decking breaks up all the green.
Where to Go Next…
Make sure you visit our huge Garden Design section for loads more great ideas for your outdoor space!