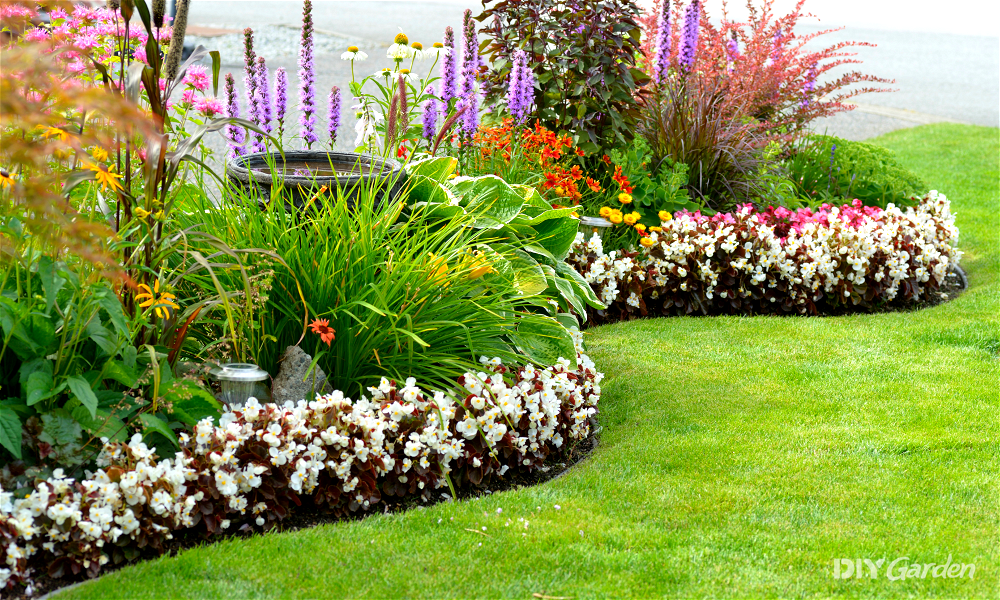 If you're looking for something a bit more inspiring than a traditional grass verge, you've come to the right place! I've researched and compiled my absolute favourite garden edging and border ideas – several of which I've created in my own garden. From low maintenance brick edging, to modern pebbled lines; there's definitely something here to suit your budget and taste…
---
My Favourite Garden Border & Edging Ideas
1. Utilise Leftover Breeze Blocks
View this post on Instagram
Garden border ideas don't have to be complicated: leftover breeze blocks are ideal for creating a garden border that will hem in raised flower beds.
2. Raise Beds with Corten Steel
View this post on Instagram
This garden border idea turns borders into a striking visual visual feature. The warm colour of corten steel creates a rustic feel and it tends to look even better with wear.
3. Utilise Curved Edges
View this post on Instagram
Rebel against the formality of straight lines by embracing curved edges. A perfect border option for small gardens, curved edges create a sense of movement, producing a soft and flowing aesthetic.
READ NEXT: How to Create a Garden Border
4. Keep Edging Minimal
View this post on Instagram
Create a subtle boundary by investing in some invisible edging pieces. This is one of the best garden border ideas for reinforcing a border without changing its appearance; it'll help keep borders low maintenance, too.
5. Add Dimension with Pebbles
Pebbles can be used to add interest to garden borders anywhere in your outdoor space. This stunning garden border idea is both easy to achieve and fantastically low maintenance. Grab some pebbles here!
6. Use Rope Fencing
View this post on Instagram
If you want to fence off an area of your garden but you're not keen on harsh structures, opt for rope fencing. This gives the illusion of separation without breaking the flow of the garden.
7. Go Rustic with Flat Logs
View this post on Instagram
Enjoy a magical woodland atmosphere with flat log edging along garden borders.
8. Decorate with Metal Fencing
View this post on Instagram
Decorative metal fencing is a great garden border idea for keeping children and dogs off flower beds. This low maintenance border will prevent little feet from trampling garden borders whilst adding a decorative feature.
READ NEXT: Creative Flower Bed Ideas
9. Repurpose Empty Wine Bottles
View this post on Instagram
Use empty wine bottles as edging. Simply dig a trench and bury the bottles as deep as you like. This is one of the best garden border ideas on a budget!
10. Line with Evergreen Herbs
View this post on Instagram

Line beds with evergreen shrubs and herbs. Rosemary, thyme and lavender are the most popular options, adding shape, fragrance and texture to your borders year-round. This is one of the best garden border ideas if you're a keen cook – you can have a continuous, fresh supply of herbs!
11. Decorate with Lava Pebbles
View this post on Instagram
Uniquely formed when hot lava meets the ocean, lava pebbles will add a sense of wonder to your garden borders! You can often pick these up from garden centres.
12. Use Contemporary Limestone
View this post on Instagram
Modern and stylish, limestone is a versatile edging material that looks very tidy. It's a great choice for gardeners looking to create a neat landscape with crisp garden borders.
13. Incorporate Antique Wheels
Make your garden border a focal point by creating a feature out of antique wheels.
14. Install a Mini Picket Fence
View this post on Instagram
Timeless and traditional, a white picket fence will beautifully frame your beds.
15. Combine Walls with Seating
View this post on Instagram
If you haven't got a lot of space in your garden, the best garden border ideas will have multi-functional purpose. An edging wall that doubles up as a seating bench helps highlight, enclose and protect your borders while simultaneously providing a place to sit!
16. Design a Pebble Mosaic
View this post on Instagram
Pebble mosaics are incredibly eye-catching. Either go all-out and lay one across your entire path as pictured above, or simply use the technique to liven up edges.
17. Use Concrete for Industrial Chic
Create a contemporary garden by using concrete to edge a new border. Contrast the colour with a luscious green planting scheme. Concrete gives a structured feel whilst forming and incredibly low-maintenance border.
18. Welcome Sustainability with Coir Rope
Coir rope can be used to create curves in any size you like, as well as straight edges. Coir is biodegradable and can even help to repel slugs!
19. Embrace the Seaside with Shells
View this post on Instagram
Using large seashells to line your borders is a great way to add a nautical touch to your garden. For this garden design you can purchase them online, or hit the beaches to find some yourself!
20. Use Terracotta for an Earthy Aesthetic
View this post on Instagram
Earthy and rustic, terracotta looks great in any outdoor space. This Victorian rope terracotta edging brings a formal look to beds and borders. Pair it with prairie style planting (think: ornamental grasses and flowering perennials) for visually stunning borders.
21. Vary Height to Add Interest
View this post on Instagram
This border design cuts a surprising and modern aesthetic. Plus, you can mirror the tiered edges with your planting scheme, by varying the height of your plants, to add levels of visual interest to the garden.
22. Define Flower Beds with Bamboo
View this post on Instagram
Bamboo is one of the best garden border ideas if you want something that look good and is highly renewable. It can be installed vertically following any straight or curved border.
23. Use Woven Sticks for a Rustic Look
Take a trip back to Mediaeval Britain by getting to grips with stick weaving! Bringing a rustic but infinitely stylish look to your garden, this is one of the more eco-friendly and affordable edging ideas.
24. Create Waves with Sandstone Walls
Add movement to gardens with undulating curved sandstone walls. Vary the height of the walls to create waves that will open up your garden vertically.
25. Make a Creative Statement
View this post on Instagram
You don't have to be a professional garden designer to get creative with borders. If you want to make a real statement, why not see what you can salvage to use as edging! Old road signs have a real visual impact.
26. Utilise Corrugated Steel
View this post on Instagram
Show off your raised beds with corrugated steel. Designed to withstand the elements and add an industrial flair to your garden, this edging solution will do a great job protecting plants.
27. Choose Classic Brick Edging
View this post on Instagram
Although traditional, brick edging doesn't have to be boring. Concentrate on aligning your bricks perfectly as this will give your borders a professional finish.
28. Build Beds with Wooden Panels
View this post on Instagram
If you love clean, crisp lines, wooden block panels are a fantastic choice. Use to build neat, raised flowerbeds in your garden, or to separate your lawn from the patio area as pictured above.
29. Upcycle Wooden Pallets
View this post on Instagram
There's seemingly no limit to the versatility of wooden pallets! Good for the environment and great for your garden, pallets can be painted in your favourite colour and used to protect your beds.
30. Weave Willow for Traditional Edging
View this post on Instagram
Rustic, durable and flexible, woven willow is one of the best edging ideas for traditional country gardens. Use it to enclose your fruit and vegetable patches, or simply as a charming garden border for your flower beds.
31. Recycle Rubber
View this post on Instagram
Save rubber from landfill by using recycled rubber to edge your garden. Stylish, eco-friendly and extremely long lasting, this is a great garden edging idea for anyone who wants to use reclaimed materials.
32. Add a Gabion Wall
View this post on Instagram
Clean and modern, a gabion rock wall can be used to line raised garden beds. To make a DIY gabion wall, you'll need concrete mesh, wire, and rocks in various shapes and sizes.
33. Edge with Large Rocks
Show off your raised beds with large rocks stacked on top of each other. The mis-match aesthetic brings its own unique charm. Edging your beds with rocks as pictured above will bring a magical woodland quality to your garden.
34. Illuminate Borders
View this post on Instagram
If you regularly use your garden after the sun goes down, one of the best garden border ideas will be to integrate lighting into your borders. For this border design, consider floor lights or solar-powered stakes.
35. Create a Kids' Area
View this post on Instagram
Don't forget to section off an area for the kids to play! Rubber or plastic tends to be the best edging material as it's durable and safe.
36. Mix and Match Ideas
Unleash your inner garden designer by mixing and matching different types of edging. Combining textures can create a contemporary garden design and bring a sense of individuality to garden borders. Evergreen grasses bring a fantastic feeling of modernity when combined with stone edging and pebbles.
37. Create Undulating Borders
Undulating borders can give a wave-like feel which can help open up the space in small gardens. Consider your planting scheme and use plants to enhance the undulating effect by allowing them to spill over the garden border edges.
38. Incorporate Solar Brick Lights
View this post on Instagram
Alternating traditional bricks with solar light bricks will give you a garden border that's sleek and understated during the day, but comes alive at night. You don't need many to make a real impact!
39. Grow an Evergreen Hedge
View this post on Instagram
For a seriously smart look, a perfectly manicured evergreen hedge will bring unrivalled structure to your garden. This is a great way to bring more greenery to your outdoor space; plus, evergreen shrubs grow well in partial shade and provide year-round interest.
40. Play with Orientation
View this post on Instagram

Go against the grain by opting for a classic edging material and putting your own spin on it. Pictured above, for instance, is traditional brick edging arranged in an unorthodox way. Dig a trench for the bricks then simply lay them against each other.
41. Edge Your Pond
View this post on Instagram
Thoughtful borders can make the world of difference to your pond. Mixing up textures and materials will help attract a variety of wildlife. Lay a brick border along one side and a loose rock arrangement along the other.
42. Use Large Timber Blocks
View this post on Instagram
For a welcome change to standard timber edging, use logs to define raised borders. Either vary the height for aesthetic interest, or keep the height uniform for a neater finish.
43. Protect Trees with Circular Edging
Protect your trees from mower damage and defend against weed growth with a tree ring. A low brick wall adds instant aesthetic appeal.
44. Go Contemporary with Light Colours
For a luxurious feel, opt for light coloured stones or bricks. These have a strong impact visually and will bring a contemporary flair to your garden.
For best results, design a planting plan where plants have coloured accents that match the brickwork.
45. Add Decorative Pebbles
View this post on Instagram
One of the most popular types of garden edging, pebbles are inexpensive, easy to come by and require little maintenance.
46. Use Concrete in Modern Gardens
Opt for large concrete planters in contemporary gardens. Concrete is weather-resistant, long lasting and provides a strong barrier against weeds. It can also look extremely modern when whitewashed.
47. Integrate a Small Water Feature
Whether it's a traditional pond or modern mini stream, a small water feature can create an attractive garden border.
48. Create a Rock Garden
Smaller courtyard gardens can benefit hugely from a rock garden. Instead of traditional beds and garden borders, create pathways using different size rocks and pebbles. Design a planting plan with alpine greenery for the full rockery experience!
49. Mark Pathways with Planters
View this post on Instagram
If you're lacking inspiration, why not mark garden pathways with planters? This is one of the best border ideas if you don't want to make permanent changes.
Opt for round, individual planters as pictured above, or go for large steel planters if you've got a bit more space.
50. Integrate Flower Beds into Decking
Add colour and character to your seating area by integrating flower beds into decking. Choose a spot in a sunny position and grow tall ornamental grasses and flowers to make a real statement.
51. Opt for a Stone Wall
View this post on Instagram
Traditional stone walls look beautiful in cottage-style gardens, combining well with native plants to create a low-maintenance planting style.
52. Revamp Borders with Eucalyptus
View this post on Instagram
Perfect for flower beds, tree rings, walkways and more, eucalyptus is easy to grow, low maintenance, and timelessly stylish. Follow any shape border with ease.
53. Section Seating Areas
It's not just your flower beds that can benefit from a garden border. Make your seating area stand out with pebbles and your choice of border, as pictured above.
54. Create a Living Border
Instead of traditional edging, separate your lawn from your pathways using a living border. Incorporate buxus balls into your border plan, as is the garden above, to create a smart and modern outdoor space.
55. Choose Geometric Paving Slabs
A dream for any modern garden designer: give your outdoor space an ultra-contemporary feel with some geometric paving slabs. An up-to-date, low maintenance way to create a dynamic walkway and garden border.
56. Create Zones with Subtle Borders
View this post on Instagram
It's not just your beds that can be separated using borders. Pictured above is a subtle paved garden border surrounding a seating area. Creating zones like this can help create structure in paved gardens.
57. Recycle Plastic
View this post on Instagram
After a low maintenance border? Plastic is one of the most affordable and low-maintenance edging materials. Opt for a continuous border made from recycled plastic, like the garden design above, or consider plastic cobblestones.
FAQs
How can I improve existing borders?
Planting bulbs that will add seasonal interest is a great way to make borders look better. Include plants that will flower in early spring and late winter (pansies flower November – March). Combine these with evergreen shrubs for a planting style that will make beautiful borders pop year round.
Where to Go Next…
Make sure you visit our huge Garden Design section for loads more great ideas for your outdoor space!