It's the subtle touches in your garden that make all the difference. So I've sourced 66 of the most creative garden edging ideas that will set your garden apart. Some of them are high-end and uber modern, others cheap and cheerful!
1) Breeze Block Garden Edging
Leftover breeze blocks are ideal for hemming in your raised flower beds. Once you have laid the pebbles or gravel for drainage, arrange your blocks as desired and cement together with a mortar mix. Fill the inside of the bed with compost or mulch from your garden shredder, and there you have it! Make a vibrant feature of your edging by planting the interior of the blocks with colour coordinated flowers.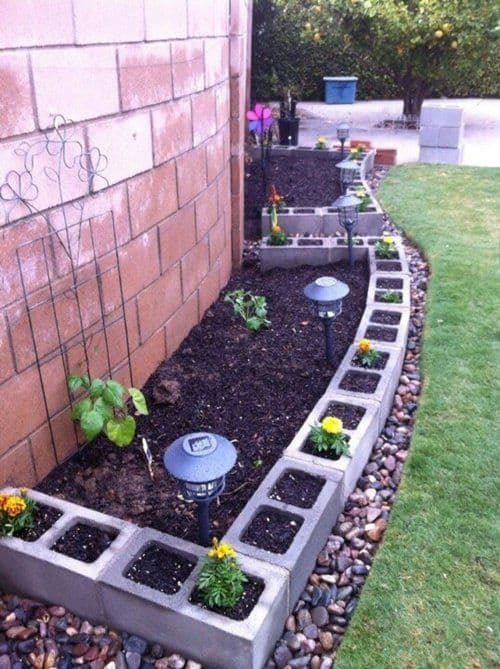 2) Brick Swirl Edging
Who said garden edging had to be boring? Lift the drab uniformity of your lawn by creating interesting patterns and pathways through it. Laying your bricks on a base of compacted hardcore covered with an inch of sand will ensure that they stay in place without needing realignment over time.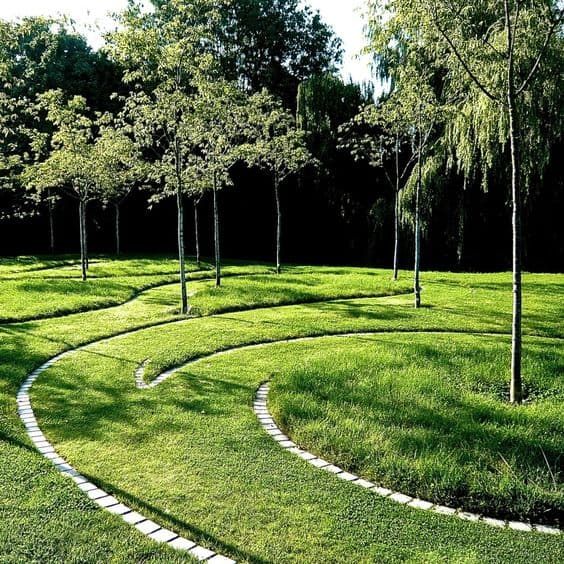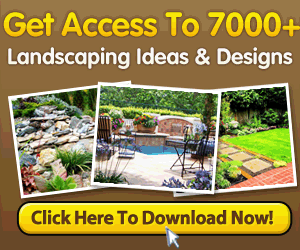 3) Plastic Cobblestone Cheap Garden Edging Idea
Save your back with no-fuss tasteful plastic cobblestone borders! No digging, no hardcore, no compacting: this stylish edging is simply hammered into place, saving time and effort. It has the added benefit of reducing weed transfer between your lawn and beds.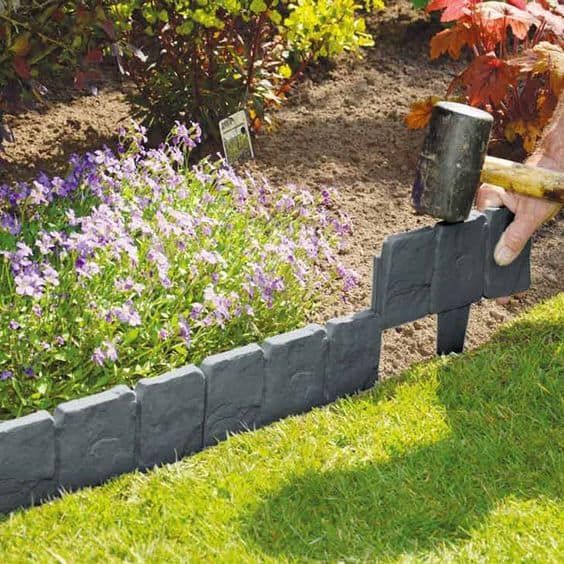 4) Cor-ten Edging
Want to add an interesting visual feature to your garden landscape while keeping it as low maintenance as possible? Cor-ten steel is ideal for creating raised beds and rock garden edging. The warm colour gives a rustic feel, while the durable material withstands all types of weather without needing added treatment. Is your lawn sloped and difficult to work with? Give it a natural, gentle flow by using cor-ten steel to make a descending pathway.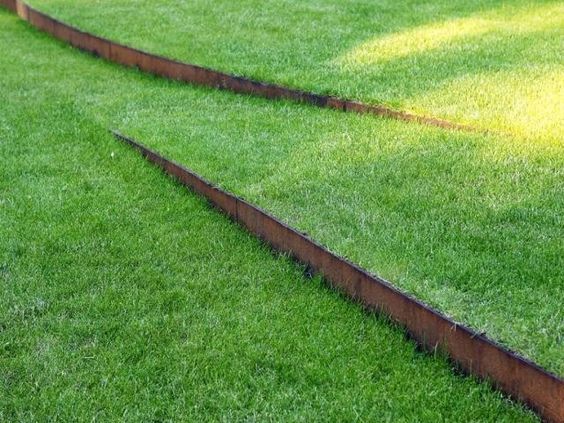 5) Curved Garden Edging Ideas
Reject the harshness of sharp, clean lines. Curves draw the eye in, giving a relaxed, graceful feel to your garden. This type of edging takes a more planning and work than standard straight edging but the amazing results are well worth the effort. Use a garden hose to mark out your desired pattern on the ground, before marking the line on the lawn with landscaping spray. Remove the hose before digging your trench along the spray line. You will need to keep your trench line at least 6 inches from the plants in your beds.

6) Decking Garden Edging Ideas
Add a new dimension to your decking with rock or pebbled edging. A border like this offers a clean line to separate your decking from your lawn as well as giving a floating effect to your deck.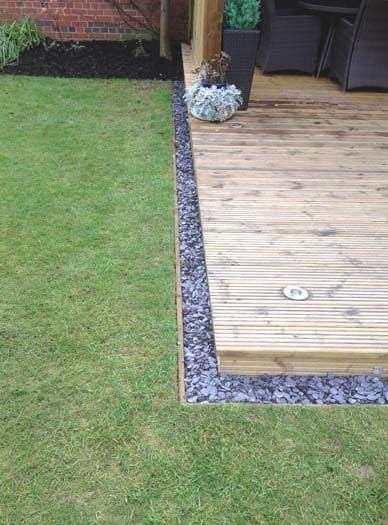 7) Drainage Edging
Does your garden have drainage issues, or do you need to create a run-off for water on your deck or walkways? Why not make a feature of it by creating some colourful drainage edging? Fill your drainage trenches with decorative stones and then brighten up with a selection of pretty succulents. You can also add some coloured glass stones for added vibrancy.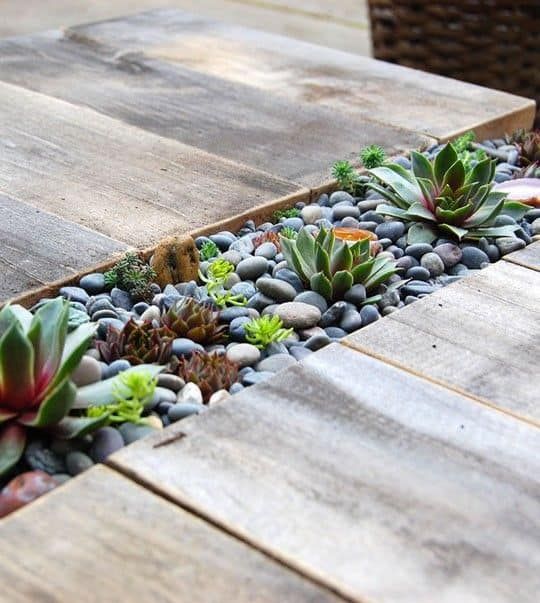 8) Fence and Rope Garden Edging Ideas
Rope fences make great edging, without breaking the view of the landscape like a traditional wood panel fence. They give the illusion of separation while keeping the flow and fluidity of your garden. Use along staircases or around the perimeter of upper level decking as a simple understated protective barrier.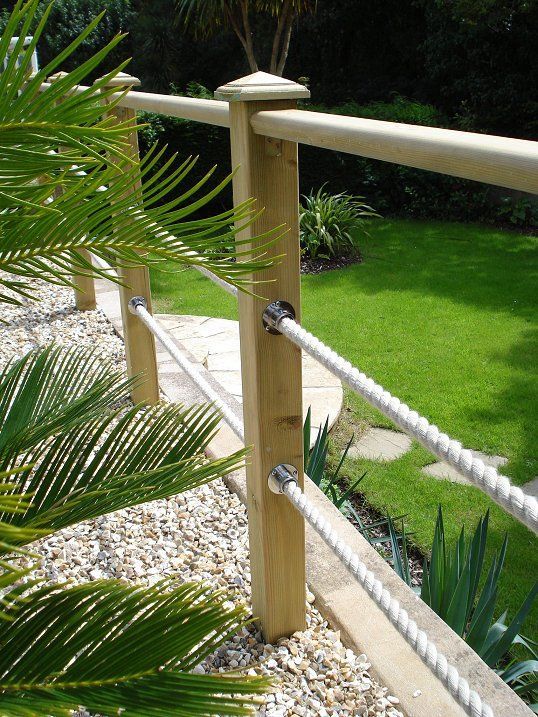 9) Flat Logs Edging
Give your beds the ultimate rustic feel with flat log edging. The beauty of this edging is that the discs create their own natural curving path once laid. Treating your logs with shellac will give them extra longevity and durability.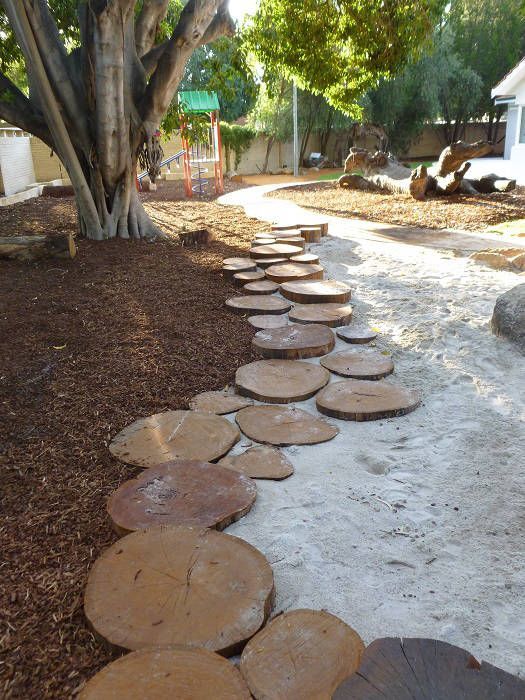 10) Garden Border Fence
Metal border fencing is a quick and easy option that comes in a range of sizes, colours and vintage decorative styles. Installation is simple with no digging required, but unlike solid edging, it doesn't offer any protection against the spread of weeds from your lawn. This kind of fencing works well along level flower beds and pathways.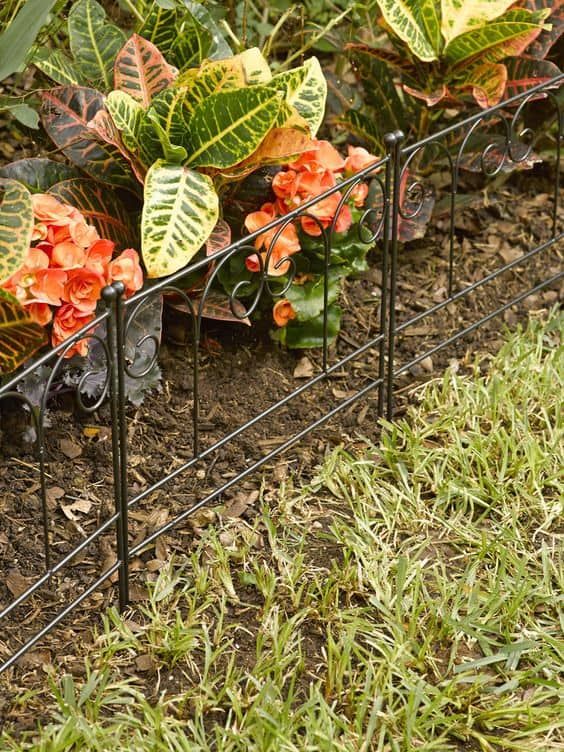 11) Garden Hose Edging Ideas
Don't throw out those old garden hoses! Put them to good use by weaving them into a quirky fence. This is perfect for enclosing vegetable patches, protecting your harvest from nibbling predators.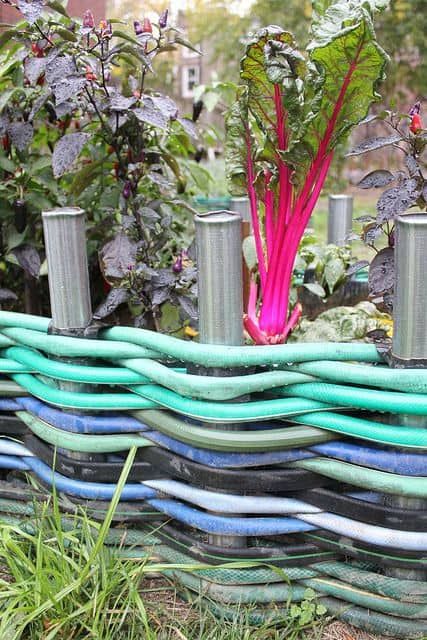 12)

Glass and Rock Garden Edging Ideas
Give your edging an artistic flair with pebbles and decorative glass. Get creative by weaving flamboyant patterns through the grey stone. A selection of succulents will give an extra breath of life without requiring a lot of upkeep. Edging like this adds a nice ornamental touch to low maintenance yards and is ideal around winter gardens and shrubberies.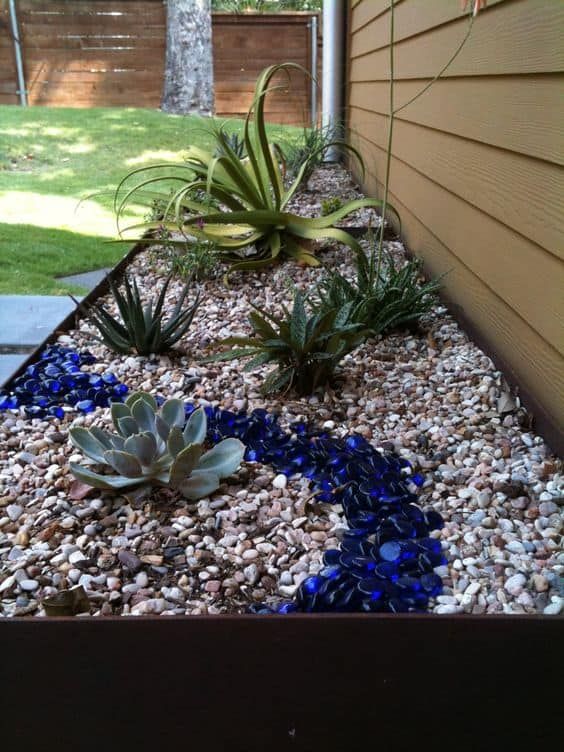 13) Glass Wine Bottle Garden Edging Ideas
Do your bit for the environment by repurposing your discarded wine bottles in your garden! Bottle edging is great for raised flower beds and pathway borders. Add some visual appeal by collecting a variety of colours: wine bottles usually come in clear or green glass but there are also striking blue bottles available. To create the edging, you will need to dig a trench and bury the bottles as deep as you wish.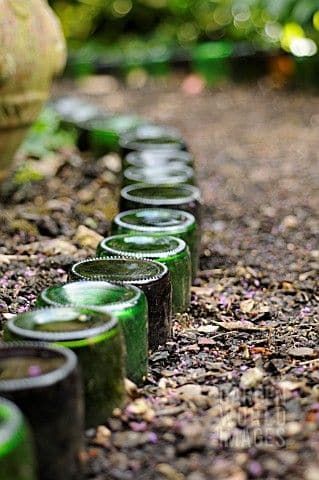 14) Glow in the Dark Logs Edging
Add a touch of atmospheric woodland mystique to your garden with these fascinating led illuminated tree stumps. Cracked log lamps make incredible path edging, as well as solving all your garden lighting needs.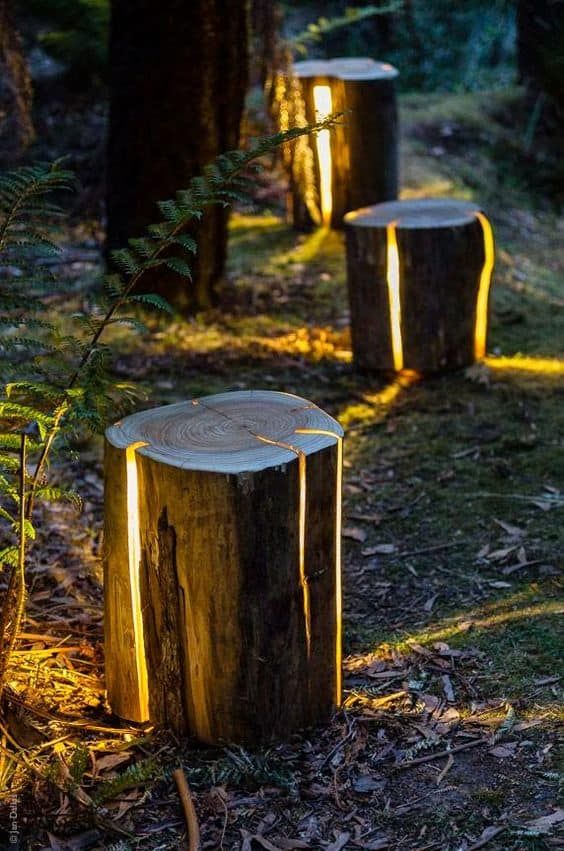 15) Herb Garden Edging Ideas
Lining your beds and pathways with herbs is a great way to add intense fragrance and colour to your borders. It also gives wonderful flow and movement to your garden with none of the clear defined lines of traditional edging. Thyme, sage and rosemary are good for offering shape and texture, whereas oregano and catmint add a splash of bright colour.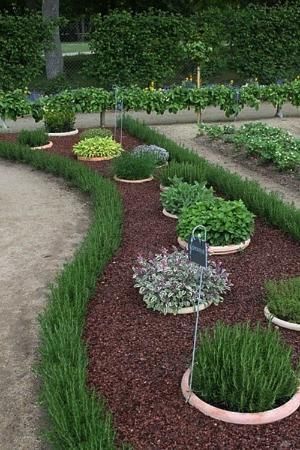 16) Japanese Slate Edging Ideas
Using slate in your edging gives an interesting multitextured effect. Although not suitable for pathways, this kind of edging is brilliant for cutting through large expanses of grass. Dig your trenches with curves to make the most of the alternating directions of the slate.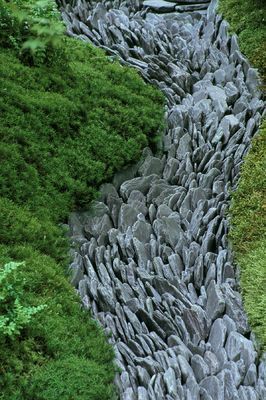 17) Kids Balance Beam Edging
Build a border your kids will love with these balance beam logs! Create a natural obstacle course along the perimeter of your play area, giving your garden a warm, charming atmosphere. Involve the whole family by letting your children help with the design and construction!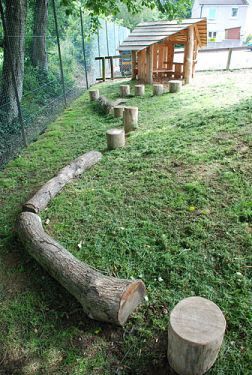 18) Limestone Raised Bed Garden Edging Ideas
For an ultra-modern element, line your raised garden beds with a limestone capped sandstone wall. This clean uniform edging looks meticulous and is perfect for serious gardeners looking to create an unblemished landscape.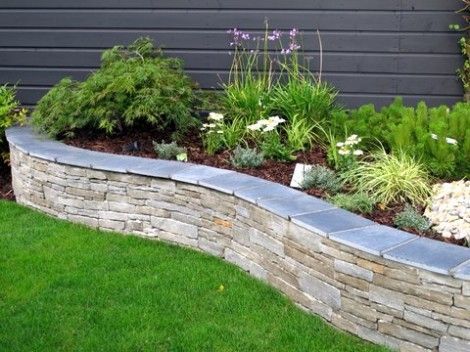 © www.owenchubblandscapers.com
19) Metal Garden Edging Ideas
Put that cast-off steel piping to good use along your flower beds! This unique edging gives a rural feel to your outdoor space. For extra impact, fill the pipes with gravel or soil and add a selection of succulents or bedding plants.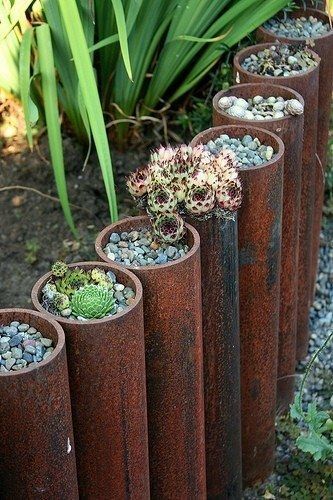 20) Metal Wheel Edging Ideas
Give your garden a touch of class with a spectacular feature wall of antique wheels. Salvage cast iron wheels from old agricultural machinery and arrange it along the edge of your flower beds for a stunning display.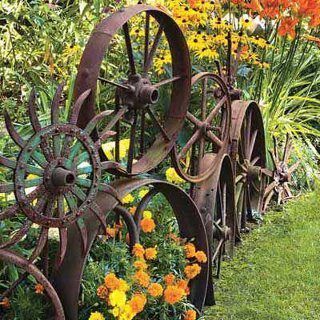 21) Mini Flower Fence Edging
This charming metal fencing adds a lovely retro appeal to your borders. Easy to lay, you won't need to do any digging or stooping. This edging looks delightful along beds of bright perennials.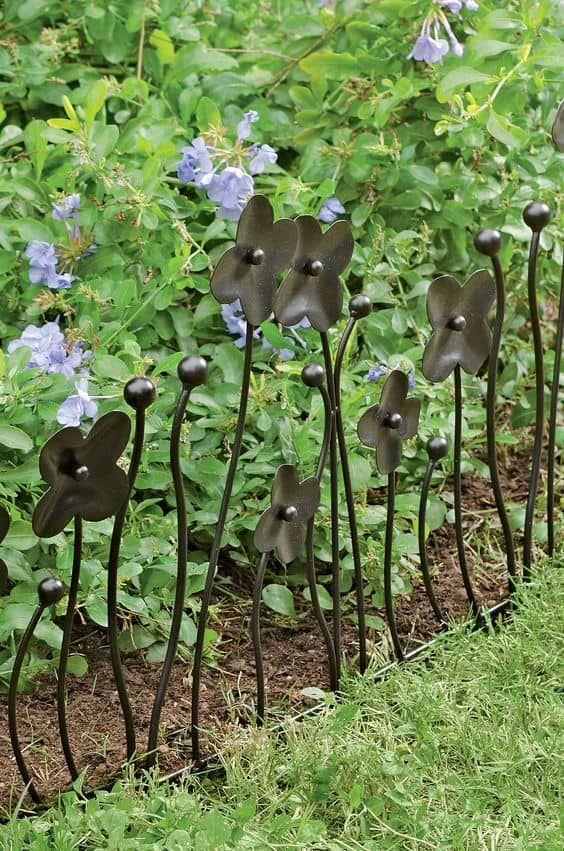 22) Mini Picket Fence Edging
Who doesn't love a little white picket fence? Take your garden back to its grass roots with a folksy picket fence border. Easy to install and maintain with no digging necessary. This edging looks wonderful around beds filled with vibrant flowers. For added impact, weave trailing plants through the panels of the fence.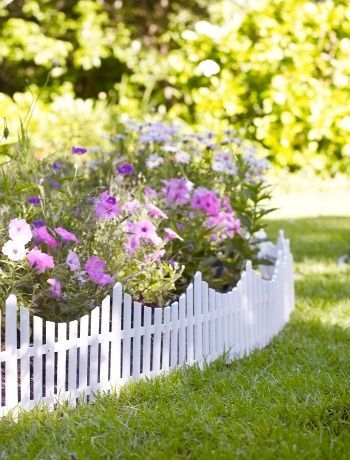 23) Modern Decking Garden Edging Ideas
Give the ultimate polished finish to your decking by choosing the correct edging. A pebble or stone border will give a floating effect to your deck, and planting with succulents will give an extra pop of colour. For a more relaxed feel, fill your border with soil and plant with leafy shrubs. Alternatively, you could surround the perimeter of your decking with patio blocks and line with pots of bonsai plants.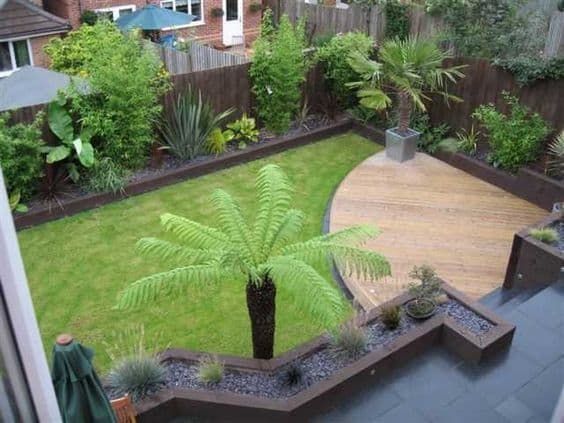 24) Modern Garden Edging Ideas
The current trend in landscaping is for clean lines and functionality. And what could be more useful than edging that doubles as a seating bench! These benches work well in courtyard gardens, enclosing contemporary raised beds of leafy shrubs. Create a sensual haven by mixing textures: an aluminium fence base filled with rocks and topped with wooden seat panels, surrounded by flourishing plants and strategically placed lighting. It couldn't get more serene than that!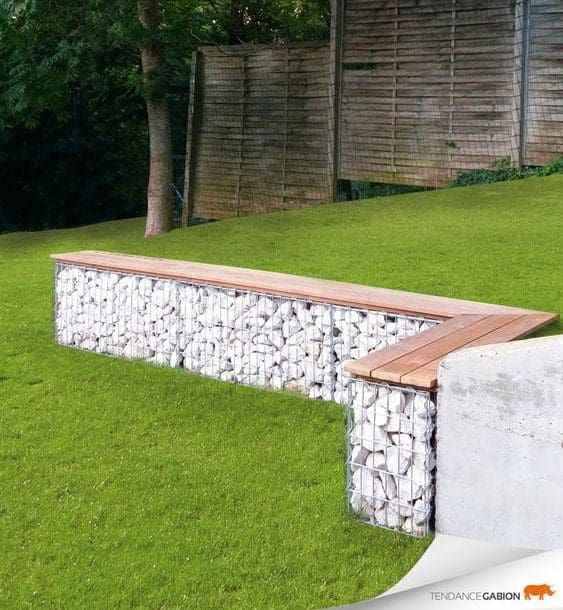 25) Modern Stone Edging
Give your outdoor space an ultra-contemporary feel with some modern stone edging. Using different shapes and materials breaks up the area, adding visual appeal and drawing the eye along the horizon. Alternate geometric cuts of paving slabs with stone to create an up-to-date, low maintenance feature. Add some shrubbery or succulents for a splash of colour.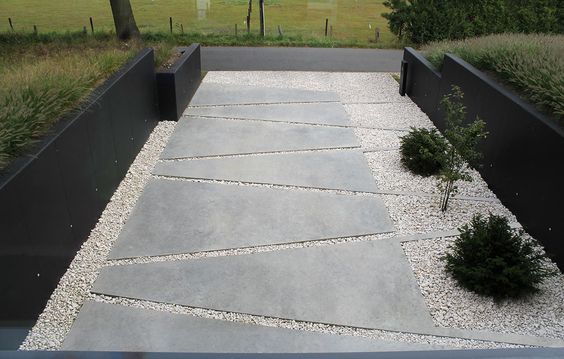 26) Patio Bricks Edging
Patio brick edging gives a timeless classic touch to your beds and borders. If flush with the ground, it also serves as a good mowing guide. To avoid the bricks shifting over time, you will need to dig a trench and line with a layer of hardcore and sand before arranging your bricks on top. Concentrate on aligning your bricks perfectly as this will give your edging a professional finish.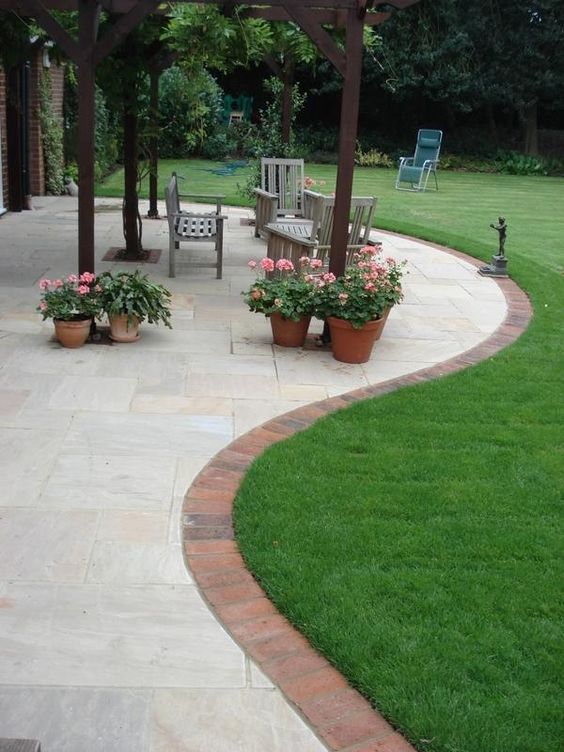 27) Patio Edging Ideas
Patio edging doesn't have to be boring! Get creative and transform your edging into a sophisticated feature. Instead of placing planters on the perimeter of your patio to brighten it up, why not dig some beds and enclose them with a brick border?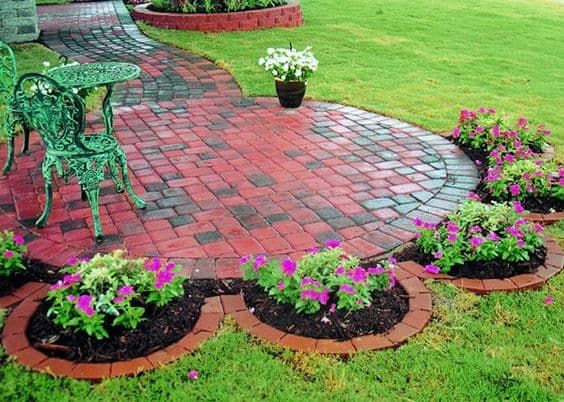 28) Pebble Garden Edging Ideas
Loose pebbles are a popular choice for garden edging, but a pebble mosaic using polished stones will give your border a fantastic finish. It involves a little more effort than laying a traditional stone border but you will reap the rewards for years to come. This edging works best along lawns, offering a wonderfully blended transition into the paving stones or cement of your pathway.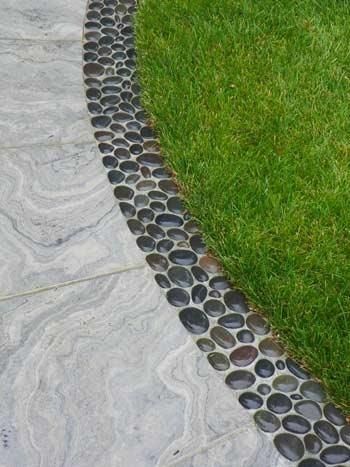 29) Plant Pot Edging
Tired of staring at the stack of disused planters by the end of each summer season? Give them their forever home by laying along the boundary of your flower beds. Paint them up for an extra blast of colour that will lift your garden during the drab winter season.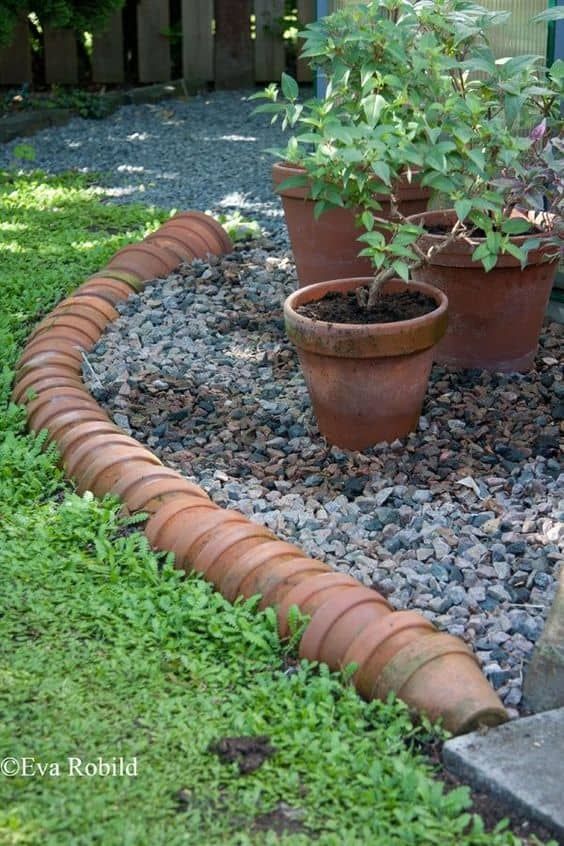 30) Pond Edging
Some well-designed edging can make the world of difference to your pond. Again, mixing up the textures and materials is key, intensifying the sensual appeal of your pond as well as attracting a rich variety of wildlife. Split the circumference of your pond, laying a brick border along one side and a loose rock arrangement along the other. Use an array of water plants, succulents and potted perennials to breathe life into the area and draw the insects and creatures in.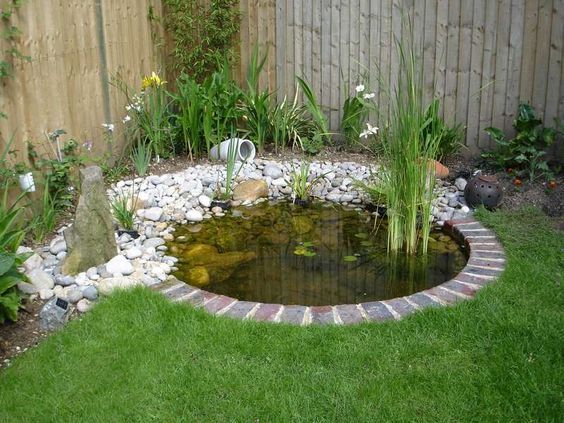 31) Railway Sleeper Garden Edging Ideas
Railway sleepers are the jack-of-all-trades when it comes to garden edging. Extremely versatile and durable, they are easy to work with and excellent at withstanding the elements. Use them to border your raised beds, or to line your pathways. You can even use them to construct your pathways, laying them as steps to create a wonderfully rustic staircase.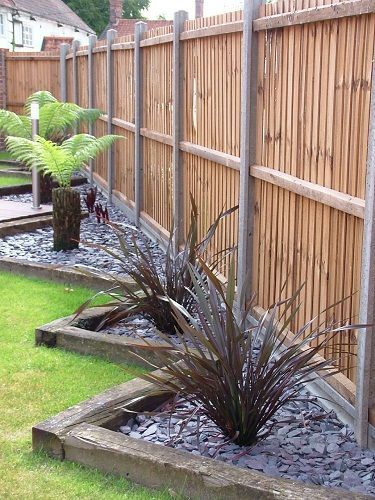 32) Rock Garden Edging Ideas
Rocks are excellent for lining your beds with. Available in a wide variety of shapes, sizes, colours and consistencies, you will find a stone to suit every style of garden. Simple to lay, you can use them to complement or contrast the flowers in your beds. If you have a problem with excessive water run-off, constructing a dry stream with rocks will help with drainage.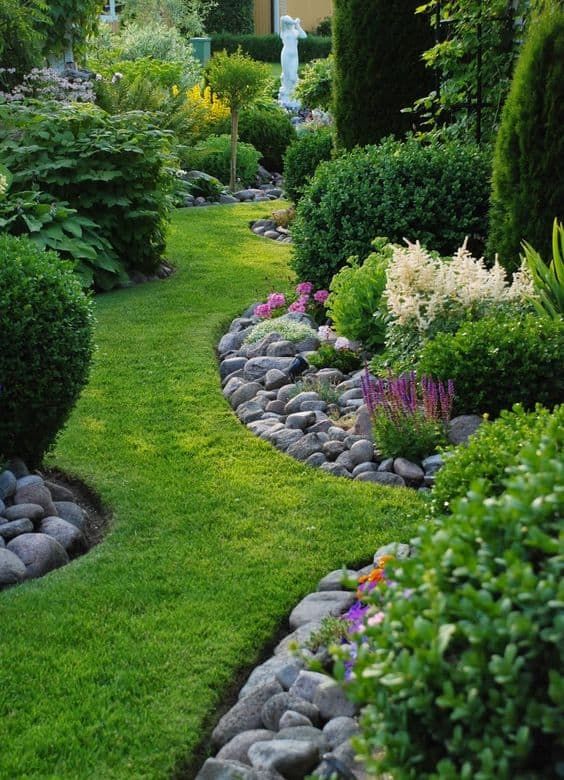 33) Rocks and Wood Garden Edging Ideas
Rocks and wood are two natural materials that complement each other perfectly and add a wonderful environmental feel to your garden. Use them together as borders for high raised flower beds. Railway sleepers cut into sections are ideal for a project like this. Why not go the extra mile and line the top of your border with wood to create some fabulous seating?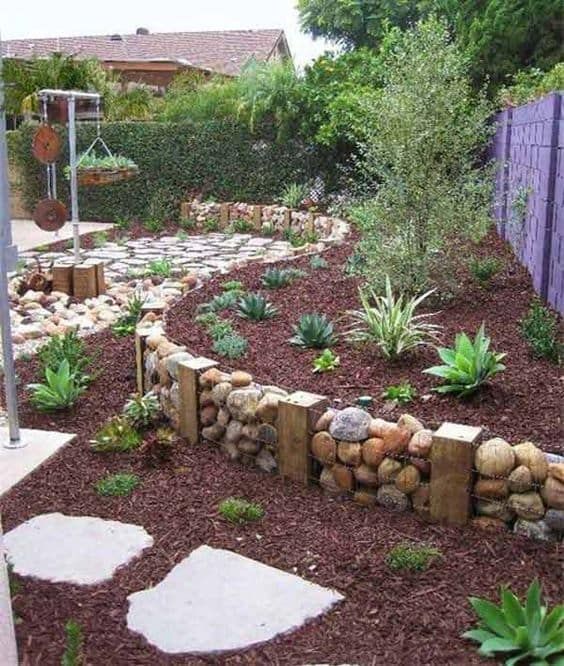 34) Rope Garden Edging Ideas
Rope is another gorgeous natural material that will balance your outdoor space. In the garden, it's mainly used on fencing, but extra thick lengths of it can also be laid along the perimeters of your beds and pathways for a quick inexpensive edging option. Rope is a favourite amongst gardeners who are nautical enthusiasts.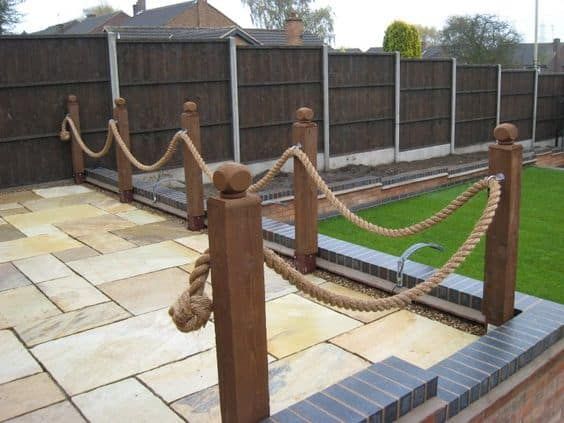 35) Rope Lighting Garden Edging Ideas
Strategically placed rope lighting is brilliant for creating atmosphere, as well as illuminating the pathways of your garden. A cheaper alternative to traditional ground lighting, rope lighting can be easily installed and requires little maintenance. Perfect for giving an edge to an otherwise no-frills space!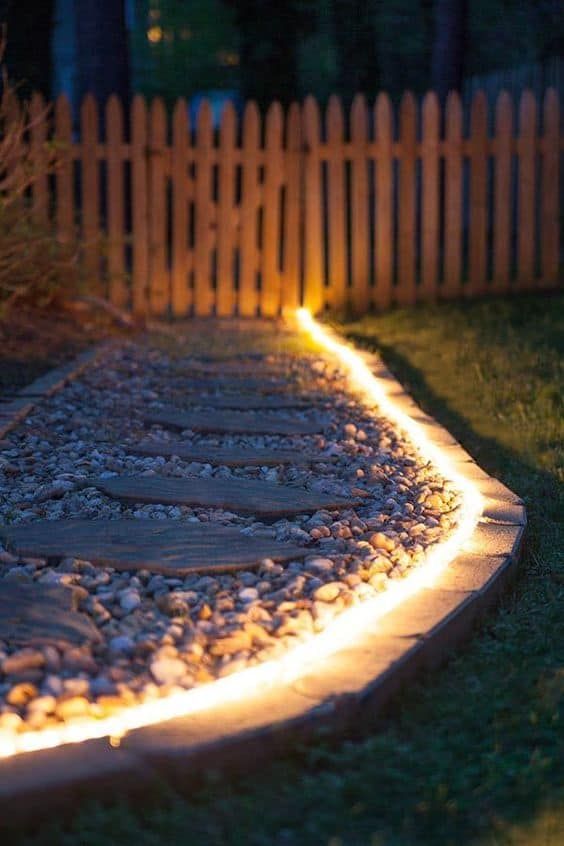 36) Rough Rock Edging
Large jagged boulders make a wonderful contrasting border for gravel walkways. This type of edging offers a delightfully rustic feel, almost like a river pathway or rainforest trek. Fill your beds with an abundance of green leafy plants for extra contrast and movement.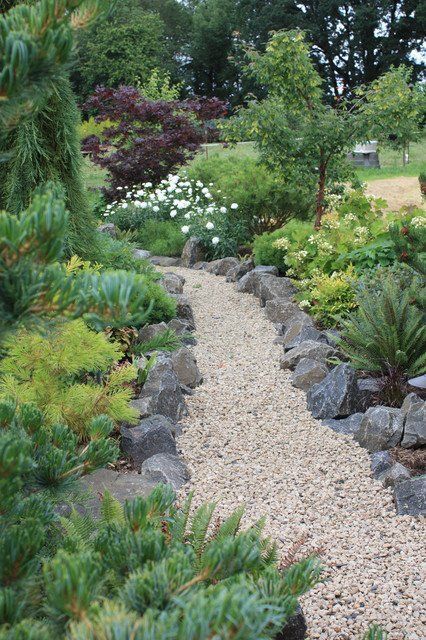 37) Running Stream Edging Ideas
You've done the hard work and built your stream, and now you need to decide on appropriate edging. Concrete kerbing is the ideal option, giving a structured feel while withstanding the elements. For a more relaxed natural impression, a mini sandstone wall is a great alternative.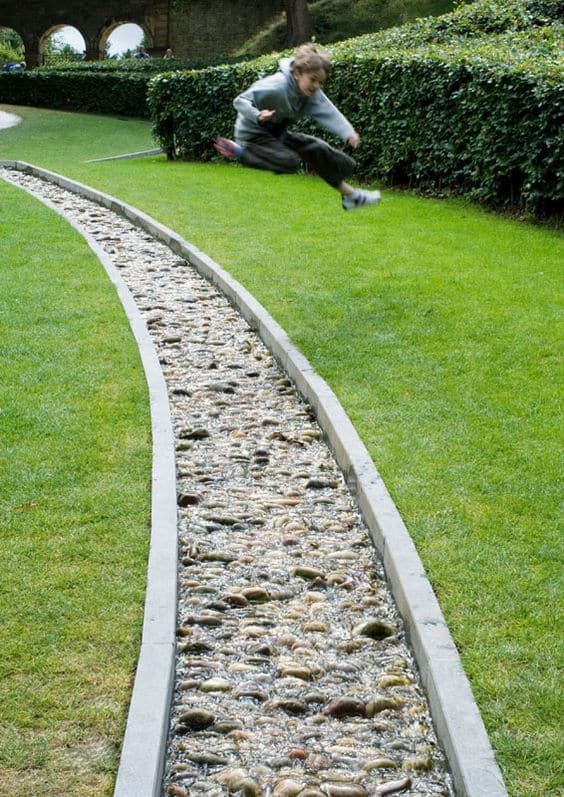 38) Sea Shell Edging Ideas
Bring the beach to your garden with a quirky sea shell border! A bed of shells along a walkway conveys a fresh nautical feel. For extra embellishment, plant a selection of air plants amongst your shells. If you prefer a subtler effect, a line of giant conch shells makes great edging for flower beds.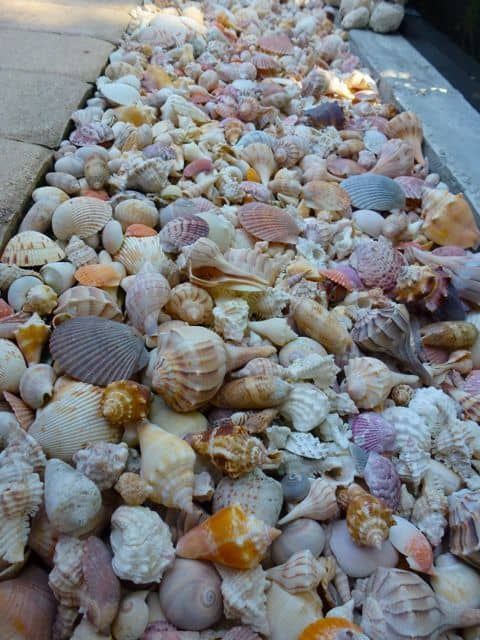 39) Seating Garden Edging Ideas
Looking for a solution to a steep slope in your garden? Take advantage of it and build some edging that functions both as a stairway and seating. Concrete slabs are the best material for this and although it can be an expensive and labour intensive operation, it is an excellent low maintenance feature in the long run. Line your edging with astroturf to give a softer, blended effect.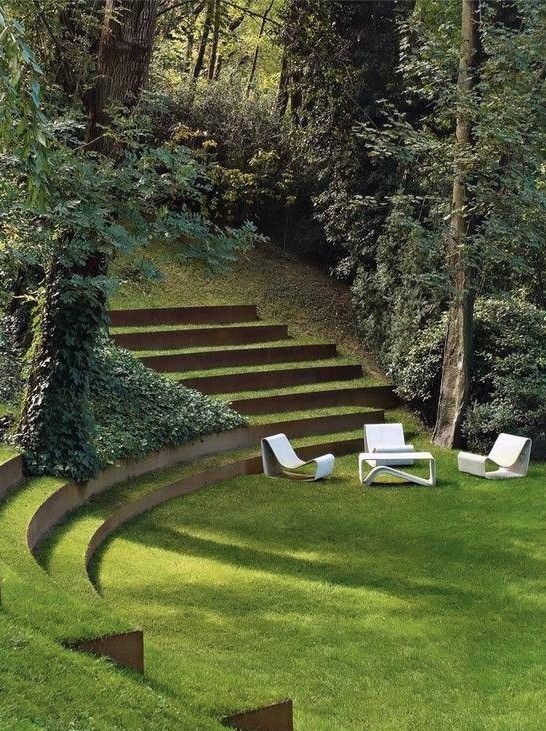 40) Simple Curved Garden Edging
Curved garden edging may sound complicated, but it is a surprisingly easy effect that you can recreate yourself without much effort! For a basic unpretentious result, you can simply dig the curved border along your bed and leave it as it is. The vibrant contrast where the lawn meets the bed is visually striking, however, you may need to take extra steps to ensure that your flower beds are protected from excess water run-off.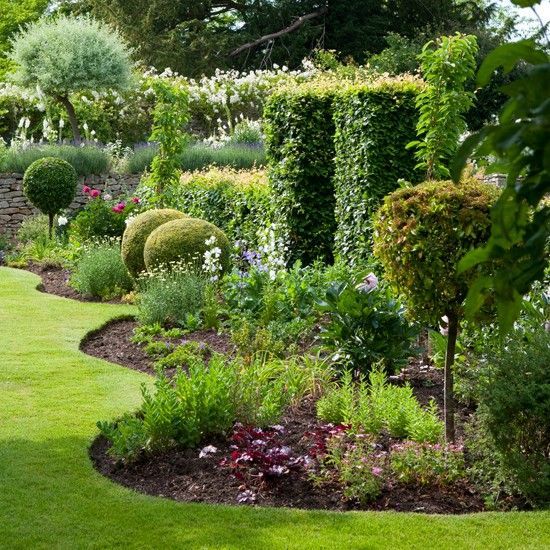 41) Small Modern Garden Edging Ideas
When you are dealing with a small garden space you may be inclined to stick to the 'less is more' school of thought. Adding more features can be a daunting task, however, some well-planned edging can break up a small cramped space and make it feel bigger. Contrasting colours and textures will offer more depth and draw the eye beyond the main area of the garden. Lining your edging with planters of bamboo will give the illusion of hedging without the bulk.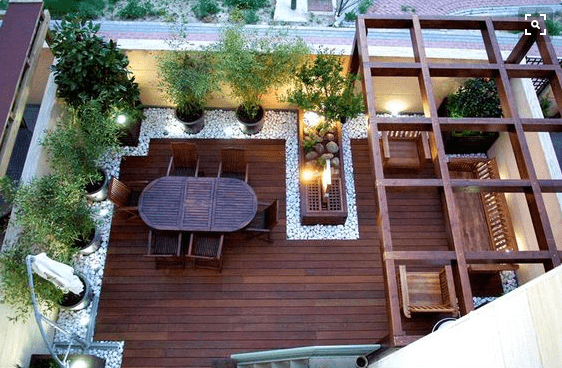 42) Steel Planter Edging
Steel planter edging is ideal for minimalist modern gardens. Take the low maintenance option by purchasing large steel planters and simply fill or plant with materials of your choice. It really is that simple!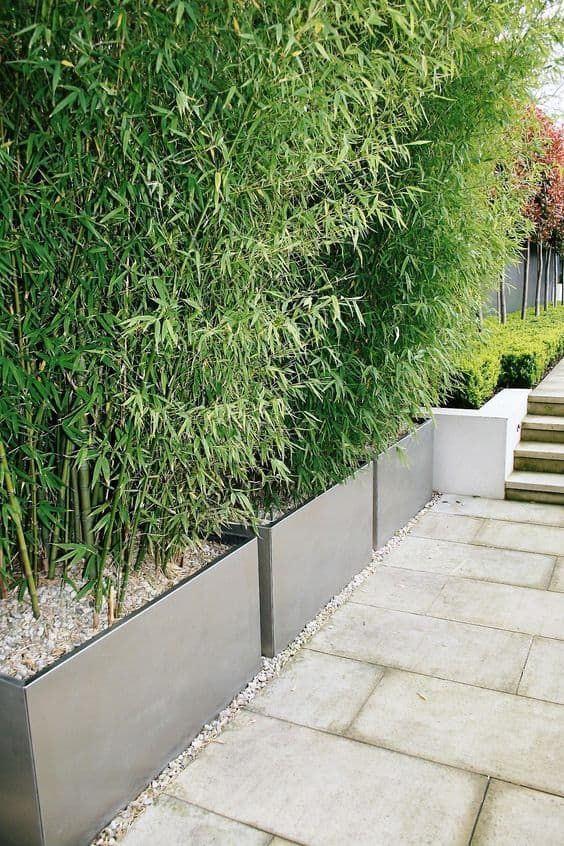 43) Stone and Tile Edging Ideas
Indulge your artistic side by playing around with different materials. Make a collage of stones, gravel and tiles and use it in the borders of your garden. Have fun with patterns and colours!
44) Stone Border Garden Edging Ideas
Stone edging doesn't have to be bland. Curved and ornamental stone edging will lift your borders, giving them depth and dimension. However, if you prefer traditional clean lines, textured stone surfaced slabs are available.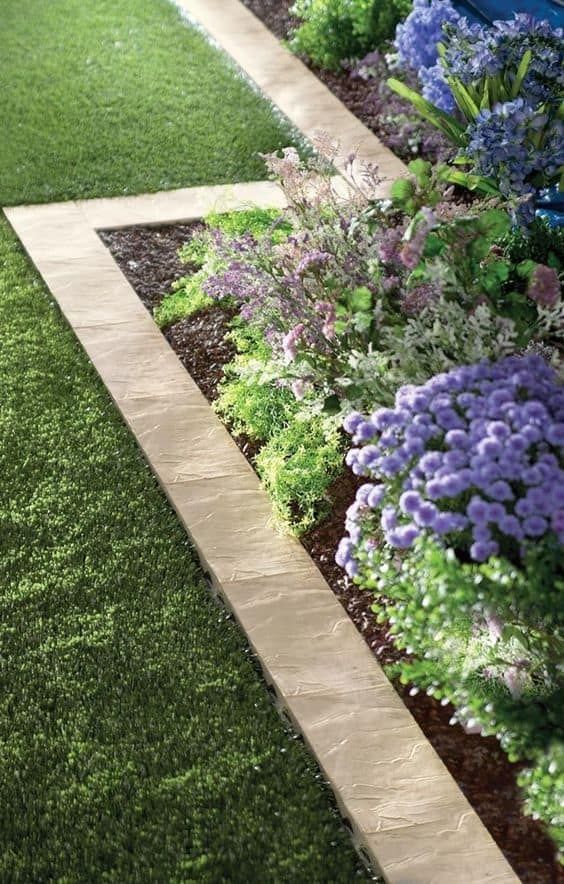 45) Stone Edging Around a Tree
Apart from looking pretty, stone edging around the base of a tree offers protection from lawn mowers and strimmers, which can cause untold damage to mature trees. Edging like this is also an ideal base for benches and seating without the risk of damaging or marking your lawn.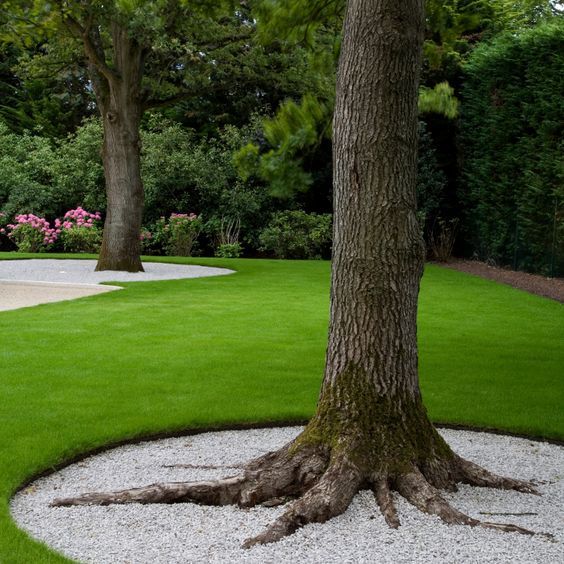 46) Stone Garden Edging Ideas
Polished river rock borders make fantastic edging for pathways. Cool and contemporary, they are inexpensive and easy to lay. Choose light coloured stones for the ultimate luxurious feel.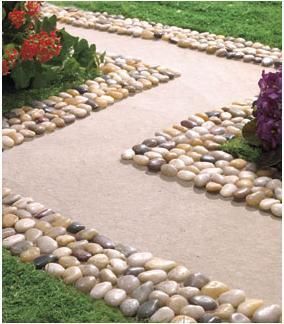 47) Stone Stream Edging
A mini stream is an excellent feature for creating serenity in a cramped garden space. Pale stone pavers are an ideal material for edging, giving a contemporary modern effect.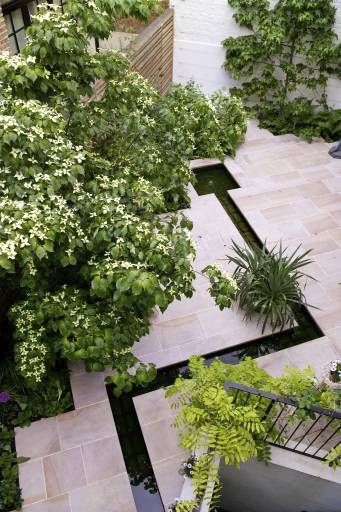 48) Stone Waterfall Edging Ideas
Looking for a border to complement your waterfall? Decorative cladding comes in all shapes and sizes to suit every need and taste. Cap your cladding with concrete slabs to create edging that doubles as seating.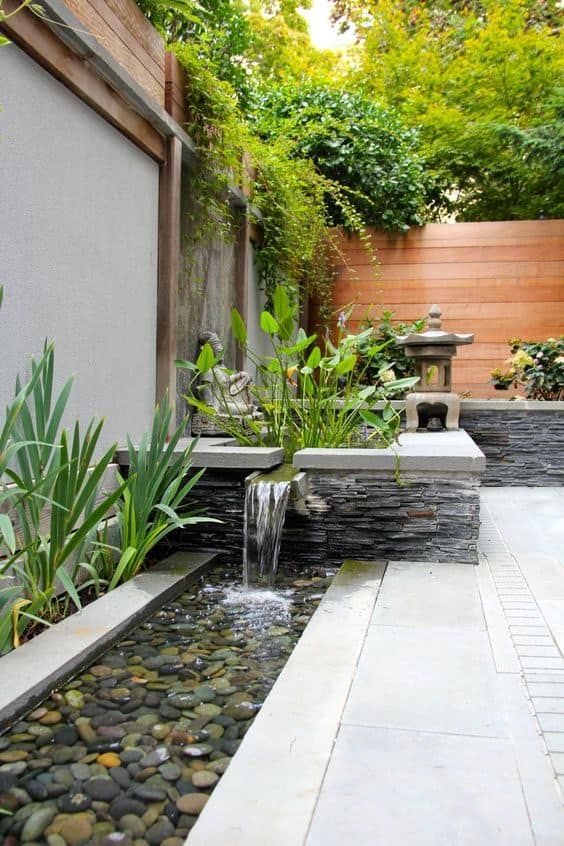 49) Stones and Decking Garden Edging
Large stones are ideal for creating a floating effect around the perimeter of your decking. Choose a light coloured stone to give a striking contrast between the darkness of the decking and the vibrant green of the lawn.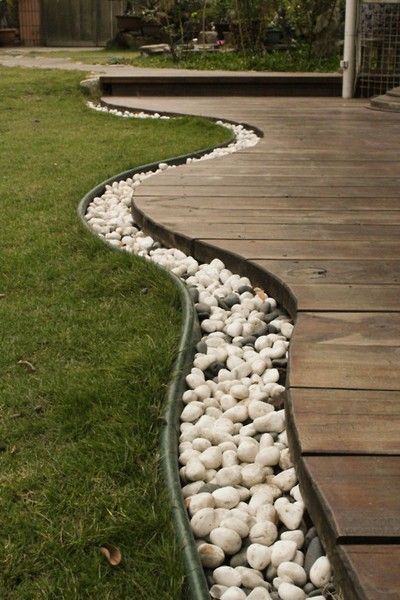 50) Strip of Bricks Edging
For the traditional gardener, you can't go wrong with classic brick edging. It is an inexpensive option and once laid properly, it will stand the test of time. However, it tends to be bland and so needs to be dressed up with the surrounding material and plants.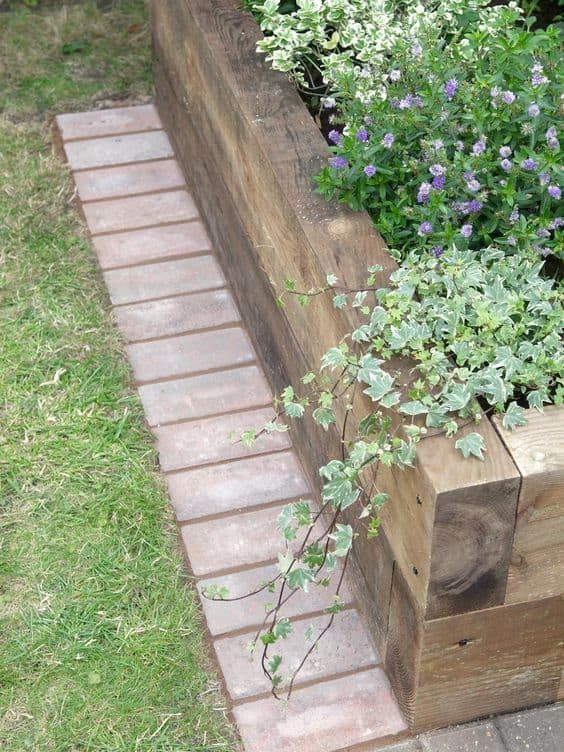 51) Terracotta Pot Edging
Keeping your low maintenance garden visually appealing can be a challenge. However, terracotta pots are excellent vessels for creating interesting edging features. Plant them up, stack them, lay them on their side with trailing plants or coloured stone spilling from them. Use your imagination to come up with new and novel ways to transform them into garden showpieces.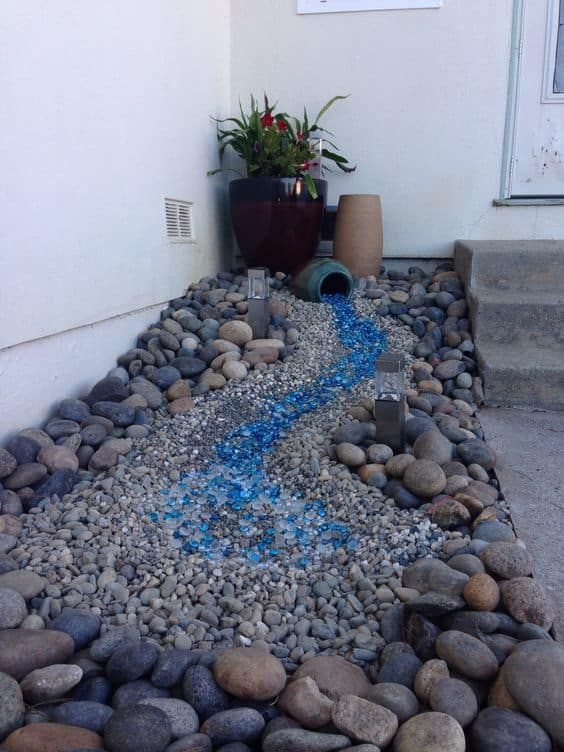 52) Tidy Wooden Timber Edging
Do you love clean, straight lines? Wooden block panels are fantastic for building neat raised planting beds in your garden. Use your wooden border to bring different elements of your garden together, such as the lawn and the patio.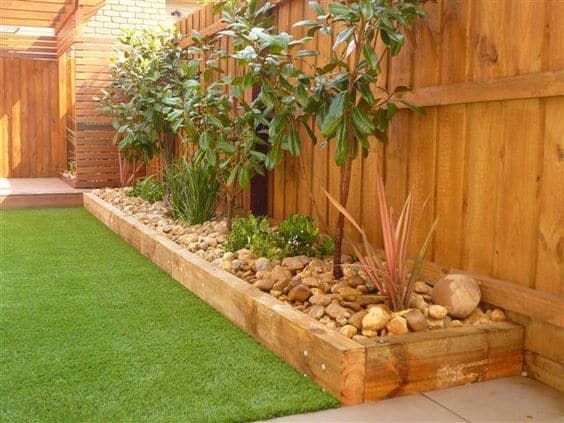 53) Tile Garden Edging Ideas
Got stacks of leftover tiles? Use them to build an unorthodox edging feature. Mix different colours and shapes to give a geometric contrast to the free form of your flowering beds.
54) Tile Raised Bed Edging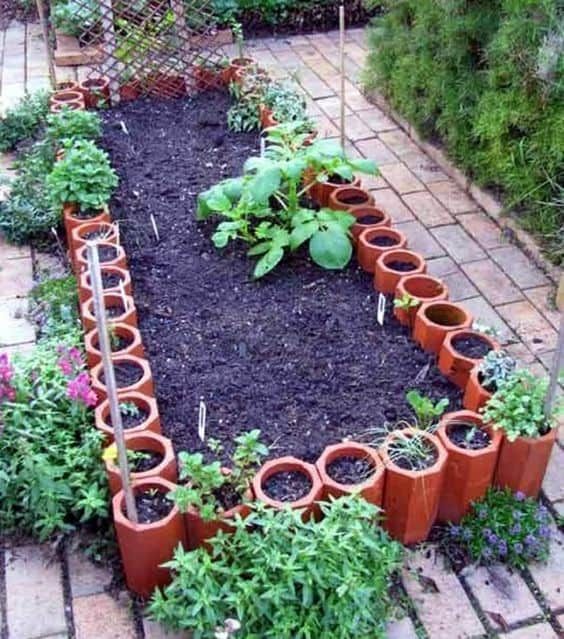 55) Timber Garden Edging Ideas
For a welcome change to standard timber edging, use large blocks of differing heights to create a wonderful raised garden bed. Railway sleeper sections are perfect for building a feature like this.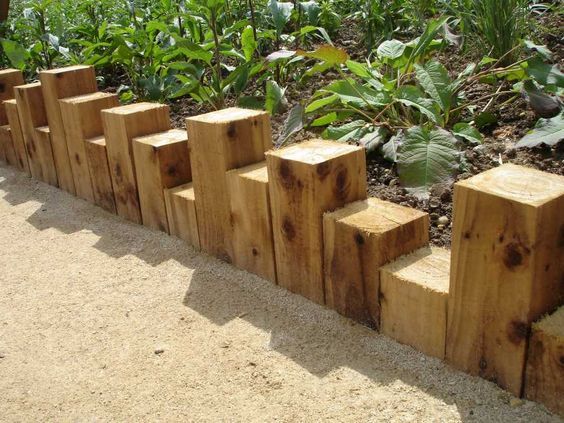 56) Tilted Brick Edging
Want brick edging with a difference? Tilted brick edging is a great way to dress up an old favourite. Dig out a trench for the bricks and lay them against each other, making sure your border is sturdy and secure.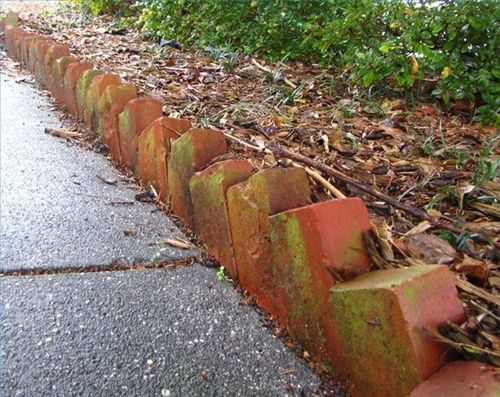 57) Traditional Brick Garden Edging
Although traditional, patio brick edging doesn't have to be boring. Play around with different arrangements and alternate with colours and shapes to add a new slant to your border.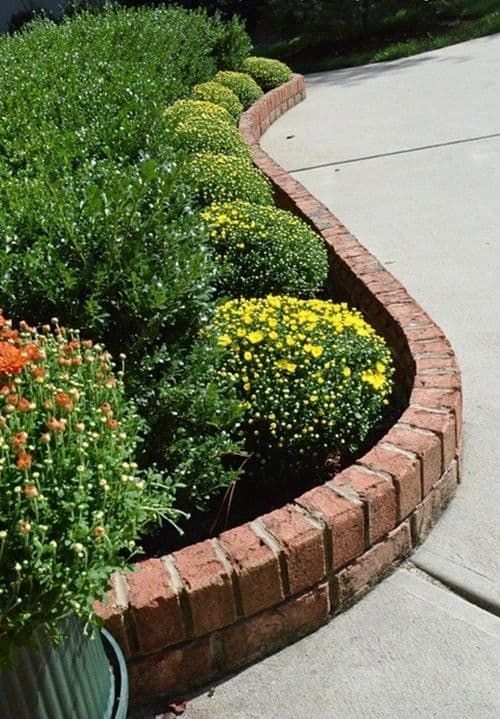 58) Traditional English Garden Edging Ideas
Draw inspiration from the past by researching stately homes and gardens. Take notice of the different materials and how the gardeners of yonder days made use of curves, lines and patterns when creating their edging.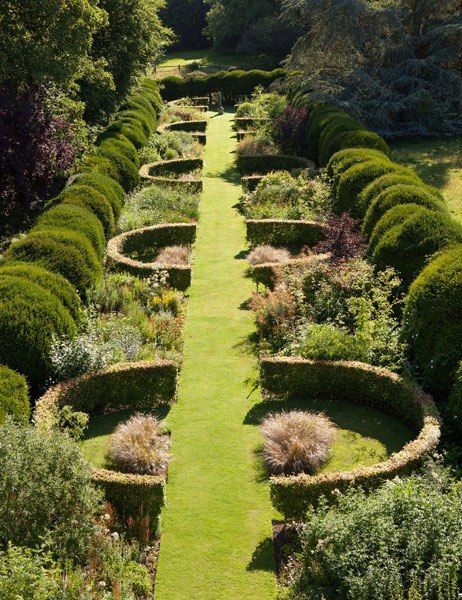 59) Turf Seat Around a Tree with Edging
Looking for a stunning garden feature? A turf tree seat enclosed with woven branch edging is a striking and functional addition to any garden.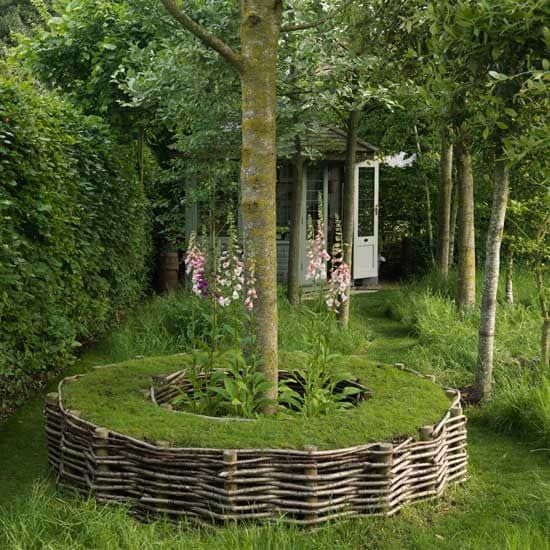 60) Tyre Edging Ideas
Abandoned tyres make ideal edging, especially in kids play areas where softer materials give protection from injuries and accidents. Setting your tyres in concrete offers added safety and support.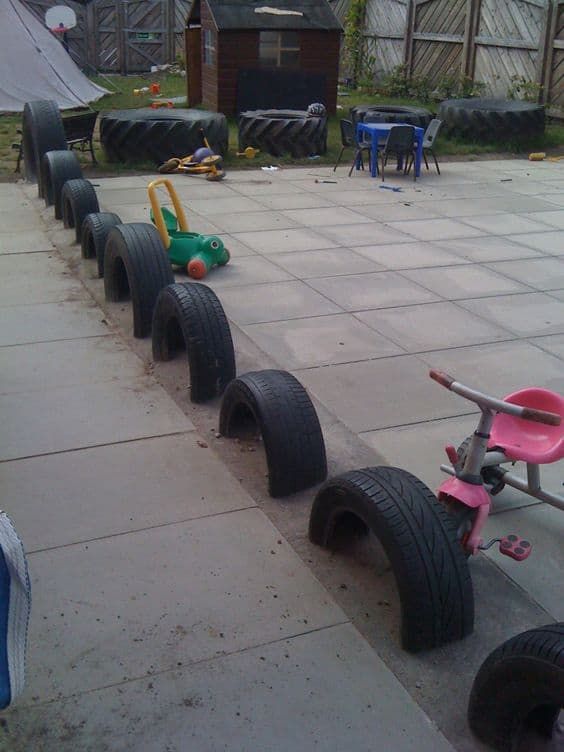 61) Upcycled Plate Edging
Infuse your garden with your personality and make good use of your old crockery by laying it along the edge of your flowering beds. This is a wonderful way to recycle those cracked decorative dinner plates that you don't have the heart to dump. Follow the link for other great garden upcycling ideas.
62) Water Garden Edging Ideas
Water is a relaxing feature to have in any garden. Whether you want a modern mini stream or a traditional pond, concrete kerbing is the ideal edging option. Durable and versatile, you can experiment with a variety of colours and textures until you find the one that suits you.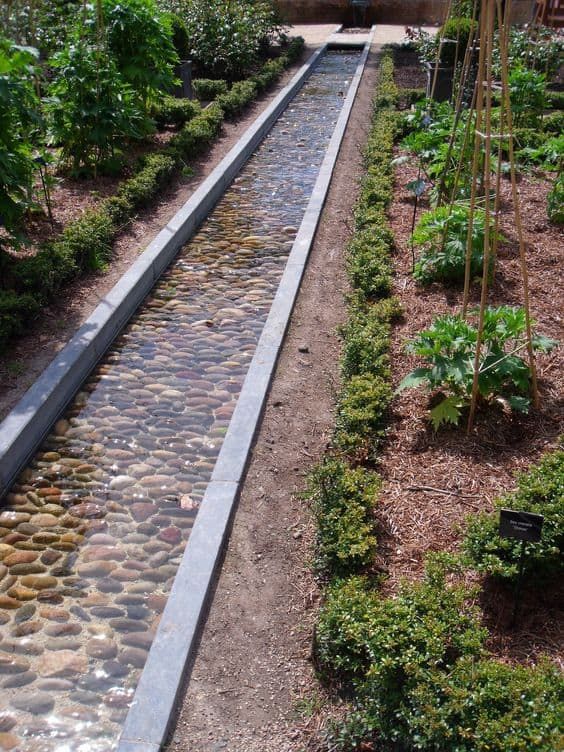 63) Willow Weaving Edging Ideas
Willow is a superb garden material. Rustic, durable and flexible, it is the perfect edging material for traditional country gardens. Use it to enclose your fruit and vegetable patches, or simply as a charming border for your flower beds.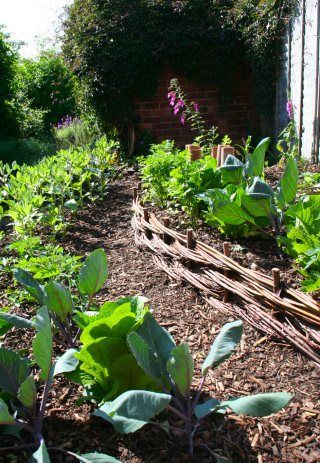 64) Wooden Garden Edging Ideas with Logs
Create stunning pathways and edging with log discs. These logs work equally well in both traditional and modern gardens. To maximise longevity, be sure to treat your logs before setting them in the ground.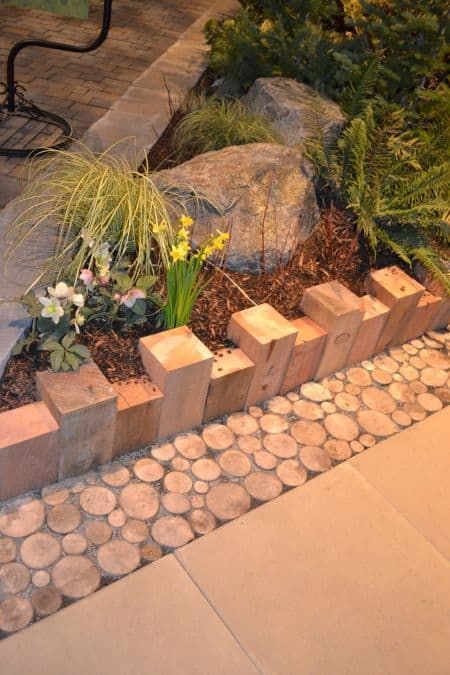 65) Wooden Panel Garden Edging Ideas
Are you replacing your old wooden shed? Find a new home for the discarded wood by using segments of it along the edge of your raised borders. Add to the visual appeal by using an array of sizes and get your paintbrush out to lend a splash of interesting colour.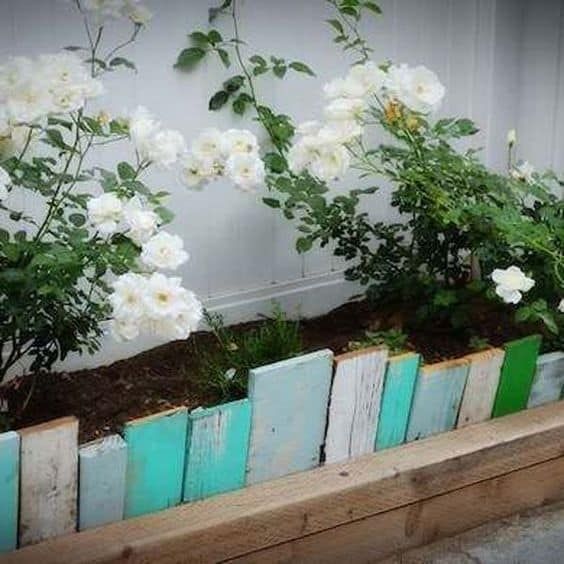 66) Woven Tree Edging Idea
Build a unique and earthy feature by creating a trellised edging from old felled branches. Although this takes a bit of time and effort, the result is outstanding. Add more oomph by using the trellis as a support for trailing and climbing plants.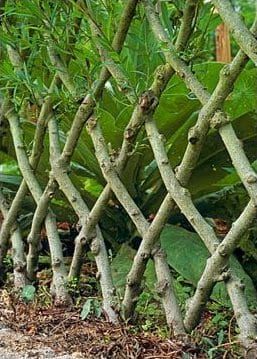 You made it to the end! Hats off to you 🙂
All images were sourced from Pinterest.