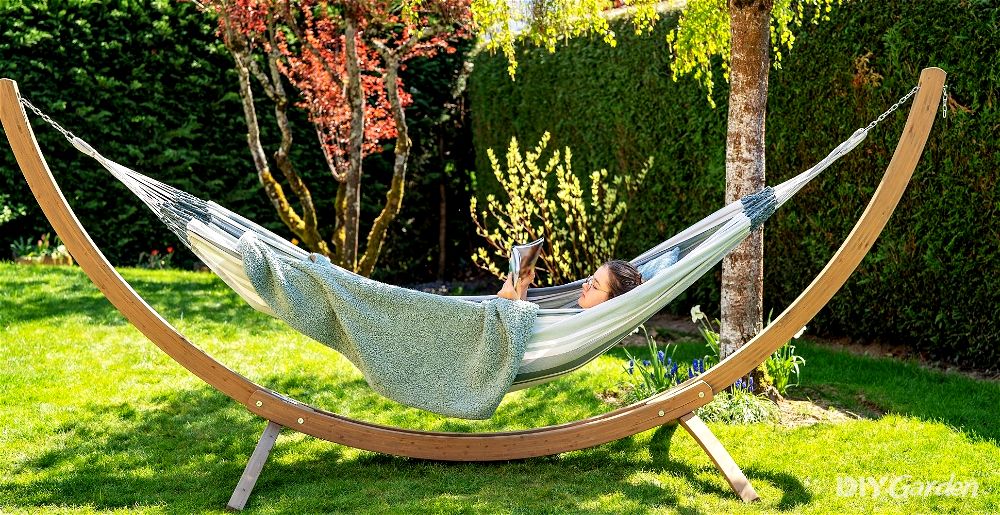 Search for 'hammocks, stands and accessories' on Amazon, and more than 3,000 results will come up, ranging from kids', adults' and family hammocks in brightly striped cottons or cream knotted macramé, through mosquito-netted versions for camping, to swing seats and even hammocks for cats.
Here's the lowdown on the many ways you can literally hang out in your garden.
Which Type of Hammock should I Choose?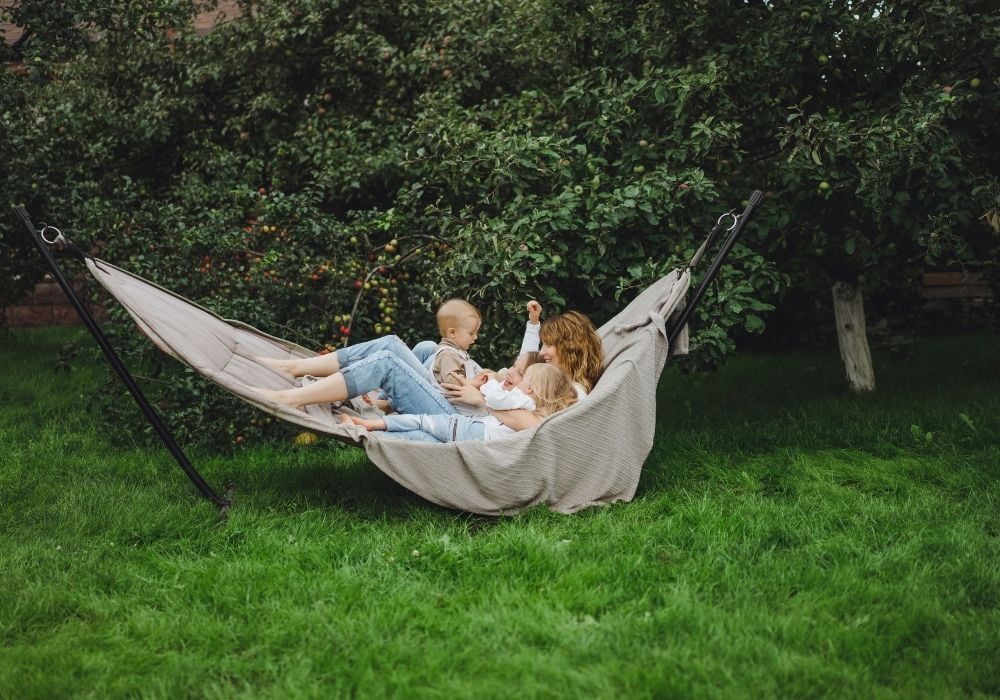 Hammocks come in either a classic 'banana' shape that wraps around the contours of your body or a spreader bar hammock with a wooden bar at each end that helps to keep the fabric flatter.
If you like to sunbathe, would like a double hammock and prefer a more structured appearance when your hammock is empty, then a spreader bar type will suit you best. But classic hammocks are easier to get in and out of, so are practical for kids and older people, and offer more shelter from the sun and wind.
"Hammocks may all look the same, but they're not," advises Dave McNeill, director of WeDoHammocks.co.uk. "You're paying for different types of material, the quality of the fabric, how it's been woven and treated, and its size – some are really small ones, while others are massive."
Some hammocks are weatherproof, but that doesn't necessarily mean they are waterproof. This will protect the fabric from the sun's UV rays, not from a heavy downpour. But a hammock can easily be unclipped from a tree or stand and brought indoors if rain is forecast.
"Cotton is very popular for hammocks because it's breathable, but when you apply a weatherproof coating, it becomes less breathable. Some people like it; others don't," says Dave.
Whether you want to enjoy 'me time' sunbathing and reading or pile in with friends or family into a giant hammock, check its maximum load-bearing weight before you buy. These range from around 100kg (220lb) to 200kg (440lb) for a double or family-size hammock.
James Martin-Harper of Simplyhammocks.co.uk, says: "We test all our hammocks monthly to over 600kg. However, hammocks are only as strong as the fixing you choose to hang them with, which is why hassle-free hammock sets are our bestsellers."
Prices vary from £10 to £150 for the hammock itself but check dimensions carefully.
How Do you Fix a Hammock between Trees?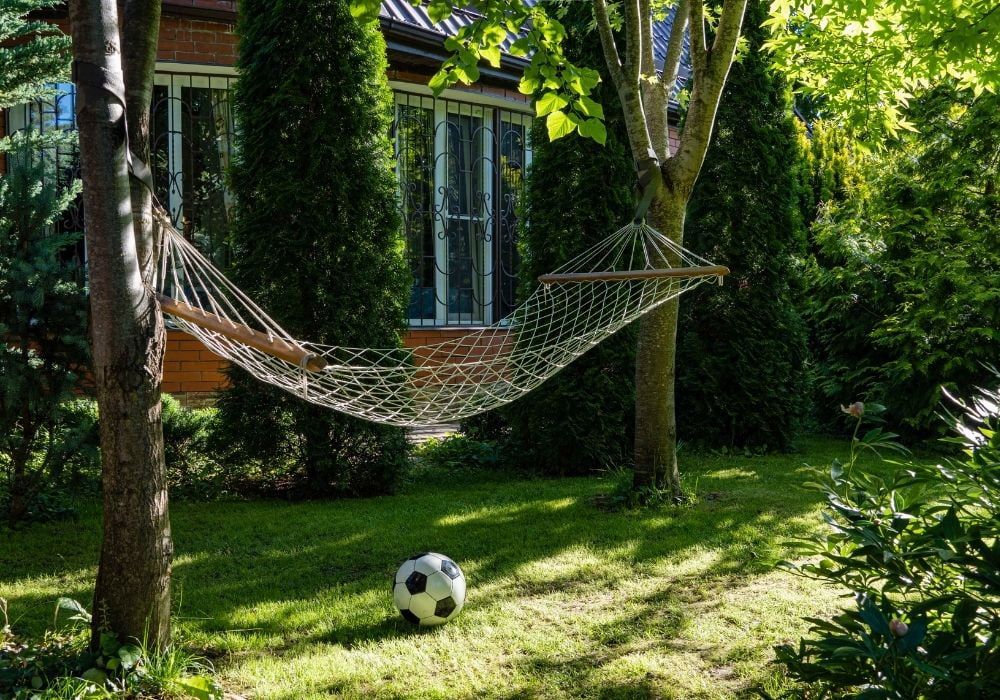 First, measure the distance between two trees to make sure it's long enough to fit the hammock, ropes and fixings – SimplyHammocks.co.uk recommends that the hammock's length is at least one metre less than the total distance between the trees.
Look out for fixings in weatherproof galvanised steel or anodised aluminium that can be left outdoors.
Simply wrap the rope around each tree and link it to loops on the hammock itself. Adjust the rope, so you can tighten or loosen the tension depending on the distance between the trees.
Hammock retailers also sell tree bands, which you wrap round the tree and fix on to the hammock with a hook or carabiner fixing.
Expect to pay around £30 for an adjustable rope with hook (you'll need one for a chair or two for a hammock) and a similar price for a pair of tree bands with hooks.
What if you Have One Tree or Wall?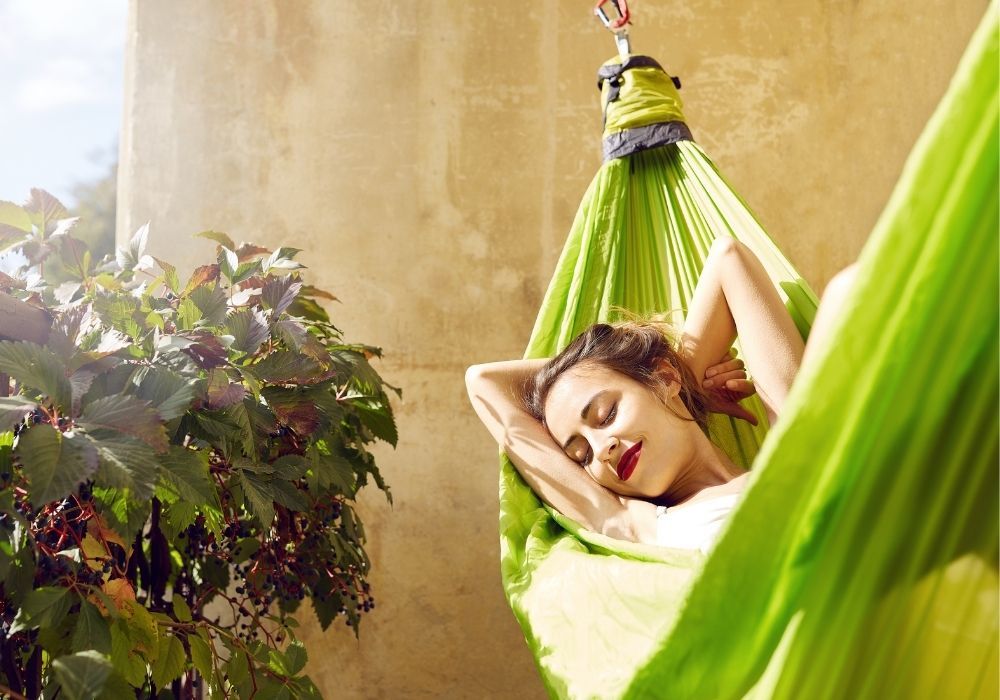 When you want to lie under the shade of a tree, but you only have one tree, post or wall to attach the rope to, you can buy a stand to work as a second post.
The Amazonas Madera Ashwood stand is widely available online from around £80 and consists of two posts in a V-shape. This is anchored to the ground using rope and a ground peg – much like a tent.
Would a Hammock Stand be Easier?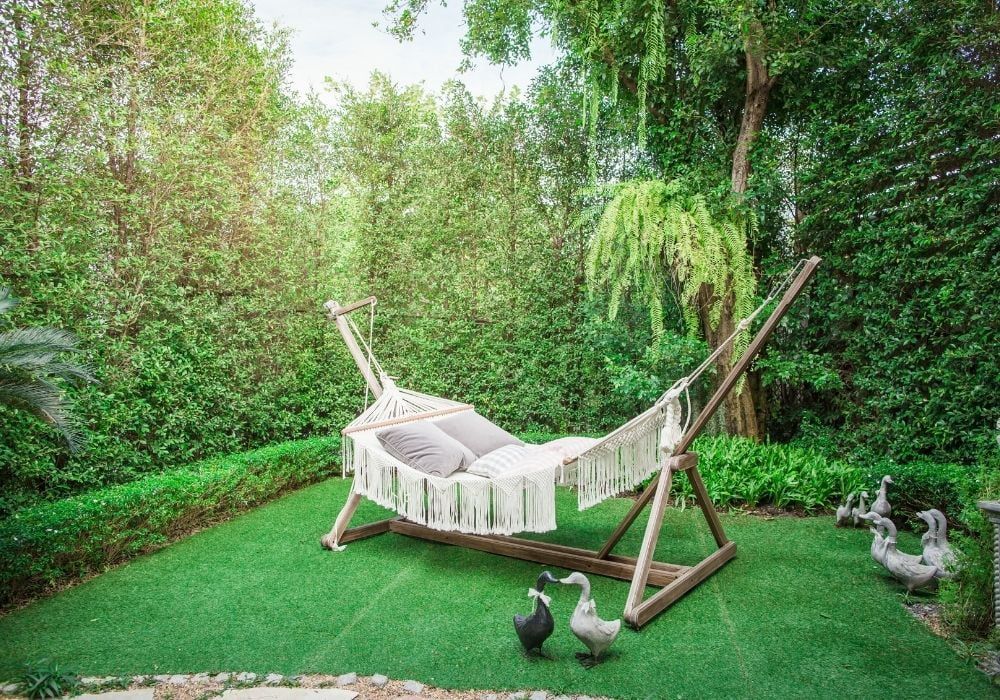 If your trees don't lend themselves to hammock hanging, you can buy a freestanding solid wood or metal stand. Or if you're a DIY'er, you could make your own wooden stand – you can find videos online to inspire you.
Often made from treated spruce or pine, a wooden stand will blend nicely into the garden and can be left out all summer. It can be dismantled into around six parts to store in the shed over winter. Metal stands tend to have telescopic parts that will easily fit into a large bag for storage.
"We take the metal-framed hammocks we have at home camping with us," says Dave. "But we leave our wooden stands out over the summer and hang the hammock as and when we need it.
"Wooden stands are for people who want to add a piece of garden furniture that can be a focal point in the garden too."
Metal hammock stands range from just under £100 to £250, while wooden stands are more expensive – from around £250 to £700.
But it may well be cheaper to buy a hammock set rather than a separate hammock and stand.
"Our bestsellers are classic hammocks sold in bundles," says Dave. "Some people buy a set with a classic and spreader bar hammock, so they can swap them around on the same stand."
James adds that while hammock sets are also their bestsellers and better value for money, single hammocks are selling well – and not just for adults. "We have seen a growth in sales of hammocks for children with autism, the natural swaying and cradling effect aiding coordination skills," he says.
What about a Hammock Chair?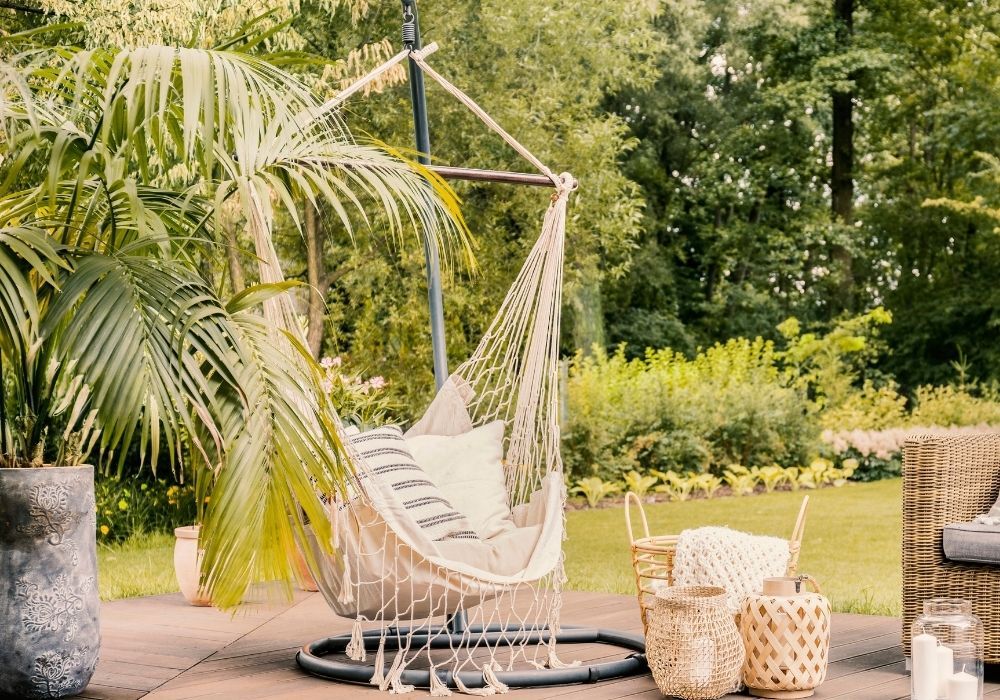 If you prefer sitting up, then consider buying a hammock chair, which comes with its own stand or hangs from a beam or the branch of a tree. Just make sure the branch is sturdy and is around two metres off the ground.
If you have a beam to suspend a chair, hammock hanging kits are available – for example, Amazon sells kits for £7.99.
Dave says: "People underestimate the benefits of a swing seat – especially larger ones, where you can have two or three people sitting, swinging back and forth."
Bea Games, who first tried a hammock chair at a friend's house and has been hooked ever since, agrees.
"It is the most comfortable thing I've ever sat in, and not just comfortable but really relaxing. Hammock chairs are very supportive – it's like being a baby in a papoose," she says.
Bea, along with her husband and 14-year-old daughter, owns two hammocks and three hammock chairs, and tends to have two on the go.
As they have a covered area over their patio with a wooden beam running across it and two wooden poles on either side, they can easily hang both hammocks and chairs.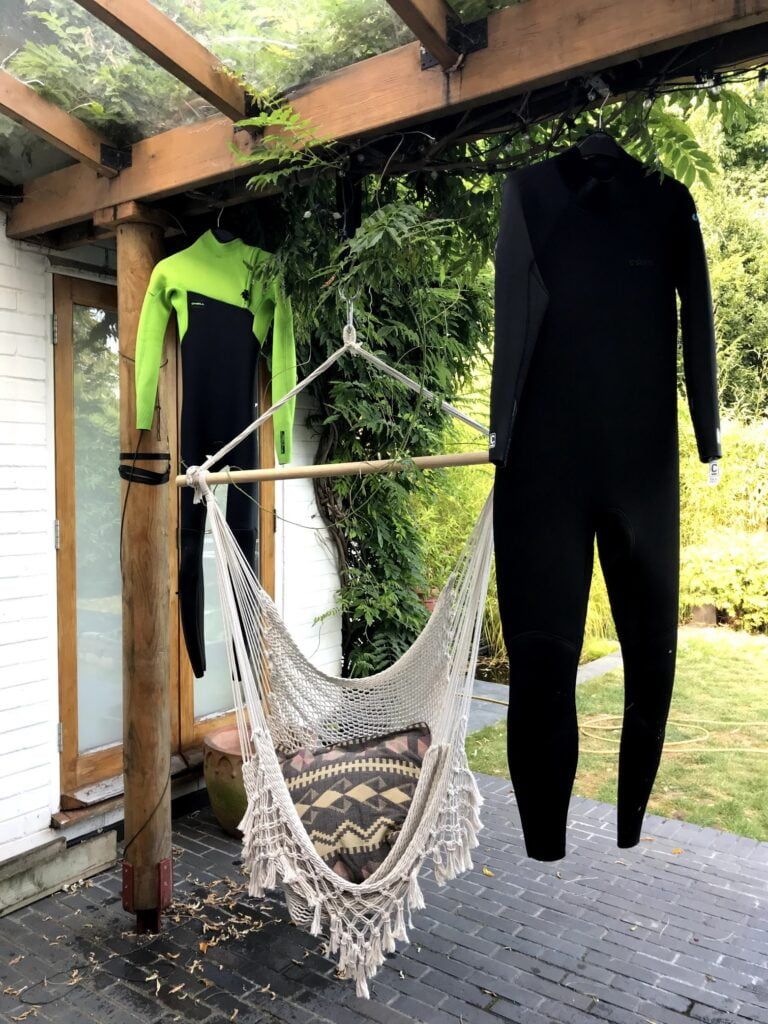 They have two classic hammocks, one with a mosquito net to lie in at night, but Bea is a firm fan of hammock chairs.
"Traditional hammocks are good for snoozing, sunbathing, a bit of reading or playing with your phone, but a sitting hammock is better if you want a long read or to have a cup of tea and a bite to eat. It's also more sociable when you have guests around because you'll be sitting up, so you can chat."
Bea has a padded, canvas and string hammock chair – the string version is cooler on a hot summer's day as you get air through it, whereas the canvas chair resists the wind, so is better for on a cool day – but you can also get wooden and wicker chairs on a stand for a more structured look.
"My string chair, from Chihee, is versatile as you can use it as a hammock chair or unfurl all the string and stretch it out like a string shopping bag to support your feet," adds Bea.
But she says you need to be careful when buying online. "Cheap hammock chairs can be too small, so you'll sit in it for about five minutes and then your neck starts to ache as it has no support, or the seat only reaches halfway under your thighs and digs in – always check the dimensions and how much material there is."
Where Can I Buy a Hammock?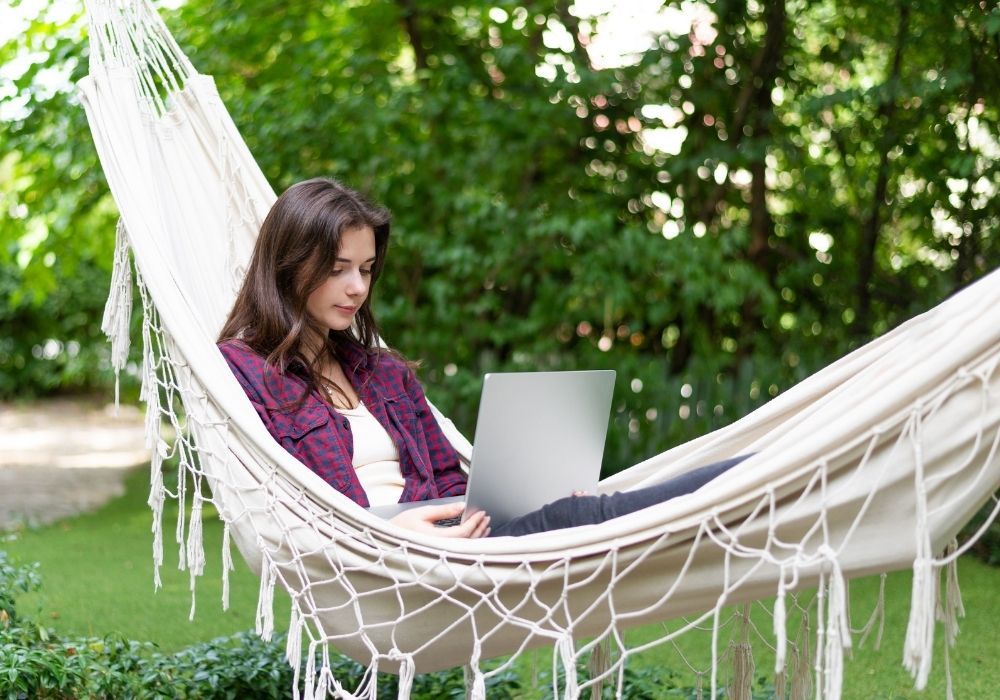 Search online and you will find a vast array of hammocks and chairs from retailers such as Hammockgaint.co.uk, Simplyhammocks.co.uk, and Wedohammocks.co.uk. Also take a look at Amazon, where you'll find makes such as Chihee and Amanka – the latter has a good selection of large hammocks.
You'll also find reasonably priced hammocks/chairs at home and garden retailers – Wayfair sells a wide range by brands such as Freeport Park and La Siesta. Meanwhile, Ikea's GÅRÖ steel stand (£55) and FREDÖN hammock (£40) is practical, with a wheel for portability and a handy storage pouch for books and sunglasses.
Hammocks can be heavily discounted over winter and early spring, so whatever style of hammock or chair you prefer, swing into action now as demand – and prices – may soar over the summer months.
And once you've bought your first hammock, be prepared to get hooked. Not only will it help you to relax in the garden, it will work just as well indoors too.