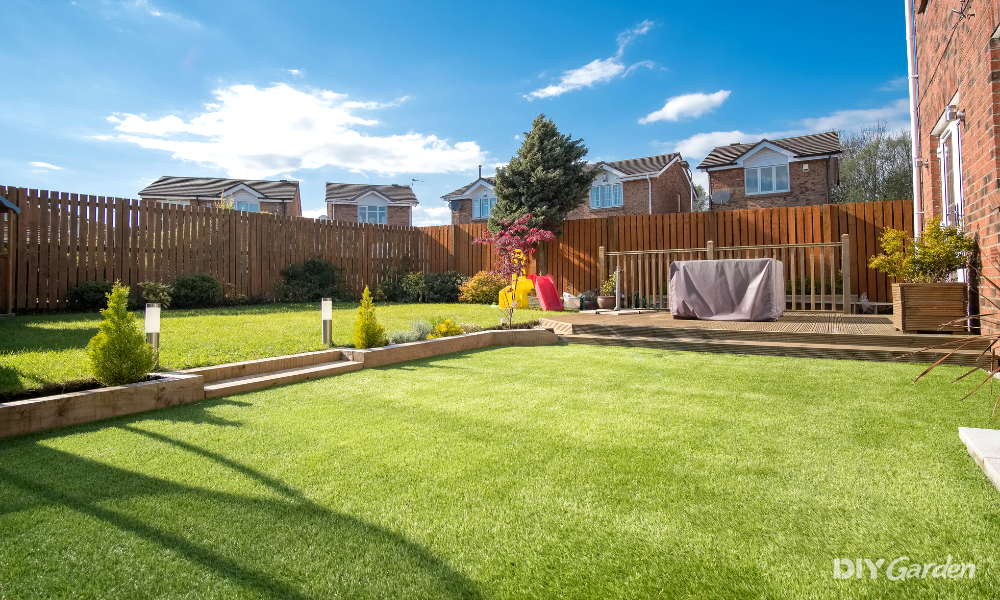 If you're looking to bring your garden to life this year, and want some inspiration, you're in the right place! We've got loads of great garden landscaping ideas, covering different styles and a range of budgets. Start scrolling and let's get into it!
---
My Favourite Modern Landscaping Ideas
1. Focus on Patios in Small Gardens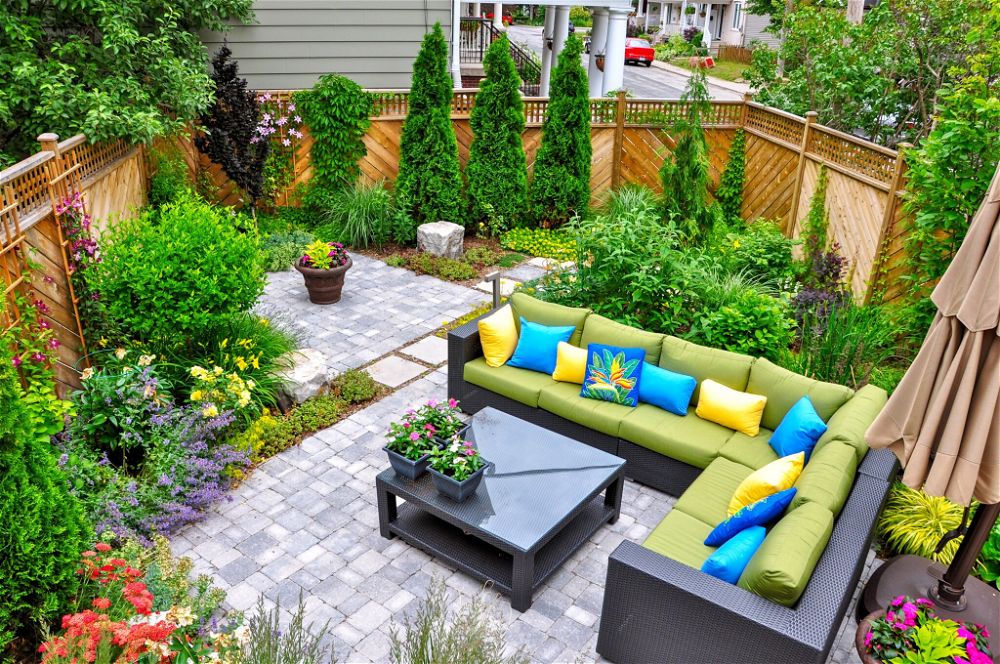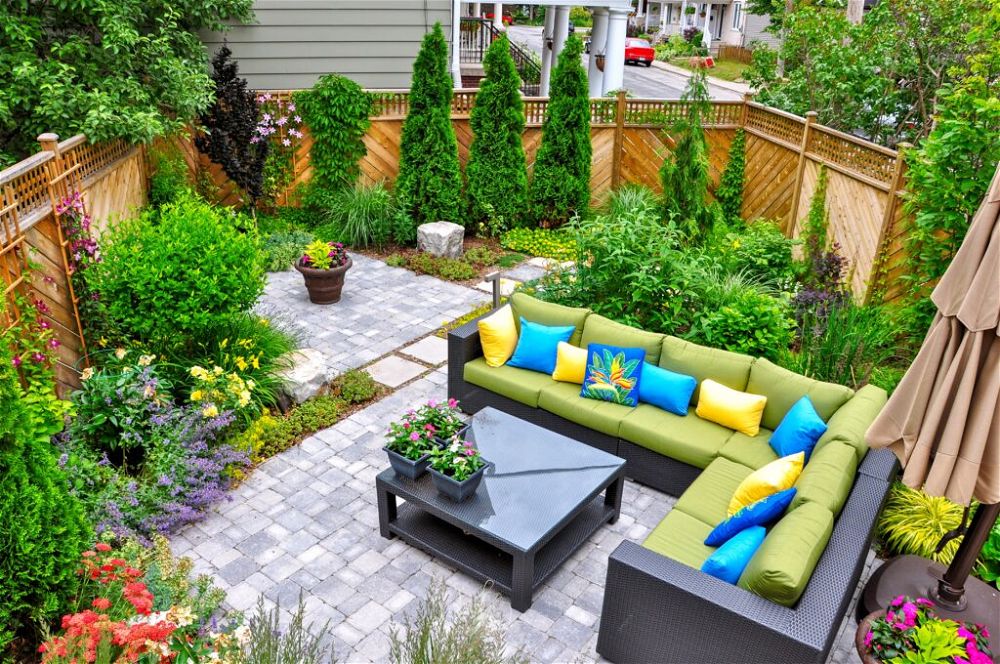 Good landscaping ideas are all about thoroughly planning the space. Although this garden may be small, it's been planned to perfection; it makes good use of patios to define the space without it feeling cramped. There's plenty of seating, lots of greenery and great design.
It just goes to show you can have a small garden and still create a beautiful outdoor space. Another tactic employed by the garden above is to use lots of evergreens in the planting scheme – this means it'll still look good in winter.
2. Create a Fairy Garden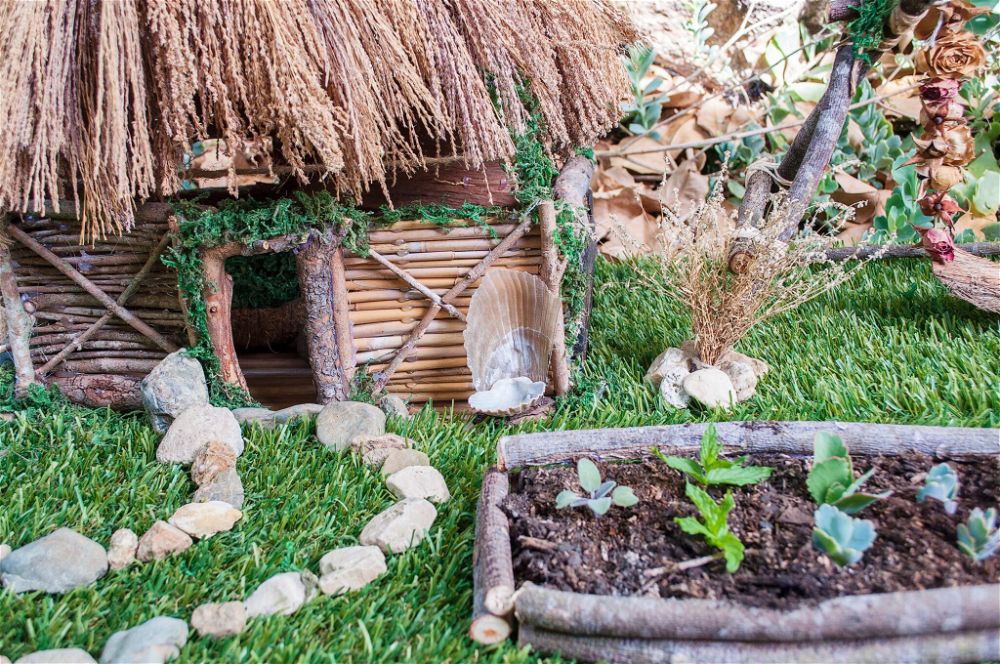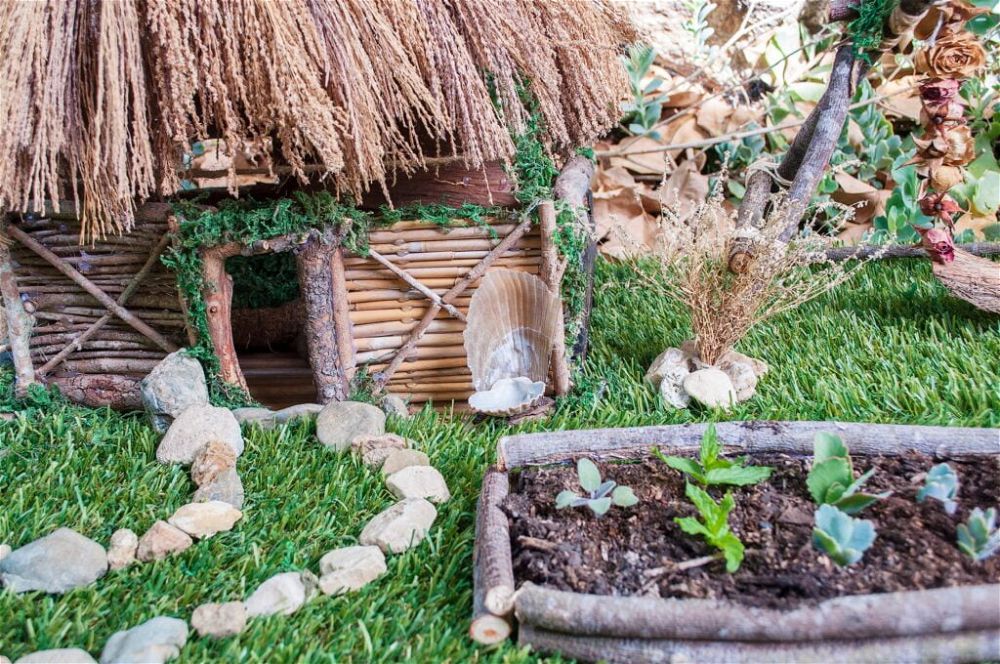 This little fairy garden design is a landscaping dream. Check out that tiny raised bed and cobblestone-lined path. The landscaped details are a joy – that little seashell chair!
This might not be one of the most practical landscaping ideas to do on a large scale, but it will be extremely cute in a small section of garden. It's something that all children (plus a good number of adults) will definitely enjoy.
3. Take Inspiration From Japanese Landscaping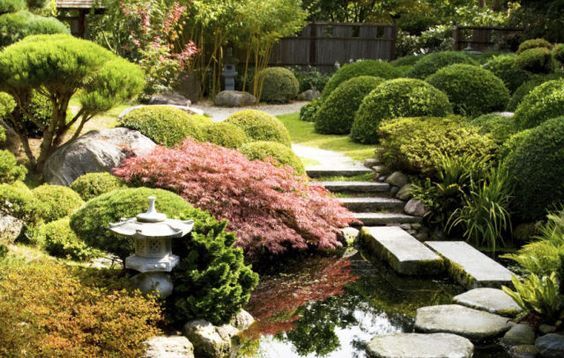 Japanese gardens offer a masterclass in landscaping ideas and design. The garden above includes many typical features: elements of water, stone, shaped evergreens and a lantern feature piece.
READ NEXT: If you want more inspiration for creating a Japanese garden, check out these 28 Modern Japanese Garden Ideas.
4. Form Flower Beds on a Budget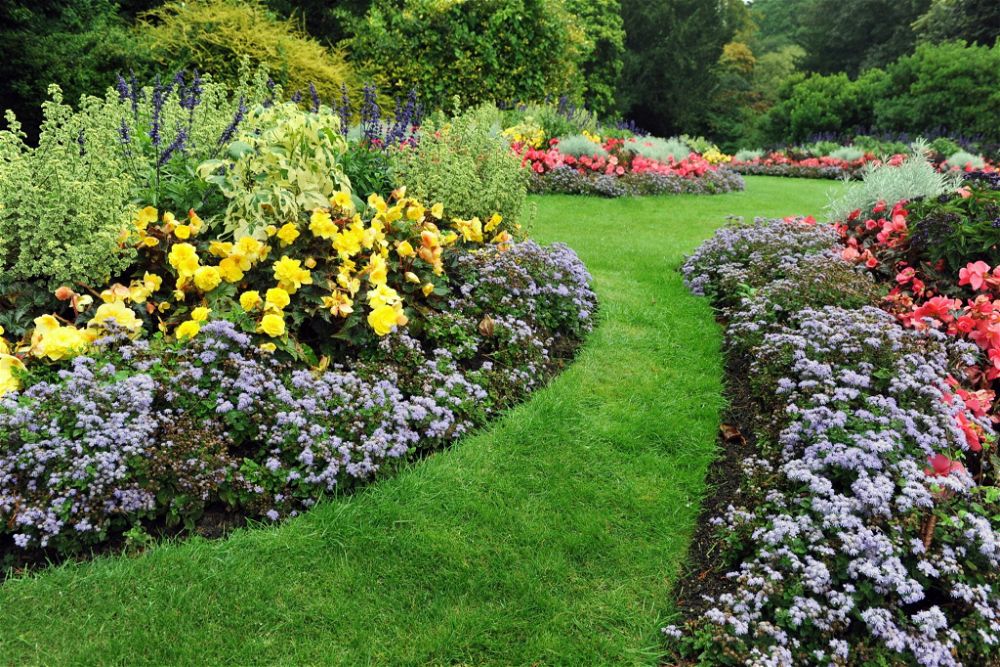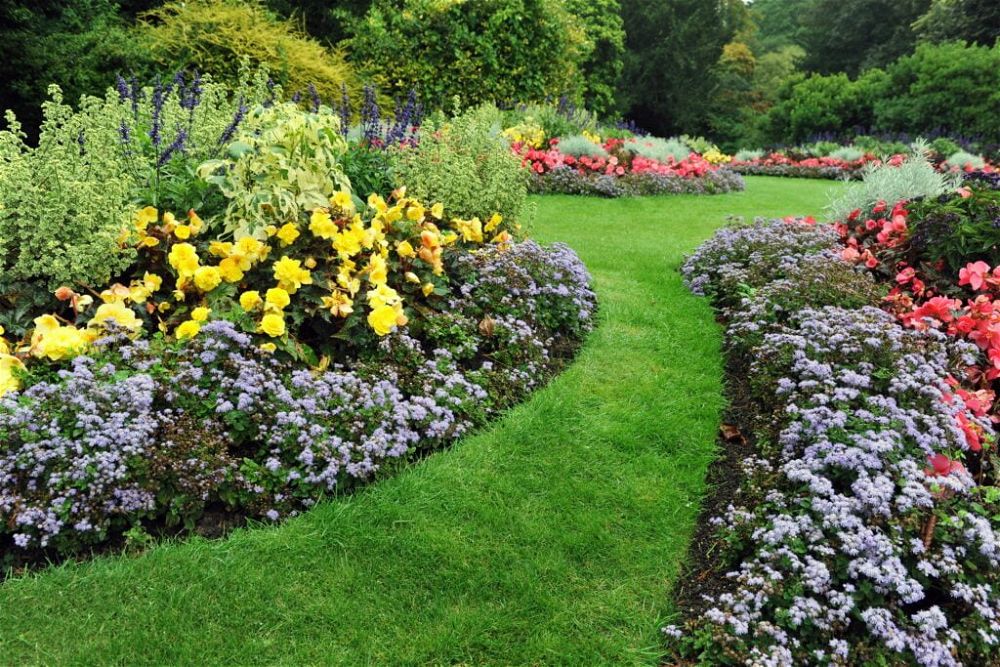 Flower beds are one of the easiest ways to landscape a garden without spending loads of money. All you'll need is a spade and some elbow grease (as well as a plan!).
Draw out a diagram of your garden and play around with flower bed design, layout and placement. Once you've settled on an idea that you like, you can start creating new borders.
To fill in the beds, without going over budget, buy cheap bedding plants or plug plants and grow them on a warm window sill before planting them out.
5. Boost Borders and Edges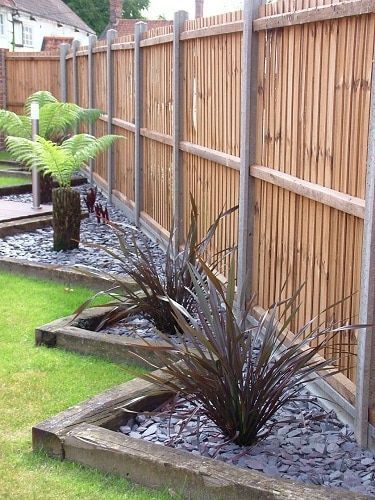 If the idea of doing a full garden-design overhaul feels a little daunting, why not start with the borders and edges. Modernising borders can really boost the appearance of an entire garden, without having to come up with landscaping ideas for large expanses of space.
In the garden above, the zig-zag pattern is eye-catching and functional, serving as a practical flower border. You could easily replicate a similar design using old weathered sleepers, stones, and a few statement plants.
6. Work with Slopes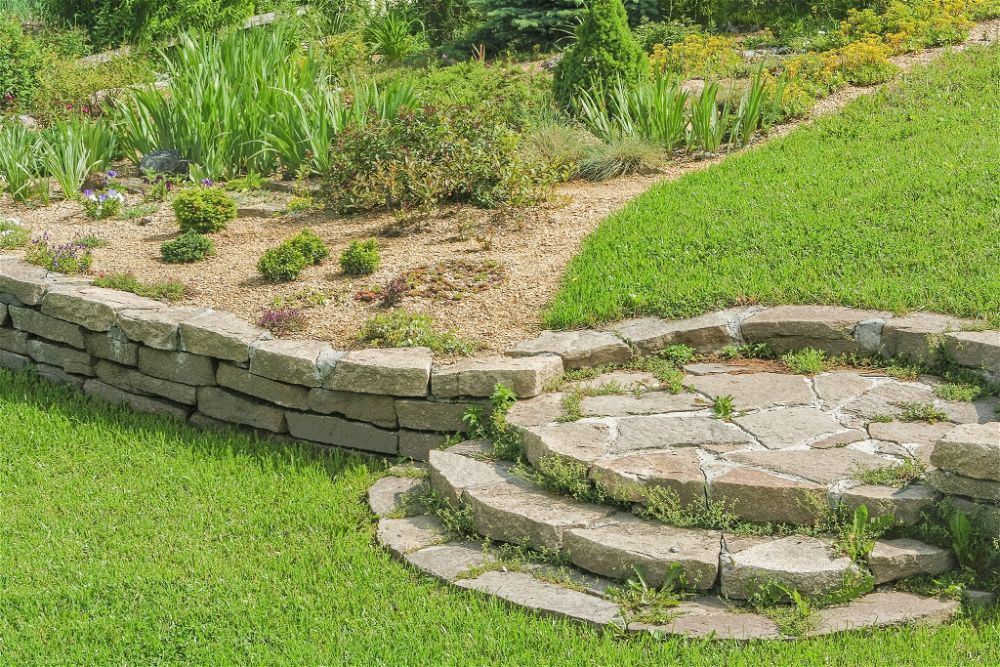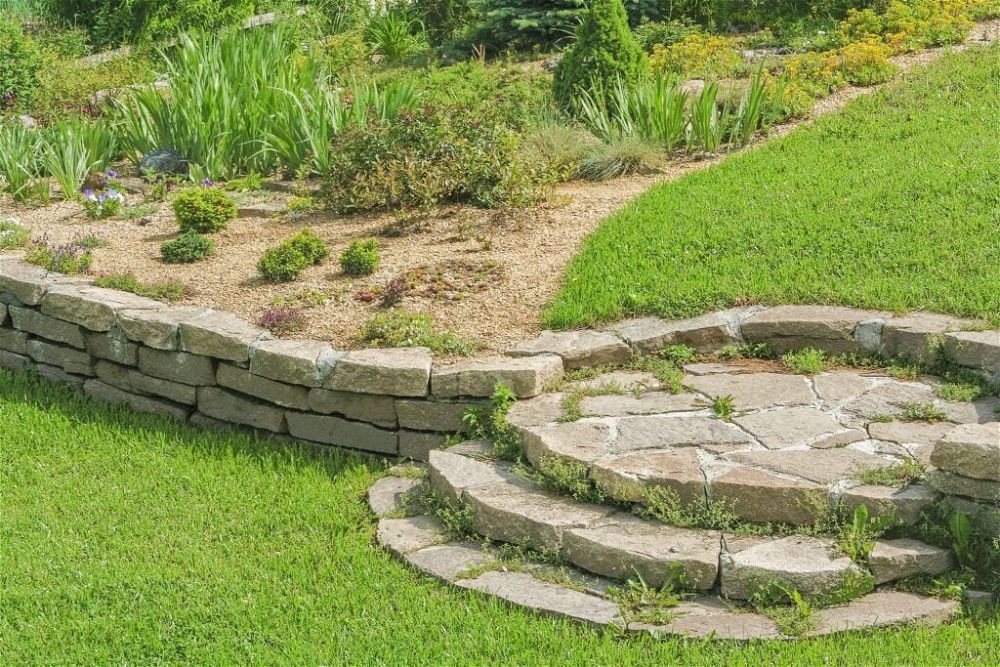 A sloping garden can be difficult to work with. A lot of the time, not all of the space is usable because it's hard to work with or build on.
One option for sloped gardens is to create a one-step terrace, this is slightly less dramatic than completely levelling a sloping lawn – part of the garden will be left sloped, whilst the other part is flattened.
This garden design helps to create a usable area in sloped gardens. In the garden above, a flat section of lawn, a flower border, and steps up to the slope create strong features and give the garden purpose. This design has transformed the space into somewhere that it's a joy to spend time.
7. Create Curves in Small Spaces
This is a tiny but perfectly formed back garden project. See how the circles and curves draw your eye and make the space look bigger? That's a well-known landscaping trick and a great one to try out if you're DIY landscaping.
This design would work in a small outdoor space or as part of a larger space too.
8. Say Goodbye to Grass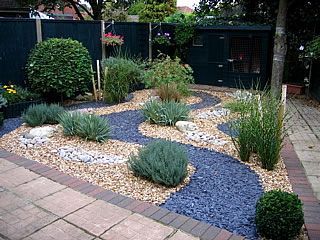 For a truly low-maintenance garden, why not replace grass with gravel, pebbles and stones. You can create a variety of striking designs and an extremely well-sculpted garden without having a single blade of grass in sight. For greenery, add in drought-resistant plants that won't require a lot of pruning or attention.
9. Welcome Wildflowers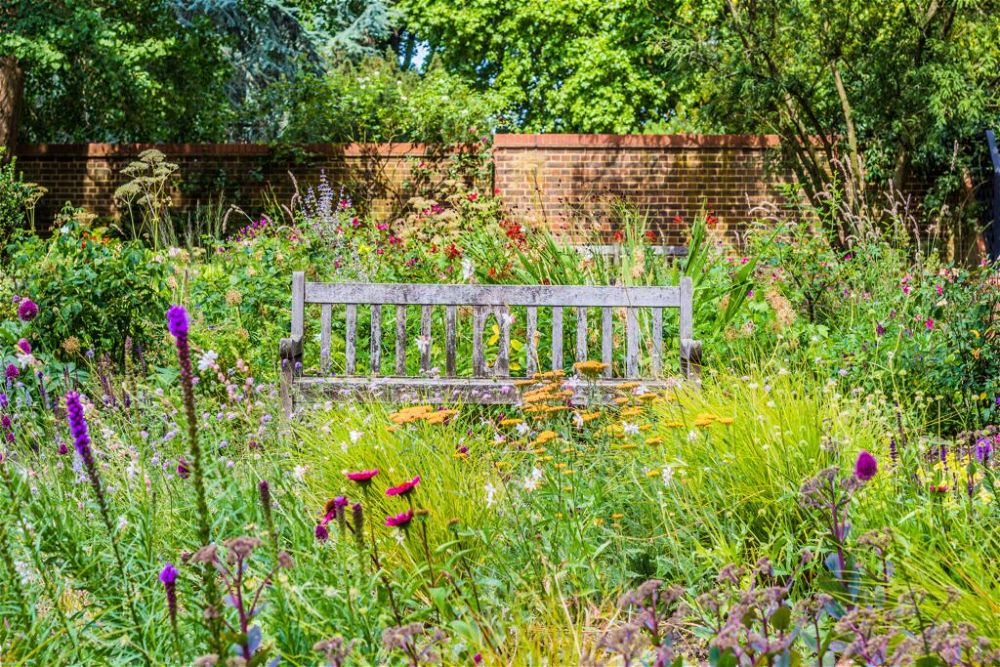 Large gardens create a fair amount of work, but not everyone wants stone and gravel.
Check out this wildflower garden. We've lost so many of our wild meadows that pollinators, birds, and mammals are in decline. Help them out with a big wildflower meadow – they don't take much care and they're great in drought.
10. Bring Landscaping to the Front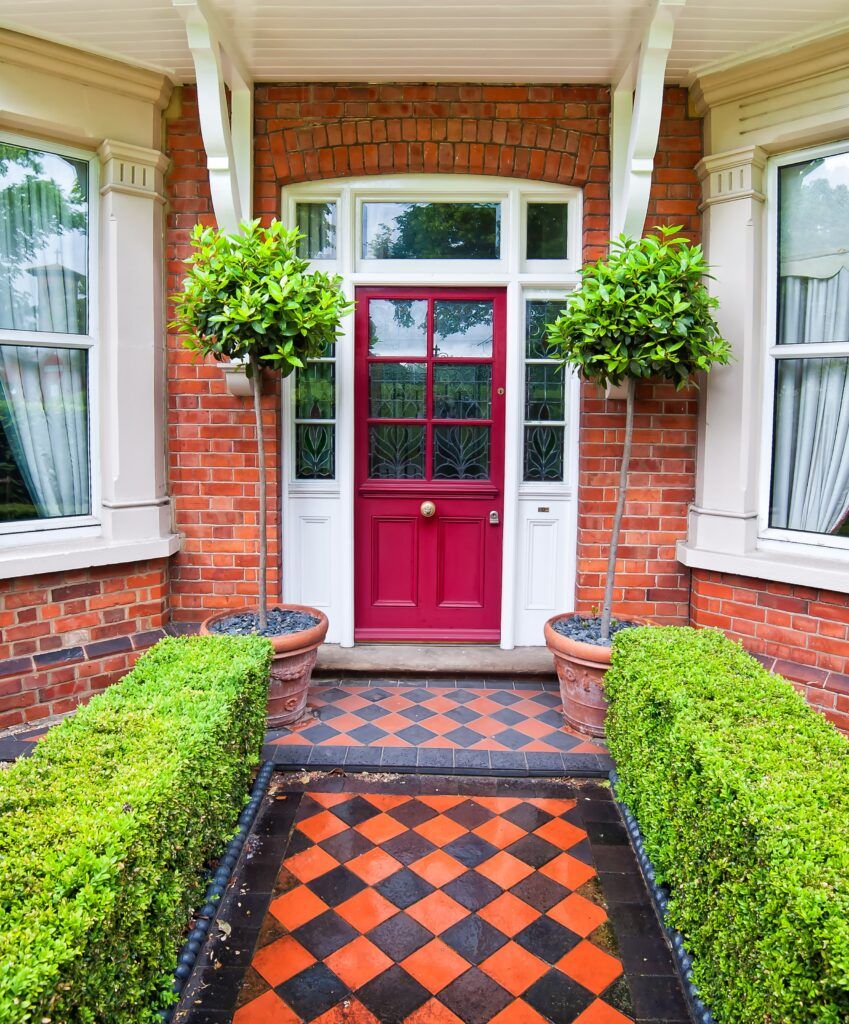 Here's a smart front garden idea for urban and country dwellers. The red and black tile path is an eye-catcher especially with the smart box hedging and the standard bay plants framing the red doorway.
One the tile has been laid, there will be very little maintenance required. The box hedge will only need trimming once or twice a year.
11. Choose Purples, Whites and Greens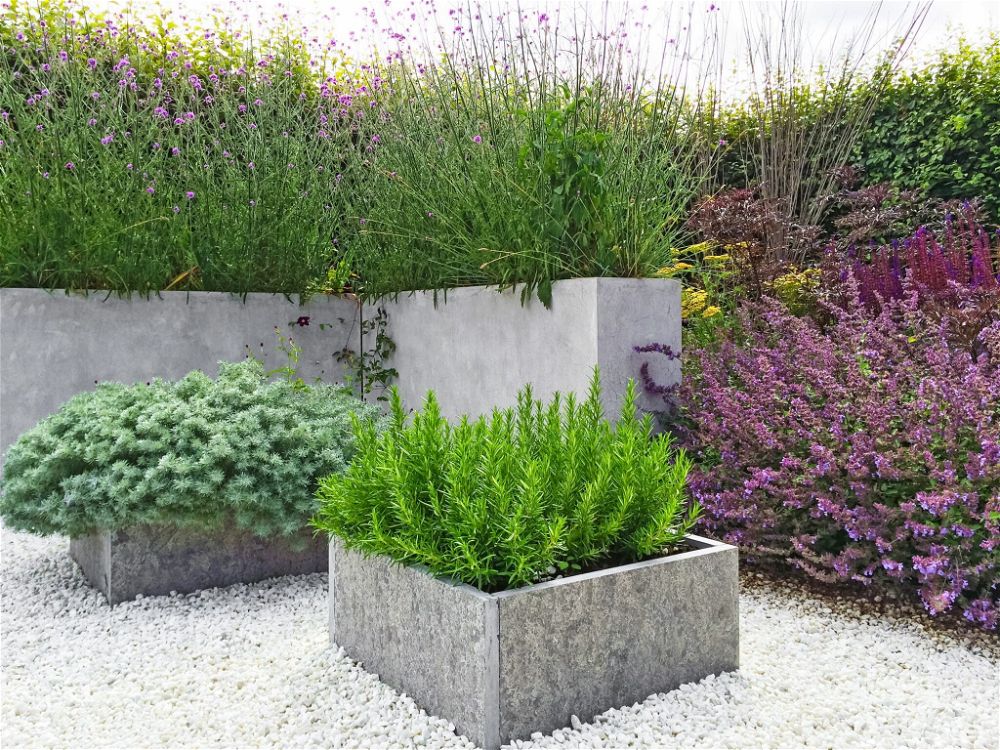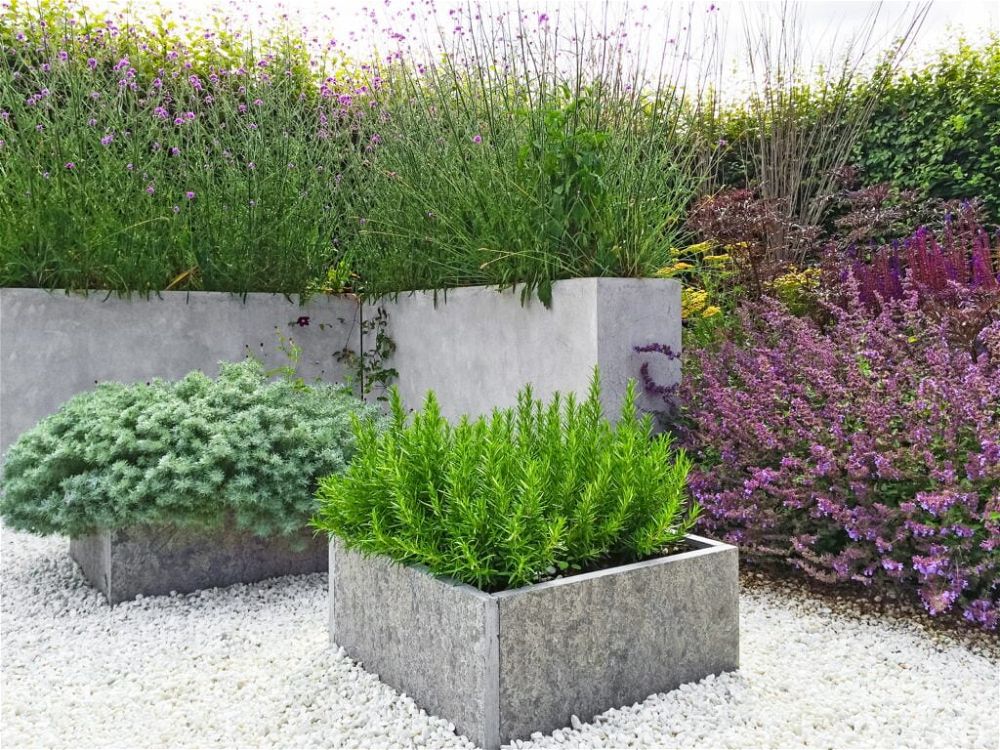 This contemporary outdoor space is time-saving and right up-to-date but it doesn't lack flowers for pollinators. Crisp white stone is used instead of a lawn with chic stone planters holding rosemary and verbena. The single colour palette choice of purple is very modern too.
Low maintenance, beautiful, and pollinator-friendly – you don't get more modern than that.
12. Add in a Pool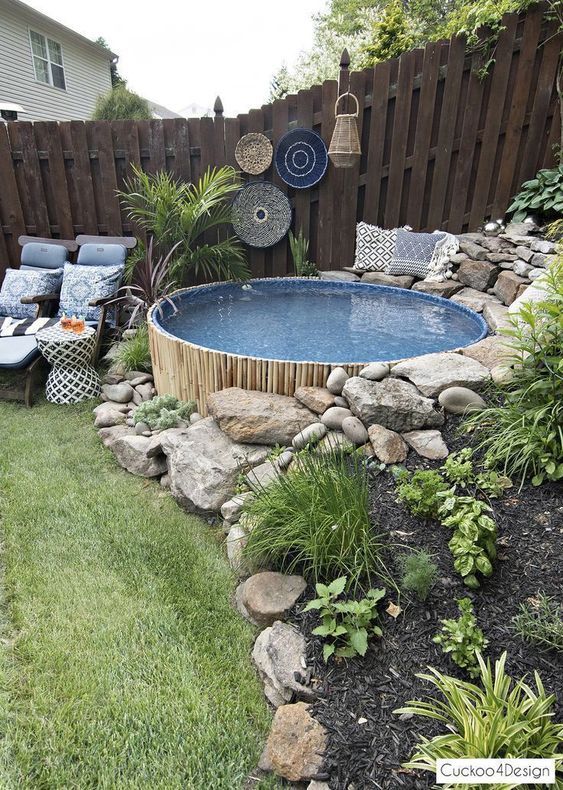 Most UK gardens won't take an Olympic style pool, but this landscaped design is perfect for smaller gardens. It also makes great use of a sloped garden.
Check out the landscaped stone that doubles as steps and seating. What a great design.
READ NEXT: The Best Garden Swimming Pools
13. Make Space for Veg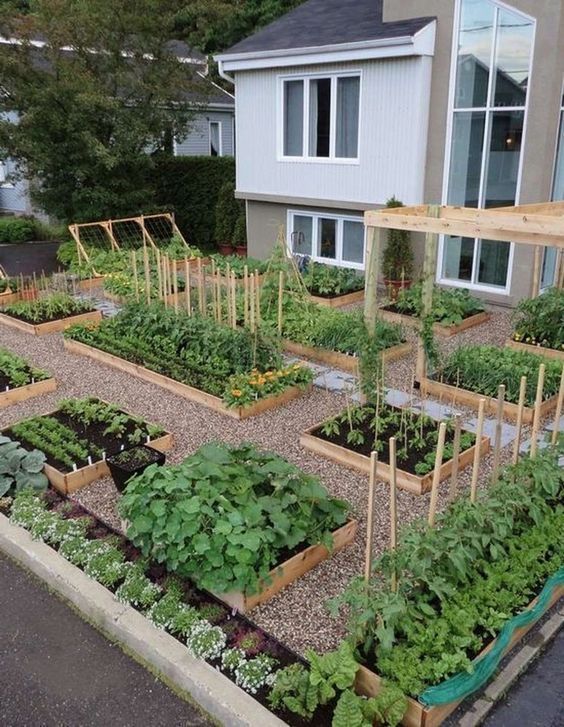 If you don't need a lawn this is a great way to grow vegetables in a landscaped garden.
The raised beds and clear stone pathways make the veggie garden accessible to wheelchairs or folk with limited mobility, and it's right by the back door so all those veggies won't have far to go – and your shoes won't get muddy!
READ NEXT: The Best Raised Beds to Buy This Year
14. Say Hi to Cacti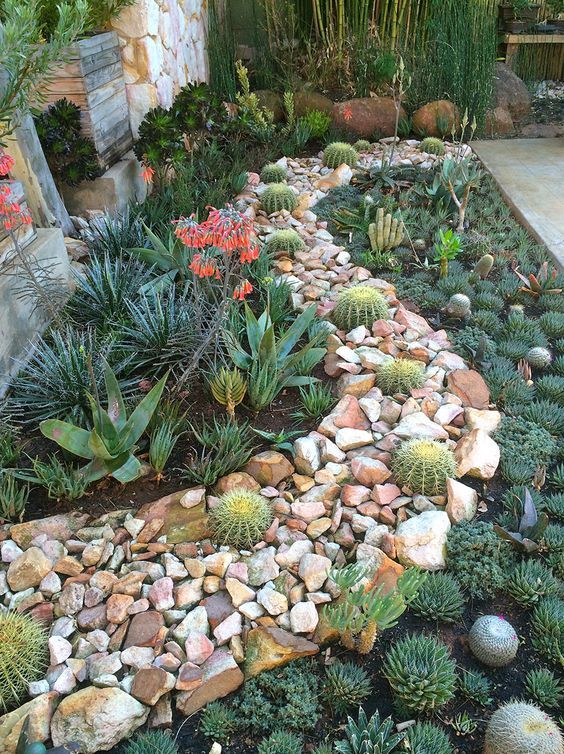 Fancy some Wild West action? Go swaggering and gun-slinging through this cactus garden.
Cactus are succulents and they prefer free-draining soil that's on the dry side. Add lots of grit if your soil is heavy or waterlogged. A cactus landscape is the perfect landscaping idea for a hot and sunny garden.
15. Keep it Looking Rosy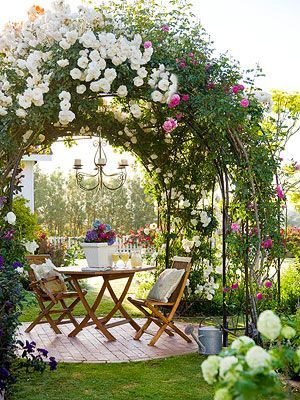 Roses are a dream in the summer months, nothing shouts 'summer is here' louder than the scent of roses. There are all types to buy such as climbing roses, tea roses, shrub roses, standard roses, miniature patio roses, and the colours are beautiful.
If you don't want an entire garden of roses how about just a rose arch to sip your tea beneath?
16. Design an Alpine Rockery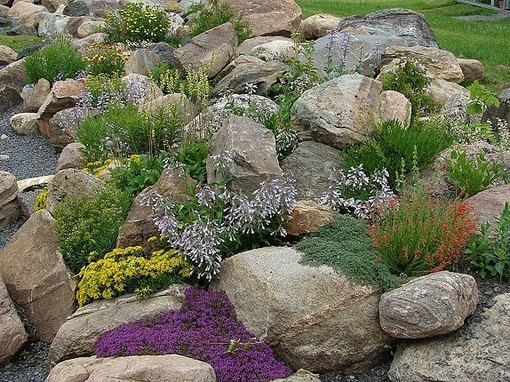 Rock gardens are a great way to make your outdoor space interesting without dealing with lots of lawn or flower beds.
But that's not to say flowers have no place! This rock garden has planting pockets for succulents and alpines that love the well-drained and warm conditions.
17. Keep it Modern Out Front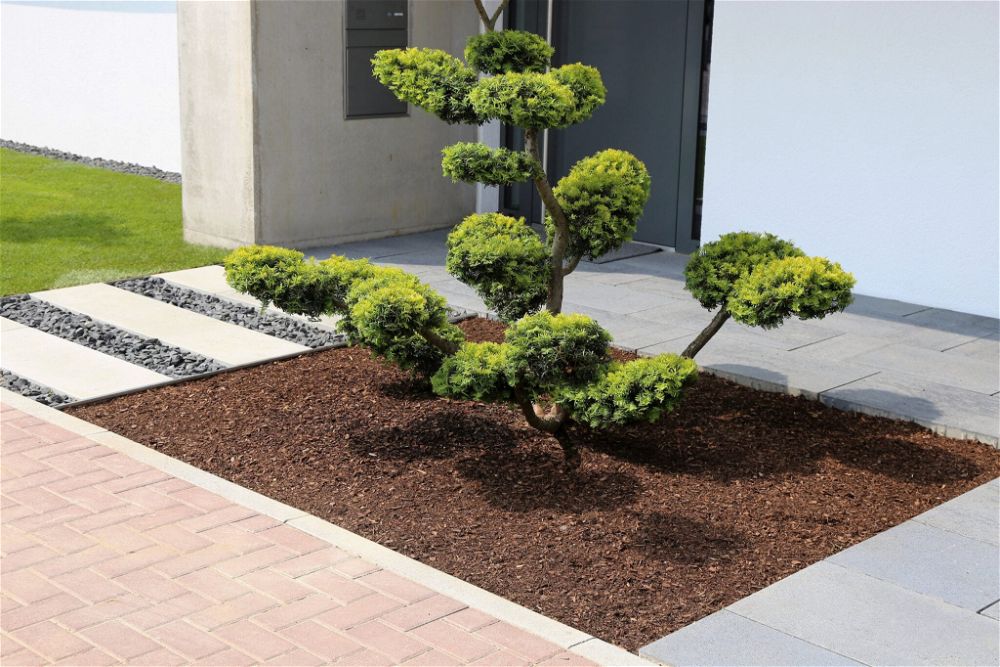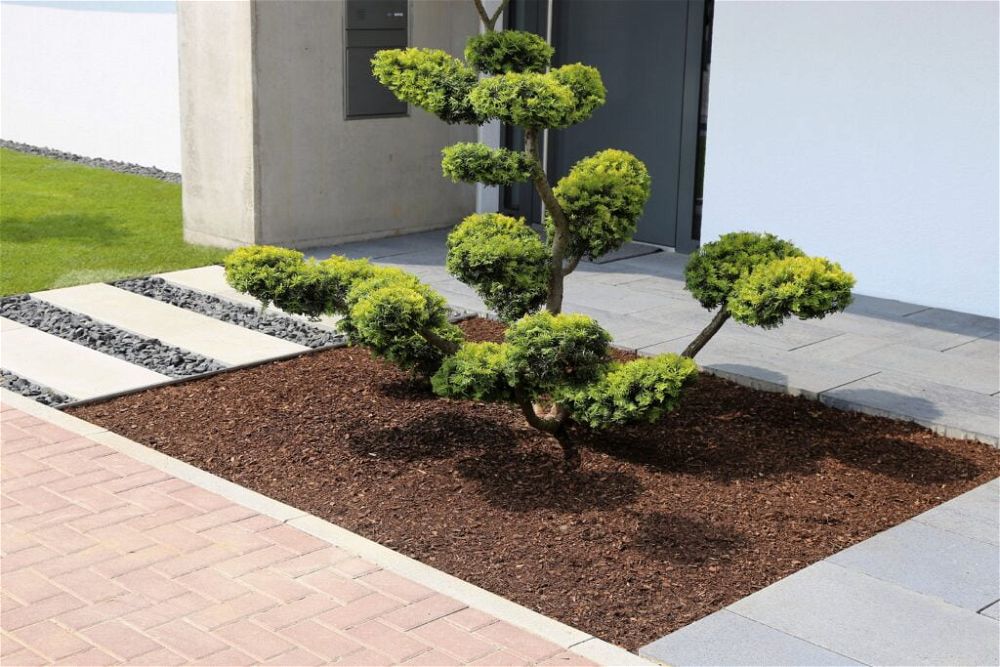 Here's a neat and tidy modern front garden. It incorporates different coloured stones and showcases one cloud-pruned evergreen shrub surrounded by wood chip for a softer finish.
This low-maintenance modern front garden will last for years and if you're planning to sell up, it'll increase your home's kerb appeal.
18. Take Inspiration From Stately Homes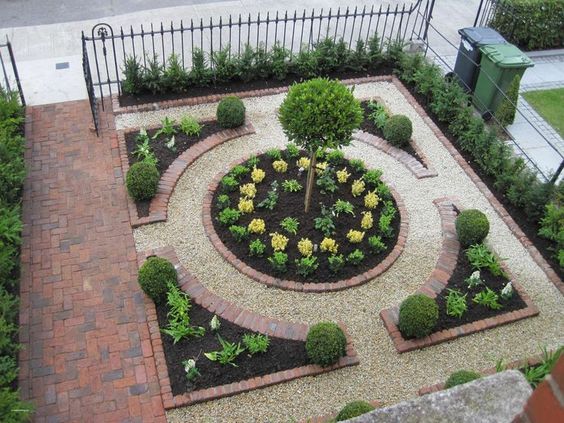 This garden has an air of 'National Trust House' about it – it's extremely well kept and executed, looking very prim and proper outside the front of a house.
Although there will still be a fair amount of maintenance involved in keeping the plants in shape, there's no grass to worry about. This means no need to drag the lawn mower all the way out front.
The use of gravel and brick-lined flower beds means the parameters of the garden will always stay looking neat. It's simply up to you when it comes to how to fill the borders.
19. Plan Around Seasonality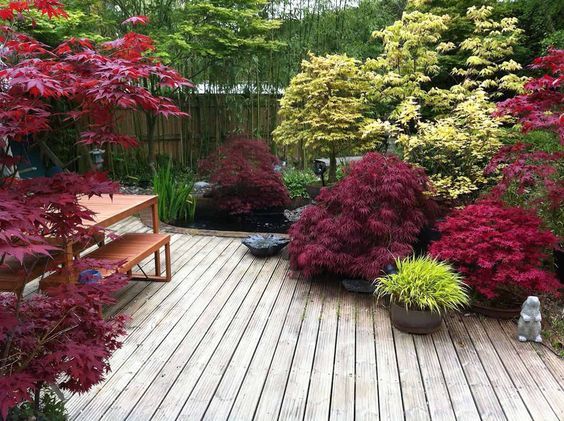 Choose a range of plants that change colour in the different seasons. For inspiration, look towards Japanese style gardens – these make particularly good use of colour and often look stunning in Autumn.
In the garden above, acers and maples create pops of colour. There are loads of different maple trees to choose from, all offering something a little different when it comes to colour. Why not also think about including some trees that will have beautiful blossom in springtime.
20. Be Inventive with Raised Beds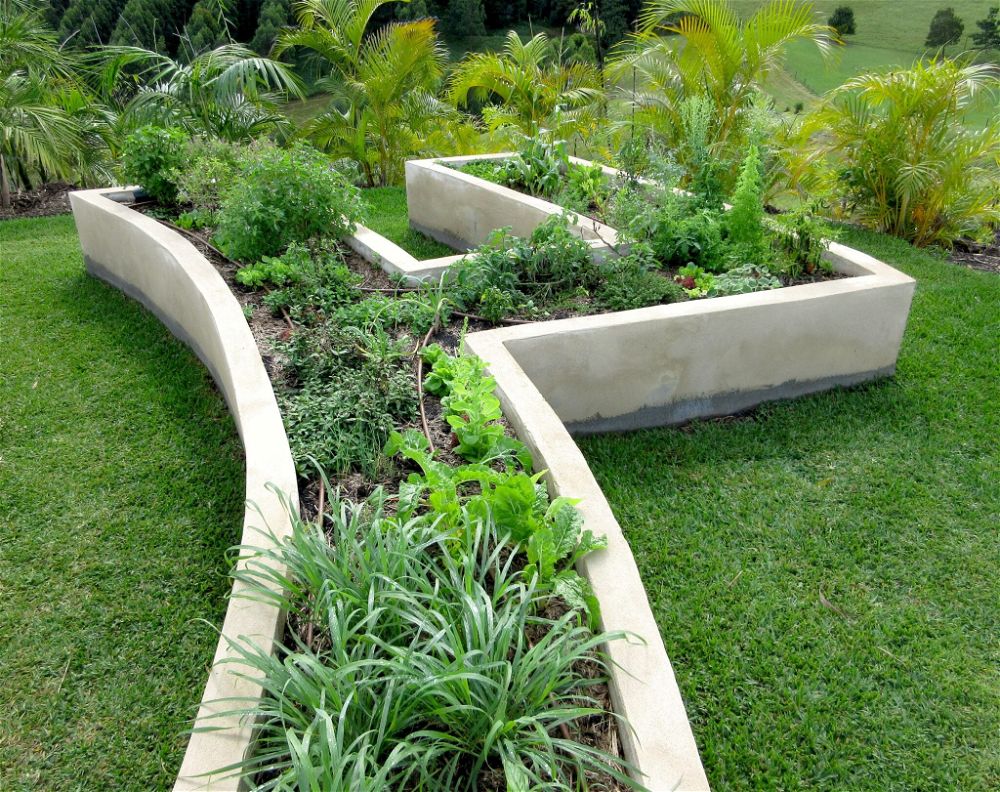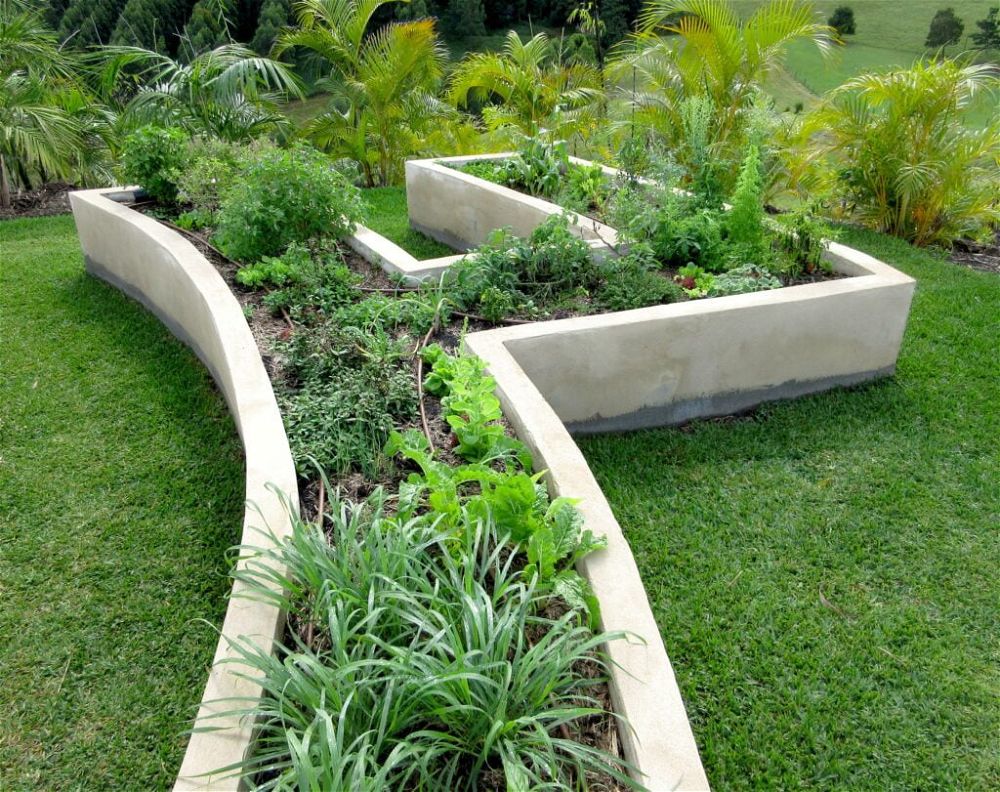 Instead of the usual rectangular raised bed, how about a landscaped design like this?
You can still access the beds from every side and it creates an interesting garden feature.
21. Create Two Tiers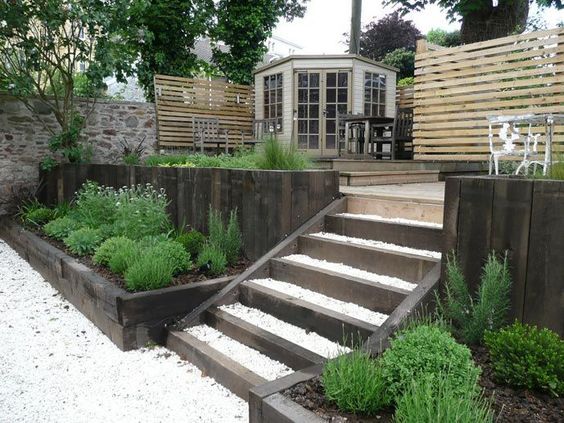 A very steep back garden is not much use as it is. This design incorporates a heavy-duty tier that creates two levels with raised beds to soften the vertical.
Love the idea of a garden room at the top along with a seating area – and the privacy screens are a must to keep the neighbours at bay.
22. Fill Raised Beds with Wildflowers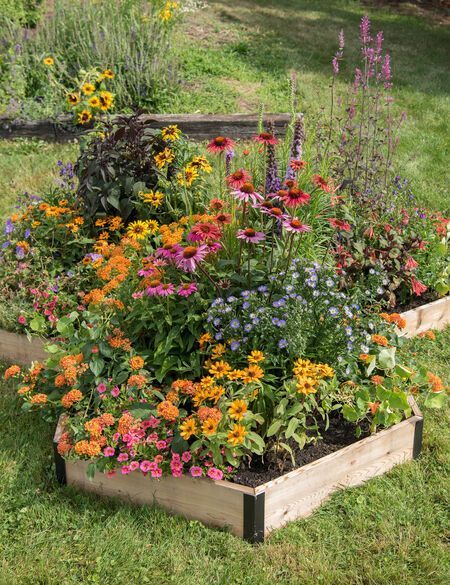 Flowers not only look and smell beautiful they are beneficial to our pollinators too. Bring on the flower gardens!
But wait – you don't even have to dig to bring this idea to life. How about these hexagonal raised beds full of wildflowers? Great design and even greater wildlife appeal.
23. Build a Pebble Beach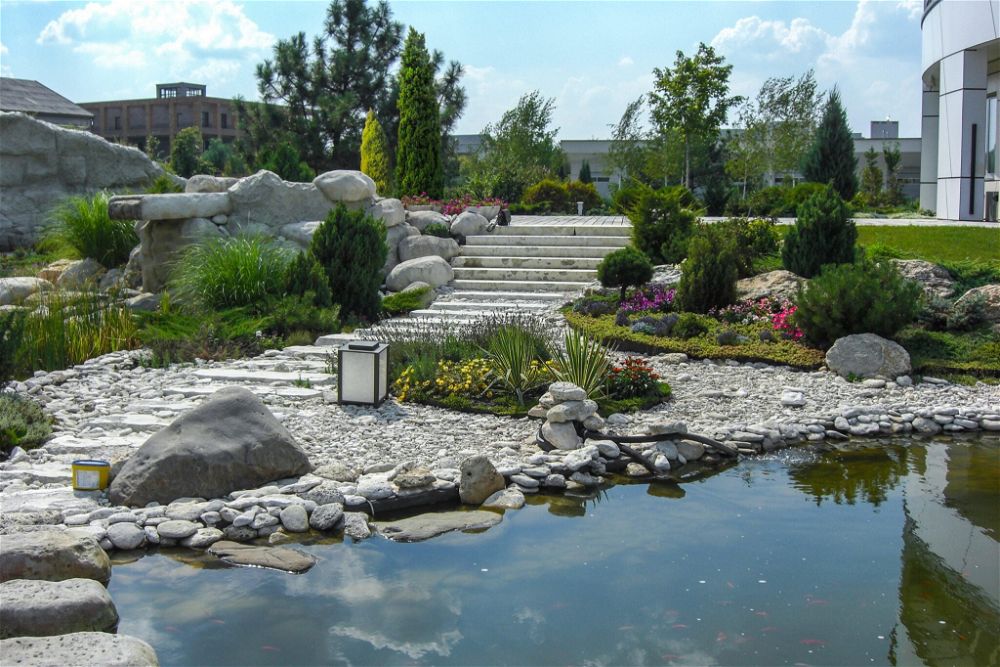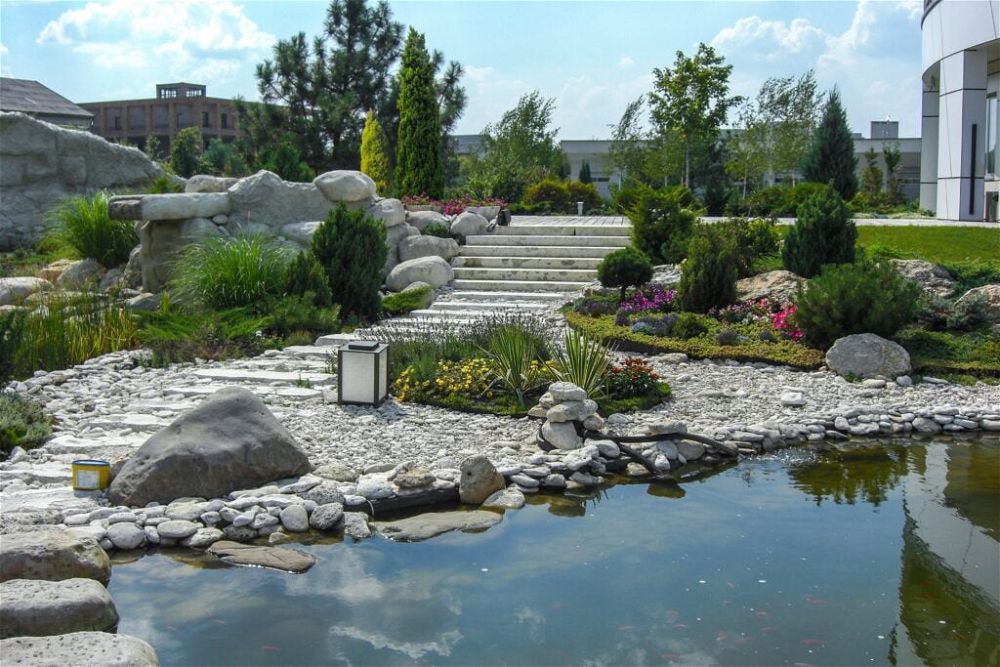 This garden makes the most of pebbles in a recreation of a beach. If you're a coastal lover this staircase to a 'back garden beach' will appeal.
Pebble is a good base for seating and it keeps mud at bay. Imagine bringing out your deckchair to have a BBQ on the garden beach.
24. Get Inventive with Cement Blocks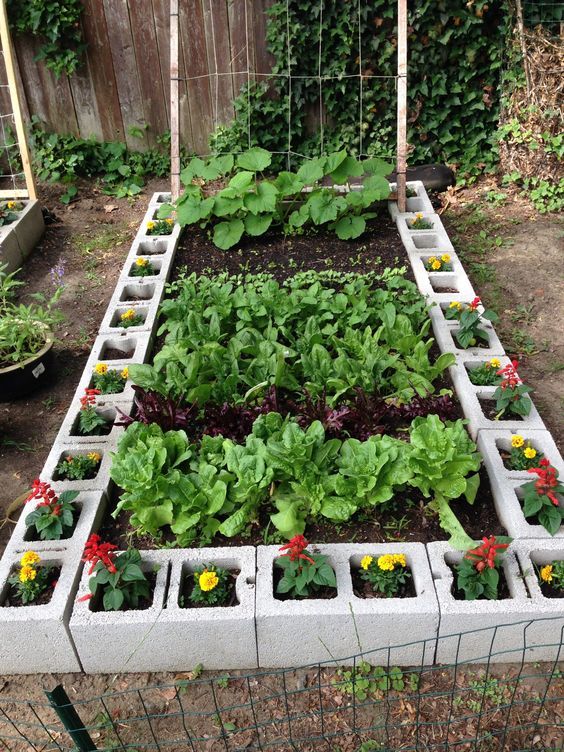 This simple DIY landscaping project is doable by anyone – even if your DIY skills are non-existent.
Here we have concrete blocks turned up to create a raised bed with extra planting pockets. Herbs would love the dry conditions of the pockets. What a great idea for budget DIY landscaping.
READ NEXT: 50 Raised Garden Bed Plans
25. Utilise Corners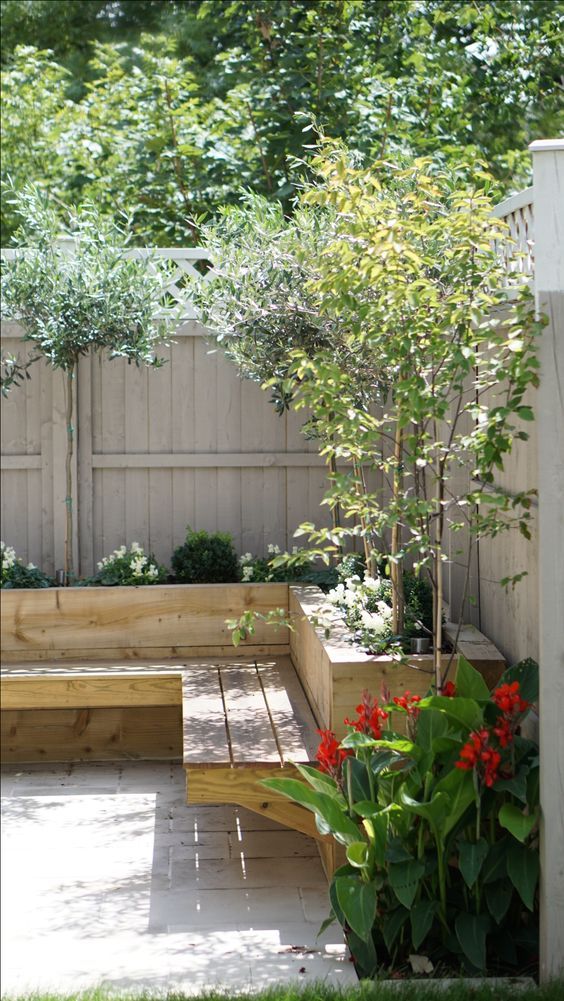 Corner gardens are great places to grow tender plants and install a cosy seating area because the wind is blocked on two sides.
If your corner is a sun trap create a bespoke corner seat with heat-loving plants. If it's shady, set up a corner seat with ferns. Win-Win.
26. Embrace a Japanese Rock Garden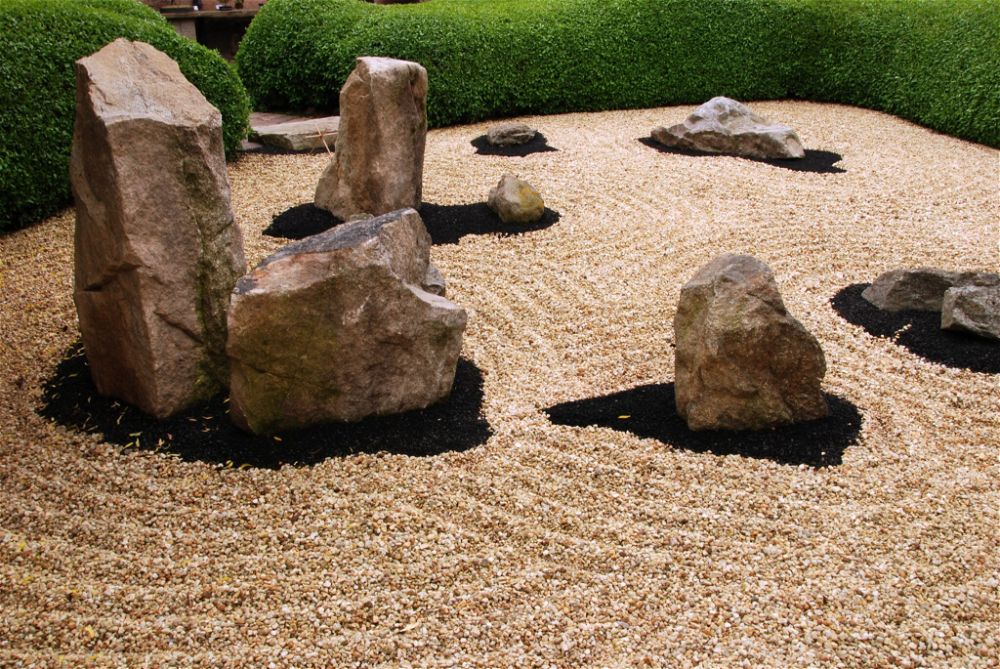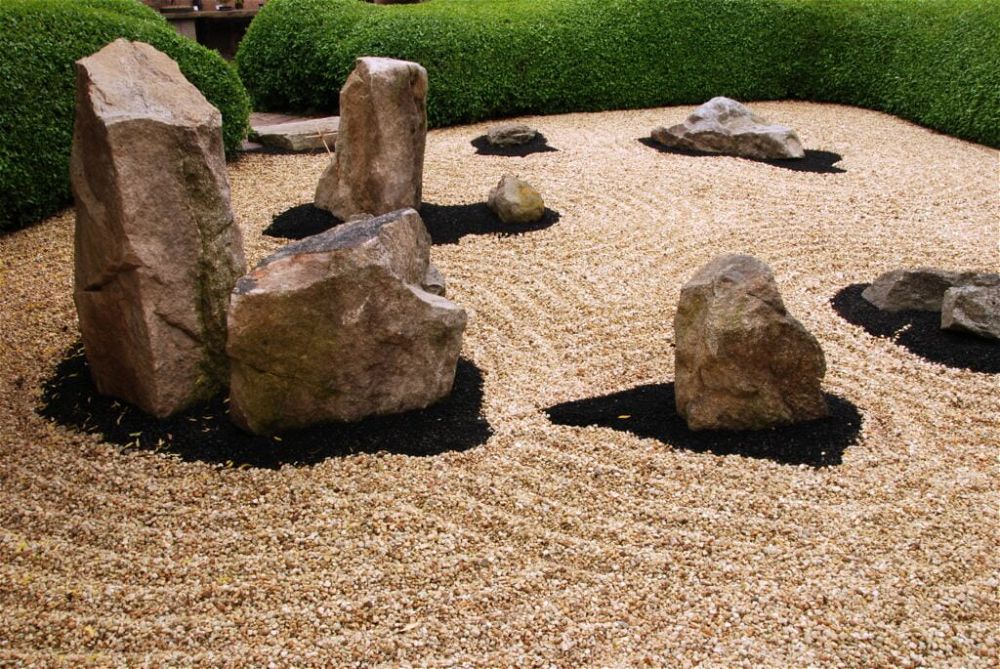 A simple but effective Japanese rock landscape you say? Look no further.
These large standing stones are pricey, but they last forever and don't require watering, pruning, or feeding. The raked pebbles create movement so the effect isn't too barren and the box clipped hedge neatly encases it all.
27. Use Lights on Borders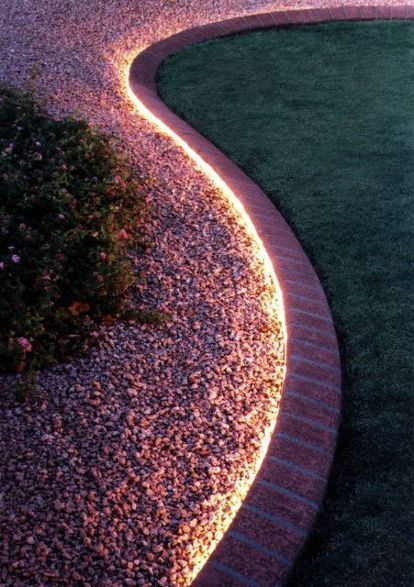 Illuminated garden edging looks smart in the day and at night too.
Edging is traditionally used to stop grass creeping into the flower border, but it can be so much more. This type of lighting can be used along borders and pathways to light the way at dusk.
28. Take on Terraces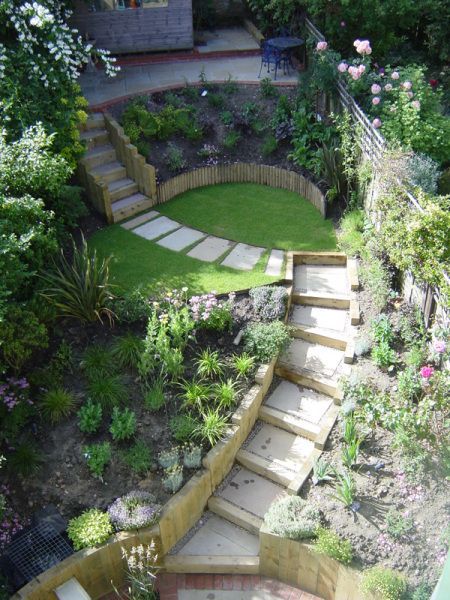 This small garden has been perfectly terraced. It's heading upwards, but the design could work heading downwards as well.
Three levels are softened with sloping flower borders and lots of curves to make the space look larger. Who wouldn't want a glass of red on that top tier?
29. Add Country Flowers into Borders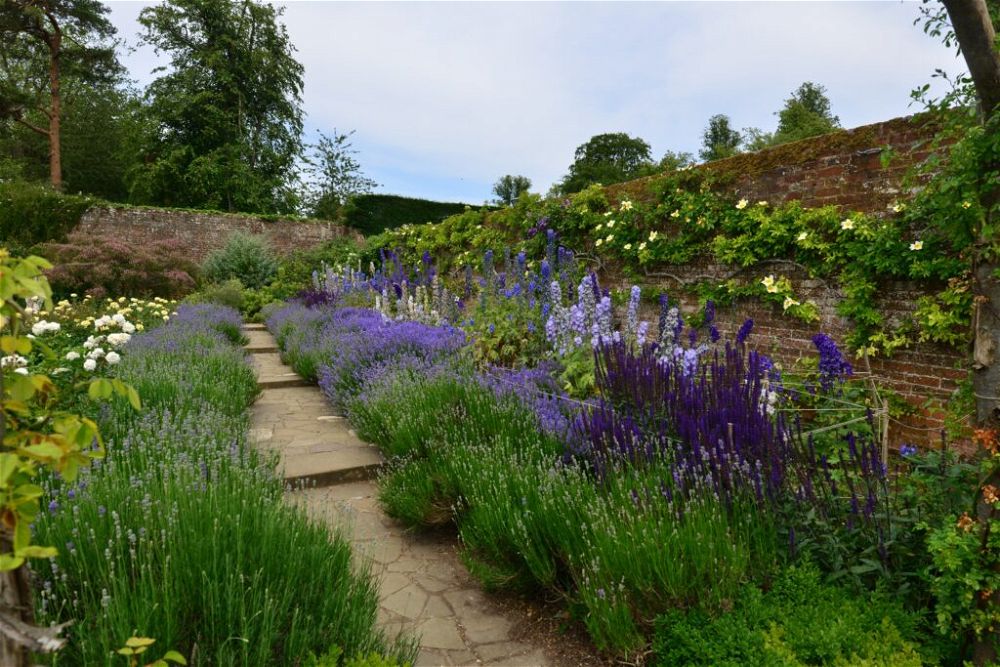 Here's a beautiful country flower garden border packed out with flowering shrubs, perennials, and annuals.
The old-fashioned pathway makes sure you get a great view of the planting scheme with its restrained palette of purple and white planted in a gentle rhythm. Don't forget to match your climbers!
30. Soften Edges for Cottage Landscaping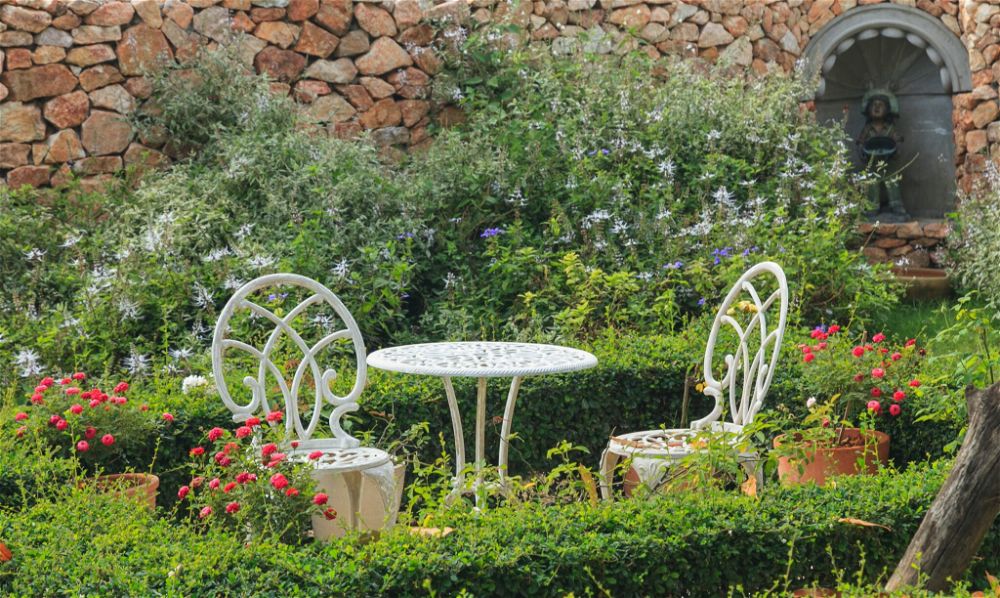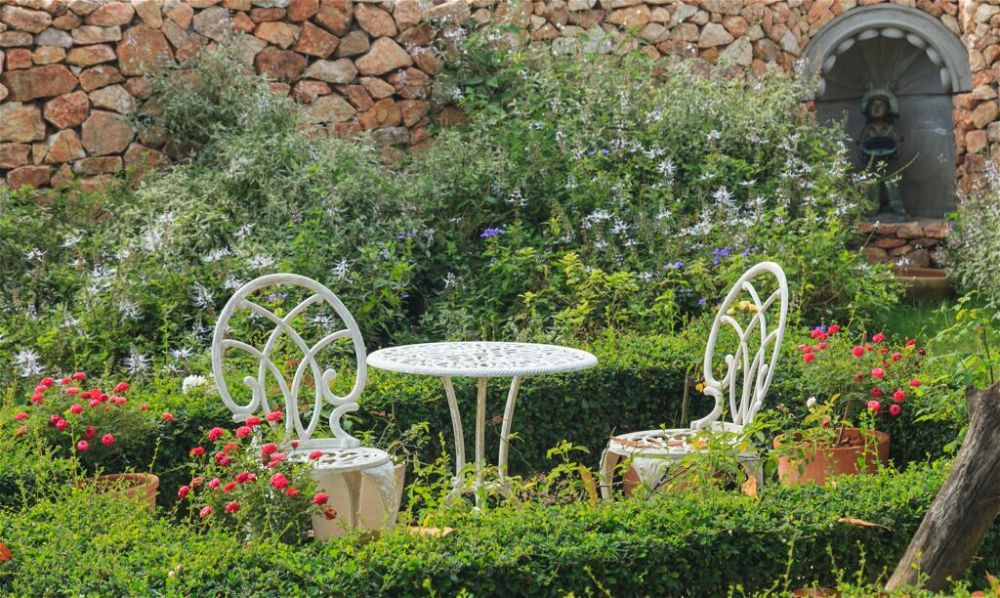 Lots of flowers and soft edges define a cottage garden. This landscaped cottage garden features seating in a circle of evergreens with lots of pollinator-friendly and scented flowers in the surroundings. The wall and old-time fountain add to this country scene.
31. Add Stone Spheres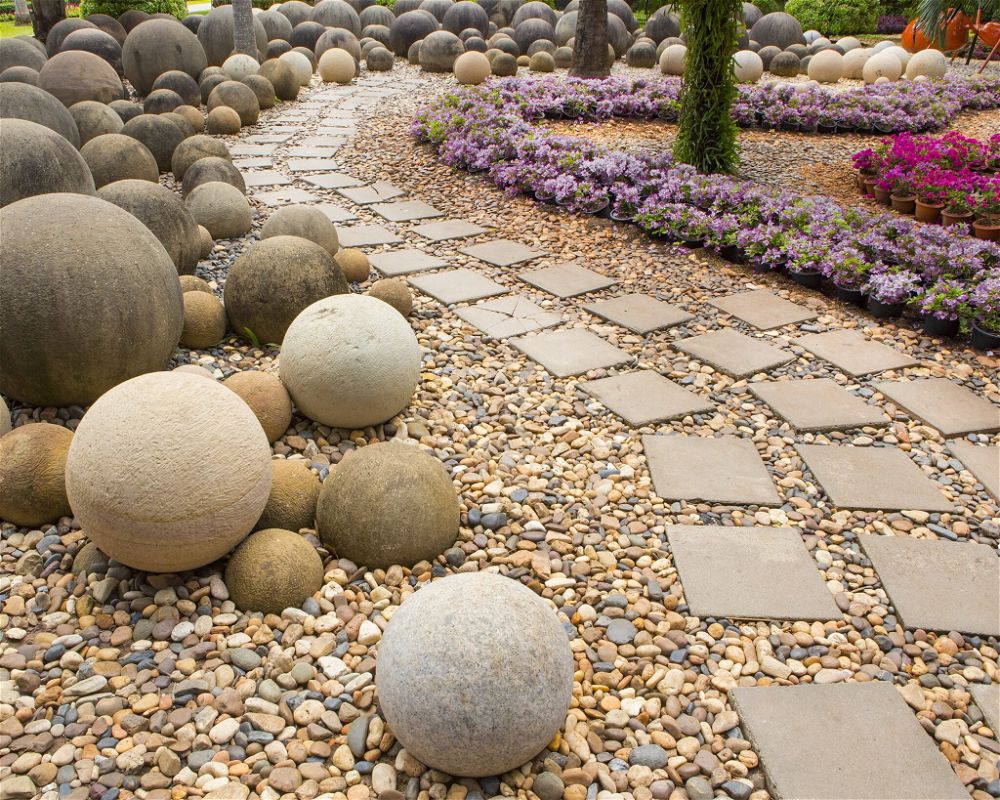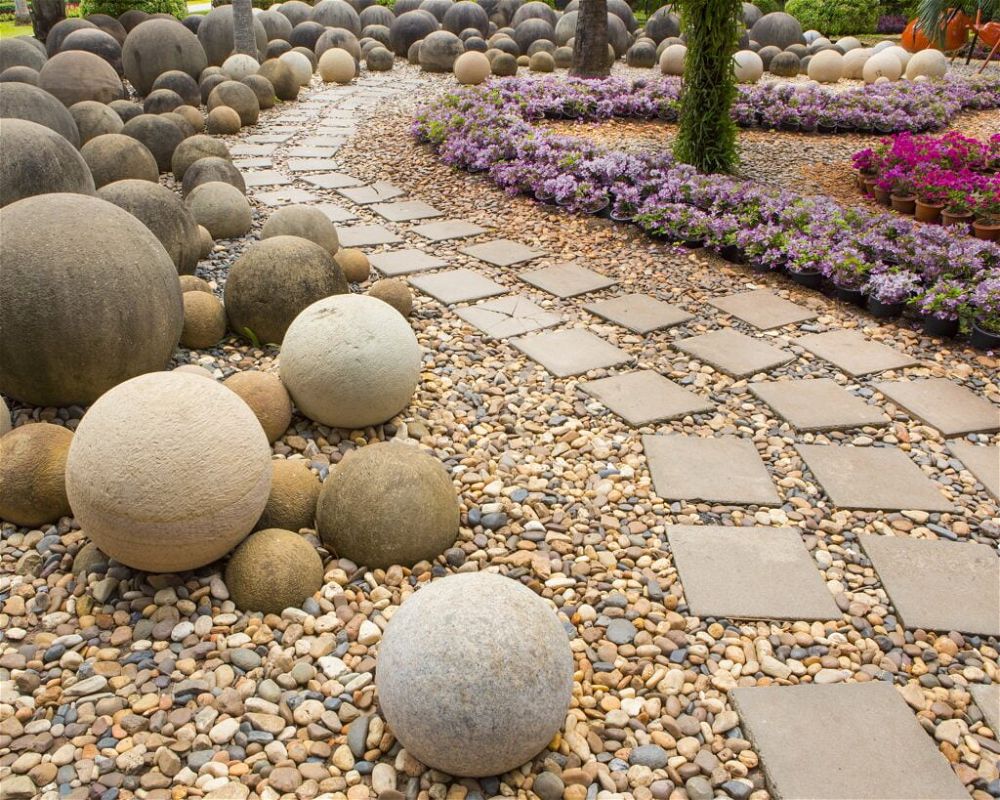 Here's an interesting stone landscape. The main path is lined with pebbles and pavers, but the main attraction here are those spheres – what a talking point!
Love the river of blue flowers on the opposing side too. Once this garden is in place it won't need any maintenance for years.
32. Go Big with Gates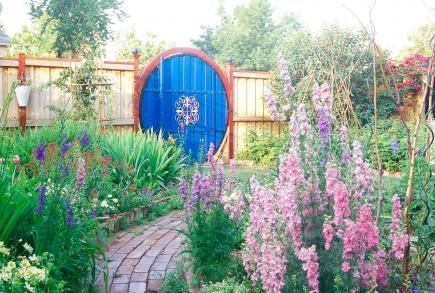 Is that Gandalf knocking? This is such an unusual design, you can be sure no-one else in the neighbourhood will have a gate like this!
A circular gate is unusual enough, but the bright blue turns it into a garden feature. If circular isn't your thing, consider a different shape to the standard rectangle such as diamond or hexagonal.
33. Design Large Pebble Borders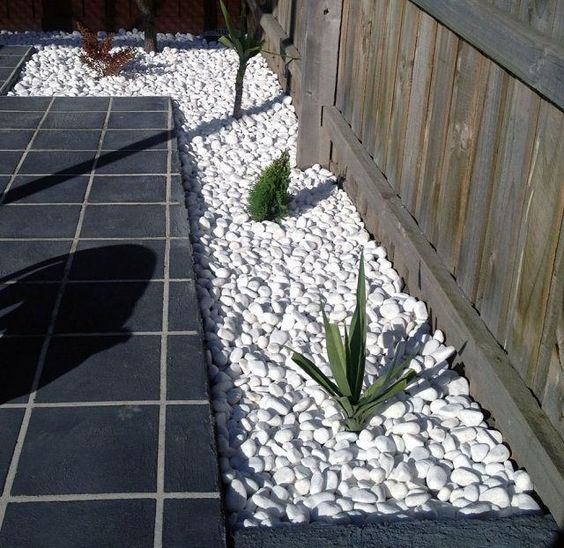 This super-smart front yard rock garden is a modern take on the old-style rockery.
It's perfect for urban townhouses, doesn't require a lot of maintenance, and leaves plenty of room to park the car or get a buggy up to the front door. The black and white contrast is eye-catching and the small evergreen plants add a touch of colour to stop it becoming yawn-worthy.
34. Embrace Traditional English Gardens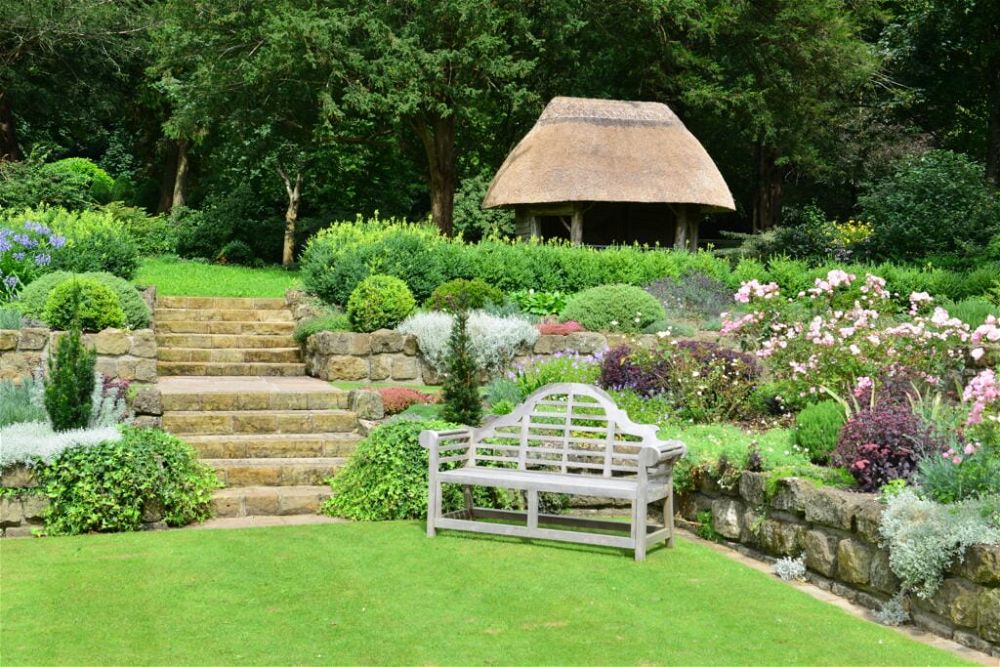 This English country garden has turned a sloping garden into a work of art.
The old stone used to create tiers creates a countrified effect and the soft planting of evergreens with roses and ivy completes the look – oh no wait! The bench you can sit on to drink earl grey in the sun completes the effect!
35. Add Windows in Walls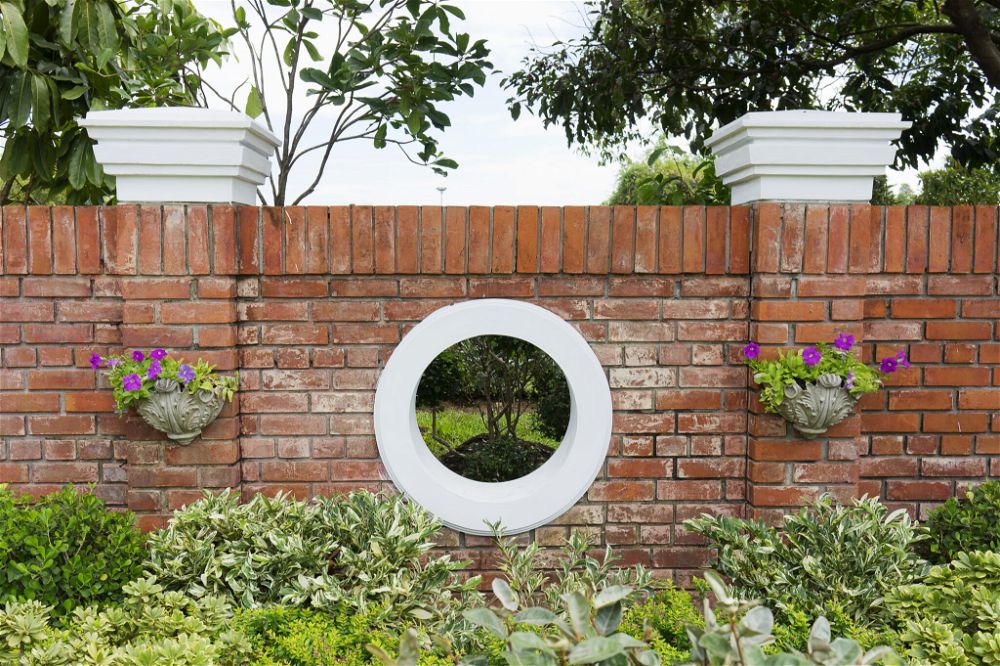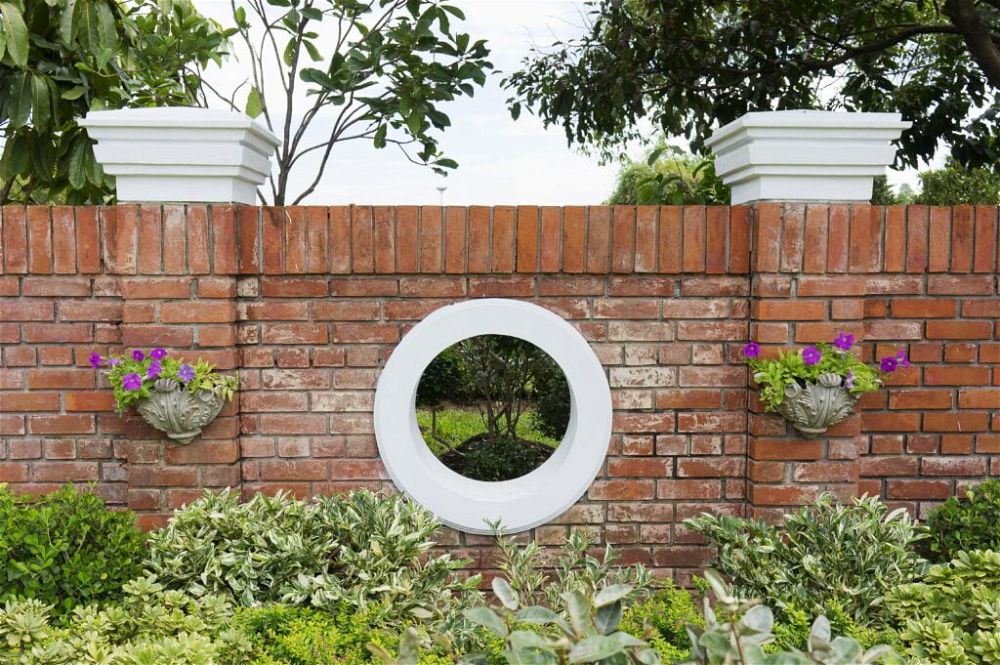 If you've got a great view from your garden make the most of it with a window.
This is garden wall landscaping at its finest. A window is also a good idea for a front garden wall or a dividing wall in a large back garden.
This round window creates an interesting feature, lets in light, and brings a smile to your face.
READ NEXT: Modern Garden Wall Ideas
36. Include a Geometric Pond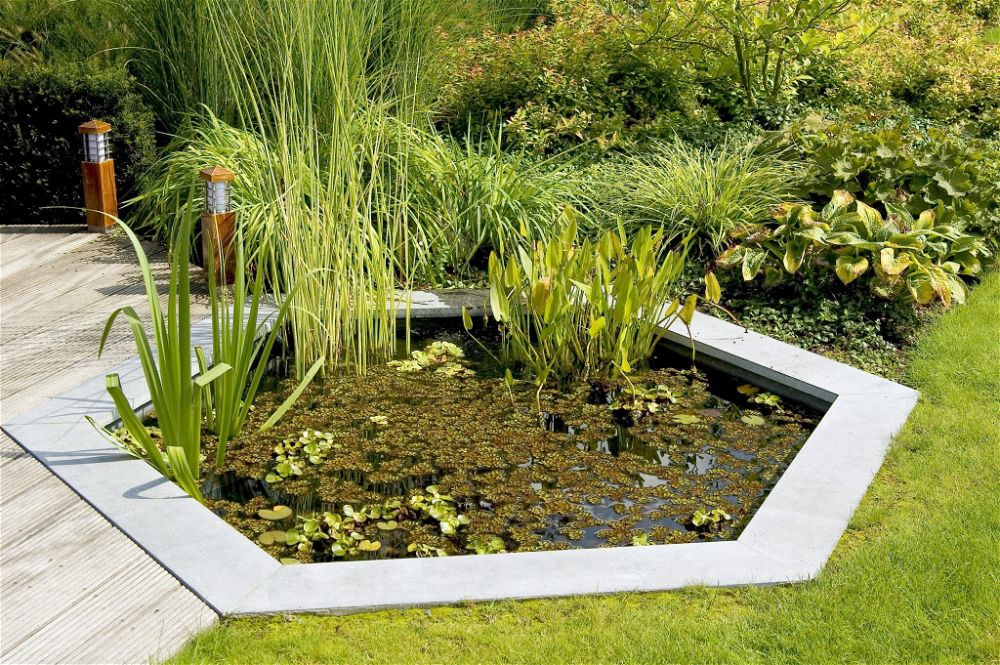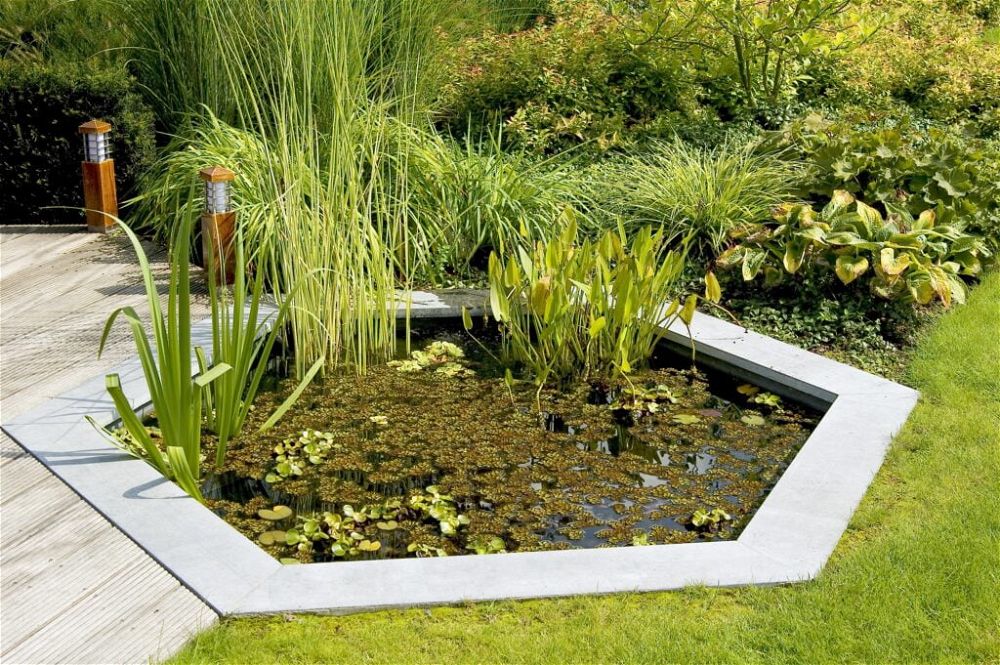 Garden ponds are great for wildlife and bring your garden alive.
This hexagonal design is a play on the traditional curvy preform. The modern edging brings it up-to-date and the way it introduces the lawn to the decking is perfection.
This garden pond landscaping would suit a small urban townhouse, but do make sure you have an escape route for hedgehogs and other mammals that might fall in. A pile of rocks in one corner would do the trick.
37. Make it Tropical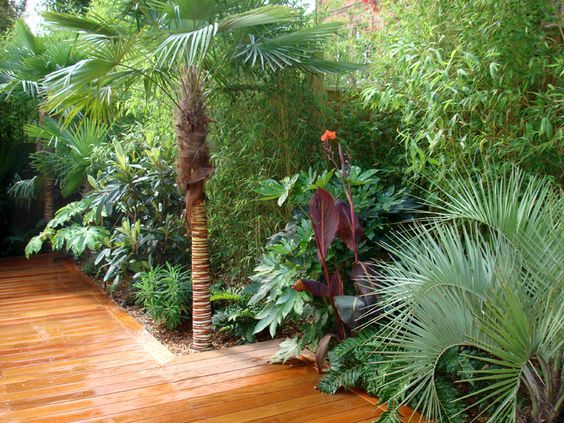 Tropical gardens work in the UK if you choose hardy tropicals. There are plenty of them about so do some research first!
Here the design is based around a wooden deck with a pathway that winds through a tropical jungle. Imagine a seat at the other end. This design blocks out the neighbours completely and provides lots of cooling shade. What a tropical hideout!
38. Design a Dry River Bed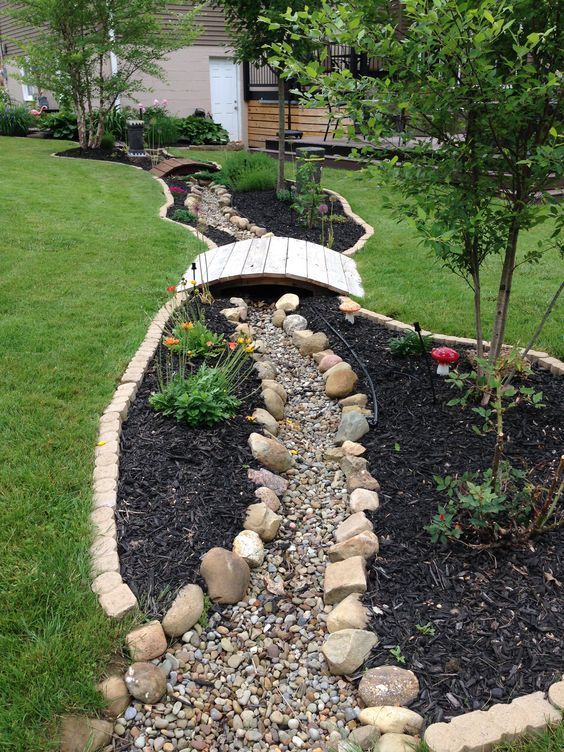 Who prefers sitting in the garden to working in it? Me too! This easy landscaping design will leave plenty of time for tea, coffee, and wine.
The dry river bed landscape is simple to do, it just takes a bit of time. Be sure to mark out the areas with rope or chalk spray before you put the stones and bark down.
39. Create a Long Pool in Narrow Gardens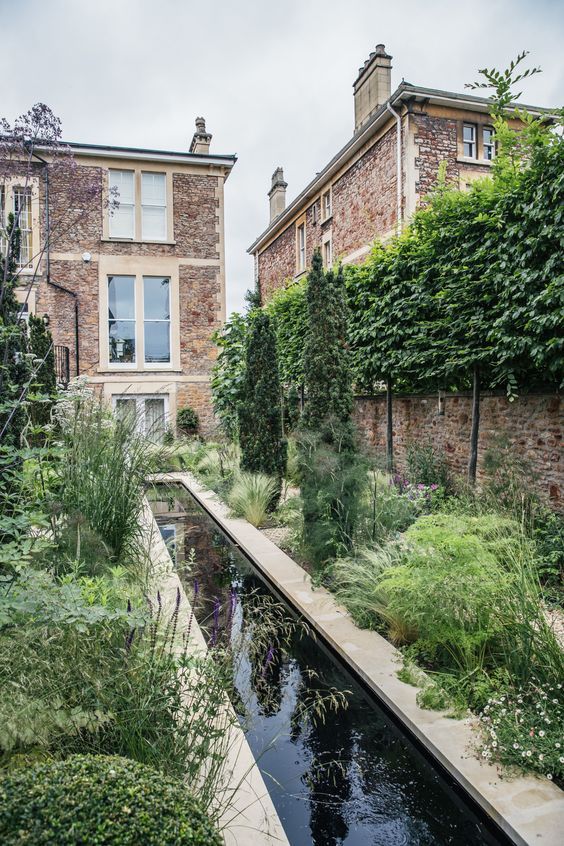 A water garden is more than a pond, it's a garden where water is the main feature. Water gardens are wildlife-friendly and very relaxing.
This water garden is a modern landscaped design in a terraced street. It's unusual and a great use of space in a long and thin garden. The tall plants reflect and fill the space with colour. Perfection.
40. Define Borders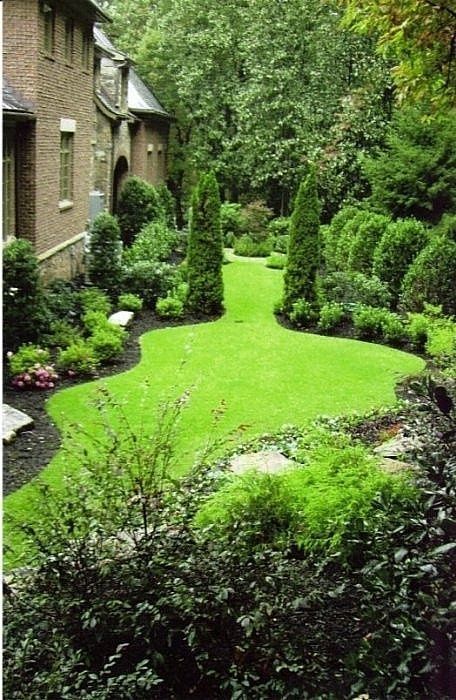 Landscaped garden borders smarten up any home, even if it's the only landscaping job you do!
Here the lawn has been cut into a curvy shape and the top third separated off by two evergreen 'guard' trees. This is a good design trick as it leads you further into the garden. Admit it – you want to walk between those conifers!
The landscaped borders are full of matching evergreens that pull the look together.
41. Focus Around a Bench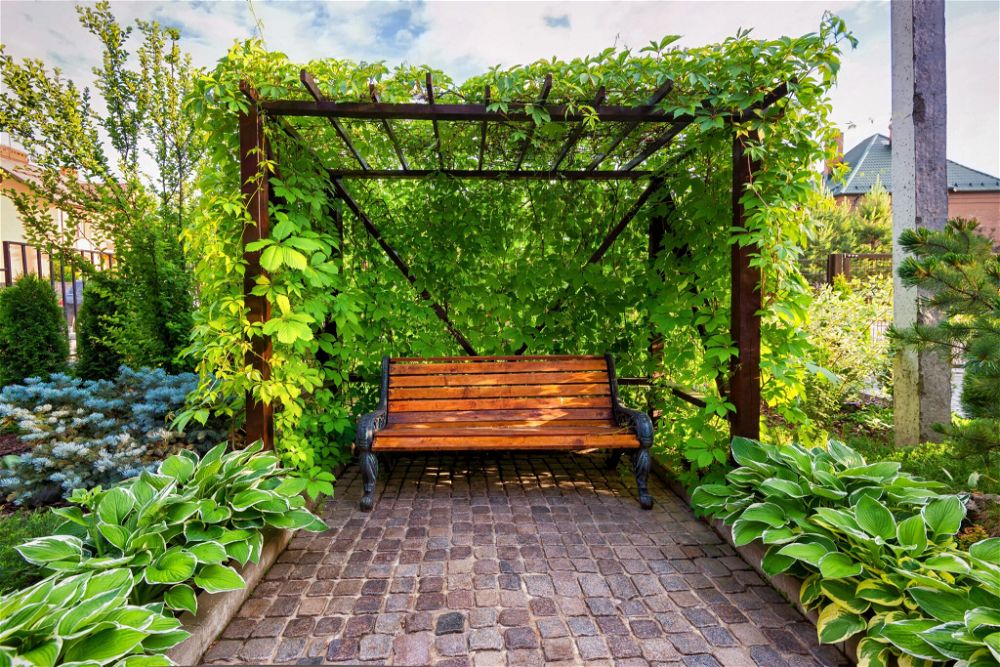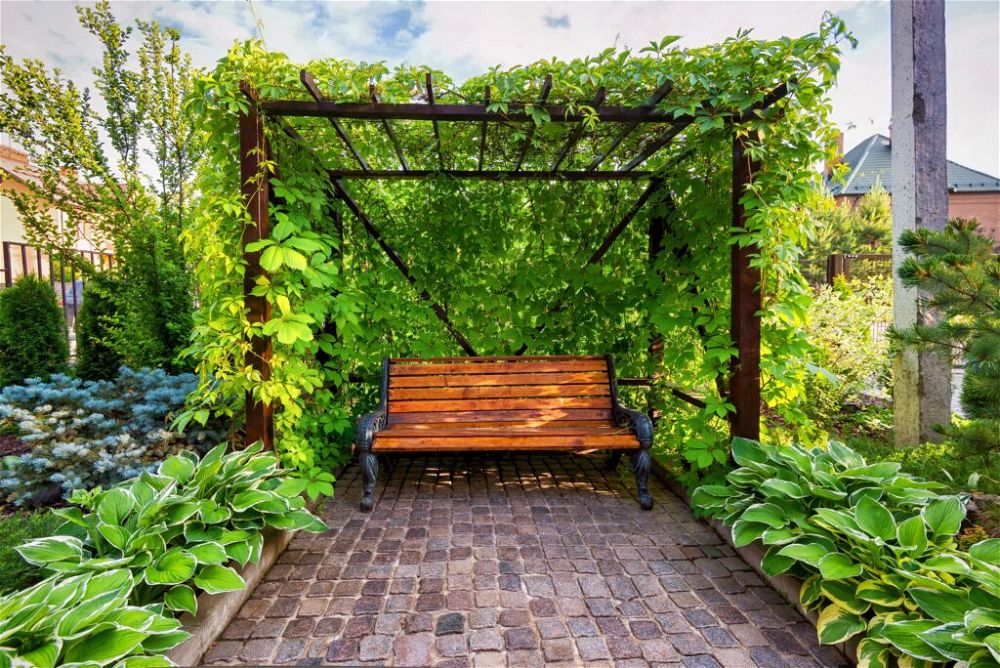 This garden bench is perfect for hot days and rainy days with that protective canopy. It also blocks out the neighbours, so that's a win on many sides.
Turning your bench into the main feature of a smart landscaped garden makes sense because that's where you'll spend time relaxing, reading, checking your emails, and social media. It's the perfect set up for overlooked townhouses.
READ NEXT: 33 Low Maintenance Landscaping Ideas