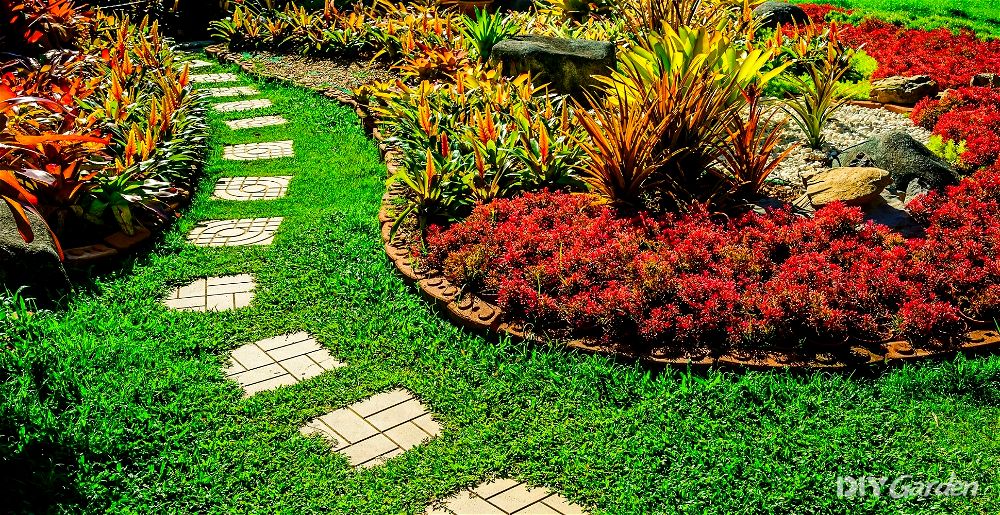 The Ultimate List of Garden Path Ideas UK
If you're looking for a new way to get from A to B in your garden, these beautiful garden path ideas are sure to give you plenty of inspiration.
1. Be Inventive with Edging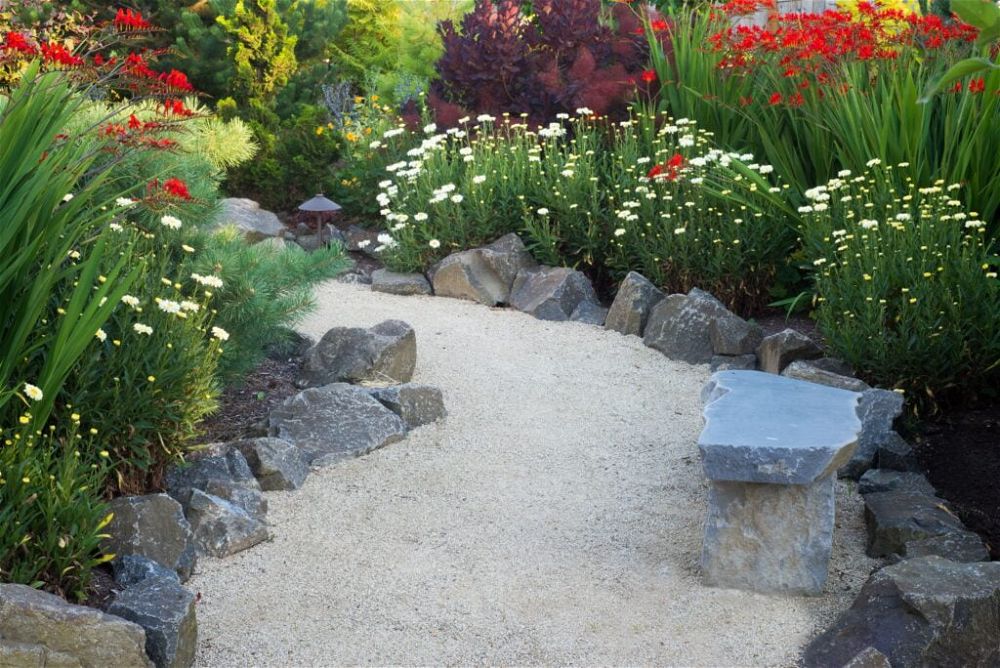 With this garden design idea, it's not so much about the path itself as much as how you frame it. These large individual rocks add decorative detail to a gravel garden path and have the added benefit of holding back wayward flowers.
Individual rocks are great because you can use them in a straight line or a curve. These are different heights and create a natural feel as you meander along the path with a coffee.
2. Use Budget-Friendly Materials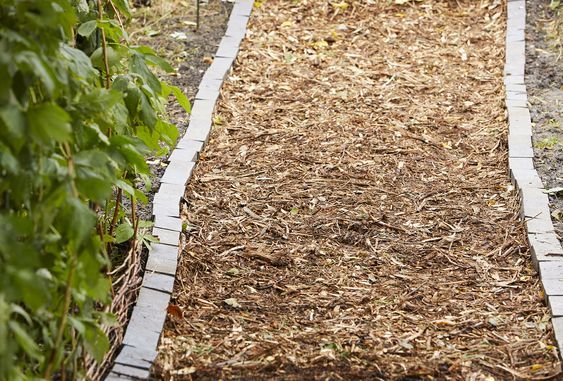 Garden paths don't have to be expensive. Wood chips are a cheap resource and are ideal for creating a garden pathway (plus, there's the added benefit that they smell great too!). In some cases, you can get your hands on wood chips for free from a tree surgeon (in fact, you'll probably be doing them a favour as they might otherwise have to pay to get rid of it!).
In the garden above, the wood chip path is edged with old bricks, but you could use stones to stop the wood chips from moving. Line the pathway with weed membrane first to prevent weeds from breaking through.
3. Tile Front Garden Paths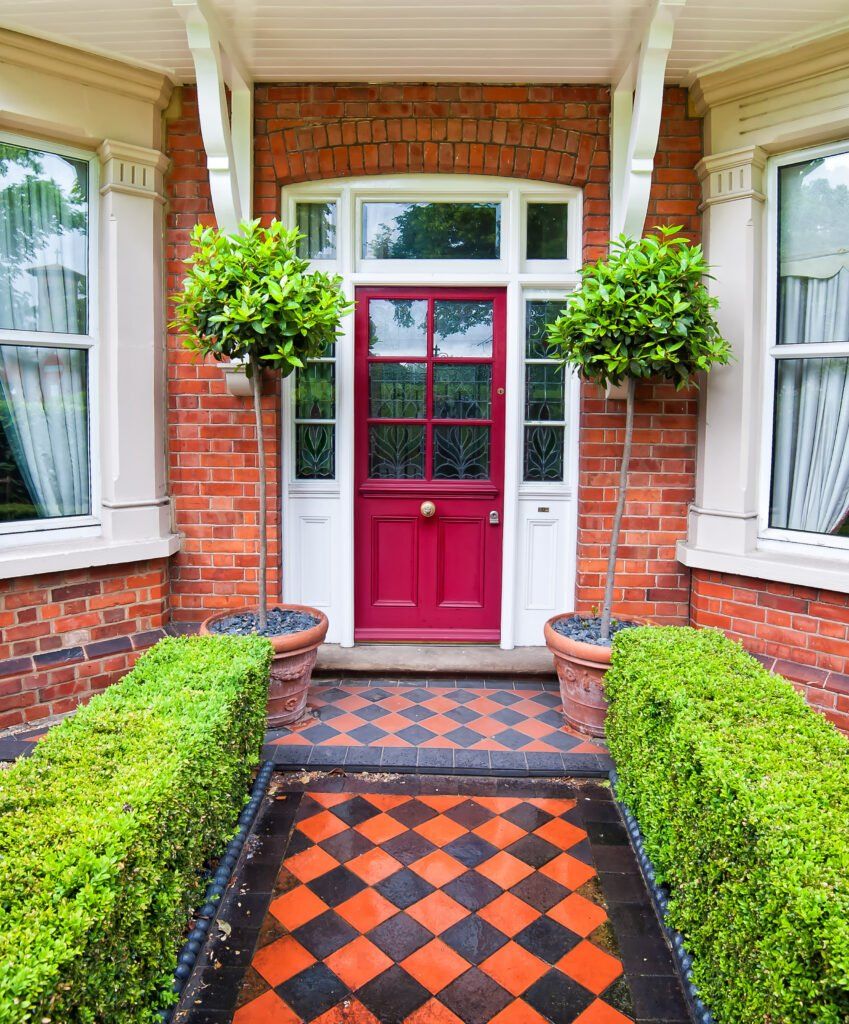 A bright and welcoming path leading to your front door is a welcome sight after a long day at work.
This is a popular front garden design in cities, but there's no reason that it shouldn't be enjoyed in towns and the countryside too. Choose contrasting tiles and build chequerboard stripes or diamonds – whatever you fancy. Line the path with contemporary box plants and a standard tree for either side of your doorway.
This garden path idea is an excellent way to put your own stamp and personality on your home.
4. Agree to Gravel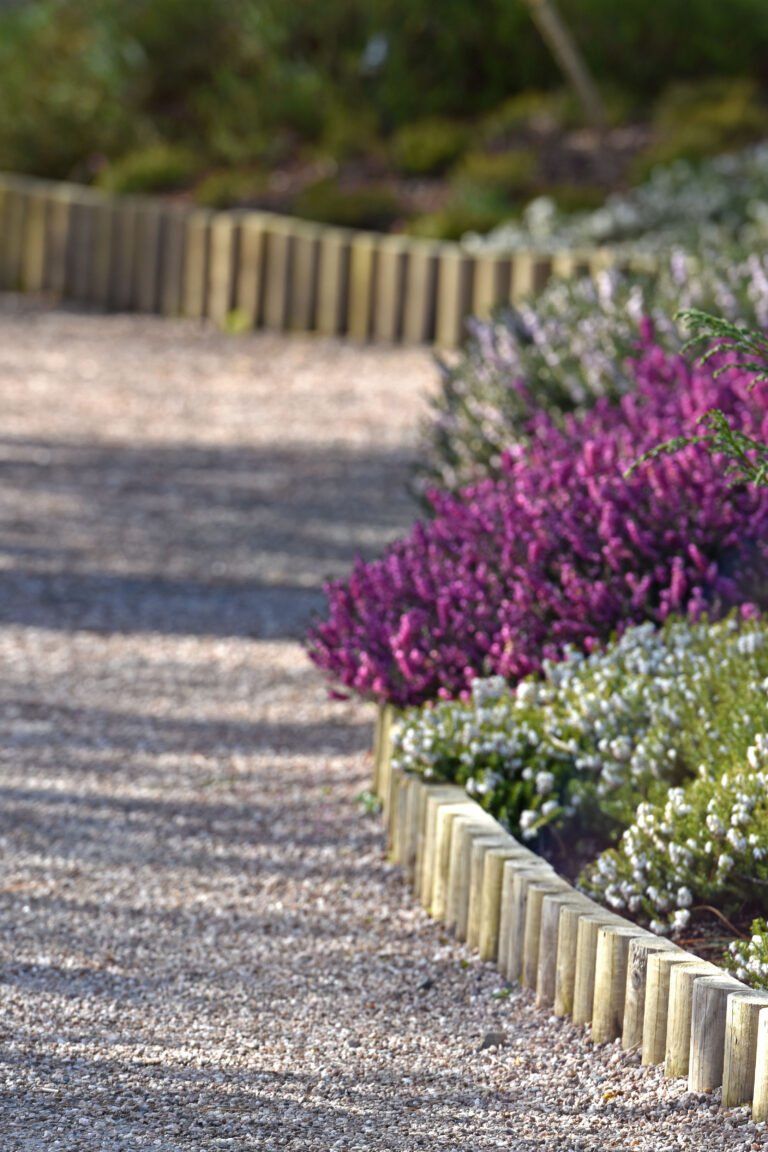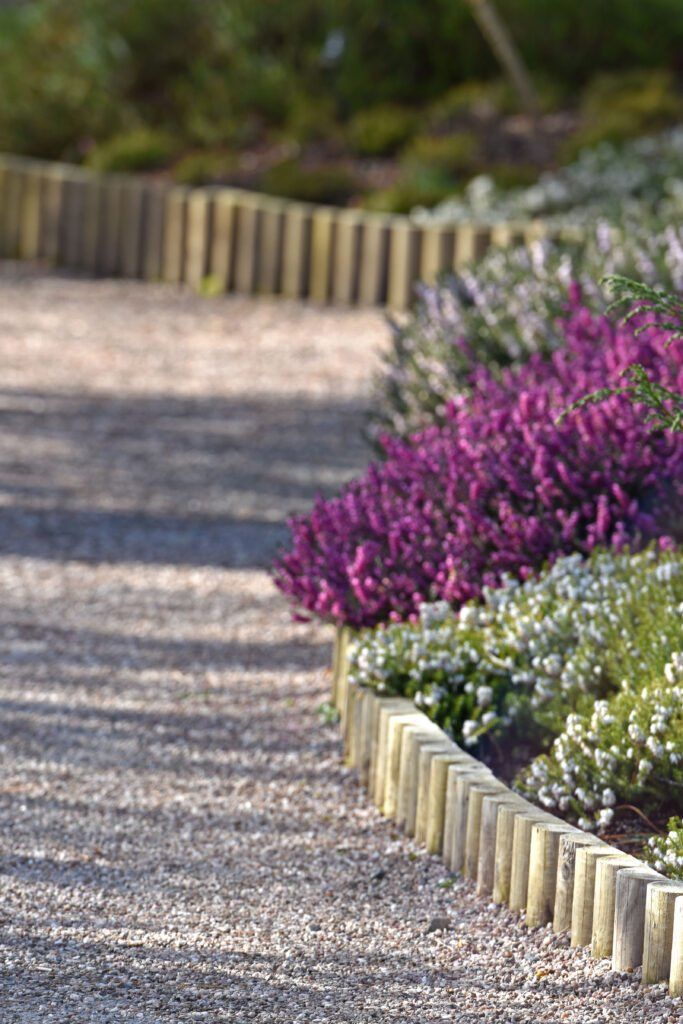 A gravel path is hard wearing, drains well and looks natural in outdoor spaces. Walking on gravel also makes an extremely satisfying sound, so it offers a pleasant sensory experience all round.
You'll need something to trap the gravel in place – in the garden above they've used natural wooden uprights. Don't forget a weed proof membrane beneath to stop pesky weeds pushing through. Gravel is available in lots of colours and choosing a gravel path that matches your house bricks will always look good.
5. Light the Way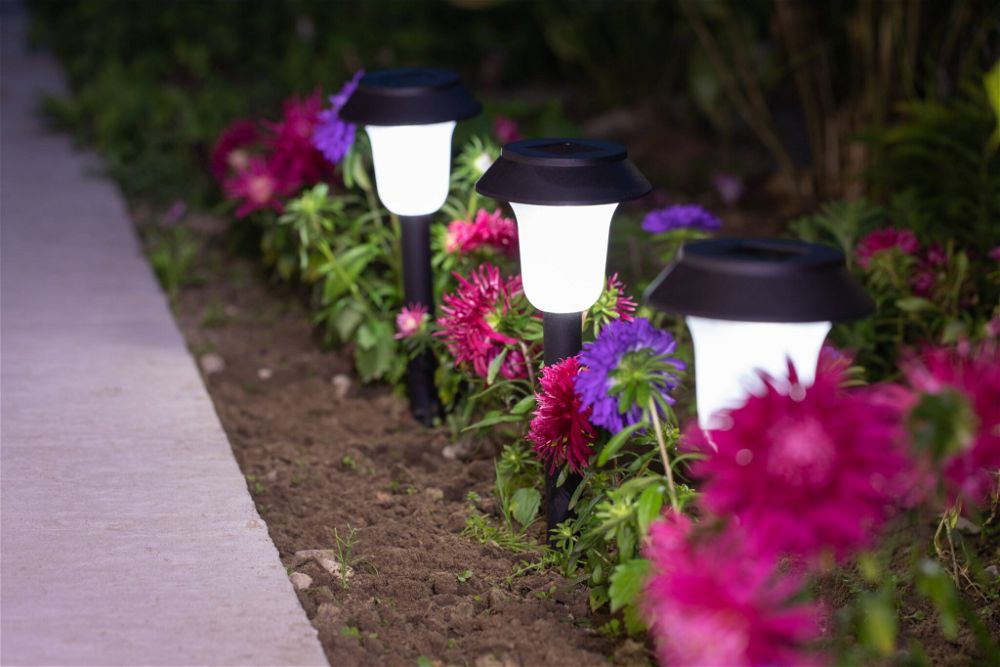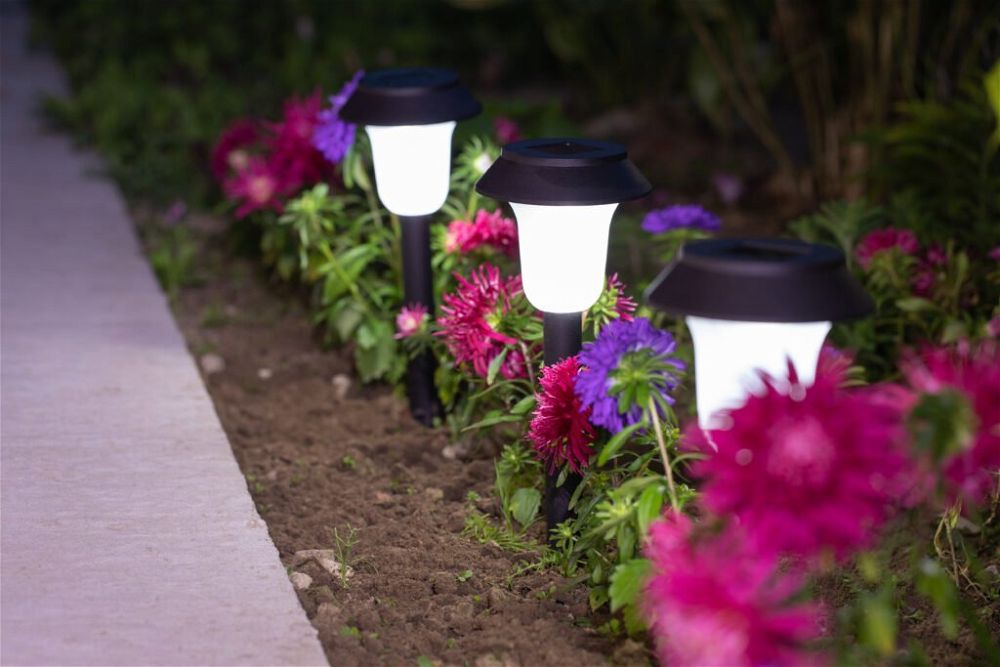 If you want to safely walk around your garden after dark, it can help to illuminate garden paths. This is simple to do using solar-powered lights – you don't need to mess with any wires and you can easily move lights around as you please.
Small solar-powered lanterns don't need much sunlight to charge and contain bright LEDs. A row of these will easily light up garden walkways. Alternatively, you can just add a few to keep it soft for wildlife.
6. Pave the Way with Stepping Stones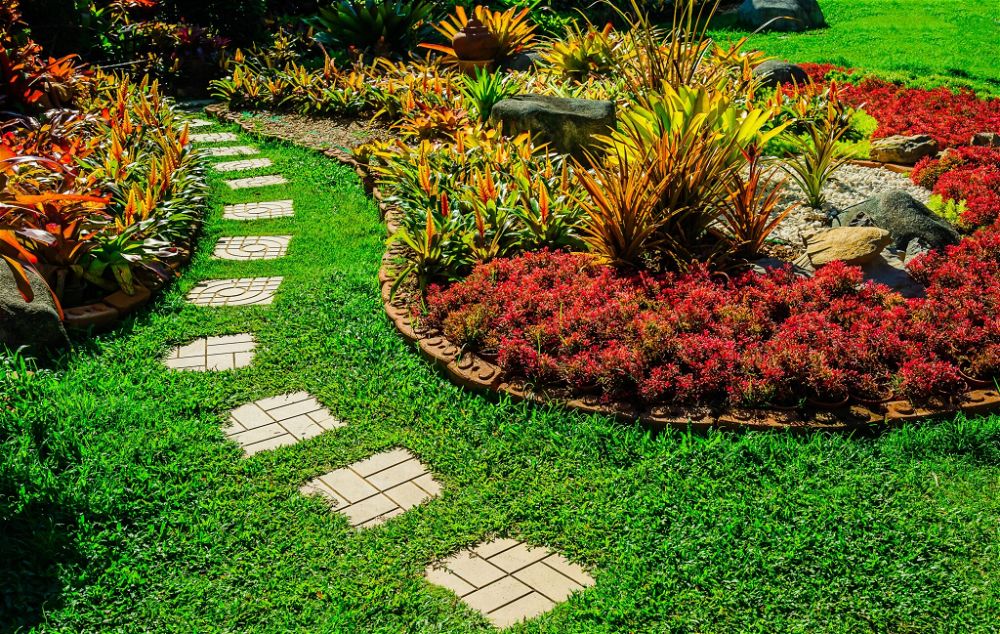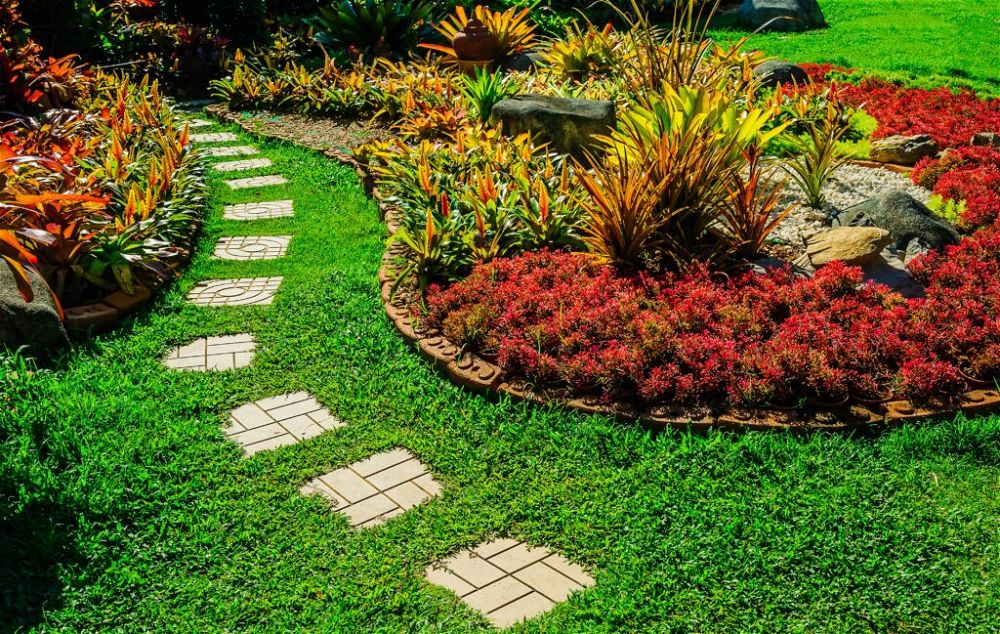 As garden path ideas go, this one is easy to install. A small path can simply be created with stepping stones. Sink them straight into the soil so your lawnmower can skim over the top.
Stepping stones are great in a line or a create a curved path around your small garden to a seating area. Choosing stepping stones with texture is a good idea to prevent them from getting too slippery in winter.
7. Include Modern, Angular Lines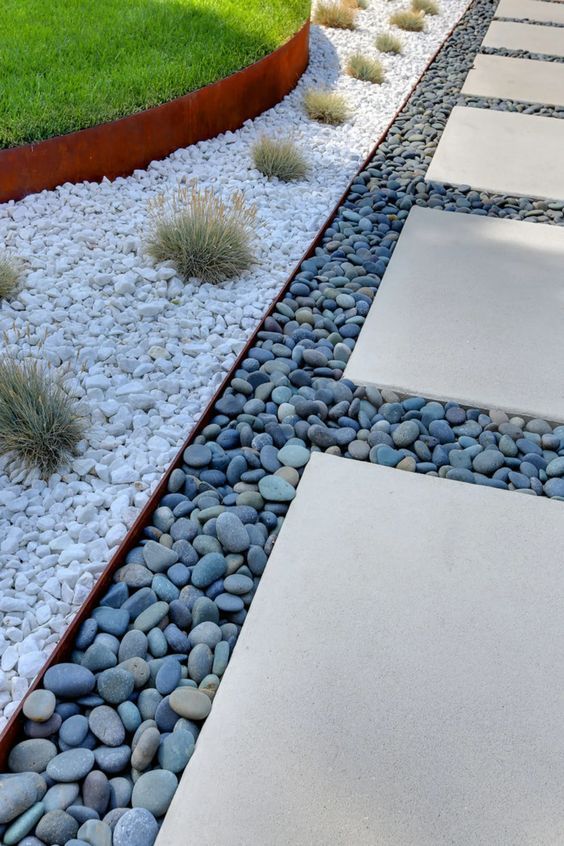 Modern garden path ideas can be used to complement a contemporary garden. The angular lines of this garden pathway create a polished look. Paving stones positioned amongst pebbles make for a fresh take on the traditional flagstone walkway, and the corten steel borders bring in a subtle touch of colour. The structural ornamental grasses (try Festuca grass) and contrasting pebbles give the scheme plenty of stylistic form.
8. Follow the Terracotta Brick Road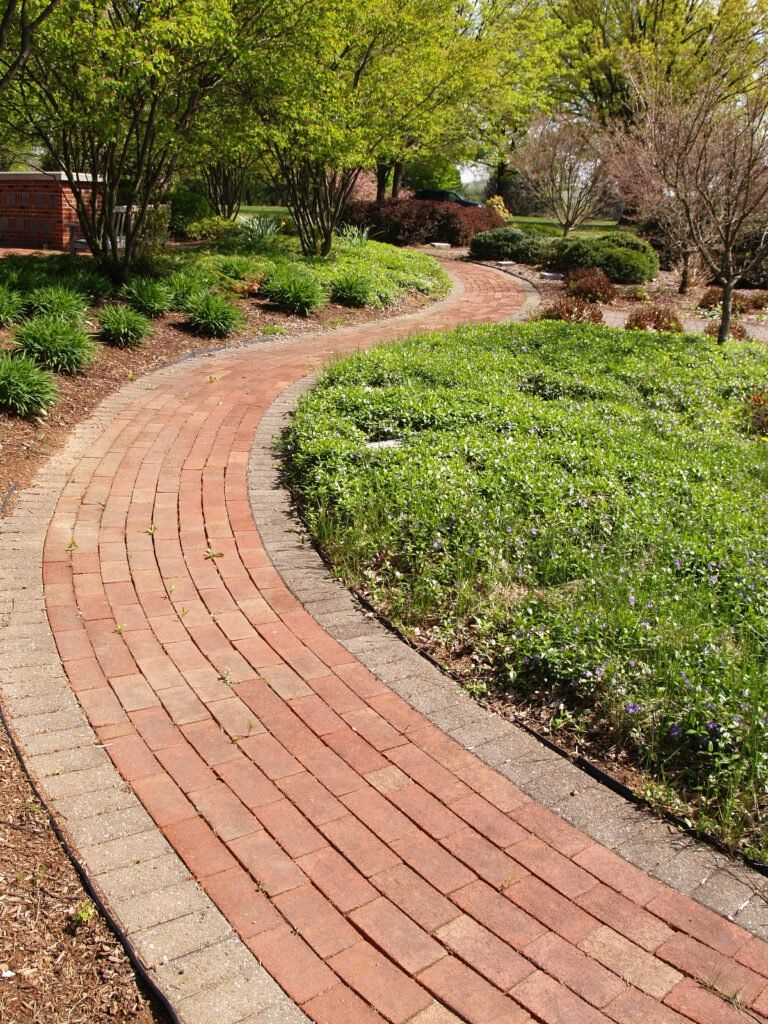 Ok, so this traditional red brick path might not be leading Dorothy to Oz any time soon, but it can certainly bring a sense of planned, aesthetic structure to your garden. Bricks are hardwearing and non-slip so they make excellent walkways. On top of this, terracotta hues contrast pleasingly with the greens of plants, making gardens pop. Plus, you could even choose to colour match the bricks with the bricks of your home for a satisfying sense of flow.
One other benefit of bricks is that they are extremely versatile: bricks can be used to make curving pathways as well as straight ones; plus, the pathway can be edged with a different colour for a more contemporary spin on the traditional theme.
9. Use Curves to Create Movement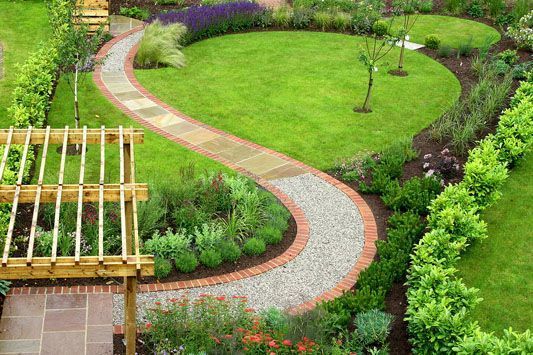 Small gardens look larger when there's plenty of movement, demonstrated by the swirling, multi-textured path in the garden above.
Curved paths don't take you to your destination in a straight line, making the route longer and the garden therefore feel bigger. In the garden above, the S-shaped path works particularly well combined with the circular lawn.
10. Embrace a Simple Grass Path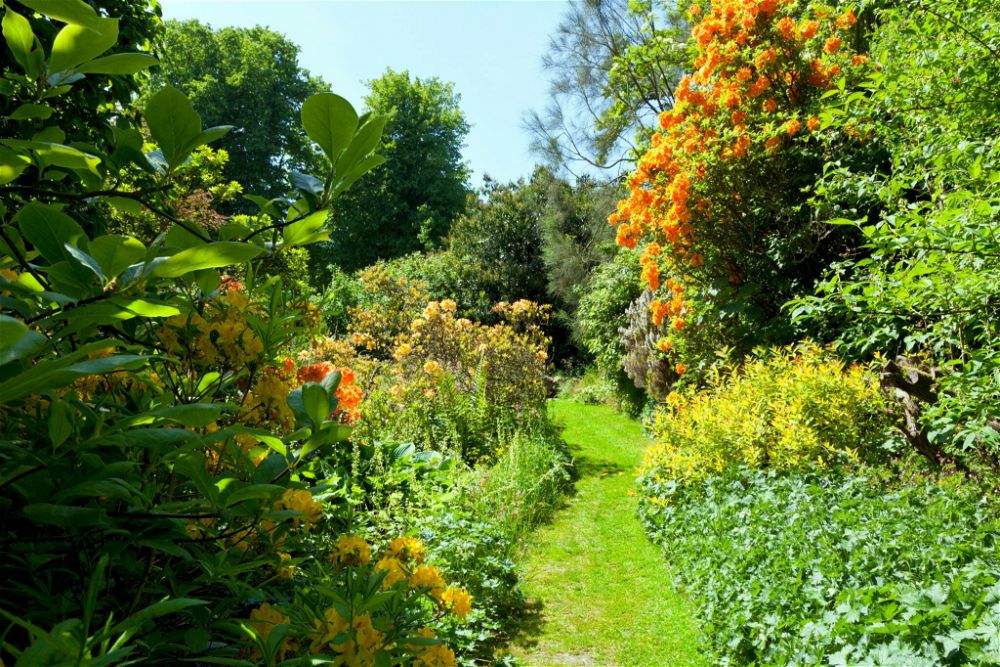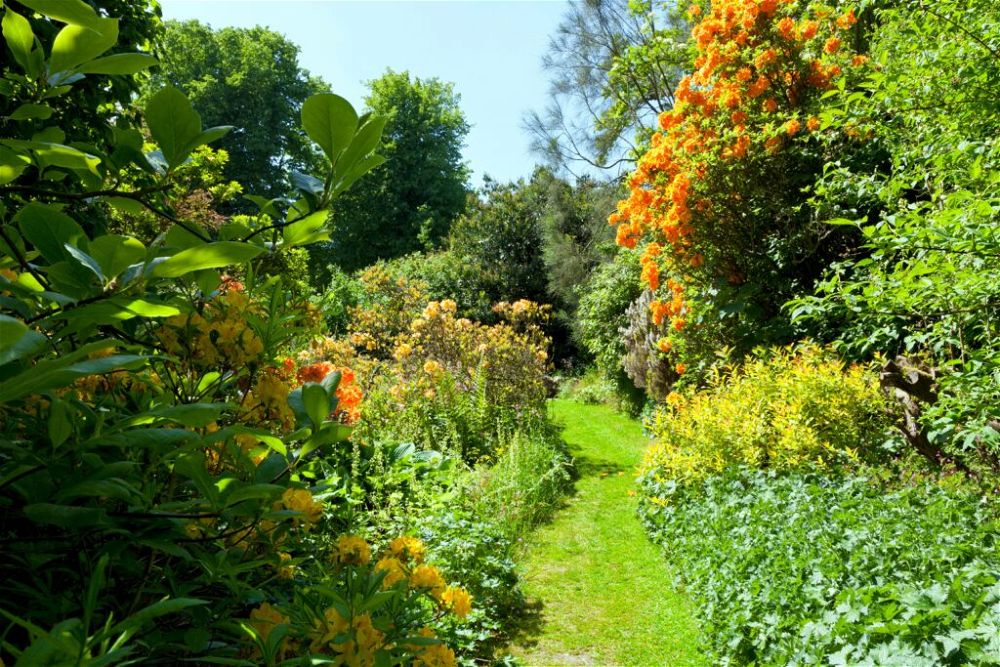 Cottage gardens are all a natural look with colour, insects, movement, plants and more plants – so keep the theme going with a grass path.
Yes, they need mowing but the natural look blends in perfectly and it'll cost barely anything – just a packet of seed. This has to be the cheapest path going.
11. Recreate Woodland Paths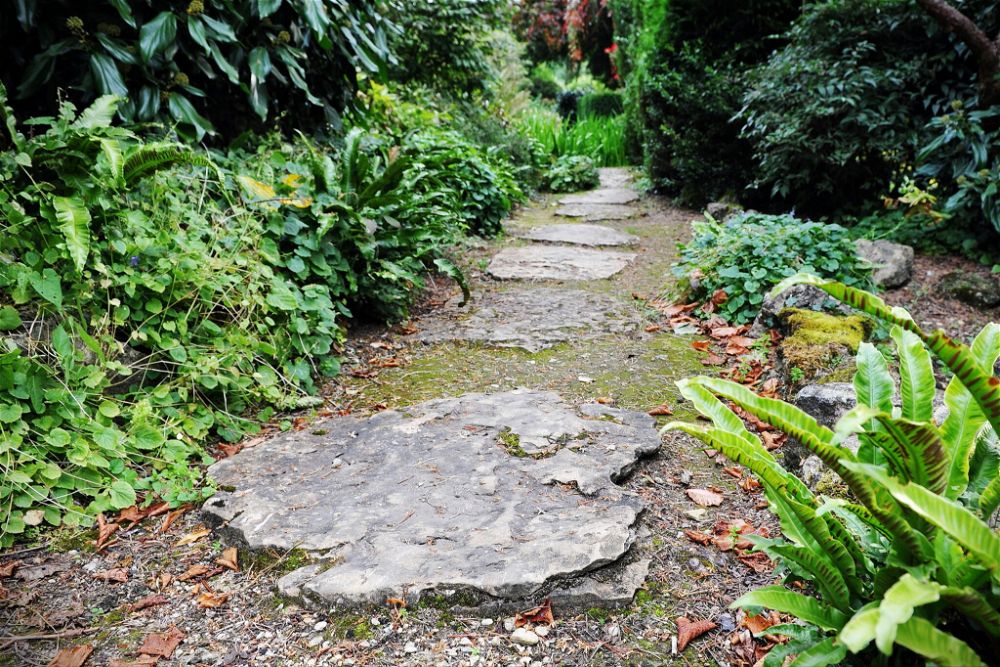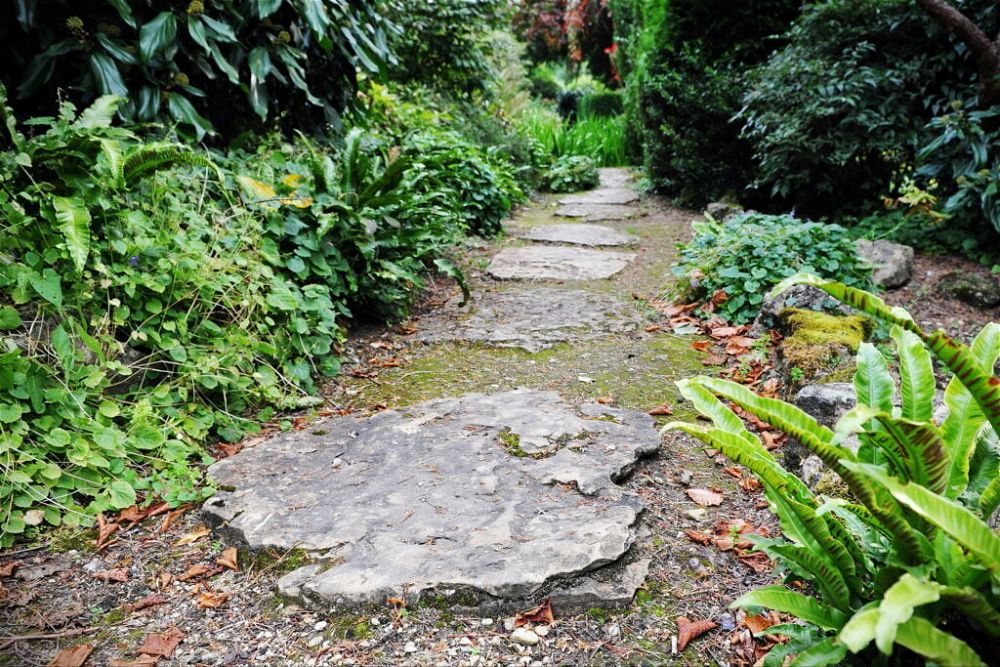 A woodland path looks best when it's natural and blends in seamlessly. Here they've used natural flat rocks, embedding them into a walkway with gravel and stones. Over time mosses will creep in so don't clean it! Line the edges with ferns and dog violets.
12. Use Tree Rounds as Steps
Here's a novel way to create a path in a sloping garden. Slices of a felled tree make steps up the slope.
This not only provides a practical solution it adds real decorative detail to your outdoor space. No-one else is going to have a sloping path like this one.
13. Embed Tree Rounds into the Ground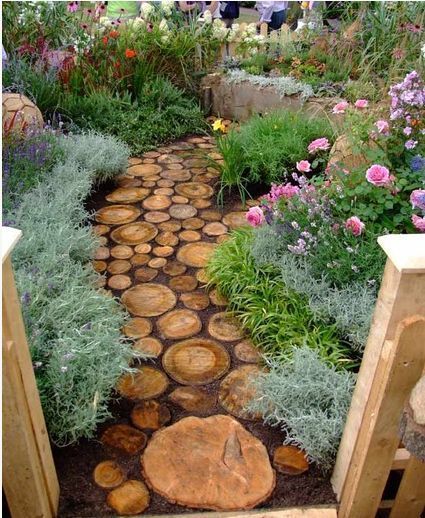 A lot of garden path ideas involve stone, gravel or concrete – but those aren't the only options. Slices of tree trunk in various sizes laid into woodchip create an eye-catching design and best of all you can do this yourself with some patience and good weather. It isn't going to cost much either.
14. Embrace Natural Stone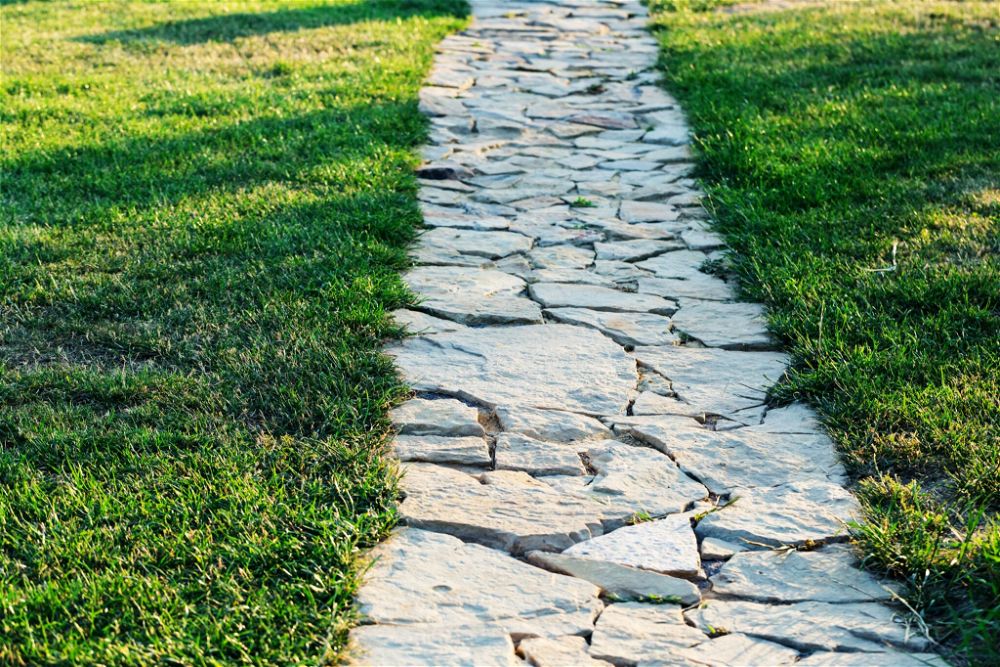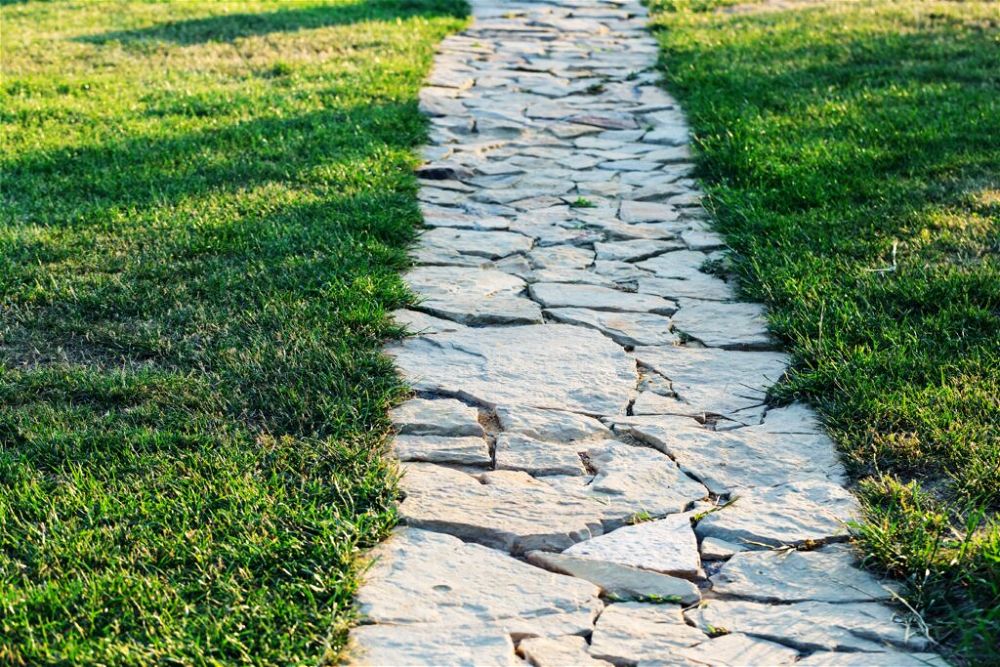 Stone always looks great in the garden and this path is perfect for urban or country settings.
Natural stone is one-of-a-kind so you'll always have a unique work of art outside. Try growing herbs in the gaps. They smell great when you tread on them and they enjoy the well-drained conditions of a stone path – not to mention they enhance the flavour of your food for free!
15. Combine Wood and Gravel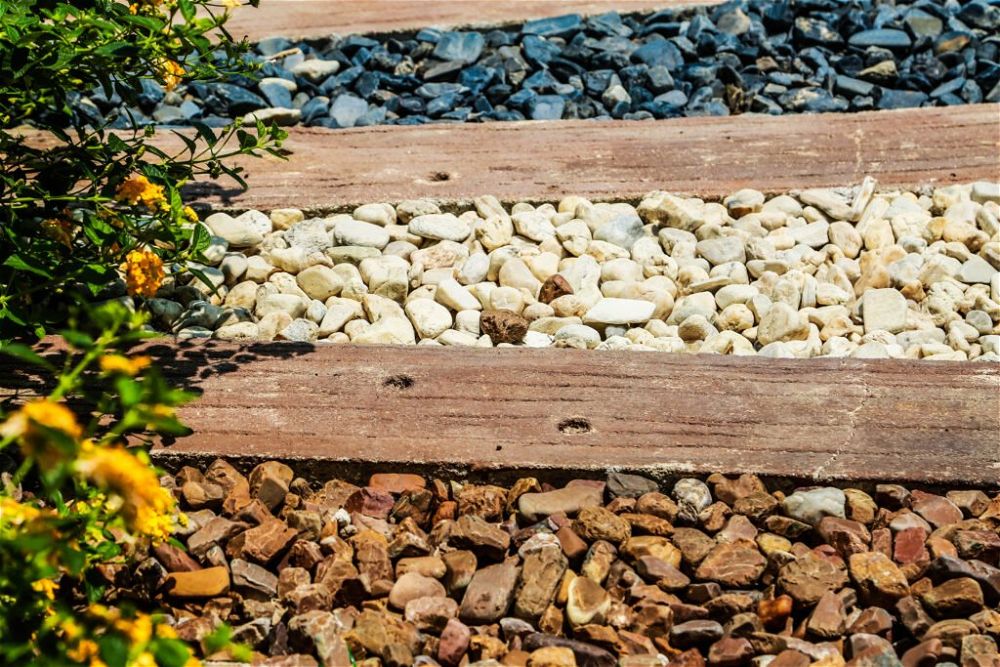 How's this for a creative garden path?
A wooden frame holding in stripes of coloured stones catches your eye each time you look out the window. The great thing here is that you can choose any colour or type of stone you like. This design looks great with a gravel path, but you could go for anything – even coloured glass pebbles.
16. Divide into Squares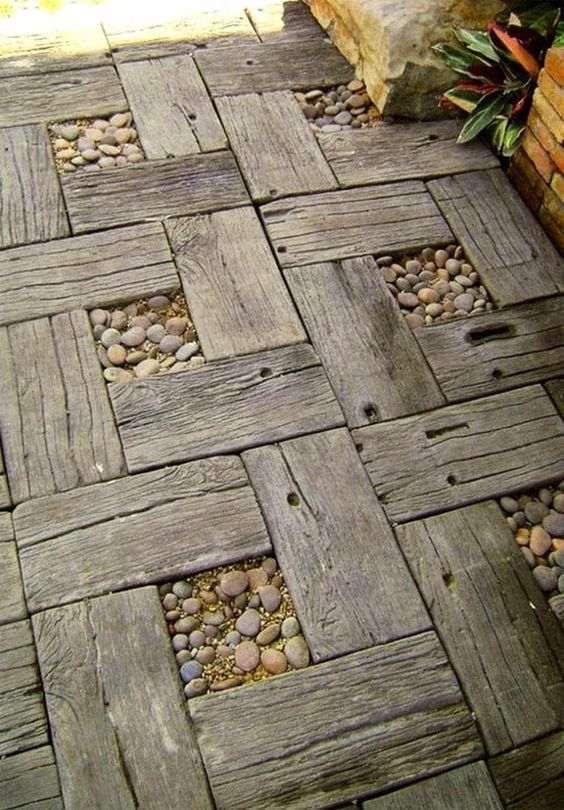 This is a new take on a wooden path. Instead of long strips, weathered boards create squares. This makes a wooden path more interesting, especially with the small central pockets.
Fill them with pebbles, coloured glass, herbs, or an ornament – you could personalise this wooden path to suit your taste.
17. Plan a Pebble Mosaic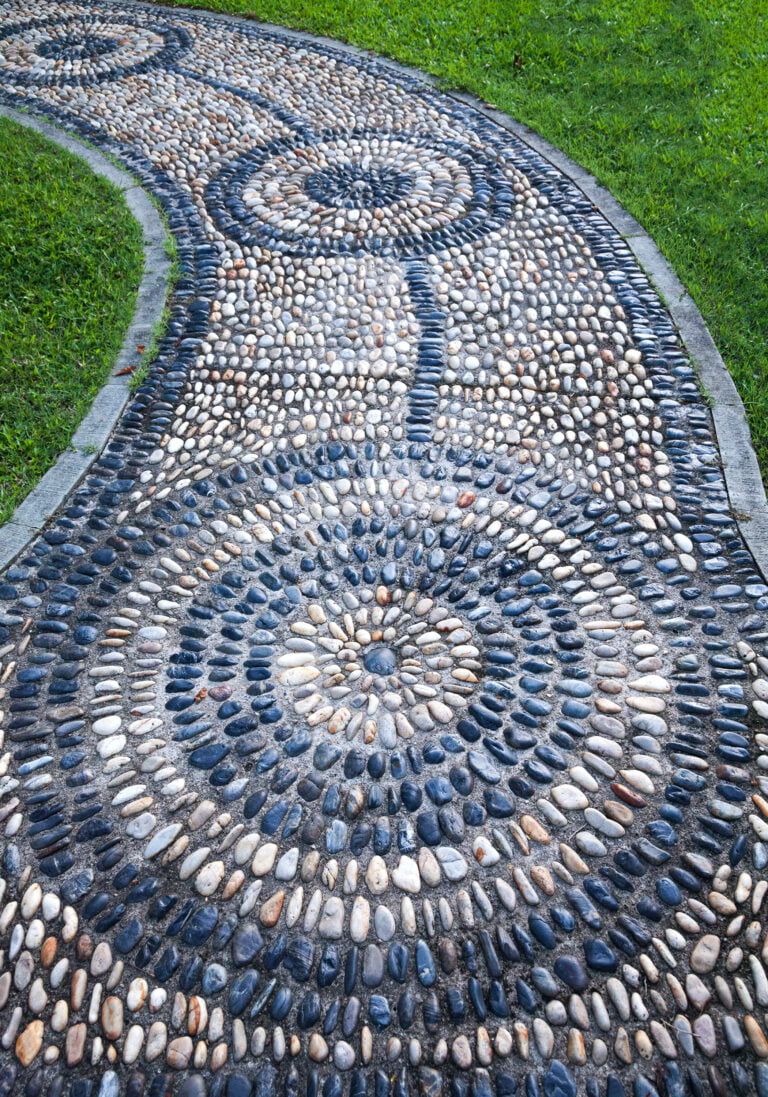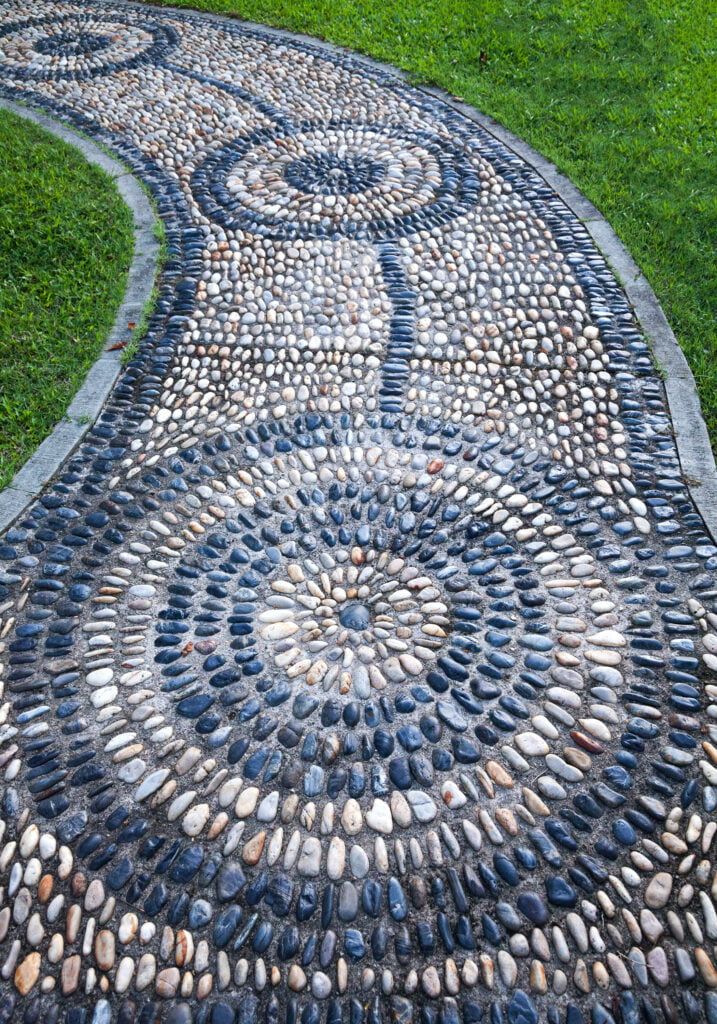 A lot of garden path ideas allow you to get creative, but few do so to the same extent as this mosaic garden path. It's a unique idea and you can do this yourself with concrete and pebbles.
It'll take some time but get the whole family involved and design something really unusual. Stones are hardwearing so it'll last and brighten your garden all year round.
18. Mould Concrete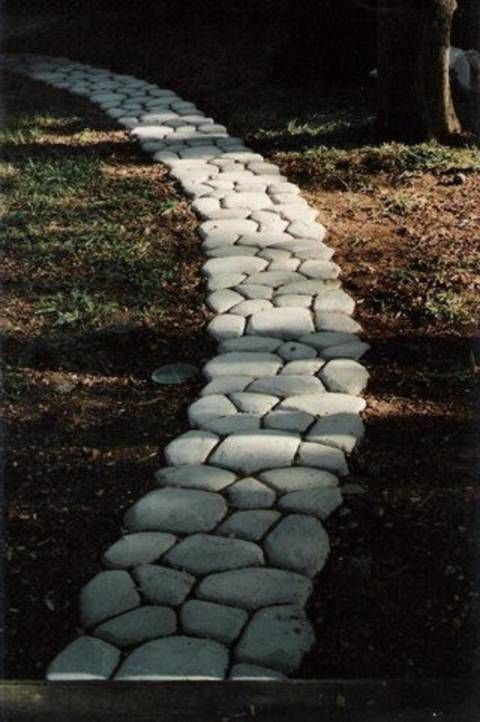 Concrete is a versatile material, it doesn't have to be laid in one long immoveable strip. Concrete can be used to make stepping stones like this winding garden path.
There are lots of concrete moulds on the market so you can choose a design that suits.
19. Find Novelty Stepping Stones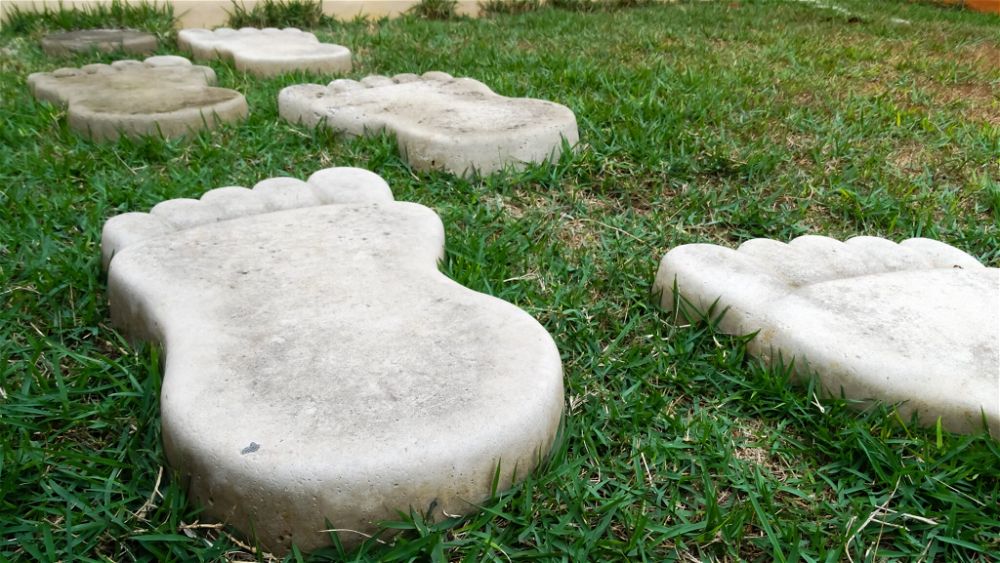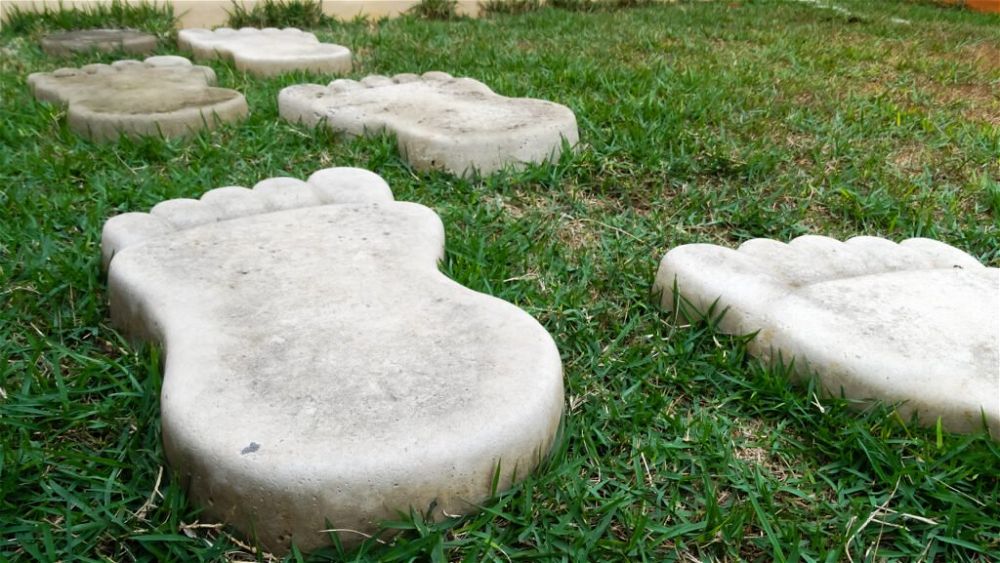 Look out Big Foot's about!
Not all garden path ideas have to be serious. Stepping stones are a handy way to create a path and these footprint-shaped ones are great fun.
Simply put them on the grass and you have a ready-made path that can lead anywhere. Kids love these kinds of novelty concrete stepping stones so you could use them as a pathway to a swing or play den.
20. Border Garden Paths with Bottles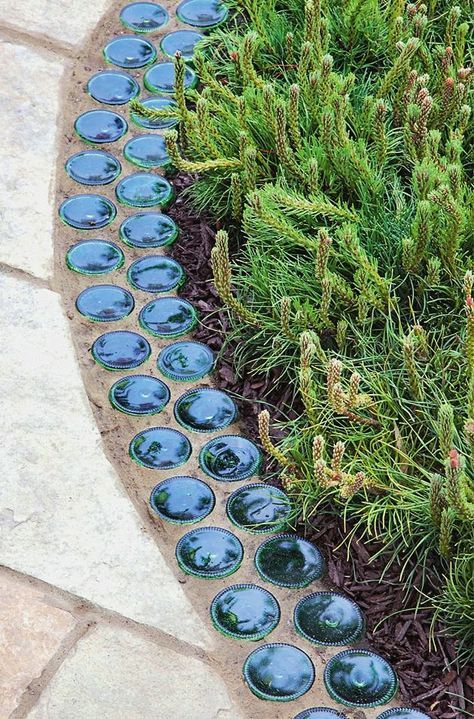 This is one of those garden path ideas that sounds strange but looks amazing.
Buried wine bottles not only trim up the edge of your path they bring some decorative detail and shine in the rain and sun. It's a great way to reuse your waste and brighten your garden in one.
21. Bring Out the Cobblestone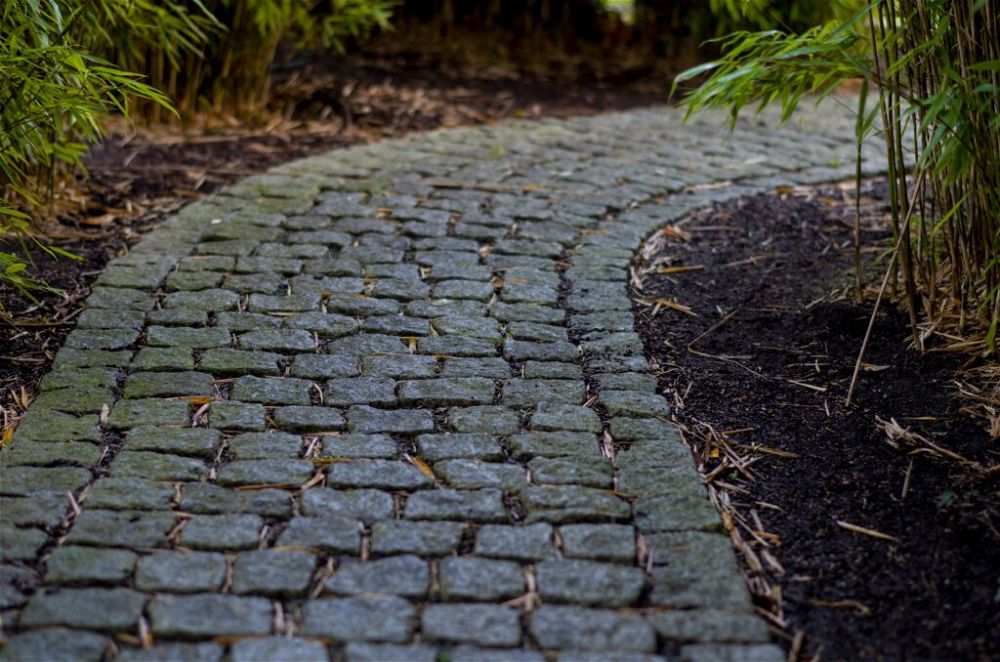 Garden paving doesn't get cuter than cobbles stones. Cobbles are very hard wearing and they suit old-style gardens or urban townhouses.
Cobbles stones add decorative detail but they won't overwhelm your outdoor space with too much colour or pizzaz. Use them in a straight line or weave a path around your garden stopping off at focal points along the way.
22. Use Pallet Slats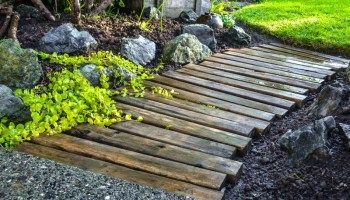 Did someone say pallet? Wooden pallets are one of the most useful items you can use around the garden and they are often free.
Take apart a pallet and lay the wooden planks down – voila. A cheap and easy path. You will need to replace this eventually but if you stain the wood with preservative it'll last longer.
23. Rejuvenate Reclaimed Wood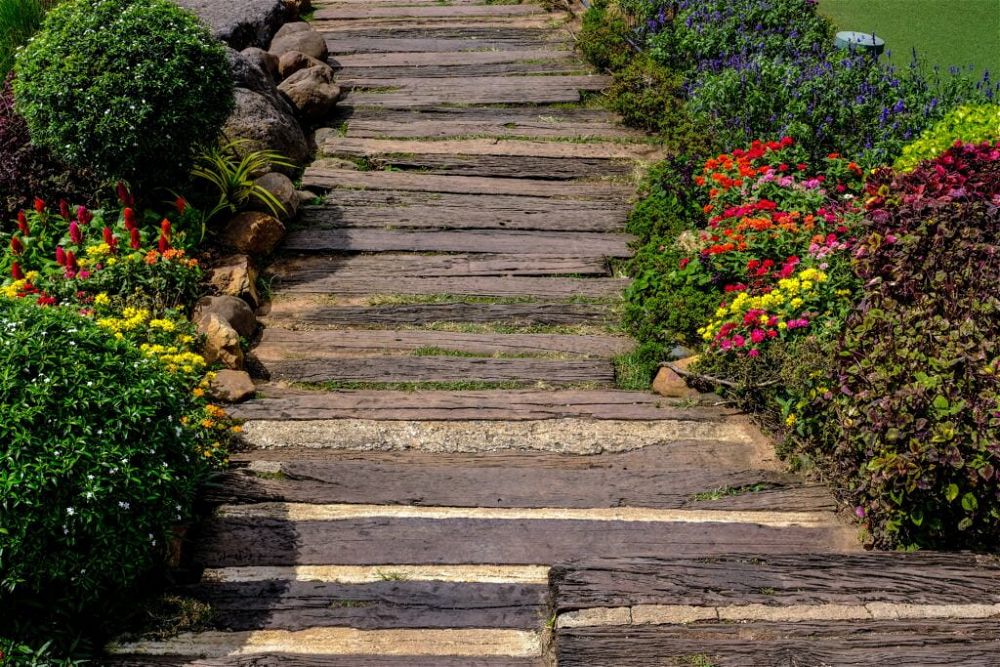 Use reclaimed wood to create rustic, wooden paths. The beauty of these garden paths is that they look even better with age, becoming increasingly rustic the longer they are exposed to the elements.
Apply a layer of wood preservative all over wooden planks and lay them as a path for instant rustic charm. Leaving a small gap between the wood to fill with shingle, grass, or herbs just adds to the rustic countrified effect. Love it.
24. Use Woodchip Between Veggies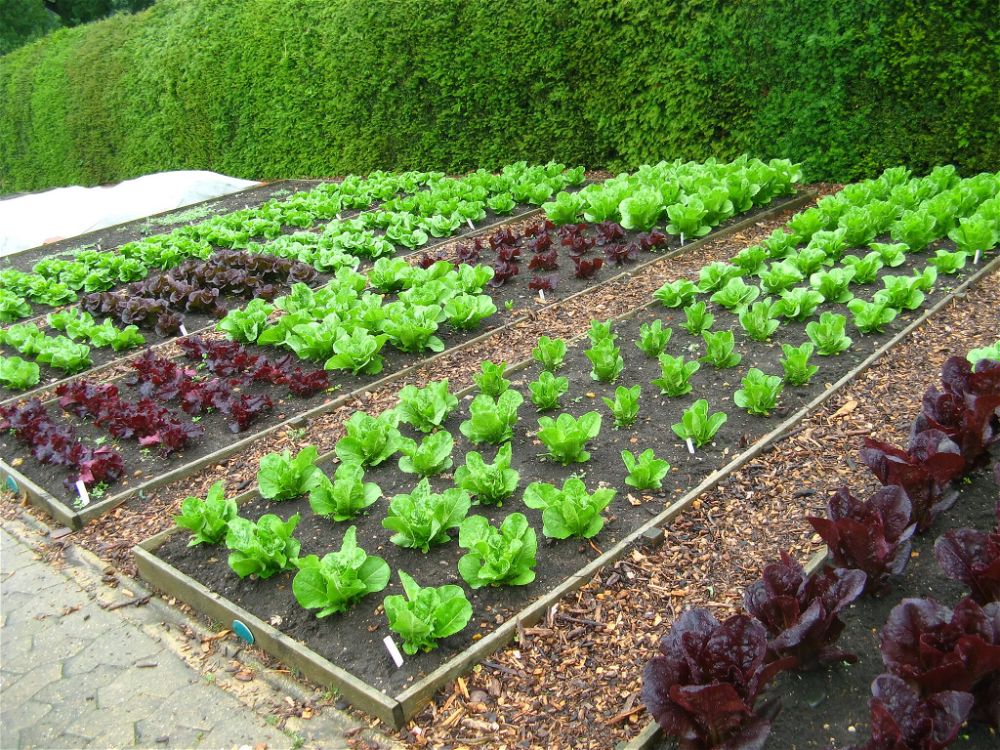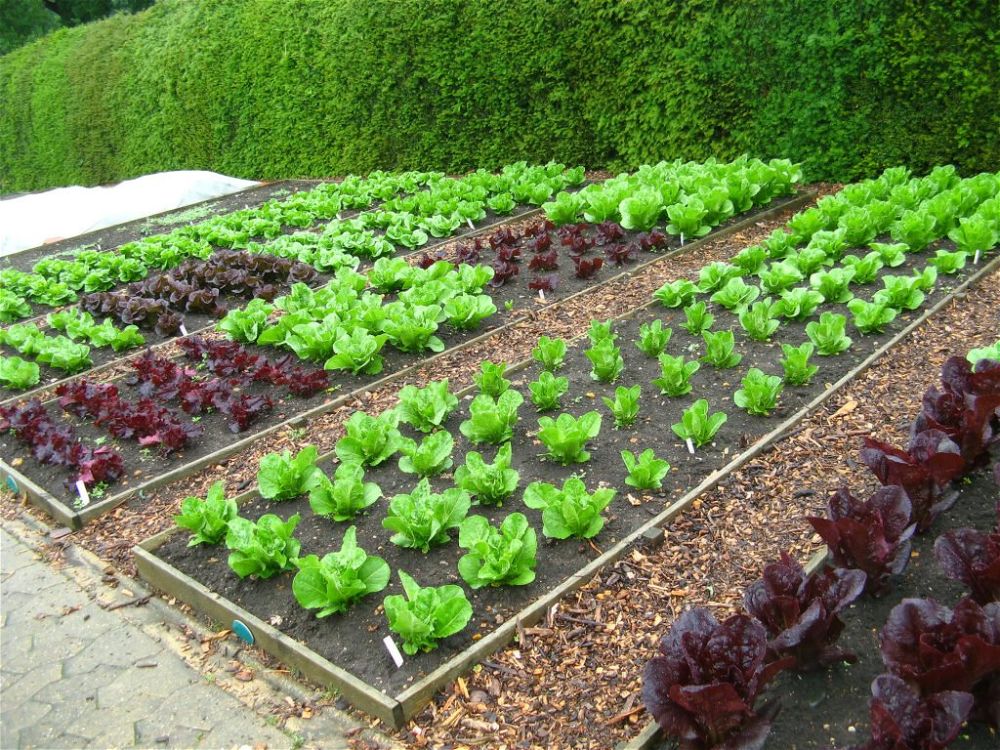 If you have raised beds or sow straight into the soil you can't beat wood chip on a weed membrane as a vegetable garden path.
Woodchip is in keeping with the natural look of a veggie garden and you can move them if you need to. Wood chippings don't last forever, but when it's past its best use it as mulch – it'll rot down and provide goodness to your veggies. Win/win.
25. Take Inspiration from Japanese Gardens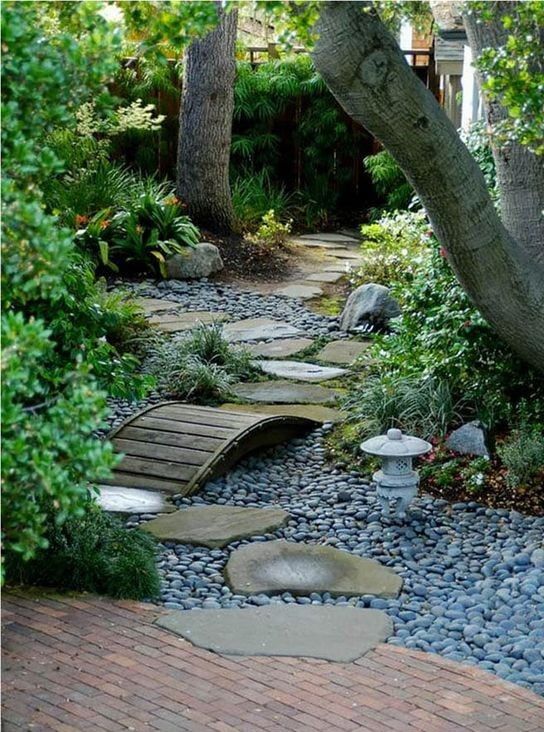 Look East for beautiful garden path ideas. Here small bridges and large natural stone pavers are used as bridges over 'water' – the water being grey stones!
This is a really creative way to add interest and decorative detail to your garden without the hassle of introducing water.
26. Keep it Simple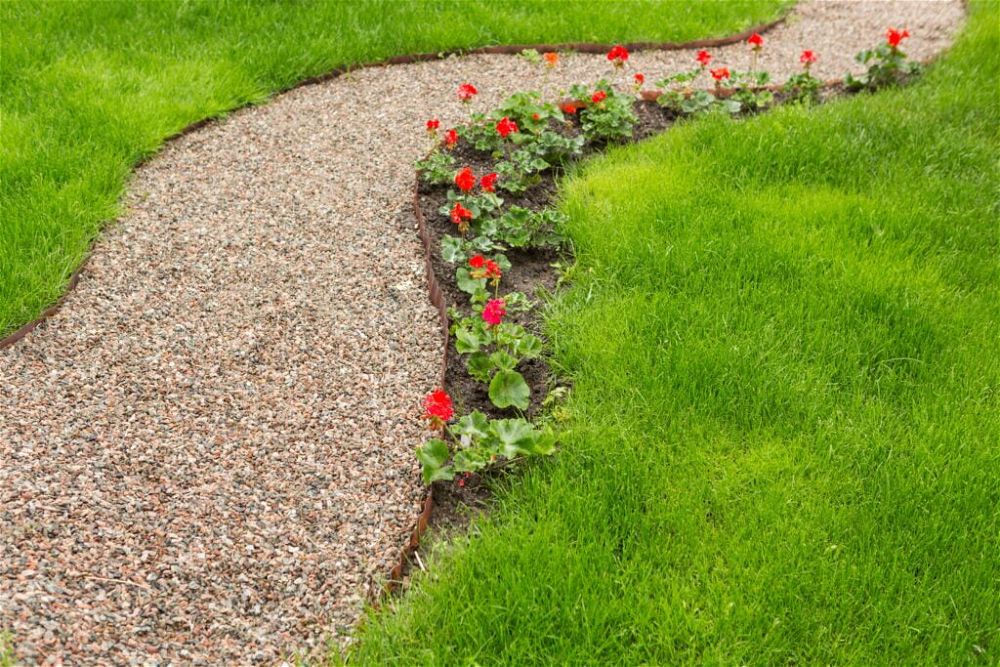 Here's a very simple gravel garden path. It's pea gravel on weed membrane fenced in with short border edging.
You can weave this into any space you have, it is fuss-free and simple enough to suit any style of garden without looking intrusive. Pea gravel comes into lots of colours so you can personalise this simple garden path to suit.
27. Place Black Stones on White Gravel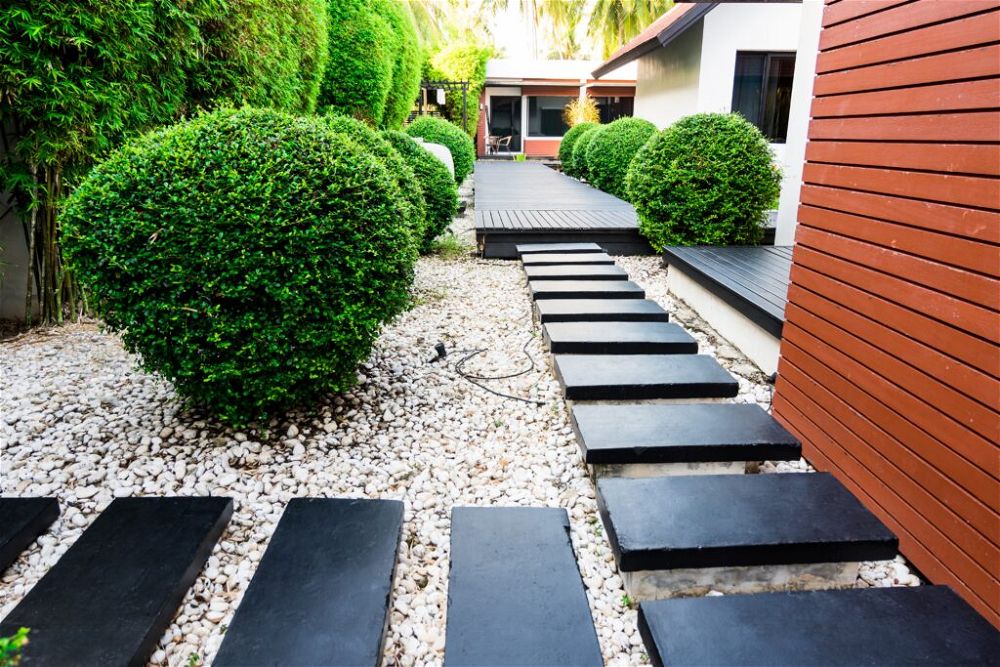 Go ultra-modern with a straight black garden path. This looks great because the sleek black stepping stones are set on white gravel and makes it stand out. The lush green plants stop it looking too monochrome.
If you want a straight path this is a contemporary chic look that would suit grass or gravelled landscapes.
28. Plant in the Gaps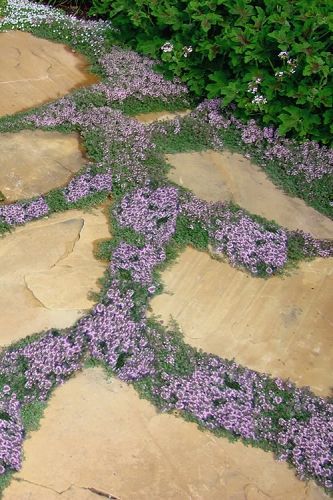 Planting scented herbs alongside your garden path not only benefits pollinators and flavours your dinner, it also fills the air with scent every time you take a step.
Here creeping thyme has filled the spaces between flagstones. If your path is fixed with no gaps plant your favourite herbs along the edges for a garden filled with beautiful aromas.
29. Use Recycled Materials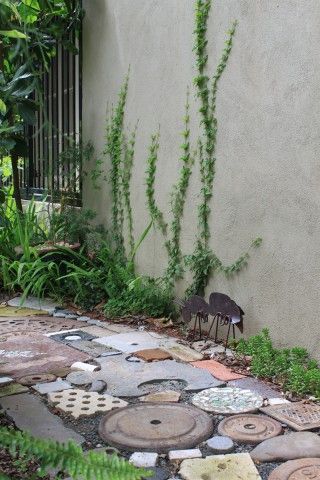 One of the quirkier garden path ideas, this path is made from just about everything – is that a kitchen sink I see?
So long as the item is flat enough to stand on and doesn't get slippery, you can recycle just about anything into a garden path such as old drain covers or bits of concrete trellis – whatever you have to hand – or your neighbour has in their skip – just ask first!
30. Arrange Narrow, Neat Stones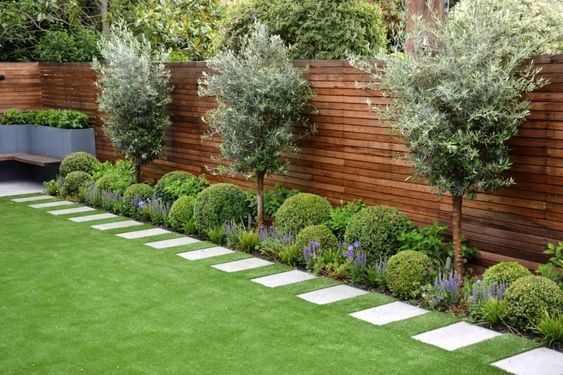 If space is at a premium, a narrow garden path won't take over.
Check out this quick and easy paving stone path running one length of the lawn, just skirting the flower border. You could make it even narrower by turning rectangular pavers into a portrait direction.
31. Include a Variety of Pebbles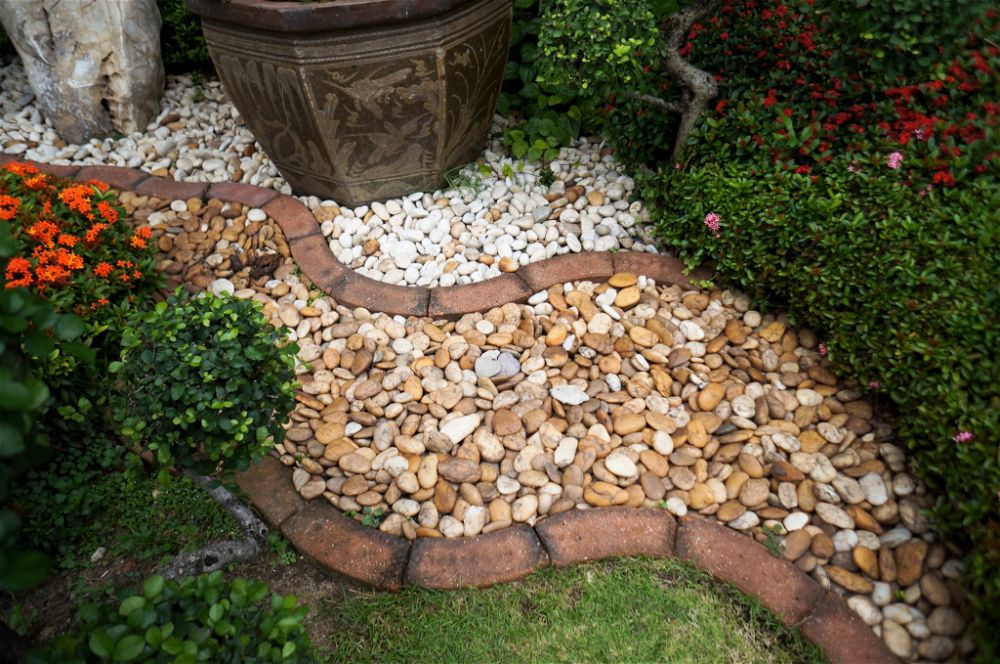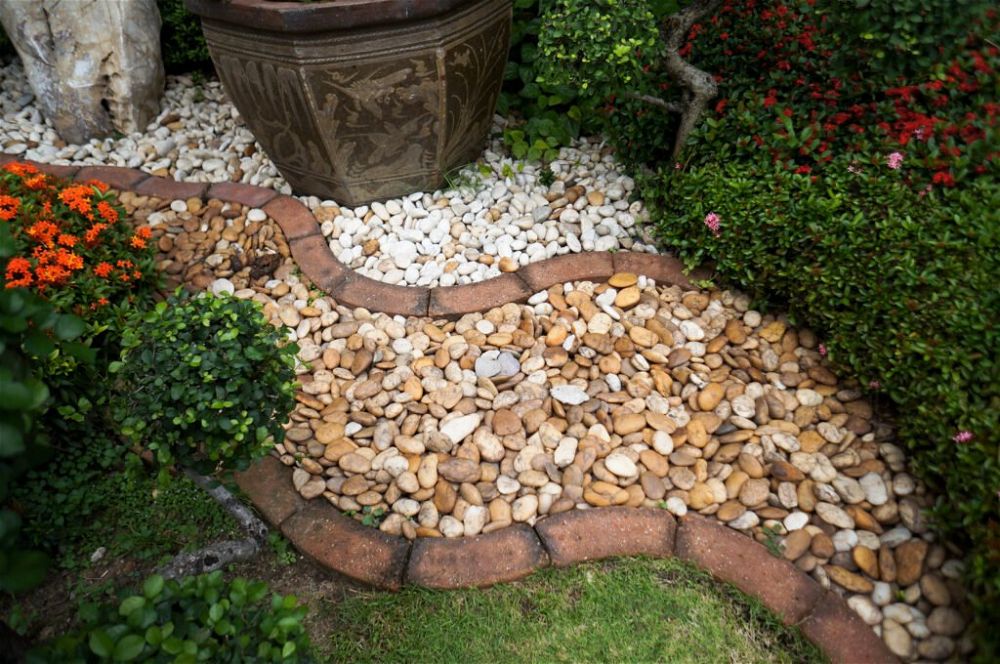 Pebble paths are great in the garden because they are decorative and hardwearing, but there are lots of ways to use them.
Many people like pebbles concreted into a mosaic, but here the pebbles are neatly kept in place with brick edging and left to provide that satisfying crunch. There's plenty of grip too.
32. Wind Your Way with a Curved Path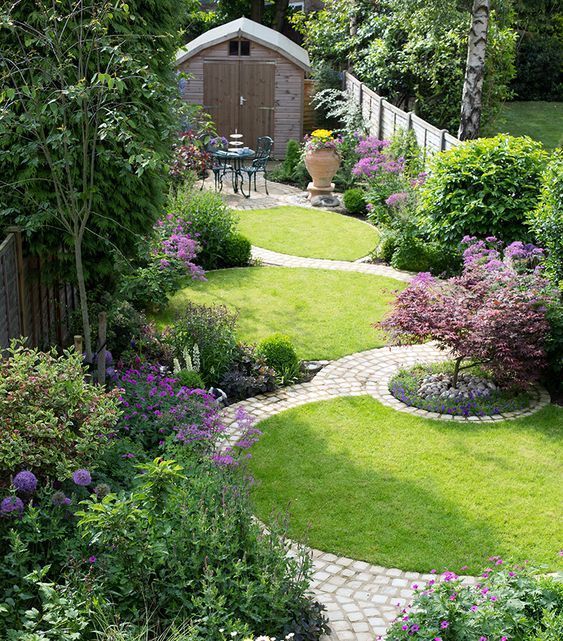 Curved garden paths add interest to your garden and make small spaces look bigger.
Check out this curvy creation. It works because at each curve there's something to look at – an ornamental plant, a statue or a pond. Make your curvy garden path a place to take a wander and breathe the fresh air before you arrive at a sunny coffee spot. Perfection.
33. Combine Grass with Pavers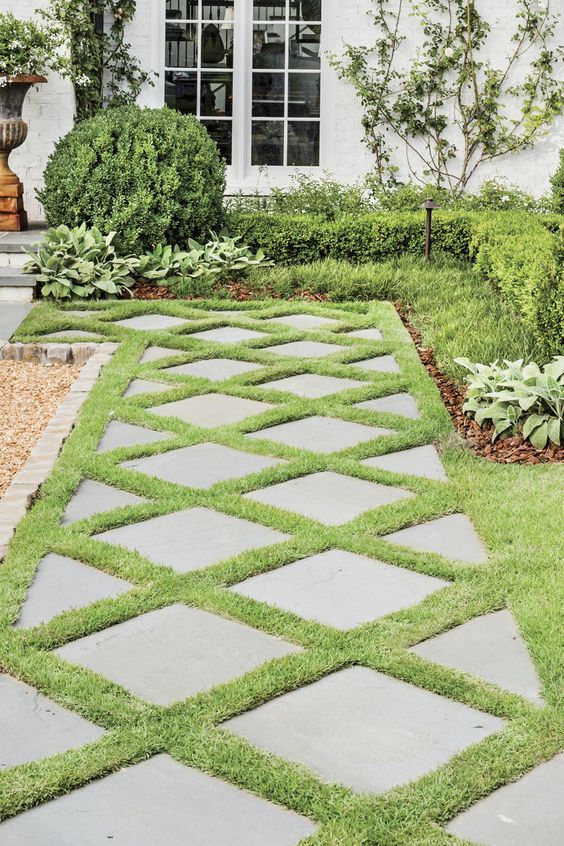 A chessboard lawn is a whole lot of paths in one back garden.
You know this is a great idea because it cuts down on grass mowing time – just make sure those slabs are level with the lawn so the mower will run across them!
A chessboard lawn also means you can go out in winter without turning the garden into a mudbath.
34. Build a Resilient Path with Aggregate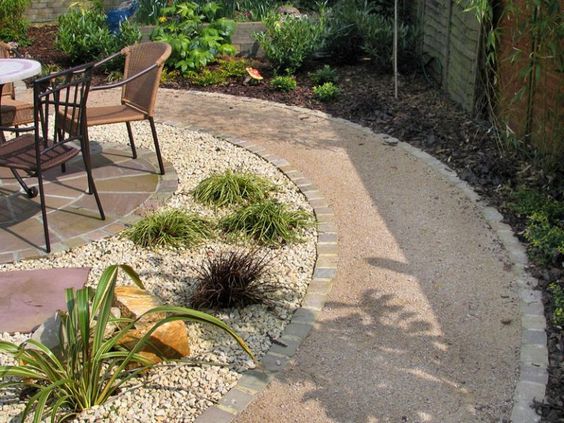 Self-binding aggregate is a great idea for a long garden path. Its hard-wearing and simple to install.
Aggregate gravel should be packed down so it binds together and creates a smooth, decorative, and hardwearing path. The last thing you want in a big garden is lots of work and maintenance. Self-binding aggregates need little upkeep and lasts for years.