Relax and Unwind With These Stylish Garden Patio Ideas
If you're after some garden patio inspiration, you've come to the right place.
We've put together 20 of the best garden patio ideas to create a relaxing and inviting space. You'll find options that are great for entertaining, and designs that are perfect for smaller spaces.
Check out this list of 20 garden patio ideas:
1. Divide Patios in Smaller Gardens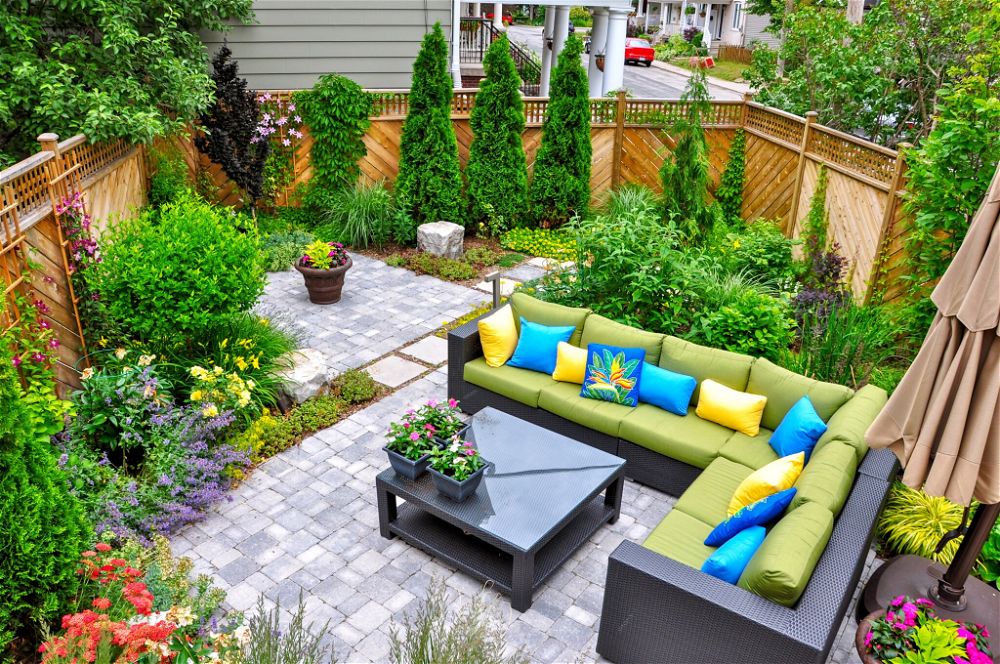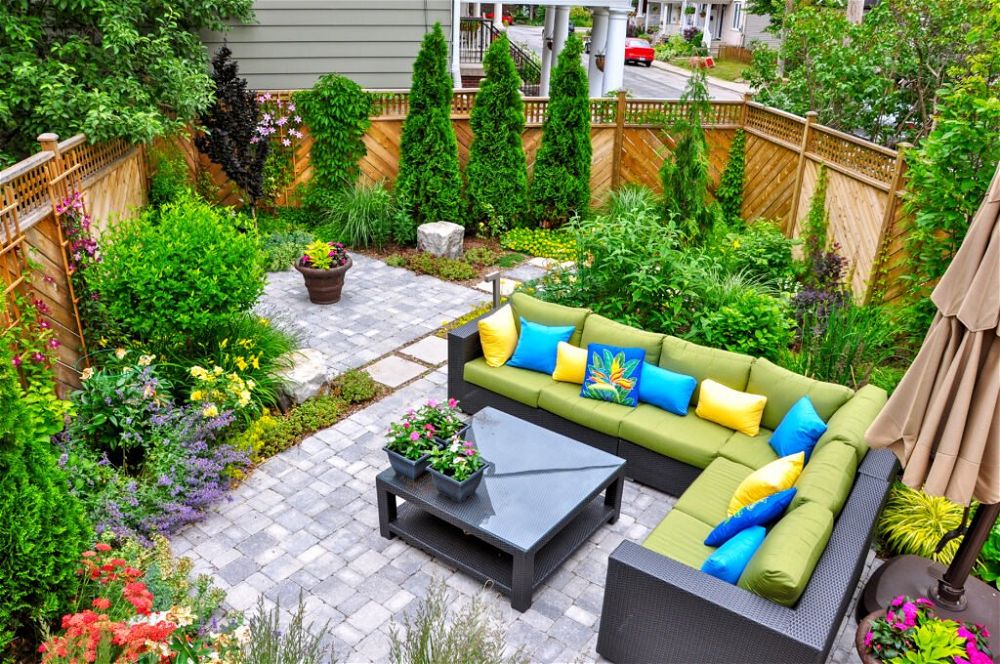 A perfect design for small patio gardens, this urban garden incorporates two small patios made from natural stone paving. A diagonal flagstone path splits the space which makes the garden look bigger.
The edges are softened with low-maintenance plants including shrubs, small trees and perennials while climbing plants on the fence line add height and create a cosy space.
Using garden furniture that matches the colour scheme of the garden avoids harsh partitions that could make the garden look smaller.
2. Use Artificial Grass on a Budget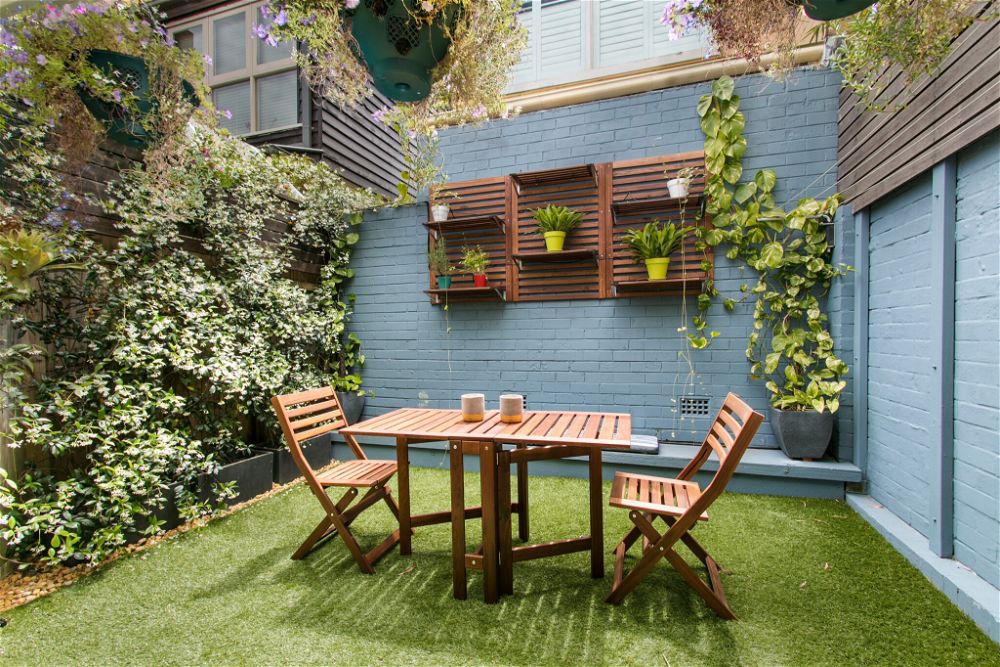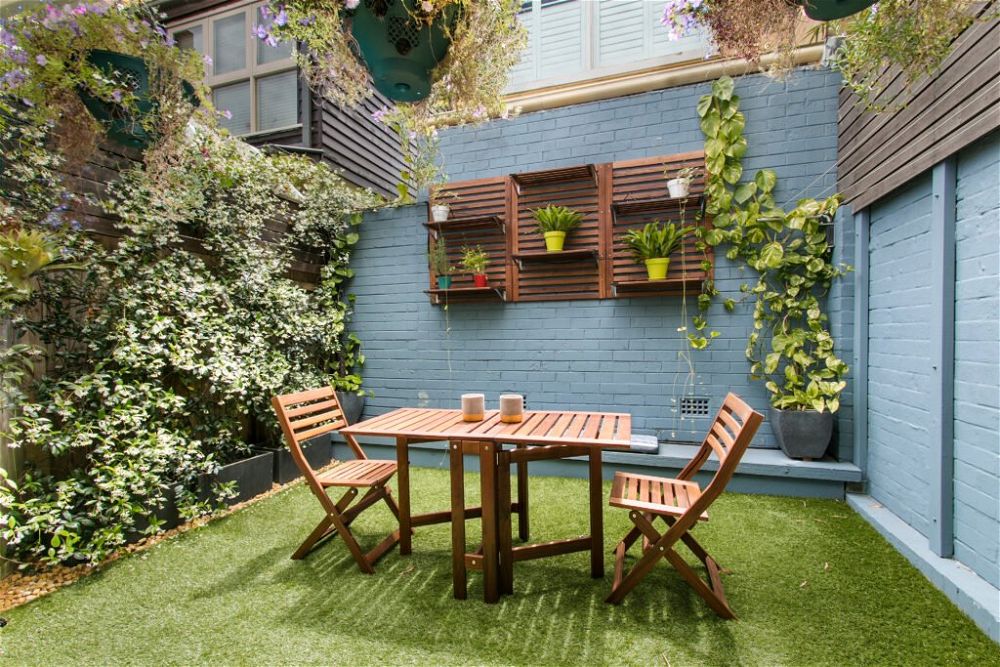 If your back garden is looking sad and you don't want to spend a lot of cash consider artificial turf.
It's a cheaper option than patio slabs or pricey stone and it lasts for decades if you take care of it. This patio idea might not be 'conventional' in that it doesn't actually use paving, but it's still effective – artificial grass is a great way to define an area.
To create a cohesive, relaxing patio space, use coloured masonry paint to brighten any walls or fences. Also, you could take inspiration from the garden above and take apart any unwanted wooden furniture you have to make plant shelves. Herbs are a great plant for outdoor shelf life.
3. Bring the Patio to the Front Garden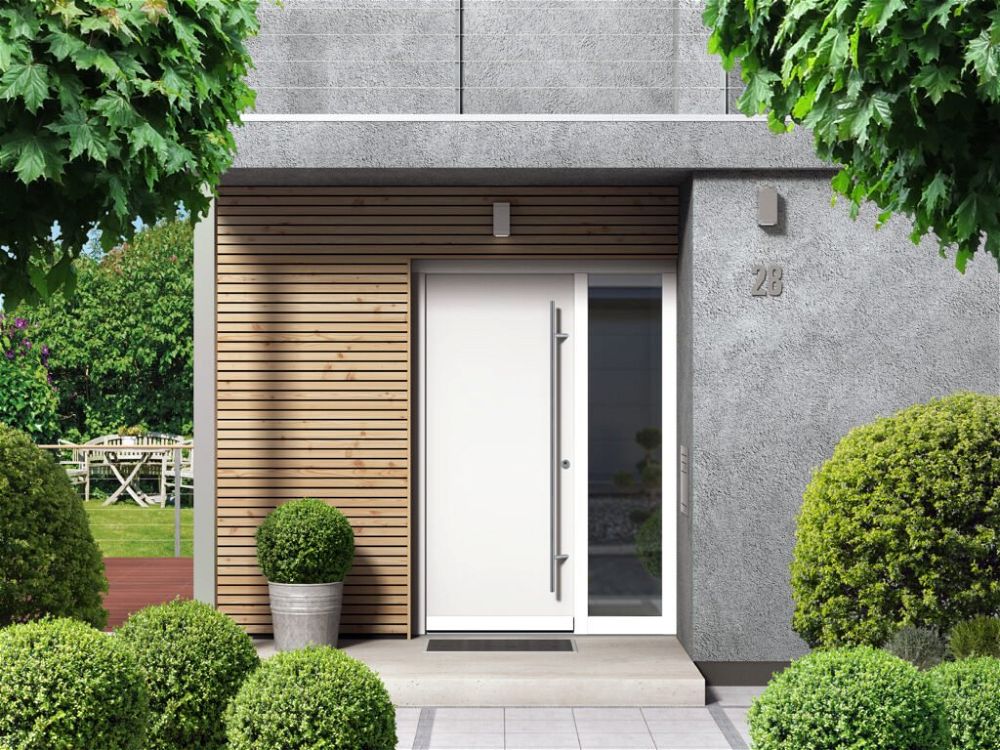 Patios look extremely smart out the front of the house, offering a bit more kerb appeal than a standard concrete pathway.
Use sleek grey stones as a patio and pathway, then plant up the soil with box balls or yew balls. One box ball in a grey container by the front door continues the theme and brings the design together.
Box and yew require a yearly trim but when it looks this good it's worth the effort. Yew is also shown to improve garden air quality.
4. Attract Wildlife With a Cottage Garden Patio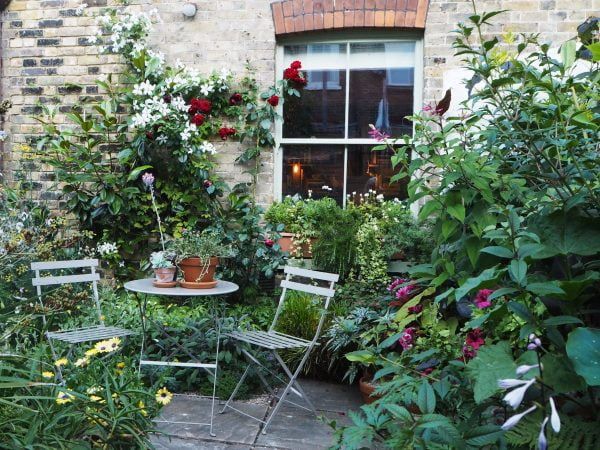 Cottage garden patios are the stuff of countryside dreams, but they suit an urban environment too and attract lots of wildlife.
Embrace the country vibe with a small seating area on natural stone paving. A neutrally-toned patio blends in well with plenty of foliage. Then, fill up borders and pots with colourful plants and flowers – plenty of leafy growth really encapsulates the cottage feel.
Lavender, wildflowers, and roses are traditional and they're easy to grow. They'll also do wonders for bringing in butterflies and bees.
5. Use Planters on Patios & Grow Veg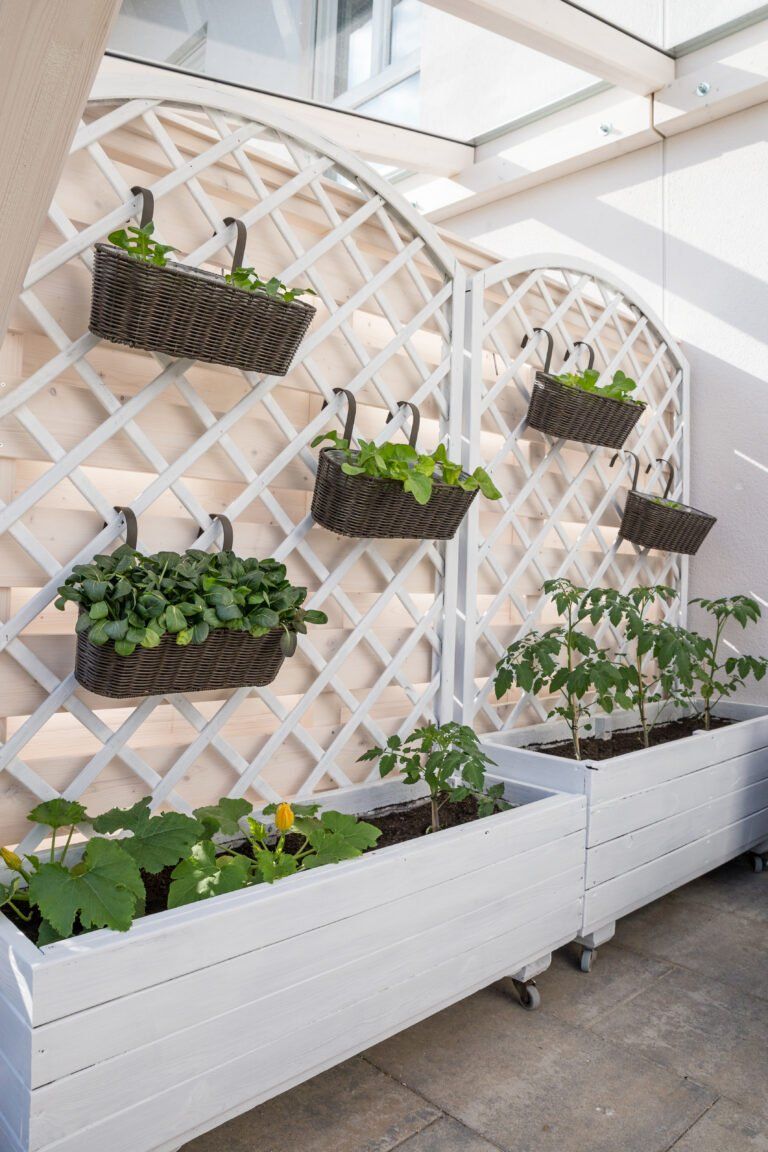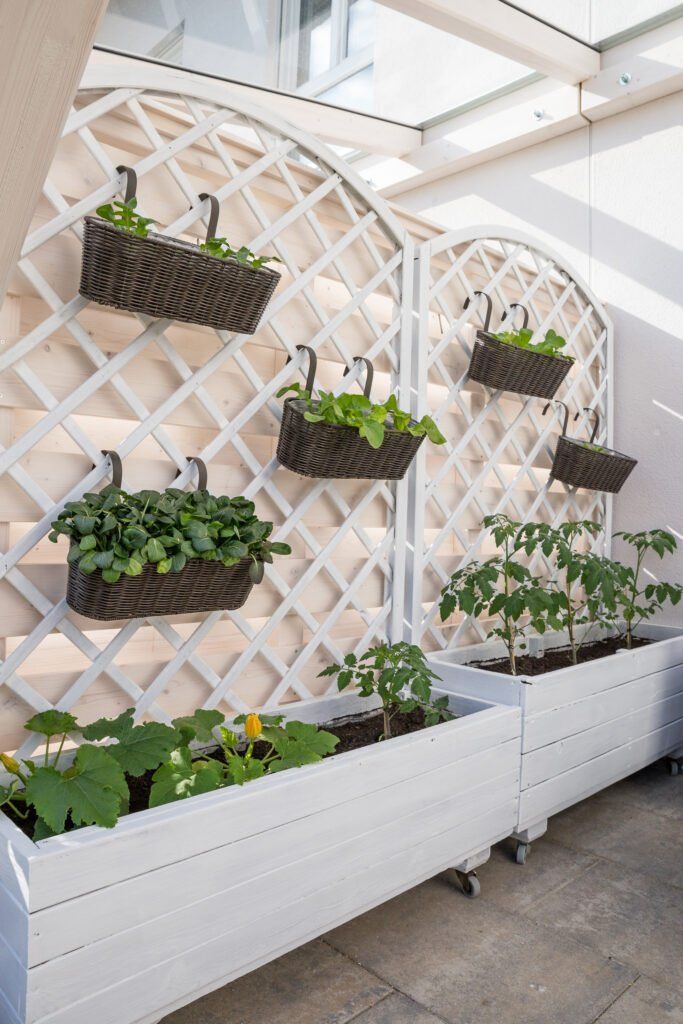 A cheap way to boost your patio (and eat healthily) is by incorporating areas to grow your own vegetables.
A raised bed is easily made from four sides of wood and small troughs can be attached to the fence line to keep those pesky slugs from your strawberries. You could also try a VegTrug if you don't want to build the planter yourself.
If you have a garden that gets lots of sun, grow tomatoes and herbs. Shadier gardens will be great for leafy greens and root veg.
6. Add Levels With a Raised Patio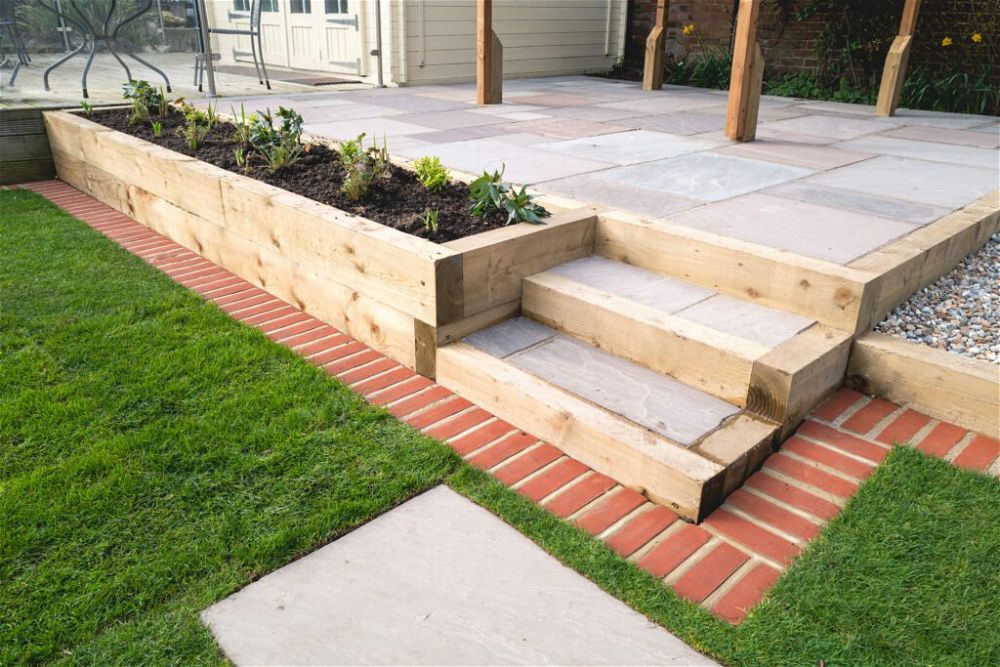 A raised garden patio brings height and interest to your relaxing space, and the sides are perfect sun traps for flower beds and veggie patches.
This is the perfect way to make the most of the sunny spot in your garden. Raised patios don't have to be near the back door so locate your warmest area and get building. The more sunlight you can give your plants the happier they will be.
7. Go Grey For a Contemporary Finish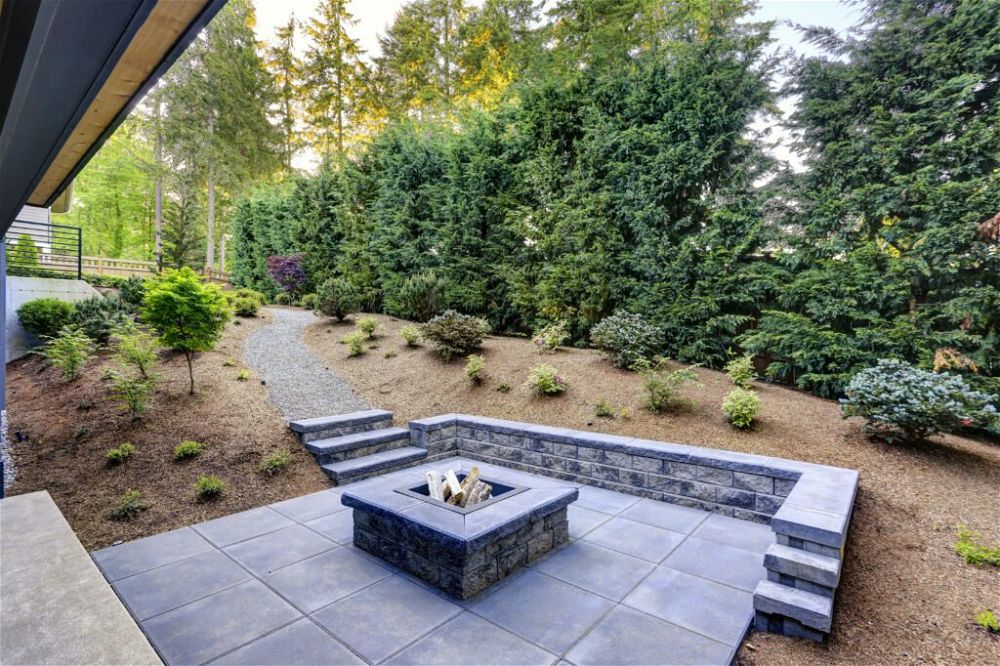 Slate-coloured stone and clean lines make for a very modern-looking patio.
Pictured in the patio idea above, sleek slate pavers surround a built-in fire pit to keep guests warm on chilly evenings. Plus, the retaining wall provides extra seating for big get-togethers.
A sleek modern patio is simple to keep clean too, so you'll have extra time to relax without worrying about maintenance.
8. Trade Stone For Wooden Decking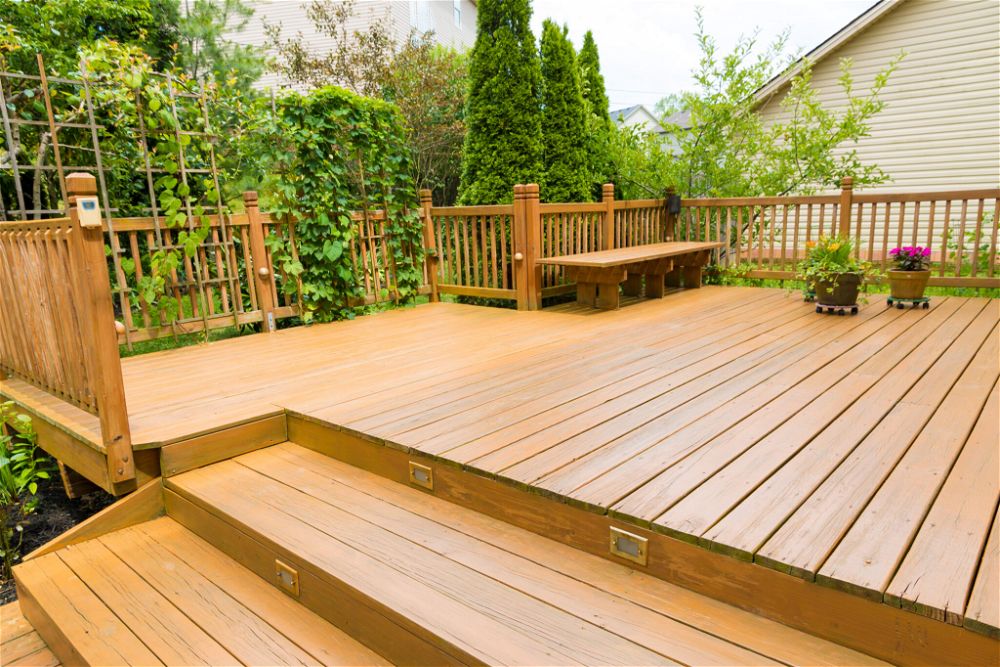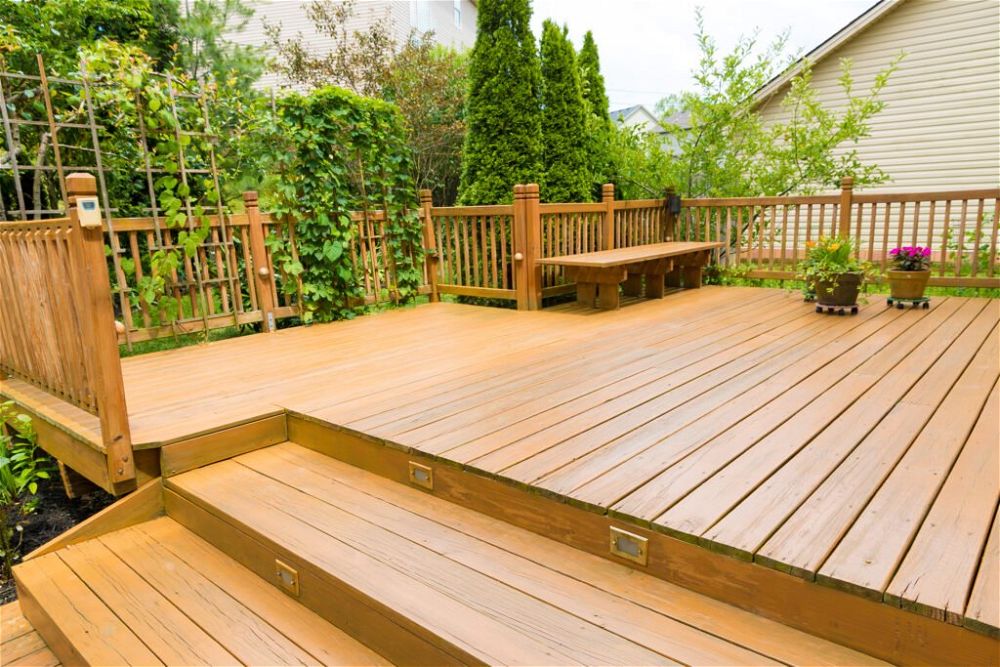 Decking is a great way to refresh your outdoor space and it's easy to build it yourself. A large deck is the perfect entertaining space or area to lounge on relaxing evenings.
Deck boards are easy to cut so you can build around an existing feature such as a tree or even create steps that match your deck. A safety rail on high parts means the whole family and pets can play outside too.
9. Add String Lighting For Atmosphere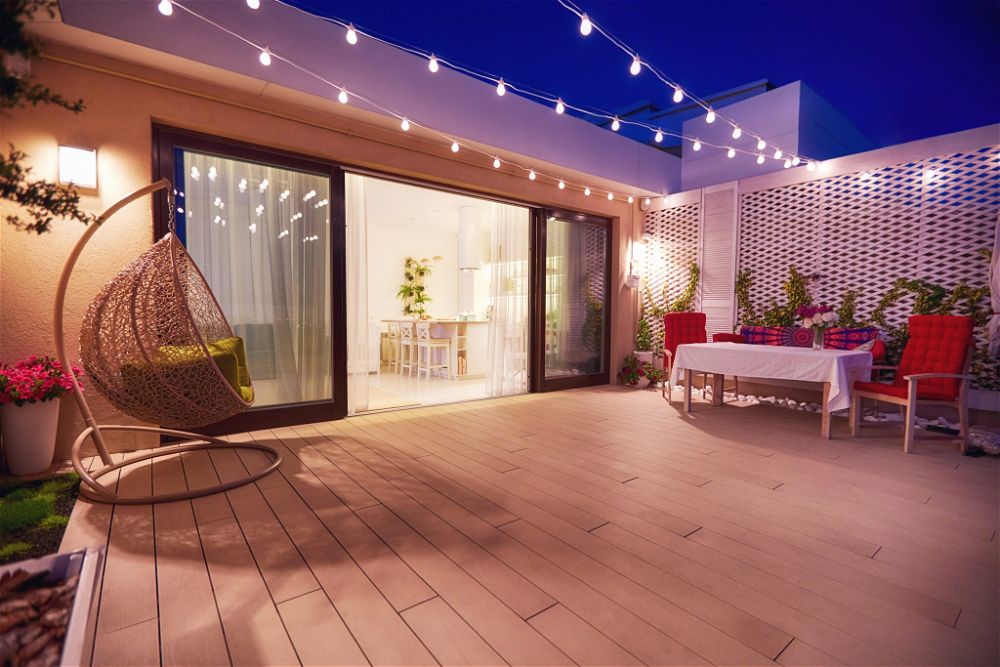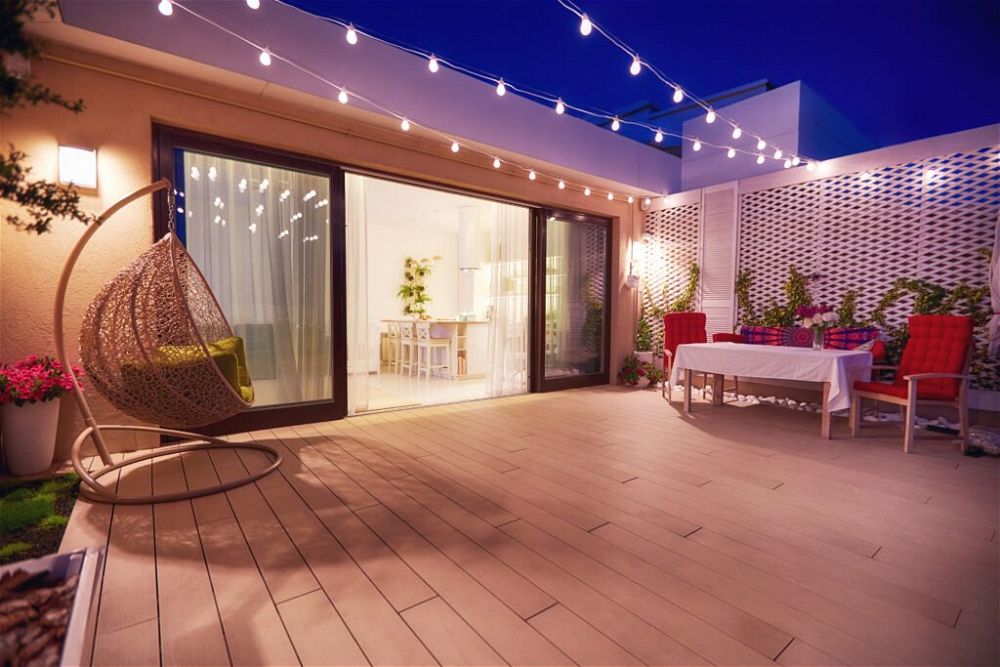 Patios are great for evening entertainment and when the sun goes down the fun doesn't need to end.
Fairy lights are a pretty and inexpensive way to light your patio. Wind them around rails, the umbrella poles, or as in this picture string them across the top.
If you don't have a structure yet it's easy to add a few screens or fenceposts to anchor your lighting.
10. Plan & Landscape the Patio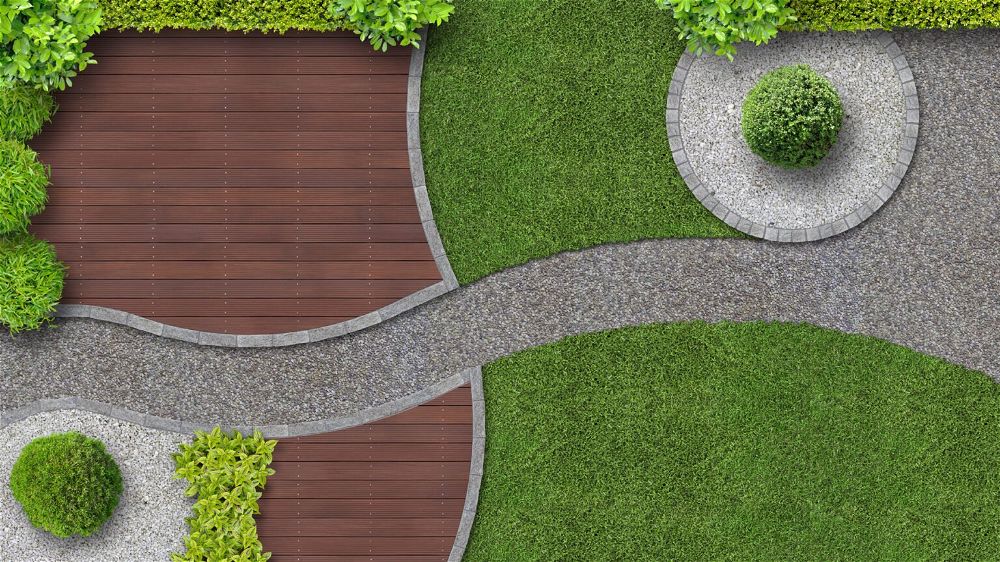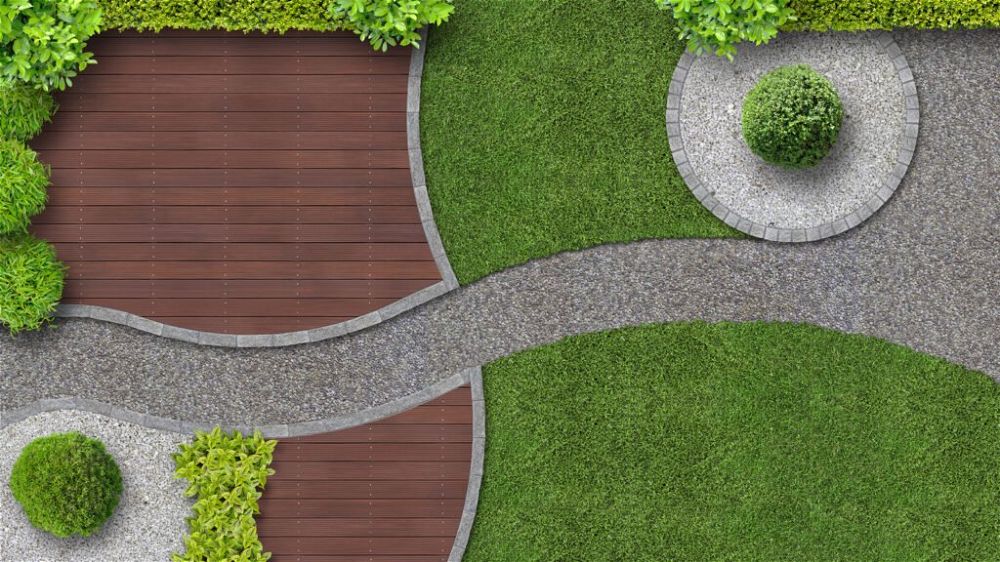 A back garden is your private oasis so you can go as classic or as zany as you like.
This modern patio idea suits a small back garden and incorporates wood, grass, and stone with a winding path. It's simply decked, edged with pavers, and is very low maintenance
Simple, a little bit different, and looks great from an upstairs window.
11. Enjoy Two Patios in Large Gardens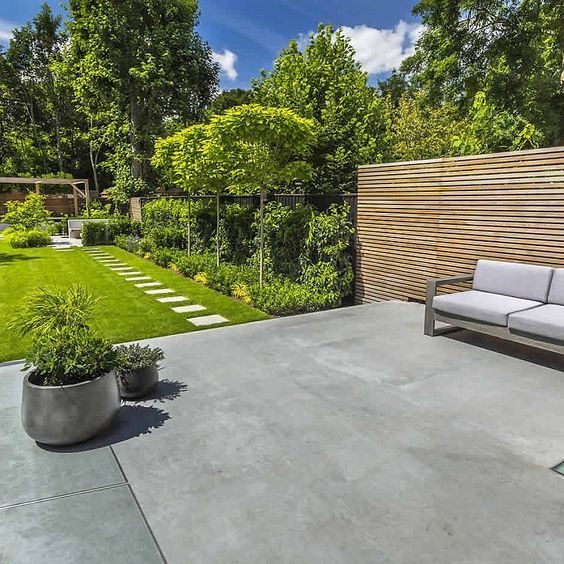 Two heads are better than one, and two patios are better than one!
If you have a large garden consider a patio outside your back door and another in the sunniest spot. That way you'll never get bored of the view and can make the most of our unpredictable weather.
A paved or stone path connecting your patios stops wear marks appearing in the grass.
12. Grow Vegetables in Sacks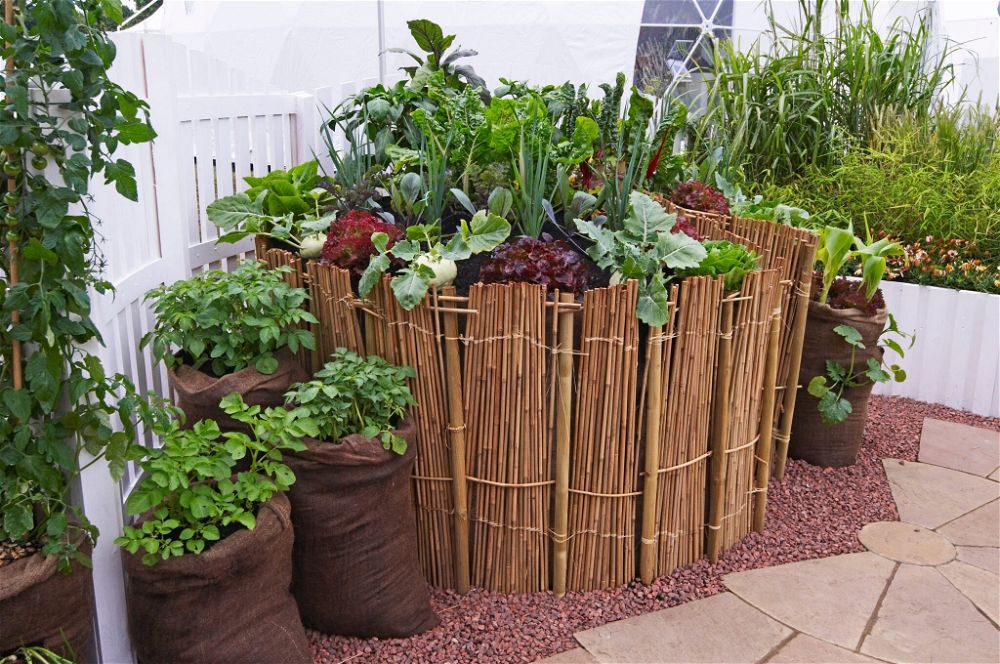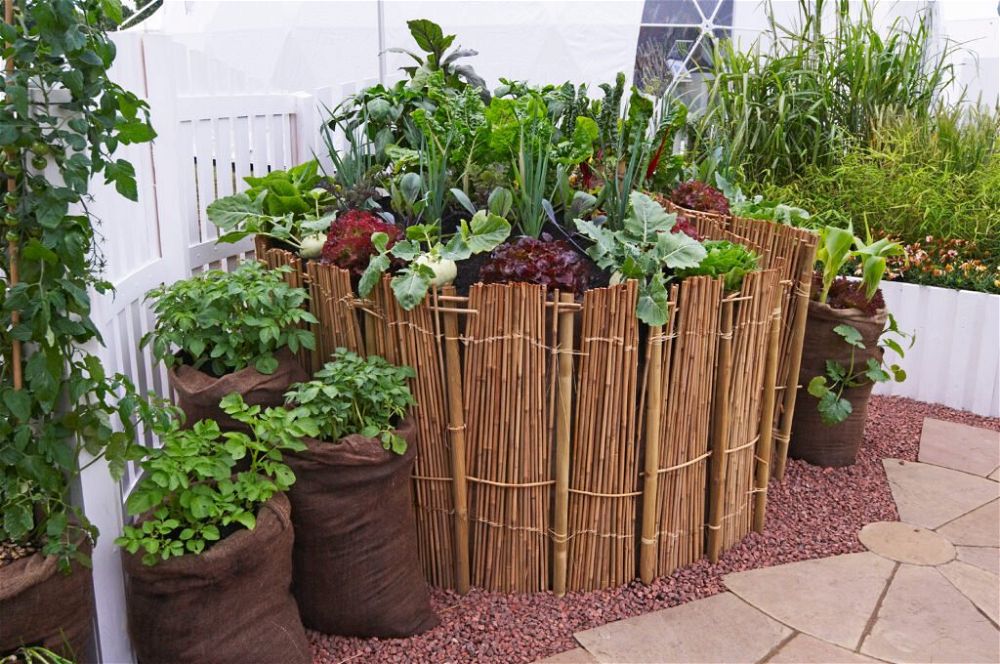 If building raised beds on your patio isn't feasible, buy or repurpose a large container and surround it with bamboo matting. It's perfect for veggies on the patio.
A few hessian potato bags give this patio vegetable garden a rustic and delicious look. Just remember to give them plenty of water if the weather turns hot.
One of the benefits of a patio vegetable garden is that you don't have walk far for your veggies – or the mint for your mojito!
13. Relax With the Perfect Zen Garden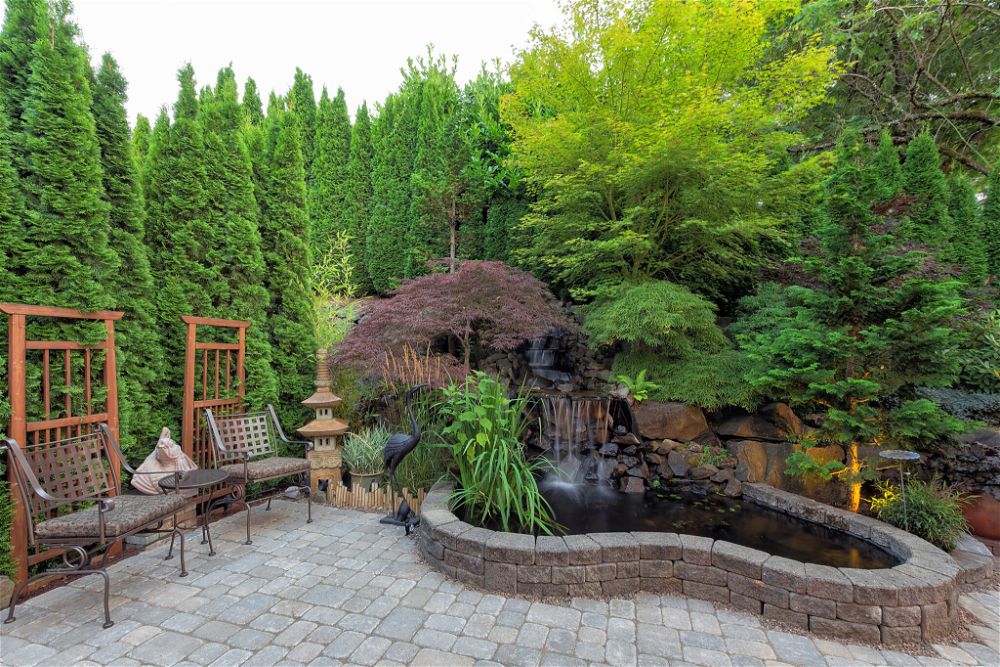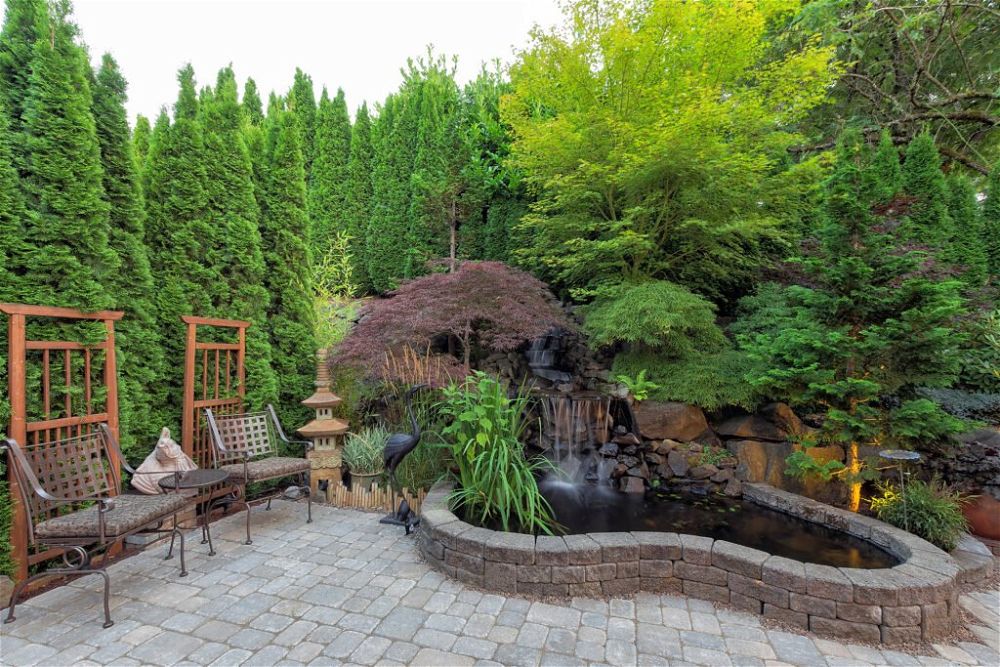 Zen gardens are about relaxing and they usually contain calming water.
This zen garden patio has a built-in pond to match the patio stones and features a tinkling fountain to wash away stress.
Don't forget acers and surrounding sculptural trees so it looks as if your water feature belongs in the landscape. Minimal use of colour keeps this garden patio one of the most relaxing around.
14. Make Flowers the Focus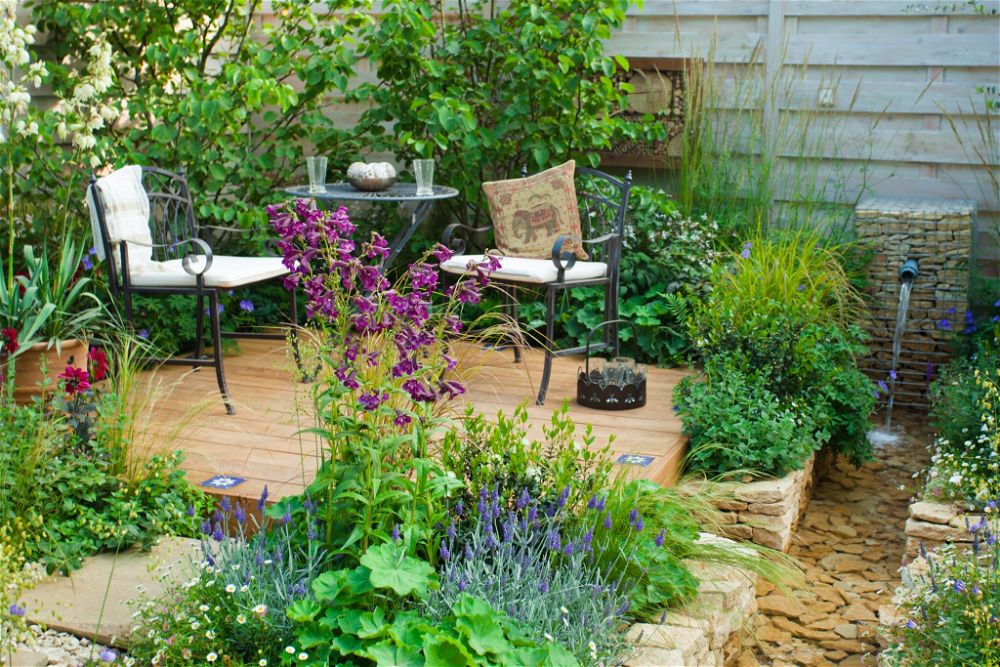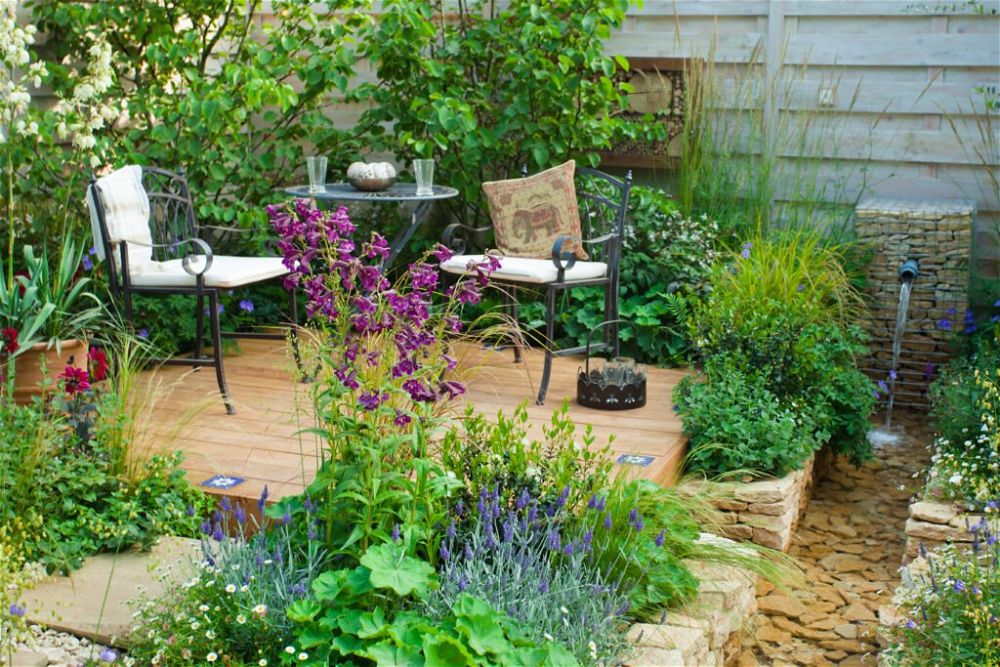 A patio flower garden is a relaxation haven. Not only are the flowers beautiful they attract gently humming bees and pretty butterflies to immerse you in nature.
Dig up the areas around your patio and plant flowering shrubs as a backbone. Fill in the gaps with annuals and wildflowers. Try to bring flowers right up to your deckchair in pots and containers – lavender and Erigeron daisies especially love container life and are tough, pretty little plants.
15. Use Dynamic Patio Slabs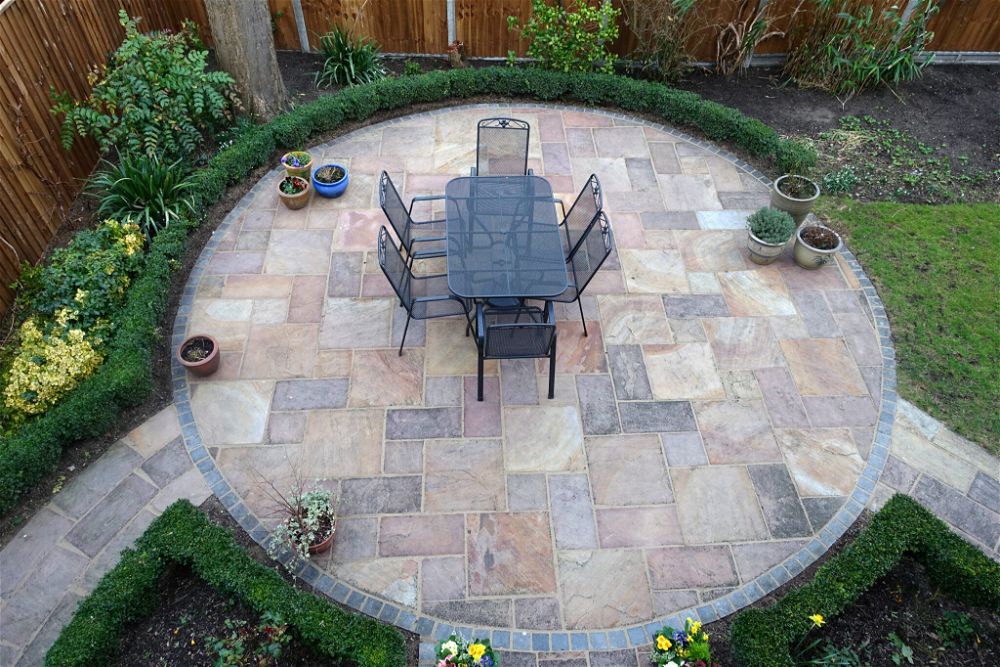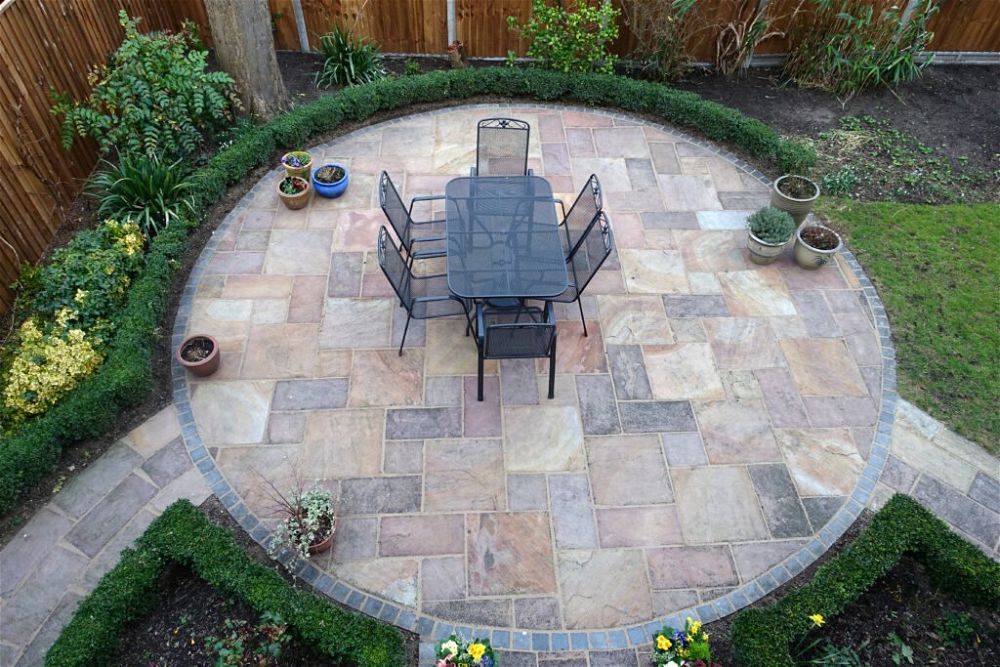 Patio slabs don't have to be boring. There are many colours, shapes, and sizes to choose from.
Here's a round patio created from square slabs in a palette of colours. It's practical and interesting to look at especially with two garden paths leading in different directions.
When it comes to patio slabs think outside a square patio, there's so much more you can create.
16. Incorporate a Shallow Pond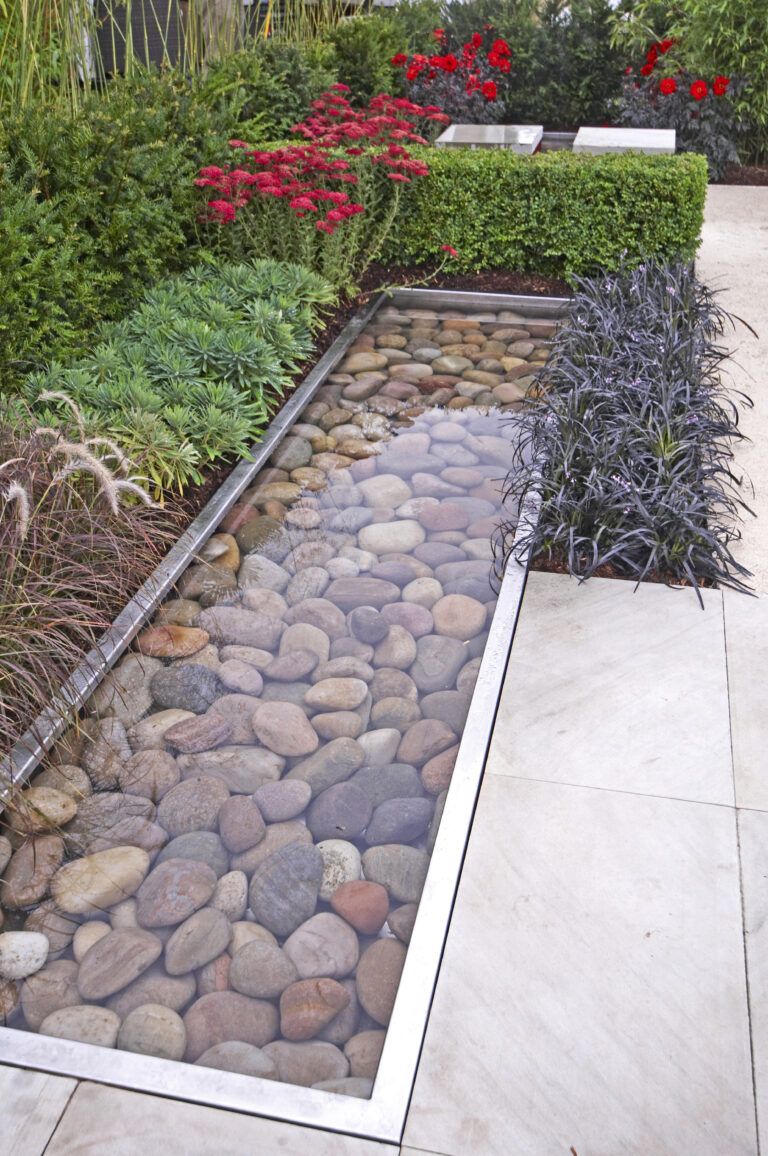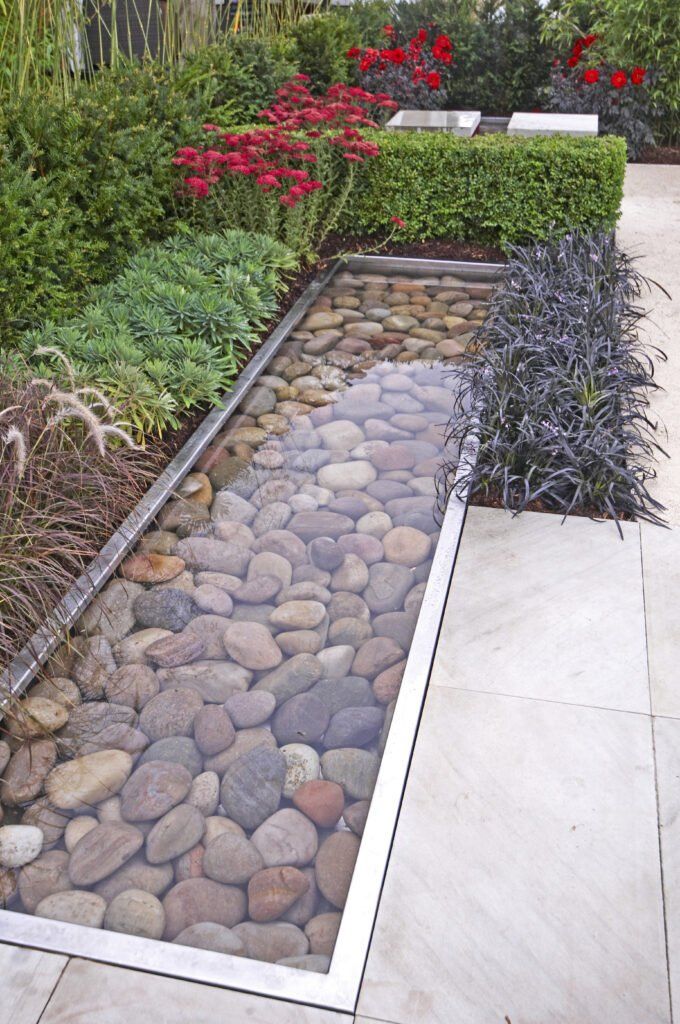 Water is so relaxing and when it looks this good who can resist a few minutes peace in paradise. The large pebbles remind you of beach holiday and upkeep is minimal.
This patio water garden idea is a modern, shallow pond that's safe for kids and wildlife. It's the perfect choice for busy families that want a relaxing patio water feature.
17. Use Light Colours for a Country Feel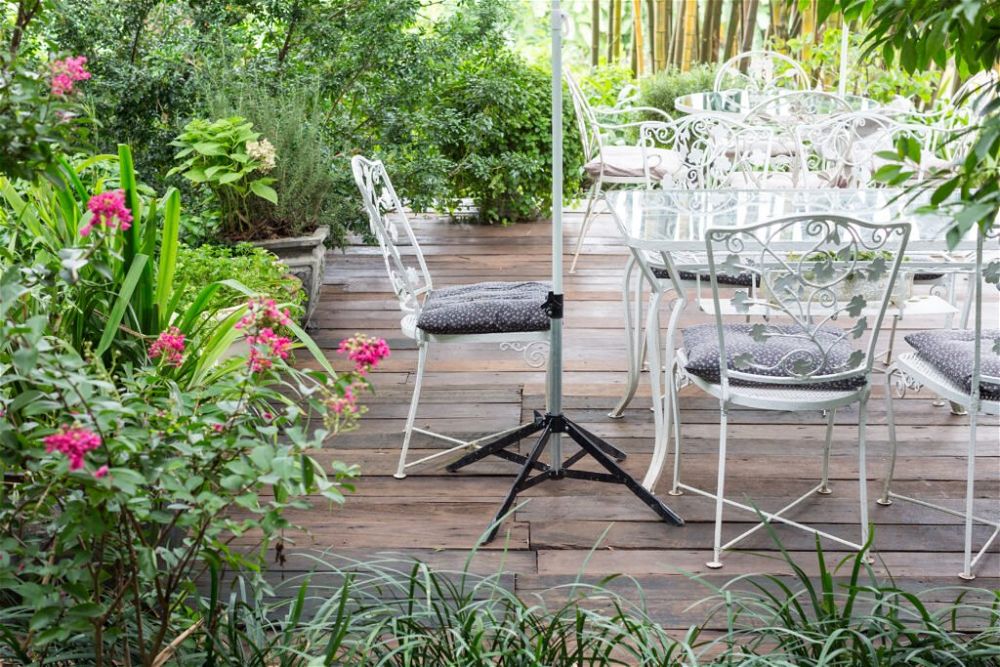 Country gardens are flower-filled and feel as if nature is in charge.
A wooden deck patio lends that natural feel and planting right up to the edges gives you that 'surrounded by countryside' effect even if you're in the city centre.
Let flowers flop onto the patio and bring them right to your feet in with containers. A delicate white table and chair set finishes off the country cottage chic.
18. Grow a Vertical Herb Garden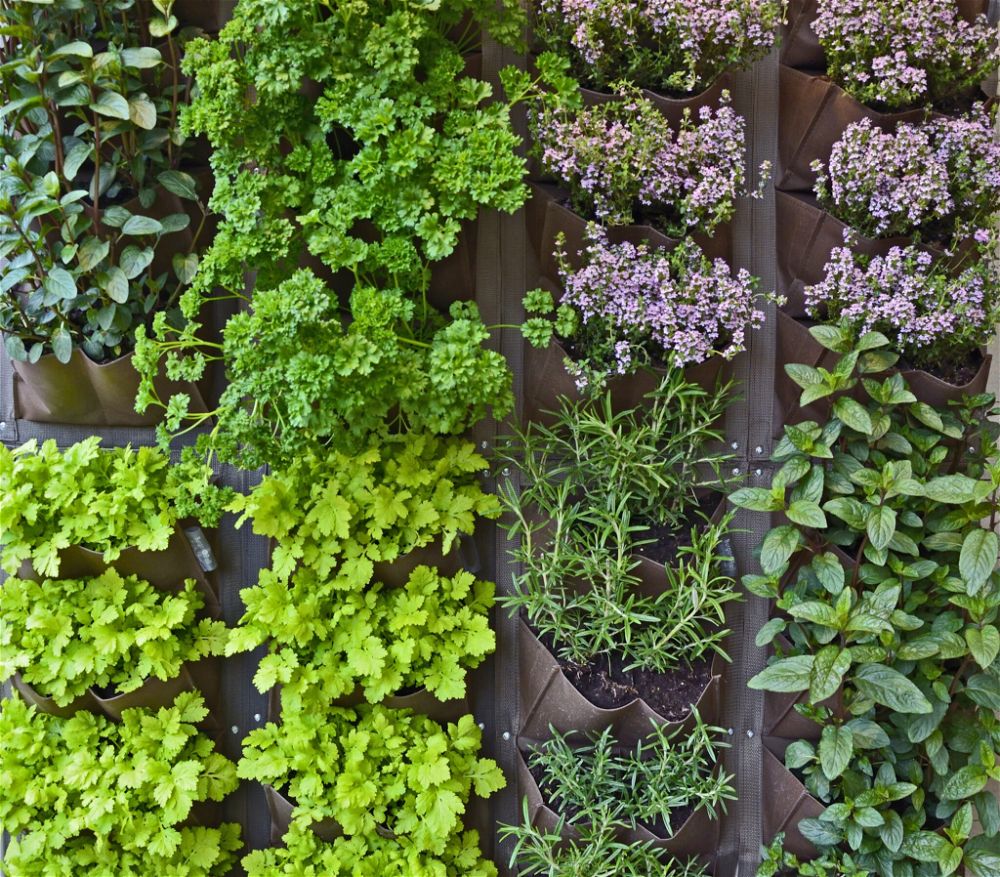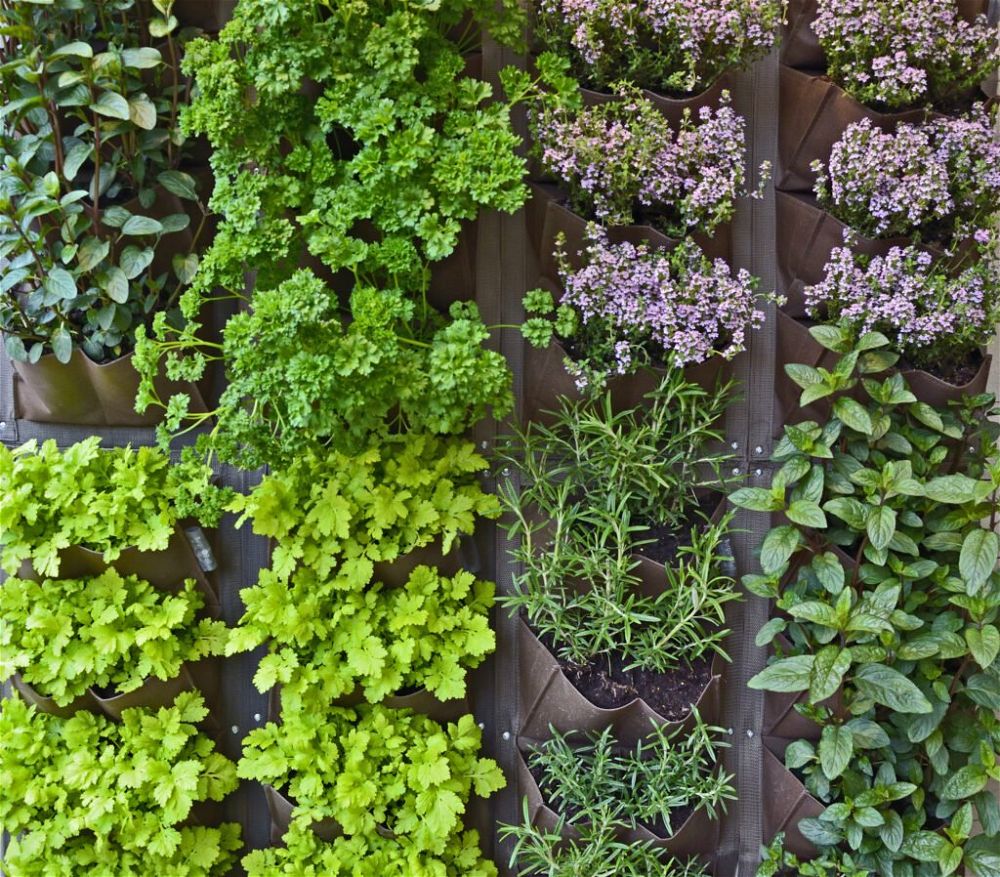 Herbs are perfect in vertical gardens because they love good drainage and this leaves you more space to entertain on the patio. Result!
Vertical planters are available in fabric and plastics or you can sit pots on a step ladder or wooden pallet. Anything that gains elevation.
A patio herb garden is great because you won't have to walk far for tasty, free herbs to spice up your pasta and pizza.
19. Go Rustic With Natural Materials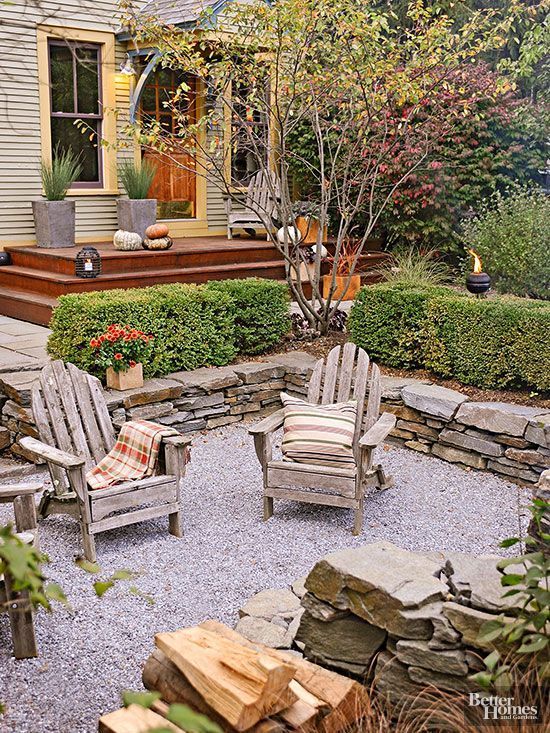 Rustic patios are unpolished, slightly rough-looking relaxation areas. What's more relaxing than having little maintenance?
This rustic patio is gravel based, has dry stone walling to capture the cosiness, and big rustic wooden chairs. The natural planting, log pile, and few strategic flowers make it look like you haven't tried too hard. Perfection.
20. Welcome the Rainforest With Tropical Plants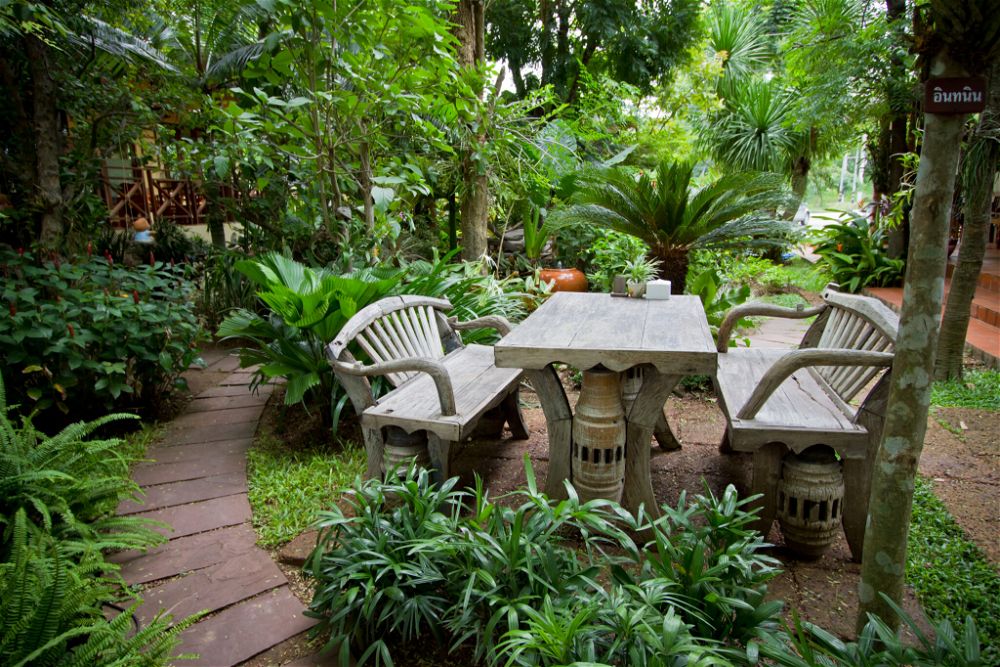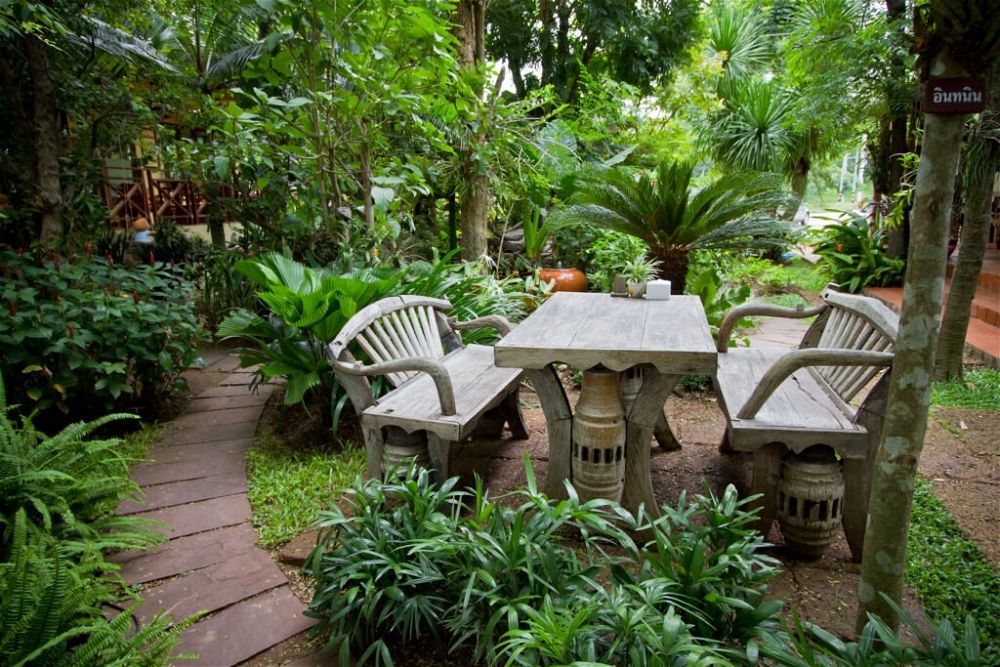 Unwind in tropical paradise bliss – but it's your own patio?
Get the tropical look with lots of leafy plants. Large hardy palms and gunnera add height while smaller yuccas, cordylines, bamboo, ginger lily, and acanthus mollis surround you in green lushness that will withstand the UK weather.
Why not add a hammock and a drink with an umbrella? You deserve it.
The Best Garden Patio Ideas: Think Outside the Box
A garden patio can turn your outdoor space in somewhere you can enjoy all year round, but it doesn't have to be a rectangle of beige slabs.
Adding shapes, water, plants, lighting, and comfortable seating can transform a patio into somewhere you can't wait to spend time.