Garden Seating Ideas
1. Garden Seating Area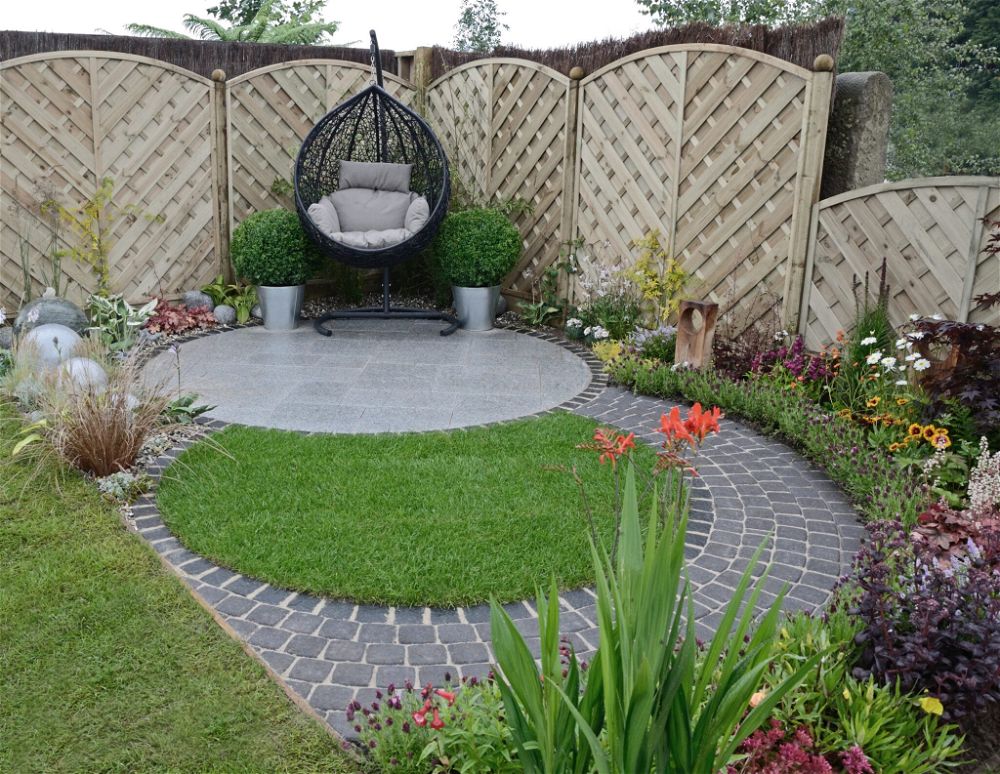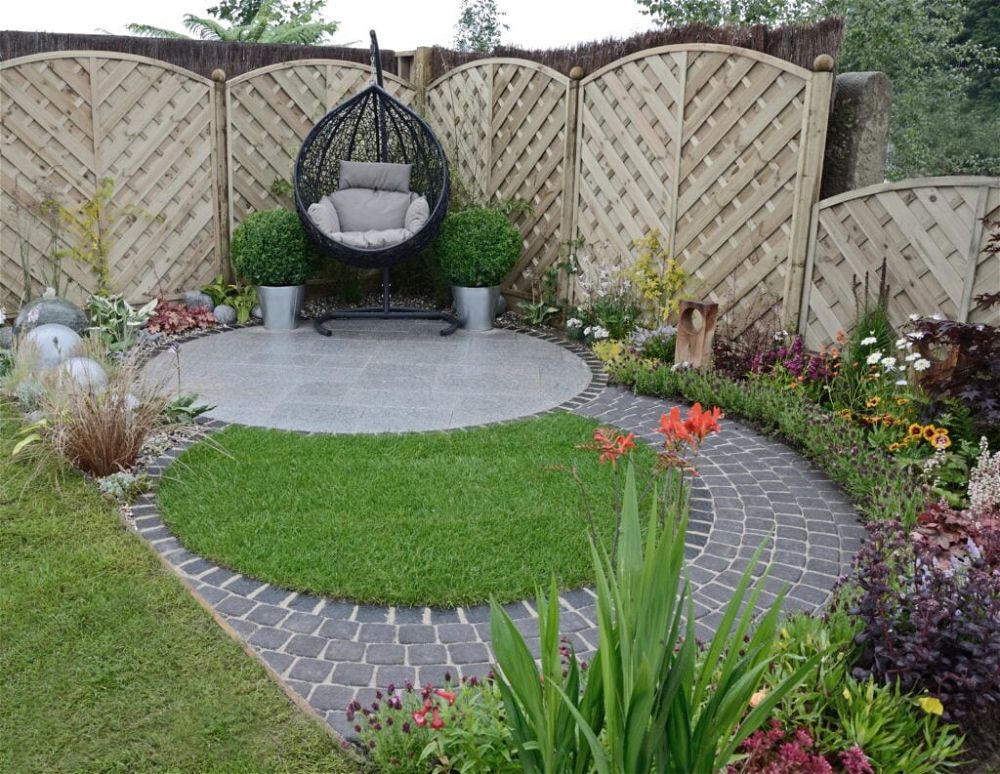 Here's a cosy chair for your garden seating area. This rattan egg chair is a modern version of a rocking chair and they look contemporary in an urban garden. Get one for each family member so there's no arguing.
Curl up in here with a good book, a drink, and rock your worries away – if you can shoo the cat out.
2. Garden Seating on a Budget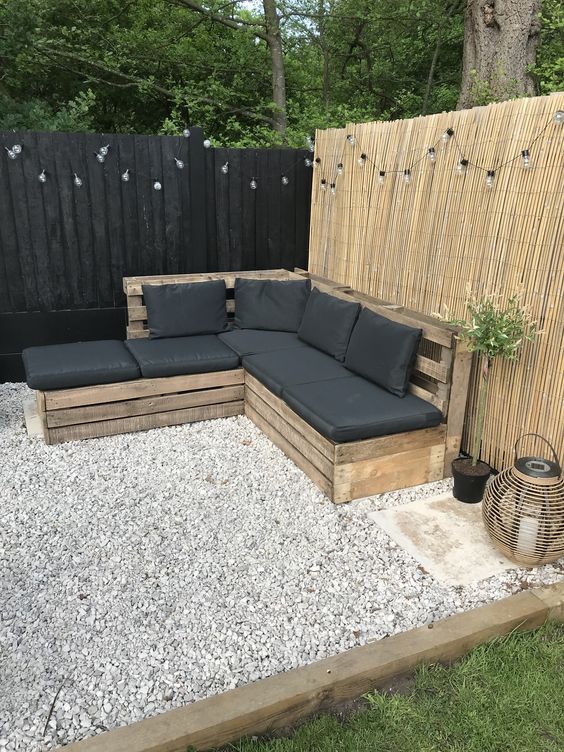 Introducing the DIY Gardener's Friend – A free pallet! It's worth getting to grips with DIY pallet builds if you're on a budget as they are endlessly useful.
Here pallets have been turned into garden seats. Just add cushions and you've comfortable budget seating for the family.
3. Covered Garden Seating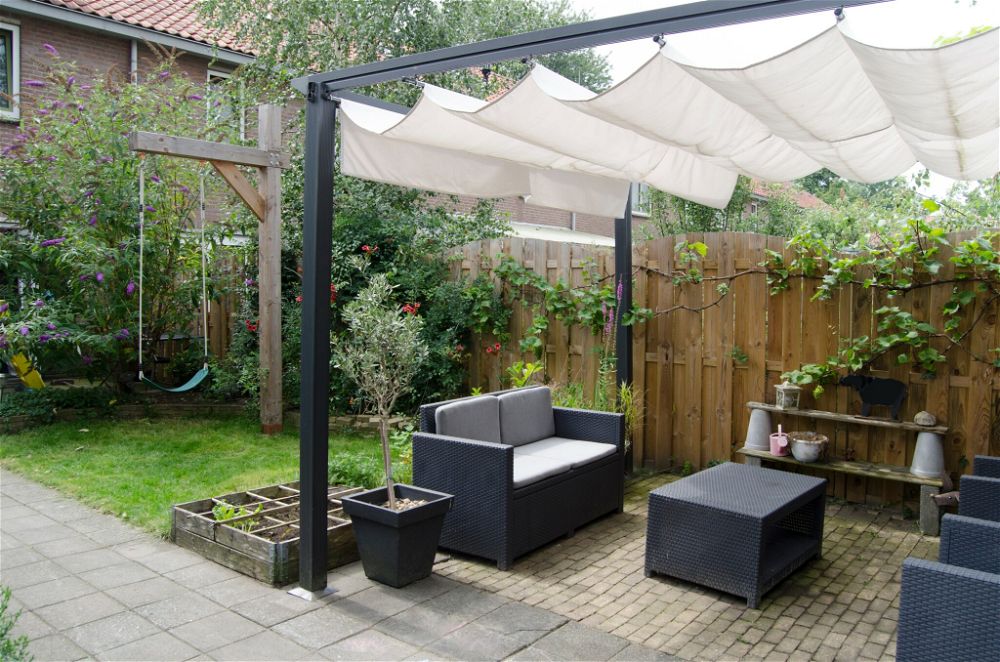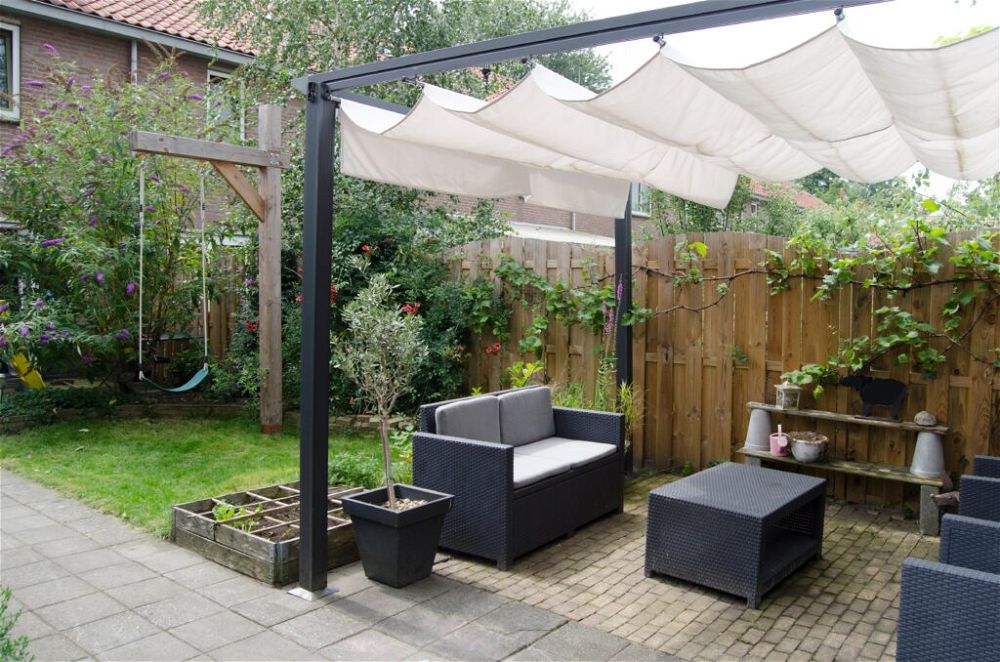 Rattan seating is a great choice for a modern garden and the cover is contemporary too.
The sail cover can be drawn across on hot or wet days, but if you fancy some vitamin D leave it pulled back and bask in the rays. Love the extra swing seat for the kid that won't sit still.
4. Garden Corner Seating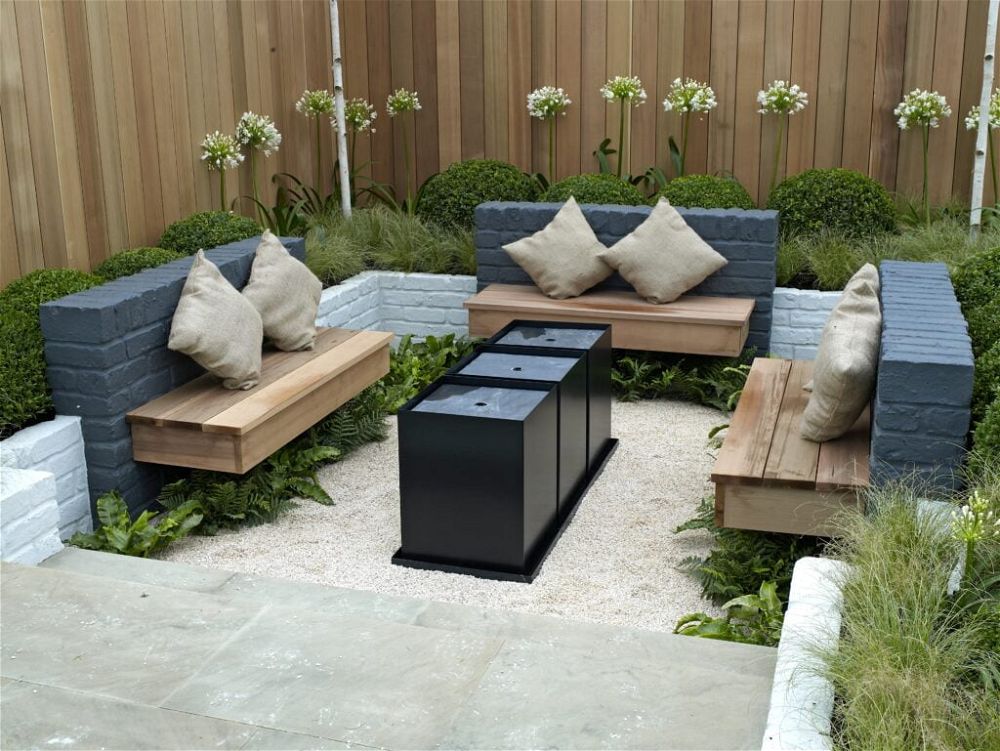 An interesting idea for corner seating right here!
The walls are painted and a floating wooden seat is added to the facing. This might look harsh but lush green ferns and evergreen box balls soften it.
They've put a water feature in the centre, but you can have a table there if you prefer.
5. Small Garden Seating Area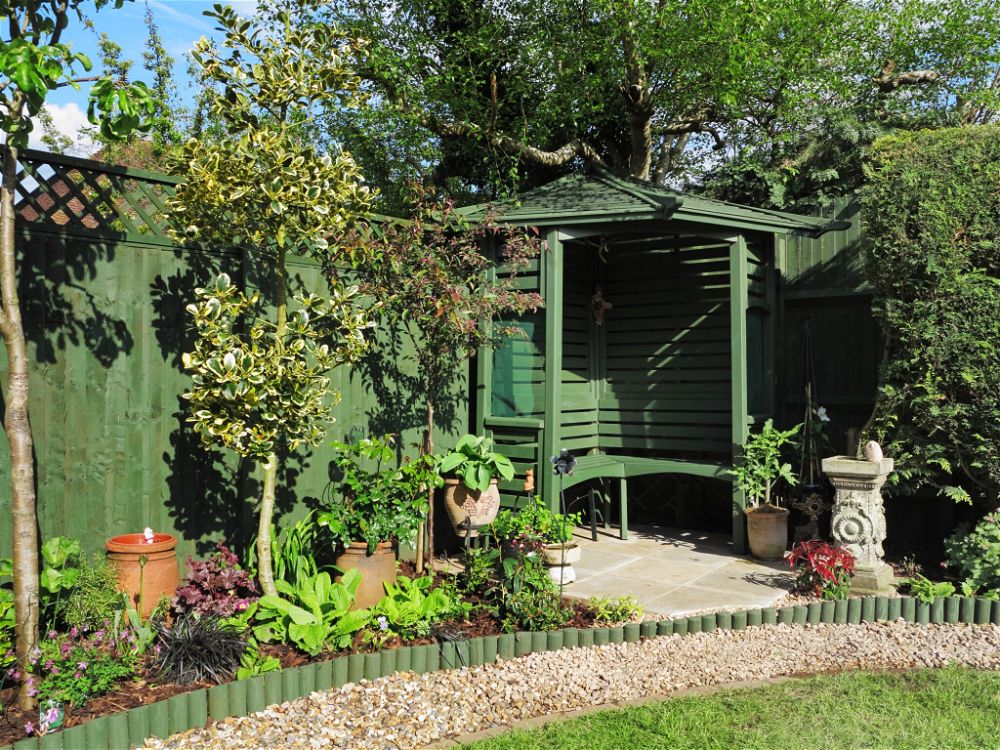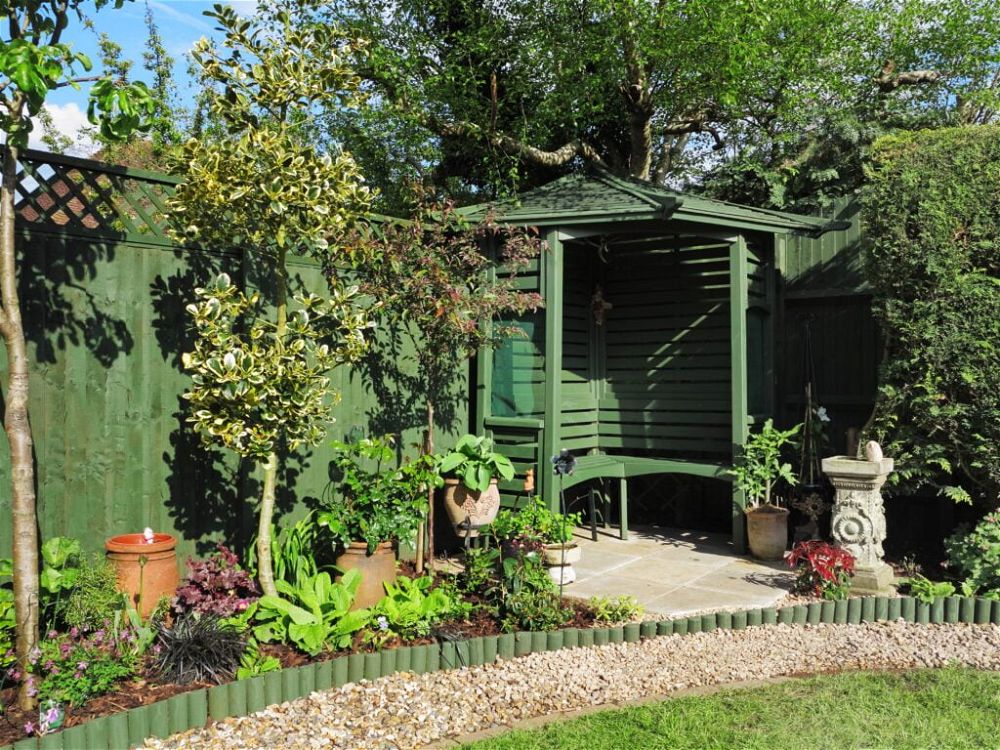 The smallest garden benefits from gazebo seating. It's a beautiful place to sit in the shade on a hot day, it's perfect for rainy days, and it looks great lit up at night with fairy lights.
Small gardens need to make their furniture work hard and this gazebo sits tidily in the corner, leaving lawn room for the kids and border space for your flowers.
6. Garden Seating Area Design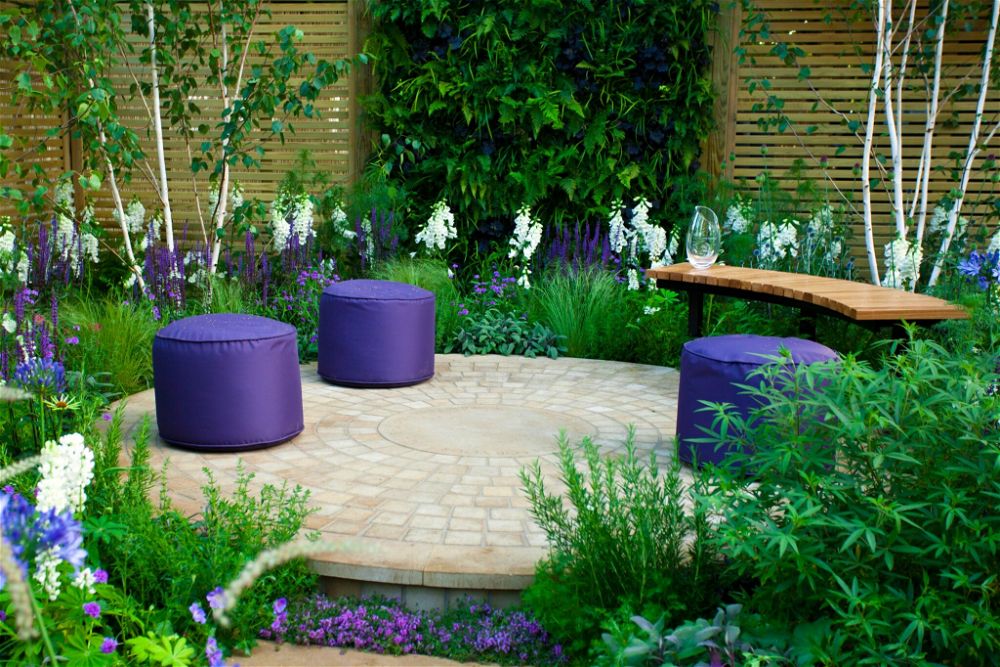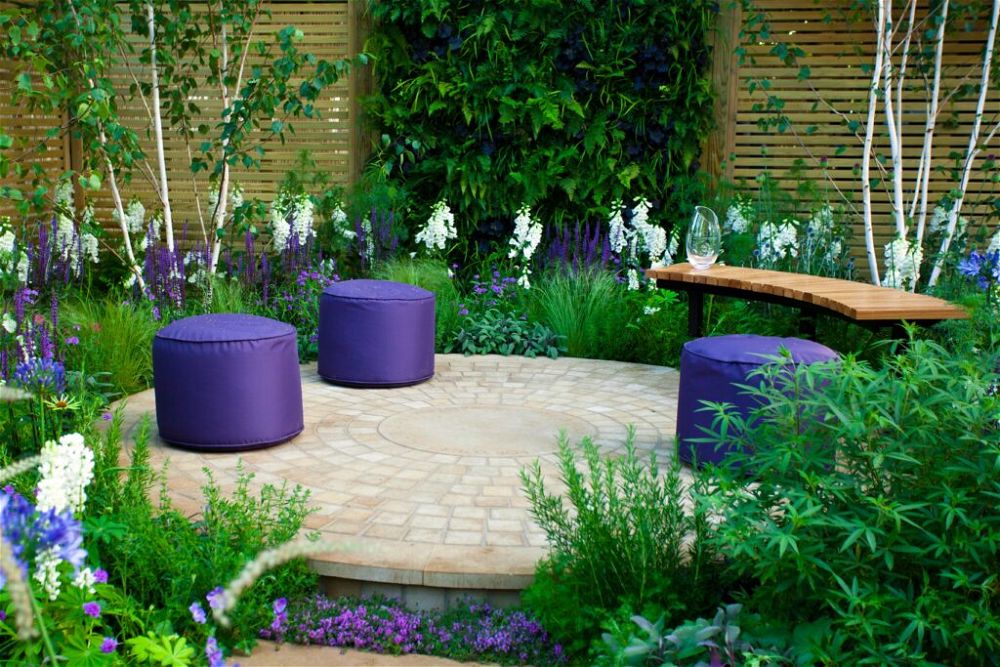 Love this design – especially the curved bench that fits so well in the circular shaped patio.
The addition of extra temporary seats is a great idea when you have friends over, but when it's just you pack them away and drag out the sun lounger. This seating area is perfect for a small garden or a separate area in a larger space.
7. Garden Seating Design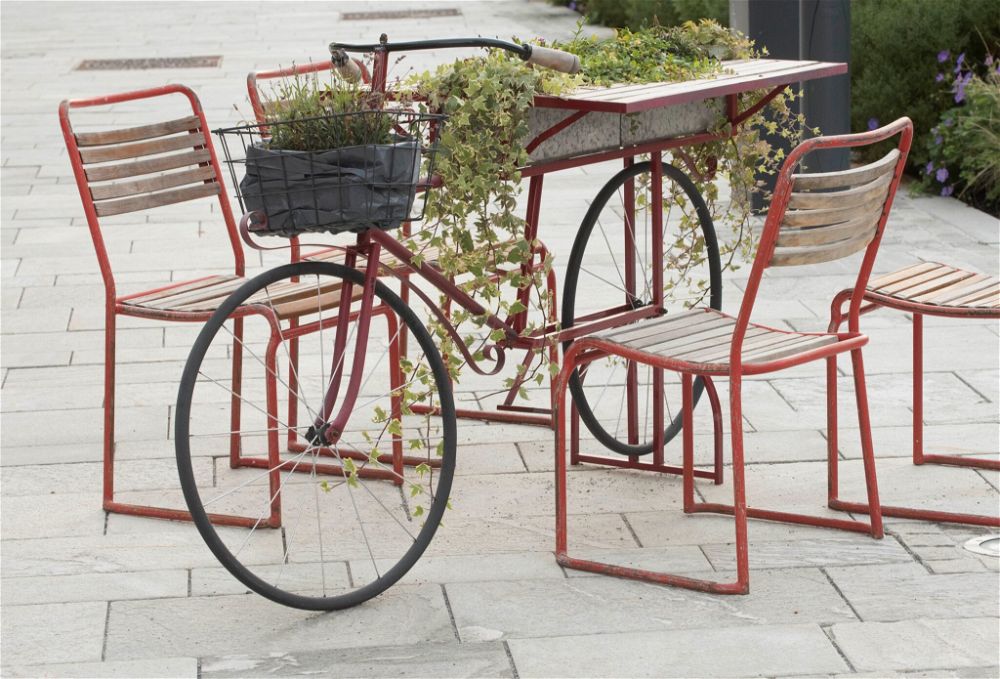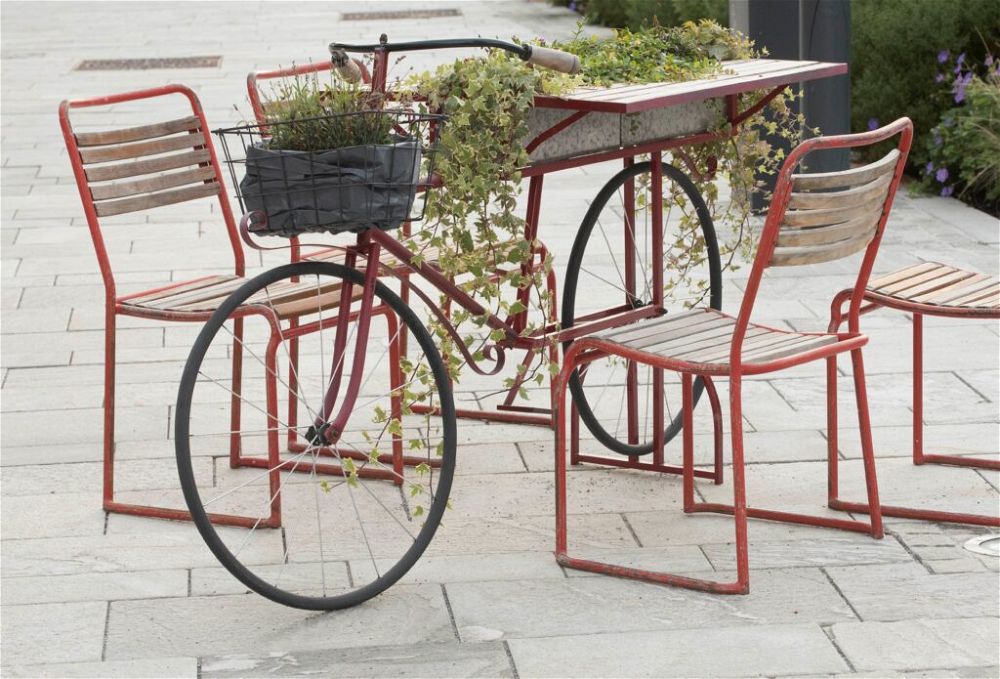 What a cute little seating area for folk that like to upcycle.
The great thing about using this old bicycle as a table is the opportunity to incorporate plants – though I'd have used the basket as wine storage.
This garden seating design can move around as the year progresses – usually, the sun hits a different garden area in April than September.
8. DIY Garden Seating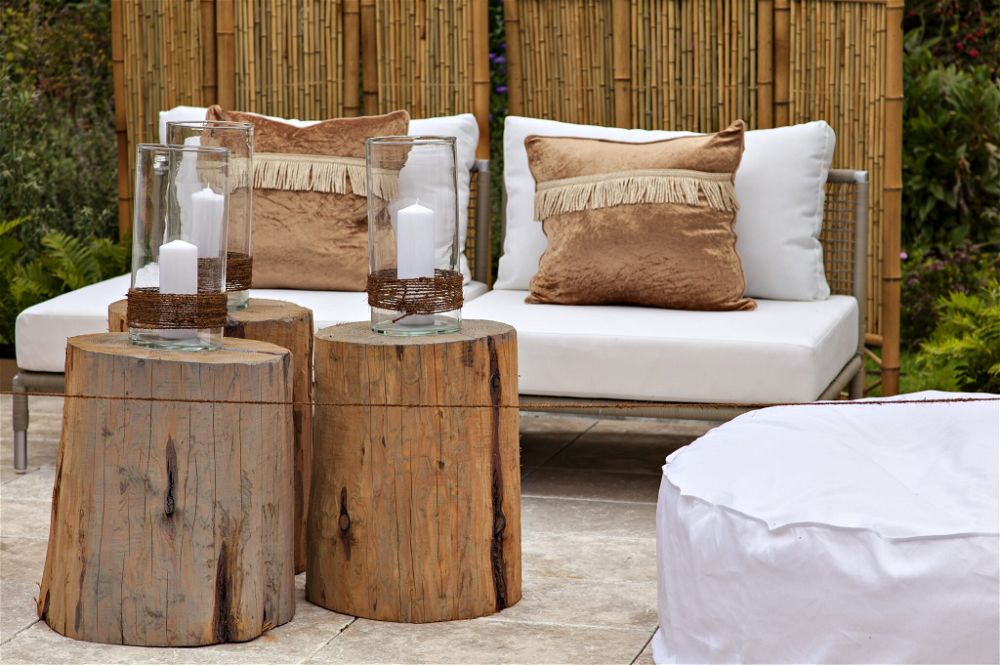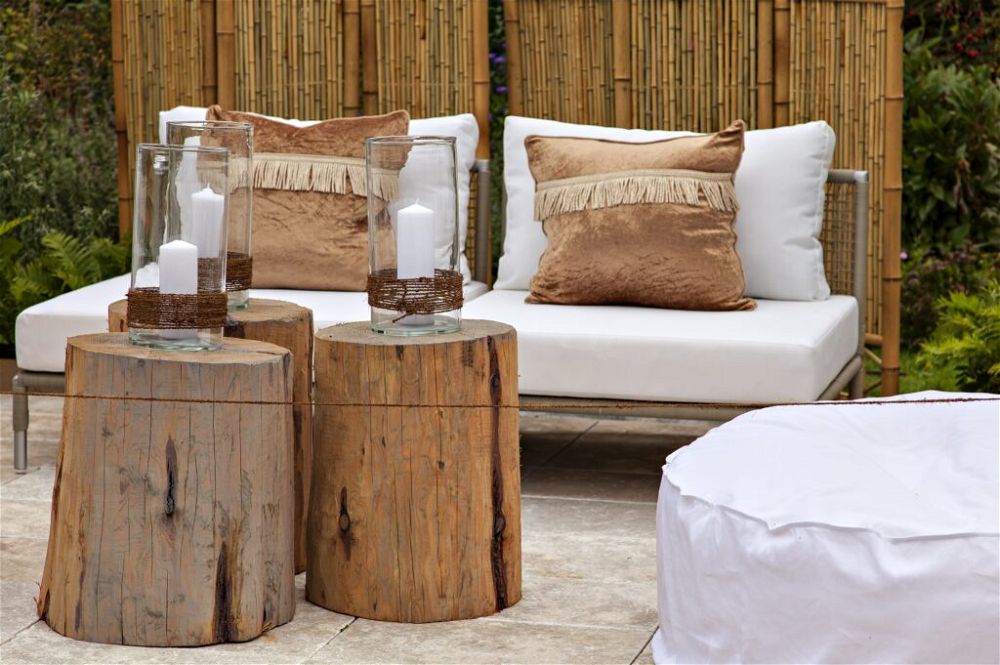 No, not the ketchup disaster white sofas but the logs.
Here they are used as side tables but they could easily be used as DIY garden seating. Ask a tree surgeon if they have any waste logs. They are often pleased to offload green waste rather than pay to offload it at the tip.
Pop a cushion on top if your backside goes numb! Some pain is worth the cost-saving and rustic appeal of log seating though.
9. Contemporary Garden Seating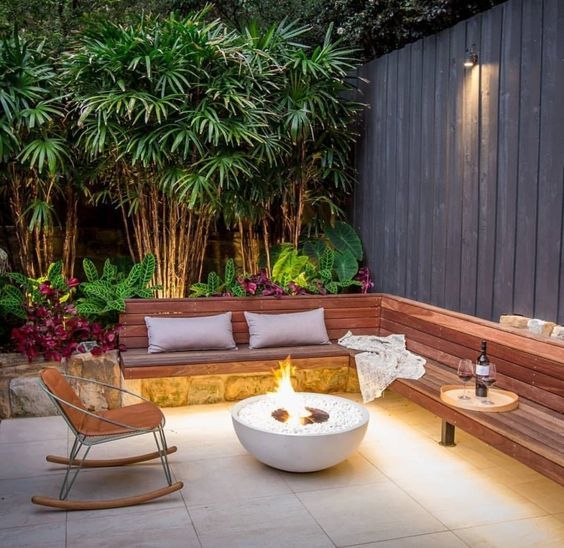 This beautiful contemporary seating area is simple but effective. A clean pale patio with smart in-built wooden seating and a modern fire pit to keep your toes toasty would suit an urban townhouse.
The effect is softened but kept modern with bamboo, hardy tropical plants, and up-to-date grey fence paint.
10. Built In Garden Seating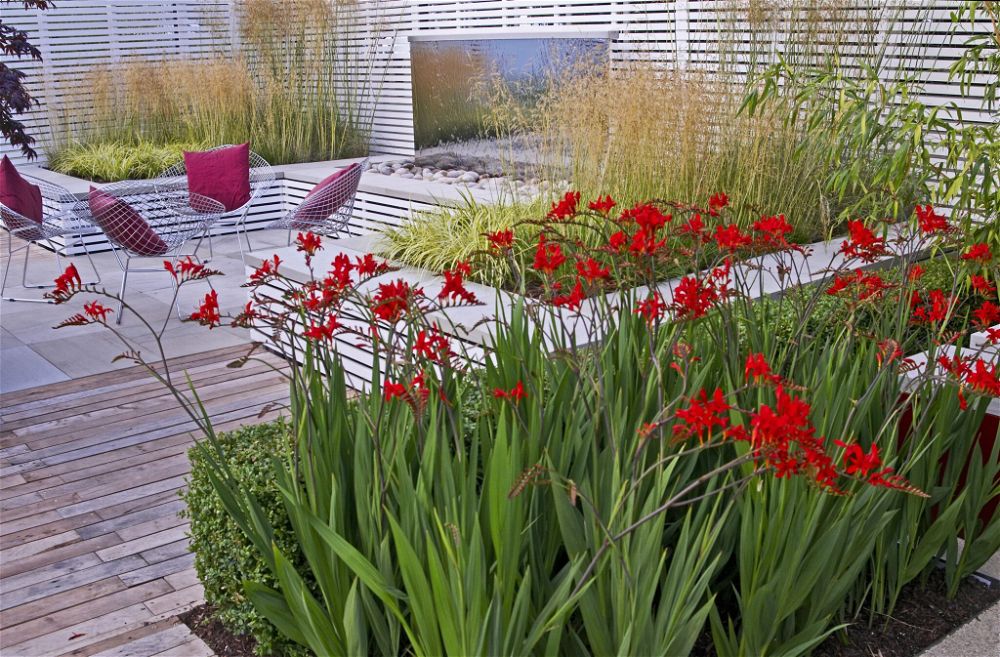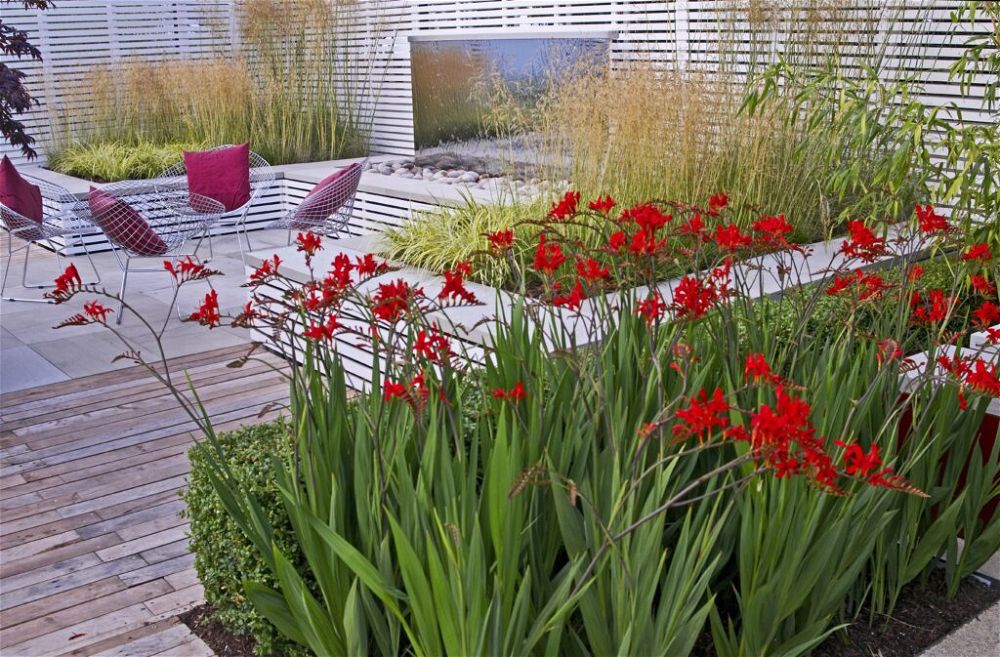 If you're sure you've found the perfect sunny spot in your garden, built in seating is a good option.
Here they've created not just seating but a water feature and a beautiful planting scheme. The white panelling keeps things fresh and there's even a patio area for a BBQ or extra seating. You could sit masses of people here, it's a big build but worth it.
11. Garden Wall Seating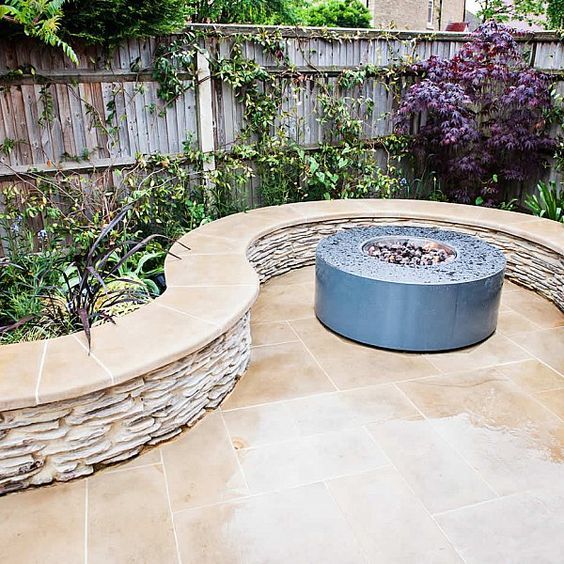 In small spaces multi-tasking builds are essential. This garden seating design is also the retaining wall!
Pavers sit on top of a textured stone build and because it curves there's more bottom room. The circular fire pit is a great touch as it matches the curvy design scheme and will keep everyone warm.
12. Garden Party Seating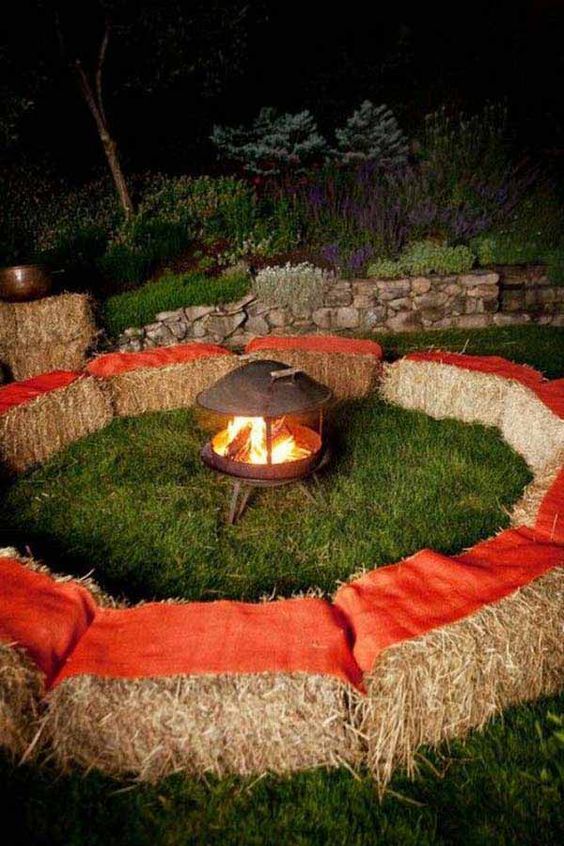 If you have an upcoming party and need lots of seating, consider straw bales.
These are low cost, the perfect height to sit on, and you can get two-three bottoms on just one bale. After you've finished using them as mulch, pop them on the compost heap, or advertise them on freecycle so pet owners can keep their rabbits cosy.
13. Cottage Garden Seating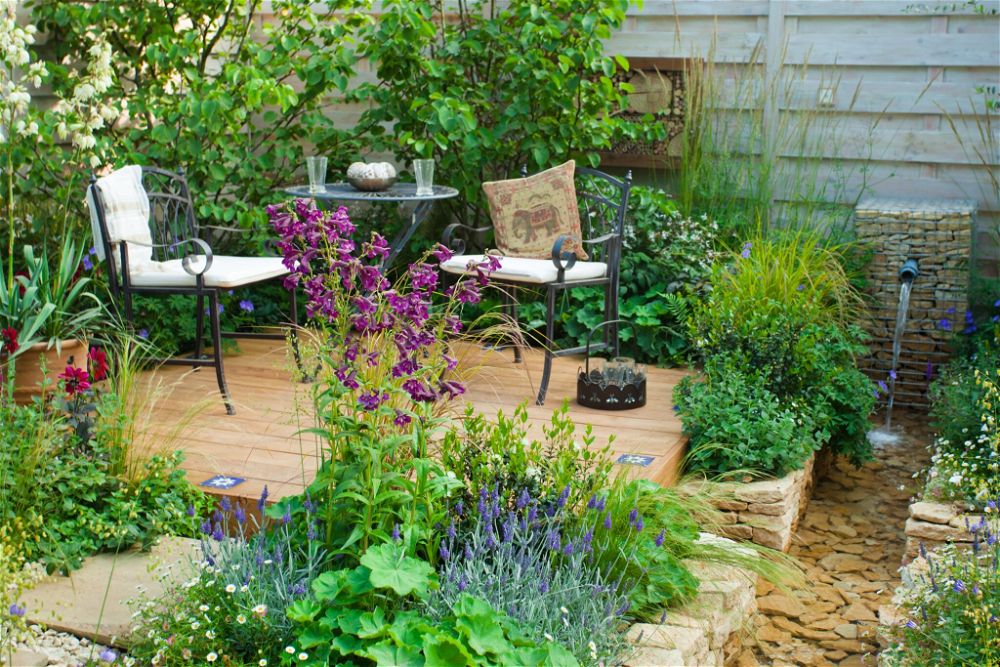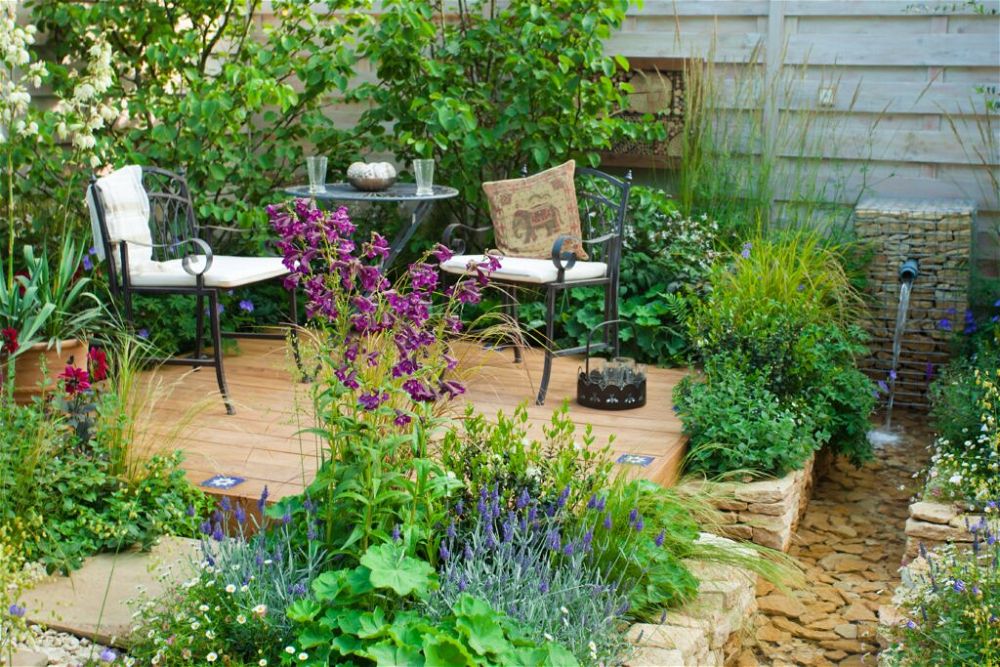 In a light and airy plant-filled garden, you can't beat iron bistro sets.
The metal strips let lots of light through and they look authentic in an urban or countrified seating area. Leave them out all year round then rub them down and repaint in spring.
Bistro sets are easy to move around too, so you always have the best view of your cottage garden.
14. Garden Stone Seating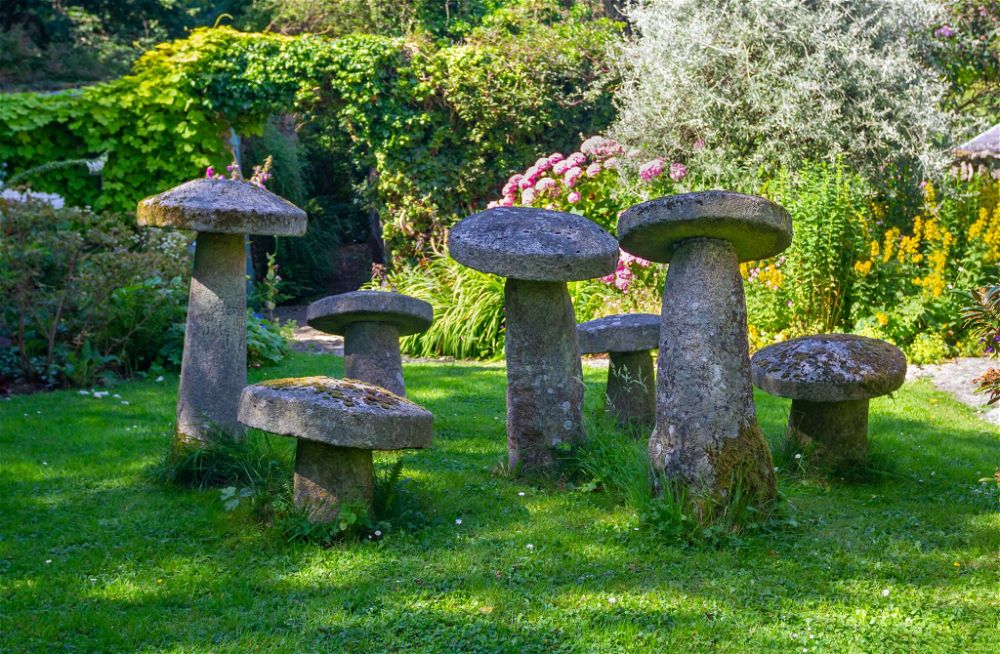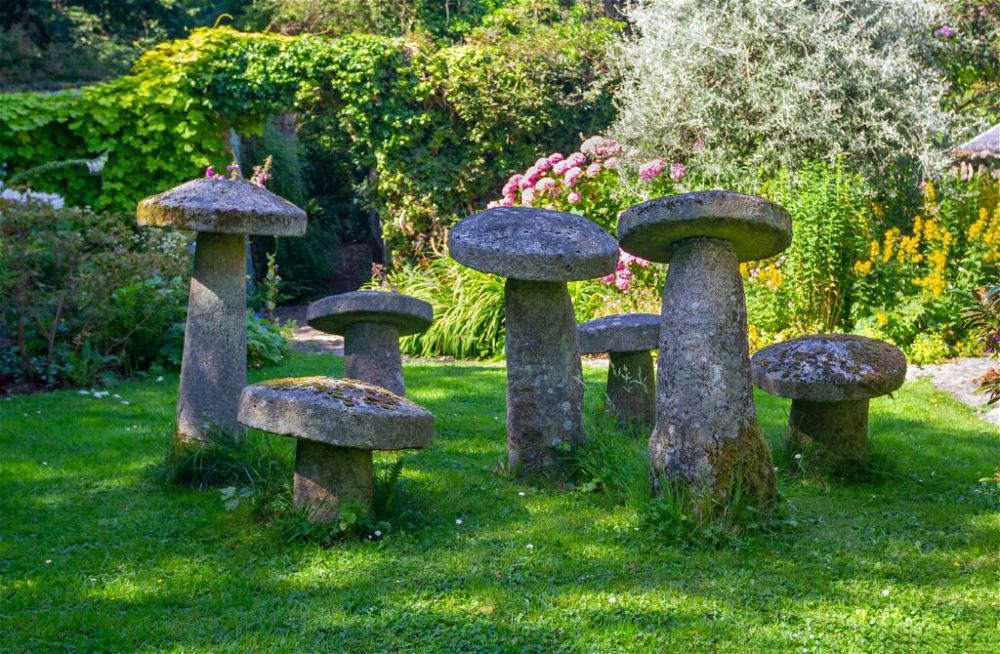 Staddle stones were used to prop up granaries many years ago. They stopped rats burrowing beneath and stealing the harvest.
You can buy antique staddle stones or freshly made ones – either way, they make perfect garden stone seats that blend in and don't rot.
15. Pallet Garden Seating Ideas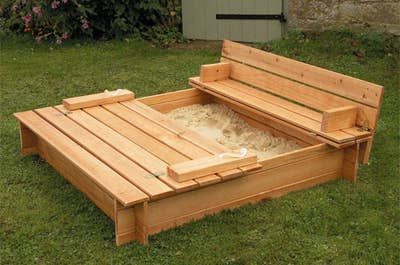 Oh, pallets – what would we do without them? Pay a lot more for seating that's what!
Here's a great way to turn pallets into garden seats and a kids' play area all-in-one. If you created a cover for the sandpit it could be a double-bed-sun-lounger too.
Ingenious.
16. Wooden Garden Seating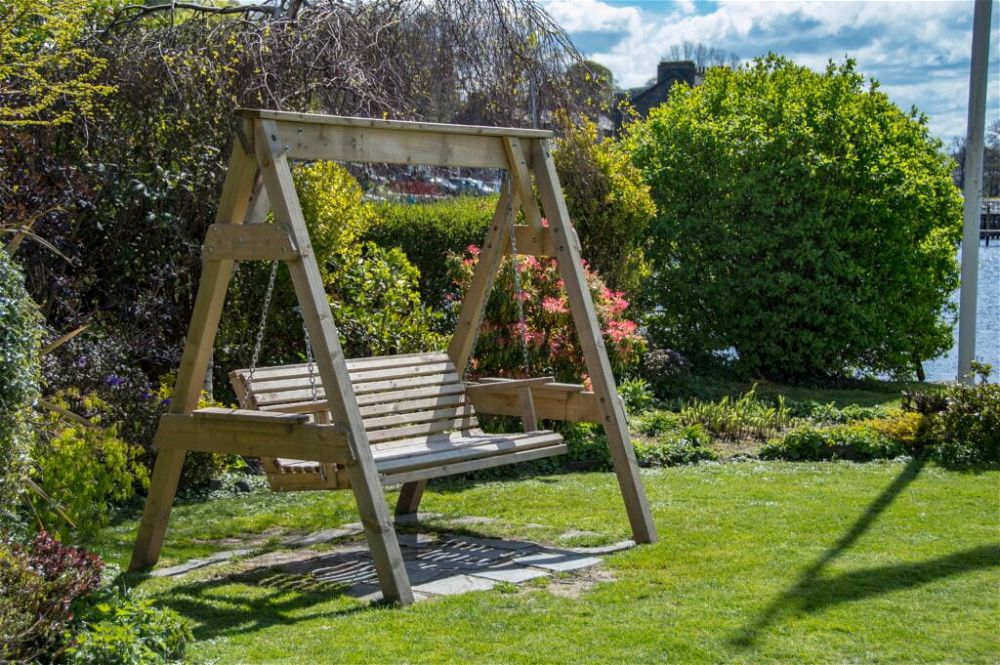 Wooden garden seating is the traditional seating set up. If you like wood – and it always looks good in a garden – try combining a wooden bench with a swing.
This is a lovely way for the whole family to relax and enjoy the summer months. Good use of pavers beneath the swing to prevent an inevitable muddy patch too.
17. Budget Garden Seating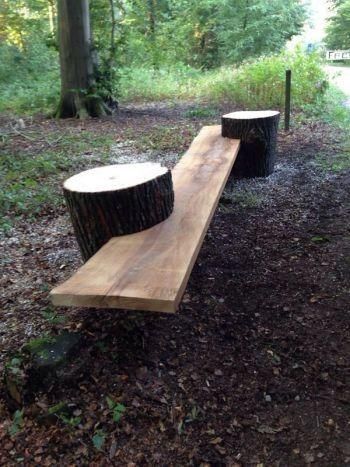 Budget garden seating doesn't get cheaper than two logs and a plank!
If you have a saw this DIY budget seating can be yours. If you like the rustic look, you're done. If not, paint it up and decorate it however you'd like.
18. Back Garden Seating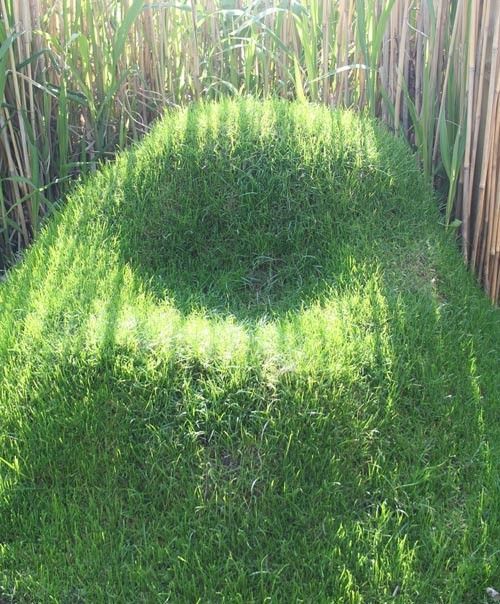 One for the sunny days – a grass mound seat!
These are created by shaping the soil and covering it with turf, although you could use artificial grass if you prefer. Great for kids and they blend into a wildlife woodland garden.
Make a single seat with bamboo walls for privacy or double sofas for two. If you don't mind getting your hands dirty this seating project has endless options.
19. Garden Bench Seating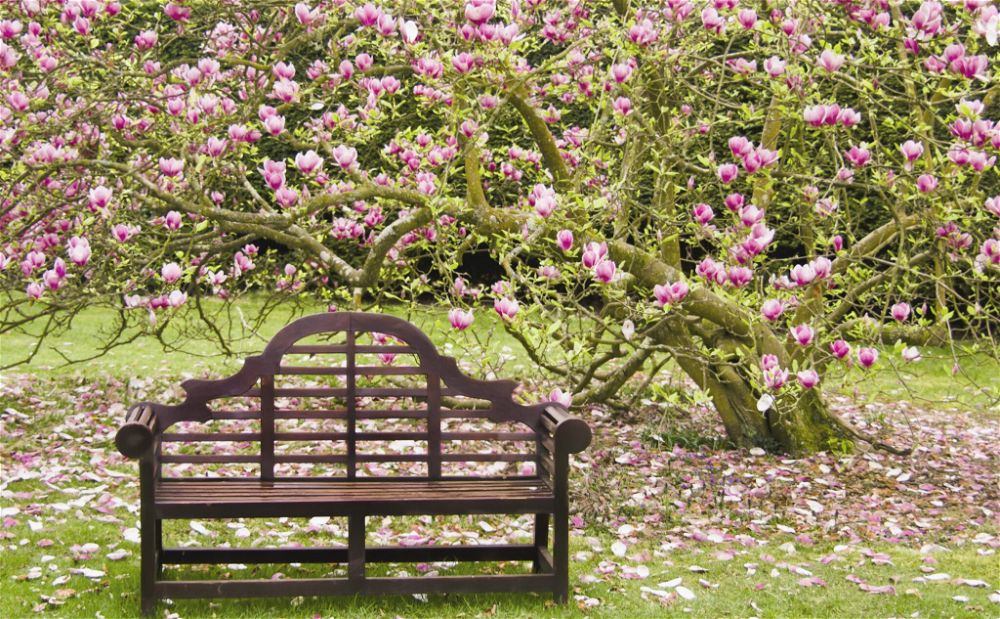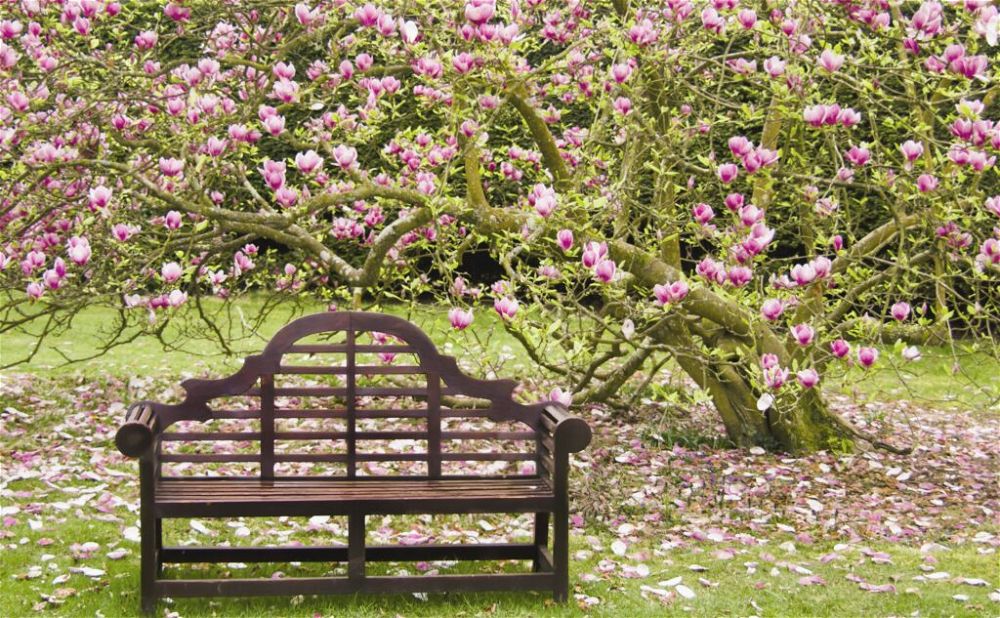 Garden benches are the first thing you think of when considering seating, but hold up. How about a different kind of design to the 'memorial bench' style?
This Japanese-style garden bench is a feature in itself and if you have a cherry tree, a magnolia, or a bright leaf acer already in place it'll match right in.
20. Garden Patio Seating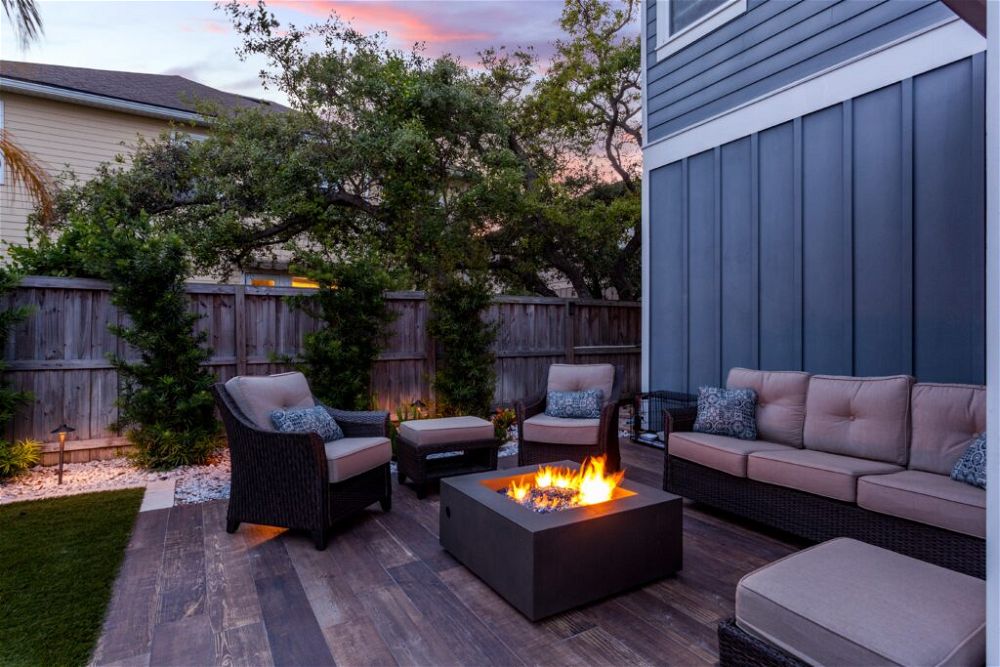 UV rattan is the ultimate in practical, long-lasting garden furniture. It's great on a patio because it can withstand food and drink spills, be left all year, and some pieces double up as storage.
Here they have a selection of different style plastic rattan seats including a sofa, single chairs, and a stool that all match.
Take A Seat!
Garden seating is one of the most important aspects of a garden. You put in all the hard work with your flowers, veggies, and lawn so you deserve a comfortable sit down in a sunny or shady spot. What's the point of a garden if you can't relax and enjoy it in comfort?
Enough seating is important if you have family over regularly, and it encourages kids to go outside. A seating focal point is a magnet for ice-cream days and toasted marshmallow evenings.
Get creative and install lots of seats in all the best spots for a garden you can properly enjoy.