Garden Wall Ideas
1. Front Garden Wall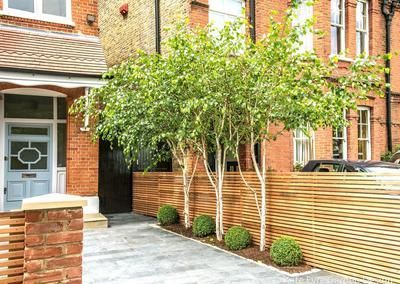 A front garden wall can create a backdrop for something much more interesting. Here white trunked trees stand out against the darker wall and bring height, whilst box balls add lower interest. Simple and effective, this creates a low maintenance front garden wall design.
2. Garden Wall Art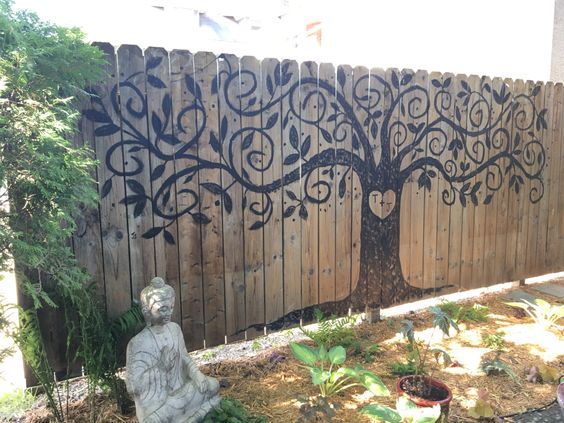 A blank fence doesn't have to be boring. This personalised tree design brings a wooden fence alive and is low cost too. A paint spray and stencil are all that's required.
It looks good on both sides of the fence so you can wow the passers-by.
3. Garden Wall Cladding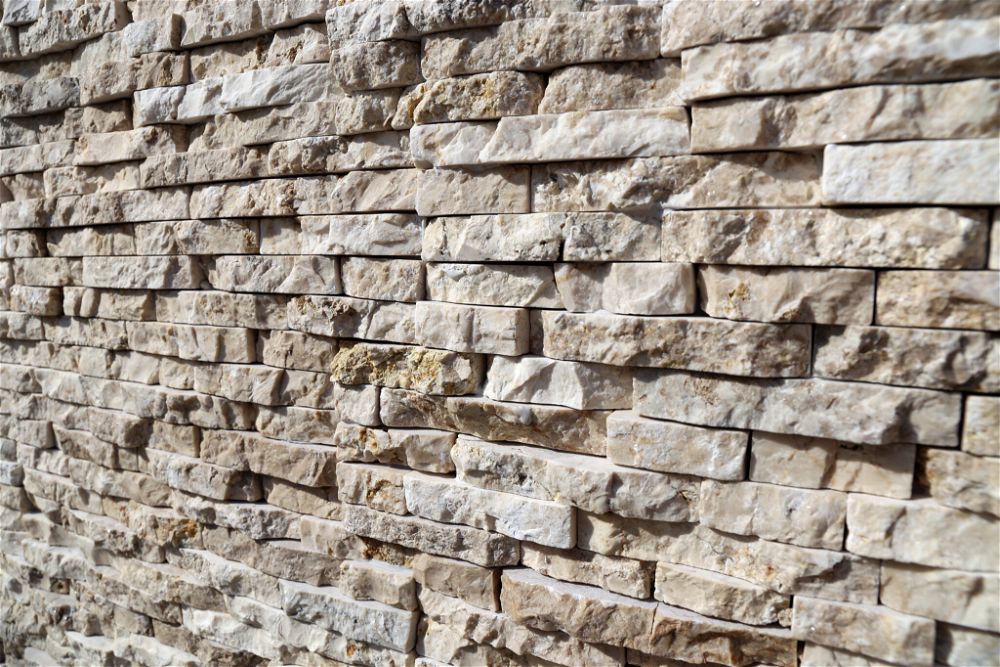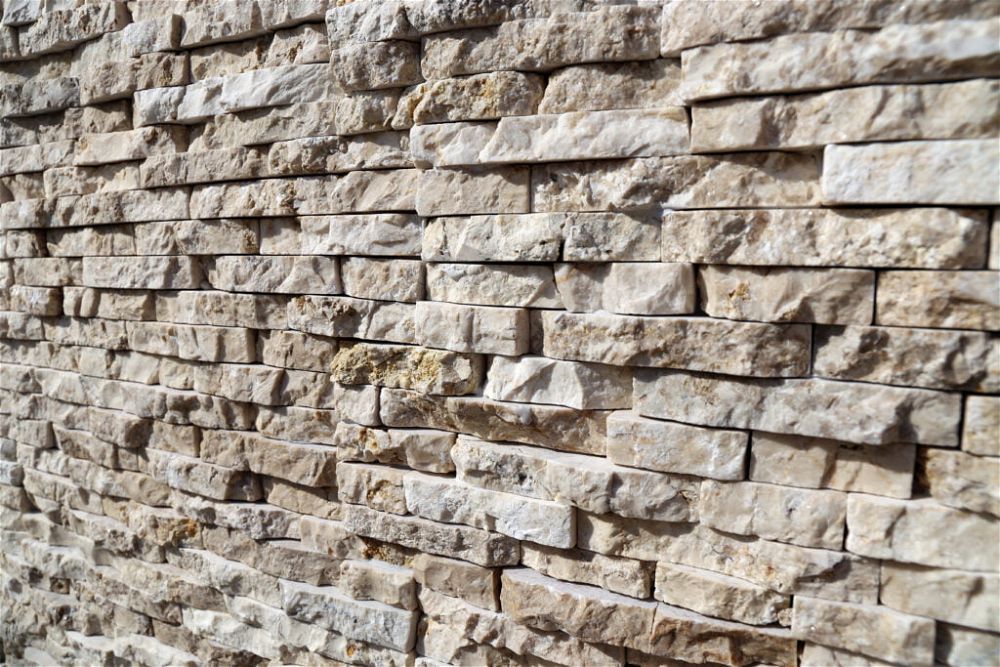 A garden wall with natural stone cladding looks expensive and will last for years, but it's simply done with cement, cladding stones, and a bit of patience.
The textured surface can simply be kept clean with a scrubbing brush or power washer.
4. Garden Wall Covering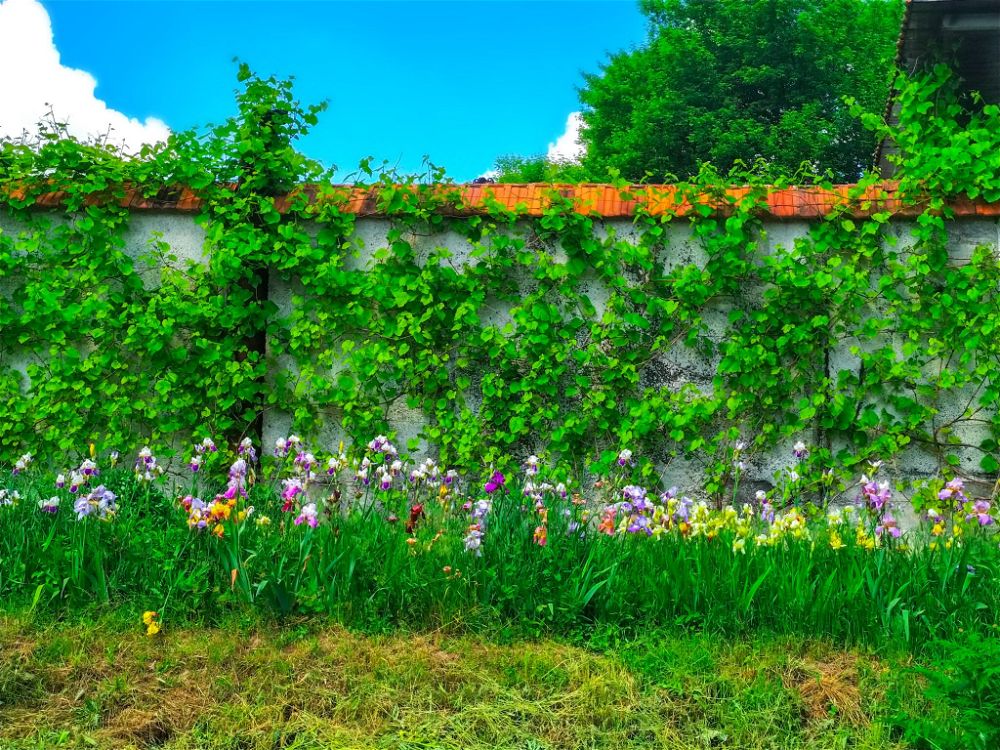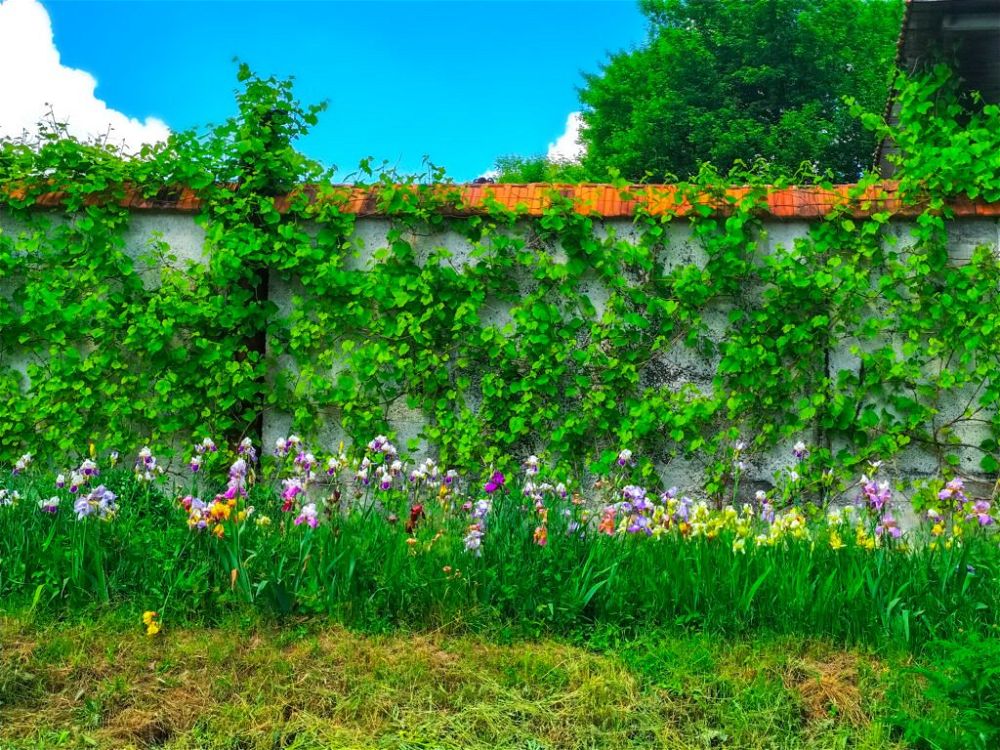 A garden wall is perfect for wall covering ivy. A thin wire framework screwed into the bricks or fence line gives quick-growing ivy a firm grip.
Ivy is beneficial for pollinators in late winter and early spring when it flowers in a bloom-free garden. Not good with plants? Try artificial ivy. Modern products can look almost as good as the real thing.
5. Garden Wall Décor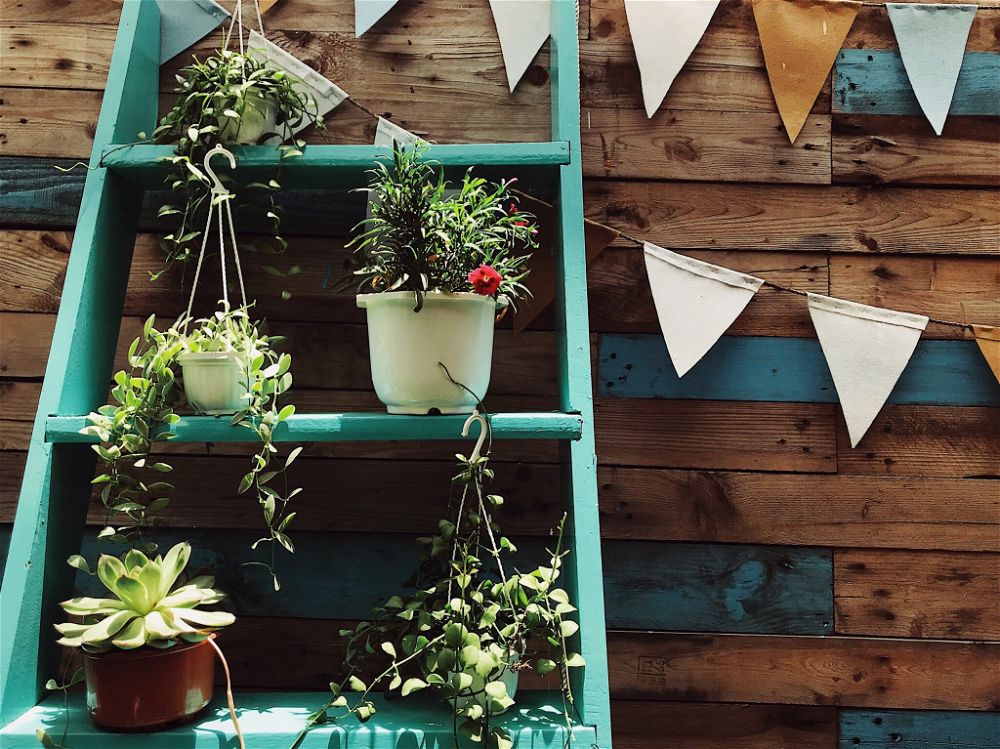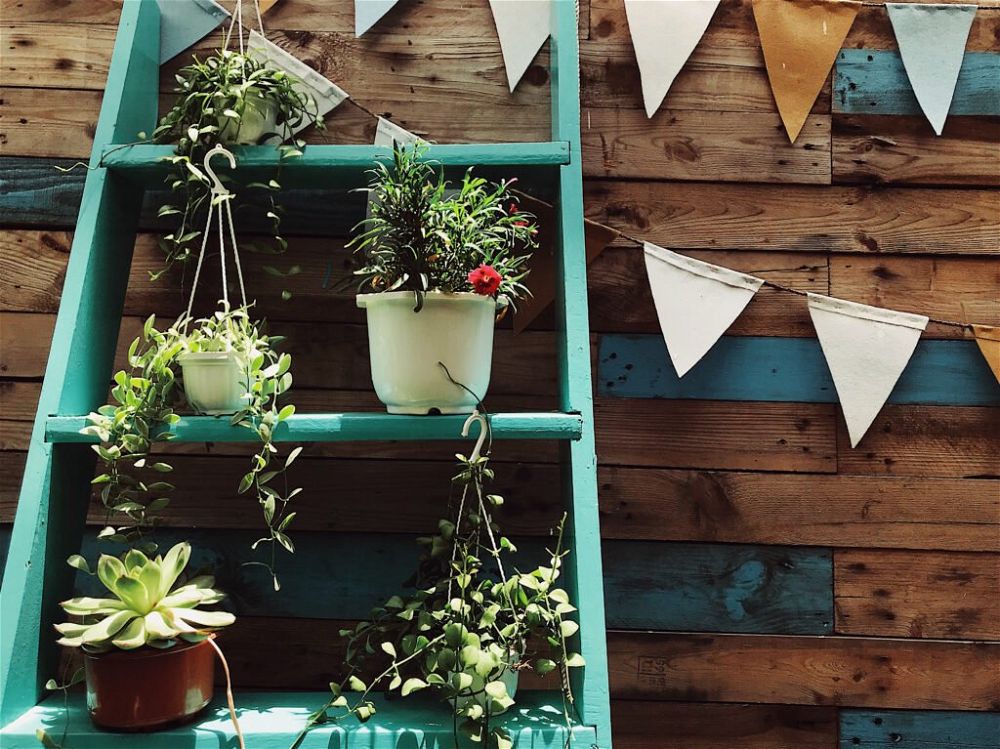 A boring garden wall or fence can be blinged up with a few décor ideas.
An old stepladder is the perfect shelf for plants or quirky ornaments – and who doesn't love bunting? Bunting is easy to make from scraps of material or plastics and if you have some fence paint lying around why not pick out a few panels? This gives a more subtle touch than a full-on paint job.
6. Rendered Garden Wall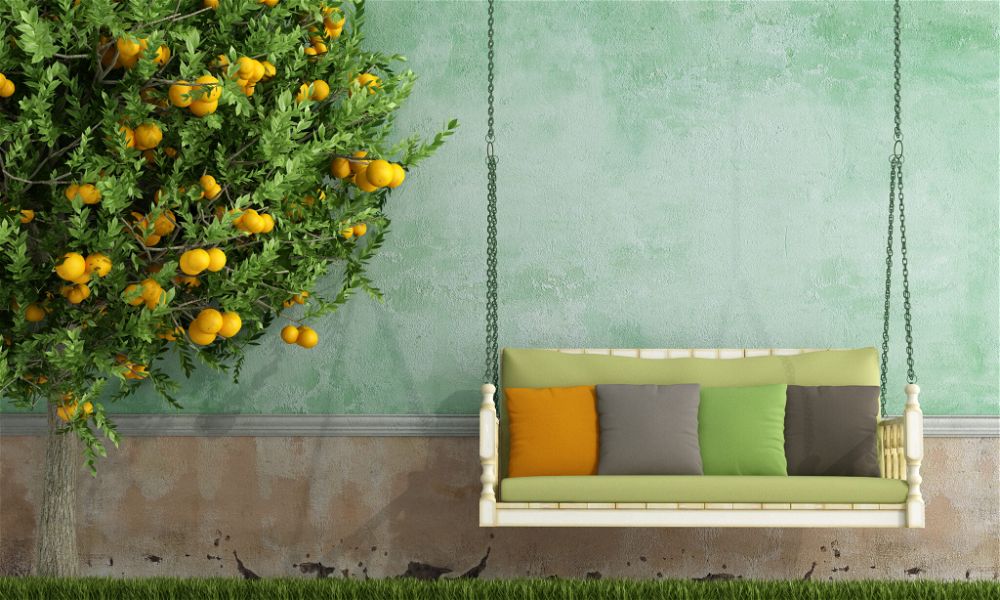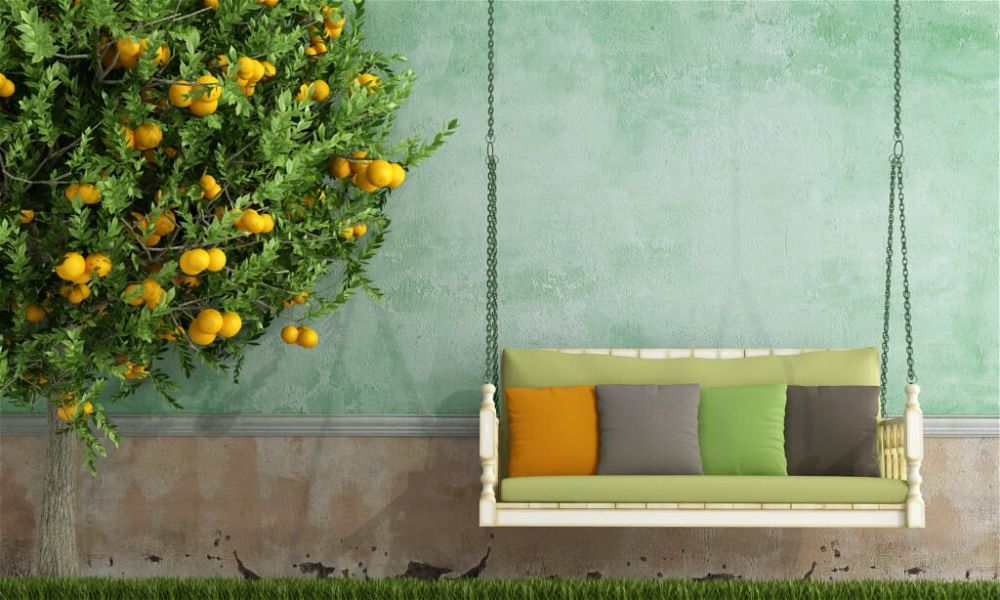 Rendering is perfect for garden walls that aren't smooth. By adding cement rendering and coloured masonry paint you can create an insta-worthy wall in a day.
Choose soothing colours or bright and cheerful to suit your taste. This one even has a dado rail – bring the indoors outside and create an extra room for your home.
7. Small Garden Wall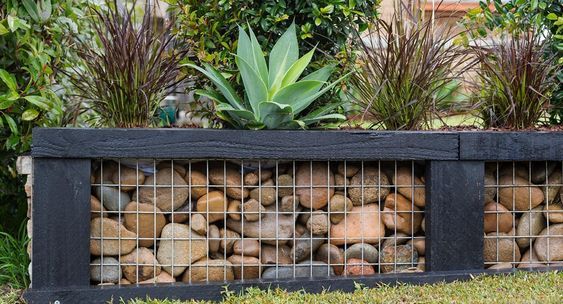 If you need a small garden wall, maybe a divider between your wildlife area and seating area, then gabions are a great choice.
They can be built as high as you need and are great for wildlife – hibernating pollinators in particular. The stones look even better when it rains so what could be more perfect for a British garden?
8. Garden Brick Wall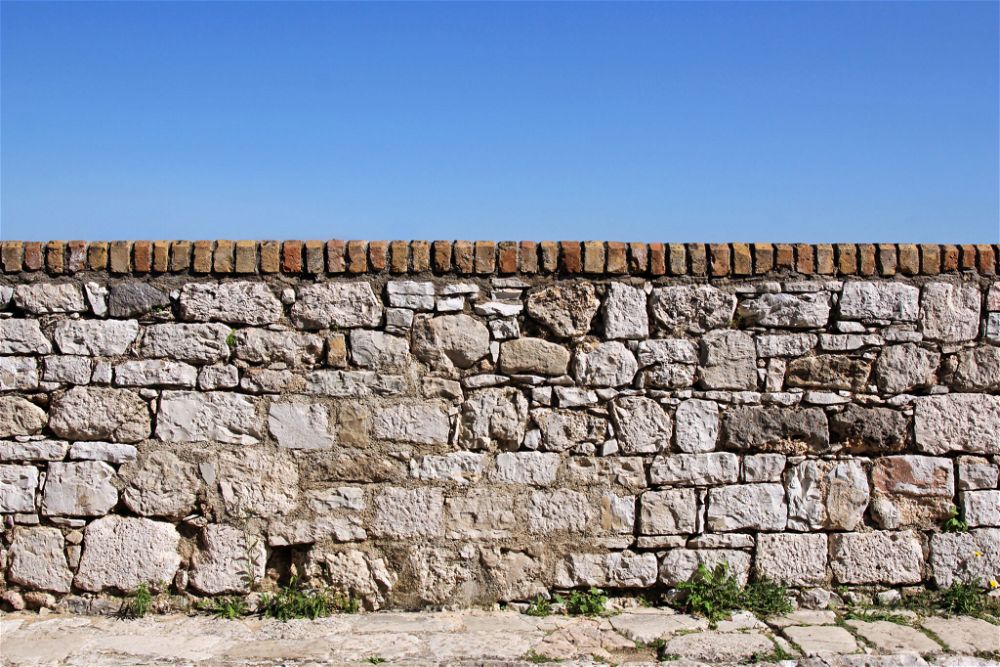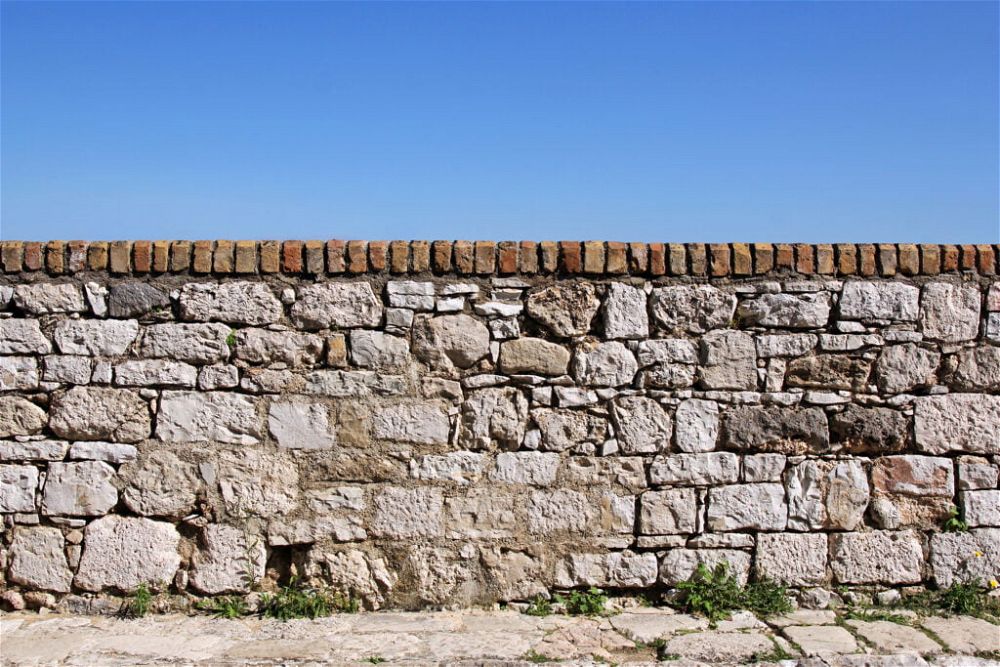 Brick walls are great for security but that doesn't mean they have to be boring.
This brick wall is made from odd-shaped stones with a row of red bricks on top. Reclaimed bricks and stones make this a cheaper option than a brand new fully red brick wall, whilst still retaining character.
9. Stone Garden Wall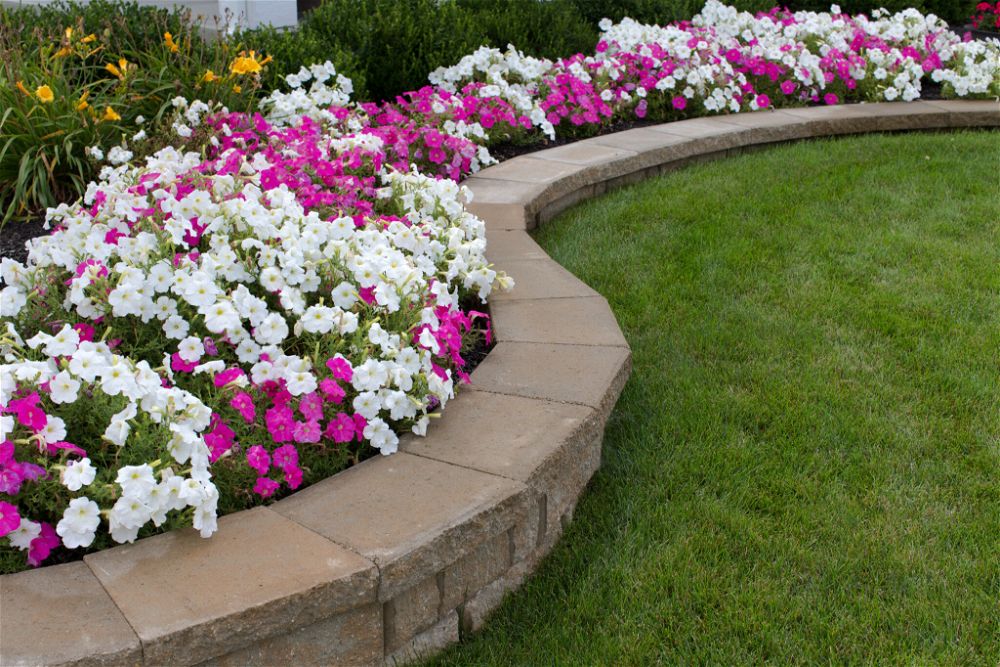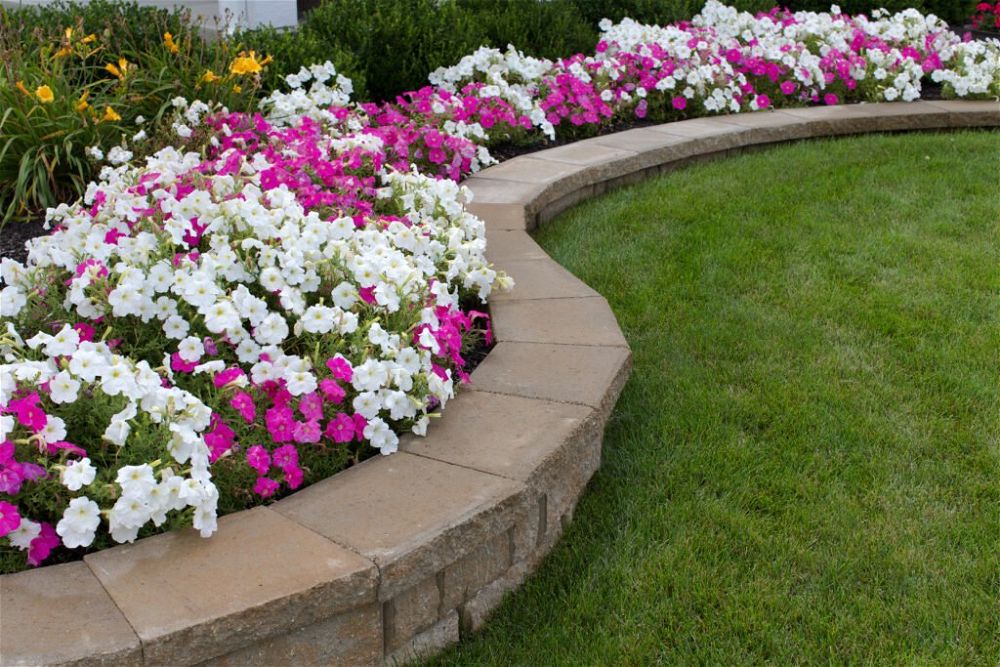 Stone garden walls are one of the best retaining walls you can build. They don't rot away like wood and are sturdy enough to withstand heavy, wet earth.
A stone wall can double up as seating if you place flat stones on the top. It can also take extra pot plants, create a kids' jumping platform, be a perch for sunbathing cats, or simply hold an ornament.
10. Garden Wall Lighting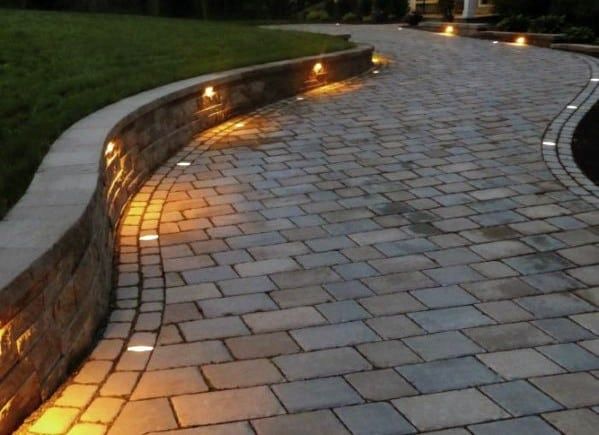 Adding lights to your garden wall not only creates a cosy atmosphere but it makes your outdoor space look bigger and helps mark out a boundary.
Electrics inside a wall keep drier than exposed ones, but you'll need experience or an electrician to help install. Don't fancy that? Go solar powered.
11. Garden Wall Paint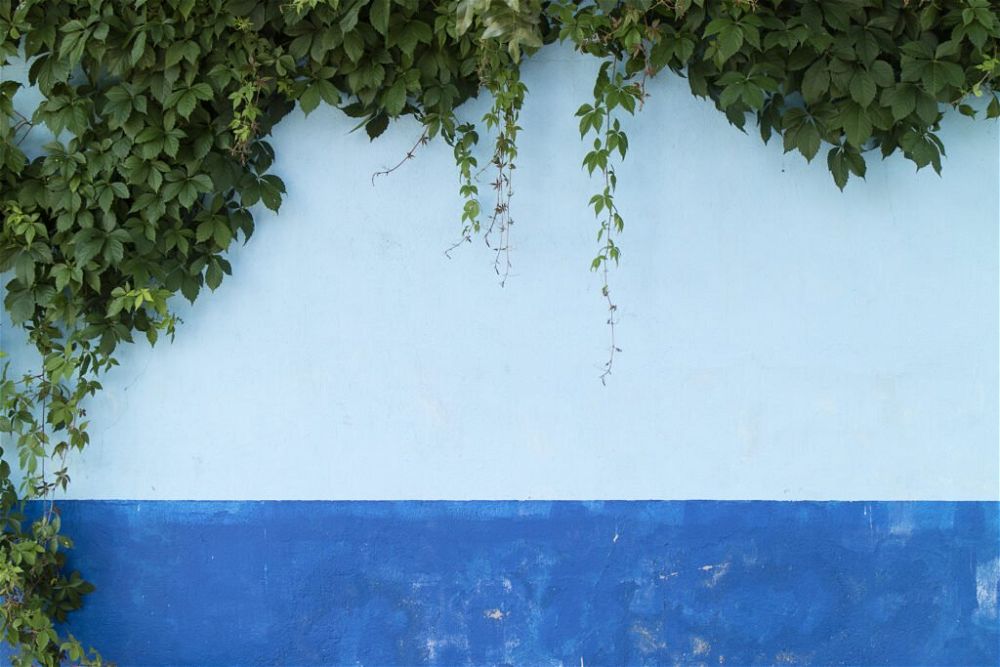 Now there's an idea! If you have a garden wall facing your seating area or window, get into holiday mode with a very simple seascape!
Dark blue paint and light blue paint are all that's needed for your own bit of the Mediterranean to brighten the dullest of UK winters.
12. Cheap Garden Wall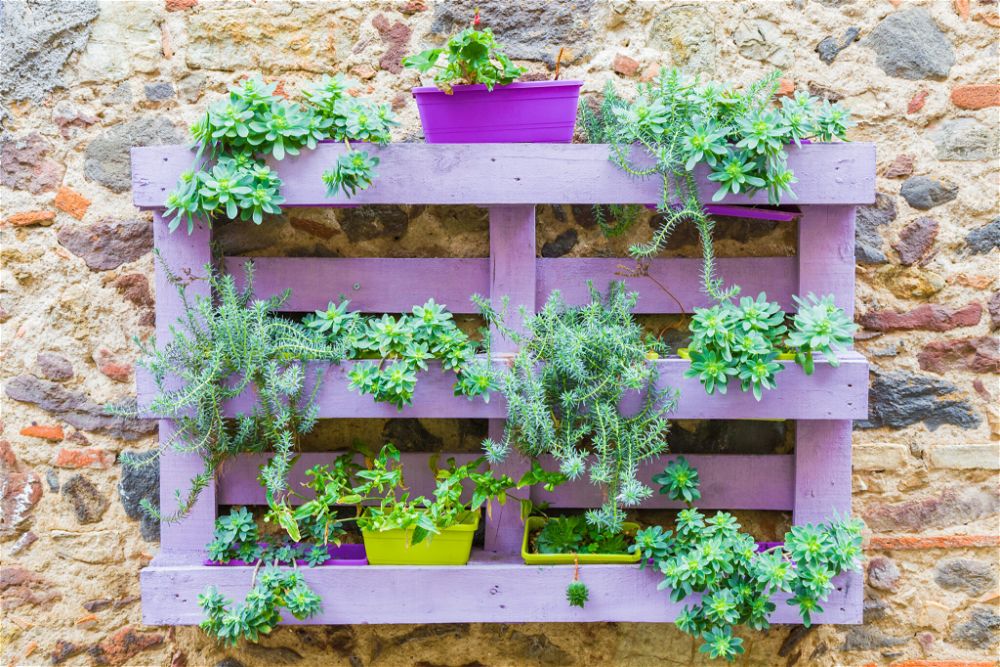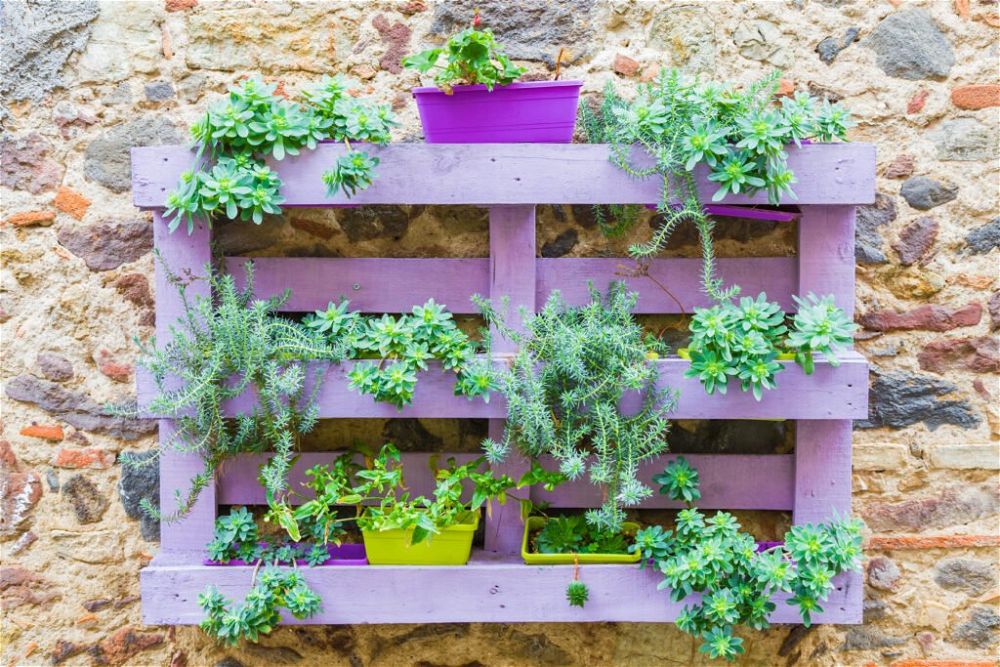 Brighten your garden wall with barely any outlay.
A wooden pallet is easily picked up and attached to your fence as a low-cost shelf for your plants.
Herbs are a good choice as they love drainage and they double up as a tasty addition to your meals. Kids love pallet shelves and it encourages a healthy love of the outside. You can't lose.
13. Low Garden Wall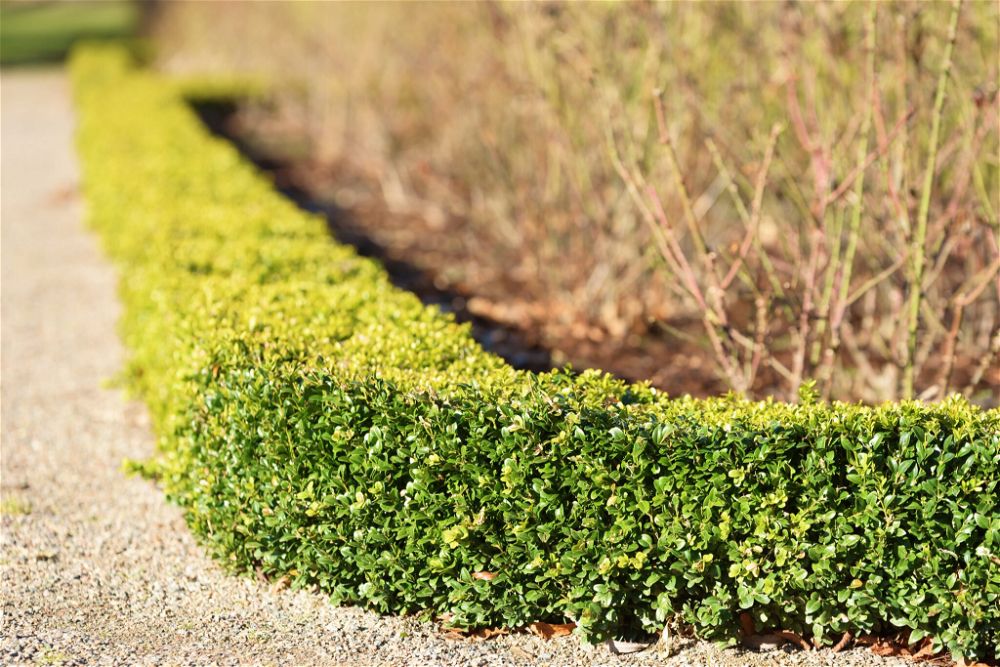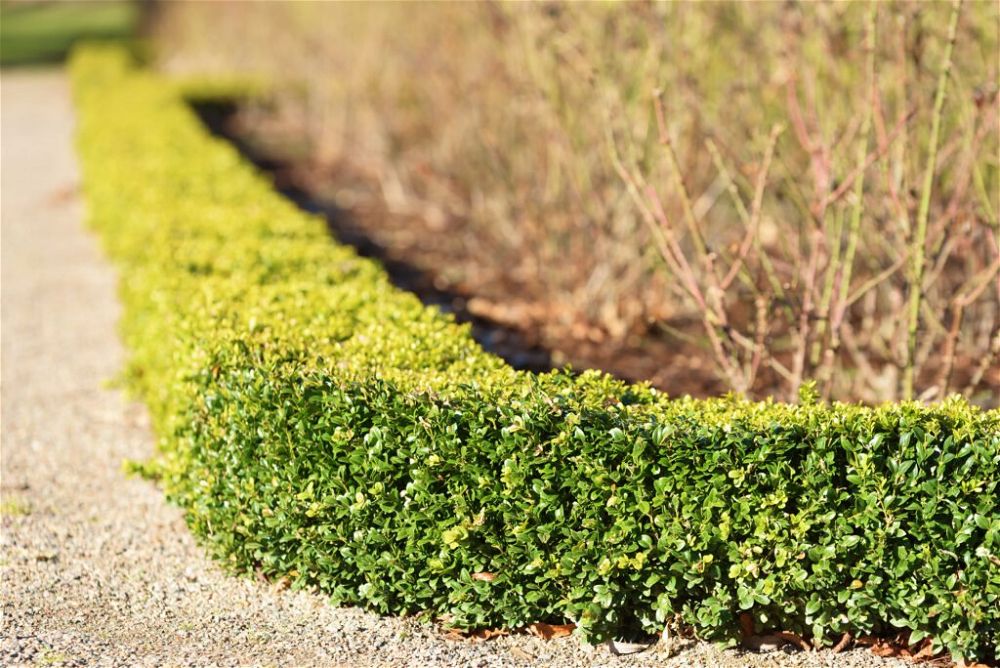 Garden walls don't have to be solid brick or wood. One of the best eco-friendly low walls is an evergreen hedge.
This wall is grown from box but you could use yew or Japanese holly. Young box plants are good value. All you have to do is plant them a few inches apart and cut the leader stem so they bush out. Don't forget to water them!
14. Garden Feature Wall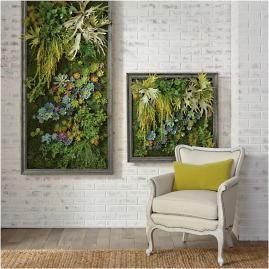 A garden feature wall brings plenty of impact to an outdoor space.
Green walls are very popular features. You can use staging or pallets, or as here, metal frames to create a feature wall full of real or artificial plants.
Painting the back wall a plain colour makes your plants pop. It's an eye-catching design that doesn't look out of place.
15. Garden Wall Water Features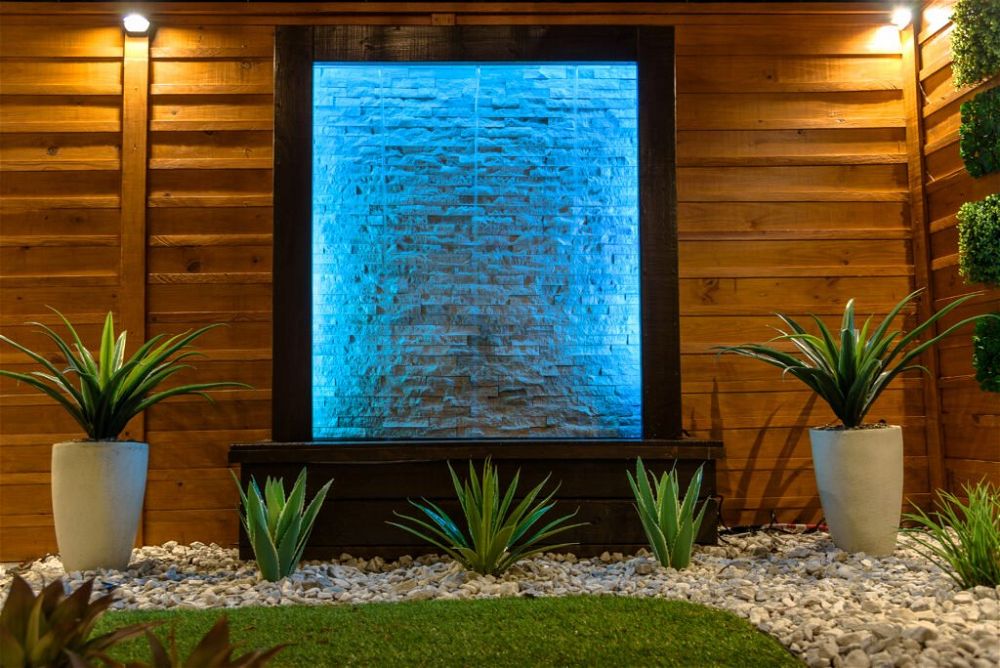 While a garden wall water feature can be as simple as a bird bath, you could go all out with a large water feature that dominates your space.
Bought as a full set-up, sheet water fountains are becoming more popular with urban gardens, and those with lighting extend your leisure time into the evening.
The great aspect of these stand-alone water features is that you can install them along any flat part of your garden wall to make the most of your space.
16. Small Garden Retaining Wall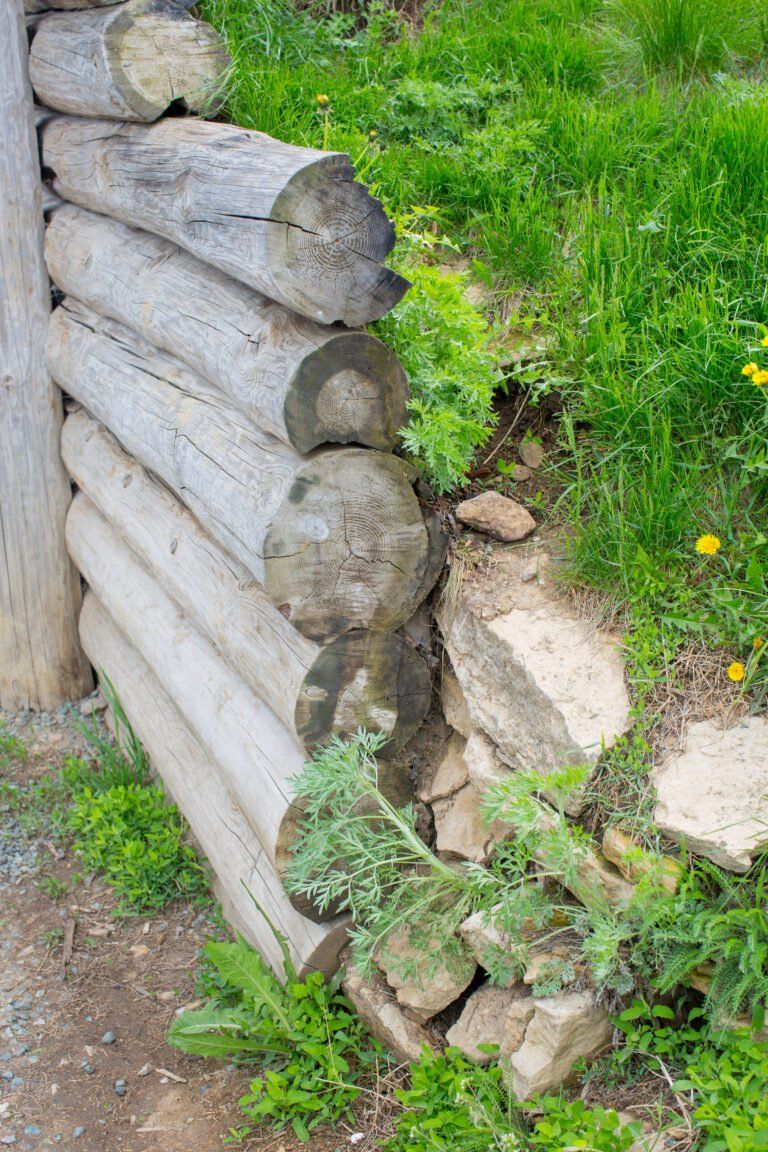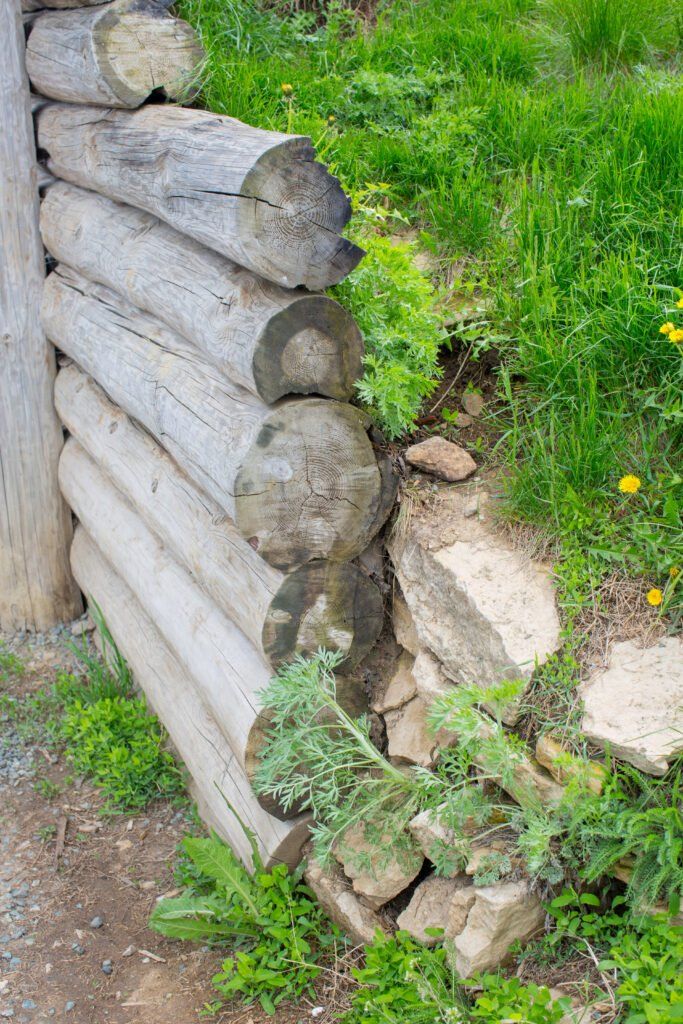 Retaining walls are a way to hold back soil on sloping gardens, or you can create height in a flat garden by building small tiered retaining walls.
A great idea is to use natural logs as frontage to a retaining wall, the sturdy part will need to be created from wooden planks or breezeblocks, but decorative logs look rustic, charming, and are unusual too.
17. Breeze Block Garden Wall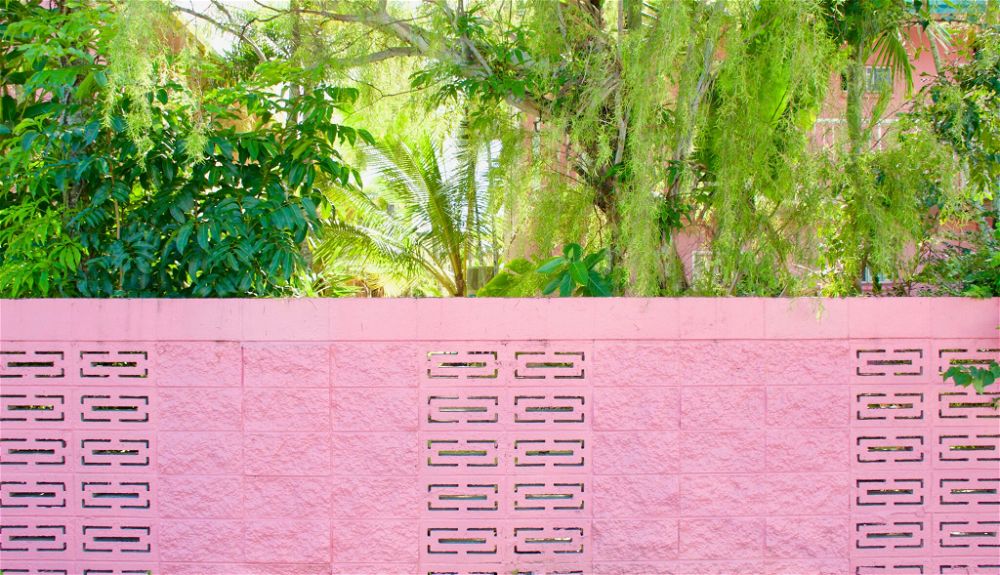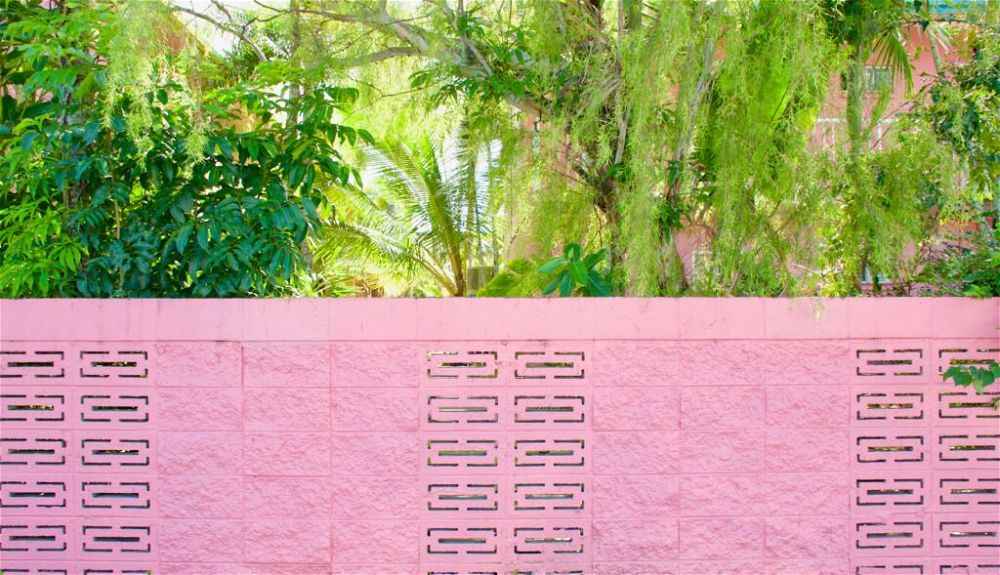 Breeze blocks are one of the best surfaces for masonry paint so let your imagination run wild.
This tropical pink breeze block wall can't be missed, but if pink isn't for you choose black for a Japanese-style garden or cream for a country cottage garden. Stuck? Green matches your grass and extends the eye, making your space appear bigger.
18. Garden Wall Murals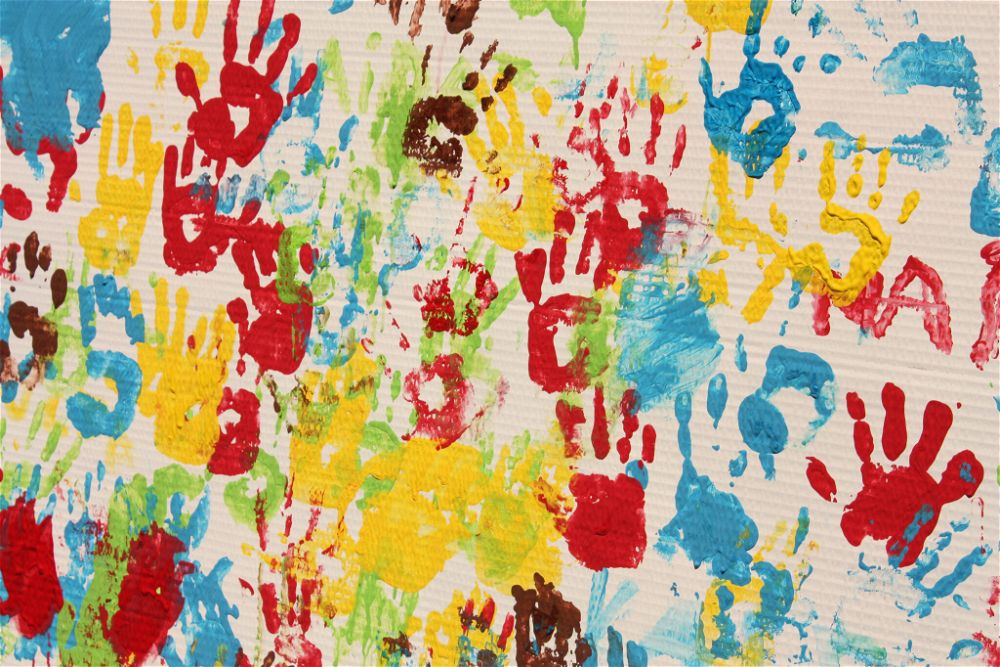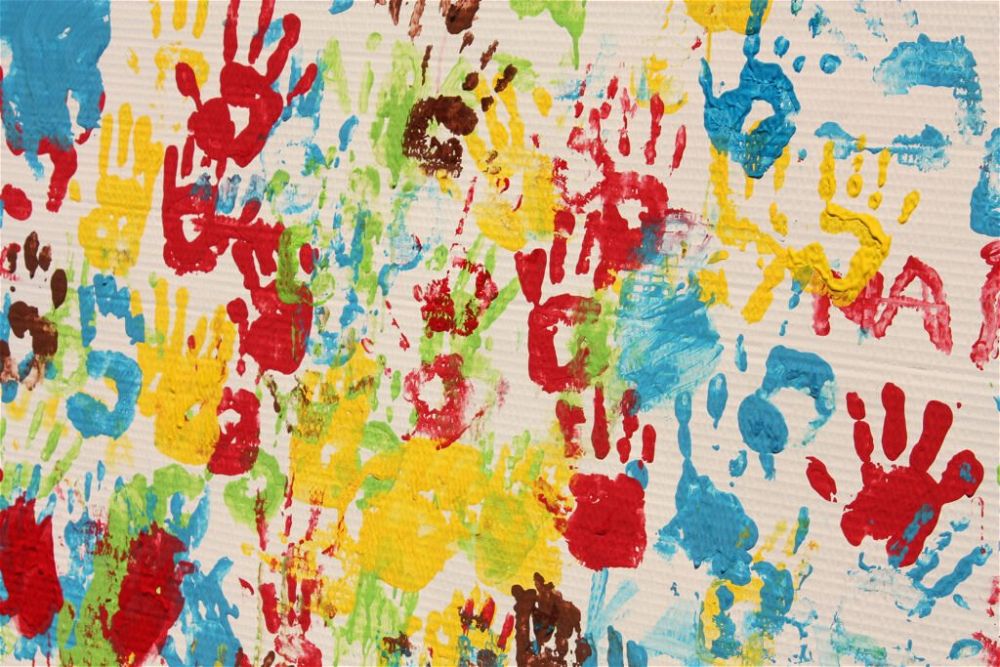 If you have a love – mural it on your garden wall so you're reminded of it every day.
This garden wall mural is a multitude of handprints in different primary colours. Get friends and family involved to create something you'll treasure.
A great way to incorporate handprints is as the branches of a tree – handprint possibilities are endless.
19. Modern Garden Wall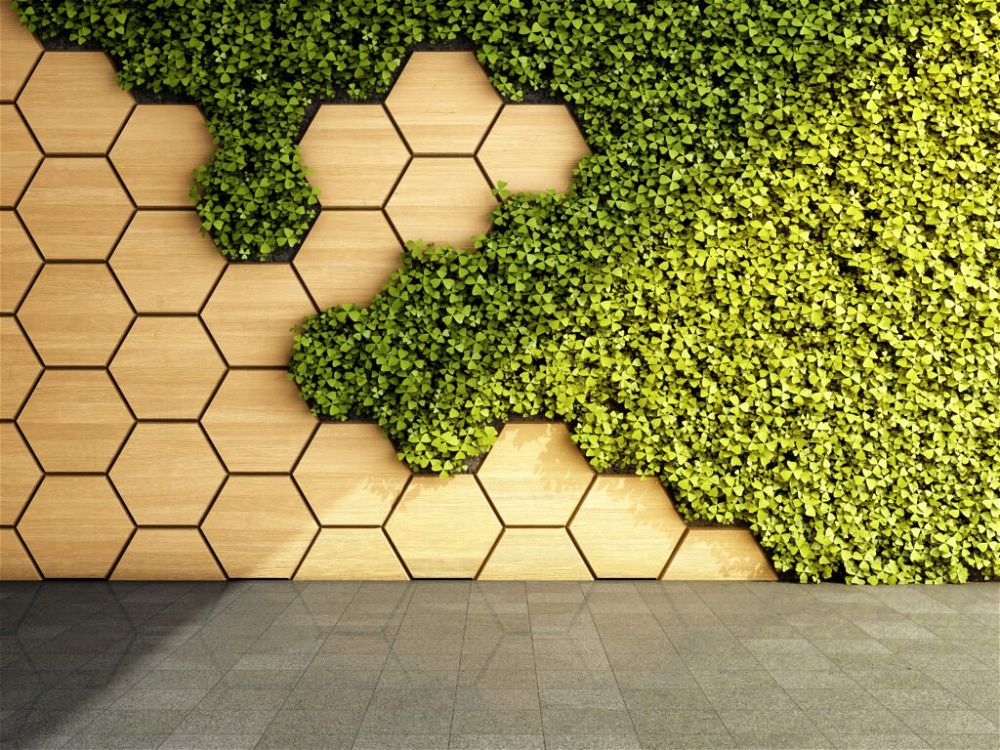 A mixture of modern sleek panelling with real or artificial garden plants makes this design a show stopper.
Using real plants to attract pollinators such as bees also gives this modern garden wall a sense of purpose. We all need to save the bees and a modern bee-saving garden wall is the pinnacle of eco-friendly urban gardening. We all need one of these.
20. Garden Wall Fence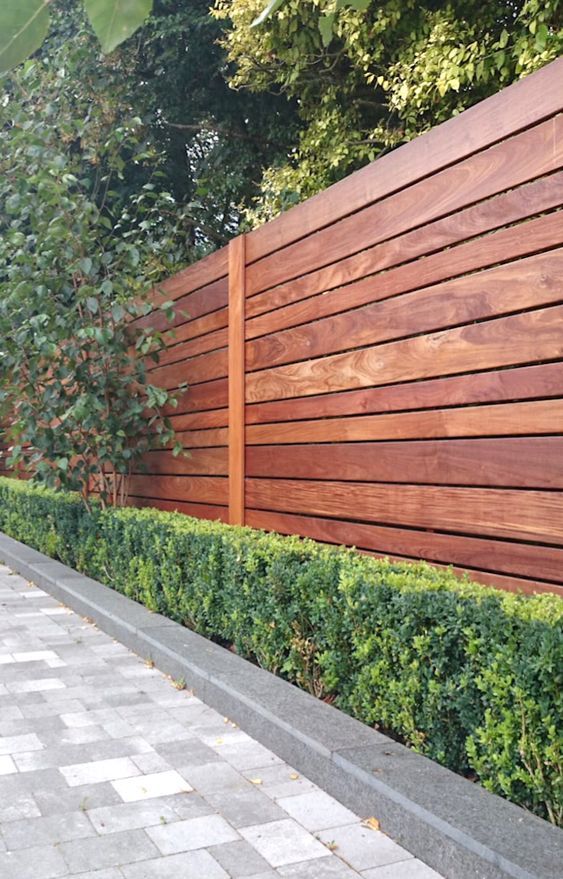 If your old fence needs repair or it blew down, stop and think before installing yet another boring fence panel.
There are lots of new fences that look so much better. This is a garden fence with real wow. It's made from stained oak with small slates to let through light. It packs a punch and looks classy too!
21. Front Garden Brick Wall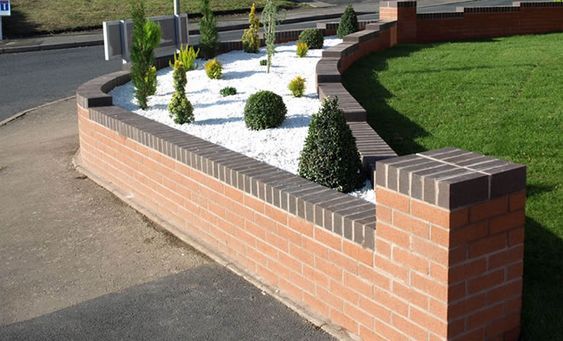 Front garden brick walls don't have to be a solid mass of brick. You can make them lower and wider, and use the space between to create a garden of your choice.
This one is low maintenance but you could go Japanese, wildflower, or even grow your own veggies to wow the passers-by.
22. Curved Garden Wall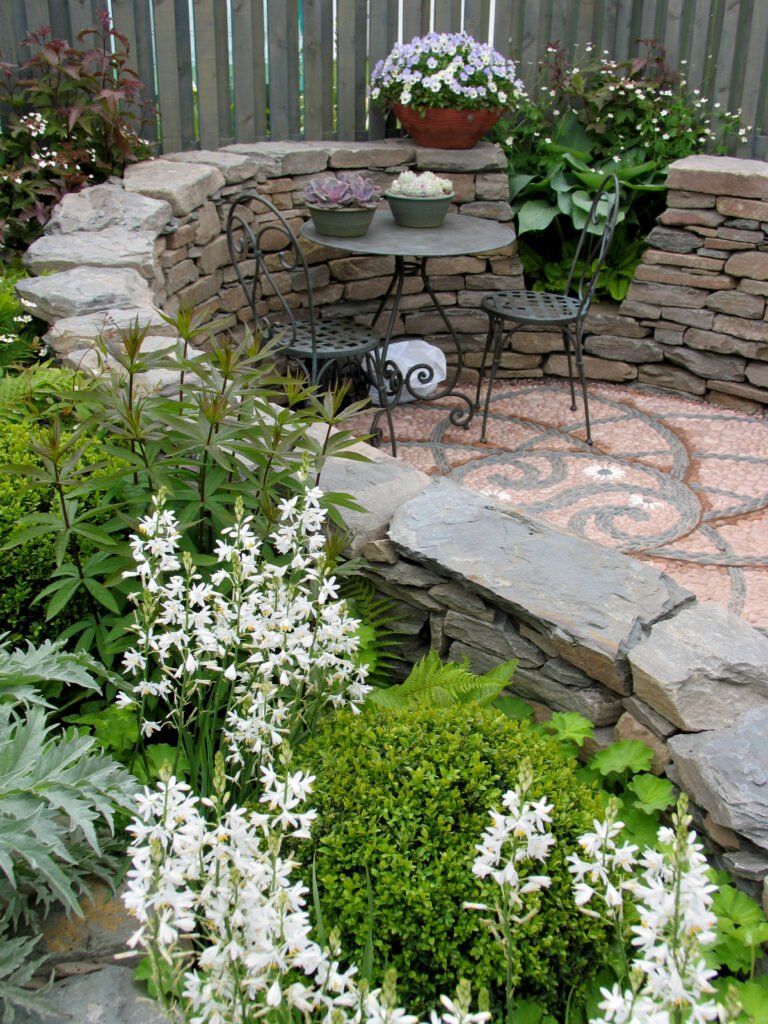 Curved garden walls allow you to create a cosy intimate space. Create a curve and use it as a seating area, BBQ space, or a windbreak for the kids to play in.
Curves create a sense of movement in the garden and make it look larger. Experiment with lots of curves by adding curvy mosaics, round tables, and round pot plants to keep the movement going.
23. Wooden Garden Wall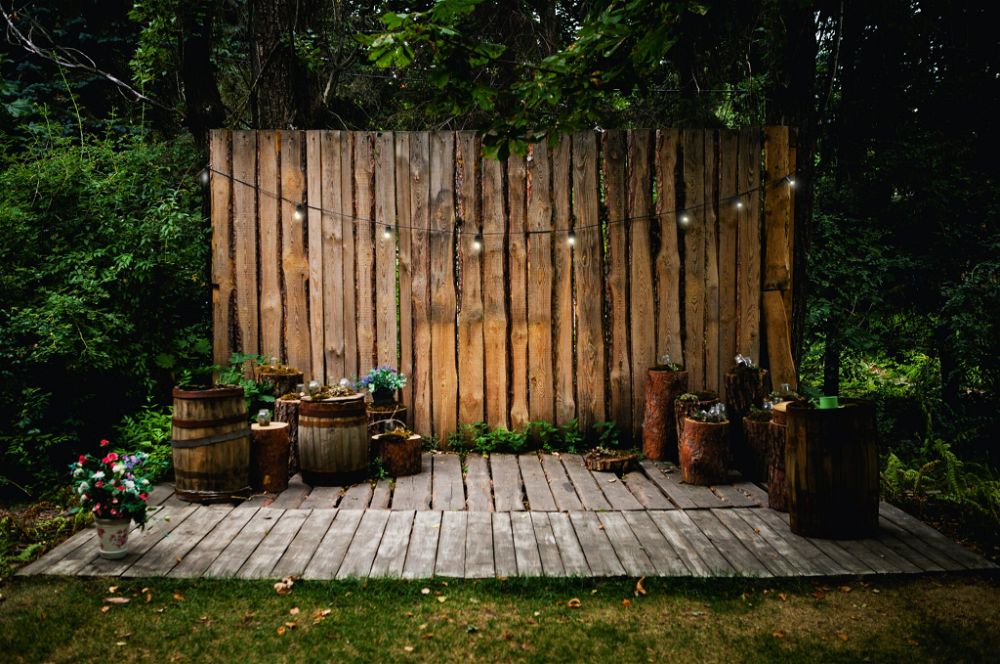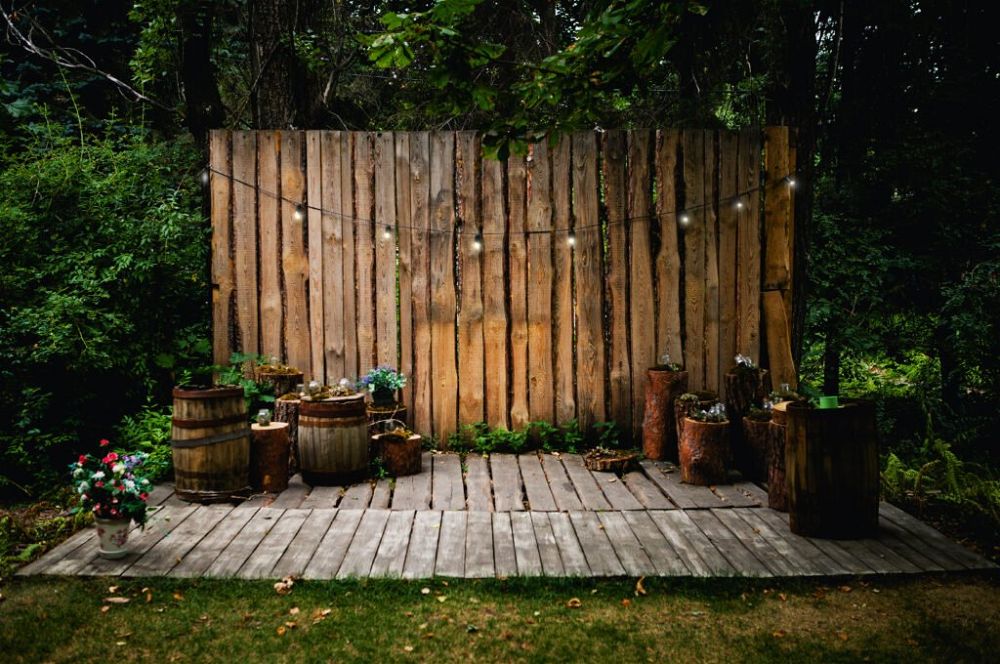 A wooden garden wall creates a low-cost privacy screen. This wooden garden wall is staging that's set in the ground. This can be carried around the whole fence line or installed where needed to get some privacy.
Adding a wooden deck in front gives you a quick fix patio for morning coffee, lunch, or even a stage show for the kids to entertain a crowd.
24. Garden Wall Colour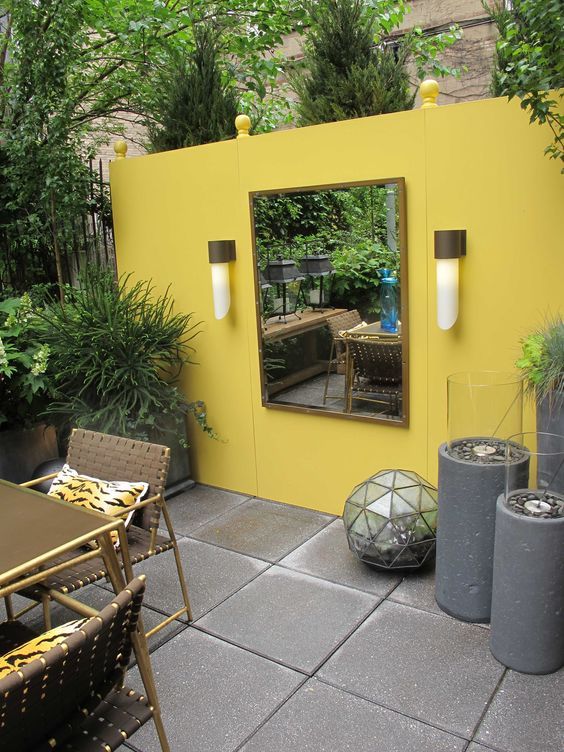 Choosing a garden wall colour is based on personal taste, or to match the flowers in your garden, but if you're stuck, how about warm yellow?
Warm yellow is a great colour for UK gardens as it is sunny and bright on gloomy days, and yellow matches up well with the various greens and browns of a garden.
25. Garden Wall Screening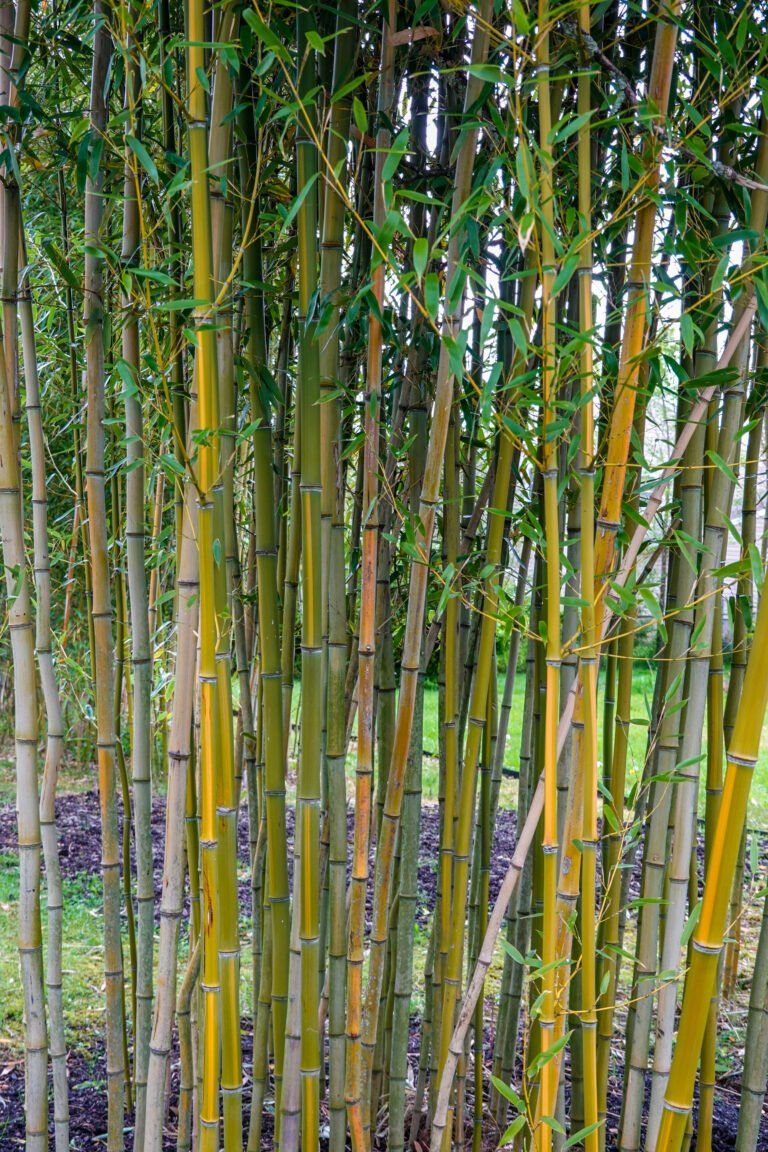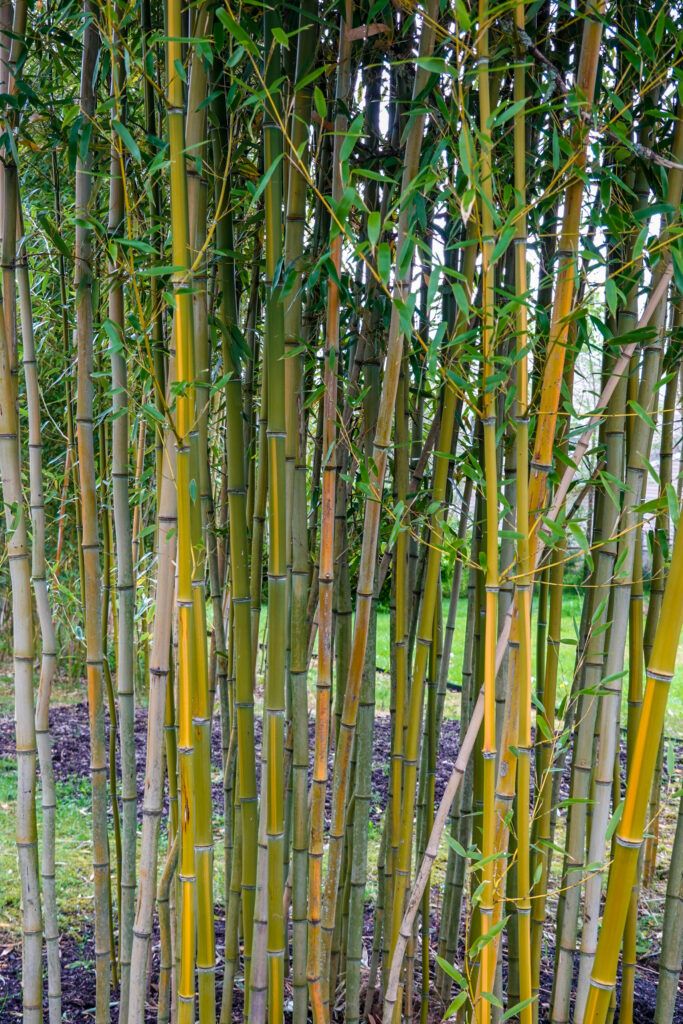 Garden screening can seem a real pain – you have to install a permanent feature that's going to be costly – or not! Live bamboo in a container is one of the best screens around, and it's portable.
See in this image how closely the stems grow on this golden variety – it's enough to block out the nosiest of neighbours and provide a windbreak. Bamboo is invasive though, so plant yours in a container and water it well.
26. Garden Wall Trellis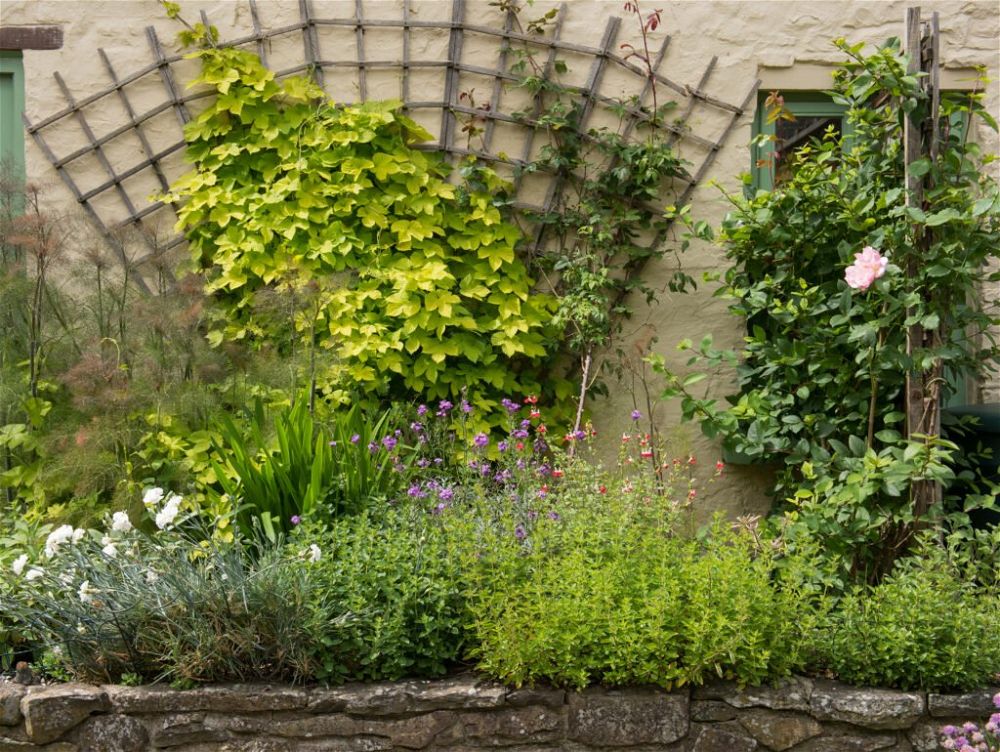 Garden wall trellis is the ideal spot to grow climbers, but they don't have to go straight up. A fan-shaped trellis gains plenty of height but spreads out to maximise your growing space.
A sunny wall is a perfect spot to grow fan-trained fruit trees. Choose a sturdy fan-shaped trellis and attach it securely as fruits can be heavy. If you don't fancy fruits, then jasmine, clematis and honeysuckle are beautiful fragrant alternatives. When the leaves fall, you still have a pretty fan shape to admire.
27. Contemporary Garden Wall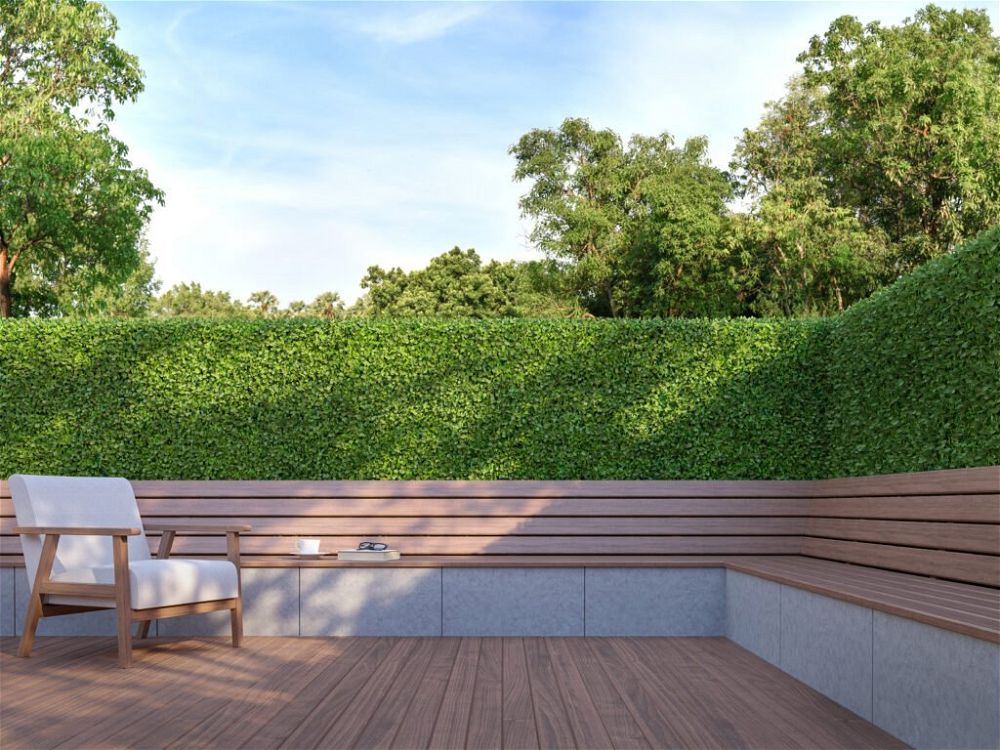 Three is the magic number and that's certainly the case for this contemporary garden wall.
An evergreen privet hedge is fronted by sleek modern slats and a bright whitewash wall. They are simple ideas but when combined make something really special, particularly when the wall doubles up as extra seating for your friends. You can never have too much seating!
28. Garden Wall Planter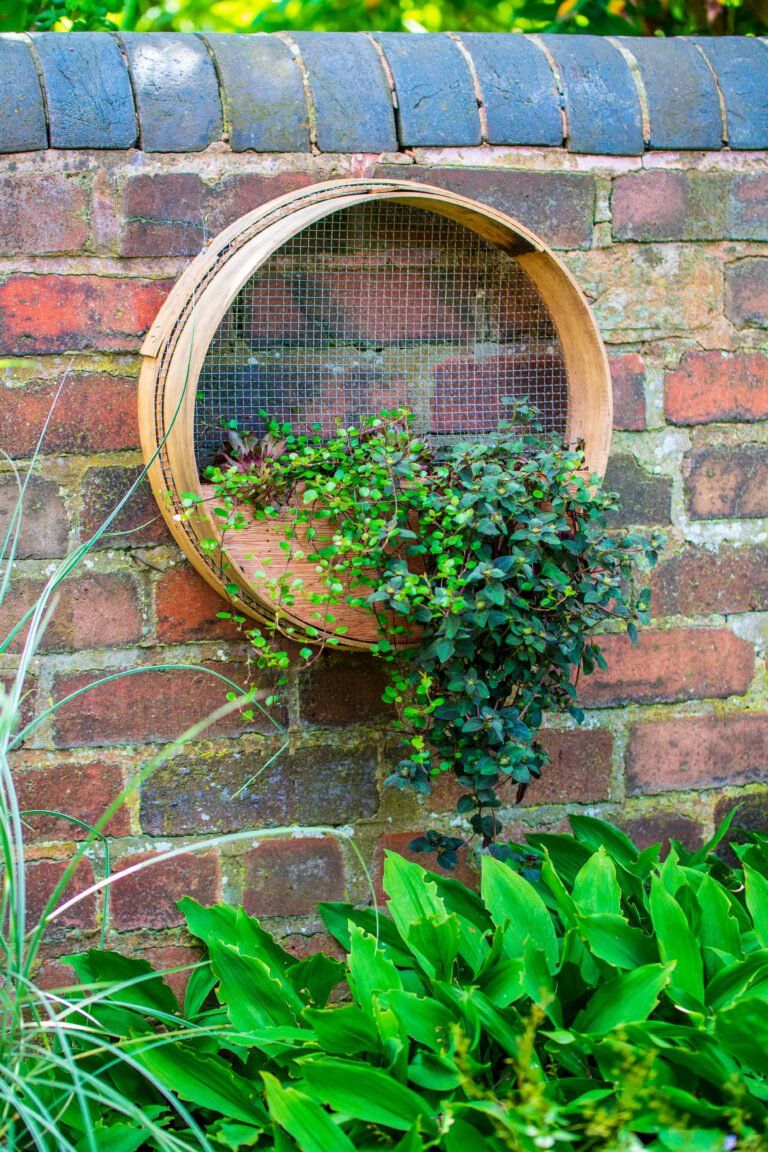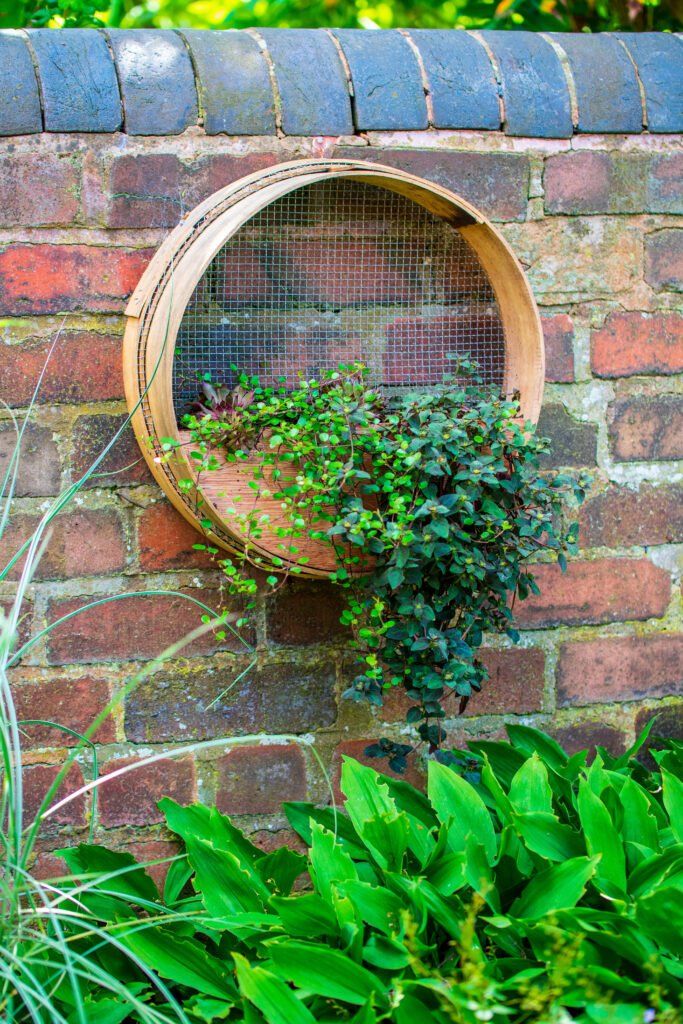 The round design of these garden wall planters adds interest to a plain garden wall or fence. This planter is a garden soil sieve, including a piece to hold the soil back. They can be bought this way or made cheaply from old garden tools.
Trailing ivy looks great here, but it's also a good spot for tomatoes – just don't forget to water them!
29. Herb Garden Wall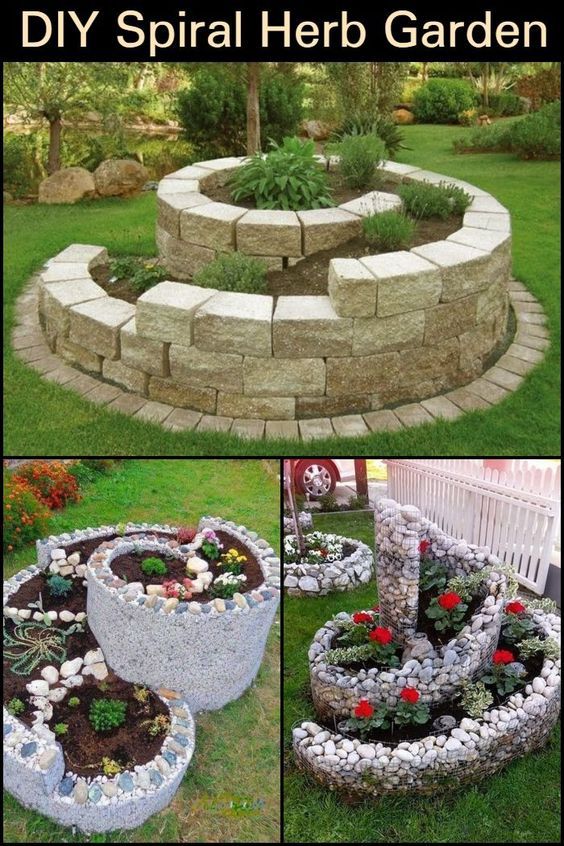 Herb garden wall ideas range from pallets on a fence through to planters on top of a stone wall, but if you fancy something different how about this spiral stone wall for herbs?
It has fantastic drainage and if you build it in a sunny spot your herbs will flourish. Use breeze blocks, reclaimed bricks, or pieces of broken up slab – whichever tickles your fancy.
30. Pallet Garden Wall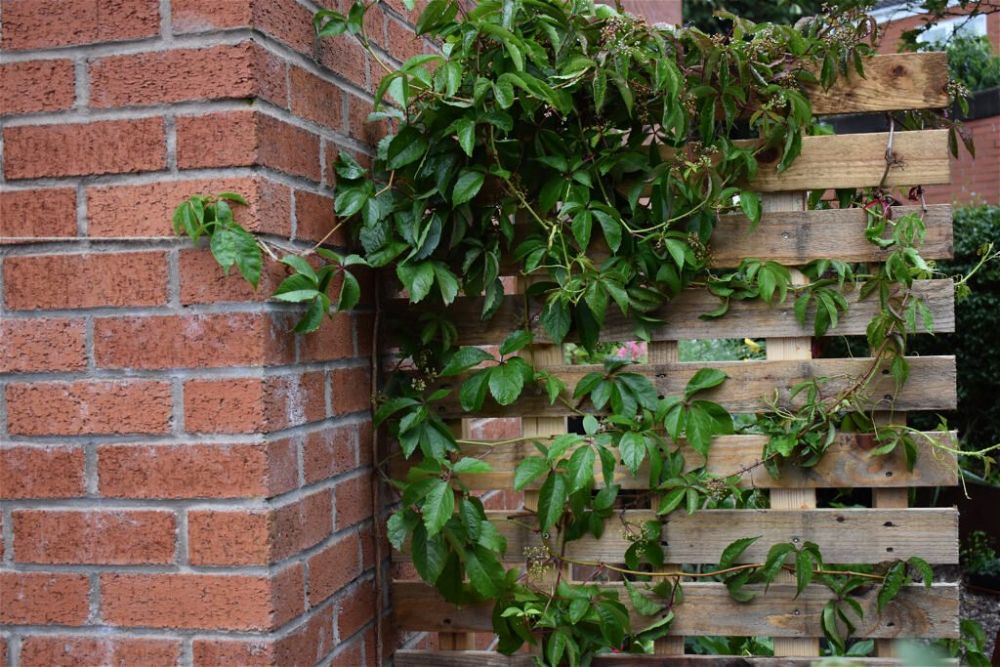 Pallets are useful in a garden. They can be used as stands for flower pots or chopped up to make raised beds. Here we have pallets stacked as a garden wall with a climber grown up the front.
This is a clever way to create a low-cost wall, privacy shelter, or wall feature. Attach the pallet firmly to an existing structure to be safe – then why not add paint and an insect house to jazz it up?!
31. Rock Wall Garden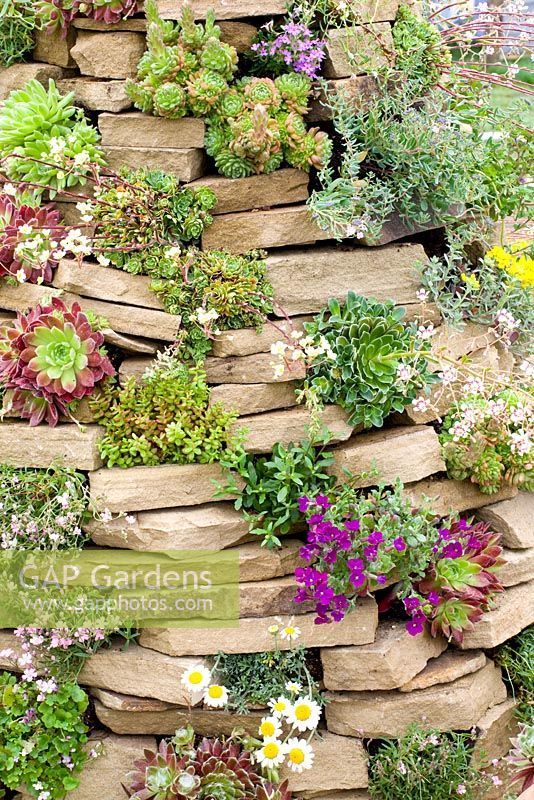 A rock wall always looks stylish and you can mix it up with a rock garden.
Dry stone walling is the perfect base for lots of succulents and alpines because they love the reflected heat of the sun and the drainage – damp conditions will rot sun-loving succulents.
Small soil pockets are enough to sustain succulents because they need very little to look luscious. If you already have a dull stone wall, remove some of the stones to make way for these friendly little plants.
32. Raised Garden Wall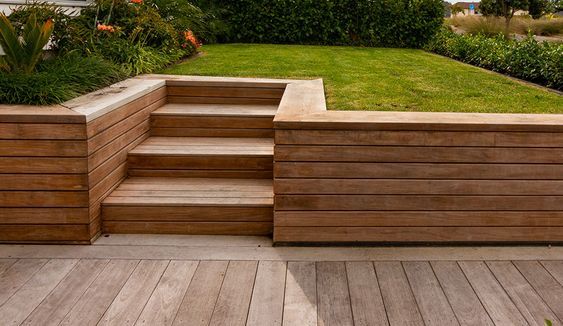 A raised garden wall can turn an unusable garden into one that's not only fun for the children but looks a work of art too.
Retaining raised walls must be made from materials strong enough to hold back wet earth, but they can be faced with any material you like. This smart wooden facing with integrated steps has turned a mediocre garden into something truly unique.
33. Landscape Garden Wall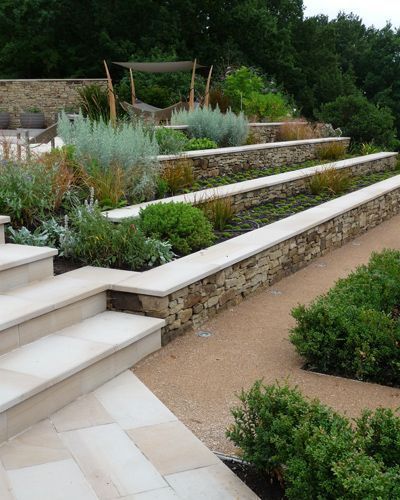 A landscape garden wall can deal with a multitude of problems. Here we see landscaped garden walls turn a sloped garden into a useable space that looks great.
A tiered garden gives great drainage, and the stone walls reflect heat to your flowers or veggies so they thrive.
This is a hefty undertaking but the results are so good, it's worth the time and effort.
Jazz Up Your Garden Walls
Garden walls are an overlooked aspect of your outdoor space, but when you consider they surround the area you want to enjoy, it makes sense to turn your garden wall into a work of art.
Improve the boundary and add new walls to make your garden a great place to spend time. You'll be surprised at how much difference it can make.