Getting rid of garden waste can be an annoying problem. A garden shredder is the perfect solution, chopping green matter into mulch and bark chippings. We've tested the most popular models to help you make the right choice. We believe the UK's best garden shredder is the Bosch AXT 25TC Quiet Garden Shredder. This is because of its powerful motor and fast cutting speed.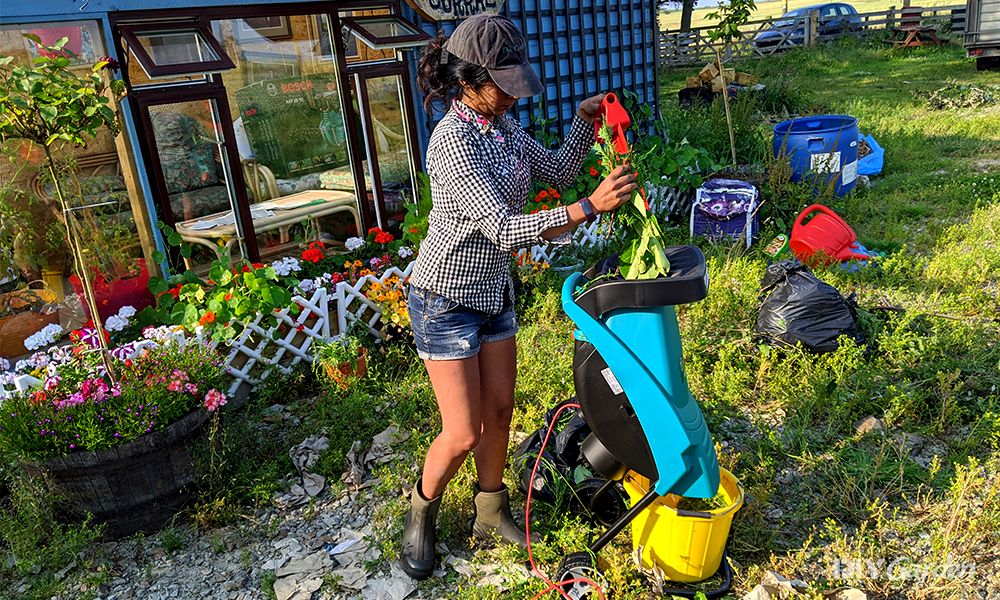 My Top Recommended Garden Shredders
How We Tested
Product Testers:
We put multiple garden shredders to the test, assessing which models have the right balance of speed, power, size, and functionality. We assessed:
Design: We considered how hard-wearing and robust each garden shredder's designs were to find a model that would stand the test of time. Some models are known for jamming easily, so we also tested this throughout, feeding various forms of garden debris through, such as soft weeds, conifer clippings, and plant waste, as well as thicker branches, palm fronds, cardboard, and hay. If they could only handle softer, greener material, we rated them as better for household use. But if they could chomp through thicker branches and still produce uniform clippings, these were also suitable for heavy-duty tasks.
Branch Diameter Limit: Any garden shredder with a cutting width of less than 40mm got a lower rating as this significantly limits its usage, particularly with woodier materials like branches and trimmings. We ensured each model could tackle the branch diameters it promised, even when branches were wonky rather than perfectly straight. Any models that jammed or couldn't shred wonky branches got ranked down.
Important Features: We paid close attention to features like collection boxes. Any models without were assessed on the functionality of their design – we attempted to fit buckets or boxes underneath the chute, and if we couldn't fit these underneath, the models were less functional.
Noise Levels: Shredders can be noisy, which isn't ideal, so we tested the volume of each – anything above the 90-decibel mark requires earplugs or earmuffs, so we considered any models above 95 decibels loud, and anything above 100 decibels were ranked down due to being noisy.
Speed: We tested each model's blade rpm and shredding rate to identify whether they were suitable for heavy-duty or light use. Any models with higher RPMs (above 4000rpm) and a faster shredding rate of above 200 kg/h were rated higher as they could handle both smaller vegetation and thicker branches.
Weight & Cable Length: The models ranged in weight, but any model above 20kg isn't generally practical for most people, so they were rated down as they weren't as manoeuvrable, making them less useful in bigger gardens and harder to store in small spaces. Similarly, any models with less than a 5 m cable were rated down, as they could only be used in small gardens without an extension lead.
My Product Reviews & Opinions
Compare Product Features Here
Use the dropdown to sort the table by the feature that's most important to you.


Our score
Max. Diameter
Motor
Weight
Blade RPM
Shredding Rate
Collection Box
Cable Length
Noise Level
Max. Diameter

40 mm

Motor

2200 W

Weight

12 kg

Blade RPM

3,650 rpm

Shredding Rate

90 kg/h

Collection Box

n/a

Cable Length

5 m

Noise Level

103 dB

Max. Diameter

45 mm

Motor

3000 W

Weight

24 kg

Blade RPM

5500 rpm

Shredding Rate

200 kg/h

Collection Box

55 L

Cable Length

6 m

Noise Level

93 dB

Max. Diameter

45mm

Motor

2500W

Weight

28kg

Blade RPM

400rpm

Shredding Rate

Not listed

Collection Box

55L

Cable Length

3m

Noise Level

92db

Max. Diameter

45 mm

Motor

2500 W

Weight

30.5 kg

Blade RPM

4100 rpm

Shredding Rate

230 kg/h

Collection Box

53 L

Cable Length

6 m

Noise Level

90 dB

Max. Diameter

45mm

Motor

2400W

Weight

10.3kg

Blade RPM

4200rpm

Shredding Rate

Not listed

Collection Box

45L

Cable Length

10m

Noise Level

98.5 db

Max. Diameter

40 mm

Motor

2500 W

Weight

9.8 kg

Blade RPM

4500 RPM

Shredding Rate

Not Listed

Collection Box

N/A

Cable Length

3 m

Noise Level

106 dB

Max. Diameter

44 mm

Motor

2800 W

Weight

20.8 kg

Blade RPM

6,000 RPM

Shredding Rate

Not listed

Collection Box

60 L

Cable Length

10 m

Noise Level

94 dB

Max. Diameter

40 mm

Motor

2500 W

Weight

15 kg

Blade RPM

4,050 rpm

Shredding Rate

Not listed

Collection Box

50 L

Cable Length

6 m

Noise Level

111 dB

Max. Diameter

45 mm

Motor

2500 W

Weight

13.8 kg

Blade RPM

4,500 rpm

Shredding Rate

Not listed

Collection Box

40 L

Cable Length

3 m

Noise Level

106 dB

Max. Diameter

45mm

Motor

2800W

Weight

27kg

Blade RPM

2850rpm

Shredding Rate

Not listed

Collection Box

50L

Cable Length

10m

Noise Level

96db
Tips For Buying a Garden Shredder
The best garden shredders should have a cutting width of at least 40 mm

, so they can tackle tough branches and trimmings.

It's also vitally important that they don't jam often

. Now, this will be partly down how fast you load garden waste into the shredder, but mainly down to how well the machine performs under strain. Throughout our testing, we ran the shredders below for sustained periods of time, to see how often this happened. 

For lighter jobs, a shredder with a 2200 W motor will be sufficient. However, f

or a good all-rounder, consider a shredder with 2500 W

– this will be able to deal with a combination of hard branches and green waste. A 3000 W shredder has

a lot

of power – generally best left to dealing with larger (40 – 45 mm) wooden branches. 

Lastly, noise does play a role! So

if you're concerned about bothering your neighbours, look for something around 90 dB

. You can compare the decibels of our recommended garden shredders in the comparison table a little further down this page.

After testing different shredders, we also recommend buying a model that's not only tailored to your gardening needs, but also the design of your landscape.

Lighter, easier to manoeuvre models like the Bosch AXT Rapid 2200 will likely suit the majority of households

. It performs well but

only weighs 12 kg

so can be easily carried.

For users with heavy-duty shredding requirements, factors like the motor power, blade RPM and shredding rate will play greater importance. A shredding rate of around 200 kg/h will help speed through bigger jobs. Professional gardeners or those with large trees will be better suited to the Bosch AXT 25 TC Quiet Garden Shredder, the most powerful and impressive model we tested.
Why You Can Trust DIY Garden
At DIY Garden, we believe your trust is earned through our knowledge and transparency. Our team of experts has over 75 years collective experience in the gardening and DIY space. Since the website's creation in 2016 we've tested over 275 products, ensuring our recommendations are based on real experience. We're open about what we've tried and what we've researched, and this is clearly labelled in our product reviews. Every year, we revisit and update our suggestions to include worthy new additions to the market. Our aim is to give you straightforward, honest, and helpful recommendations, so you can confidently choose the best tools and equipment for your projects.
How to Choose The Best Garden Shredder
If you're someone who loves to prune the garden, but hates having to deal with the woody material, an electric shredder can make life a lot easier.
Rapid shredders slice up organic material, from hedge clippings to plant waste, making it much easier to dispose of or add to your compost bin.
If you're thinking about buying one, the information below should help you make an informed decision:
What Are The Benefits of Using a Garden Shredder
Most garden shredders can massively reduce the volume of your garden debris and waste.
The majority of us have to either cram clippings into a council garden-waste bag, or take multiple trips to the dump. If you're lucky you might have a big green bin from the council, but they still fill up fast.
Using a garden shredder makes it much easier to handle and dispose of all your garden material. Fewer waste bags needed, and fewer trips to the dump!
Secondly, the little chips and shreds make a great addition for composting.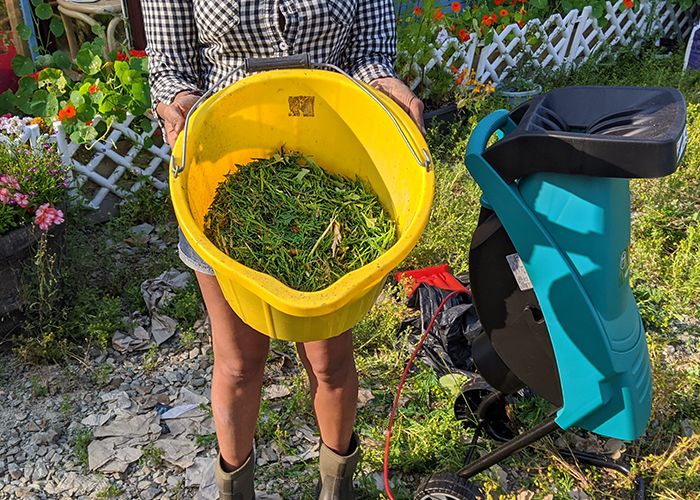 The trick to a healthy compost heap is a good balance between your 'greens' and your 'browns'. The greens are nitrogen-rich, whilst the browns are high in carbon. Having a shredder than can handle both will enable you to get the balance just right.
The shredded wood chips provide great insulation.
Over the past year I've been growing my own date palms. But, as with many new plants, plummeting temperatures can take their toll. Good insulation is a must. This is where an electric shredder can help out: run a few tree branches through it, and use the wood chips to protect the base and roots.
This is a money saver too – no need to buy bark or similar insulation from the garden centre!
Lastly, the waste makes great mulch.
Feeding garden matter back into your soil is a great idea. Not only does it give your plants added nutrients, it acts as a barrier against weeds. What's more, wood chippings can look very attractive too. All you need is a good garden waste shredder and you're all set!
What Are The Different Types of Garden Shredders
Aside from categorising them as electric shredders or petrol shredders, there are two main types of shredder that you can buy.
Impact Garden Shredders
An impact garden shredder will have a blade that spins at a very high frequency – many complete over 4,000 rpm (revolutions per minute).
As the organic matter and woody material passes through, the fast-spinning blade chops it into small pieces. This is generally the best garden shredder type for most households.
Given that the blade turns so fast, an impact garden shredder can generally whizz through green material, and chop up smaller twigs and branches.
Impact shredders are best for tackling green clippings and smaller branches. However, they can be quite loud seeing as they work at such a high rpm.
Roller Shredders
These use a different kind of technology.
Instead of a fast, rotating blade, they 'crush' the organic material against a plate inside the machine.
As a result of this slower work, they are quieter than high-rpm impact shredders.
Roller shredders are the best for tackling bigger, dry branches. They'll generally cope with thicker, harder branches, but might be more likely to get clogged up with greener material (as they don't move fast enough to stop it from sticking).
Turbine Cut Shredders
These shredders combine the technologies of both 'impact' and 'roller' shredders to crush and chop the matter as it passes through.
The Bosch AXT 25 TC Shredder is an example of an electric shredder with a turbine-cut system. In general, these shredders should be able to cut both dry and green matter, although they often still cope better with one than the other.
Turbine cut shredders are the best for tackling a combination of bigger clippings and green matter. They will probably not manage the same branch diameter as roller shredders, but will reach a compromise between an impact and roller shredder.
READ NEXT: How To Unblock a Garden Shredder Safely
What is The Difference Between a Shredder and a Chipper
Generally speaking, garden shredders are best suited to general home use. They can handle smaller branches up to 4.5 cm, and sometimes 'green' waste too, depending on the shredder.
If you're looking for something to help you tackle standard garden tasks, reducing down small branches and clippings, a garden shredder will be a good addition to your garden tools. If you want something a bit more heavy duty, you'll probably want to consider one of the best petrol garden shredders on the market.
A wood chipper is also heavy duty and better suited to tearing through larger branches and trees. If you're working industrially cutting trees, or have one fallen tree in your garden, you're going to need a wood chipper. These can be hired for a day which is useful, as they're not garden tools that a standard household will require often.
READ NEXT: What To With Garden Shredder Waste
Why The Weight of the Shredder is Important
Models can range significantly in how much they weigh.
The lightest shredder reviewed on this page weighs 12 kg. Naturally, this makes it much easier to move around than a heavier model.
The heaviest shredder on this list weighs 30.5 kg. A model like this may be harder to get out of the shed or lift up stairs in the garden.
Ultimately, these decisions often come down to your physical ability, and your garden layout.
A lighter shredder may not be quite as robust as a heavier model, and this will likely be reflected in the size of waste it is able to handle.
Therefore, you'll have to strike a compromise between finding a weight that is light enough to be practical, and a shredder that can handle what you need it to.
READ NEXT: How to Sharpen Garden Shredder Blades
Look Out For The Size of the Cutting Diameter
Depending on what you're hoping to shred, you may require a large cutting diameter, or you may not.
The most powerful garden shredders featured on this page can cut branches up to 45 mm in diameter. These will be useful if you have particularly large plants in your garden that you need to dispose of.
Some models are better suited to being fed branches up to a diameter of around 35 mm. Whilst this might sound small compared to 45 mm, a lot of gardens are unlikely to require anything bigger.
It will likely come down to price and storage space; if you have the space and budget for a large shredder, you might choose to go for one that can cut 45 mm just in case.
But, if not, smaller shredders like the reliable Bosch AXT Rapid 2200 are more than enough for the majority of gardens.
READ NEXT: Bosch AXT 25TC vs Bosch AXT 2200
Plus, remember that an electric shredder which has a large maximum cutting diameter may not be as effective at shredding greener plants. For those, a smaller shredder with high rpm may be more effective.
Garden Shredder FAQs
How do garden shredders work?
Different types of garden shredder work in different ways. Whether electric shredders or petrol shredders, the initial principle is the same:
After turning the shredder on, you feed organic matter (tree clippings, prunings, twigs, etc.) into the hopper or infeed. This is then shredded, and ejected out of the bottom. A collection box may come with the shredder, to place by the outshoot, or you may need to provide your own.
Impact shredders shred the organic matter by chopping it with blades that spin at a high number of revolutions per minute. These are generally best suited to shredding smaller items and green matter.
Roller shredders shred the organic matter by crushing it against a plate inside the drum. These are generally better at shredding larger items than impact shredders – often up to 45 mm in diameter.
Will a garden shredder shred leaves?
Yes, the top models will shred leaves – but it really depends which one you have. An impact shredder with fast-turning blades are more likely to chop small items, like leaves, well.
If the leaves are dry, you'll likely have more success. If the leaves are wet, the majority should still get shredded, but the liquid/sap may jam the machine.
Once shredded, leaves result in green matter that's perfect for your compost heap.
See here for more advice on what you can and can't put in a garden shredder.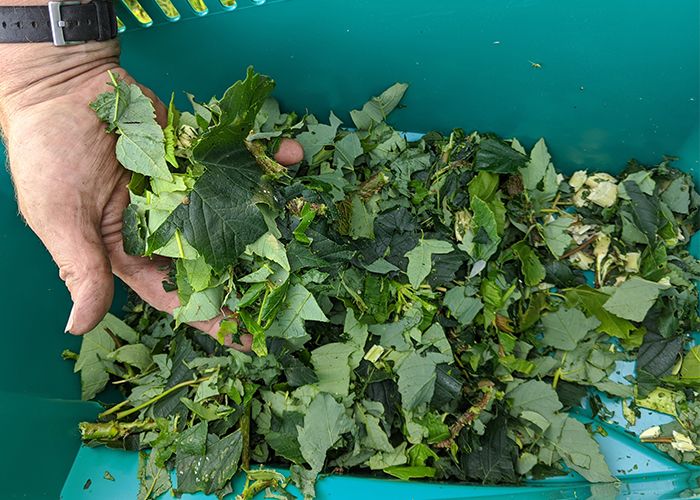 What can't I put through my garden shredder?
First up, you should not put soil or stones through your garden shredder. Soil will clog it up and stones will absolutely annihilate it! Just make sure that you brush mud off any roots or plants before they go through.
Next up, you're much better off putting dry matter through rather than damp material. Any liquid and sap can stop the blades being able to run efficiently, and ultimately lead to a jam. Most models do have ways to fix blockages, but you may not want to be doing this all the time.
Finally, shredding items like cardboard is done at your own risk. Garden shredders aren't designed for this purpose, and shredding cardboard can damage the blades or mechanism, meaning it may not work as well in the future.
How much does it cost to hire domestic shredders?
Having done some research, hiring electric garden shredders costs about £30-£45 per day. If you want petrol garden shredders, you might be looking at closer to £100. If you're looking to hire a wood chipper it's about £130 per day.
If you know you're only going to need the garden shredder for one day, it's certainly cheaper to hire one. Anything more than 2-3 days and you're better off buying one.