Our
Bosch AXT 25 TC Quiet Garden Shredder

Review
Best garden shredder for heavy duty and professional use
Best for people with large gardens
Best for larger branches and woody material
B00D43EF06
5052695746362,3165140465373
Best high-end garden shredder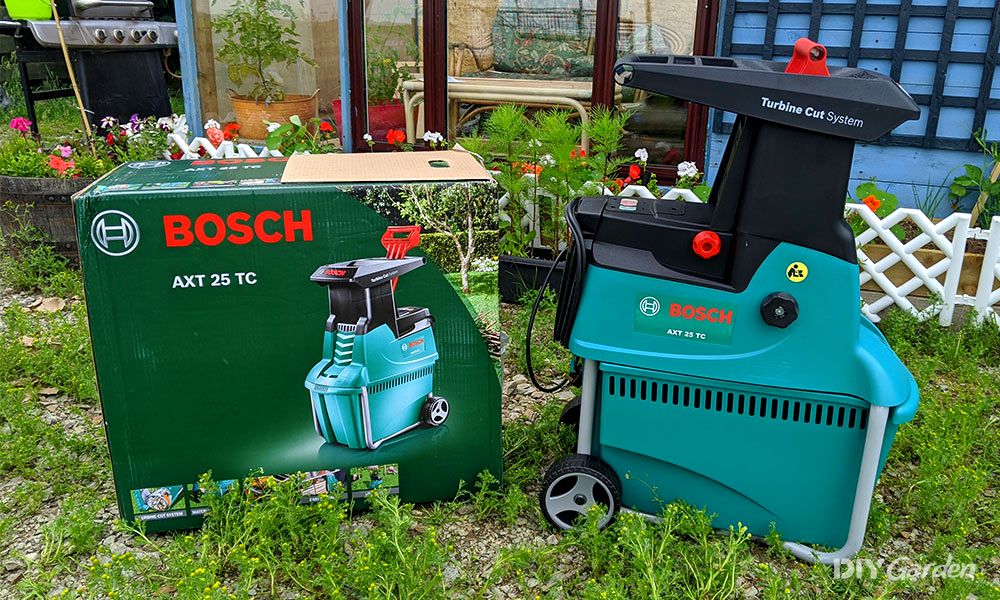 The Bosch AXT 25 TC Quiet Garden Shredder is widely regarded at the best model on the market. But I wanted to see how it really performed against my toughest branches and most stringent tests! Here's how it did…
Read our product testing methodology here.
How I Tested
The Bosch AXT 25 TC Shredder makes a number of intriguing claims that I was eager to put to the test.
Let's start with its Turbine-Cut System. Bosch states that this shredder can cleanly shred green materials as well as branches that are up to 45 mm in diameter. Large branches won't cause the machine to stall, and green waste won't block it either. The Bosch AXT 25 TC Shredder can apparently shred 230 kg of material an hour, creating shredded material that is cleanly and precisely chopped, rather than just crushed.
So, to test all of this out, I gathered together a variety of materials over the space of a couple of weeks. I ended up with 12 black bin bags full of hedge trimmings (laurel, privet, rose, and bramble) and soft garden waste (ferns, ivy, bush cuttings, and weeds), as well as a big pile of tree prunings (sycamore, beech, cherry, and apple). I made sure that nothing was larger than 45mm in diameter and used loppers to cut off unruly side-branches, so that it would be easier to feed everything into the shredder.
Although not a conventional use for the shredder, I also wanted to try shredding cardboard (for my compost heap) and hay (chopped hay is great for animals that need some extra energy). I collected up some cardboard boxes and removed any tape, and also set aside a leaf of hay.
I tested the shredder over the course of a few weeks, alternating which materials I shredded each day.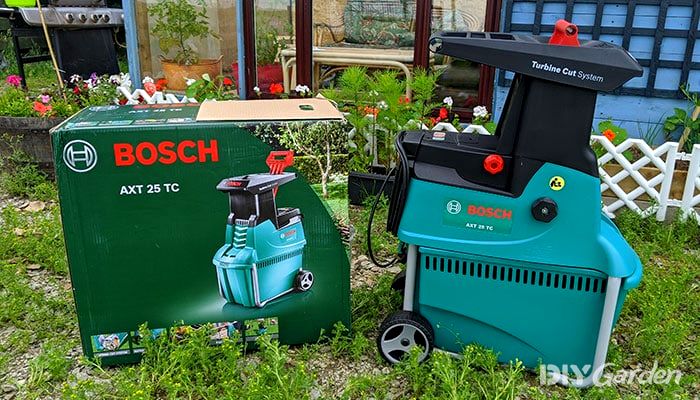 Open the box and you can immediately tell that this is a Bosch product, simply from those signature colours. In my opinion, Bosch is one of the best brands out there for garden tools and machines. I already own their hand drill and a few other Bosch tools, so this is a brand that I genuinely trust when it comes to quality.
The shredder doesn't require much assembly. It's been designed this way on purpose, so that you can quickly take it all apart for easy storage. All you have to do once you take it out of the box is attach the hopper (the black funnel-type attachment on the top).
At 30 kg, this shredder is fairly heavy. This means that you really rely on the wheels when it comes to moving the machine around the garden. Unfortunately, there's a big design flaw here – the wheels at the back are just too close together. They're easy to use on cement and smooth surfaces, but try wheeling them on a lawn or rough ground and you'll find that the machine is so much harder to move. I found myself thinking that if the wheels were just a couple of inches further apart, so that at least one would remain on the path, it wouldn't be such an issue.
Other than that, the shredder looks modern and professional. It's in keeping with Bosch's branding which makes it feel like a high-end product.
At 4 metres, the electric cable for this shredder is a reasonable length. I did have to use an extension lead, but the cable length itself does at least make it easy to keep all of your garden material away from the power source.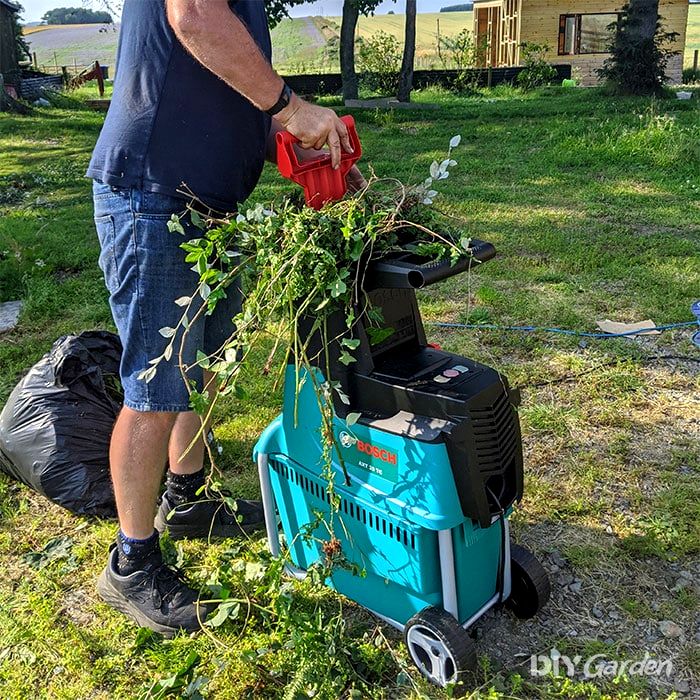 I've used many petrol shredders over the years that refuse to start the first time you turn them on. It can sometimes take quite a few tries to really get them going, so I was definitely relieved to find that the Bosch AXT 25 TC immediately started purring away as soon as I hit the button.
The instruction manual states that the shredder is ready to be used with the manufacturer's settings. While this is true for larger branches, the settings straight out the box won't cut green waste or thin stems. Twigs and stems end up bent instead, while green waste wraps itself around the turbine. Fortunately, this is easy to clear.
After adjusting the pressure plates (you'll need an Allen key to do this, which isn't provided), I tried again. This time, it was able to shred the green waste, although it didn't cut them down quite as finely as it did the larger cuttings. You also need to alternate between hard and soft materials, otherwise the soft will still end up wrapped around the turbine.
The Bosch AXT 25 TC Shredder lives up to its claim of being able to shred branches that are 45 mm in diameter. It seems to work better with fresh, rather than older, cuttings, and its weight helps to keep it sturdy as it works.
Unfortunately, the shredder isn't great with cardboard. It does the job of shredding it, but it's very slow and you do need to exert some force to push the cardboard through, which wouldn't be good for the machine in the long run. Try to put too much through at once and it'll also jam very quickly.
When it comes to hay, smallholders will be delighted to know that this Bosch shredder copes with it well. It happily took the hay in and quickly chopped it up, after which my lambs devoured it. This will be a gamechanger for me come winter, as well as during lambing.
The container underneath the shredder, which catches all of the shredded material, is a good size at 53 litres. It's lightweight and simple to remove, making it easy to carry your shredded material to different areas of the garden. I chose to empty the first few loads around nearby plants to use as a mulch, but then filled a wheelbarrow with the shreddings to take to my compost heap. Since I have quite a large wheelbarrow, it took about three container loads to fill it.
Many (including myself) would assume that an electric shredder wouldn't be able to match the power of a petrol shredder, but this Bosch machine definitely outperforms some of its petrol-fuelled competitors.
It has a powerful motor and it theoretically would be able to live up to its claim of shredding 230 kg of material per hour. However, the amount of time spent untangling green material from the drum does slow you down quite a bit! That said, stick to harder branches and you'll be able to whizz through them in no time.
The Bosch AXT 25 TC Shredder is a quiet machine. It's not silent, but it's the quietest shredder that I have used. Yes, it would probably annoy your neighbours if you ran it for several hours straight, but it's not loud enough that you need to wear ear defenders. That said, Bosch does recommend ear protection if you're going to be using the machine for more than two hours.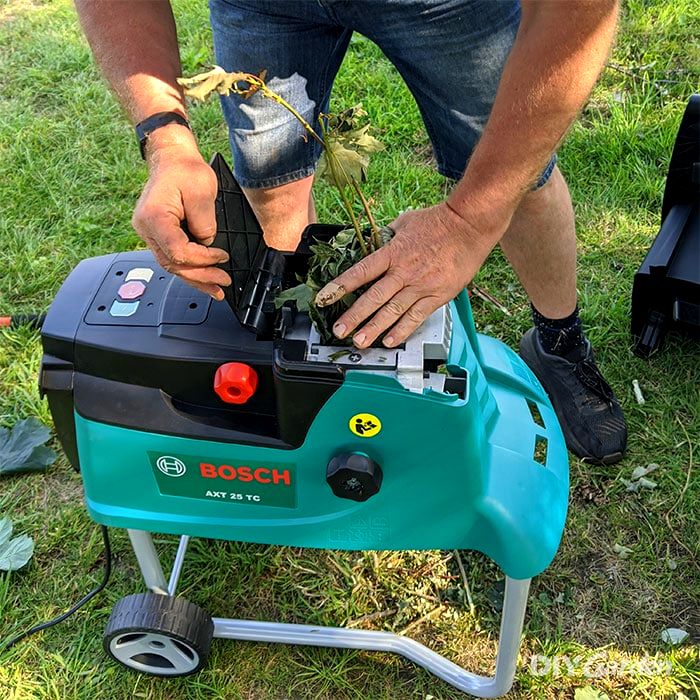 This shredder has a few key safety features. The first one I discovered by accident – unless the collection container at the bottom isn't correctly inserted and locked in, the shredder won't turn on. This is to prevent shredded material from dangerously flying out of the machine – it's the reason you don't need to wear any eye protection.
The red knob at the side of the machine also locks everything in. This keeps the hopper in place, allowing you to safely feed your garden material through it.
The shredder comes with a plunger, which you're meant to use to push your garden material into the machine. In theory, it's a good safety feature, as it keeps your hands away from the blades.
In reality, I found the plunger to be quite cumbersome to use. When it comes to longer branches, you really do need to use your hands to feed these into the machine. Since the shredder takes the branches in pretty quickly (which is obviously a good thing!), there's not much time to grab the plunger once you reach the ends of the branches. I only ended up using the plunger a couple of times during this testing process, and that was to push soft material through.
One safety issue that concerned me was related to clearing jammed material from around the blades. Since long, green material wraps around the rotating drum, you need to use your fingers to untangle this. The blades are sharp (again, a good thing!), so you need to be very careful when clearing them. Ideally, wear gloves when doing so.
To save your fingers from having to get too close to the blades, the shredder does have a reverse button that's meant to help unwind any tangled material. However, it didn't make much of a difference each time I used it.
In the end, it all comes down to one thing – does the Bosch AXT 25 TC Shredder offer value for money?
In my opinion, that depends. If you have a large garden and you plan on using it several times a year, then yes, it's a great machine for what it costs. It'll cope with all that you throw at it. The blades are high quality and most likely won't need to be replaced for a few years, even with heavy use.
However, if your garden is on the smaller end of the scale and you'll only be lightly using it once or twice a year, then Bosch's budget option the AXT Rapid 2200 would probably be a better buy. If you'd like to read how the two models compare, see this article here.
If, like me, you plan on using it professionally, then this makes it an even more worthwhile investment.
Best garden shredder for heavy duty and professional use
Best for people with large gardens
Best for larger branches and woody material
Why You Can Trust DIY Garden
At DIY Garden, we believe your trust is earned through our knowledge and transparency. Our team of experts has over 75 years collective experience in the gardening and DIY space. Since the website's creation in 2016 we've tested over 275 products, ensuring our recommendations are based on real experience. We're open about what we've tried and what we've researched, and this is clearly labelled in our product reviews. Every year, we revisit and update our suggestions to include worthy new additions to the market. Our aim is to give you straightforward, honest, and helpful recommendations, so you can confidently choose the best tools and equipment for your projects.
Bosch AXT 25 TC Quiet Garden Shredder Price Comparison
Price History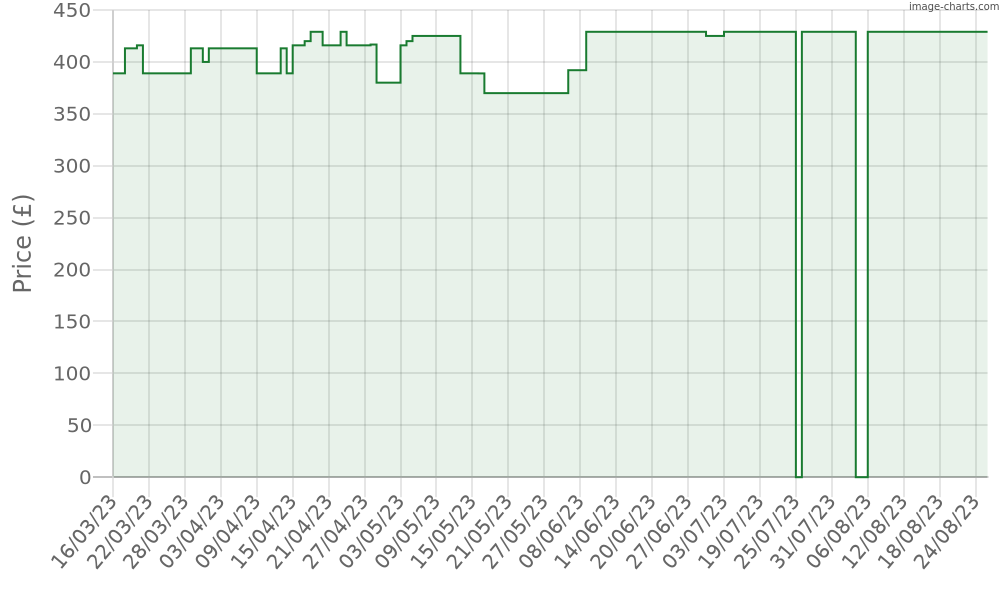 Our Scores:
Design

Performance

Power

Noise

Safety

Value for Money

Overall
Features:
Max. Diameter

45 mm

Motor

2500 W

Weight

30.5 kg

Blade RPM

4100 rpm

Shredding Rate

230 kg/h

Collection Box

53 L

Cable Length

6 m

Noise Level

90 dB
About Your Guides
Derek Smith has been farming all of his life, and is an professional landscape gardener with over 22 years experience. He owns a 25-acre farm in Aberdeenshire with a focus on self-sufficiency, living off the land, and working with nature.

Sarah's role as chief editor at DIY Garden is about more than just making sure we're literally dotting the i's and crossing the t's (although she's a stickler for detail, so it's certainly about that too!). It's about proof-reading, fact-checking and continuously researching everything we publish, ensuring that it adheres to our

editorial standards

, so that everyone can really get the most out of their green space.
You May Be Interested In These Other Garden Shredder Reviews