If you've taken gardening a bit more seriously over the past year, then perhaps it's time to invest in a greenhouse.
It will give seedlings and cuttings an opportunity to grow earlier in the season, safe from the biting frost, and can help protect tender plants over winter.
Which Style and Size?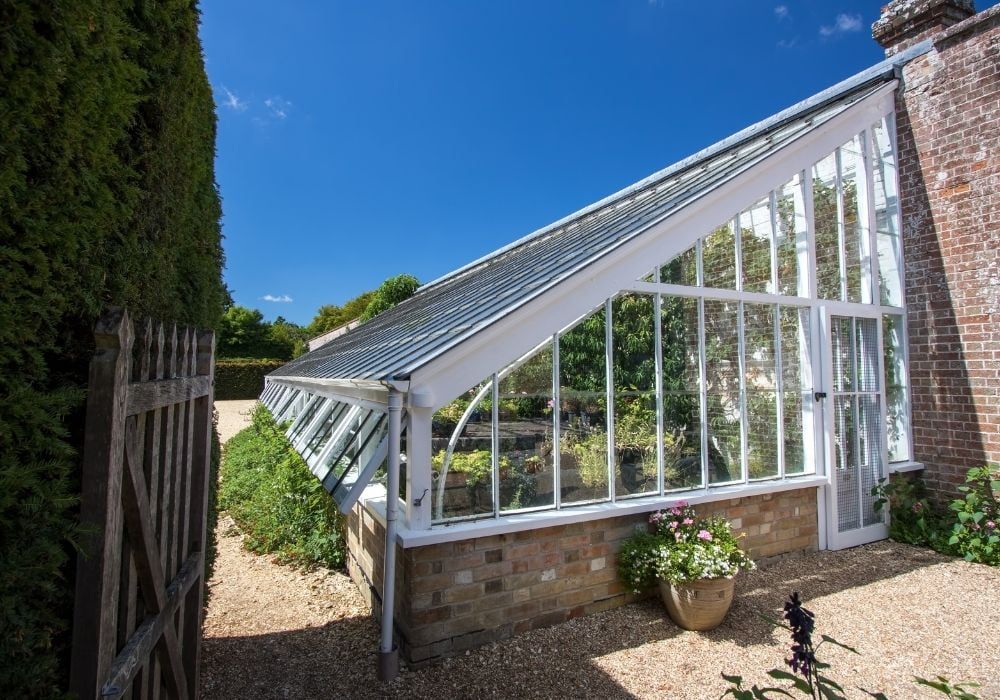 A freestanding, rectangle with apex roof is the traditional shape for a greenhouse, though you can find hexagonal and octagonal versions. Victorian-style greenhouses, with ornate detailing on the ridge of the roof, can add interest near a period property.
A lean-to on the side of the house works well in a small garden. Its brick wall will catch less sun during the day but will retain warmth at night.
It is easy to underestimate how many plants you will grow under glass, so always buy the largest size your garden and budget will allow. Height is also important – aim for eaves that are at least 5ft high, as a taller greenhouse lets in more light.
Small greenhouses, measuring 6ft x 8ft, are the most popular size, but you can increase the width and length in 2ft increments. If you can afford a slightly wider or longer greenhouse, you'll find it is not much more expensive.
Aluminium or wood?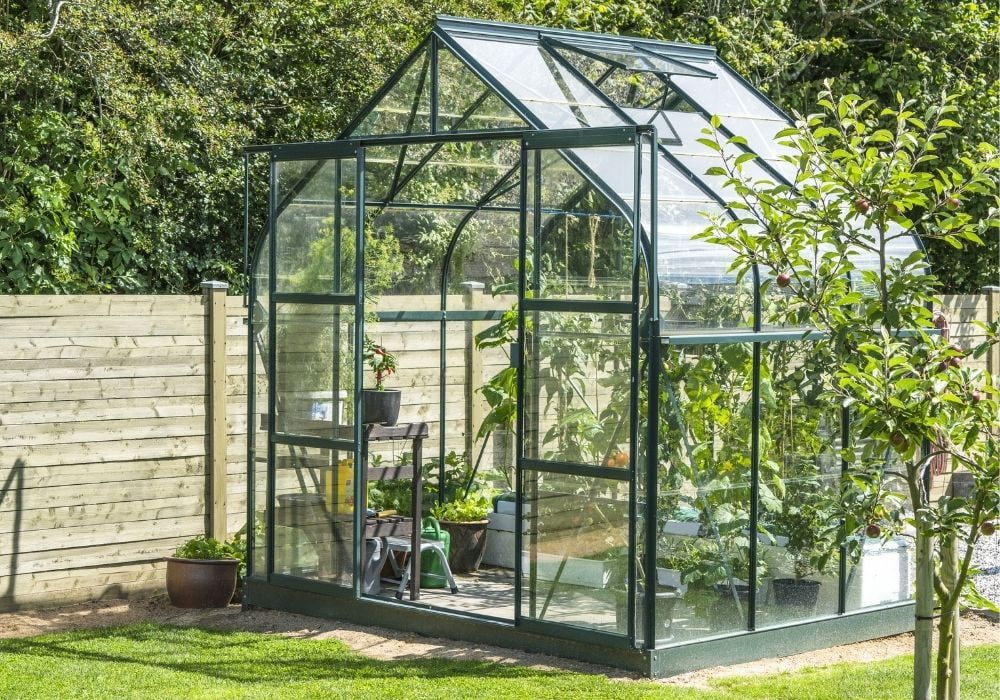 An aluminium frame is the popular choice because it is maintenance free and its slimline profile allows for more glazing and sun to filter through.
As well as bare aluminium, retailers offer powder-coated finishes in a wide range of colours, including traditional favourites such as white and green.
Some gardeners prefer a wooden frame because it blends sympathetically with their house and garden – though it will need more TLC.
Within the frame, you'll have a choice of small panes of horticultural glass or larger panes of toughened safety glass. Another possibility is rigid polycarbonate – useful if children play ball games outside.
Most styles of greenhouses are fully-glazed, but you can install a greenhouse on a brick-built half wall, which be sturdier. While it will cut out some sunlight during the day, it will, again, retain more of the sun's warmth at night.
Look out for greenhouses that fit neatly on top of a brick wall, also known as a dwarf wall, and are then screwed in place – the manufacturer will supply instructions for building the brick base as measurements need to be exact.
Where Should it Go?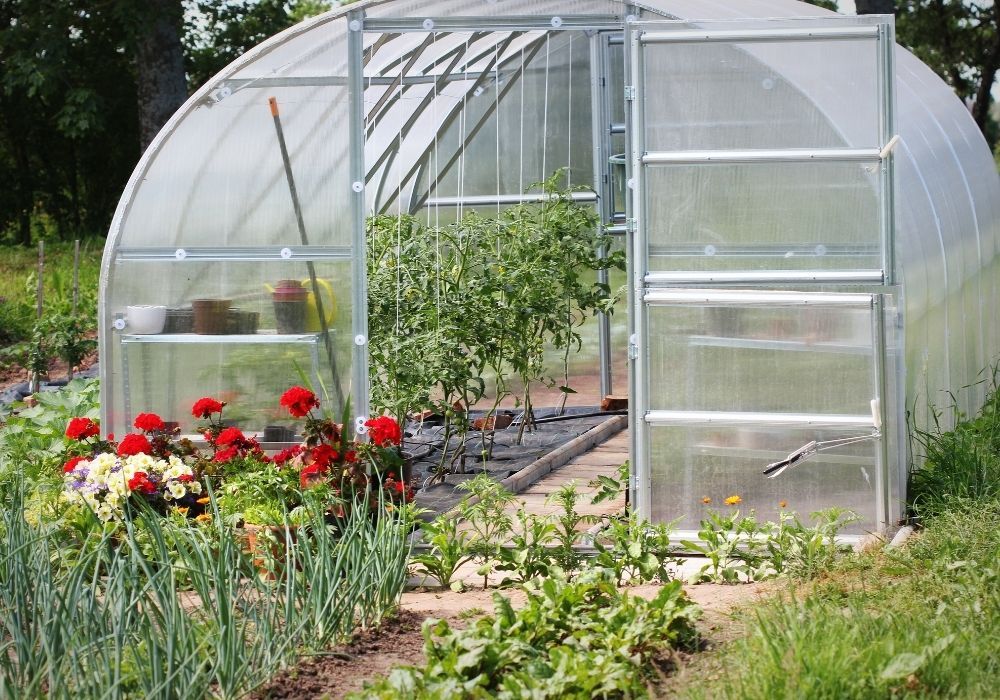 Direct sunlight is the main ingredient for successful greenhouse gardening. As the sun rises in the east and sets in the west, the general advice is to position a greenhouse with its ridge to run east to west if you want to grow crops all year.
Avoid positioning your greenhouse too close to overhanging trees, which can cause damage and obscure sunlight, but you will need some screening to protect it from the wind. You will also want your greenhouse to be fairly near the house, so you can pop out easily.
When measuring your plot, leave space around it – 1m to 1.5m should do – so you can comfortably fit a ladder to paint the frame, replace a broken window or cover the roof with netting on a hot day. Choose a level site if you can as it will save time on building the base.
Ask electricians for a quote for running a mains cable to the greenhouse – so you can budget for it or decide on other ways to heat your greenhouse.
You don't generally need planning permission to build a standard-sized greenhouse in your back garden if your house is not listed or in a protected area but check the exact rules on the government's Planning Portal and contact your local council if you have any questions.
What about the Foundations?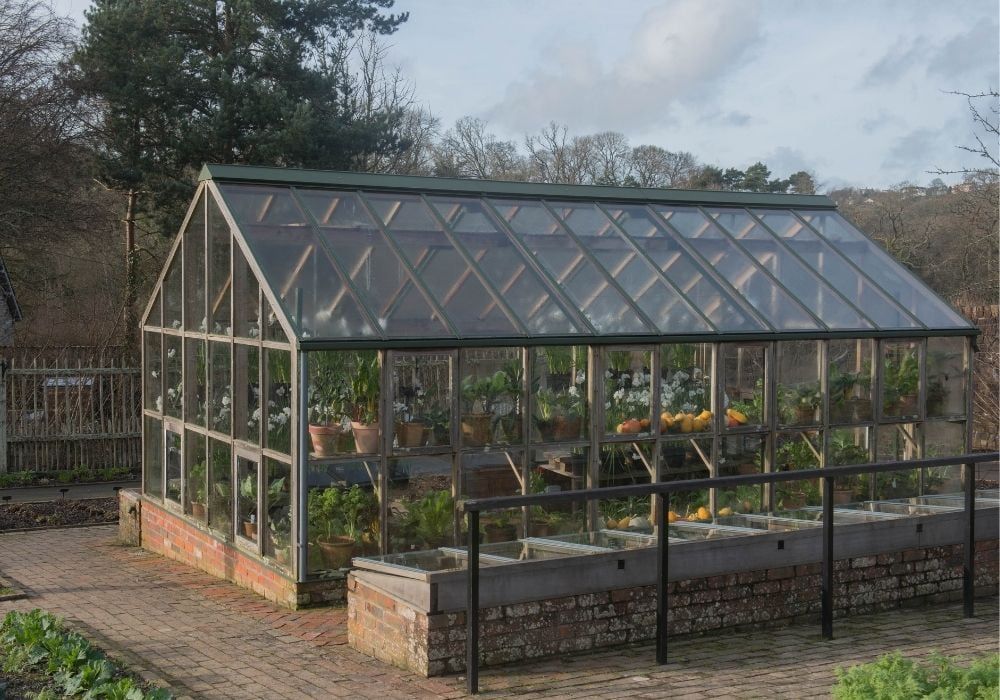 Most greenhouses are sold with an aluminium base, which is a frame that can be positioned directly on the soil. But for added stability, it is wise to build a foundation made of concrete or paving slabs. Paving is preferable, so excess water can drain through the small gaps between slabs.
Rather than build a full concrete foundation, you can use concrete just at the corners of the greenhouse or build a perimeter base with a path down the middle, leaving areas of soil for natural drainage and planting.
Making the base slightly larger than the greenhouse will leave space for a water butt.
How will I Ventilate my Greenhouse?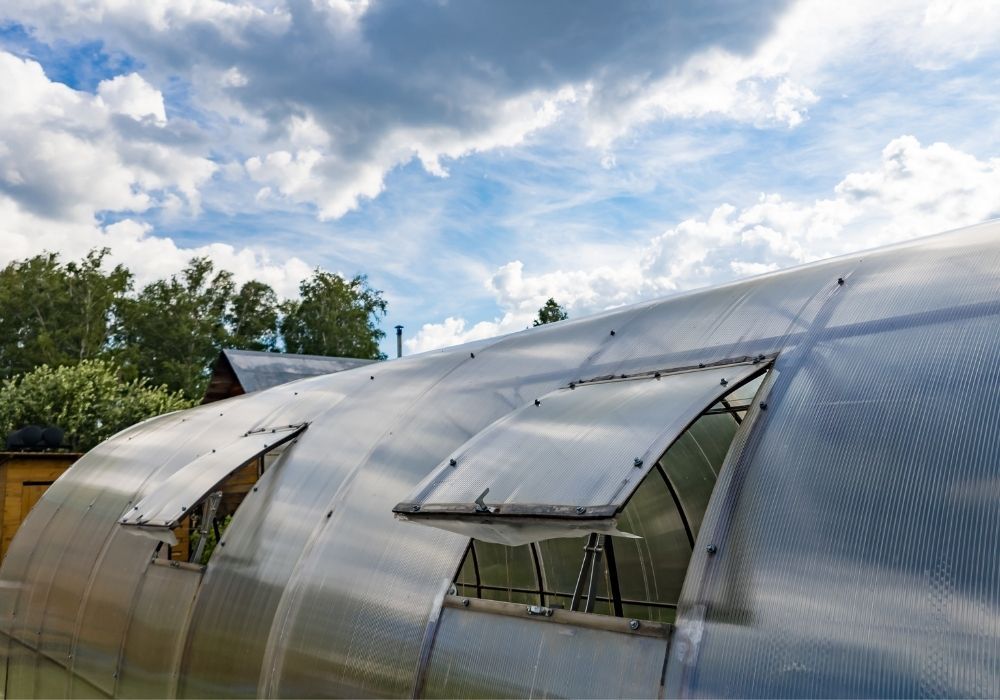 So that air circulates, and plants don't overheat, greenhouses have hinged windows in their roof. Some will also offer side venting or a louvre window, and you can order them as optional extras.
Some greenhouses will be fitted with automatic vent openers, but you can easily add them yourself. Look out for solar-powered vent openers that clamp on to the bars of the vent.
How Do I Heat it?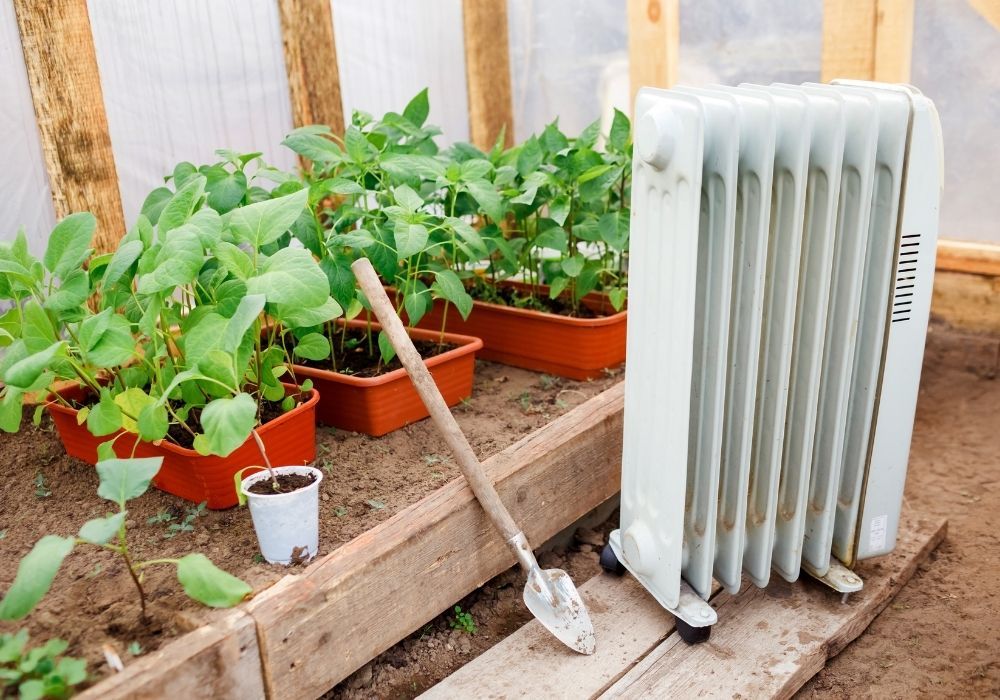 If you run the mains supply from your home to the greenhouse, you can buy fan heaters, electric tube heaters or oil-filled radiators with a built-in thermostat to warm up the room when temperatures plummet.
If there is no electricity supply, then you can buy a thermostatically controlled propane gas heater. Cheaper still are paraffin heaters – but they won't have a thermostat and you may need more than one for greenhouses that are larger than 6ft x 6ft.
With gas or paraffin heaters, your greenhouse must be well-ventilated to avoid a build-up of moisture and fumes. They will need refilling and present more of a fire risk than electric heaters.
What about Water?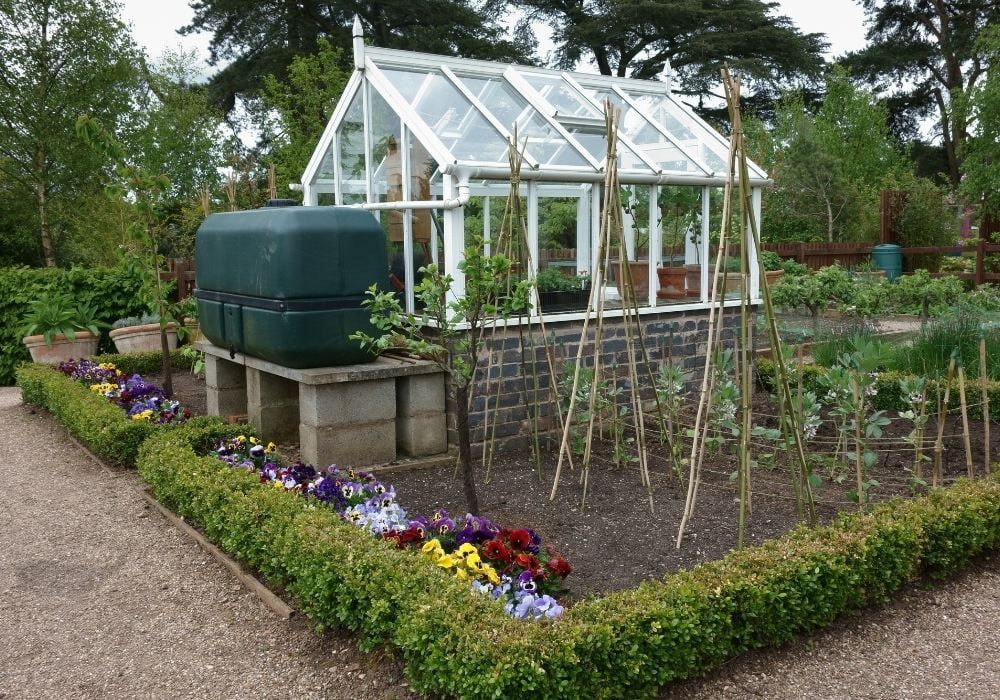 Ideally, you will want a garden tap close by but if it's difficult to extend the water supply, you can collect rainwater off the greenhouse roof.
Many greenhouses are supplied with gutters, so you just need to fit a downpipe and a water butt, while others will need brackets and guttering – you can buy kits from greenhouse suppliers and DIY stores.
For days out and holidays, you will need an automatic watering system on a timer to drip-feed plants.
What Else do I Need?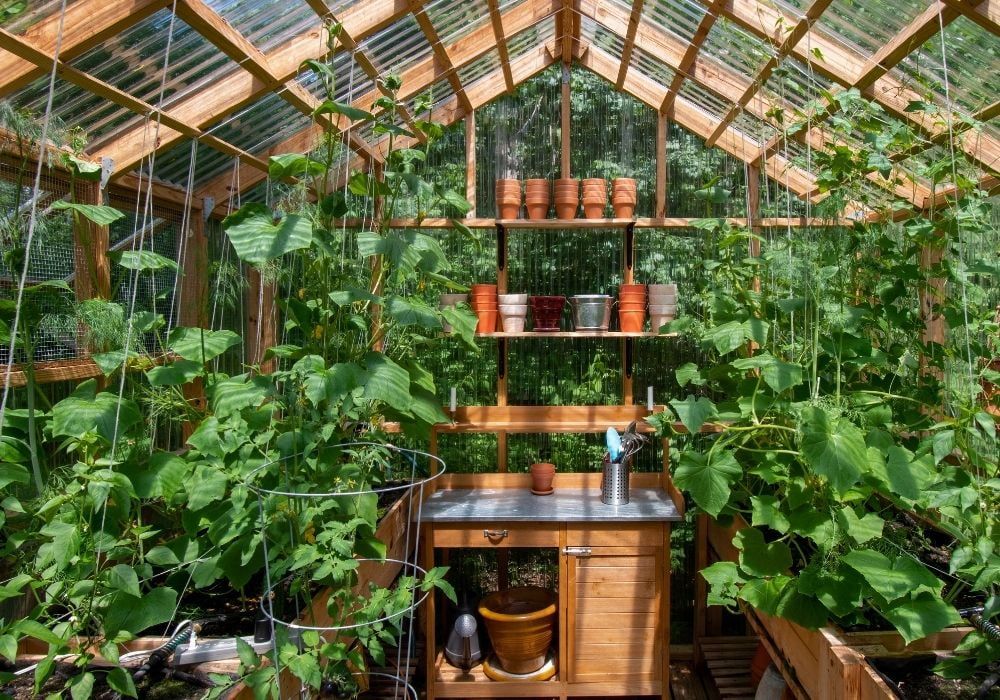 Browse online for staging, which is essentially shelving and potting benches for greenhouses. Generally made of slatted wood or aluminium, these come in various heights and sizes. It is cheaper – and looks neater – to buy wooden staging in longer lengths.
You will need a max-min thermometer to monitor the temperature during the winter months, while checking it doesn't get too hot in summer, and a soil thermometer is handy before planting.
Your greenhouse needs shading from April until October, so plants won't overheat. Use netting to cover the exterior or apply shade paint to the glass and wash it off before winter. Spend more, and you can fit internal blinds.
A heated propagator is useful but use it indoors until April if your greenhouse is unheated.
What should I Grow under Glass?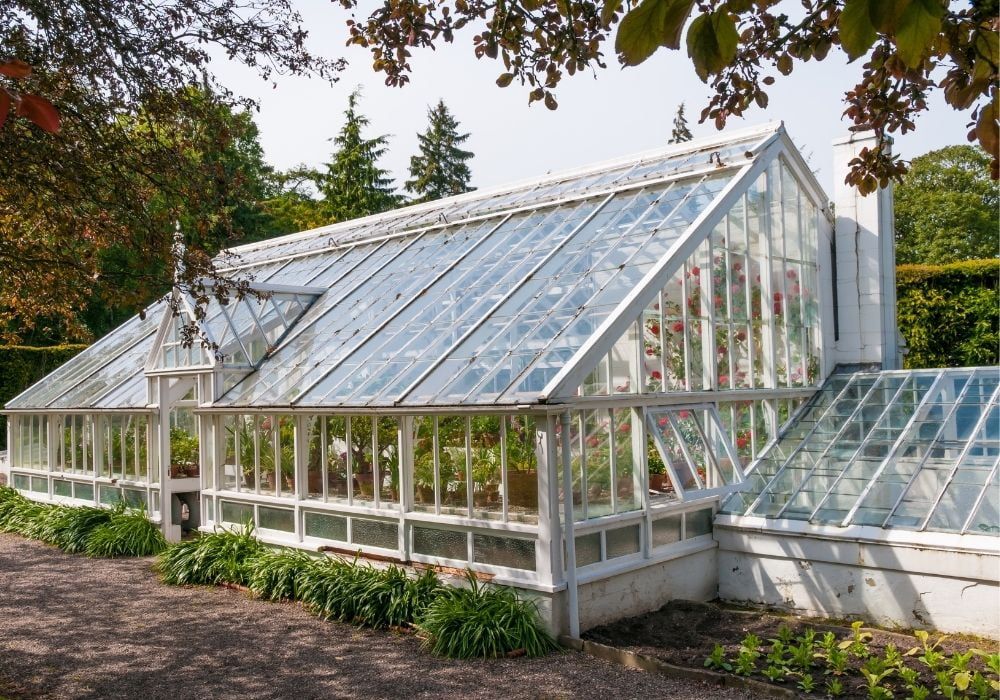 Traditionally, gardeners use greenhouses to raise seedlings in spring, either with or without a heater. Sowing vegetables is a good place to start your greenhouse journey.
Guy Barter, chief horticulturist at the Royal Horticultural Society, suggests starting with begonias, geraniums, petunias, tomatoes, aubergines, chilli, peppers or melons if you have a heater.
He adds that there is a good case to buy in tomato and other tender plants to grow in the greenhouse to save fuel.
If your greenhouse is unheated, he recommends sunflowers, delphiniums, lettuces, onions, leeks, cabbages or, from mid-spring, sweetcorn, courgettes, pumpkins, cosmos and zinnia.
"Rootstocks of dahlias, canna and chrysanthemum, among others, can be induced to grow early to yield cuttings so you can start off summer flowers," he adds.
Summer is the time you can move on to raising crops, such as aubergines, peppers and melons, while in autumn, you can focus on late crops, such as French beans, leafy salads and calabrese.
"The best crop is chrysanthemums, raised in pots outdoors and brought in by October, they will flower gloriously until December with a little heat," says Guy.
When it comes to over-wintering, fairly hardy plants, such as bougainvillea, mandevilla, palms, bananas and fuchsias, will appreciate the extra protection of even an unheated greenhouse so long as they are well-wrapped in fleece.
What if You Want to Go Tropical?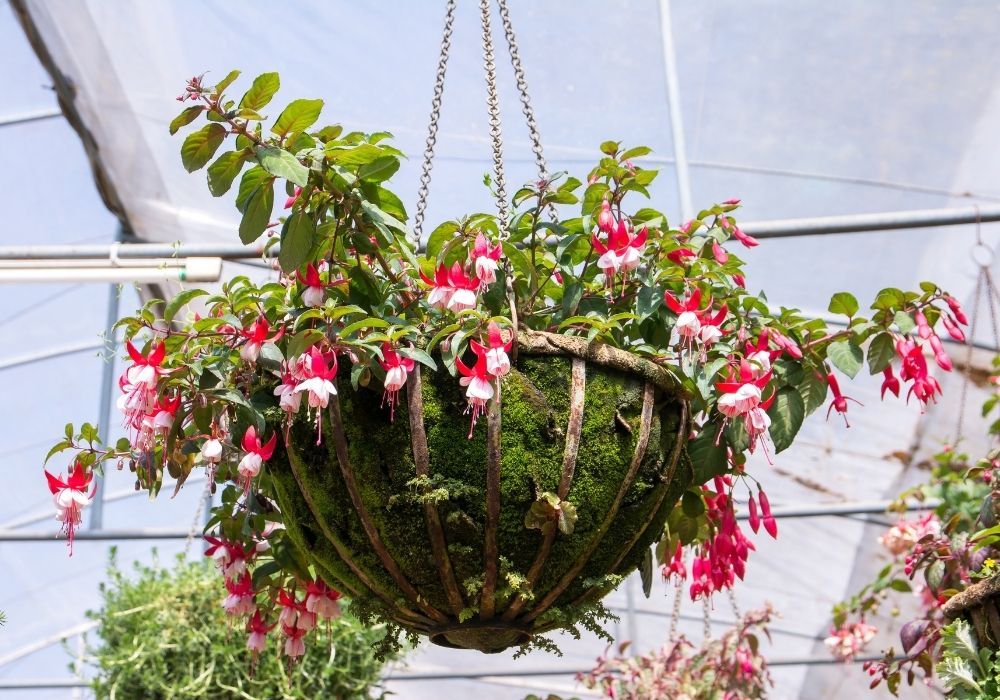 But if your greenhouse is well-heated and insulated with bubble-wrap, you can be more adventurous.
Guy adds: "Datura, brugmansia, olives, citrus, callistemon, acacia, fuchsias and other borderline plants can be kept over winter at a moderate cost."
If you are keen to grow tropical plants, expect a sizeable heating bill to achieve more of a hot house experience. To save money, some gardeners fit an internal partition to keep one area of the greenhouse warmer.
"A powerful heater and deep pockets are required if gardeners hanker after exotic, tropical hot-house plants such as streptocarpus, African violets, and many orchids," warns Guy.
The truth is that you will need deep pockets just to kickstart your greenhouse project, but as you tuck into a leafy, home-grown salad well into autumn or watch palms grow in mid-winter, you will feel amply rewarded.