In this led grow light review, I thoroughly compared design, performance, features, energy efficiency and value for money for multiple products. After hours of research and testing, I recommend the Garpsen 4 Head Grow Lamp as the best led grow light on the UK market.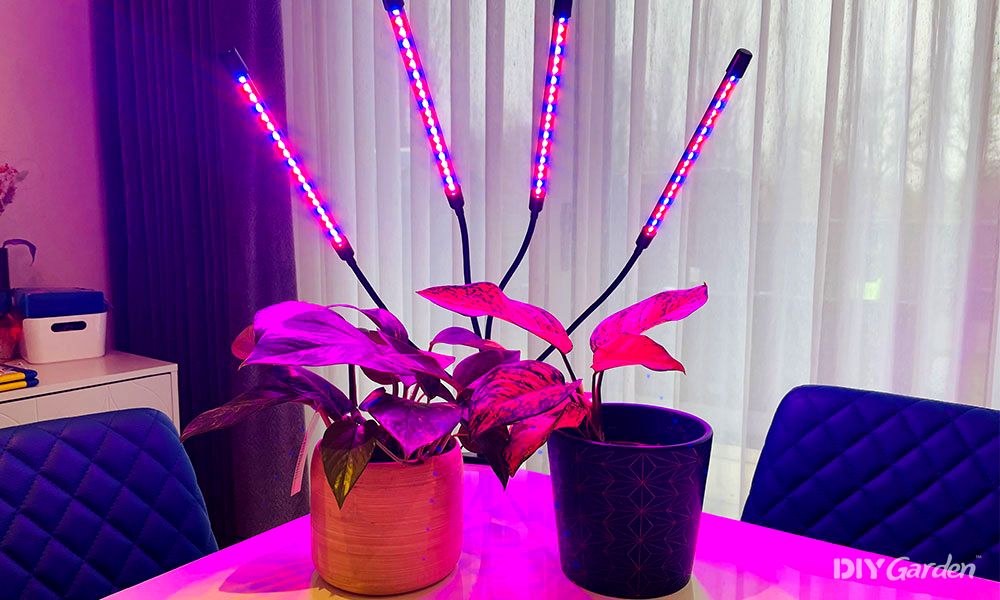 My Top Recommended LED Grow Lights
How I Tested
Product Tester:

I tested multiple products to find you the best LED grow lights available. I thoroughly compared and tested their design, performance, special features, energy efficiency, and value for money.  These are the factors I considered when assessing each of these elements:
Design: I looked at the quality of the product and the materials it was made with – those with more metal and less plastic were rated higher. I tested each LED grow light's versatility and ease of moving and adjusting, as this makes it more suitable to cater to a wider array of plant's growth needs. Whether or not it came with fans and vents to help keep them cool (on the more powerful models) was also considered, as was the noise those fans made, with noisy ones rated lower than quieter models. The LED grow lights were rated slightly lower if they couldn't be strung together in series with other lights since each light would require its own plug. If it needed hanging, I gave it better ratings if it came with its own hanging kit that was sturdy and easy to use.
Performance: I assessed how easy it was to set up and use and how broad its coverage was, as this meant it was better able to provide light to more plants and seedlings at once; those that covered greater than 100 cm x 100 cm were rated higher. I considered whether it would supply enough light on its own to give the plants everything they needed or if it was better used as supplemental lighting in an already bright space. It was also rated better if it could keep working after one of the LEDs burnt out.
Features: When assessing LED light features, an important consideration was the built-in timer (if it had one) – those with timers were rated higher, as this improved its ease of use. LED grow lights with multiple settings rather than just one were also given higher ratings, as you could adjust them according to your plant's growth cycle. I gave higher ratings to lights with specific settings, like a veg setting with blue lights, a bloom setting with red lights, and those where both could be turned on simultaneously (red + blue = purple). The grow lights were also rated higher if they had a full spectrum natural white sunlight setting. Units that allowed you to adjust the brightness level to emulate the natural sunlight at any stage also got top scores!
Energy Efficiency: Even amongst efficient LED lights, their energy efficiency can vary, so I examined the power used for their light coverage to determine their efficiency. Those that used the least power (100 W) but still had a relatively high coverage area (75 cm x 75 cm) scored the highest.
Value for Money: To test each LED grow light's value for money, I looked at the product cost and compared this to its design, performance, and if it had any special features, as these give you more for your money.
My Top Recommendation Based on Real-world Testing
Other LED Grow Lights Worth Considering
Tips For Buying an LED Grow Light
There are two main models of LED grow lights: hanging lamps and branch lights. Choose hanging lights for large areas (like grow tents) and for growing multiple plants at once.
Branch lights are typically better for home use

, as they're easy to install and use less energy. While they're generally less powerful than hanging lights, they provide sufficient "sunlight" to keep several houseplants alive over winter.

Look for branch lights that can rotate 360°; you can position the lights at varying distances from your plants to suit their growth stage.
The best LED grow lights will have variable light settings

offering a full spectrum of lighting options. Ideally, you want to be able to isolate the light colours as well. Red light is good for root growth and seed germination and blue light helps with stem and leaf growth. A combination of light colours will be beneficial for the later stages of a plant's life.

Look for lights with 'veg' and 'bloom' pre-set settings

. These will choose the right combination of lights for each stage of the plant's cycle.

Another feature to look out for is a timer

. These allow you to choose how long you want your lights on for, giving you better control over your energy usage. 
Overall, I've chosen the Garpsen 4 Head Grow Lamp as the best LED grow light. It has 4 adjustable branches, 10 brightness levels, variable light settings, and 3 timer functions. It's easy to set up as well: just clip it onto a table and position it towards your chosen plants.
Why You Can Trust DIY Garden
At DIY Garden, we believe your trust is earned through our knowledge and transparency. Our team of experts has over 75 years collective experience in the gardening and DIY space. Since the website's creation in 2016 we've tested over 275 products, ensuring our recommendations are based on real experience. We're open about what we've tried and what we've researched, and this is clearly labelled in our product reviews. Every year, we revisit and update our suggestions to include worthy new additions to the market. Our aim is to give you straightforward, honest, and helpful recommendations, so you can confidently choose the best tools and equipment for your projects.
How to Choose the Best LED Grow Lights
Useful Technical Terms
If you've already stepped foot into the wonderful world of LED grow lights, you'll likely have noticed that there are a lot of abbreviations used. These can be complicated to understand at first, but are useful to have an awareness of.
These are the most commonly found abbreviations, along with what they mean and why they're relevant.
LED vs. HID
You're probably already familiar with 'LED' (light emitting diode) – in simple terms, these are a type of bulb that emit light. Nowadays, these are often very bright and energy efficient. When presented as grow lights, lots of small LEDs are used to make one grow light. The LEDs are different colours, in order to simulate the full spectrum of light when used altogether.
HID stands for 'high intensity discharge'. This is used as a broad umbrella term for all gas-discharge lights. The most popular of these lights today, especially for use as grow lights, are metal halide (MH) and high pressure sodium (HPS). MH bulbs can be more useful in the vegetative stage of a plant, whilst HPS are better associated with encouraging flowering.
LEDs for grow lights have become more popular in recent years because they can produce the same light potency as HIDs whilst using less energy. Therefore, they are much more economical to run. Some people find the intensity of HIDs more effective for growing; however, the bulbs can get very hot, which is less of a problem with LEDs.
PAR
This abbreviation comes up a lot when looking at grow lights and it may be confusing if you're unfamiliar with the term. PAR stands for 'photosynthetically active radiation'; in simple terms this refers to the amount of light that is available to be used for photosynthesis. Different grow lights will produce different levels of PAR. Also, just because the light produces PAR, it doesn't mean that all of the PAR is produces will be available to the plant. That's where PPF comes in.
PPF
PPF stands for 'photon synthetic photon flux'. PPF measures how much usable PAR could arrive at the plant from the grow light. This might be improved by lights that are angled in a certain direction. Sometimes, manufacturers will claim a high PAR rating, but it will only be relevant if the plant is directly under that one small area of LEDs. PAR needs to be distributed across the whole light canopy for it to be effective, which can be better measured by PPF.
The Importance of 'Full Spectrum' Lighting
Different lights are more effective at boosting certain stages of a plant's growing cycle.
Nowadays, most grow lights have the potential to deliver a 'full spectrum' of lights, including IR and UV. This means that they can supply plants with light that has the same qualities as sunlight.
Nevertheless, if you want to make sure that your plant is channelling all of its energy into a certain process – for example growth, or flowering – you may wish to "artificially" influence this yourself. This is where different colours and light settings come in.
Different Light Settings
Not all LED grow lamps have the option to use only some of the lights; however, some of them will make it possible to only use certain colours at a time.
Red light is required for growth at the germination stage (as well as later in a plant's life). It helps roots to grow and seeds to germinate. There are studies to suggest that blue light could actually impede germination.
Blue lights are responsible for assisting plant growth – helping them grow strong stems and leaves. Therefore, these lights are often used for the vegetative growth stage of a plant.
Red light is also used to encourage plants to flower and produce fruit. For this reason, it is useful later on in the plant's lifecycle as well. At this stage, often a combination of red and blue lights will be used.
For these reasons, it can be useful when a grow light has settings for illuminating only bulbs of a specific colour. If this is the case, the grow light will usually have two settings, a 'veg' setting, and a 'bloom' setting. These can be used individually, or together.
READ NEXT: The Best Heated Electric Propagators
Power
Whilst it can be tempting just to assess the wattage of a particular grow lamp, it's actually more important to be aware of its PAR output.
Wattage refers to the amount of power inputted into the lamp to create a specific brightness, whereas PAR (and PPF) will be a more accurate way to assess how effectively the light will help plants grow.
Many LED grow lights will display to 'wattage' ratings – the actual numbers of watts that the light will consume, and the number of watts that would be required to achieve the same brightness if using HID bulbs.
Energy Efficiency
LED lights cost less to run than traditional HID bulbs. They also produce less heat so you will not need to use as much energy cooling the lamp or the space as you would with HID lights.
Optimum Light Placement
LED lights can be placed much closer to plants than HID light because they give off less heat. This is a great advantage as it means the lights can be placed closer to the plants and therefore the light can penetrate the canopy of the plants more easily. In addition, it means you don't need such a tall growing space.
Positioning the LED light the correct distance from your plant wills result in strong healthy crops with no burning or yellowing leaves. When your light is placed too close to the plants you may see bleached or yellow spots on the leaves.
If the LED is too close it can also result in nutrient deficiencies for your plants.
However, it is not always easy to calculate how far away your LED light should be – it's something that differs depending on the size and power of your lights. It's best to check the directions that come with your grow light and follow their recommended distances.
However, the following are general distances, to give a broad idea:
For germination: Hang roughly 92 – 100 cm above plants (for approximately 10 hours/day)
For seedlings: Hang roughly 81 – 92 cm above plants (for approximately 12 hours/day)
For plants in vegetative stage: Hang roughly 60 – 80 cm above plants (for approximately 18 hours/day)
For plants in flowering/fruit stage: Hang roughly 45 – 60 cm above plants (for approximately 12 hours/day)