Our
Bosch Universal Hedge Pole 18 Trimmer

Review

This is a capable hedge trimmer. I can't fault it for performance when the blades meet a hedge. It cuts cleanly through even thick branches and leaves an excellent finish on the surface. I'd expect Bosch blades to last for a long time, and it's not so loud that it will annoy your neighbours.

What would really improve this trimmer though is an effective front handle. I found it difficult to hold the trimmer at an angle for more than a few minutes at a time, which became quite annoying. I believe this tool has a higher potential than is possible in its current design. If Bosch added a chunky "D" handle on the front section, it would be a much more formidable machine.

It's a fine garden tool when in "short mode". For trimming the vertical sections of big bushes it's probably the best I've tried out. It's just a shame that it feels a bit too unwieldy when fully extended. You can certainly smooth the tops of bushes and reach high branches, but don't expect to do it all afternoon without breaks every few minutes.

B07C96GRKD

3165140888073

Best for quality & reliability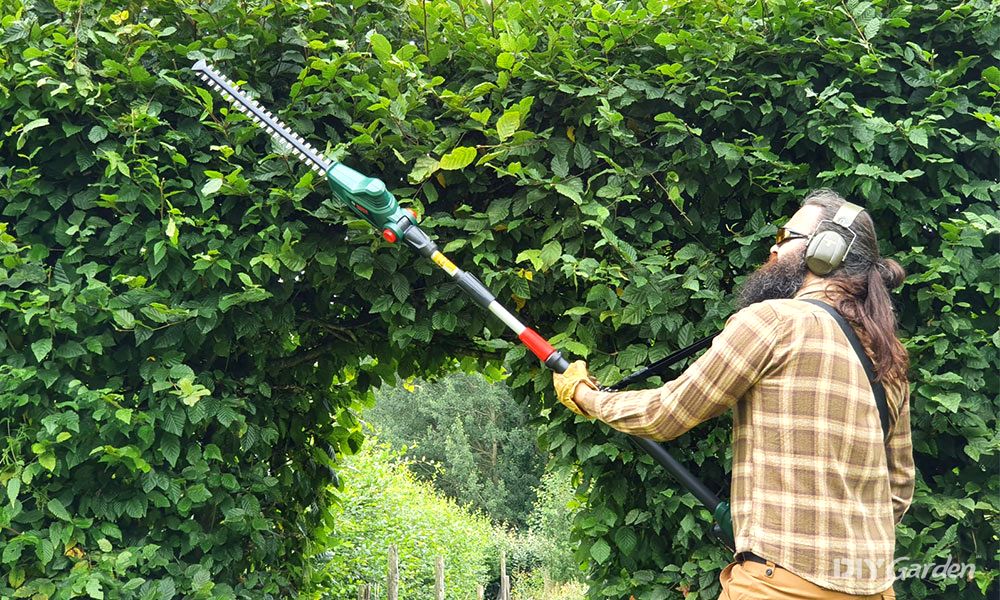 Forming part of Bosch's "green" line of DIY level tools, their Universal Hedge Pole 18 Trimmer is ideal for tall trees and hedges in your garden. It makes use of an aggressive blade shape and an electronic anti-blocking system to power through branches up to 16 mm in diameter. It's a capable bit of kit that would be unbeatable with a better front handle setup.
Read our product testing methodology here.
How I Tested
I really wanted to put this pole trimmer to the test. Luckily, I've got a friend with a farm and a simply enormous hornbeam hedge that had gone wild over the past year. I put on all my safety gear and got trimming! Tackling the vertical sides of it wasn't a problem, I just planted my feet wide and swung the long chattering blade in a wide arc.
The motor didn't have any problems dealing with the foliage that was piling up around my boots. In the name of testing, I pushed it harder than I would normally to see if it got stuck. And I'm pleased to say that it didn't! Dealing with the top part of the big hedge was more of a challenge, especially with the pole extended and the blade set to an angle. More on that later, though.
Back at home, I tested the trimmer out on a decorative conifer tree in my front garden. It's probably three metres tall in total, so I was able to shape the top of it with the pole fully extended. I didn't need to angle the cutting head much, so it was pretty easy to work with and left an excellent finish.
I also put the trimmer to task on my overgrown camellia shrub. It has grown up to three metres tall with tough stems and thick leaves. There wasn't any chance of running down the battery here. I was surprised how quickly and accurately I could tame the wild camellia. In fact, I was disappointed at how quickly it finished the job, because I wanted to play around a bit more!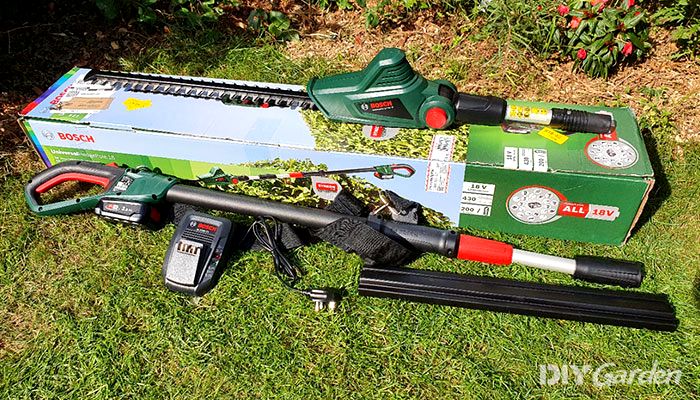 Delivered in one of Bosch's familiar green boxes, I was immediately surprised at how small and light it felt, especially compared to some of the huge ones I'd also tested out. This continued with the overall feel of this pole trimmer. It's what you'd expect from a Bosch tool. It feels solid and the plastic casing doesn't have any movement unlike some trimmers I've tested out.
It comes in two pieces. The front section houses the motor and blade assembly, and the rear contains the handles, battery, and trigger unit. The 430 mm blade of a reasonable length, and the individual teeth are squared off at the ends with a 16 mm tooth clearance. This means you can cut through branches up to that size.
The rear handle is excellent. The rubberised texture gives you all the grip you need where it counts. It's amazing how much control you have over such a large device with just one hand. The size of the trigger guard is generous as well. I've got big hands and I didn't have a problem using it wearing thick gardening gloves. The trigger is enormous and can be operated from any section of the trigger guard. The safety thumb switch has a nice positive action and springs back when you let go of it.
The front handle, however, leaves a lot to be desired. It's a barrel grip rather than a large "D" handle. Bosch, for some reason, haven't added any rubberised texture to it at all. It's made from a hard ABS type plastic that doesn't provide any extra grip at all.
What's strange is that the pole section immediately in front of the rear handle is covered with a soft and grippy material. It's too far back to provide any decent leverage but would have been an ideal finish for the front handle.
It's really nice that you can extend and retract the pole without having to take off the shoulder strap. You simply undo the red locking collar, and the aluminium extension pole sides out. The extension piece is even spring loaded, so it will slide back to its minimum height on its own.
I found this to be one of the Bosch's main benefits. You save a lot of time and effort if you don't have to take the machine apart just to reach the top of a tree or hedge.
Crucially (but only if your arms are long enough) you can adjust the angle of the cutting head without removing the strap. The key to cutting hedges to a good finish is all in the angle, so being able to quickly adjust the head angle was an excellent feature. The cutting head can be adjusted in a 135° arc, and there are positive stops that hold it, so it doesn't just flop around.
You get a wide shoulder strap that can be adjusted along the length of the central pole. It's easy to adjust the size of it as well with the chunky buckle. You'll need to do this a lot to get the right leverage for different length trimming jobs. Theres a chunky side release buckle as well just in case you need to take the strap off in a hurry.
If you want to extend the performance of any hedge trimmer, it needs a decent blade cover. I'm happy to report that the blade cover is one of the best ones I've tried out. What makes it easy to use is that it's more like a sleeve that completely encloses the blade. I much prefer it to a fiddly bit of plastic you need to feed onto the blade. It's much better at keeping the dust off the blades for long term storage as well.
Seeing as this pole trimmer comes in two parts, it could really do with a case or bag to keep it safe and stowed away. This is a problem I found with most of the telescopic pole trimmers I've tested out, you don't get a hook or other obvious way to hang it up when not in use.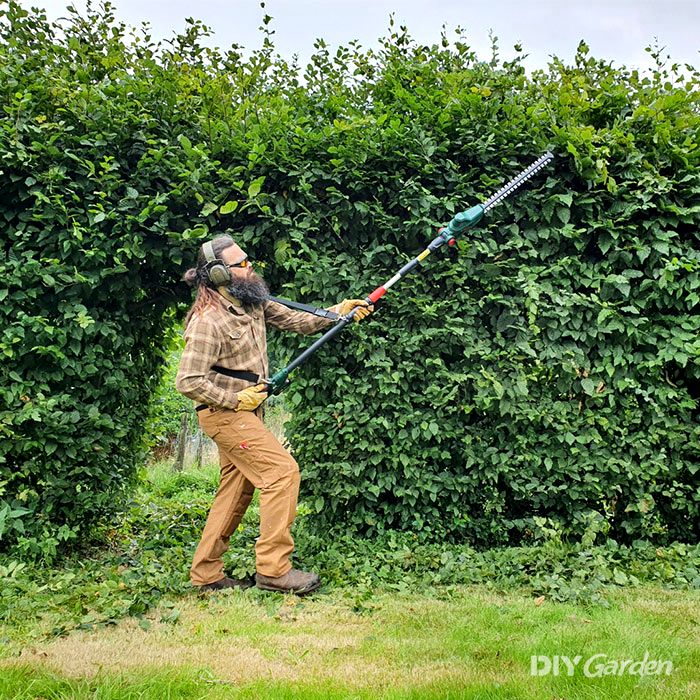 It's thanks to Bosch's electronic Anti-Blocking System that it doesn't get tangled up on tough branches. It can sense when the blades slow down and are about to get stuck. The cutting blades hesitate for a second, and then the onboard computer re-opens the teeth and chomps down on the offending branch until the blades can move freely again.
I wouldn't call this a heavy power tool because it weighs less than 4 kg, but it's definitely unwieldy. When it's retracted to its minimum length it's fine to use though. I felt like I could trim and shape bushes and trees for hours!
It was a different story when extended though. As much as I like that the pole extends without needing to add separate pieces, there was too much flex in the shaft. When extended to its full length it became much harder to control.
I'm relatively strong, but I needed to take frequent breaks when trimming the top of the hornbeam hedge especially. Once I'd adjusted the cutting head to trim the top flat, it became a bit of a struggle, to be honest. The only way round this would have been the inclusion of a decent front handle, preferably a "D" shaped one.
Seeing as the motor is housed at the end of the pole behind the blade, a lot of the 3.6 kg weight is in front of your body. It's top heavy and even when you take some of the strain with the shoulder strap, it takes a lot of goes to get comfortable.
When you take the pole trimmer apart, the motor and blade section weigh more than the handle section (with the battery included). This tells you a lot about the balance of the machine. When you factor in a fully extended pole, most of the weight is really far forward.
If I was to use this pole trimmer only ever in "short mode", it would be the last one I'd need to buy. Unfortunately, I need the reach to get the top branches, and this is where the Bosch fall apart.
I was really impressed by just how easily this hedge trimmer sailed through even large diameter branches. To test it out properly I found a branch that was bigger than the maximum cutting capacity of 16 mm. Even with the branch wedged between the teeth, it still managed to chew through it!
I don't have any concerns about this pole trimmer being underpowered. Coupled with the 2.5 Ah battery, I trimmed around 10 metres of hedge on the top and sides without any drop in power. It's rated to trim 20 m² per charge, so you could do quite a lot of work before needing to down tools.
It's a shame that the battery system doesn't come with a charge level indicator though. It would be easier to tell how long as single charge would last. I'm confident that you could tidy up a reasonable sized garden without needing a recharge though.
According to Bosch, you can run the trimmer for around 40 minutes before it needs recharging. Luckily, the included charger will take a 2.5 Ah battery from dead to 100% charge in around 60 minutes. Although you couldn't run the pole trimmer continuously even with two batteries, it's only a DIY level bit of kit.
This pole trimmer is rated at 90 dB, which is the equivalent noise level of a power mower working in your garden. I always wear ear defenders when working with power tools, because lost hearing is impossible to get back. However, it's not excessively loud. Unless you're using it for long periods of time or at 3am, I can't see your neighbours complaining about you using this trimmer.
One of the things that makes telescopic pole trimmers safe to the user is the distance between the cutting blade and your flesh. I can't see safety being an issue when you're strapped in and wearing the correct personal protective equipment (PPE).
The instruction manual supplied with the trimmer is comprehensive, and I recommend reading it carefully. There are plenty of hazards when working with trees and bushes above your head. Safety glasses, ear defenders, sturdy clothing and safety boots are essential.
Thanks to the robust safety trigger, it's unlikely that this pole trimmer could switch on accidentally. However, you should always remove the battery before cleaning and oiling the blades. Always make sure you're standing on solid ground and check for holes or anything else you could trip on.
This certainly isn't the most affordable cordless telescopic hedge cutter on the market. There are much cheaper alternatives, especially if you go for a corded version. However, you get an 18 Volt 2.5 Ah Power for All battery and charger with this trimmer.
The Power for All Alliance of tools is really quite exciting. You can use the same 18V battery in an enormous range of tools made not only by Bosch, but by other brands such as Flymo or Gardena. If you've already got a battery and charger, you can save money by buying "naked" tools that are sold without the power pack included.
This is a capable hedge trimmer. I can't fault it for performance when the blades meet a hedge. It cuts cleanly through even thick branches and leaves an excellent finish on the surface. I'd expect Bosch blades to last for a long time, and it's not so loud that it will annoy your neighbours.
What would really improve this trimmer though is an effective front handle. I found it difficult to hold the trimmer at an angle for more than a few minutes at a time, which became quite annoying. I believe this tool has a higher potential than is possible in its current design. If Bosch added a chunky "D" handle on the front section, it would be a much more formidable machine.
It's a fine garden tool when in "short mode". For trimming the vertical sections of big bushes it's probably the best I've tried out. It's just a shame that it feels a bit too unwieldy when fully extended. You can certainly smooth the tops of bushes and reach high branches, but don't expect to do it all afternoon without breaks every few minutes.
Why You Can Trust DIY Garden
At DIY Garden, we believe your trust is earned through our knowledge and transparency. Our team of experts has over 75 years collective experience in the gardening and DIY space. Since the website's creation in 2016 we've tested over 275 products, ensuring our recommendations are based on real experience. We're open about what we've tried and what we've researched, and this is clearly labelled in our product reviews. Every year, we revisit and update our suggestions to include worthy new additions to the market. Our aim is to give you straightforward, honest, and helpful recommendations, so you can confidently choose the best tools and equipment for your projects.
Our Scores:
Design

Performance

Power

Noise

Safety

Value for Money

Overall
Features:
Max. Width

16 mm

Max. Pole Length

2.6

Weight

3.6 kg

Run Time

40 mins

Charging Time

60 mins

Power

18 V

Rotation Degrees

135°

Blade Length

43cm

Shoulder Strap

Yes

Safety Trigger

Yes

Battery Included

Yes
About Your Guides
Harry Duncton is a jack of all trades with experience ranging from carpentry and furniture restoration to tree surgery and gardening. Happiest when found in his shed, he hopes his daughter will find a passion for making things as well.

Sarah's role as chief editor at DIY Garden is about more than just making sure we're literally dotting the i's and crossing the t's (although she's a stickler for detail, so it's certainly about that too!). It's about proof-reading, fact-checking and continuously researching everything we publish, ensuring that it adheres to our

editorial standards

, so that everyone can really get the most out of their green space.
You May Be Interested In These Other Hedge Trimmer Reviews