Our
Einhell GE-HH 18/45 Li T-Solo Telescopic Hedge Trimmer

Review

I really want to like this pole trimmer more than I do. It's solid, it's chunky, it feels like it'll last a lifetime, but it's just too difficult to handle. Einhell just haven't managed to keep the weight of the cutting head down. I like the 45 cm long cutting head, but the motor behind it makes things difficult, especially when fully extended.

If you've got privet hedges that need to be kept nice and straight, this pole trimmer will be ideal. It's fine for making broad sweeps where the weight of the cutting head works to your advantage. However, it's just too unwieldy for anything like fine shaping or using for long periods of time.

If you're on a budget or you want to get into Einhell's range of cordless garden tools, go for it. But, unless you're prepared to work hard to get your garden into shape, I'd personally go for a more lightweight pole trimmer.

B079TH24C7

4006825630602

Best budget pole hedge trimmer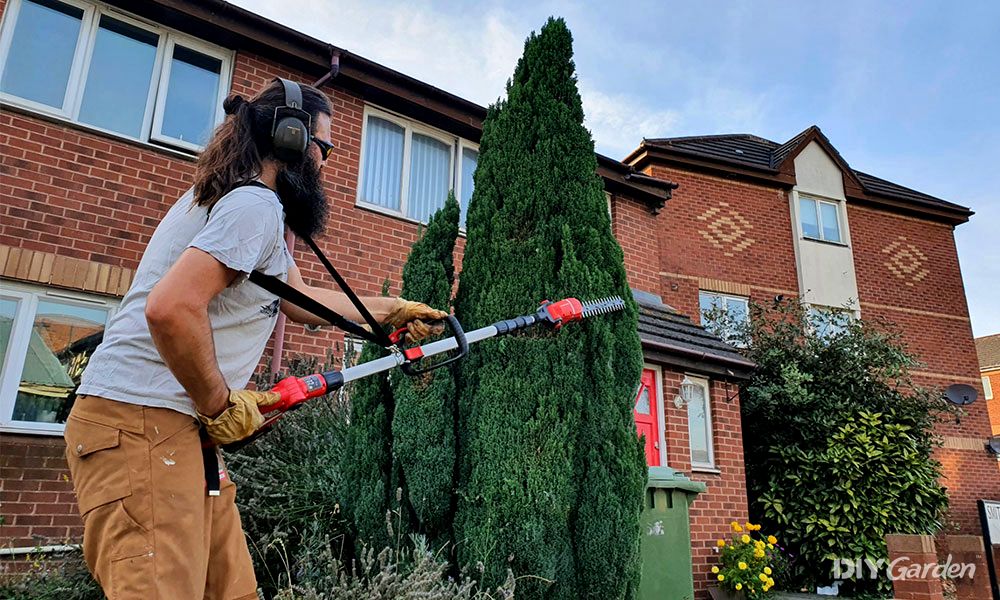 German tool brand Einhell have burst on to the cordless power tool market with their excellent Power X-Change battery system. The GE-HH is a big and imposing telescopic hedge trimmer that has an excellent reach for high branches and a long blade to make short work of your shrubs. It's a heavy beast, but luckily it has a sturdy shoulder strap and useful "D" handle to keep it cutting straight.
Read our product testing methodology here.
How I Tested
One of the problems of having a garden full of mature trees and shrubs is the need to keep everything in check. If you leave it for too long, just walking past them becomes a task in itself! I was excited to test out the big beast from Einhell on some of the taller things that were growing a bit too wild.
I've got a beautiful Japanese maple tree in my garden that was in desperate need of its yearly haircut. Before it started to drop all its leaves on my car, I put the Einhell to task. I used it to shape and trim the lower branches and then reached as high as I could into the crown itself.
Another tall and straggly garden dweller was a rather neglected conifer tree. It needed a good prune. Mainly to remove some brown leaves and shape it back to something that looked a bit more attractive. I thought I'd try the GE HH out on this more delicate task, to see if it could be handled accurately at a distance.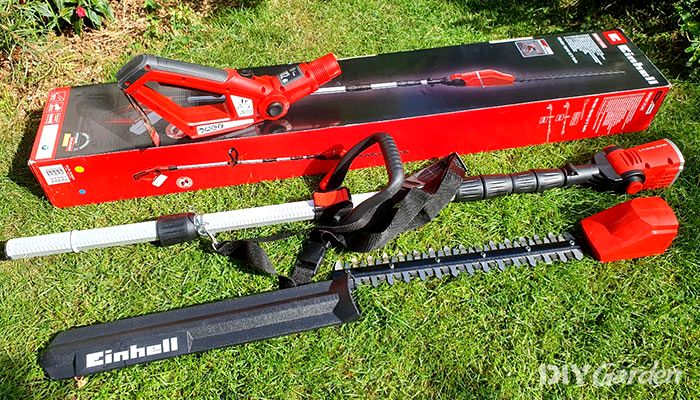 Einhell certainly know how to make an imposing bit of kit! The box it comes in is huge, and the red and black stylings of this pole trimmer look great. It might not be the most streamlined of the bunch (that's left to the Bosch UniversalHedgePole 18), but it certainly feels like it'll last for a long time. There's no excess movement between the plastic parts and it features a fully metal gearbox.
I'm incredibly pleased with some of the design choices that Einhell have made. It's the only hedge pole trimmer that features what I think are the holy grails of good handling- a big "D" handle and an adjustable strap. Combined, they help to control some of the weight of this heavy duty beast.
Both the "D" handle and the shoulder strap can be easily adjusted along the length of the fluted aluminium pole. The shoulder strap is held in place at a single point and can be cinched up depending on your body shape. There's a nice rubber shoulder pad to keep it from slipping as well. The "D" handle can be angled to your liking and uses a cam lever to keep it firmly in place.
Weighing in at a shade under 5 kg, it's probably the heaviest pole trimmer I've tested out. It's immediately noticeable when you pick it up, there's a heft to it that some of the other ones I've used just don't have.
This pole trimmer comes in three pieces. You've got the articulated handle, the central extending pole section, and the blade assembly and half the motor. You didn't mis-read me, you get half the motor! When setting up the trimmer, you need to twist and lock the two halves of the motor together. I'm not entirely sure why Einhell have chosen to do this? It's possibly so that they can swap out the blade section and keep the handle and extension pole for other garden power tools. In fact, that would be a key selling point if you could attach different cutting heads like chainsaws or other tools.
The problem with this setup is that when the trimmer is disassembled, there's an exposed drive shaft in the end of the blade section. If, like me, you're planning on keeping this tool in a dusty shed then it's not the best design choice.
Einhell could have included an end cap or something to keep these exposed parts clean between uses. It comes fully greased up from the box, but you'll need to keep this part lubricated over time. It's another maintenance job that I'd rather not have to do.
This is one of the longer extending pole trimmers you can get. There isn't just one extending section either. You get two separate sleeve locks and two extending sections, which helps to keep the overall length of the trimmer down when it's in "short mode". Even when it's fully retracted, it's still a long trimmer, so don't imagine you can use it to replace your standard hedge trimmers. This is a tool for reaching up high and those otherwise hard to reach bushes and trees.
I can't say the handle is going to win any awards for ergonomics. It's not the most comfortable to hold on to thanks to a big clunky trigger and straight grip. In comparison with the sculpted handle and intuitive trigger on the Ryobi RPT184520, it feels a bit basic. Once you've got gloves on, it's not too bad but I still felt the trigger digging into my hand when the pole was fully extended.
What makes up for the lack of ergonomics in the grip itself though is the articulated handle. Where the rest of the pole trimmers can only be adjusted in one place, the Einhell has two. The handle angle adjuster has four positions to choose from, and you can usually find one that helps to take the strain a bit better.
The motor head can be angled as well. You get seven positions to choose from, taking the total of positions up to 11. Having this range of flexibility is impressive, so long as you take advantage of it.
One of the best ways to keep your hedge trimmer blade in good condition is with a solid blade guard, and the one on this Einhell is fantastic! Far from a cheap piece of flimsy plastic that needs to be wrestled onto the blade, this is a solid and chunky blade guard that's built like a tank!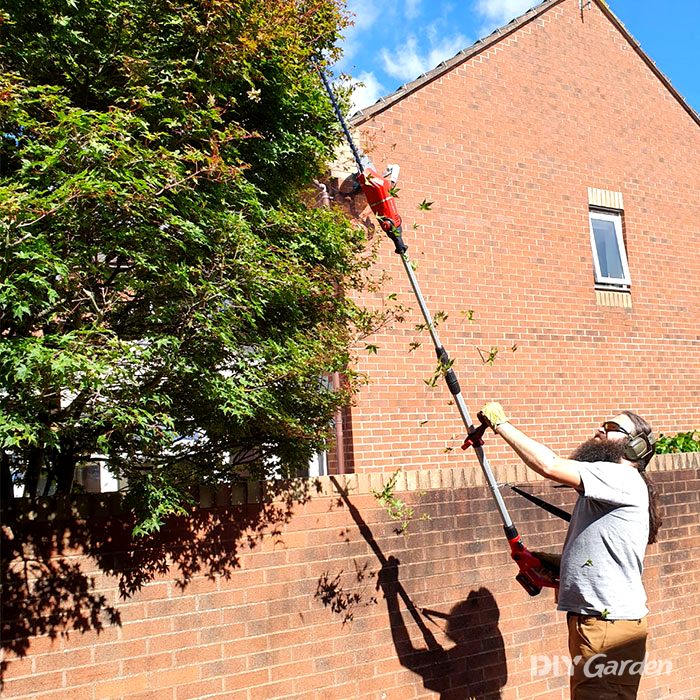 The Einhell GE-HH has a 45 cm long steel cutting blade. Each tooth has a gap of 16 mm, so it can deal with some relatively big branches when necessary. I tried out my totally unscientific performance test by jamming the biggest stick I could find between the teeth and tried to cut through it. Unfortunately, the motor couldn't cut its way through it from a standing start.
It made some deep gouges in the wood but couldn't quite get through. Comparing this to the more advanced Bosch Universal Hedge Pole 18, it doesn't seem to have the electronic anti-blocking feature that worked so well in this challenge. It's obvious that the Einhell just doesn't have some of the wizardry under the bonnet that the more expensive trimmers have.
Lack of anti-jamming technology aside, I can't fault the GE HH when it's doing its main job. The sharp blades made short work of my overgrown Japanese maple tree and left an especially clean cut on the thin branches. The extra weight in the cutting head made it easy to cut through clumps of branch and foliage, and soon enough my garden was filling up with cut greenery!
Even with the huge 4 metre cutting length, I wasn't going to reach the very top of the tree. It was easy enough to shape the lower parts of the crown and let a bit more sunlight into my garden. Once I'd found a good balance point for the strap and "D" handle it was easy going. I doubt it would have been half as straightforward if this trimmer didn't have that precious front handle!
I wish the same could be said when the poles were fully extended. I like the fact that they extend from within each other, saving the need to disassemble the pole like on the Ryobi RPT184520, but it makes it quite wobbly on the end. The aluminium poles get narrower in diameter towards the top, so like a fishing rod you get a bit of whip. It's not ideal when you've got a heavy motor on the end of the pole!
This made trimming and shaping my tall conifer a bit of a difficult task. I was thankful for the articulated rear handle because it made it easy to take some of the weight with my right hand. Holding the cutting blade end at the right angle to shape the top was difficult, and the whole trimmer got rather heavy, rather quick! I think it's much more suited to heavy duty tasks rather than fine jobs.
I've been powering up this pole trimmer with one of Einhell's 4.0 Ah batteries. To be honest, I wouldn't want to use anything smaller than that on a big garden power tool. It doesn't add all that much more weight and means I can run the trimmer for a long time without needing a recharge.
If you need to check the battery level, Einhell have included a handy charge level indicator. Simply press the button and it'll give you the charge level from 1 – 3 in bright red LED lights. Even though the 4.0 Ah battery is a capable power unit, it's still good to know how much charge you've used up!
Another impressive little feature that also popped up on the Ryobi is the design of the charging base. You can firmly attach it to the wall with the three keyhole-type cut-outs in the back to keep it up and out of the way. I love the fact that they've included the measurements for getting the fixings right and have even cut out two channels for the power cable to feed out on either side! A very handy little bit of user friendliness from Einhell there.
This hedge pole trimmer is rated to 102 dB. That's close to the noise level of live music or a car horn at 5 metres. It's getting on for a dangerous level of noise if you're planning on using this trimmer for more than 15 minutes at a time.
I always wear ear defenders when working with any power tool. Hearing loss is easy to prevent if you use the correct personal protective equipment (PPE), especially when working with tools that put out more than 100 dB.
However, I don't think this pole trimmer creates an excessive level of noise. Unless you're constantly chewing through the thickest branches it'll cut, it only makes a buzzing noise that isn't too bad at all. It's no worse than any of the other pole trimmers I've tested and shouldn't get you in trouble with the neighbours.
I like that this telescopic pole trimmer comes with a strap and a "D" handle. It's never going to be light but having these big bits to hold on to make controlling it that bit easier. It's long enough to not worry about injuring yourself with the blades, but you need to keep an eye out for falling branches. The shoulder strap also features a side release buckle in case you need to remove it in a hurry.
So long as you wear all the correct safety gear– sturdy clothing, safety glasses, ear defenders and steel toe caps, you're well protected. The pole is long enough so that you shouldn't need to stand directly underneath any falling branches anyway.
I was pleasantly surprised when I looked at the price of this hedge pole trimmer. In fact, I'm prepared to cut it a bit more slack. Especially when comparing it with the other that are more than double the price! For the price, you get a pole trimmer with an incredible reach, powerful motor, and my favourite accessory- the "D" shaped front handle.
One of the things that keeps the price down is the obvious lack of battery and charger. But, seeing as Einhell are quickly expanding their range of Power X-Change tools, it could be the right time to buy into their way of doing things.
I really want to like this pole trimmer more than I do. It's solid, it's chunky, it feels like it'll last a lifetime, but it's just too difficult to handle. Einhell just haven't managed to keep the weight of the cutting head down. I like the 45 cm long cutting head, but the motor behind it makes things difficult, especially when fully extended.
If you've got privet hedges that need to be kept nice and straight, this pole trimmer will be ideal. It's fine for making broad sweeps where the weight of the cutting head works to your advantage. However, it's just too unwieldy for anything like fine shaping or using for long periods of time.
If you're on a budget or you want to get into Einhell's range of cordless garden tools, go for it. But, unless you're prepared to work hard to get your garden into shape, I'd personally go for a more lightweight pole trimmer.
Why You Can Trust DIY Garden
At DIY Garden, we believe your trust is earned through our knowledge and transparency. Our team of experts has over 75 years collective experience in the gardening and DIY space. Since the website's creation in 2016 we've tested over 275 products, ensuring our recommendations are based on real experience. We're open about what we've tried and what we've researched, and this is clearly labelled in our product reviews. Every year, we revisit and update our suggestions to include worthy new additions to the market. Our aim is to give you straightforward, honest, and helpful recommendations, so you can confidently choose the best tools and equipment for your projects.
Our Scores:
Design

Performance

Power

Noise

Safety

Value for Money

Overall
Features:
Max. Width

16 mm

Max. Pole Length

2.6 m

Weight

4.28 kg

Run Time

40 mins

Charging Time

60 mins

Power

18 V

Rotation Degrees

150°

Blade Length

45 cm

Shoulder Strap

Yes

Safety Trigger

Yes

Battery Included

Yes
About Your Guides
Harry Duncton is a jack of all trades with experience ranging from carpentry and furniture restoration to tree surgery and gardening. Happiest when found in his shed, he hopes his daughter will find a passion for making things as well.

Sarah's role as chief editor at DIY Garden is about more than just making sure we're literally dotting the i's and crossing the t's (although she's a stickler for detail, so it's certainly about that too!). It's about proof-reading, fact-checking and continuously researching everything we publish, ensuring that it adheres to our

editorial standards

, so that everyone can really get the most out of their green space.
You May Be Interested In These Other Hedge Trimmer Reviews