Our
Ryobi RPT184520 ONE+ Cordless Pole Hedge Trimmer

Review

Ryobi have their fair share of mega fans that buy up every tool or accessory they make. I'll admit that I'm not one of those fans, but after getting my hands on the RPT184520 hedge pole trimmer, I might just have become a convert!

This is one seriously solid and chunky garden tool. Unlike the competition, they've gone for a reinforced plastic pole construction. Somehow, they've made it feel more solid and less flimsy than steel or aluminium. Even when fully extended, it feels like you've got total control over the cutting head.

Sure, it's a heavyweight pole trimmer and not for the faint hearted. But, if you want to get a trimmer that can deal with tough branches as well as leave a fine finish on your more delicate shrubs, this is probably the best pole trimmer out there. It's easily one of the most powerful pole trimmers, and I think it's worth the extra bit of weight.

B07BFFYP9R

4892210162106

Best telescopic hedge trimmer overall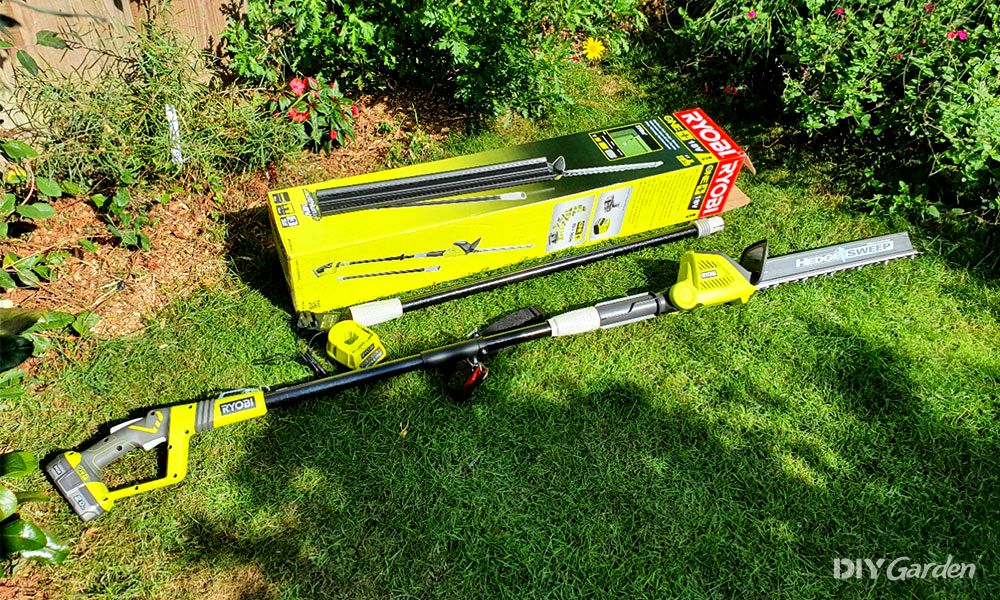 One of the most popular DIY brands around, Ryobi's recognisable bright green tools are getting better all the time. The RPT184520 ONE+ Cordless Pole Hedge Trimmer is nothing less than a beast in the garden. It's got a huge blade, powerful motor, and one of the longest reach poles you can get right now. With some clever features under the bonnet and a battery and charger thrown in, this is the ideal garden power tool if you've got big hedges that are growing out of control.
Read our product testing methodology here.
How I Tested
This is the biggest and heftiest hedge pole trimmer I've ever had my hands on. So, I thought it should tackle the biggest job I could find. Luckily for them, a friend of mine had an enormous hornbeam hedge that needed rescuing. I was able to cut and shape at least 15 metres of overgrown hedge in no time at all. In fact, the clean-up job was more difficult than the trimming!
I've also used this heavy duty pole trimmer to take care of my neighbour's overgrown privet hedge. This was a smaller, more delicate job that showed me how accurate this trimmer can be. Especially when in "short mode". The comfortable cutting position and HedgeSweep attachment made short work of the hedge and left a clean finish that I was rather proud of.
Seeing as this hedge pole trimmer has an unbelievable reach of up to 4 metres, I put it to task on my Japanese maple tree as well. It had started to drop its leaves on my car, so it was time for a bit of a prune. I wasn't disappointed by the reach, or how easily the 45 cm long blade cut and shaped the crown of the tree. Without running down the battery, I made a start on this autumn's tidy up without needing to climb a ladder or call the tree surgeon. I call that a success!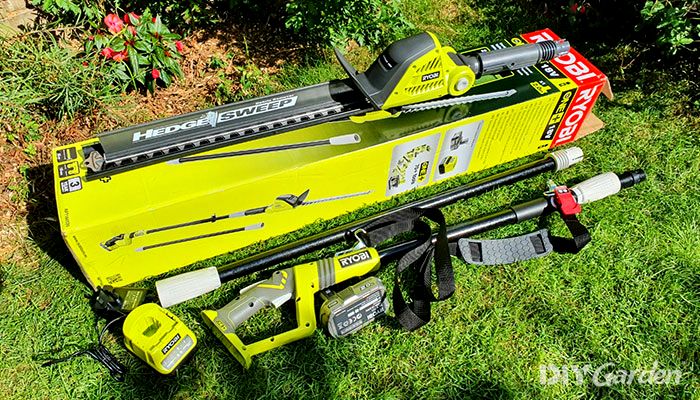 The first thing I noticed about the Ryobi pole trimmer; is how well it was packaged up. You get a huge box filled with packing materials, and everything neatly sealed inside. After taking all the pieces out, I got the first impression that stayed with me throughout testing. This is one solid and heavy duty piece of kit!
Compared with the rest of the pole trimmers that I tested, the biggest difference is the choice of materials used for the pole. Instead of tubular aluminium or other alloy metals, Ryobi have opted for a sturdy reinforced plastic construction. It helps to keep the weight down and doesn't compromise on sturdiness. I'd hate to think how heavy this trimmer would be with more metal in it anyway…
The reach on this pole trimmer is quite amazing. Once you've screwed on the extension it can reach up to an incredible 2.9 metres. It means an average sized person can deal with 4 metre tall bushes or trees without needing to balance on a ladder. And what makes it even better is that even when you've fully extended the pole, it doesn't have the wobble you get from the metal pole trimmers.
But here's the big compromise. The Ryobi pole trimmer comes in three pieces. All the pole pieces are the same diameter, so you can't slide them into each other to save space. You can use it in "short mode", where the blade section screws directly into the handle section, or "long mode" using the extension pole in the middle.
First off, you need to lug around the extension pole. It might easily get lost under a pile of leaves or in the back of the shed. Secondly, you can't adjust the length or angle of the trimmer without taking everything off your shoulder. It probably sounds like I'm being too critical, but it got really annoying. I needed to stop and take everything off just to reach the top of hedges. Compared with the Bosch Universal Hedge Pole 18, it was slow and a bit of a pain to take it all apart just to put it back together again.
If you've ever used a Ryobi tool before, you'll recognise the patented GripZone handle on it. It's marvellously comfortable and has a grey rubberised texture that keeps it from slipping. You get a large finger guard for protection as well. If I was going to nit-pick, I'd say the handle could be a few centimetres longer though. I've got big hands, and once they're in thick leather gardening gloves there's not much room to spare.
Ryobi have employed a much more ergonomic and intuitive safety guard here as well. Instead of the thumb switch found on most hedge pole trimmers, they've designed a large safety button that is engaged when you grip the handle. It's a slick and instinctive piece of design that shows Ryobi have put a lot of thought into how you would use this tool in the real world.
Now for the annoying part. For such a big and heavy duty pole trimmer, I'm totally surprised that there isn't a large "D" shaped front handle. There's a reasonably thick foam rubber sleeve further up the pole, but it's not the big front handle I would like to see. It could just be personal preference, but I'm disappointed that you're forced to rely on a basic barrel grip. I'd love to see how much better this tool would handle with a front grip like the Einhell GE-HH.
A neat innovation that I initially didn't think much of is the deceptively simple HedgeSweep attachment. It's a simple polypropylene plastic part that slides onto the top of cutting head, that sweeps the cut branches out of the way. It works a treat when tackling the tops of hedges, but I only realised this when I was testing other pole trimmers. Without the HedgeSweep, everything you've cut off just stays there in a heap on top of the bush. This simple piece of plastic speeds up the job and ensures you've left no bits of bush behind.
You can tell that Ryobi have put a lot of thought into the shoulder strap as well. It attaches to the main pole with a selection of chunky metal clasps and buckles that all feel very solid. I'd be very surprised if these broke off any time soon. The shoulder strap also has a neat articulated rubber pad halfway along it. It conforms nicely to the shoulder and stops the strap from slipping around.
The strap is an essential part of this pole trimmer as well. If you get the length of it right, you can brace the pole trimmer against it and give yourself an effective amount of leverage. This helps with accuracy and means you can wield this heavy beast for longer without needing a break.
For shaping the vertical walls of your bushes as well as getting that neat flat top you want, the pole trimmer comes with a 115° articulating cutting head. I was initially disappointed that you can only set it to four positions. Some of the other trimmers I've tested have up to ten angles to choose from! However, the four that Ryobi have picked are sufficient to make most cuts easy.
It's only a small thing, and only one I've notices after trying out several different pole trimmers, but you only need to press in a single button to adjust the angle of the cutting head. It's not a deal breaker, but it only takes one hand or even one thumb to adjust the angle.
It's an added extra (that wasn't available by the time of writing), but a very interesting accessory made by Ryobi is the RAC805 Vertebrae+ Ergo Harness. It's a two shoulder harness that allows you to transfer all the weight of the pole trimmer onto your shoulders. If I'd had one of these, I think I'd be pretty much unstoppable with this pole trimmer.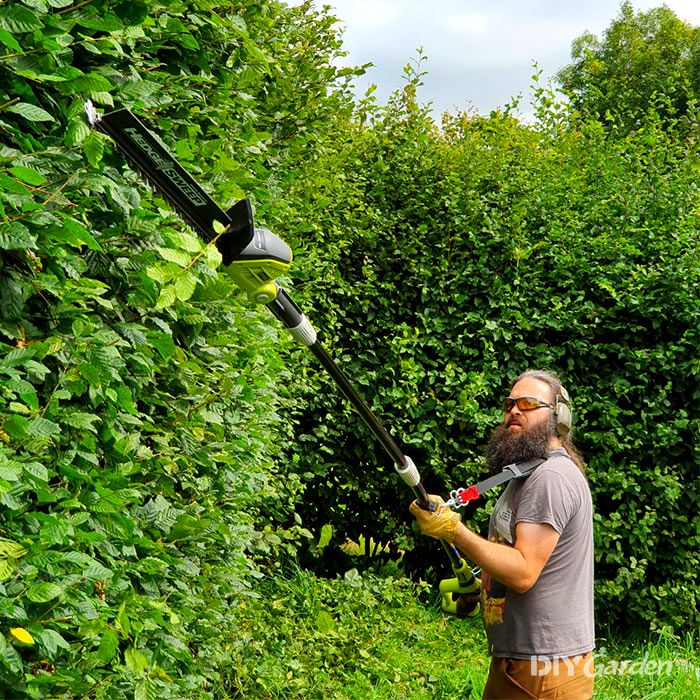 The Ryobi RPT184520 has an enormous 45 cm long blade. It's made from laser cut steel and feels completely rigid and strong. Thanks to the extra piece of metal on the top of it (that holds the HedgeSweep debris remover) it feels tough enough to push through the stiffest branches and foliage.
The chunky dimensions of this pole trimmer are matched by the size of the branches you can cut with the blade. There's a huge 18 mm gap between each diamond sharpened tooth, so you can happily chew through even large branches that get in the way.
The teeth have an aggressive square edge that leaves a clean cut on the end of branches. And if you come up against an extra tough bit of bush, you just need to hang on in there and let them saw through. It can take a little while, but I couldn't find a branch that would jam this big brute.
The motor section on this pole trimmer is massive compared with some of the other ones I've evaluated. It's a well-balanced tool overall, but you can't hide from the fact that you're holding a big motor and extra-large blade section at the top of a long pole. You need to work out a good technique and have a decent amount of upper body strength to get the most out of this trimmer.
At first, I thought the weight of the cutting head and motor section would be too much. But since using it extensively, I've learned to use the weight of it to my advantage. This works best when shaping the vertical sides of large bushes like the hornbeam. Once you've manoeuvred the cutting blade to the correct angle, you can use the weight of the cutting head and gravity to create a straight edge. It's far easier on the arms than if you're forced to push the blade through every bit of greenery.
Getting the most out of this pole trimmer doesn't come instantly. Like the other pole trimmers I've tested out, you need a solid technique and a bit of practise before it stops feeling like an unwieldy beast. Especially one as chunky and solid as this one! But once you've got the technique, it's relentless!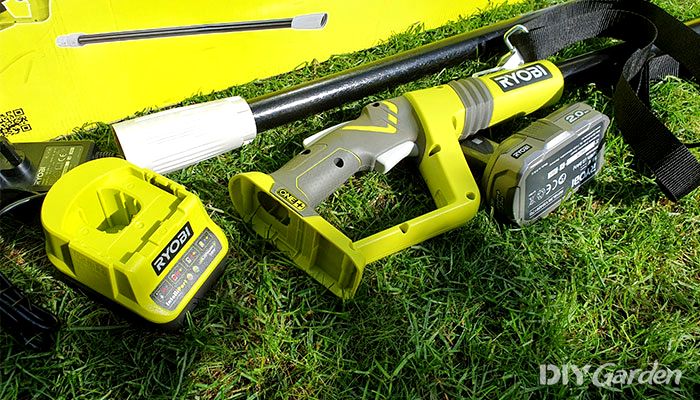 This pole trimmer might run at a slower stroke rate than other ones I've tried out, but once something's caught in the blades, it's getting cut! I've used this trimmer extensively and I haven't been able to make it jam. It powers through leaves and branches of all sizes without slowing down significantly.
The power itself comes from Ryobi's tried and tested ONE+ 18 Volt Lithium Ion battery system. I've been a fan of this concept for years. Instead of producing an enormous range of different batteries and battery systems, Ryobi use the same power unit for more than 70 different tools and accessories.
The power sharing technology is what makes this tool so valuable to have. You'll see it's called the "starter kit," it means it comes with a charger and 2.0 Ah battery. It's not their biggest battery available, but it's more than enough for tidying up the garden.
Something I just had to share is what's hidden on the back of the IntelliPort charger. You get a pair of keyhole cut-outs for fixing it to the wall, which is already an excellent feature. To make things easy on the average DIYer, Ryobi have printed on the back the exact distance apart you need to put your fixings on the wall! It's the little touches like this that make me want to buy into the Ryobi brand.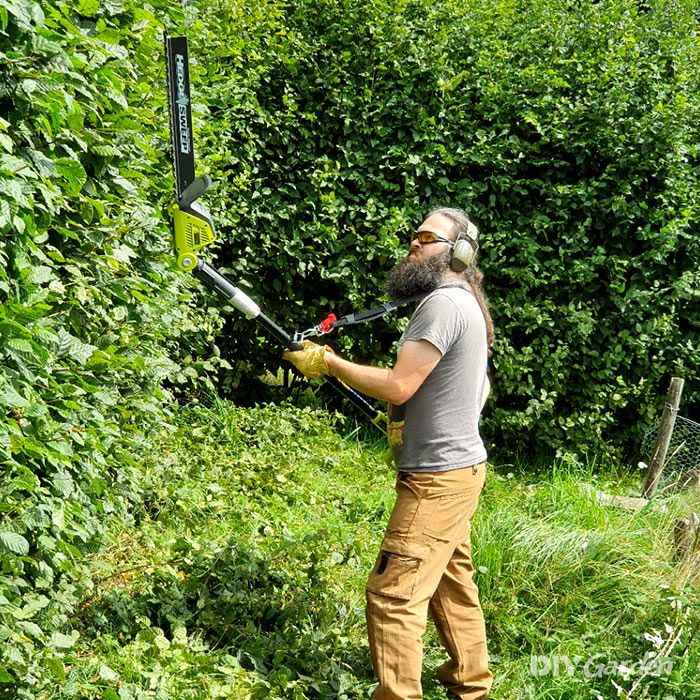 Rated to 95 dB, this is one of the louder hedge pole trimmers I've tested out. Although it's miles quieter than a petrol-driven version of the same tool, it's not exactly a silent bit of kit. I always wear ear defenders when I work with power tools, but the noise that comes off this trimmer isn't at deafening levels.
As a test, I closed my uPVC doors and windows on the back of the house and asked my partner if she could hear the Ryobi pole trimmer working in the garden. She reported back that it was audible but not loud enough to be annoying. So, you can always tell your neighbours to shut their windows when you plan on shaping up the garden!
This Ryobi pole hedge trimmer has one of the best safety devices I've come across. The shoulder strap features an ingenious quick release mechanism that can be operated with just one hand. Instead of a clunky side release buckle, you simply pull down on the red tab and it releases the strap. Features like this are ones you hope you'll never need to use, but it's good to know you can take it off in a hurry.
This isn't the cheapest pole trimmer I've tested out, but it's not the most expensive either. What makes this a true value for money tool though, is the battery and charger that's included in the set. As I've said above, Ryobi's ONE+ battery system means you can power anything from a lawnmower to a circular saw with just one battery type.
If you're going to buy a cordless pole trimmer, this one opens you up to an enormous range of tools. Once you've got a battery and a charger, you can buy "bare" tools without breaking the bank. It makes sense if you want to increase your arsenal of tools, and you don't want a whole mess of different chargers in your shed.
Ryobi have their fair share of mega fans that buy up every tool or accessory they make. I'll admit that I'm not one of those fans, but after getting my hands on the RPT184520 hedge pole trimmer, I might just have become a convert!
This is one seriously solid and chunky garden tool. Unlike the competition, they've gone for a reinforced plastic pole construction. Somehow, they've made it feel more solid and less flimsy than steel or aluminium. Even when fully extended, it feels like you've got total control over the cutting head.
Sure, it's a heavyweight pole trimmer and not for the faint hearted. But, if you want to get a trimmer that can deal with tough branches as well as leave a fine finish on your more delicate shrubs, this is probably the best pole trimmer out there. It's easily one of the most powerful pole trimmers, and I think it's worth the extra bit of weight.
Why You Can Trust DIY Garden
At DIY Garden, we believe your trust is earned through our knowledge and transparency. Our team of experts has over 75 years collective experience in the gardening and DIY space. Since the website's creation in 2016 we've tested over 275 products, ensuring our recommendations are based on real experience. We're open about what we've tried and what we've researched, and this is clearly labelled in our product reviews. Every year, we revisit and update our suggestions to include worthy new additions to the market. Our aim is to give you straightforward, honest, and helpful recommendations, so you can confidently choose the best tools and equipment for your projects.
Ryobi RPT184520 ONE+ Cordless Pole Hedge Trimmer Price Comparison
Price History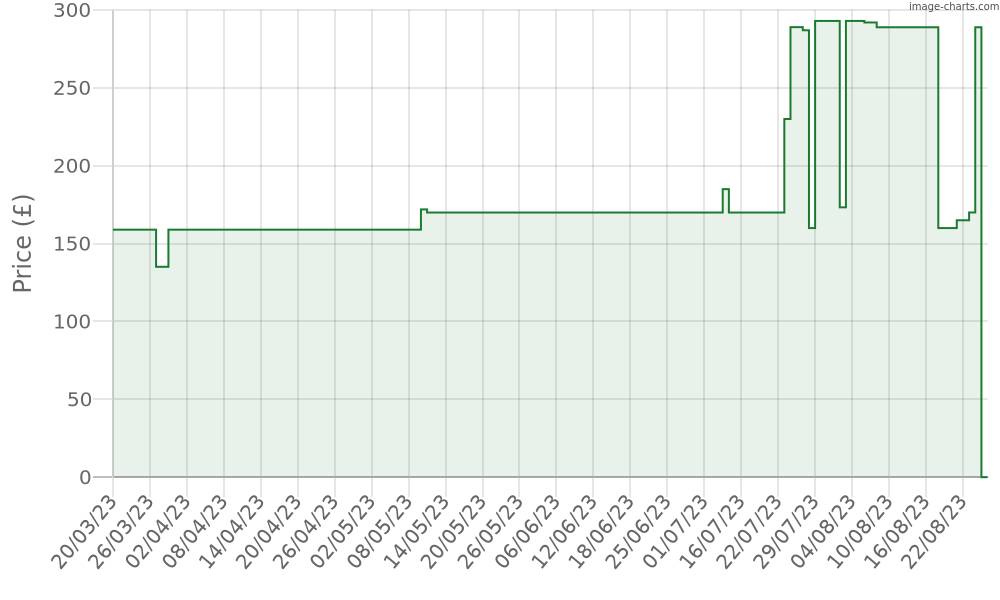 Our Scores:
Design

Performance

Power

Noise

Safety

Value for Money

Overall
Features:
Max. Width

18 mm

Max. Pole Length

2.9 m

Weight

4.6 kg

Run Time

40 mins

Charging Time

60 mins

Power

18 V

Rotation Degrees

115°

Blade Length

45cm

Shoulder Strap

Yes

Safety Trigger

Yes

Battery Included

Yes
About Your Guides
Harry Duncton is a jack of all trades with experience ranging from carpentry and furniture restoration to tree surgery and gardening. Happiest when found in his shed, he hopes his daughter will find a passion for making things as well.

Sarah's role as chief editor at DIY Garden is about more than just making sure we're literally dotting the i's and crossing the t's (although she's a stickler for detail, so it's certainly about that too!). It's about proof-reading, fact-checking and continuously researching everything we publish, ensuring that it adheres to our

editorial standards

, so that everyone can really get the most out of their green space.
You May Be Interested In These Other Hedge Trimmer Reviews