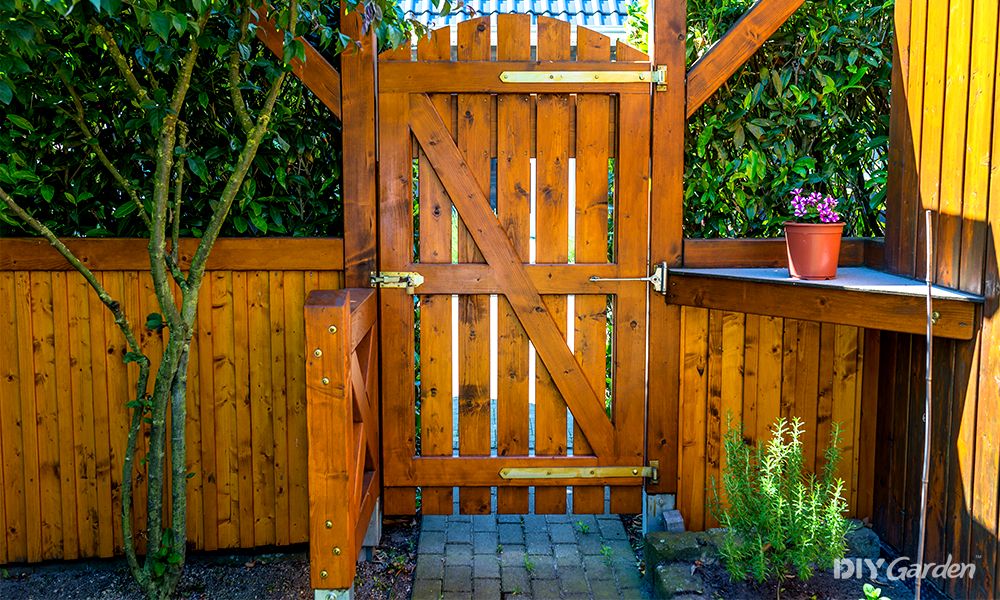 HiddenFromTOC

Should I lock my garden gate?
Yes – both day and night! The majority of burglaries happen during the daytime and are opportunistic. Burglars see an opportunity and they take it.
Ensure your garden gate lock is robust, tamper-proof and weather resistant.
There's a number of types of garden gate lock. Smart locks can be controlled using you smartphone, allowing you to give certain people access at certain times of the day – such as a gardener, dog walker or courier.
In a perfect world, we could leave our garden tools out and sleep easily with our front doors unlocked. Unfortunately, we don't live in a perfect world, and thefts do happen on a worryingly regular basis!
It's thought that only one fifth of burglaries are actually scoped and planned. The majority of thefts in the UK are opportunist; people see an opportunity and take it. In many cases, criminals don't even go into your home, and instead steal from your garden. This means that it's often your lawn mower, garden tools or rare plants that fall victim!
To give you peace of mind that you and your property are safe, extra security measures are required. But all too often we forget about the simplest security measures – such as locking our garden gates.
Locking your garden gate is one way to deter thieves from your outdoor space, but there's a few things worth considering when it comes to your all-important garden gate lock.
What Attracts Thieves to Gardens?
Low level thieves often target gardens instead of the inside of someone's home. Gardens are easier to break into and allow someone to get away undetected. Many people leave their expensive garden machinery, tools or even plants lying around.
While home interiors are often fitted with alarm systems, back gardens are not. If someone has a security camera, it's likely to be positioned at the front of their home. Gardens also offer an intruder plenty of places to hide while they work out the best way to get into your home.
It's not just machinery you need to worry about! It's thought that in the UK over half of dogs are stolen directly from their owner's garden. Leaving your back gate unlocked makes your pooch an easy target for dog thieves.
Should I lock my Garden Gate?
In short, yes!
Locking your garden gate is one of the best ways to secure your garden against opportunistic thieves. It'll make it harder for potential burglars to access both your garden and subsequently your home, protecting your property and allowing you to sleep easier at night. Leaving your gate unlocked night or day is a huge security risk.
Aside from the obvious reason of stopping thieves from getting into your garden, there's also the issue of your home insurance to consider.
While most insurance companies don't specify the exact type of lock that you need, it may be the case that your home isn't covered against theft if your garden gate is left open. Ensure you carefully read the small print of your home insurance policy to ensure they don't specify a certain type of lock.
Once an intruder has made it into your back garden, they'll find it easier to get into your home. Back door locks are rarely as secure as front door locks, and if you've left tools lying around, the criminal could use these to help them break in.
How to Secure Your Garden?
Check your Fencing
Take a good look at your fencing and try to see it from a criminal's viewpoint. Insufficient fencing, weak panels or damaged areas will make it easier for thieves to break into your garden. This also allows them to make a quick getaway if needed!
You should try to regularly complete a risk assessment of your garden. There's little point locking your gate if there's gaping holes in your garden fence! Go around the perimeter of your garden, inspecting your fence for damage both on the inside and outside of your garden. Missing fence panels, holes and weather damage will compromise your garden security.
Ensure your fencing is tall enough and strong enough. It's recommended that your back garden fence is between 1.8 and 2 m.
If you've got a small fence and you want to add some height without making your garden feel like a prison, you could install a trellis on top. This will add height to your fence while still allowing sunlight to get through into your outdoor space. It'll also screen your garden from overlooking neighbours.
For added security, train thorny plants such as roses to climb the trellis. This will make it even harder to climb.
Lock your Garden Gate
Of course, your garden gate should be locked. Opportunistic thieves who stumble across an unlocked garden gate will think it's their lucky day, especially if you've left valuable tools or machinery lying around.
Ensure the gate lock is robust, weather resistant and tamper-proof.
It's a good idea to lock your side gate whenever you are not in the garden. Many burglaries occur during the day, when residents are likely to be out at work. Plus, in daylight your tools and garden machinery will be clearly visible.
Invest in Bright Lighting
Dark corners will attract thieves to your garden as they'll find it easier to get in and out without being spotted by either you or a neighbour. Installing motion sensing security lights is one of the best ways to protect your garden. A sudden bright light will stop any intruder in their tracks!
Front garden lighting can also help you if you return home in the dark. Fumbling around for your keys in the dark can put you in a vulnerable position. Invest in motion-detecting security lighting to ensure it's easy to get into your home quickly.
Make Sure your Storage Area is Secure
You're unlikely to get burgled if there's nothing to steal. While we're not recommending ridding your property of anything valuable, it's important that you lock valuable items away in a shed or garage when not in use.
Expensive garden tools, machinery or bicycles on show can be hard for opportunistic burglars to resist.
Garden sheds don't have to be expensive, nor even permanent structures. Good quality, lightweight plastic sheds can be purchased and installed in an unused corner of your garden. While they may not be enough to stop the most committed of burglars, this extra level of security should be enough to put most people off.
Common Garden Gate Locks
So you know you need to lock your garden gate, but how to choose a lock?
Your garden gate lock can actually make a big difference to the security of your garden, and there's a number of different types. A bolt across the top of your fence is going to be insufficient unless it's properly locked. High quality locks will be more weather resistant and offer enhanced gate security for a longer period of time.
Gate Hasp
Simple gate hasps consist of either a hasp or latch and can be locked using a padlock, which can be operated using either a combination of key.
There's a number of benefits of this type of lock. The first is that they operate using a very simple mechanism, which makes them easy to both use and install. There's no complicated instructions to follow. These locks can be purchased in most DIY shops, and are very inexpensive.
However, using a padlock can be inconvenient in some instances. First, padlocks are easy to lose. You'll need to ensure that when the gate is unlocked, the padlock is re-secured to the gate, or it might even get stolen. If you're a serial key-misplacer, you may also want to consider a keyless lock.
Another is that padlocks aren't particularly secure. They can be snapped, and combination padlocks are fairly easy for in-the-know thieves to pick.
Mortice Deadlock
Mortice deadlocks are built within the gate and can be locked using a key. They are a little more fiddly to install than gate latches as they have to be installed into the wood.
However, once installed they look neat and subtle. They can usually be unlocked from both sides so allow you to exit your garden, locking it as you leave.
They are trickier to install than gate latches, but the added security does make them worth it.
Long Throw Gate Lock
For gates which can't accommodate a mortice, a long throw gate lock is the next best option. These can be operated using a key on both sides so can be used to both enter and exit the garden. They work very well on timber gates.
As they can be unlocked and locked from both sides, you'll be able to give gardeners or neighbours key access if needed.
Digital Gate Lock
Many people opt for a digital gate lock, as they allow for keyless entry. With a keyless combination lock, it doesn't matter if you forget to bring a key with you. A keypad gate lock offers heightened home security while allowing you to open the gate in seconds.
Some digital gate locks are more advanced than others. A smart lock can be controlled using your smartphone, allowing you to set times for it to automatically unlock. Gardeners, dog walkers or couriers can all be given access to your garden at certain times of the day.