In this lawn aerator review, I thoroughly compared design, performance, ease of use and value for money for multiple products. After hours of research and testing, I recommend the Hyundai 1500w Electric Lawn Scarifier & Aerator as the best lawn aerator on the UK market.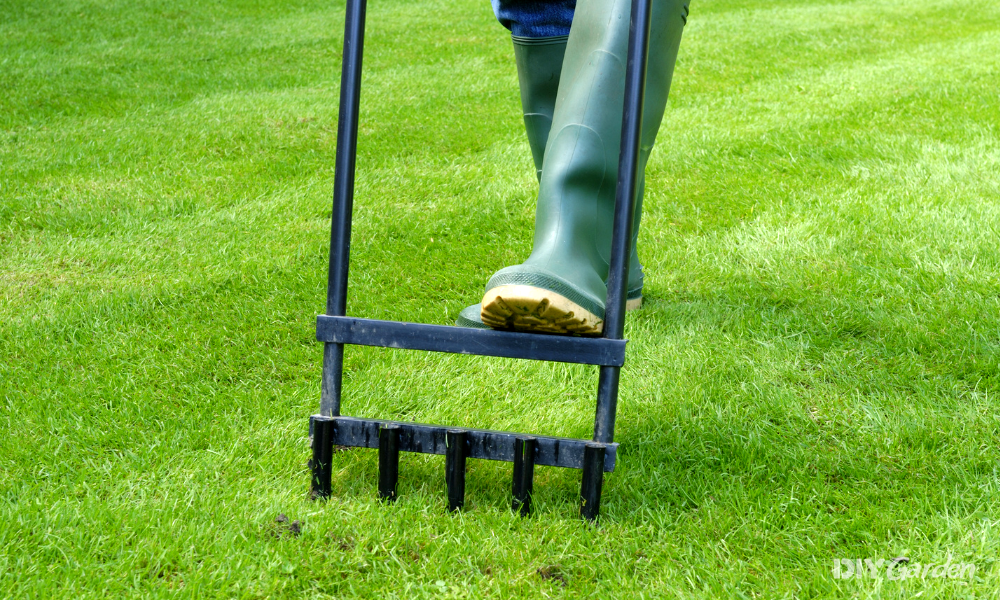 My Top Recommended Lawn Aerators
My Product Reviews & Opinions
Compare Product Features Here
Use the dropdown to sort the table by the feature that's most important to you.


Our score
Type
Aerating Method
Spikes / Tines
Weight
Tips For Buying a Lawn Aerator
If you've got a large area of grass, consider an electric aerator with a working width over 36 cm. Electric aerators require less manual labour, and often have a scarifying function, providing two services in one. For medium lawns, look for an electric aerator with a working width over 30 cm. You could also use a manual rolling aerator if you don't want the hassle of cables.
Speaking of cables, if you choose an electric lawn aerator, look out for a power cable around 10 m long

. This way, you should be able to avoid using an extension cable in most medium gardens.

There are two methods of aerating, and depending on the condition of your soil, you'll want either a hollow plug aerator or a spiked aerator. If your soil is very compacted, use a plug aerator

. By removing plugs of soil from the ground, these aerators can dramatically improve drainage and create long-lasting aeration.

Alternatively, to quickly aerate the lawn, use a spiked aerator

. There's no need to empty or unblock anything as you work, so the job takes less time. However, they're not as effective on very compacted soil. You may also need to aerate more regularly.

In smaller gardens, you can use hand-tool plug aerators to save money

. These are relatively slow to use, but work well on small patches of lawn. You might even consider spiked shoes so you can walk around the garden whilst aerating the soil. 
After researching various lawn aerators, I've gone with the Hyundai 1500W Electric Lawn Scarifier & Aerator as my top pick. With a 1500 W motor and the ability to both scarify and aerate the ground, this tool is perfect for those with a large lawn to maintain.
Why You Can Trust DIY Garden
At DIY Garden, we believe your trust is earned through our knowledge and transparency. Our team of experts has over 75 years collective experience in the gardening and DIY space. Since the website's creation in 2016 we've tested over 275 products, ensuring our recommendations are based on real experience. We're open about what we've tried and what we've researched, and this is clearly labelled in our product reviews. Every year, we revisit and update our suggestions to include worthy new additions to the market. Our aim is to give you straightforward, honest, and helpful recommendations, so you can confidently choose the best tools and equipment for your projects.
How to Choose The Best Lawn Aerator
Lawn aerators improve the appearance of grass over time by penetrating the ground and allowing air and water deeper into the soil. As a result, the roots have better access to nutrients and fertilisers.
There are different types of lawn aerator available, which can produce different results. Below, you will find information about how and when to use an aerator, as well as how to choose the best aerator for your garden.
Benefits of Aerating the Lawn
Aerating the lawn can be beneficial in several ways. The effects can also vary depending on what type of lawn aerator you are using.
If you're planting new grass seed, aerating before sowing the seeds can give them the best possible start. This is just as true when overseeding as when planting grass seed for the first time.
Loosening the soil, improving the supply of oxygen, and creating good drainage creates a good environment for new grass seed, whilst benefitting any existing lawn.
Using spiked lawn aerators, that pierce the ground, will allow air to reach grass roots as well as water. Grass roots will become stronger which will lead to a healthier lawn that's better able to withstand heat and drought. 
Creating pockets that air, water and fertiliser can get into can help improve your lawn's uptake of nutrients.
READ NEXT: The Best Lawn Feed
If the lawn aerator removes plugs of soil, it will make the soil less compact. This can help grass roots to establish, if they have become overcrowded, improving the health of the grass.
Removing plugs of soil can also help with drainage in compacted ground. If the ground is too compact, water can end up sitting on top of the soil, unable to drain. Not only can this make the garden unpleasant to walk in, but it can damage the grass and soil. Removing plugs of soil will help water drain better.
Some people choose to fill the plugged holes with sand in order to alter the composition of the soil and improve drainage and lawn aeration throughout the area. The sand will eventually spread throughout the soil, carried by worms and ground movement, resulting in a better mix.
Whether this will be beneficial for your soil or not can depend on what type of soil you have. Adding sand to clay soils can cause it to lump together more, not less.
Choosing the Right Type of Aerator
There are 3 main types of lawn aerator on the market – roller spike aerators, tine aerators and spiked shoe aerators.
Roller spike aerators are the most popular type of lawn aerator. Many are simply pushed across the lawn. As the roller rotates, the spikes are pushed into the ground. Spiked lawn aerators are either manual or electric.
Roller spike aerators don't remove any earth, so they don't help with compacted soil in the same way as plug aerators. However, they still make holes that allow air, water and nutrients to get closer to the lawn roots. Manual roller aerators can be quite light, which makes it more difficult to keep the spikes in the ground.
Some people choose to add weights to the handles of these manual lawn aerators in order to push them down. Electric aerators tend to be slightly heavier, because they have a motor.
Plug aerators have hollow tines and are usually pushed into the ground using your feet. The hollow tines remove plugs of earth as opposed to just penetrating the soil. These are more effort to use, although they have the benefit of actively removing the soil as opposed to just pushing it to the side.
Removing plugs of earth helps loosen compacted soil and also means that the holes can be filled with lawn sand or a different soil, if you are trying to alter the composition of the ground. If parts of your garden frequently flood, you may benefit from removing plugs of soil, in order to make the ground less compacted.
Finally, there are spiked aerator shoes. These are definitely the best option for those who are looking to up their step count! They're worn on your feet and will aerate your lawn as you walk around. They could also be worn whilst doing other jobs, like hanging out the washing.
Whilst not the most comfortable of shoes, they can be slipped on over gardening boots without much difficulty. They usually have adjustable straps so will fit almost any shoe size.
READ NEXT: The Best Lawn Rollers
Ease of Use
Electric or petrol-powered aerators are the least physically demanding aerators. The motor will do the brunt of the work. However, they are generally more expensive, and require more maintenance, so they're only worthwhile if you intend to aerate frequently over larger areas.
Plug lawn aerators can be more tiring to use than rotary spiked aerators. Pushing a plug lawn aerator into the ground can require quite a lot of force, as can pulling it out again. A certain amount of upper body force is required, and this method can be too physically demanding for some people.
Using a rolling lawn aerator is less physically demanding than a plug aerator, as long as the ground is sufficiently soft. They can still be relatively hard work to push, especially as they need to be driven into the ground. As mentioned above, putting weights on a spiked lawn aerator can help, but of course this will make it more taxing to push.
Spiked aerator shoes require a bit of getting used to, and some leg muscle as well, to pull the spikes out of the ground. But they can be a good way to cover small areas. You just need to be careful not to wear the shoes on any hard surfaces, as the spikes can bend and break. These shoe aerators won't create as deep a hole as other types.
READ NEXT: Lawn Care Tips
Lawn Aerator FAQs
When is the best time to aerate my lawn? 
Most lawns will benefit from being aerated on an annual basis, although those that are used heavily may require an additional aeration. New lawns will need to be aerated more often.
There are two ideal times in the year for aerating the lawn: the first is in the spring and the second is in autumn.
During the spring and autumn months, the soil is moist which makes it easier to aerate. Spring coincides with the growing season of the grass, so aerating your lawn in the spring tends to produce better results.
It's worth keeping an eye on the weather when deciding to aerate. If it's too wet, the holes will seal quickly so aerating has very little benefit. However, most of the time the problem is that the ground is too dry – it can be necessary to water the soil before aerating.
Should I pick up plugs after aerating? 
It's best to leave the plugs on your lawn if you've used a plug aerator. They are full of nutrients and will be broken down on their own after a couple of weeks. If you're concerned about your lawn looking messy, watering the plugs can help them break them down a little faster.
Which is better: a spike or plug aerator? 
Spike aerators have sharp tines that penetrate the ground, while plug aerators remove a plug of grass from the soil.
In terms of which is better, this depends on the size of your garden and the soil. Spike aerators provide short term soil decompaction. They are suitable for small gardens and they don't create any mess on your lawn.
Plug aerators remove small plugs of soil. This means they do a better job aerating, and they provide a more long term decompaction as air spaces are created around your lawn. Plug aerators are suitable for larger lawns with a lot of soil compaction, although they do create more mess than spike aerators – as the plugs are left scattered around the lawn.
Can I mow my lawn after aerating? 
It's important not to mow immediately after lawn aeration. Instead, you should seed and fertilise to make the most of the holes you have created in the lawn. I recommend leaving the lawn mower alone for at least 2 weeks following aerating and overseeding.
If your lawn desperately needs a mow, you're better off mowing before you aerate.
READ NEXT: The UK's Best Lawn Mowers
How big should the holes be when aerating?
The holes in your lawn should be between 1.5 – 3 cm deep, although some electric aerators have adjustable depths. Ideally the holes should be around 1 cm in diameter.
It's also important the holes are correctly spaced. For best results, aim for each hole to be under 4.5 cm apart.