In this corded electric lawn mower review, I thoroughly compared assembly ease, design, power, performance, manoeuvrability, features, safety and value for money for multiple products. After hours of research and testing, I recommend the Bosch Rotak 34R Electric Lawn Mower as the best corded electric lawn mower on the UK market.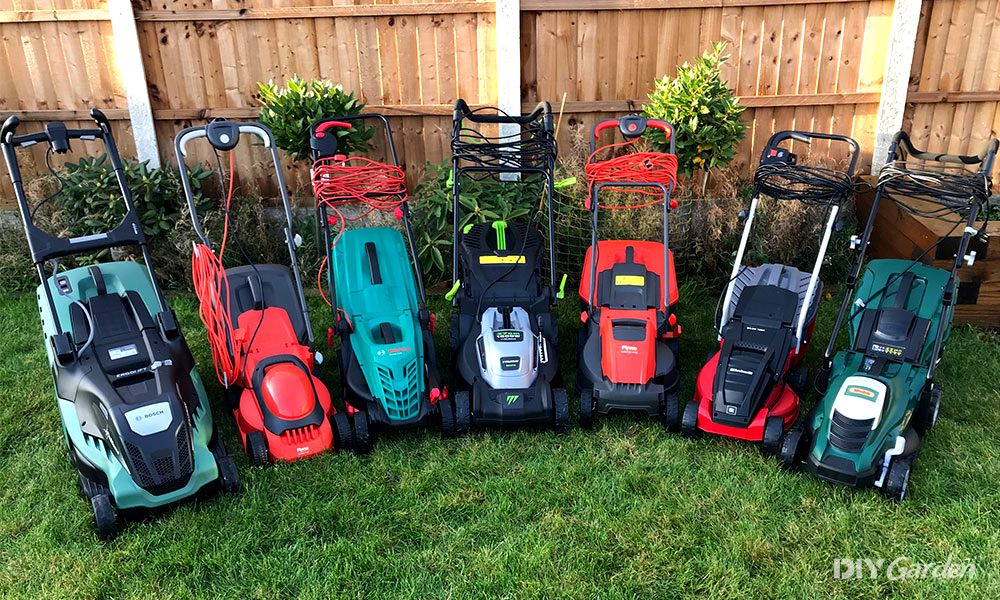 My Top Recommended Corded Electric Lawn Mowers
How I Tested
Product Tester:

I subjected a range of corded electric mowers to a comprehensive testing process to determine the top model for your garden. In this test, I covered several key aspects:
Assembly and Setup: I began by assessing the assembly process for each corded electric mower. I recorded the time it took from unboxing to having the mower fully operational. A straightforward assembly process is important for the average gardener, so any mower taking more than 30 minutes to set up was marked down.
Cord Length and Manoeuvrability: As corded electric mowers are reliant on the length of their power cords, I tested a range of models with varying cord lengths across small, medium and large gardens. Any models with particularly long power cords (around 12 metres) were given higher marks. I also used each mower around curved flower beds, tight corners, and obstacles like borders and fences to assess their manoeuvrability, rating any down that weren't up to the task.
Cutting Performance: Testing involved a comprehensive evaluation of cutting performance by testing each mower on different terrains, garden sizes, and grass lengths. I considered each mower's cutting width, speed, and ability to handle challenging terrains, as well as their cutting height settings. The model that performed best in these categories was rated highest in this category.
Safety and Durability: I ensured that each corded electric mower had appropriate safety features, such as blade engagement control, safety switches, and effective cord management. If there were concerns in any aspect of safety, the model was marked down. Durability was also a consideration – models made from high-quality materials like strong mesh for the grass bag and a sturdy design received the best ratings.
Grass Box and Additional Features: I inspected the grass collection box, assessing its size and ease of removal. Models were marked down if they had issues with excessive grass spillage when removing the box or if the box was heavy and difficult to detach. I also tested real rollers, examining whether they produced crisp lines. Adjustable handle heights, mulching capabilities, and safety features were also taken into consideration.
Value for Money: In the final phase of testing, I considered the overall value for money each corded electric mower offered. I factored performance, features, and the mower's price point into this decision. I also considered how easy it was to move each mower in and out of storage, as this determines how practical it is in an everyday garden environment.
My Product Reviews & Opinions
Compare Product Features Here
Use the dropdown to sort the table by the feature that's most important to you.


Our score
Lawn Size
Power
Cutting Width
Cutting Heights
Collection Bag
Weight
Cord Length
Lawn Size

Medium

Power

1300W

Cutting Width

34cm

Cutting Heights

20mm-70mm

Collection Bag

40L

Weight

11.1kg

Cord Length

10m

Lawn Size

Medium to Large

Power

1500W

Cutting Width

36cm

Cutting Heights

20mm-60mm

Collection Bag

40L

Weight

11.5kg

Cord Length

12m

Lawn Size

Large

Power

1700W

Cutting Width

41cm

Cutting Heights

25mm - 80mm

Collection Bag

50L

Weight

16kg

Cord Length

10m

Lawn Size

Small

Power

1300W

Cutting Width

33cm

Cutting Heights

25mm-65mm

Collection Bag

35L

Weight

8.8kg

Cord Length

10m

Lawn Size

Medium to Large

Power

1600W

Cutting Width

37cm

Cutting Heights

25mm-75mm

Collection Bag

40L

Weight

14kg

Cord Length

10m

Lawn Size

Small

Power

1000W

Cutting Width

30cm

Cutting Heights

20mm-60mm

Collection Bag

30L

Weight

8.4kg

Cord Length

10m

Lawn Size

Small to Medium

Power

1250W

Cutting Width

33cm

Cutting Heights

20mm-60mm

Collection Bag

30L

Weight

11.1kg

Cord Length

10m
Tips For Buying a Corded Electric Lawn Mower
One of the most important things to consider is the length of the power cable

. Corded, mains-powered mowers are best suited to small/medium gardens in terms of practicality.

Look for a power cable of at least 10 m

, but expect that you may need an extension cable in larger areas.

If you do have a larger garden (between 750 – 1000 m²), choose a lawn mower with a broad cutting width of around 42 – 45 cm

. If the mower is self-propelled, you can get away with a slightly narrower width between 34 – 41 cm. These mowers will be best for covering large spaces quickly without too many passes.

If there are a lot of obstacles or narrow pathways in your garden, a smaller cutting width may be more practical.

For small to medium gardens, look for a 30 – 42 cm cutting width

. These will be a lot easier to manoeuvre around trees and flowerbeds as well. You may need to go over these parts a couple of times, but you won't have to avoid them altogether like you would with a larger mower!

The best corded electric lawn mower will offer variable cutting heights; look for a maximum cutting height of 70 – 80 mm and a minimum of 20 mm

. This range is suitable for cutting grass in UK conditions.
To get a good feel for the different machines on the market, I tested seven corded electric mowers. Of these, the Bosch Rotak 34R Electric Lawn Mower came out on top. With a 34 cm cutting width, it's perfect for small/medium lawns; plus, it has adjustable cutting heights ranging from 20 – 70 mm. I was impressed with how close it cuts against edges, and with its integrated rear roller which leaves a visible stripe on the lawn.
Why You Can Trust DIY Garden
At DIY Garden, we believe your trust is earned through our knowledge and transparency. Our team of experts has over 75 years collective experience in the gardening and DIY space. Since the website's creation in 2016 we've tested over 275 products, ensuring our recommendations are based on real experience. We're open about what we've tried and what we've researched, and this is clearly labelled in our product reviews. Every year, we revisit and update our suggestions to include worthy new additions to the market. Our aim is to give you straightforward, honest, and helpful recommendations, so you can confidently choose the best tools and equipment for your projects.
How to Choose The Best Electric Lawn Mower
Whether you always pride yourself on your perfectly mown lawn, or you've decided that this is the year you're finally going to start taking care of your garden, investing in the best electric lawn mower is certainly a worthwhile purchase.
Producing a fraction of the noise of the best petrol lawn mowers (we should know – we've tested them!) and being lighter and easier to use, electric lawn mowers are perfectly suited to small to medium sized lawns.
There are, as always, a lot of different models out there, and looking for the best electric lawn mower for your garden can leave you scratching your head in confusion. The following advice has been put together to help you make an informed decision, alongside our electric lawn mower reviews above.
READ NEXT: The Best Cordless Lawn Mowers
The Importance of Lawn Mower Cutting Width
A larger mowing width may help you get jobs done faster, but may not offer such good manoeuvrability.
From the electric lawn mowers I reviewed, mowing width ranged from 36 – 45 cm. This is quite a big variation and is good to bear in mind when buying a new lawn mower.
For larger gardens without many obstacles to navigate, look for electric lawn mowers with a wider cutting width to save time. You'll be able to cover a larger area in fewer passes. However, the mower is likely to be a bit more cumbersome than slighter models.
If your garden is small with a lot of trees and flower beds to manoeuvre around, a smaller cutting width is more practical.
Similarly, if you have a medium-large garden, but a lot of narrow areas, it's better to go for a narrower mower. Having to do a few more passes is generally better than being forced to leave parts of the garden unmown because the machine won't fit.
Check out our article on 'What Size Lawn Mower Do I Need?' for more advice.
Look at The Adjustable Cutting Heights & Range
Most electric lawn mowers come with a range of cutting heights to choose from. The exact number of heights available, and their range, will depend on the machine you purchase. While some have 3 different heights to choose from, more advanced models can have up to 8.
If your garden is very overgrown, it's recommended to look for electric lawn mowers with a taller maximum cutting height (like 70 or 80 mm). You'll be better off cutting the grass on a higher setting first, then cutting it down shorter.
If you try to go in too short too quickly, you'll likely overwhelm your lawn mower. This can cause it to cut out, or result in the battery running down quickly.
If you're after very short, pristine-looking grass, a cutting height of around 20 mm is generally ideal. Most lawn mowers go down to this height, but just keep an eye out as a few models have a minimum cutting height of 30 mm instead.
Why not take a look at our article 'What Height Should I Cut My Grass?'.
Lawn Mower Comfort and Ease of Use
Electric lawn mowers should be both comfortable and easy to use.
This is partly dictated by weight. For example, a lightweight lawn mower will be easier to take in and out of storage. It will also be easier to push, if the mower isn't power-assisted.
Checking the weight of the lawn mower before purchasing it is vital – it's better to go for something that you can move easily (and will therefore use often), even if it's slightly less powerful, rather than something that will be very difficult to carry.
Other factors that improve comfort include grippy, shock-absorbing handles. These can also help reduce vibrations and make mowing for longer periods more pleasant.
An adjustable handle is another good feature to look out for. If you can alter the handle height, even taller or shorter members of the family will have no excuse not to help out with the mowing!
Jokes aside, an adjustable handle can really help avoid any back pain from mowing.
Still on the subject of handles, folding handles are a useful addition that make electric lawn mowers infinitely easier to store. Having a more compact mower can make life easier by freeing up space in your garden shed.
READ NEXT: The Best Lawn Mowers for Small Gardens
Lawn Mower Collection Bag Capacity
If your lawn mower comes with a collection bag above 50 L in size, you should be able to tackle most jobs without having to stop and empty it.
Larger bags (or boxes) mean less emptying, but they do make the mower heavier. Therefore, there's a bit of a balance to made between grass-collector size and the weight that you're willing to push around.
Alternatively, look for the best mulching lawn mowers (what's mulching?) that will shred the cuttings finely and redistribute them over the lawn. Mulch helps fertilise the lawn and retain moisture during the summer months. By using the mulching function you won't fill up the collection-box, so you won't need to stop to empty it. 
Not all of the best electric lawn mowers have a mulching feature, so you should specifically look out for this if it's something that interests you.
READ NEXT: The Best Lawn Mowers Under £100
Electric Lawn Mower FAQs
What should I look for in a corded lawn mower?
While corded lawn mowers eliminate the worries of a short battery life, the length of cable should still be considered. So, the first thing you should ensure when you're purchasing a corded lawn mower, is that the cable is the right length for your garden.
Too short, and you'll either miss out areas of lawn or need to purchase an extension cable. If your cable is much too long, you'll be more likely to accidentally mow over it!
Almost every lawn mower I've recommended here has a cable of 10m, and one model has a 12m cable. A cord of 10-12m tends to suit most small to medium size gardens. 
Another thing to look out for is the cutting width. If you've got a large, open garden without many obstacles to mow around, a wider cutting width will save you time. You'll be able to cover a larger area in fewer passes. 
For awkward shaped gardens with flower beds, trees and other obstacles, a narrower cutting width will suit you better. These tend to be easier to manoeuvre around obstacles and can fit into tighter spaces. 
Finally, look for the cutting heights. A mower with a range of cutting heights is best, as you can adjust the height depending on whether your garden is overgrown, the weather (if it's wet you won't want to go as short), and your preferred look. Some mowers have 3 heights to choose from, while others may have 8 or more. 
How long do corded lawn mowers last?
This depends on the brand you purchase from, the build quality and how well you look after your new mower. 
While purchasing from a reputable brand is recommended, that's not to say that there aren't smaller companies that can produce good quality mowers. Some of these may even last longer than high end mowers!
The average lawn mower should last around 10 years provided it is correctly looked after and maintained. Of course, this will also depend on how often it's used. If you use your mower for 4 hours a week, while your neighbour uses theirs for 2 hours a week, it makes sense to assume that your neighbour's mower will last twice as long. 
If you regularly cut grass that is very long and wet using a setting that's too short, your mower may start to struggle. However, if you take into account the condition of the grass while selecting the cutting height, your mower will be more likely to reward you with a long service life! 
A well maintained corded mower will last a long time. Ensure the blades are cleaned regularly and you should also oil the moving parts on a regular basis. Most manufacturers provide instructions on how to care for your new mower. 
The best way to guarantee the lifespan of your mower is to purchase a quality model. Read reviews and buyer's guides before you make a purchase. If something sounds too good to be true, it probably is!
Which is cheaper: a petrol or corded electric mower?
Usually, petrol mowers are more expensive than corded mowers. This is because they have a lot more power and do a better job on tough terrains, long grass and slopes. Petrol mowers tend to be large machines, with better features and versatility. 
While electric mowers are usually cheaper they're often the preferred option for domestic use in average size gardens. Electric mowers come with their own set of advantages. There's no need to worry about filling the petrol tank nor charging the battery.
When it comes to maintenance and additional purchases, corded mowers also work out cheaper. Owners of petrol mowers will need to purchase fuel, as well as pay for a service every year. Petrol mowers also need a lot more maintenance. 
Corded electric mowers, once purchased, only cost you in electricity – which is a lot lower than the cost of fuel!
How much electricity does a corded electric lawn mower use?
Again, this depends on the specific model you purchase. Most corded models use 700-1800 watts of electricity per hour, or 10-15 amps. To work out how much your mower costs to run, you'll need to know how much your electricity costs per hour. 
For the average UK household, using 700 watts of electricity costs around 15p per hour, while 1800 watts costs 35p per hour. A 1800 watt mower used for an hour every week will cost around £18 a year to run. 
Is it safe to cut wet grass with an electric lawn mower?
It's recommended to wait for a dry day before mowing your lawn. Cutting wet grass can damage your lawn mower, whether it's an electric mower or petrol powered model.
In addition, damp grass puts a lot more strain on the engine of the mower, so it would have to work a lot harder to cut wet grass.