In this robot lawn mower review, I thoroughly compared design, power, performance, ease of setup, features, safety and value for money for multiple products. After hours of research and testing, I recommend the LawnMaster L12 Robotic Lawnmower as the best robot lawn mower on the UK market.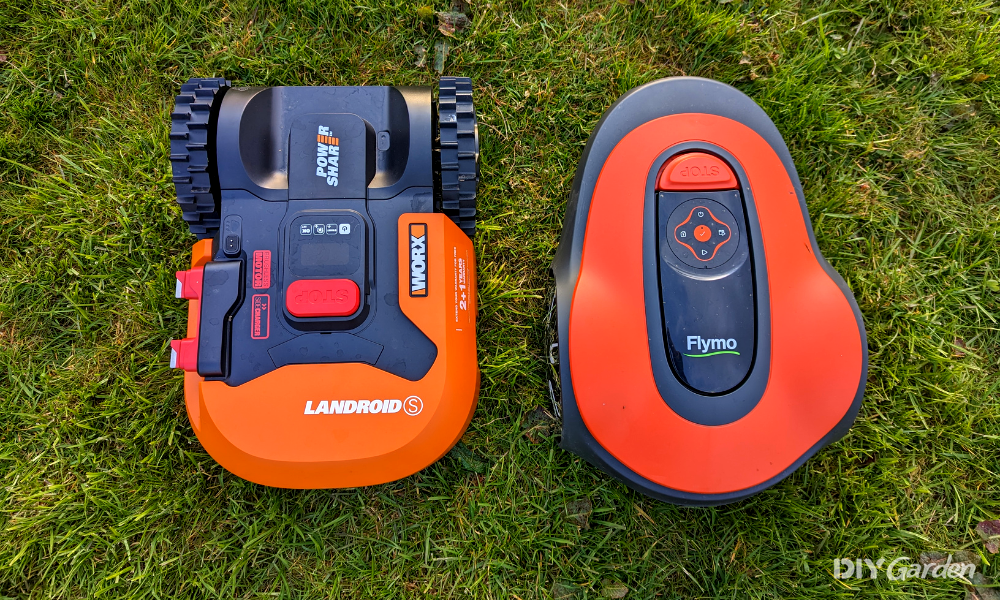 My Top Recommended Robot Lawn Mowers
My Product Reviews & Opinions
Compare Product Features Here
Use the dropdown to sort the table by the feature that's most important to you.


Our score
Lawn Size
Weight
Cutting Width
Cutting Height
Tips for Buying a Robot Lawn Mower
If you've not got the time to mow your lawn (or you simply don't want to!), a robot lawn mower is a great purchase. There's a huge range on the market today to choose from. 

Robot lawn mowers are designed to

mow little and often

, which will mean your lawn never gets too long. They take just a small amount off at a time, depositing the clippings back into the ground to improve the quality.

If you're new to robot lawn mowers, you will probably want to consider

ease of use and set up.

Some connect to an app and can be

controlled using your smartphone

, while others can be controlled using buttons on the unit. 

Think about the number of obstacles you have in your garden. The cheapest robot lawn mowers may struggle to mow complex lawns, while

more advanced models will be better able to handle obstacles, awkward shaped lawns and different zones.
Take a look at security features

. Some robot lawn mowers have a PIN code which must be entered before the mower can be used, while others have an alarm feature, where a loud alarm will be triggered if the mower is lifted.
Why You Can Trust DIY Garden
At DIY Garden, we believe your trust is earned through our knowledge and transparency. Our team of experts has over 75 years collective experience in the gardening and DIY space. Since the website's creation in 2016 we've tested over 275 products, ensuring our recommendations are based on real experience. We're open about what we've tried and what we've researched, and this is clearly labelled in our product reviews. Every year, we revisit and update our suggestions to include worthy new additions to the market. Our aim is to give you straightforward, honest, and helpful recommendations, so you can confidently choose the best tools and equipment for your projects.
How to Choose the Best Robot Lawn Mower
Robot lawn mowers have been in the public sphere for over five decades, yet they're still thought of as futuristic! 
Today's robot lawn mowers take the hard work out of mowing and have been manufactured for almost any size garden.
With so many different robot lawn mowers on the market today, how do you decide which is the right model for you? 
Take a look at the following advice to help you find the best robot lawn mower for your garden. 
How do Robotic Lawn Mowers Work?
Robotic lawn mowers have a few key features that help save time in the garden. They work using a unique cutting system, designed to cut little and often. 
They are built with smaller blades that skim just the top of the grass blade each time. They are designed to be used much more frequently than regular mowers, cutting just a small amount of grass with each mow. Because of this, they don't need collection bags. Instead, the clippings are deposited back onto the lawn. 
Robot lawn mowers work using perimeter detection. This is usually set up with a boundary wire. They use their built in navigation system to detect the wire, and they won't go past this point. The perimeter wire can be installed around obstacles, to prevent the mower from knocking into a tree or flowerbed. 
Safety components can help prevent your robot lawn mower from injuring someone. Most have blades that are tucked underneath the model, while many can sense if they are lifted off the ground, shutting down the blades if that happens. 
The Benefits of Using a Robot Lawn Mower
There's a number of benefits of a robot lawn mower. The first and most obvious reason why so many people are investing in robot lawn mowers is because they are more convenient. They don't cut into your free time, operating at night or while you are at work. Once they've been set up, you can usually just leave them to do their job! 
Robot mowers are designed to make short, regular cuts. They remove just the top of the grass blade each time, and don't allow the grass to get so long. Because of this, your lawn will always look neat and tidy. You'll likely never even notice that it needs a mow! 
Mowing this consistently can improve the density of your lawn, and most robot mowers won't leave streaks or marks across your lawn. The result? An enviable lawn every day of the week!
Compared to petrol mowers, robot lawn mowers are better for the environment. They don't emit any fumes and they can be started with the push of a button. This also means they are a lot quieter, with many people choosing to set their mowing schedule for overnight. 
Finally, robot lawn mowers are better for your lawn. The grass clippings aren't collected, instead they are simply deposited back onto the lawn. This will add nutrients back into the grass. 
By working more frequently than regular mowers, the clippings are smaller. This means they break down quicker and leave a neater finish than mowers which deposit large clippings back onto the soil. 
Choosing The Best Robot Lawn Mower For Your Garden
Robot lawn mowers aren't cheap, so a little thought is required before you make a purchase. Here's what to consider. 
Garden Type
You cannot purchase a new lawn mower without thinking about your garden. All robot lawn mowers have been designed to suit particular gardens.
The first thing to consider is the size. Robot lawn mowers have area limits, so you'll need to find one that has a lawn coverage which slightly exceeds the size of your lawn. If you think you may move in the future to a property with a larger garden, ensure your new mower is able to accommodate a larger space. 
You should also think about the slope. Most mowers are designed to handle a certain level of slope, and no steeper. If you've got a slope in your garden, ensure your mower is able to accommodate it. Most robot lawn mowers can handle slopes at a gradient of between 20% and 35%. 
Finally, think about the number of obstacles in your garden. Plants, flower beds, trees or children's climbing equipment can all get in the way of a robot lawn mower. You'll need to look for one that is able to handle obstacles and fit into tight spaces if you've got a lot going on in your garden. 
Ease of Setup & Use
There is no denying that robot lawn mowers are more complicated to set up than regular lawn mowers. However, that's not to say they are tricky to use. 
There are many robot lawn mowers on the market with simple functionality, and these mowers are often cheaper. The mowing schedule can be set on the unit itself, and they may not require boundary wire, instead detecting the surface underneath and only mowing when it senses grass.
Cheaper models however, may not be able to cope with sharp angles or difficult areas. They can get confused, stuck easily and may need rescuing! 
The more expensive mowers with higher functionality will have a larger number of features. This might include weather sensors, GPS navigation and the ability to connect to your wifi or smartphone. This allows you to adjust and view the schedule from your smartphone, while also tracking it if it goes missing. 
Robot Lawn Mower Features
You should also think about the specific cutting features. For instance, the height and width. 
With some robotic mowers, the height of the cut can be adjusted via the display. They often don't have a particularly large range, as they are designed for small but regular cuts. 
The cutting width of robot lawn mowers is a lot narrower than regular lawn mowers. This is because they are designed to get into smaller spaces and take up a lot less room. Models for smaller lawns may have a cutting width of just 20 cm. 
Safety Components
Safety components should also be considered. Those with pets or young children are right to be concerned about the safety of robot lawn mowers, as those blades are seriously sharp! 
However, most robot lawn mowers now come with effective safety features, such as a collision detection system. This allows your mower to stop and turn before it bumps into an obstacle, but it'll also prevent it from crashing into people or pets. 
The cutting blades are usually buried right underneath the mower's body, meaning even if the mower does crash into you, the blades won't make contact. 
Most robot mowers now have a 'lift and tilt' sensor which shuts off the cutting system when the mower is either lifted from the ground or tilted in some way. 
Finally, there should be an emergency stop button. This is a bright red button that's easy to access, and will instantly turn off the mower. 
Security Features
Let's face it, robot lawn mowers are costly, and the last thing you want is for it to get stolen! But if you're out at work or relaxing inside during the day, you want to be sure a passer-by isn't going to help themselves to your new tool. 
SEE HERE: The UK's Latest Burglary Statistics
Thankfully, robot lawn mowers can come with any number of security features. 
The first is PIN protection. They are usually secured with a personal PIN, which will need to be inputted whenever you want to use the device. While someone could still disappear with your lawn mower, it's nice to know that they won't be able to use it. 
Another is an audible alarm signal. This is an alarm which will alert you if someone tries to steal the mower. It'll sound when the mower has been lifted and the PIN hasn't been entered. This alarm may also sound if the mower moves out of a certain area. 
Those with a GPS often have the option of GPS tracking. The position of the unit can be determined using your smartphone or computer, allowing you to quickly track down the thief. 
Robot Lawn Mower FAQs
Are robotic lawn mowers worth buying?
This depends on how much time you have for mowing, as well as how much you value the time you do have spare! 
Those with robotic lawn mowers often declare that they couldn't go back to a traditional lawn mower. Robot lawn mowers can save you a huge amount of time every week, leaving you with time in your day free to put your feet up or, let's face it, tackle another gardening task!
Robot lawn mowers certainly take the toil out of lawn care once they are set up. What puts many people off is the time they take to set up and the cost. Depending on the mower you purchase, you may find that your new lawn mower doesn't reach the edges of your lawn, meaning you'll need to go over them with a strimmer. Of course, some people enjoy mowing, so a robot lawn mower wouldn't suit them. 
If you've got the money, you dislike mowing the lawn and you value your free time, a robot lawn mower is certainly worth serious consideration. 
Are robot mowers better for my lawn?
Some robot mowers are specifically designed to improve the quality of your lawn. This is because instead of collecting the grass clippings, the mower deposits the clippings back onto the lawn. Over time, the clippings will break down and add nutrients to the soil. 
Robot lawn mowers are also designed to mow more frequently. They generally mow the lawn every one to three days depending on your preference. This leads to the grass growing wider and forming more shoots, which will eventually improve the density of the grass. Letting grass grow too long then cutting it short can damage it, and also lead to weed growth. 
What are the disadvantages of a robotic mower?
Robotic lawn mowers are gaining in popularity, but there's still a few considerations to be made. 
The first is that they are expensive to purchase initially. While they can save you a huge amount of time, the initial price means a purchase requires some serious thought. 
READ NEXT: How Much Money Should I Spend on a Lawn Mower?
Another is that their installation can be complex. Wifi connectivity, boundary wires and charging bases aren't something that need considering with a traditional lawn mower, but if you want to make the most of your robot lawn mower, you're going to want to understand every part of it. 
The layout of your garden and terrain also needs considering. Gardens with steep slopes or very bumpy terrain may find that a robot lawn mower gets stuck. 
Finally, there is the risk of theft. Robot mowers are worth a lot of money, and if you've left it out in your front lawn to work, you may find an intruder helps themselves to it. While some robot lawn mowers come equipped with security features such as an alarm, many do not.