In this self propelled lawn mower review, I thoroughly compared design, power, performance, manoeuvrability, features, safety and value for money for multiple products. After hours of research and testing, I recommend the Hyundai HYM510SP Self Propelled Petrol Lawnmower as the best self propelled lawn mower on the UK market.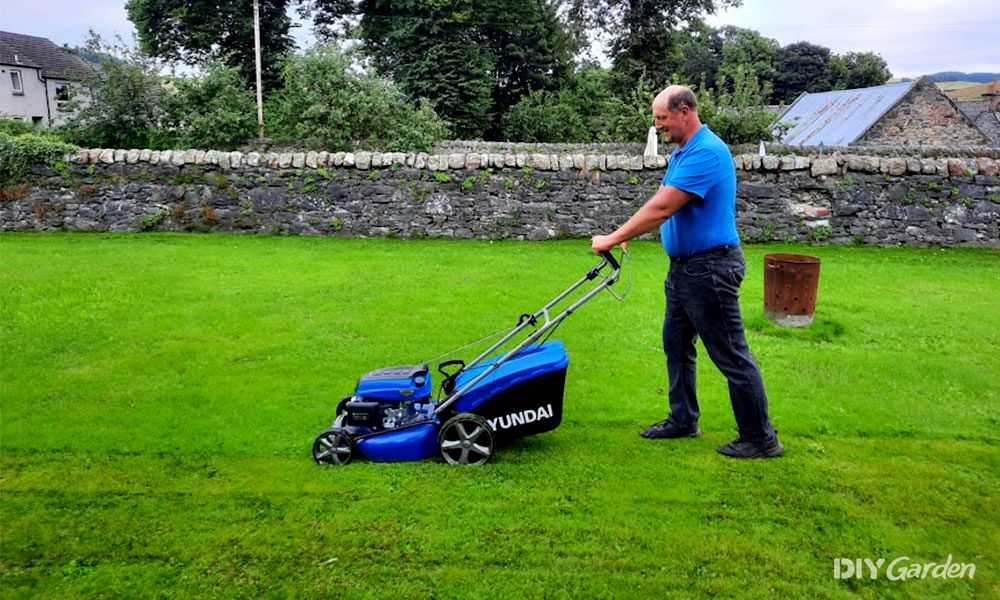 My Top Recommended Self Propelled Lawn Mowers
How I Tested
Product Tester:
I researched and tested multiple self-propelled lawn mowers so I could recommend the best products for you, whether you had a small, medium, or large lawn to mow. I assessed each lawn mower's design, power, performance, manoeuvrability, features, and value for money. Here is how I tested these vital features:
Design: Design is a key consideration when it comes to durability and ease of use, so I rated lawn mowers made from strong, sturdy parts better than models with flimsier elements. As a result, lawn mowers with a metal deck rated higher than those made from plastic. I assessed how easy it was to assemble and how well it stores in small spaces, so lawn mowers that took 10 minutes or less required no tools to assemble and had foldable handles rated best. Self-propelled lawn mowers with large enough collection bags for large lawns (70 L being ideal) were rated highest, especially those made from hardwearing materials rather than flimsy fabric. I rated the models whose bags or boxes fit snuggly into the unit, didn't leak, and that were easy to remove and reattach particularly high as these were easier to use. Furthermore, I tested the electric starter, assessing whether it was easy to use and straightforward to get to grips with. I was looking for lawn mowers with a self-propelled pace that was fast enough but still a comfortable walking speed; those that were too fast to be comfortable for the general user were rated lower.
Power: Those with bigger motors (132 cc and over) were rated higher because the extra power helped them perform better. Battery-powered models were rated on whether or not the battery was powerful enough (40 V and above) to handle a medium-sized lawn without having to recharge the battery.
Performance & Manoeuvrability: Each lawn mower's cutting width and ability to mow short, long, or wet grass on a range of terrains were important performance considerations. Larger cutting widths (like 51 cm) were best for large lawns, but with size, you lose manoeuvrability, so smaller cutting widths of 41 cm or less were best for medium and small lawns. However, I also scored self-propelled lawn mowers higher if they found the perfect balance of power and manoeuvrability. Of course, the mower's weight played a significant role in its manoeuvrability, with heavy models being more challenging for people to move up and down uneven surfaces or out of a shed or garage. Lighter models were easier to move, so I recommended those for medium and small lawns.
Features: I rated models higher when they had handy additional features, such as an adjustable cutting length, especially when these were simple and straightforward to adjust. I also rated models higher if you could use them without propulsion, as this is useful when working around obstacles or in small spaces where you need to mow slower. Mulching capabilities were another plus.
Value For Money: For value for money, I considered the overall design, power, performance, and manoeuvrability and compared that to the money spent and the size of the lawn it was suitable for. I rated it exceptionally high if it had a good design and could handle any sized lawn.
My Product Reviews & Opinions
Compare Product Features Here
Use the dropdown to sort the table by the feature that's most important to you.


Our score
Lawn Size
Engine
Cutting Width
Height Range
Collection Bag
Weight
Tips For Buying a Self Propelled Lawn Mower
If you have a large garden, a self propelled petrol lawn mower will be most suitable. Petrol mowers save a lot of effort and help speed through the job. Anything over 170 cc will be a powerful machine, although engines upwards of 125 cc will still suit most medium and large gardens.
For small/medium outdoor spaces (up to 500 m²), you may prefer a cordless battery-powered model

. These are lighter and easier to manoeuvre but can be limited by battery run time. At most, you can expect around 30-40 minutes.

For large gardens, choose a cutting width of 42 – 56 cm. For medium gardens, a cutting width of 30 – 40 cm is suitable

. Stick to a narrower model if you've got a lot of obstacles or trees to navigate around!

A grass collection box of at least 60 L is best for larger lawns and a 40 L grass box is suitable for smaller gardens

. If you want to improve the health of your lawn,

look for a mulching feature

. This will chop the clippings and release them back onto the grass.

You'll also want a few variable cutting heights. Mowers with a minimum cutting height around 25 mm are perfect for UK lawns

. A maximum cutting height of at least 50 mm is useful for cutting long, damp or damaged grass.

Depending on the layout of your garden, you may occasionally need to use your mower without the self-propelled motor. Electric mowers generally weigh less than 20 kg

which makes them easier to push manually when necessary.

Petrol mowers can weigh over 30 kg

. This weight is manageable, but if you've got a long way between the storage area and lawn, you may prefer a lighter model.
After researching various self propelled mowers, I've gone with the Hyundai HYM510SP Self Propelled Petrol Lawn Mower as my top pick. This mower is great for large gardens, with a 51 cm cutting width, a 70 L grass bag and six cutting heights.
Why You Can Trust DIY Garden
At DIY Garden, we believe your trust is earned through our knowledge and transparency. Our team of experts has over 75 years collective experience in the gardening and DIY space. Since the website's creation in 2016 we've tested over 275 products, ensuring our recommendations are based on real experience. We're open about what we've tried and what we've researched, and this is clearly labelled in our product reviews. Every year, we revisit and update our suggestions to include worthy new additions to the market. Our aim is to give you straightforward, honest, and helpful recommendations, so you can confidently choose the best tools and equipment for your projects.
How to Choose the Best Self Propelled Lawn Mower
Uneven ground can certainly result in more of a workout whilst mowing the lawn.
If you've got slopes, bumps or hillocks in your garden, you'll find that a self-propelled lawn mower makes them a lot easier to manage.
By pulling themselves forwards, a lot of the effort is taken out of negotiating the mower over lumpy terrain.
There are quite a few different things to consider when choosing the best lawn mower for uneven ground, so the following information should help you make an informed decision.
READ NEXT: The Best Lawn Mowers for Steep Slopes
Power Type
When looking for a self-propelled lawn mower, you have the choice between petrol-powered models, mains-powered options and battery-powered machines. There are advantages and disadvantages to each type, which we'll look at in more detail below.
Petrol-Powered
Owning a self-propelled lawn mower that is powered by petrol means that you have the freedom of cordless mowing, combined with the vast power of a petrol machine.
Petrol lawn mowers are very powerful. They're generally capable of cutting through long, thick grass, and won't bat an eyelid if it's slightly damp either. Due to their large engines, petrol machines are heavy, and therefore can be difficult to manoeuvre around the garden.
Being self-propelled can certainly help with this, pulling the mower around and over difficult terrain. This can allow petrol mowers to be used in gardens where it might otherwise be too challenging for such heavy machinery.
Nevertheless, petrol mowers might not be suitable for those who struggle with lifting heavy objects, or for gardens with lots of steps and different levels. Moving a large, heavy petrol lawn mower between sites can be hard work when the 'self-propel' can't be used.
Mains-Powered
Mains-powered corded electric lawn mowers tend to offer a good middle ground between petrol- and battery-powered mowers.
They don't produce fumes like petrol machines, and are better for the environment, but they're generally more powerful than battery-powered models (although, in recent years, there is more crossover between mid/low range mains-powered machines and mid/high range battery-powered machines).
The biggest downside of a mains-powered mower is the small fact of being tethered to a power socket by a cable. Not only can this be limiting in terms of how freely you can move around the garden, but you also need to be constantly mindful not to run over the wire.
Having a self-propelled, mains-powered lawn mower is useful because you can keep mowing until the job is done, and the propulsion will help reduce fatigue; however, you have to work around being restricted.
Battery Powered
As mentioned above, battery-powered technology has come on leaps and bounds in the last few years. Better availability of larger, more powerful batteries now means that battery-powered cordless lawnmowers can better keep up with mains-powered models.
Of course, there's always going to be a time limit on using a battery-powered lawn mower, and this is one of the biggest disadvantages.
Large batteries, of around 6.0 Ah, can often achieve up to an hour's run time (and sometimes more than that). However, these will generally need to be bought separately and can be expensive.
For this reason, battery-powered lawn mowers might be considered more suitable for smaller gardens, unless you've budgeted to buy larger batteries.
Another good point about battery-powered self-propelled lawn mowers is that they are some of the most lightweight mowers available. As a result, they are much easier to move around the garden, lift up steps, and haul over obstacles than heavy petrol/mains-powered models.
READ NEXT: The Best Robot Lawnmowers
Propulsion Speed
Although this is something you don't have to think about with non-propelling mowers, propulsion speed is worth bearing in mind when shopping for self-propelling models.
Some mowers may only offer one speed, which they should cite in their description or product specifications. A useful statistic to bear in mind is that 'comfortable walking pace' is generally considered to be 4.5 – 5 km/h.
There are self-propelled mowers available with more than one speed which can be useful for several reasons. Firstly, so that you can move at a speed that you feel comfortable with, and secondly so that you can apply a bit more 'oomph' when tackling bumpy, hilly terrain.
Garden Size
If you only have a small garden, you will likely find that a large, petrol-powered lawn mower is too much for you. Not only because of its size, but because the cost of the machine won't be justified.
Lawn mowers also have different cutting widths and getting the right size can depend on the size of your garden.
Larger lawn mowers have a cutting width of between 46 – 53 cm. These are great for medium/large gardens as it means less passes need to be done across the lawn in order to cut the whole space. However, this large size can be a hinderance in smaller gardens, limiting manoeuvrability and also making it hard to mow in tight corners.
Smaller lawn mowers can have as narrow a cutting width as 30 cm. This may be too small for even a lot of medium-size gardens, because you'd have to do a lot of passes with the mower. However, it can be useful in small gardens and gardens with narrow pathways. Cutting widths ranging from 30 – 45 cm should be suitable for smaller gardens.
Methods of Grass Collection
Most mowers will have a range of options when it comes to grass collection.
As standard, you can expect a grass bag that can be emptied into the compost, but you might also want to check if the mower comes with a mulching plug.
Mulching the grass will result in the finely-cut clippings being spread back over the lawn as the mower goes. This helps fertilise the grass and can help with lawn health. It also means that you don't have to keep stopping to take grass clippings to the compost heap.
When grass is collected in a collection box, it adds to the weight of the mower. This also makes it harder to push, and can slow down the self-propulsion speed, so having an option to mulch can be useful.
READ NEXT: The Best Commercial Lawn Mowers
Self Propelled Lawn Mower FAQs
Which is better for uneven lawns, lawn mowers with front- or rear-wheel drives? 
There's advantages to both front- and rear-wheel drive mowers, but it's generally believed that rear wheel drive is best for hilly gardens and uneven ground.
Rear wheel drive lawn mowers provide better traction which makes them a good option for slopes and hills. They run on the back of wheels, and not the front ones. You'll have greater control over crooked, bumpy and uneven gardens.
Can you go backwards with a self propelled lawn mower? 
Most self propelled lawn mowers can't move backwards when they are in use. They can be moved backwards if you disengage the blade and drive motor, but to move them backwards while in use, you'll need to raise the wheels off the lawn.
As always, read the manufacturer's instructions carefully and follow the advice given for your particular lawn mower model.
What petrol should I use in my petrol lawn mower? 
You should use clean, fresh, unleaded petrol in your lawn mower (unless the manufacturer recommends otherwise).
If the fuel is more than three months old it will likely have gone stale. Stale fuel doesn't easily combust, and the machine will not work as well.
Check the ethanol content of the fuel. Fuel with an ethanol content of up to 10% is ok to use, but some fuels contain 15% ethanol which should be avoided.
READ NEXT: Can You Use e10 Petrol in Lawn Mowers?
Can you still manually push a self propelled lawn mower?
Yes, in most cases you can still push a self propelled lawn mower. Many gardeners prefer to turn off the self propelled function when they need to move slower, such as around trees, flower beds or obstacles like garden furniture.
The only issue is that pushing a self propelled mower can be much harder work than pushing a regular mower. This is because self propelled mowers are usually heavier, as the weight is less important. Many have a heavier chassis and are packed with extra features that add to the weight.
What are the pros and cons of a self propelled lawn mower?
Self propelled mowers help mow large lawns in less time, with much less effort. Pushing a large mower across a big lawn, particularly if there is uneven ground or inclines, can become tiring very quickly.
Self propelled mowers literally take the hard work out of mowing; the mower will feel practically weightless. Self propelled mowers are easier on your body, and all you need to worry about is steering in the right direction.
They move a lot faster than you would with a push mower, and can help produce a smoother finish. This is because there's no struggling up slopes, which can lead to an uneven cut. Self propelled mowers move consistently and smoothly.
There aren't many downsides to self propelled lawn mowers. However, as you might expect, they are more expensive than regular push mowers. They are usually heavier, which means that getting them in and out of storage can be harder. However, there are models under 25 kg on the market which are more manageable, particularly if you've got a long way to push your mower before you get to your lawn.