Our
Murray Lithium-Ion IQ18WM44 Cordless Lawn Mower

Review

Compared to the other machines that I tested, the Murray Cordless Lawn Mower definitely feels like the Ferrari of the cordless lawn mower world. It's powerful, boasts advanced features, and offers such a customisable cut. This is a lawn mower that I would highly recommend for medium and large gardens, as well as for people with small gardens who want to get the job done as quickly as possible!

B07PX6YC9F

9311446291916
Murray lawn mowers are known for being top-of-the-line, especially now that they're manufactured by Briggs and Stratton. I've used many Murray mowers in the past but the Murray Cordless Lawn Mower would be my first foray into the brand's cordless range, and I was looking forward to seeing how this machine would fare.
Read our product testing methodology here.
How I Tested
I have been looking for a cordless lawn mower to help me neaten up the paths in my 2-acre forest garden, and this Murray mower seemed perfect for that. Since it's designed for gardens up to 640m² in size, I chose a few smaller areas of the garden to test this lawn mower out on.
The majority of the spaces that I used this mower on consisted of a thick clover lawn that had previously been cut two weeks ago. However, since I wanted to give this lawn mower a really good run for its money, I also tried it out on a very overgrown section of grass that hadn't been cut for a few months.
The assembly process for all of the cordless lawn mowers that I tested was pretty similar, with everything being relatively straightforward; assemble the handles, secure them to the base unit (there are three options for attaching the handles on this machine, each one placing them at a different height), and then put the collection box together.
Since the collection basket that came with this lawn mower was already almost completely assembled, I was able to save a couple of minutes. This allowed me to have the lawn mower ready to go in under ten minutes, although you'll need to wait for the batteries to fully charge before you can start using it!
My first impression of this lawn mower was that it looks and feels very robust. It doesn't have the flimsy, toy-like quality that many other cordless lawn mowers do. It's bigger, taller, wider, and heavier, making it seem much more capable than its competition.
Of course, that makes sense when you consider the fact that this lawn mower has been designed for larger gardens. That's why it's equipped with a larger collection basket too. With a 50-litre capacity, it's almost double the size of the collection boxes that come with other cordless mowers, meaning that you won't have to stop to empty it quite so often. The downside to the collection basket was that half of it was made from fabric, which could affect its durability. However, the top part of the basket, which is the part that's most likely to get damaged, was made from hard plastic.
Another noticeable design feature that this lawn mower boasts is its large rear wheels. Most of the cordless lawn mowers out there have four wheels of the same size. Some may have slightly bigger rear wheels but, at 25cm, the rear wheels on this Murray mower are significantly larger than the front wheels. This is a sign that the lawn mower has been designed for use on all types of terrain.
This lawn mower has been fitted with a brushless motor too, which is always good to see. They give you more power efficiency and a longer runtime than brushed motors.
Storing this lawn mower is easy as well. The handles fold down and the collection basket is collapsible (the benefit of it being half fabric!), meaning that the entire thing takes up very little shed space.
This 36V lawn mower has a Briggs and Stratton motor that's powered by two 18V batteries. It comes with a dual charger, enabling you to charge both batteries at the same time. It takes just under two hours to fully charge the batteries from empty, which is pretty good!
The batteries that came with this lawn mower were 5aH, which gave me a runtime of about half an hour. The official runtime is 36 minutes but I found that it lasted a little less than that, which included me stopping and starting a few times. This was a little disappointing. For a lawn mower designed for larger gardens, you'd expect a slightly longer runtime so that you could cut your entire lawn in one go. Instead, this runtime was very similar to the lawn mowers that I tested that had been designed for small gardens.
However, there were two battery-related features that I really liked. The first was how the batteries display the actual percentage of battery life remaining, rather than having a simpler three-LED light indicator. Having said that, there is an indicator with three LED lights sitting just below the handle. Press the button while you're working and it will give you an idea of how much battery you have left, allowing you to better plan your cut. None of the other cordless mowers that I tested had either of these features.
I began by using this lawn mower on an area of short clover lawn. Its wide cut made fast work of the task, and its power meant that I could push it a little faster without worrying about overloading the motor. It neatly sliced through the lawn, working right up to the edges.
I then moved on to a rougher area of the garden, with uneven ground and long grass/weeds. I started off with the highest cutting height and was able to take everything down to a manageable level, where I could then go over it all again with a lower cut. Once again, the lawn mower did a good job at neatly munching through everything in its path!
The only downside to this lawn mower's performance was in relation to its grass collection basket. The first time I used this lawn mower, I ended up with blades of grass in my mouth. The grass clippings were flying out of the air vents in the collection basket, and the direction of the wind at the time meant that they headed straight for my face. Once I had my back to the wind, I didn't have any problems with this at all. However, it could be an issue for those of you who, like myself, live in a location that's almost always windy!
I already mentioned how this lawn mower was the biggest of all of the cordless lawn mowers that I reviewed. Well, at 14kg, it's the heaviest too. In some ways, this is great. It's partly why the machine feels so much sturdier than its competition. However, it can also mean that some people may find that the lawn mower feels cumbersome to push, especially if you have a hilly garden.
Personally, this wasn't an issue for me as I'm used to handling heavy garden equipment. I appreciated the extra weight behind the machine, even when moving it over rough ground. Its large rear wheels definitely help with this – the lawn mower doesn't jostle about quite so much when it's running over bumpy ground. It tackles sharp corners well too, with the wheels giving it great stability.
What helps even more with manoeuvrability is how you can adjust the angle of the handle. There are three angle settings to choose from, allowing you to pick the position that's most comfortable for you.
Since this lawn mower has a top handle too, it's easy to carry it around when it's not being used. That said, due to its weight, you may need to use two hands to lift it.
Compared to the other cordless lawn mowers that I tested, this one comes out on top when it comes to features.
For starters, its 44cm cutting width is significantly wider than many of the other cordless mowers out there, enabling you to get your lawn cut so much faster.
It offers seven cutting height settings too, which, again, is more than what most other lawn mowers have, cordless or not! With a range of 25-75mm, it provides a longer cut than many other machines, meaning that it can cope with longer grass too. One lever controls the height of all four wheels, making it easy to switch between height settings.
Another standout feature was its mulching function. This means that you don't need to use the collection basket – the mower will mulch the grass as it cuts before releasing this back onto the lawn. Unfortunately, this was a feature that I couldn't test out as a mulching plug isn't included with this lawn mower – it needs to be purchased separately. This is a shame because, although not costly, it would've been a great addition to really complete the premium experience offered by this lawn mower.
It's also worth mentioning that, if you ever plan on taking your lawn mower abroad, this one comes with both a UK and a European plug. Although I'll never personally use the European plug, it's a nice extra touch!
Safety-wise, this lawn mower has everything that you could need.
It makes use of a dead man's switch to prevent the lawn mower from ever accidentally being turned on. This means that you need to press a button and then pull the trigger in order to get the motor going. It's a standard safety feature that just about all lawn mowers have these days!
The lawn mower's cables are safely clipped away, which was done during the assembly process. Even with all of the different handle height and angle settings, the cables never get in the way.
The batteries are also safely enclosed in hard plastic, making it very unlikely that they'd ever end up damaged whilst in use.
Although this was the most expensive of all of the cordless lawn mowers that I tested, it still manages to offer great value for money because of its superior quality, high-tech features, and larger design. You get what you pay for, and this lawn mower really proves that.
The five-year warranty is also worth a mention. Most other lawn mowers come with a one, two, or, sometimes, three-year warranty. Having a five-year warranty shows just how much confidence the brand has in its product.
Compared to the other machines that I tested, the Murray Cordless Lawn Mower definitely feels like the Ferrari of the cordless lawn mower world. It's powerful, boasts advanced features, and offers such a customisable cut. This is a lawn mower that I would highly recommend for medium and large gardens, as well as for people with small gardens who want to get the job done as quickly as possible!
Why You Can Trust DIY Garden
At DIY Garden, we believe your trust is earned through our knowledge and transparency. Our team of experts has over 75 years collective experience in the gardening and DIY space. Since the website's creation in 2016 we've tested over 275 products, ensuring our recommendations are based on real experience. We're open about what we've tried and what we've researched, and this is clearly labelled in our product reviews. Every year, we revisit and update our suggestions to include worthy new additions to the market. Our aim is to give you straightforward, honest, and helpful recommendations, so you can confidently choose the best tools and equipment for your projects.
Murray Lithium-Ion IQ18WM44 Cordless Lawn Mower Price Comparison
Price History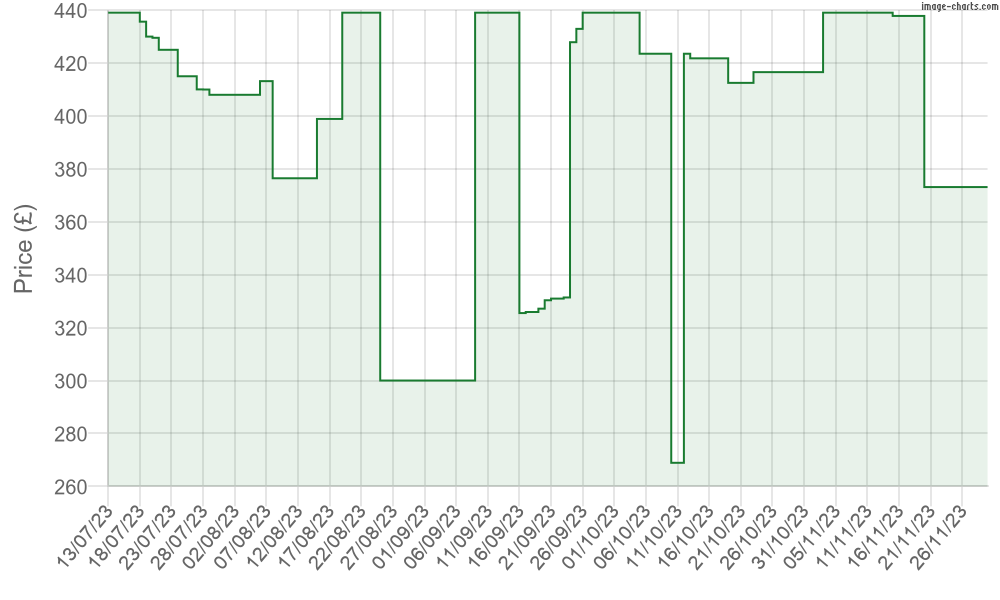 Our Scores:
Assembly Ease

Design

Power

Performance

Manoeuvrability

Features

Safety

Value for Money

Overall
Features:
Lawn Size

640m²

Power

18 V

Battery Life

35 minutes

Charging Time

2 hours

Weight

14 kg

Cutting Width

44cm

Cutting Heights

7

Collection Bag

50L
About Your Guides
Derek Smith has been farming all of his life, and is an professional landscape gardener with over 22 years experience. He owns a 25-acre farm in Aberdeenshire with a focus on self-sufficiency, living off the land, and working with nature.

Sarah's role as chief editor at DIY Garden is about more than just making sure we're literally dotting the i's and crossing the t's (although she's a stickler for detail, so it's certainly about that too!). It's about proof-reading, fact-checking and continuously researching everything we publish, ensuring that it adheres to our

editorial standards

, so that everyone can really get the most out of their green space.
You May Be Interested In These Other Lawn Mower Reviews