Is your grass being overrun with moss and thatch? Is it looking dense and unhealthy? As a landscape gardener with over 22 years experience in lawn care, this is something I see very often. Thankfully, the right lawn scarifier can fix this for you, by removing unwanted growth and giving it much needed aeration. As such, I set out on a journey of discovery testing the UK's most popular models on client gardens. After weeks of testing, my top recommendation is the Hyundai 2-in-1 Lawn Scarifier and Aerator. Read on to find out why I think it's so good, and how I went about my testing.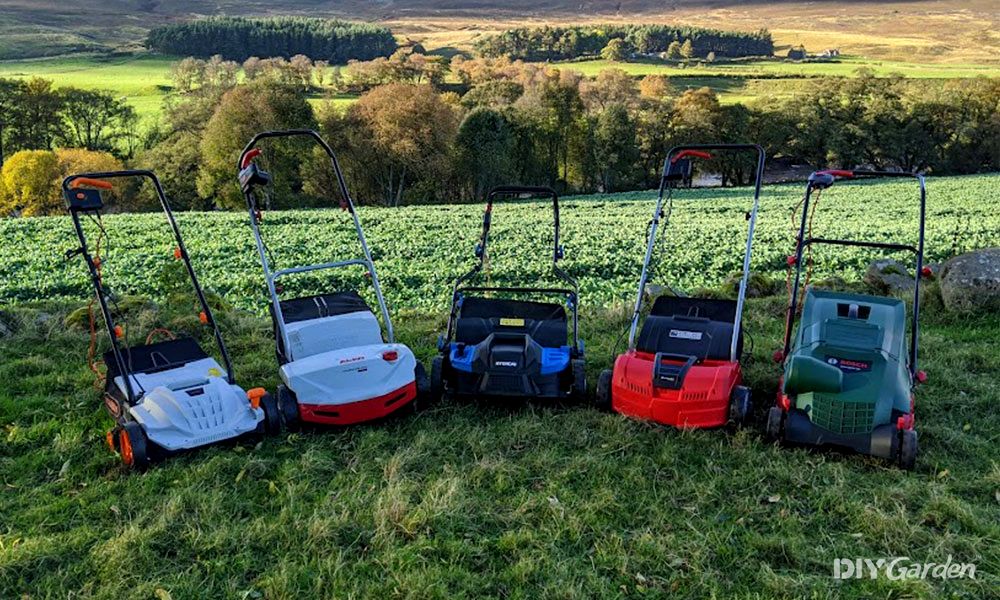 My Top Recommended Lawn Scarifiers
How I Tested
Product Tester:
In my mission to find the best lawn scarifiers to remove moss and thatch, I tested some of the best models on their assembly ease, design, performance, ease of use, noise, safety, and value for money. Here are the tests I conducted:
Assembly Ease: The first test I conducted was how easy each scarifier was to assemble. Scarifiers that took me 30 minutes or more to assemble were marked down, as these would likely take the average gardener a long time to put together. Models with minimal assembly requirements that took 15 minutes or less to assemble and had detailed instructions were rated high in terms of assembly ease.
Design: When it came to the design, the number and quality of teeth on the scarifiers were important, and more teeth indicated better aeration and debris collection. Scarifiers with high-quality metal teeth, such as stainless steel or tempered steel, received higher ratings for durability and effectiveness. Cutting width was another design element I assessed. A larger cutting width of around 38 cm allows for quicker scarification, a feature appreciated by those seeking to complete the task efficiently. So, these models received higher marks.
Performance: I tested the scarifiers on a range of grass conditions and densities to test their capability in real-world scenarios. Scarifiers that effectively and consistently removed moss and thatch received higher performance ratings. I also considered the operational efficiency of each scarifier – scarifiers that consistently collected debris without clogging or slowing down were rated higher for their performance.
Ease of Use: When assessing ease of use, I considered how each model started and operated, the collection and disposal process, and the positioning of key features like the handlebars. I also thought about each model's weight, as I know heavy models can make use harder. Slightly smaller scarifiers are typically more manageable for the average gardener, so models that weighed 12 kg or less were rated the best in terms of ease of use.
Noise: I took sound measurements for each scarifier to help inform my evaluation of their noise levels. I tested the scarifiers in various environments and at different times of the day to assess their usage in real-life scenarios. I examined the products for noise-dampening features or technologies that help reduce sound emissions – any models that had these received higher ratings.
Safety: When assessing safety, I inspected the design, materials, and quality of the blades on each scarifier. Models with well-constructed, durable, and sharp blades received higher safety ratings. For electric scarifiers, features such as emergency stop mechanisms were important, and for mains-powered models, weight and manoeuvrability were vital to consider. Ergonomics and user comfort are also a crucial part of safety. I considered the ease of manoeuvring scarifiers, especially around corners, and the overall comfort level during operation. Scarifiers with height-adjustable handlebars and ergonomic, non-slip handles earned higher scores in this regard.
Value for Money: I compared the features, performance, and price point of each scarifier and rated their value for money accordingly.
My Product Reviews & Opinions
Compare Product Features Here
Use the dropdown to sort the table by the feature that's most important to you.


Our score
Working Width
No. of Heights
Weight
Capacity
Power
Power Source
Cable Length
Working Width

36cm

No. of Heights

5

Weight

11.5kg

Capacity

45 litres

Power

1500W

Power Source

Corded Electric

Cable Length

10m

Working Width

32cm

No. of Heights

4

Weight

8.5kg

Capacity

28 litres

Power

1500W

Power Source

Corded Electric

Cable Length

10m

Working Width

32cm

No. of Heights

4

Weight

12.3kg

Capacity

50 litres

Power

900W

Power Source

Corded Electric

Cable Length

Not listed

Working Width

31cm

No. of Heights

3

Weight

9kg

Capacity

28 litres

Power

1200W

Power Source

Corded Electric

Cable Length

4.5m

Working Width

38cm

No. of Heights

5

Weight

17.1kg

Capacity

55 litres

Power

1300W

Power Source

Corded Electric

Cable Length

12m
Tips For Buying a Lawn Scarifier
The best lawn scarifiers also come with a lawn aerating feature. This means that not only will the machine be able to remove moss, thatch and debris, but it will also be able to increase the oxygen flow, therefore the health of your lawn. Scarifying and aerating can lead to thicker grass that grows faster and is better equipped to fight disease.
It's worth paying attention to the number of cutting heights the scarifier has

, as this affects how deeply it'll cut into your soil. Our recommendations below range from 3 to 5, and it's certainly a case of the more the better.

You should also consider the working width of the machine

, as it's related to how many times you'll be going up and down your lawn! Medium to large gardens will need 36cm or above. For smaller gardens, the 30cm – 35cm range is fine.

Collection capacity is also an important feature, as it relates to how often you'll be emptying the container! Medium to large gardens will need a collection box of 45 litres and above

. For smaller gardens, 25 to 40 litres will do.

Lastly, we also recommend looking at the weight and power of the machine

, as it indicates how easy it'll be to use and manoeuvre. All this information can be found in the handy comparison table below.
When considering all these features, and based on our scarifier testing, we feel the best option for most households will be the Hyundai 2-in-1 Lawn Scarifier and Aerator. It does a lot for its fair price and it also looks the part too.
Why You Can Trust DIY Garden
At DIY Garden, we believe your trust is earned through our knowledge and transparency. Our team of experts has over 75 years collective experience in the gardening and DIY space. Since the website's creation in 2016 we've tested over 275 products, ensuring our recommendations are based on real experience. We're open about what we've tried and what we've researched, and this is clearly labelled in our product reviews. Every year, we revisit and update our suggestions to include worthy new additions to the market. Our aim is to give you straightforward, honest, and helpful recommendations, so you can confidently choose the best tools and equipment for your projects.
How to Choose The Best Lawn Scarifier
So, you're thinking about buying a lawn scarifier? Great idea! The models above are what I consider to be the best lawn scarifiers on the UK market.
Scarifying your lawn will protect the grass and help keep it looking smart all year round.
The condition of your lawn will dictate what type of lawn scarifier you need.
Below I have assembled some helpful information to help you make an informed purchase.
What does a Lawn Scarifier Actually Do?
Firstly, it may help you to know that a 'dethatcher' and a 'scarifier' are the same thing.
Scarifying is the process of removing debris (moss and thatch, leaves, grass cuttings) from the lawn by catching it in bladed teeth.
The other function of a lawn scarifier is to aerate the soil. It does this by piercing down into the lawn's surface.
But why is that important? Well, the more oxygen in the soil, the healthier your grass will be! In addition, the best lawn scarifiers also help keep weeds at bay. They really are exceptionally useful little machines!
Understanding 'Working Depth'
Ideally, you want a lawn scarifier with a selection of working depths.
Scarifying (removing the dead moss and thatch) isn't a deep action – it only needs to be deep enough to yank out the thatch.
When you have a choice of working depths, you can start on the highest, going down through the settings until you find which is best for collecting the debris. It is much better to go slow, rather than choose too deep a setting to start with and puncture your lawn.
If your scarifier has depth options like "-5 mm" this means it can be used as a lawn aerator as well. Deeper teeth aerate the lawn by pricking holes in it. This is good as it allows rain and oxygen to replenish the grass, so look for adjustable heights.
Look Out for Their Teeth!
When it comes to finding the best lawn scarifier, the more teeth the better! The teeth do exactly what you'd expect – pierce down into the lawn aerating it and collecting debris.
Bear in mind that lots of long teeth will make a mess of your current lawn – but this is temporary. The grass will grow back quickly and it'll look so much better for the rain and oxygen.
Look for lawn scarifiers with good-quality metal teeth. Stainless steel or tempered steel teeth will last longer than plastic ones, for example.
You can buy replacement teeth for some lawn scarifiers. If you're splashing out on a pricey model, it's worth checking if you can buy spares before you commit to the purchase. Also, check how much replacements cost – some brands are more expensive than others.
Choosing the Best Cutting Width
The larger the cutting width, the less time it'll take to scarify your lawn. Simple.
Most people are looking to get these types of jobs done quickly, so the idea of a wider machine to cut down time is appealing.
Out of the lawn scarifiers I tested, the AL-KO Comfort 38E has the widest lawn raker width at 38 cm.
One thing to bear in mind, however, is that a wider width tends to mean a bigger machine. Which also generally results in a heavier machine. You'll just need to weigh up the pros and cons of width vs. weight and see which model best fits your needs.
Finding a comfortable lawn scarifier
Scarifiers do require a bit of user effort. They need to be manhandled around corners and can feel a bit lively sometimes too. See here for advice on how to use a lawn scarifier.
Therefore, one thing to make sure of is that you are in control. Make your life easier by choosing one that suits your height. A height-adjustable handlebar is worth its weight in gold.
Ergonomic, non-slip handles are also a blessing, unless you have the grip of a boa constrictor!
Finally, that brings us back around to the topic of weight. Be realistic about what sort of weight you can handle. You may find it's better to get a slightly smaller, lighter option that you won't tire of using rather than a hefty, powerful model which is exhausting to manoeuvre.
READ NEXT: The Best Lawn Rollers
Petrol Scarifer vs. Electric Scarifier
There are pros and cons to both petrol scarifiers and electric scarifiers
Petrol lawn scarifiers are powerful, versatile and great for large lawns. They are ideal to use in areas with lots of weeds because they aerate effectively and are heavy duty. An electric scarifier may just "bounce off" in dense, heavily weeded spots. Whereas a petrol scarifier will grind it out and finish the job. However, petrol scarifiers are heavy, emit fumes, and can be time-consuming to start. They are noisy, so you may want to wear ear defenders, and will require maintenance such as filter and spark-plg changes.
Electric lawn scarifiers are quiet, lightweight and cost effective. They are great to use on small to medium lawns. Electric scarfiers do a great job of hauling the moss and thatch from your grass with minimal effort on your part. They won't need re-filling like a petrol scarifier either. However, they're not always as powerful as petrol scarifiers and you may find yourself restricted by the cord length.
READ NEXT: The Best Petrol Lawn Scarifiers
Manual Lawn Scarifiers
A manual lawn scarifier is quiet, easy to store and doesn't require any maintenance other than scrapping the rust off.
They're great for tackling jobs on a small lawn and often work surprisingly well.
A simple lawn raker and a push-along aerator could also do a similar job to a manual lawn scarifier. You could even buy some aerating shoes that spike the grass as you walk around.
READ NEXT: The Best Lawn Levelling Rakes
Lawn Scarifier FAQs
What does a scarifier do?
A lawn scarifier is a tool designed to remove debris from your lawn, including dead moss and thatch. If debris is simply left to sit on the surface of your lawn, it can prevent rainwater from penetrating into the soil. Instead, it'll sit on top of the surface – leading to a soggy lawn!
Scarifiers have steel blades which aerate the soil as debris is removed. A scarifier leaves small holes across your lawn, allowing more air and water to get into the grass and soil. While many gardeners use an aerator to achieve this result, aerators don't remove nearly as much debris as scarifiers.
Is scarifying good for a lawn?
Yes, provided you don't scarify your lawn too often, your lawn should look much healthier as a result of scarifying. 
However, the time of year is important to bear in mind, and you can cause a lot of damage to your lawn if you scarify it at a time when grass growth is minimal. 
For best results, scarify your lawn in late spring or early autumn. Scarifying too early or late in the year (when there's the chance of a frost) can cause a lot of damage. 
It's important to remember that your lawn may not look instantly better after scarifying. This does not mean it hasn't worked, and after a few weeks of grass growth, your lawn will look a lot healthier. See here for advice on what to do after scarifying your lawn.
Are lawn scarifiers worth the effort?
Yes. The best lawn scarifier really can improve the appearance of your lawn.
It can be tempting to neglect the lawn, especially when it's fine weather and there are more exciting things like BBQs to be thinking about. However, you should always make time to scarify because eventually your daisy-strewn lawn will turn brown, soggy and look awful because dead thatch is killing the grass.
Does a lawn scarifier make a difference?
Yes. Scarifiers will keep your grass looking healthy and green for longer.
If you never scarify the lawn, weeds, grass clippings, moss and thatch, and of course dead plant matter clog up the surface. As a result, rain and light can't get through. The grass doesn't get enough nutrients and eventually it will die off.
If your lawn is developing large brown patches, it's definitely time to scarify. This means water isn't getting through to hydrate the new shoots.
After you've scarified the grass it might look… how to put this nicely… a bit awful! But don't worry – grass grows back at lightning speed and it'll soon be greener and fresher than ever.
How do I use a lawn scarifier?
 For best results (and the greenest lawn!), you should scarify once or twice a year.
First, kill any live moss. This prevents the spores flying all over the garden and taking over. Use the best moss killer we recommend and wait until its gone brown.
Choose a dry day so the lawn doesn't turn into a mudbath. Ensure you've given the grass a cut a few days beforehand.
For the first round, choose the highest setting on your lawn scarifier. Push it around just as if you were mowing the lawn.
For the second pass, use a lower setting and so on. If you do the second pass on a parallel route, you'll get better coverage.
Once you've pulled out the dead thatch you might find there's little grass left! Now is the best time to use the best grass seed on your lawn.
When should you scarify your lawn?
You should scarify once or twice a year. Once in spring, when the grass is growing strongly to start the season off right, and once in autumn to remove the year's waste (only if it needs it!).
The grass needs to be actively growing before you scarify, and you should mow before for best results. If the weather is too hot, cold, dry or wet, your lawn will not recover properly.
For your lawn scarifying to be the most effective, the soil needs to be both warm and moist. Spring and Autumn are the best times for these conditions.
What is the difference between a lawn raker and a lawn scarifier?
The differences between a lawn rakers and a lawn scarifiers are very subtle. Lawn rakers are gardening tools designed to remove moss and thatch from lawns. The best lawn rake will promote healthy growth and can keep your garden looking neat.
A lawn scarifier will also remove moss, leaves and debris from the lawn, but their design gives them another benefit. While a lawn raker can comb through the grass, an electric scarifier or a petrol scarifier will have steel blades that cut the soil. This aerates the lawn, allowing it to breathe so nutrients can reach the soil beneath the grass.
Should you cut the grass before scarifying?
Yes. For best results, you should mow your lawn before scarifying.
Most people choose to gradually reduce the height of the grass in the week before scarifying, so the grass isn't shocked suddenly. If your lawn has any weeds, you can remove them manually with a weeding tool.
Can you cut grass after scarifying? 
Scarifying your lawn is an invasive process, so you'll need to help your lawn recover in the weeks following. You should first check you haven't exposed any issues in scarifying your lawn, and remove any debris left behind.
Mowing your grass after scarifying is not going to damage it provided you cut at a higher setting than usual. This will help prevent damage to the less covered areas of lawn. 
However, for best results it's recommended that you mow and feed your lawn before scarifying.
What to put on lawns after scarifying?
Once your lawn has been scarified, you should use a fertiliser to give the lawn the best chance of recovery.
Purchase a fertiliser suitable for the time of year. Autumn and winter fertilisers release nutrients slowly for long term health and growth in the winter. A spring fertiliser will encourage your lawn to grow and recover rapidly.
If there hasn't been much rain, you should water your lawn in the few weeks after scarifying. If scarifying has revealed any bare patches, you should reseed these areas.
How long does it take for scarified grass to heal?
A few weeks to 4 months. It depends on the time of year, weather, and the condition of your lawn before scarifying. If the weather is cold and dry, your lawn may take up to 4 months to fully recover. In warm conditions, your lawn should bounce back within a few weeks.
Is it worth buying a lawn scarifier?
The best lawn scarifiers can really improve both the appearance and health of your lawn. If weeds, grass clippings, moss and thatch are left on your lawn, the grass will eventually die. 
The good thing about scarifiers is that they are suitable for domestic use. The models I've recommended are generally compact, lightweight and easy to store, although larger options are available for bigger gardens. You'll have the choice of either an electric or petrol powered model. 
Scarifiers aren't expensive, yet the results they produce are very impressive. If you're looking to improve the health of your garden and you're prepared to scarify your lawn a couple of times a year, the initial cost will almost certainly be worth it.
Start typing and press enter to search