If you've never used one before, a lawn scarifier can seem like an intimidating machine, especially considering the amount of damage it could do to your garden. However, don't be put off – not only are lawn scarifiers surprisingly easy to use, but they have the potential to truly transform your lawn, without the use of any chemicals.
Prepare Your Lawn
A scarifier should always be used on short grass, so give your lawn a quick once-over with a mower before getting started. Ideally, your soil should also be damp, so give your lawn a spray with your garden hose if it hasn't rained for a while.
Adjust Your Scarifier to its Highest Setting
You should always begin scarifying at the machine's highest setting. If you start off too low, you could end up damaging your lawn.
How to Turn Your Scarifier On
Most scarifiers will be equipped with both a button as well as a trigger at the top of the handles. In order to turn the machine on, you'll need to first press the button and then pull the trigger – this is to prevent anyone from accidentally pulling the trigger and turning the machine on. Once the machine is running, you can release the button (but keep hold of the trigger!).
How to Scarify Your Lawn
Move your scarifier over your lawn in the same way you would a lawn mower. Although beneficial, you don't need to scarify your entire lawn – you can choose to concentrate on the weedy/mossy areas instead.
If your scarifier is set too high, lower it slightly. Then, once you've been over all of your grass once, lower the setting and go over it again. However, this time, run your scarifier in a different direction – aim to do this in as many angles as possible.
Emptying The Collection Bag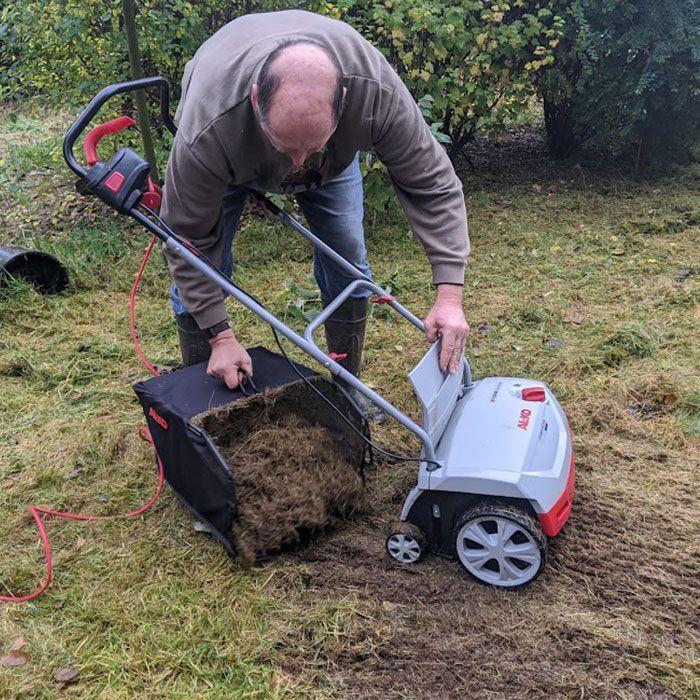 If your scarifier is fitted with a collection bag, you'll need to periodically empty this. Make sure that you turn the scarifier off before removing the bag.
How often you'll need to do so will depend on how mossy your lawn is, but you could end up emptying the bag every 30 seconds or so. Once you've emptied it, insert the bag back into your machine, turn your scarifier back on, and continue scarifying.
To save some time, consider removing the bag from your scarifier. Once you're done scarifying, you can then rake up all of the discarded thatch.
Storing Your Scarifier
Once your lawn has been scarified, you likely won't need your scarifier again for another year. So, give it a clean, making sure that you remove any debris from the vents. Then, find a safe and dry space to store your scarifier.