Not only does a lawn peppered with thatch and moss look unattractive, but it won't be healthy either. Moss and weeds prevent rainwater from draining into the soil, which is why a mossy lawn feels spongy when you walk on it. The lack of deep moisture will soon start to affect the rest of your grass, making it important to take the necessary steps to rid your garden of all of that thatch.
This is where a lawn scarifier comes in…
What is a Lawn Scarifier?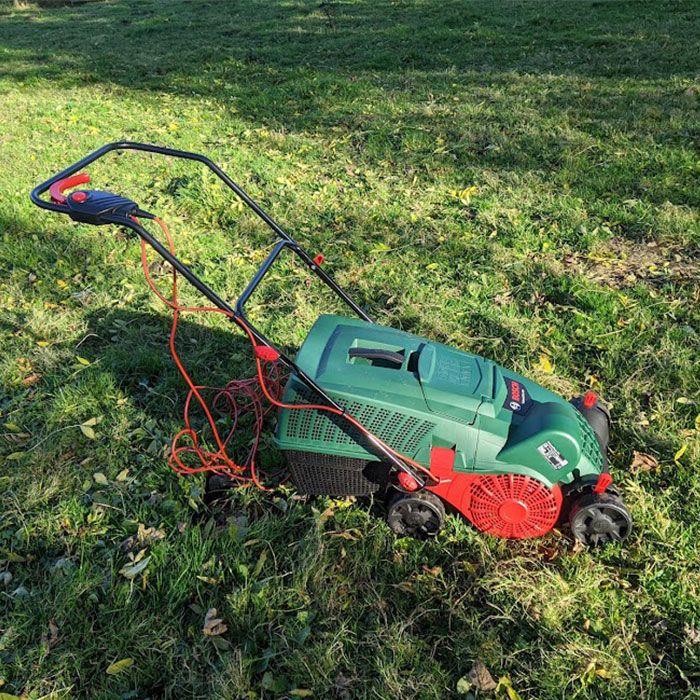 The picture above is our top recommended lawn scarifier, the Bosch UniversalRake 900
A lawn scarifier is a machine that looks a little like a lawn mower. However, instead of cutting your grass, a lawn scarifier makes use of rotating tines that slice through the soil and pull up moss and weeds.
The Purpose of a Lawn Scarifier
The way in which a lawn scarifier cuts into the soil enables it to remove thatch without destroying the healthy grass around it. Of course, this means that you could be left with bare patches of soil once you're done scarifying large areas of thatch, but this is the perfect time to reseed. Give that new grass a few weeks to come up and any gaps will no longer be noticeable.
The Benefits of Scarifying Your Lawn
A certain amount of thatch is necessary for a healthy lawn, but too much will start to suffocate your grass. Removing this layer will allow air, nutrients, and water to reach your soil once again, which will help your lawn to thrive in the long run.
Scarifying also gives healthy grass roots a prune. As with other plants, pruning is a great way to encourage fuller and lusher growth.
Be warned – your lawn will look pretty frightening after it has been scarified. However, be patient – scarify in the autumn, leave your lawn to recover through the winter, and it'll look better than ever come spring.