Is your garden or driveway covered in fallen leaves? Perhaps they're wet, soggy and stuck to the ground too?! This is a problem we deal with extensively each year, as we run a farm up in Scotland. Slippery walkways are a real issue, so I know first-hand only the very best cordless leaf blowers will do. We tested some of the UK's most popular models, to help ourselves, and you, deal with this problem effectively. Our top recommendation is the ALB 36 LI Cordless Leaf Blower. Read on to discover why we scored it so highly, and how we went about our testing.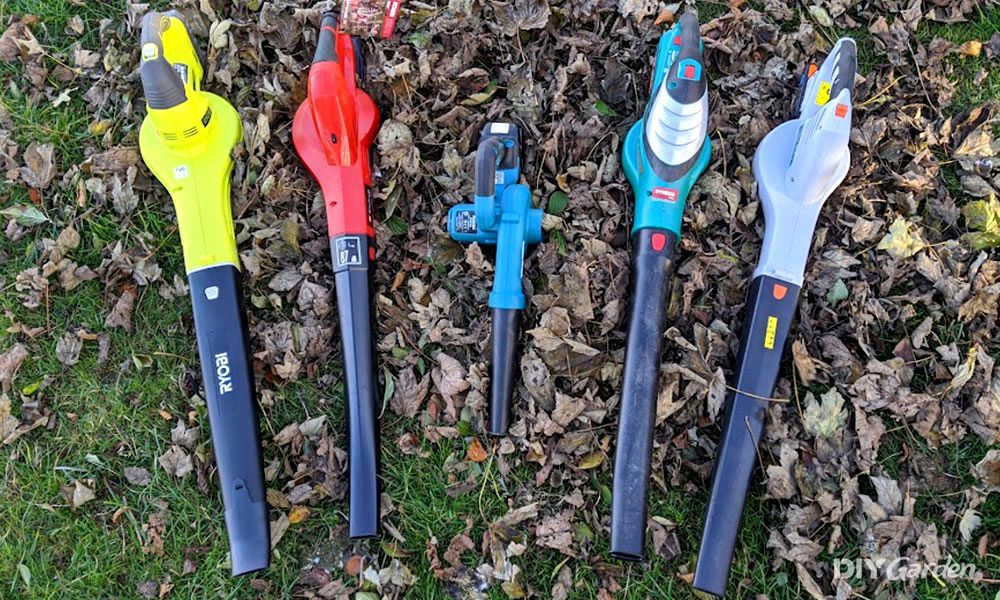 My Top Recommended Cordless Leaf Blowers
How We Tested
Product Testers:
You need a leaf blower to perfectly suit your needs. To help you find the one for you, we conducted a thorough investigation of the some of the top cordless leaf blowers available, so you will have no trouble finding a model that works for you. When testing the products, we considered many important factors, including:
Assembly Ease: Cordless leaf blowers don't tend to have many parts to put together. So, as a test of assembly ease, I timed how long this took and how easily the various parts fitted together. I also checked out any instructions that were given and assessed them for clarity and descriptiveness. Leaf blowers that we could construct in less than a minute with ease were given the highest ratings.
Design & Performance: Cordless leaf blowers need to have sufficiently long battery time for them to be useful for different garden sizes. So, we tested the leaf blowers out in different-sized gardens, from small to large, and timed the battery life. Blowers with a battery life of 20 minutes were given the best rating, as this was enough time to complete most jobs. Leaf blowers with handy features like multiple speed settings were given particularly high marks as these helped to prolong the product's battery life and allowed you to apply more power for more tricky debris like wet leaves – the best range was from around 170 – 250 km/h. We also assessed whether the blowers could move both dry and wet leaves, as this was the ultimate test of its performance. Blowers that couldn't move wetter leaves were rated down.
Ease of Use: When assessing ease of use, we considered whether each leaf blower had an ergonomic design, was lightweight enough to use for prolonged periods, and whether it had handy features like instant start. Models that had a shoulder strap, ergonomic padded handle, and lightweight design of 2 – 2.5 kg were given the best ratings. We also considered how easy each product was to store. Those with a detachable nozzle could be stored in smaller spaces, making them more suitable for the average household. These received the best star rating.
Power: Airflow speed is one of the most important features when it comes to power. We marked any leaf blowers down that had less than 250 km/h airflow speed, as this isn't sufficient for wetter leaves and detritus, reducing the versatility of the blower. Blowers that had the right balance of power and noise levels (of 90 dB or lower) were given the highest marks, as these were less likely to cause a headache to users and their neighbours!
Safety: To test safety, we checked for safety features like a safety interlock switch, lock-on button, nozzle guards, and anti-vibration system. The models that combined most of these features were given the highest ratings.
Value for Money: We assessed each blower's performance, battery life, build quality and durability alongside their price. We also took into account factors such as brand reputation, battery compatibility, and included accessories. Those which offered the best value for money were given the highest ratings.
My Product Reviews & Opinions
Compare Product Features Here
Use the dropdown to sort the table by the feature that's most important to you.


Our score
Run Time
Blower Speed
Weight
Noise
Battery Included?
Tips For Buying a Cordless Leaf Blower
One of the most important things to look out for is airflow speed

. In order to shift the majority of leaves – dry or wet –

I recommend an airflow of 250 km/h

. However, such powerful machines are generally more expensive, so it depends if moving wet leaves is a deal breaker. Less powerful blowers, with an airflow speed between 175 – 200 km/h, will move dry leaves and can also be used for clearing debris in workshops/sheds.

Through our testing, we discovered that the best cordless leaf blowers will achieve a run time of approximately 20 minutes

when fitted with a 2.0 Ah battery. Look out for these, particularly if you have a larger garden. Many leaf blowers only achieve half this time, with the same size battery fitted.

To give you more versatility, look for a leaf blower with multiple speed settings

. Being able to switch to a less powerful setting (below 175 km/h) can help prolong battery life and will still move some dry leaves, dust and wood shavings.

Also, if you're keen to stay on the right side of your neighbours, you might need to consider the volume of your leaf blower. Anything around the 90 dB mark should be suitably neighbourhood-friendly. You can compare decibel ratings for all the models we tested in the table below.
Why You Can Trust DIY Garden
At DIY Garden, we believe your trust is earned through our knowledge and transparency. Our team of experts has over 75 years collective experience in the gardening and DIY space. Since the website's creation in 2016 we've tested over 275 products, ensuring our recommendations are based on real experience. We're open about what we've tried and what we've researched, and this is clearly labelled in our product reviews. Every year, we revisit and update our suggestions to include worthy new additions to the market. Our aim is to give you straightforward, honest, and helpful recommendations, so you can confidently choose the best tools and equipment for your projects.
How to Choose The Best Cordless Leaf Blower
Turns out, the best cordless leaf blowers come in handy for loads of different jobs – not just clearing leaves (although they're great at that too!). They're a useful tool to have in the shed, and the fact that they don't have any cables makes them easy to grab at any time.
Alongside shifting leaves, battery powered leaf blowers can also be used for jobs like clearing out guttering, drying the car post-wash, clearing snow and levelling-out gravel. Plus, if you have a suitable attachment, you can even use a leaf blower to inflate blow-up beds and paddling pools.
Choosing the best leaf blower will depend on what you want to use it for and what tools you already own. The following information should help you work out what to look out for (as well as what to avoid!).
The Benefits of Using a Cordless Leaf Blower
Thanks to their wire-free nature, cordless leaf blowers can easily be pulled out the shed for any job, big or small – and they have more uses than you might expect…! Not only are there no cords to trip you up, and no heavy petrol motor to carry, but the best leaf blowers can be used for all of the following tasks:
Clearing up leaves (ok, so maybe this one is obvious)
Cleaning lawn equipment by blowing grass clippings etc. off the blades
Clearing out guttering and stopping blockages from occurring
Clearing light snow quickly
Drying your car after washing
Drying patio furniture after washing so it can be used straight away
Levelling out gravel
Clearing a garage of sawdust
Clearing dust and debris out of a work van
Clearing spider webs from your shed and garage
Blowing grass edge clippings back onto the border
Inflating a paddling pool/blow-up bed (with the right attachment)
As you can see, leaf blowers are not just a one-trick pony! Once you own a leaf blower, you'll probably find yourself using it for a lot of jobs that you wouldn't have expected.
Finding Cordless Leaf Blowers with a Good Run Time
Run time is one of the most important aspects to consider when buying a cordless leaf blower. Rechargeable lithium-ion batteries can take 1 – 2 hours to recharge, so you'll probably want to try to get all your leaf blowing done in one go.
Larger batteries will give you a longer run time, but how long exactly will depend on how quickly the leaf blower uses power. This can vary between different battery powered leaf blowers. If the leaf blower has several power settings, you can be more conservative with battery power and get it to last longer.
Cordless leaf blowers with one speed setting (particularly if the setting blasts out air at over 175 km/h) will likely have a much shorter run time than a less powerful model when used with the same battery.
To give a general indication (although this is very broadly speaking) a 2 Ah battery may last for around 10 – 15 minutes, whilst a 5 Ah battery could last for approximately 45 minutes.
Larger batteries are heavier and will make the whole leaf blower weigh more; this is something to bear in mind if you're particularly interested in having as light a machine as possible.
One way to extend the running time of the leaf blower, without using huge and heavy batteries, is to have more than one battery. This way you can have a charged battery on standby, to swap out when the first one runs empty.
Some of the best cordless leaf blowers will have batteries that are interchangeable with other tools from the same brand. Many tool companies, such as Bosch, DEWALT and Ryobi use the same battery type for a range of tools – you may find you already have a compatible battery in your garage.
Another good tip is to stop using the leaf blower before the battery runs out entirely. Lithium-ion batteries are not meant to run down to zero charge. Leaving 10% charge in place means it'll stay healthy and take less time to charge up.
READ NEXT: The Best Petrol Leaf Blowers
The Importance of Air Flow Speed
The speed of the air flow varies according to the design of the leaf blower and how well it uses its power. It's not necessarily as simple as thinking 'the more powerful the motor, the more powerful the machine'.
Look at the air flow speed cited by the manufacturer in the leaf blower's specifications. Also, consider what jobs you will want to use the leaf blower for.
If you only want a leaf blower for blowing leaves, and want to be able to shift wet leaves from grass, you should look for a maximum air flow speed of around 250 km/h. This will be too powerful for clearing dust/debris from a workshop (it'll go everywhere!) so make sure there are variable speed settings if you want to use the blower for different jobs.
A leaf blower with an air flow speed of approximately 175 km/h will be powerful enough to remove most leaves from hard surfaces, although it may occasionally struggle with very wet leaves. Cordless leaf blowers with this level of airflow are normally more appropriate for clearing dust, dirt and debris from interior spaces. They'll also work better for removing leaves from gravel without making the gravel go everywhere.
Generally speaking, having a choice of air speeds makes leaf blowers more versatile; however, if you're only interested in a very powerful leaf blower, changeable speeds won't matter as much.
READ NEXT: How to Dispose of Leaves After Blowing
Choosing the Right Weight
Naturally, using a lightweight leaf blower is less tiring than using a heavy one. Cordless leaf blowers can range from around 1.3 kg – 3 kg; whereas petrol leaf blowers will generally be a lot heavier.
The size of the battery will make a difference to the weight of the leaf blower; there may be a difference of approximately 0.5 kg between the weight of a 2.0 Ah battery and a 5.0 Ah battery.
Given that a bigger battery will have a longer run time, you could keep the weight down by using several smaller batteries one after the other. Of course, this will cost more if you need to purchase extra batteries separately.
Smaller, lightweight cordless leaf blowers are also more suitable for people with arthritis or reduced mobility. Purchasing a strap for the leaf blower can also be useful to distribute the weight better.
Brand name tools often offer straps to fit their leaf blowers so it's worth finding out if there's a compatible strap  available before making your purchase if this is of interest to you.
READ NEXT: The Best Ways to Pick Up Leaves Quickly
How To Use a Leaf Blower
This might seem obvious – you pull the trigger and chase leaves across the lawn, right?
Well, yes – that is the basic idea! However, there are a few tricks that'll help you make less mess and cut down on gardening time:
Appropriate Clothing
First up, wear some thick gloves because even the most compact cordless leaf blowers tend to vibrate and this can make your hands feel sore and tingly.
Wearing goggles and ear defenders is also a good idea; the air blasting from a leaf blower can be in excess of 250 km/h, that's enough to send stones flying and create a fair amount of noise.
READ NEXT: The Best Leaf Collectors
Weather Conditions
Is it windy? It's best to move leaf fall on still days or when the wind is blowing in the right direction to help your efforts. Leaf blowing against the wind is pointless.
Is it raining or has it recently rained? Wet leaves are harder to move than dry ones. You can test how difficult it'll be by using your cordless blower on a pile of wet and soggy leaves. If they won't move easily, wait for a dryer day.
Is it a still and sunny day? These are optimum conditions – choose a spot where you can gather your leaves and place a piece of tarp down/garden waste bags.
Technique and Tactics
If you have a spare, compatible battery, stick in on charge whilst using the leaf blower. If you do need to change batteries, you won't have to waste any time waiting around.
Blow leaves in one set direction or you'll end up moving them all around your garden.
The best way to position your leaf blower is at your side with the nozzle pointing at the ground. You want to chase the leaves firmly to the waste pile with slow side to side movements as you step forward.
Put a piece of tarp down on the ground – you can blow the leaves onto this tarp and then bundle it up at the end.
Bear in mind: you'll likely have to accept that the leaf blowers won't shift every single leaf, you will need to rake up the stragglers if they bother you.
Once you have a leaf pile, don't bin it – compost it!  Leaves make great compost. Gardeners call it 'black gold' and it's perfect for topping up pots and borders. Pop your leaves into bags and let them decompose over a year for crumbly super-charged compost.
If you're using a battery powered leaf blower to shift dust, use the same side-to-side technique, but on the lowest blow setting. Otherwise, it'll create a choking dust storm. You may want to spray areas down with a little water to stop clouds of dust forming.
READ NEXT: Should Fallen Leaves Be Left in Flower Beds?
Cordless Leaf Blower FAQs
Should I buy a petrol, corded or cordless leaf blower?
Unless you're interested in doing some industrial-level leaf clearing, a battery-powered leaf blower should be sufficient. Petrol leaf blowers are much louder, emit fumes and are heavier. Therefore, you'll probably find it more practical to opt for one of the best cordless leaf blowers reviewed on this page – batteries last for approximately 30 minutes which is enough time to get most jobs done. Some of the most powerful battery-powered leaf blowers can push air out at 250 km/h, which is forceful enough to move wet leaves from grass.
The problem with being chained to a cord is that you are restricted in your movements around the garden. Most of the time you'll have to use an extension cable. Even with an extension cable it's possible to find yourself running out of tether. Cordless leaf blowers offers much more flexibility – you'll never find yourself chasing a leaf and then being yanked back by the cable!