Illuminating Garden Lighting Ideas For Your Outdoor Space
Lighting in the garden can dramatically enhance and transform the outdoor space.
Not only does it create a more inviting space, it can also be used to complement existing features and add atmosphere. Plus, there's the added benefit that lighting can improve safety by illuminating edges and borders.
Get inspired and take garden lighting to a whole new level with these 28 garden lighting ideas.
1. Harness the Sun With Solar Lighting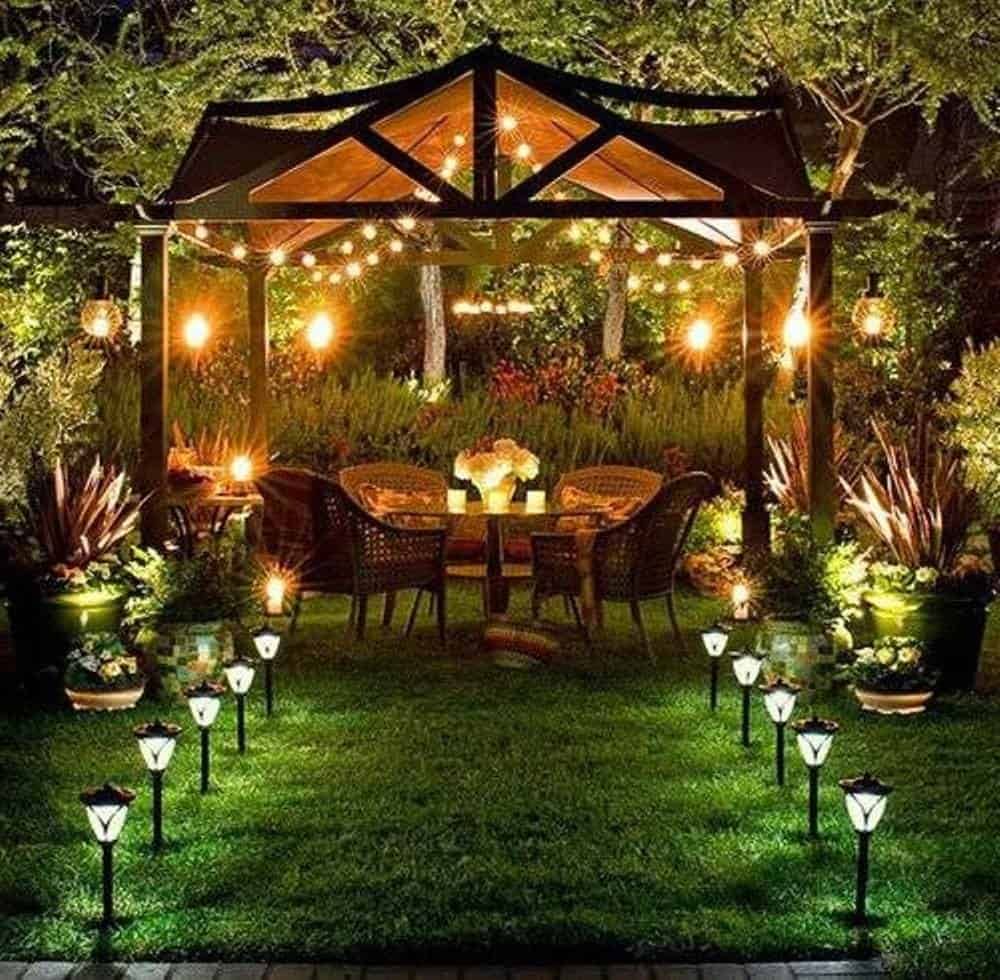 Want to light up your garden or other outdoor area without using more electricity? Solar lighting can help.
Solar lighting is available in quite a few different styles, from stake lights that stand alone to illuminated stepping stones. There are even solar fairy lights available from some manufacturers.
They all use solar collectors to absorb sunlight during the daylight hours. That energy is stored in an internal battery, which kicks in when the ambient light drops below a certain level, or you turn them on.
Depending on the lighting you choose, you may have an auto-on function, a timer, or a manual switch. Be sure to store solar lights correctly over winter so that they last for as long as possible.
2. Use Long-Lasting LEDs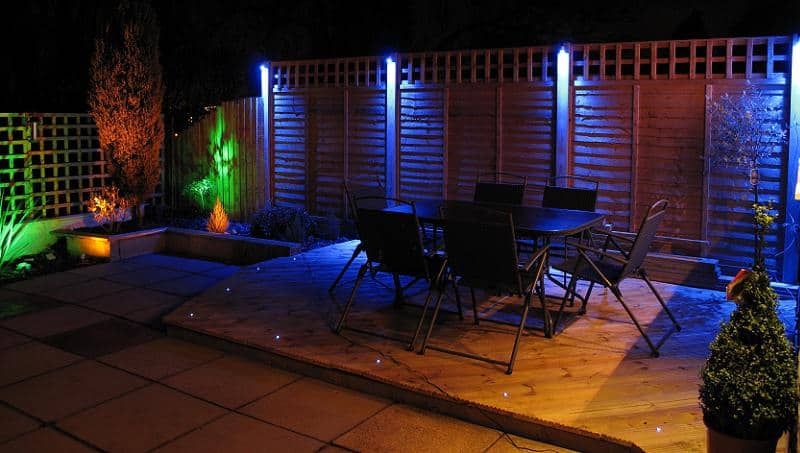 LED lights offer lower power consumption than incandescent bulbs, and substantially higher light emission. However, because individual LEDs are very small, you need quite a few of them to equal the amount of light emitted from conventional lights. With that being said, there are many different styles of outdoor lighting that use LEDs.
They're an ideal option for pairing with solar technology due to their low power consumption, which can add hours of use time. These lights also last far longer than conventional incandescent or halogen bulbs, allowing you to get the most out of your investment. LED lighting can be found in many formats, as well, ranging from string lights and rope lights to spot lights and stake lights.
3. Keep it Simple With Plug-and-Play Lighting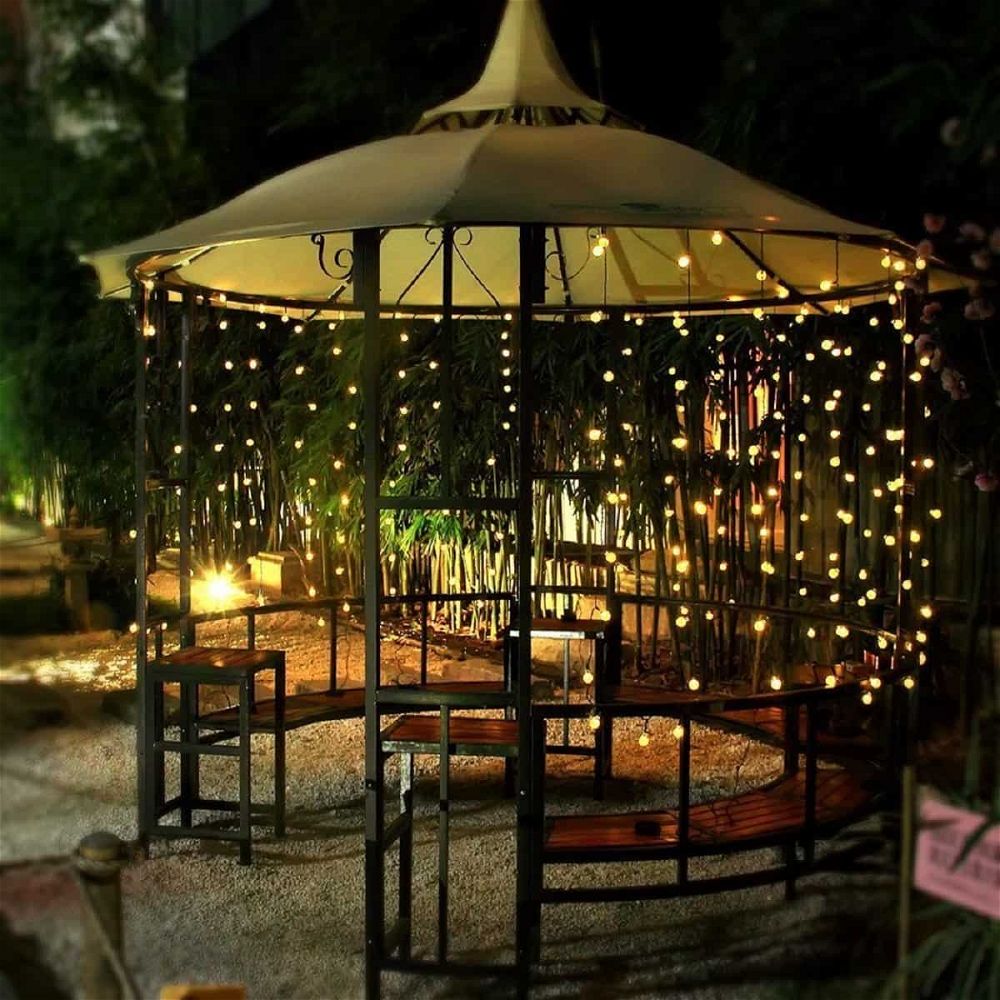 Long to add a bit of light and colour to your garden or deck, but don't want to go through the hassle of hiring an electrician to wire it all up for you? Plug and play lighting ideas are the answer.
You'll find that these 12-volt systems can be installed by just about anyone. All you need to do is mount the light(s), connect them to the transformer, and then plug them in. You'll find low voltage LED lights, but also brighter halogen bulbs on the market today to suit your particular needs. Plug and play systems are also available in wall lighting, deck lighting, string lighting and other styles.
4. Adorn Vertical Surfaces With Wall Lights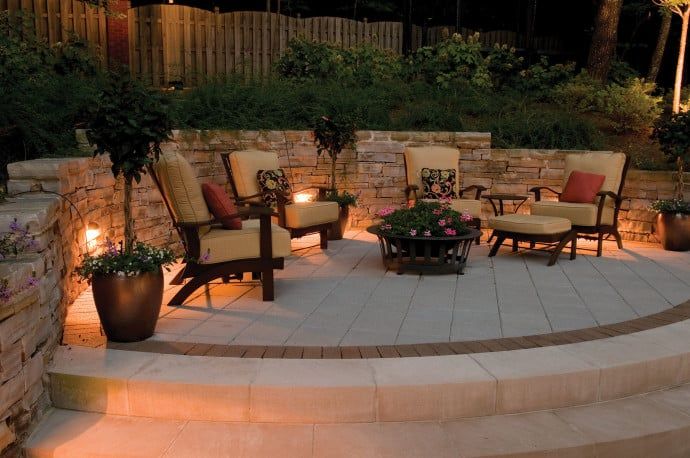 Have a flat vertical surface in your garden or other outdoor area? This can be more than just a visual feature – it can be the perfect place to install lighting. You'll discover a host of different styles out there, from hanging lanterns that mount to the wall to disc shaped lights, squares, swivel lights, spotlights and more. Many of these use LED bulbs for longer life and lower power consumption, but you can also find halogen bulbs if you prefer something more conventional.
Many garden wall lighting systems are also plug and play, meaning that you won't need an electrician to wire them up for you. When choosing wall lighting, consider the aesthetics of your outdoor area and the overall design that you want to achieve. Then, purchase lighting that helps you achieve that, whether you're going for sleek and contemporary, rustic, or avant-garde.
5. Illuminate Patios With Mixed-Level Lighting
Patio lighting ensures that you have plenty of illumination in your outdoor seating and dining area. Whether you're relaxing with your preferred libation after a long day at the office or hosting a garden party, you'll definitely need light once the sun sets.
Patio lighting ideas can be as simple as a couple of tiki torches, or as elegant as strings of lights suspended from posts over the patio area. Look for lights that are easy to install (plug and play) and that are rated for excellent weather resistance. Ideally, the lights can remain up all year long without suffering damage. However, be aware that some styles of patio lighting are only designed for use in good weather, and must be taken down during the winter, or when the weather turns foul.
6. Go Modern With Contemporary Lighting
Contemporary lighting is distinct from rustic and traditional lighting. It tends to be sleek and modern, although some styles do hark back to previous decades. You'll find a number of different elements in common with contemporary lighting ideas. Stainless steel housings are very popular today, because they offer outstanding durability and weather resistance, while providing a clean, modern look. Bronze is also popular, as are aluminium and glass.
Most of the actual lights are LED types, providing cool white or warm white lighting combined with lower power consumption. In terms of fixture style, you'll find recessed spotlights, traditional spotlights, industrial-style string lights, decking lights that affix directly to the wood of your deck, and many others, as well.
7. Use String-Lights for Parties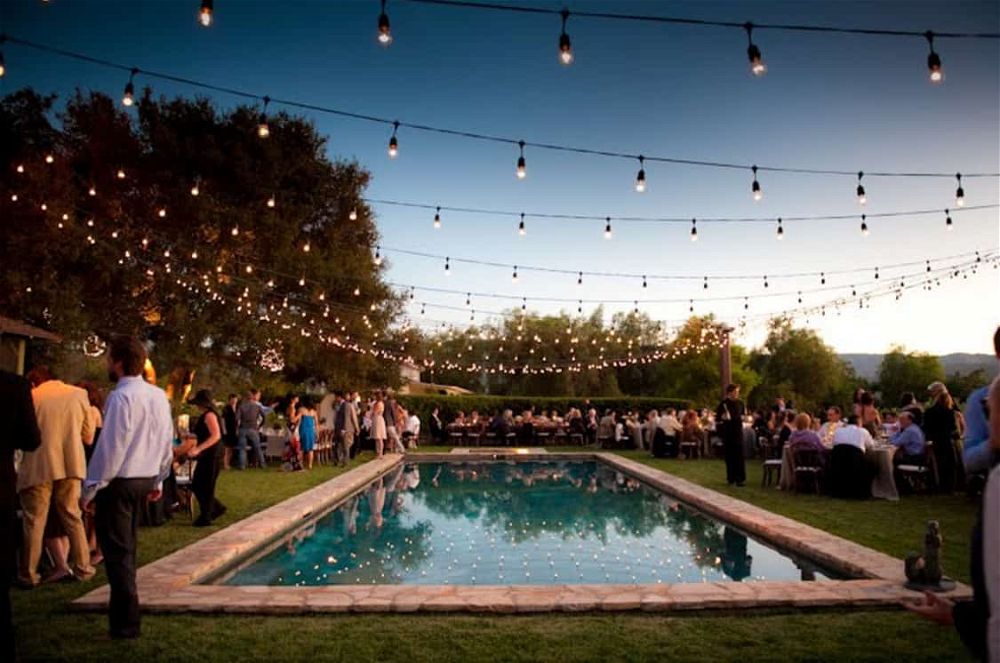 Do you regularly host parties and other events at your home? Your garden area can be an ideal option for these gatherings during the warmer months of the year (and even during fall and early spring if you have a source of heat, such as a fire pit or outdoor heater). Of course, you'll need lighting for these gatherings, and garden party lighting can spice things up while adding a bit of fun to the mix.
Look for multi-coloured string lights to add a touch of whimsy to your events, or go for paper lanterns that add flair (note that paper lanterns will need to be taken down when the gathering is done, and are not suited for damp weather). Coloured rope lights can be wrapped around posts and other upright structures for fun and light, and fairy lights are always a nice touch to garden parties.
8. Sink Lights into Decking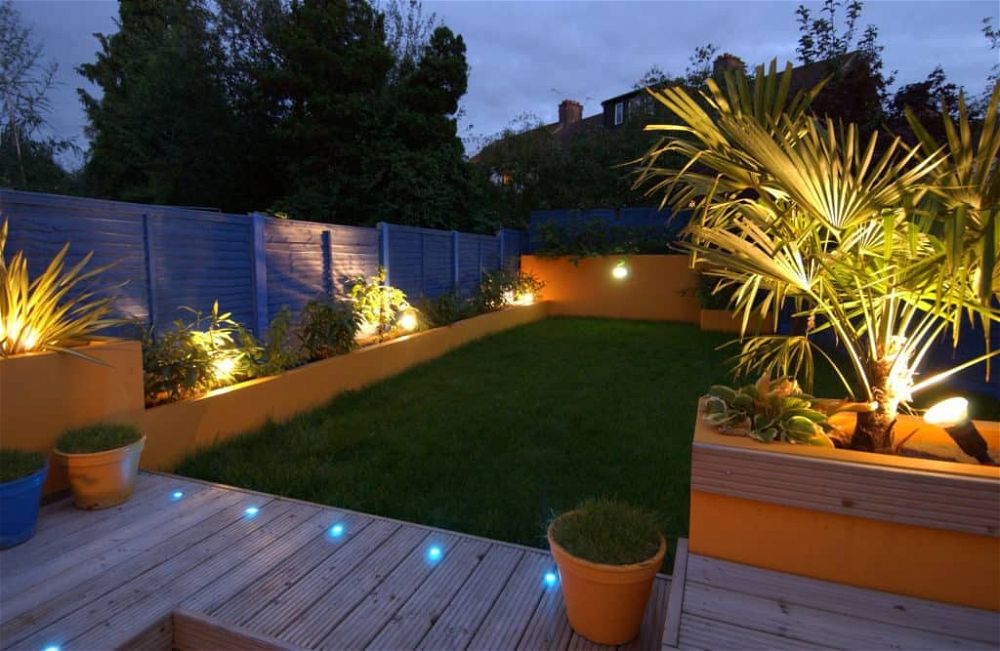 Garden deck lighting can add illumination to your deck in some surprising ways.
While you'll find conventional lights out there that mount to walls around the deck, or uprights on the deck, there are also styles designed to be sunk into the floor of the deck. These are generally flat in design, with disc-shaped LED lights that emit blue, cool white or warm white light depending on your goals and the overall aesthetic of your outdoor space. Some deck lights can be "daisy chained" together, and then the entire chain can be connected to a power source. There are also solar deck lights on offer if you don't want to connect to the mains.
9. Improve Visibility With Garden Shed Lighting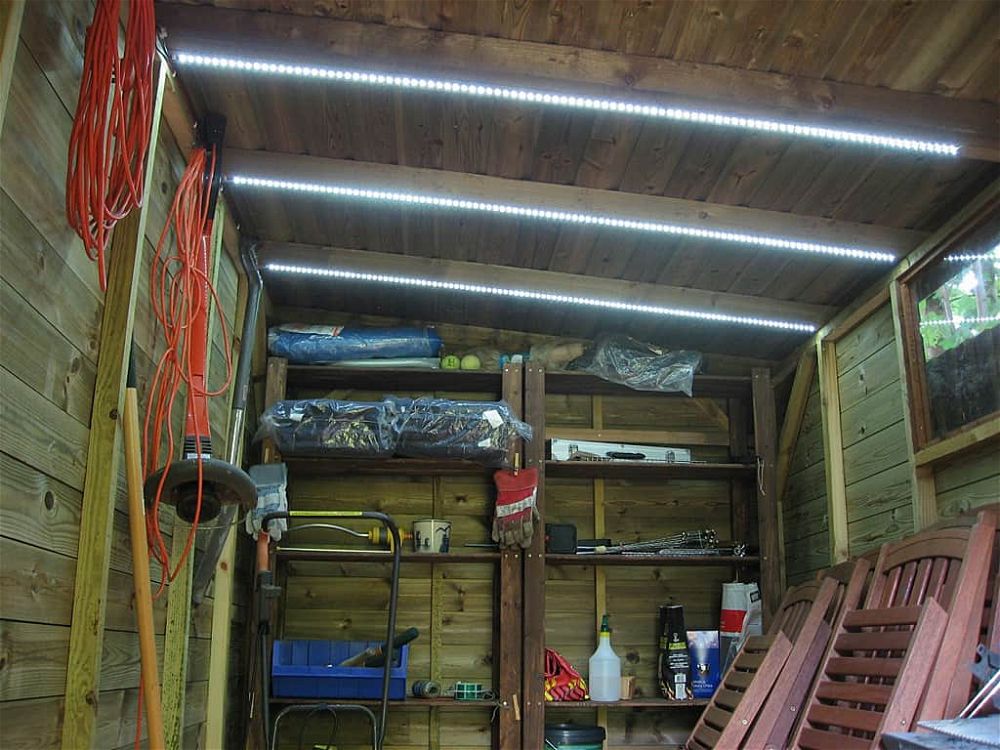 A garden shed is an integral part of most back gardens, but they can be difficult to navigate around – especially after dusk. You'll most likely need a bit of light to navigate your way around tools, past flowerpots and other obstacles. Garden shed lighting can take the form of conventional fluorescent light fixtures, but you'll find hanging lights, LEDs that can be mounted to the walls and quite a few other options out there.
You'll need to consider several things before buying garden shed lighting, including the material of the shed (wood, metal, composite, plastic), your usage habits, and whether or not the shed is already wired for power. If power is a concern, there are solar options available, as well, although they'll take a bit of installation since the collector will need to be attached to the roof or an exterior wall that receives plenty of sunlight.
10. Consider Running Costs: Choose Low Voltage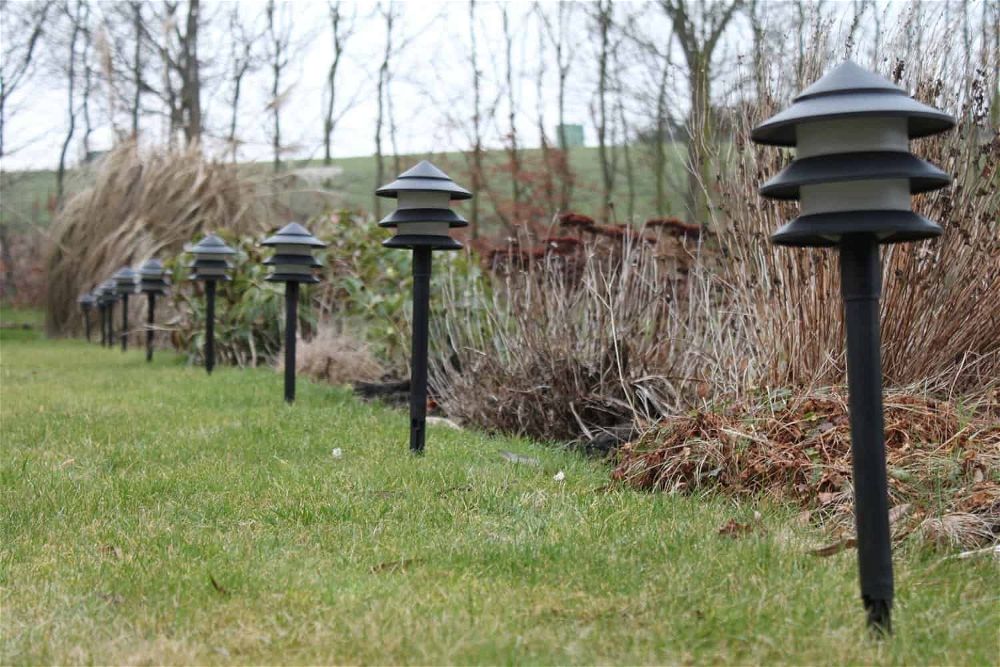 Low voltage lighting comes in many different forms. You'll find string lights, spotlights, stake lights, and many other options here. However, despite the wide range of styles, they all share a few common characteristics. Obviously, they're low voltage, which means that they use less electricity than other options. That's good news for your utility bill, certainly. With that being said, understand that some low voltage lighting can be somewhat dim, so you may need more lights to illuminate the area.
11. Install Security Lighting for Peace of Mind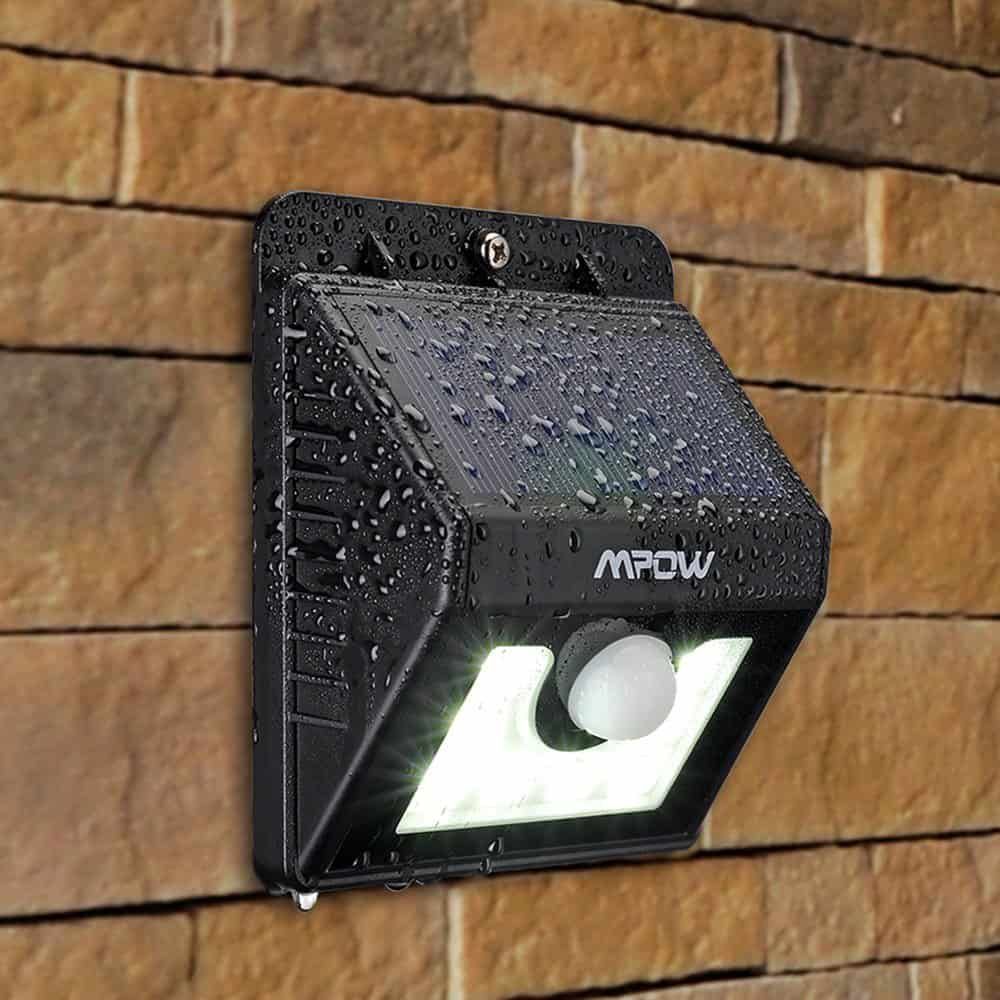 Keeping your garden area secure and protected is important, and there are many security lighting solutions out there. Motion-detection systems can detect motion in the garden and turn on a bright spot light in response, illuminating the area. You can choose from flood lights that attach to high points on the outside of your home, ground-based lighting ideas, and even powerful LED lighting solutions that offer plenty of illumination, a long lifespan, and low power consumption.
12. Hang Lights From Fences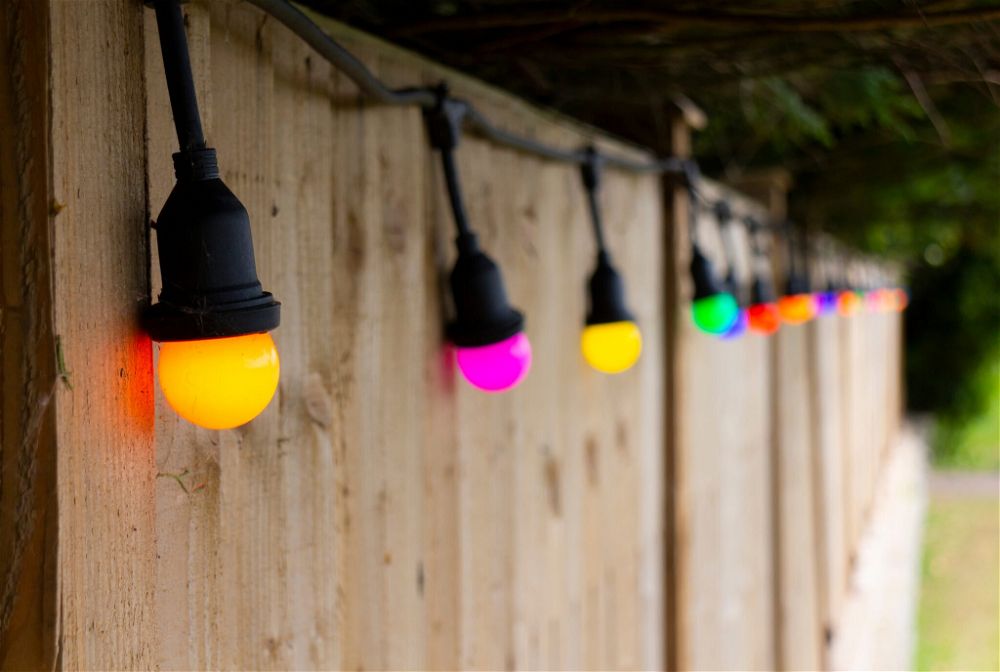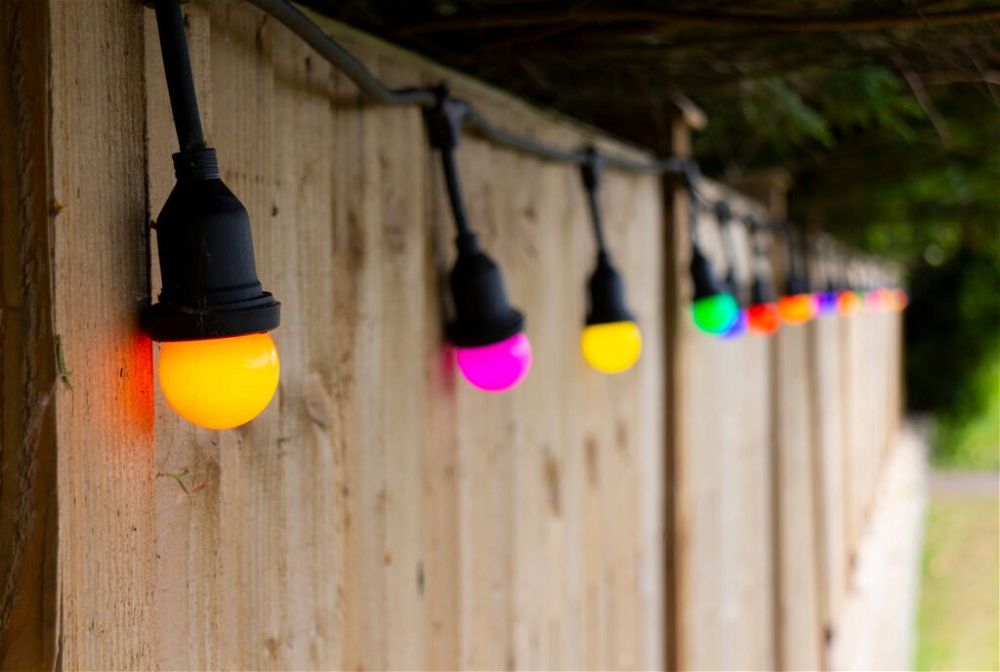 Lighting on the garden fence highlights the boundary and creates a warm environment to relax in. These colourful lights bring sparkle to your outdoor space and brighten the boring fence in daylight hours too. Choose from solar-powered or plug-in.
13. Be Strategic in Small Gardens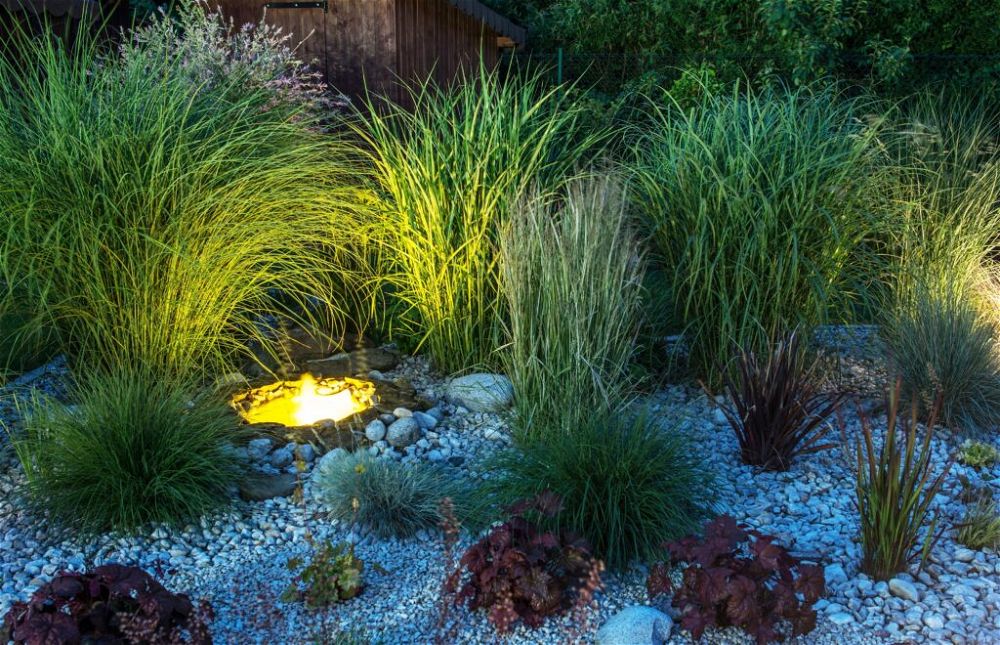 A small garden is easily overpowered by too much lighting. A few strategically placed lights are better in a compact space. This little rock garden has an illuminated pond – relax to tinkling water and soft lights in your back garden. Just grab a drink and kickback!
14. Use Dynamic Lighting for Aesthetic Interest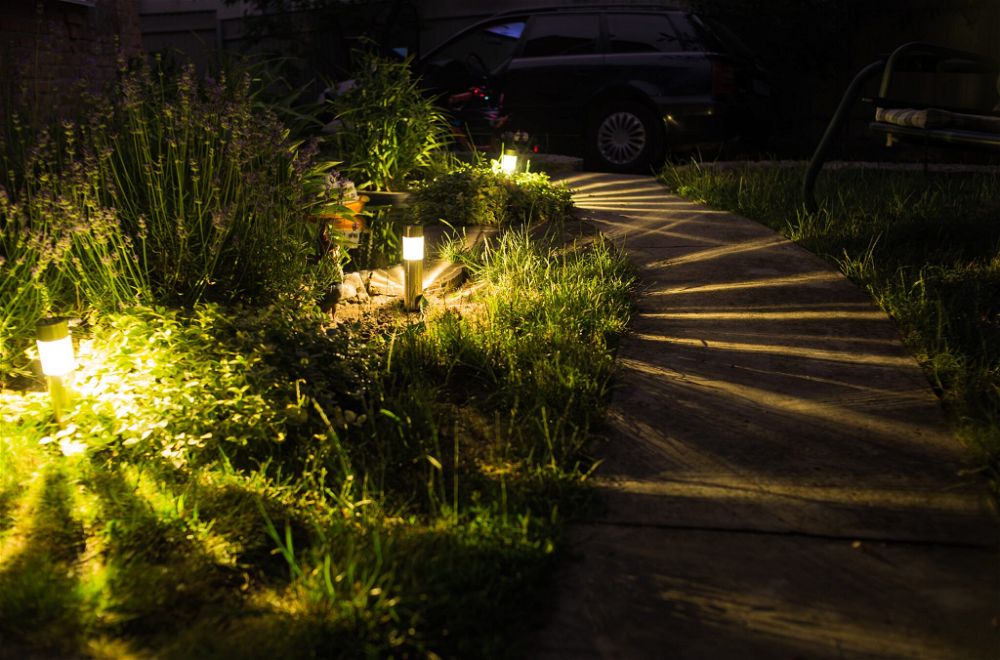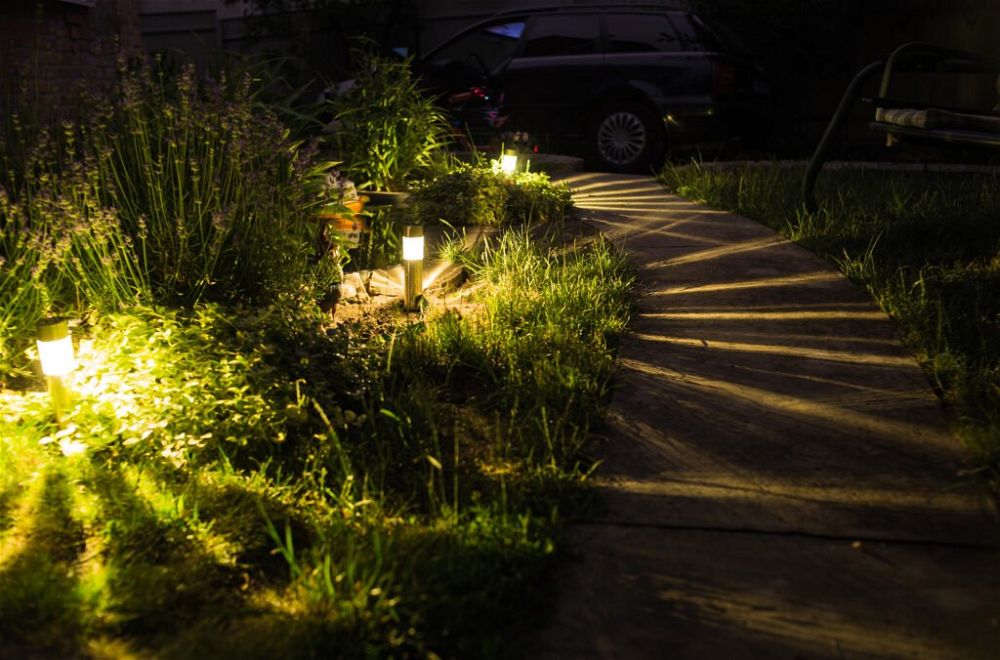 Highlight a path or a special feature with crossed lighting. This is softer than a harsh lamp and looks amazing. In fact, if you don't have a special feature this lighting can take its place.
Solar-powered or plug-in lights – it's up to you. Look for lanterns with effects on the glass that throw out interesting shapes. There are circles and zigzags out there too.
15. Embed Lights in Brick Paths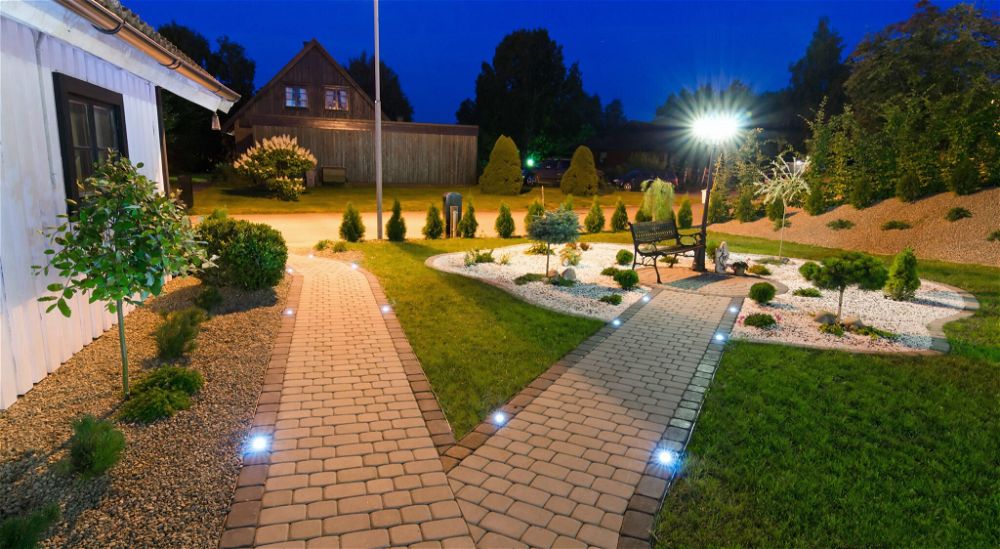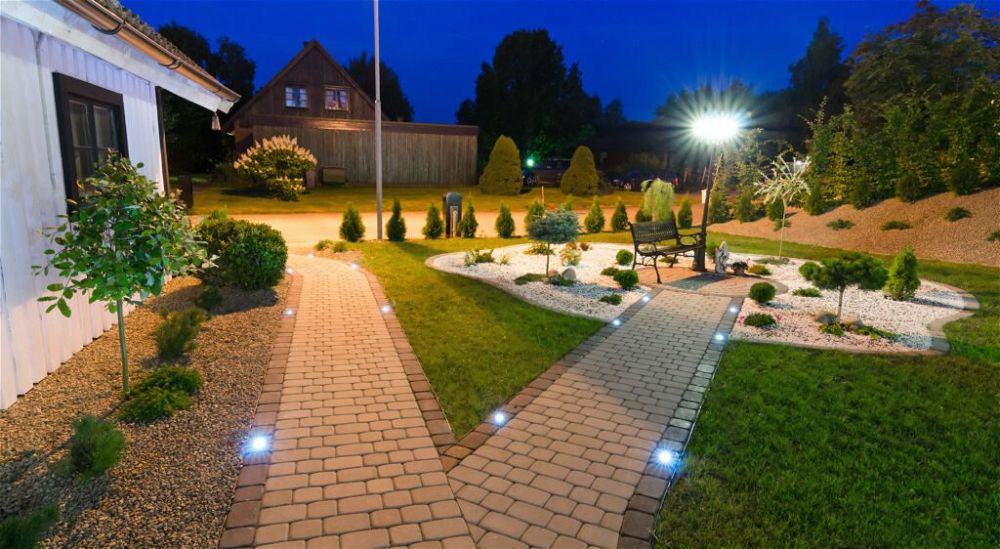 The first idea that springs to mind when illuminating a garden path is lanterns in the soil, but here's a smart idea – recessed lights in the brickwork. You won't fall over these and they up- light your space, keeping it safe and sparkling.
A large light at your destination creates a focal point and keeps everyone moving.
16. Employ Contemporary Strip Lighting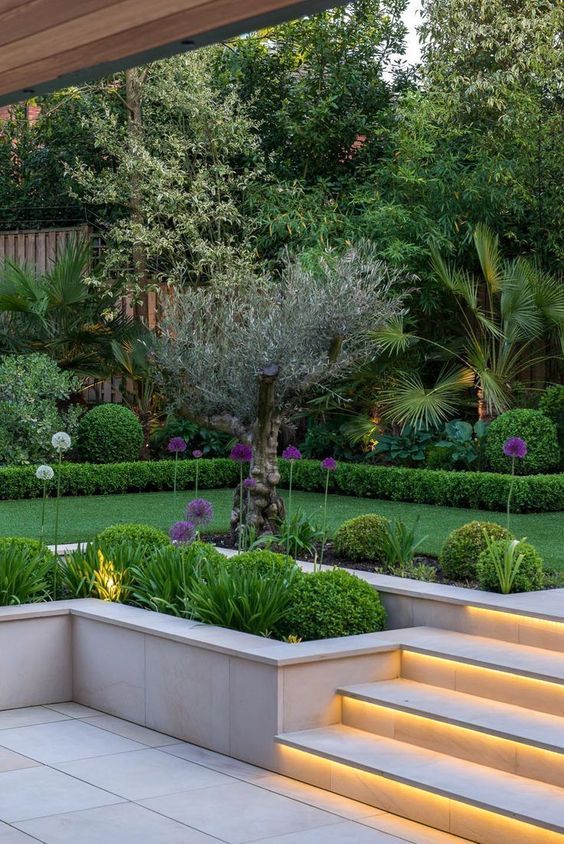 Strip lighting on the underside of steps is a modern way to light a sleek garden that's full of up-to-date straight lines and structural plants.
Strip lights can be used in other outside spots too such as plant containers, beneath window sills, along the shed, or outlining a deck. No-fuss straight line lighting brings a garden right up-to-date.
17. Add Atmosphere With Globe Lights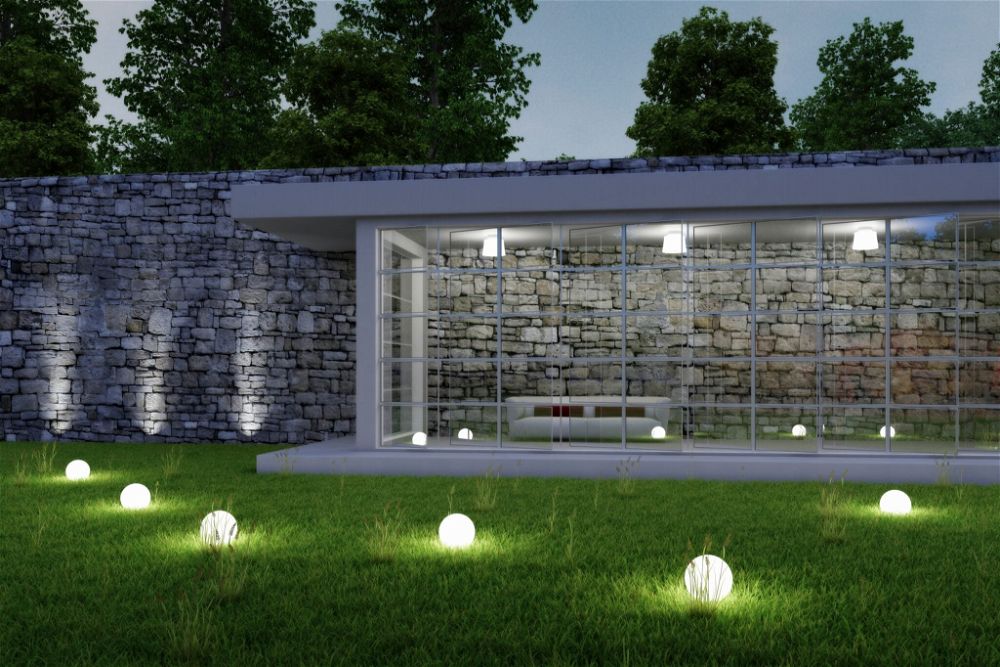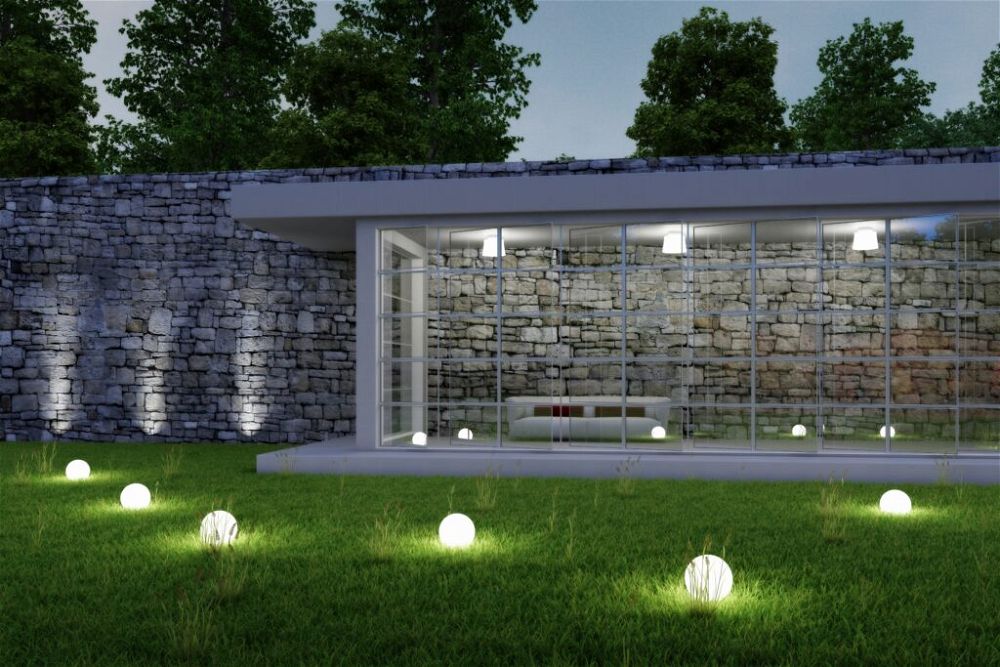 Here's a really great design and it's one you can do yourself without calling the professionals – lit globe lights dotted around the garden resembling the moon to give that night time cosy feeling.
Use them to highlight paths, or just where you feel they look good. Group them into threes for maximum effect.
18. Illuminate on a Budget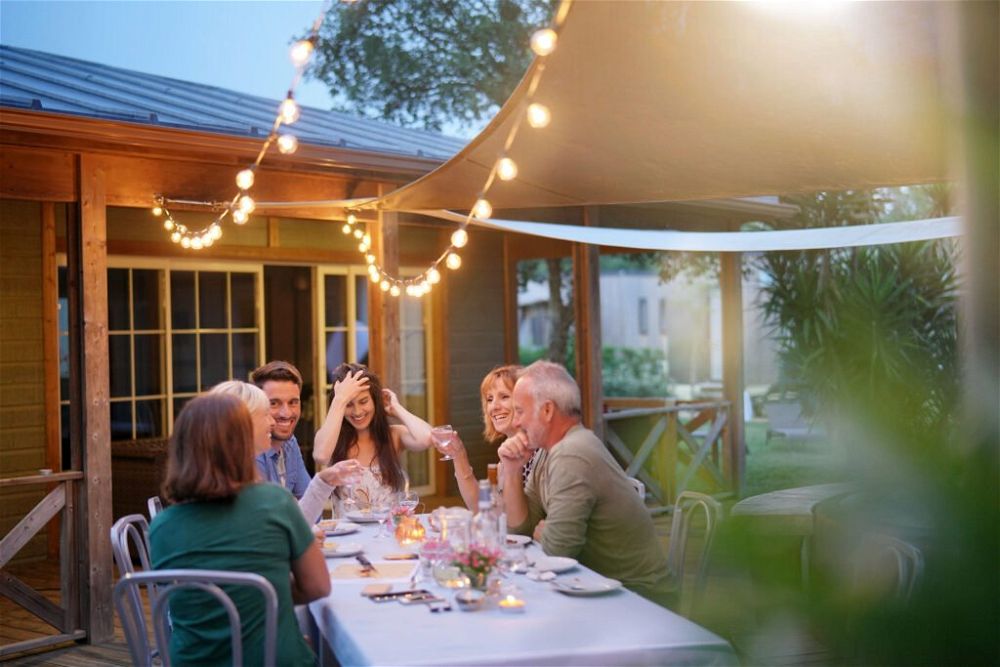 Strings of solar lights are the way to go if you're looking for cheap garden lighting ideas.
Solar power has no additional electricity costs and fairy lights can be bought cheaply in their hundreds. An online search will bring up plenty of fairy lights that flicker, flash, and twinkle so it doesn't get boring.
Loop them around existing features such as the washing line, trees, or fence line to enjoy their pretty glow, without damaging your bank balance!
19. Get Creative and Do It Yourself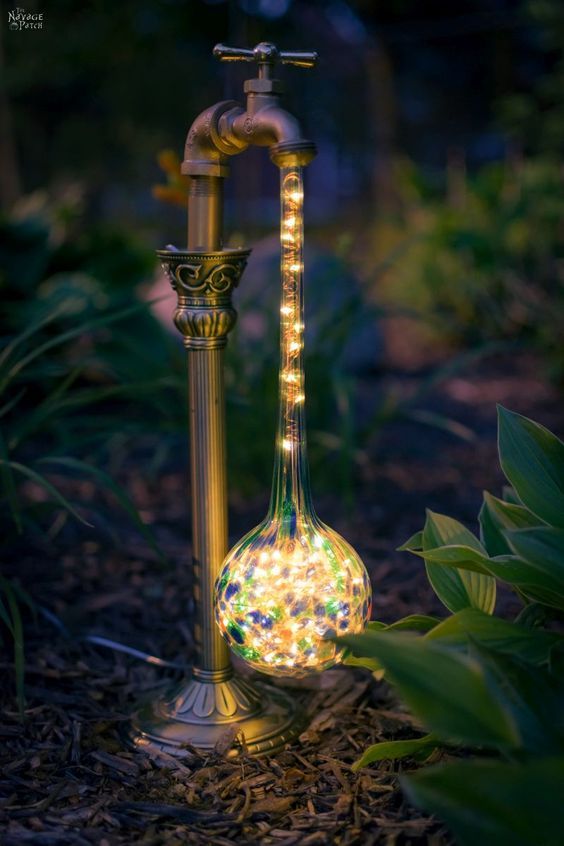 Here's a fun DIY idea to light up your garden. Ropes of solar lights can be used in many ways. Here they are pushed inside a plastic waterdrop and attached to a faux tap stand. Genius!
You can use a string of lights at the tip of a hanging watering can to resemble flowing water or push them into old cola bottles. Kids love to get involved with this kind of project.
20. Spread Festive Cheer With Christmas Lighting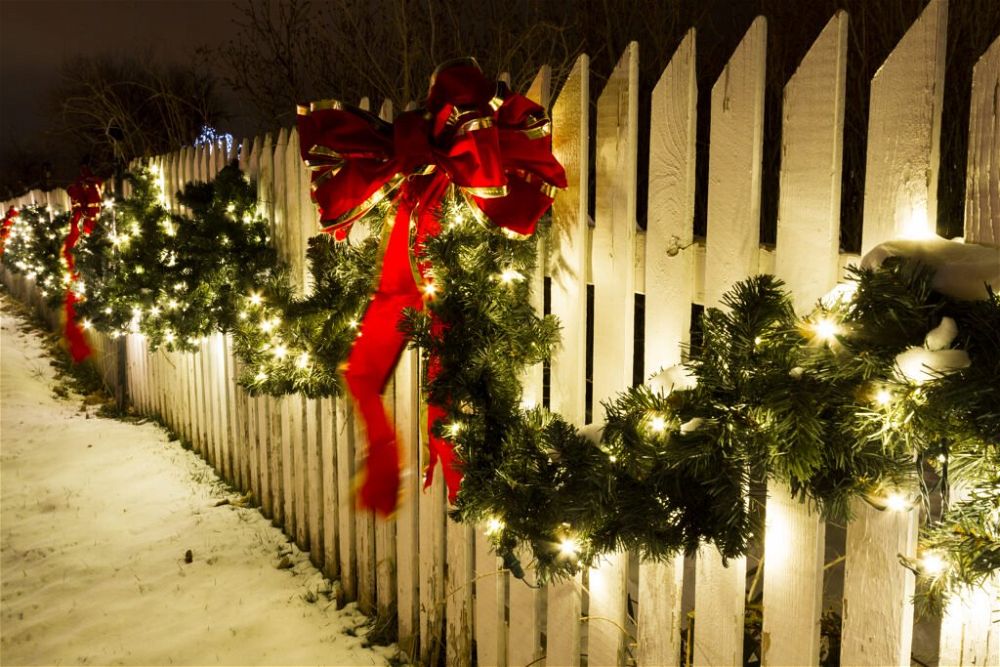 Christmas lights are a subjective business. Some people love flashing reindeer, but if you're more traditional, a brightly lit fence line is a great alternative.
Fake evergreen branches can be easily found with fairy lights attached – or bought separately if you like crafting. The large bows not only look good, but they hide your fence attachments.
Have a classy Christmas this year!
21. Make Ponds Visible at Night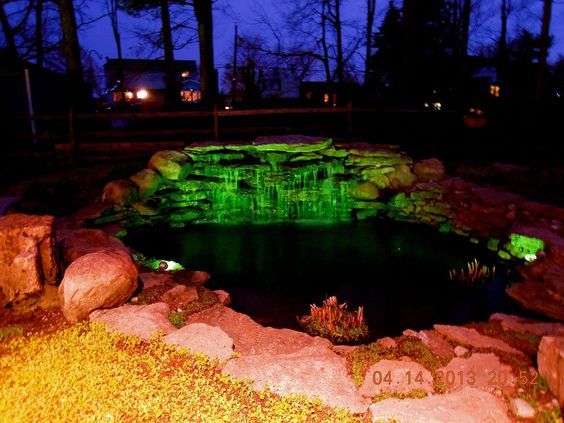 Ornamental ponds however look great with some lighting. This pond uses green LED mood lights to create a gentle glow that doesn't blind you or your fish.
If you have a wildlife pond it's best not to light it. Nocturnal creatures prefer the dark so you'll find hedgehogs and other night prowlers keep away.
22. Decorate the Treetops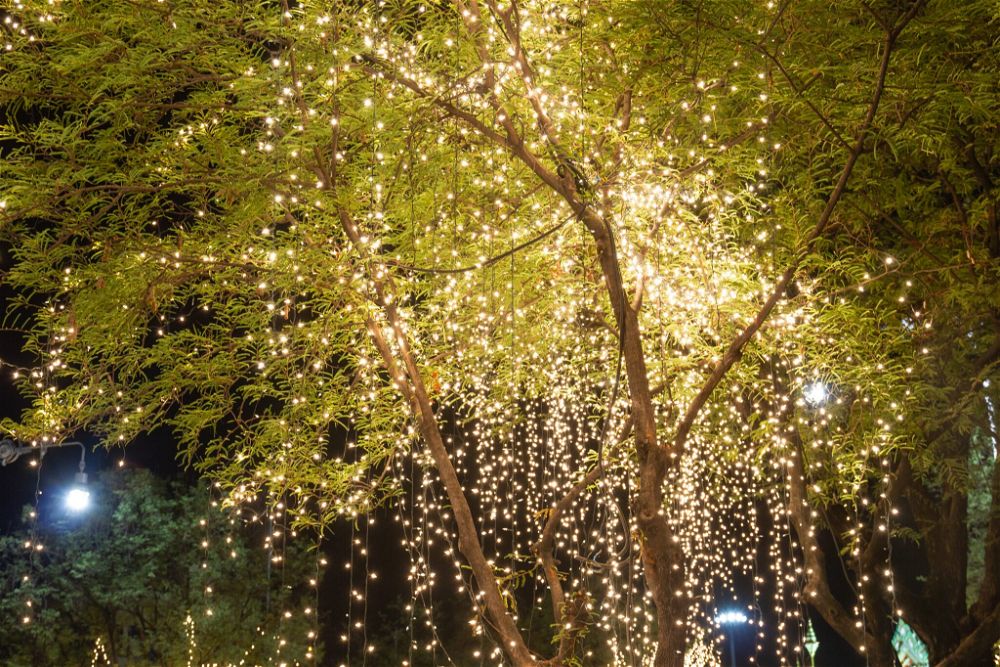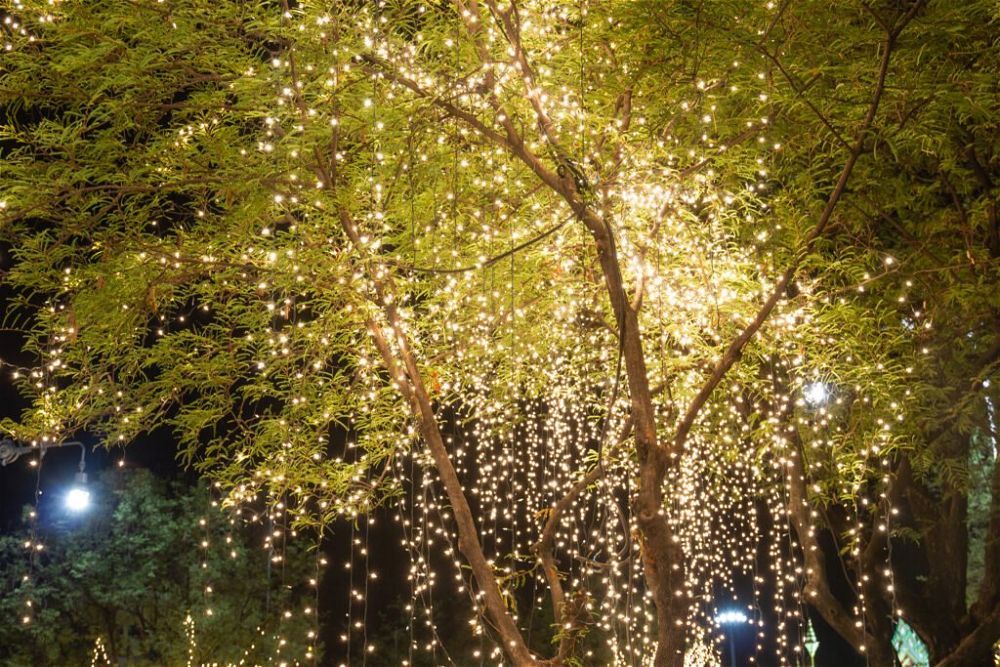 There's nothing more magical than a tree lit up at night. You don't have to wait for Halloween or Christmas!
Here strings of fairy lights are wound around branches and left to dangle like a weeping willow. It lights up the green canopy in summer and brings winter interest after the leaves have fallen. Win – win.
23. Combine Lanterns & Fairy Lights on Decking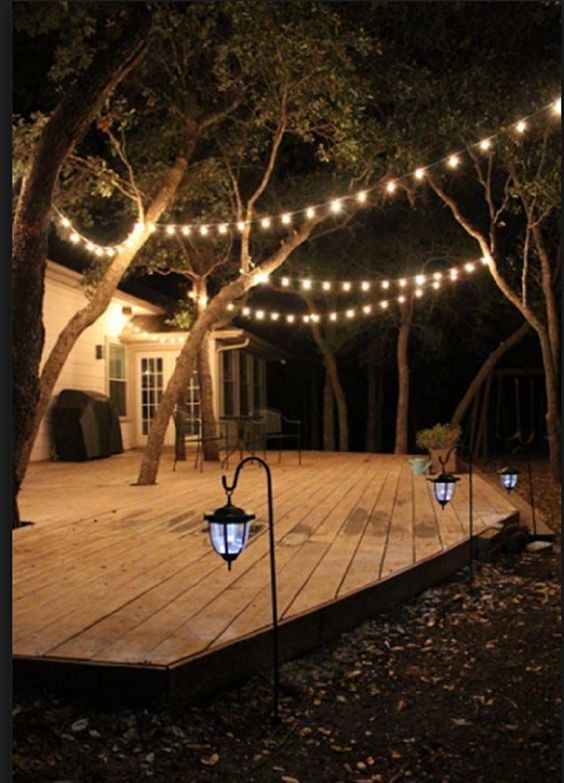 Garden decks are places to spend a relaxing evening – so getting reliable lights out there is important!
Try these lighting ideas for your deck: light it from above if you have a gazebo or pagoda, or even just a parasol, then use lanterns on poles to highlight the edges of your deck. The combination is practical and brings plenty of sparkle.
24. Use Hanging Tea Lights For Special Occasions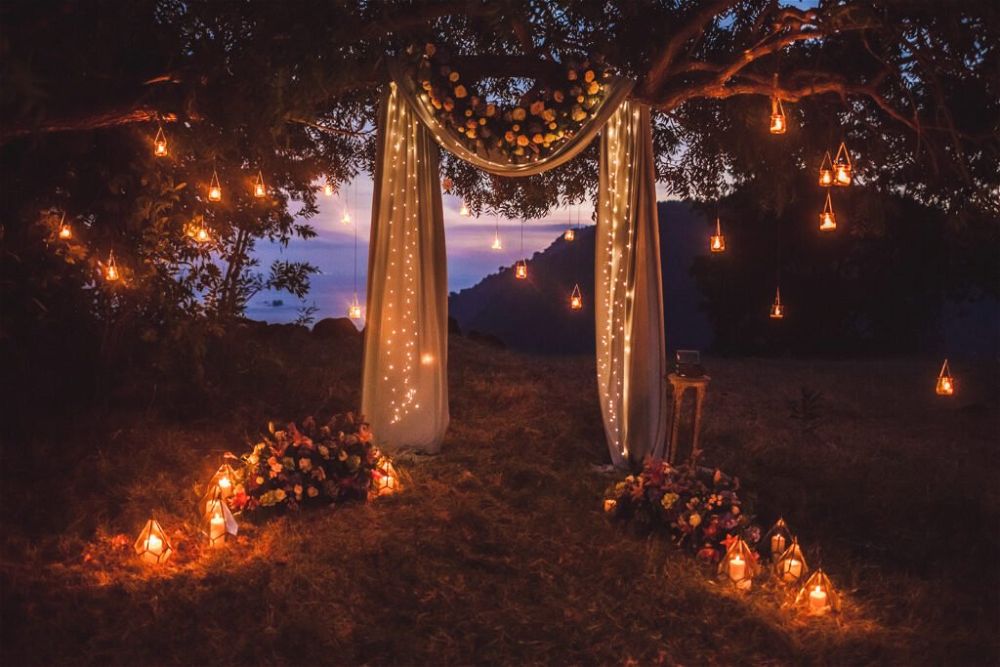 Hanging tea lights are a romantic garden lighting idea that are perfect for special occasions – birthdays, anniversaries and even weddings.
An illuminated archway provides a focal point and the fairy lights with lanterns set the scene. Lighting from above is the best way to make the most of light. Use battery-powered tealights rather than candles for safety.
25. Light Up the Front Garden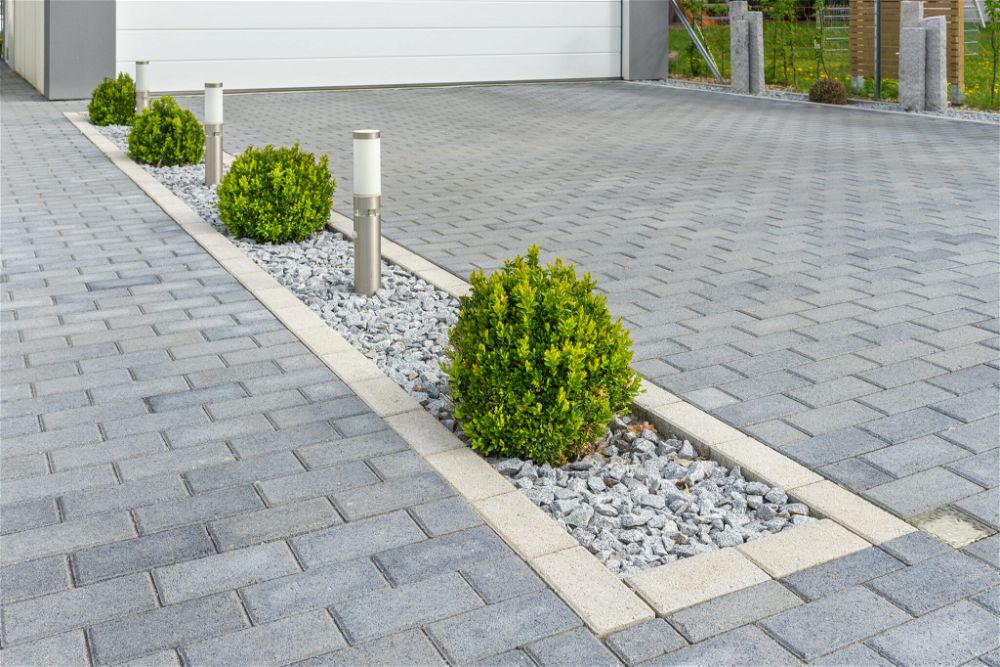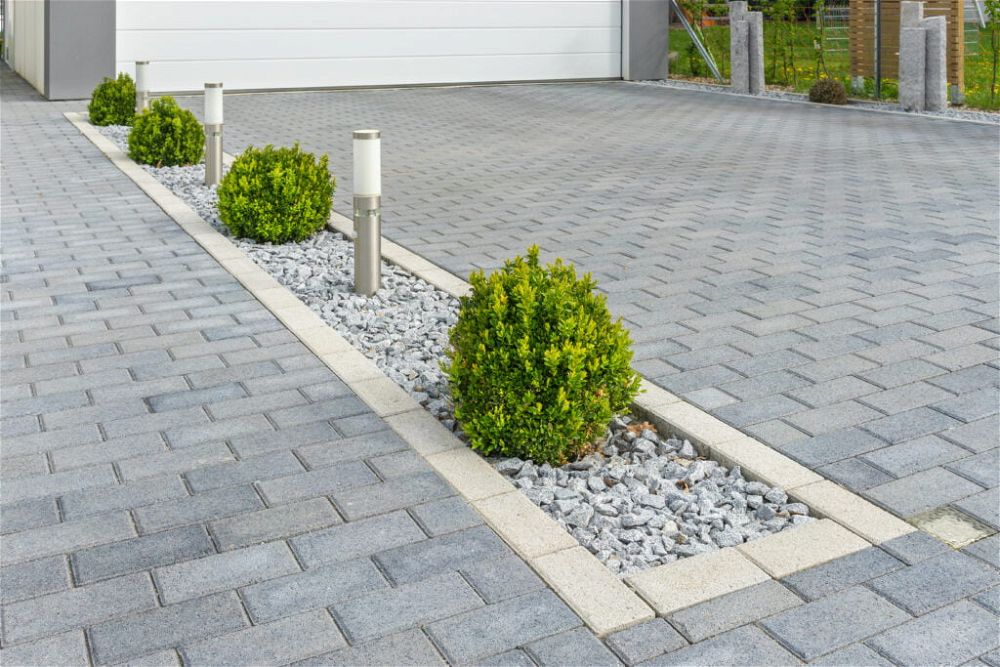 Front gardens are often under-used and under-appreciated spaces. Brighten yours with lights that double up as security when you return from work on winter evenings.
Here knee-high lights are alternated with smart round box balls and surrounded by bright stones for low maintenance. The light reflects on the stones and light green foliage to doubling up your lighting.
26. Create Focal Points With LED Spotlights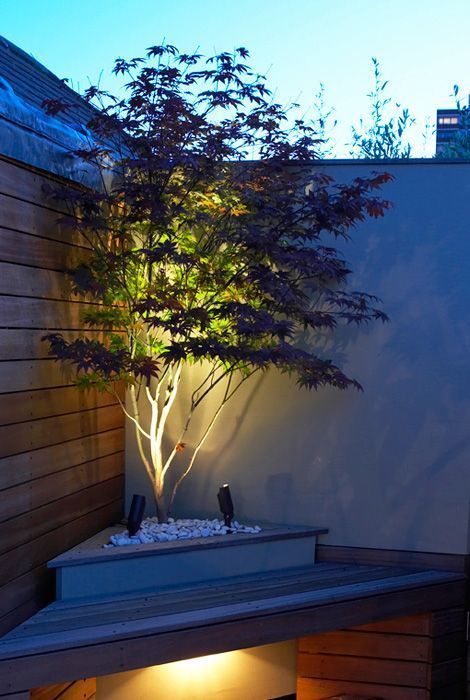 LEDs are bright enough to light up a feature and really make it glow. Choose something you love and make it shine all night.
A plant, water feature, a seat, anything goes. LED lights are cheap to run and they last for years – so they're a good investment on your time and money.
27. Keep it Traditional With Lanterns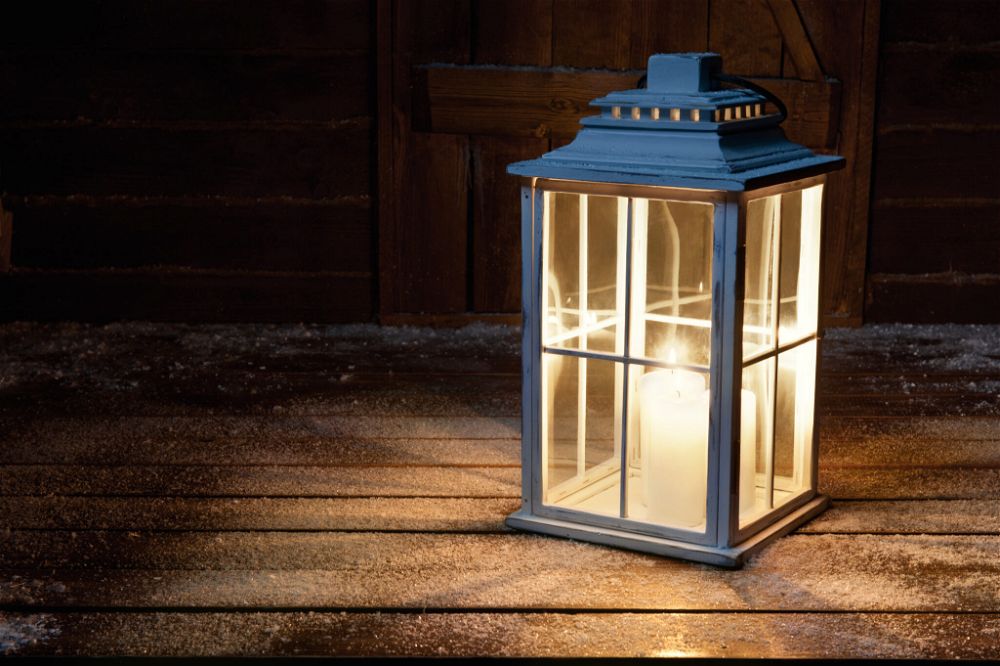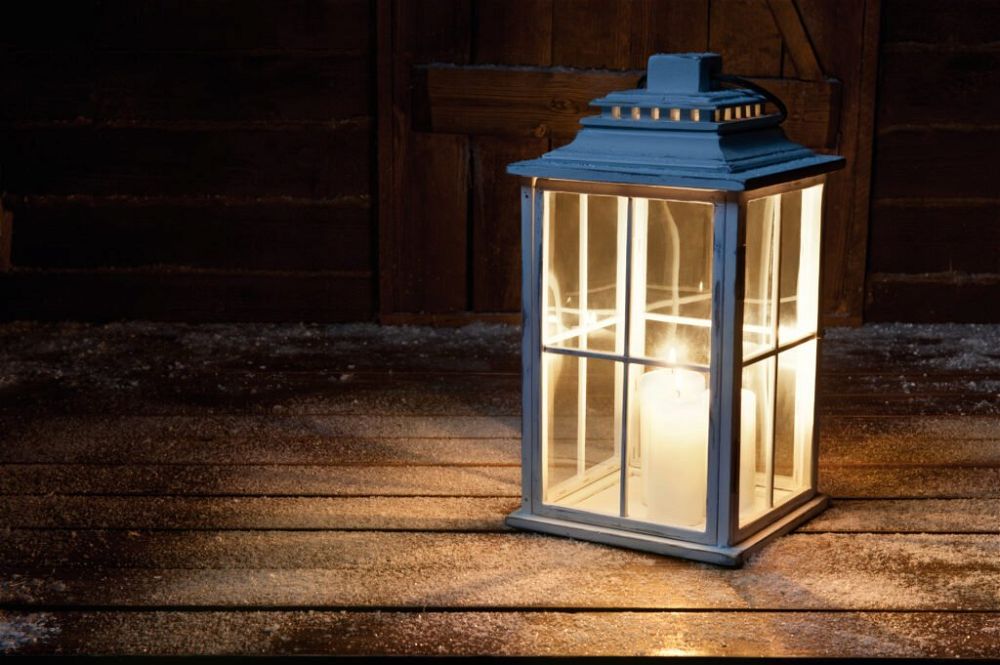 There's nothing more traditional than a candle-lit lantern. The great thing about lanterns is they are easily moved around, so you can carry one from your dark back door to your pond or seating area without fuss or tricky installation of electrics.
Traditional lanterns are very pretty – Moroccan influence or Olde English style is up to you, but you can't beat the flicker of a real candle at night time.
28. Highlight Borders With Rope Lighting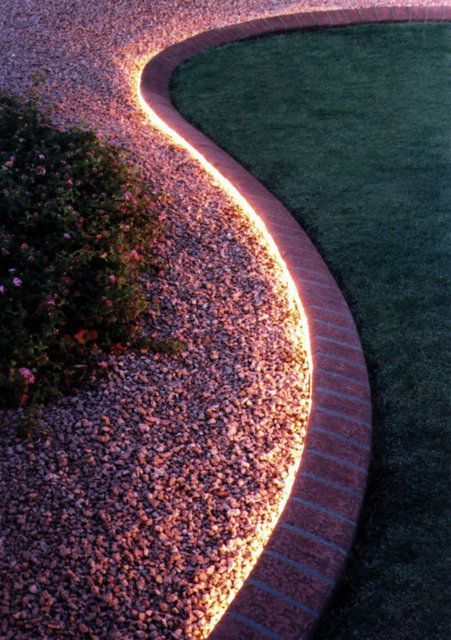 This is a fun way to light up your garden border – a rope light installed along the edging where the grass meets the soil.
This will create lines of light around your outdoor space. You could continue rope lights along your patio, decking, shed, and fence line as a way of marking tripping hazards and making your garden a fun place to spend time at night.
Make Your Garden Sparkle With Fun Lighting Ideas
There are so many ways to make your garden sparkle with light at night. From LEDs, to solar-power and sparkling trees to glowing spheres – your garden can look good 24/7.
As you can see, there is a myriad of options available, whether you want to create a soothing outdoor oasis, a place for regular gatherings with family and friends, or to enhance the security of your home.
We hope our ideas have inspired you to add some illumination to your garden and extend the amount of time you spend outside!