Our
Forest Master Electric Hydraulic FM5 Log Splitter

Review

I've been meaning to treat myself to a log splitter for a while, and I am so glad that this is the one that I've ended up with. It performs fantastically – not only does it cleanly split soft and green wood, just like Forest Master promises, but it also works just as well with hard and dry wood, making it incredibly versatile. It's powerful, robust, and gets the job done quickly – I really couldn't fault this machine at all, and I've used it for several hours now. If you're looking for a compact and easy-to-use log splitter that you'll be able to depend on for years to come, then the Forest Master FM5 Log Splitter would be the perfect choice. 

B077G62LVN

0620947941527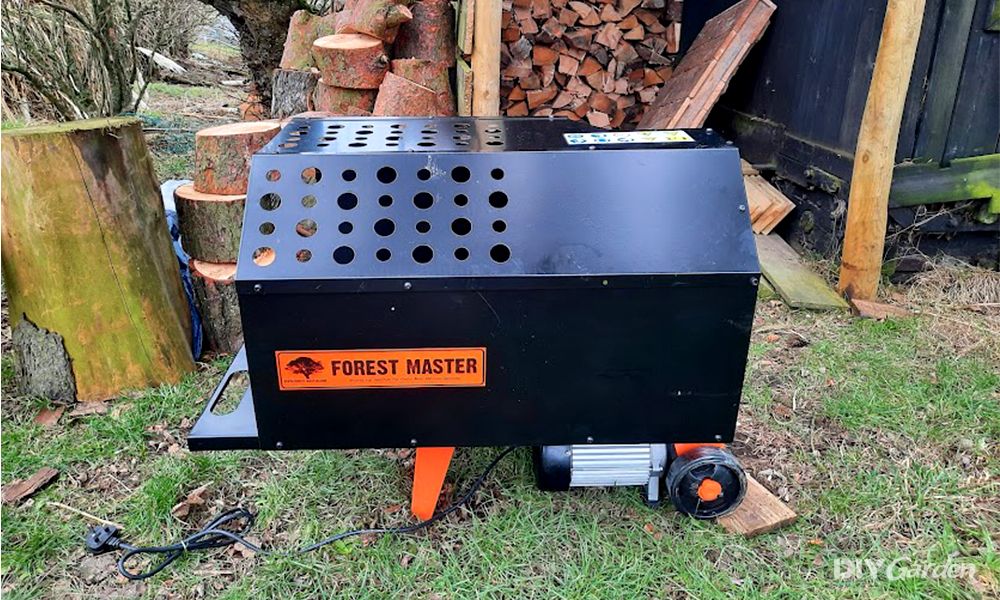 If you have a log burner or an open fire, then chances are that you go through a fair bit of firewood each year. It's usually easy enough to purchase cut and seasoned logs, but, for regular use, this gets expensive. If you want your log burner to be truly economical to run, then you'll need to start splitting logs yourself.
A log splitting axe is the simplest way to do this, but, let's face it, not only does this quickly get very tiring, but it's also extremely time-consuming. Your next option? A log splitter, which is where the Forest Master FM5 Log Splitter comes in.
This machine has been designed to split logs for small to medium wood burners. My own wood burning stove is around that size, and with this being the main source of heat for my house, I work my way through a couple of large buckets of logs each day in the winter. With all of the storms this season ensuring that I had plenty of trees lying around, my goal was to use this log splitter to split all of the lengths that I had previously cut up with a chainsaw.
Read our product testing methodology here.
How I Tested
I have hundreds of logs stacked up around my farm waiting to be split, giving me the perfect opportunity to put the Forest Master FM5 Log Splitter to the test. These varied in size but were all roughly 20-35cm thick and long, which, coincidentally, is the ideal size for this machine. I intended to find out exactly how well (and how quickly) this log splitter performed on different types of wood, from soft and green to hard and dry. 
To test for durability and consistency, I used the log splitter regularly over the course of a few weeks. In total, I tested it for around 24 hours before writing this review.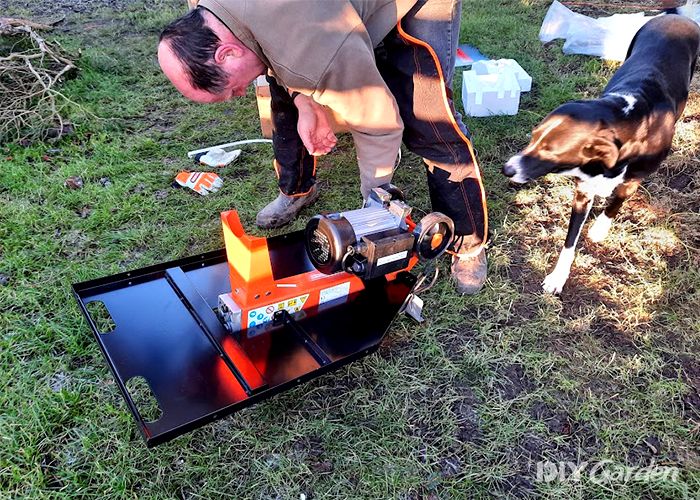 When you order this log splitter, you receive two boxes; one contains the log splitter unit itself, and the other holds the pieces that you need to build the safety cage.
In terms of the log splitter itself, assembly was simple. In fact, it was non-existent. The machine is ready to be used as soon as it comes out of the box. Forest Master has even filled the machine with enough hydraulic oil to get you going, so all you need to do is plug it in and turn it on.
So, why the low assembly score? Because of the safety cage. This is a new addition to the product due to updated EU regulations. If, like me, you're not in the EU, then, technically, you don't really need to use the cage. That said, there are both pros and cons to this, which I'll talk about later.
However, since I wanted to fairly test this product out, I decided to give the safety cage a try too. Unfortunately, assembly was nowhere near simple. I spent about an hour trying to assemble it the first time round, before giving up and spending another hour on it a week later. It doesn't help that the instructions are incorrect – it's a bit like trying to do a jigsaw without an image to refer to!
If I was using this product and not writing a review for it, then, to be honest, I doubt that I would have bothered with the safety cage. However, for those of you that need to put the cage together, I would recommend taking a look at some real-life images of the log splitter/cage (such as the ones that I have included in this review, or the other images on Amazon) – this makes it much easier to decipher what goes where, rather than relying on the drawings in the instructions.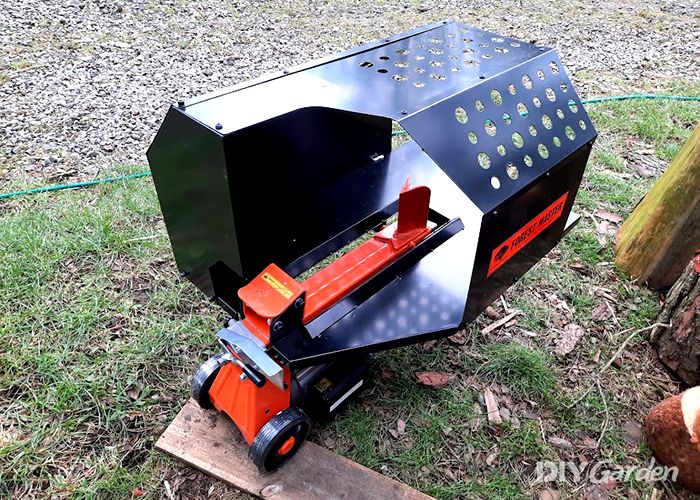 Compared to some of the other log splitters that I have used in the past, this one is pretty compact. It's very sturdy when standing on a flat surface, yet it's fitted with two wheels and a handle so that you can easily move it around.
The overall design of this machine is pretty simple. It has an on/off button that kicks the motor into action, as well as a small lever that needs to be pushed down each time you want to split a log. It requires two hands for use, but this is something that you'll find with most log splitters.
This machine comes with a 175cm power cord. Some of you may find this to be a little short, but you can easily plug the machine into an extension cable to give you more flexibility.
The only thing that I didn't like about this log splitter was its height – it stands at about 45cm tall. This means that you'll need to pretty much get down on your hands and knees while using it. However, to be fair, this isn't a design fault since Forest Master does also sell a trolley that you can mount the log splitter on. Alternatively, you could easily build a simple bench for the log splitter to sit on, which is exactly what I plan on doing.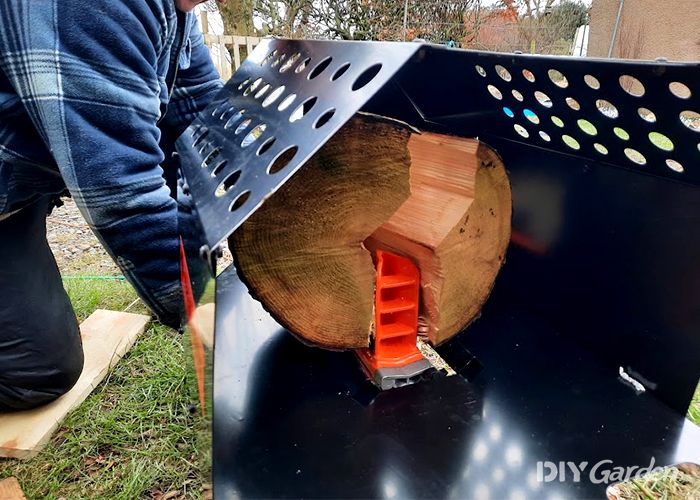 Considering its size, I was dubious about how well this log splitter would perform. All of the best log splitters that I've used in the past have been large, heavy-duty machines, such as those that attach onto the front of a tractor.
With five tonnes of pressure and a 2200W motor, this log splitter is significantly smaller. However, as it turned out, its performance far exceeded my expectations.
Five tonnes ended up being just the right amount of pressure to split the logs that I had. These varied in diameter, with the largest being around 30cm, which is the maximum that this log splitter can take with the safety cage on (you could go larger if you remove the cage). The log splitter split each log neatly, cleanly, and quickly, each and every time.
According to Forest Master, the FM5 Log Splitter is best suited for soft and green wood. I used it on both soft and hard wood, as well as both green wood and dry wood, and didn't really notice a difference in performance. It took the same amount of time and always gave me beautifully split logs, no matter what I put into it.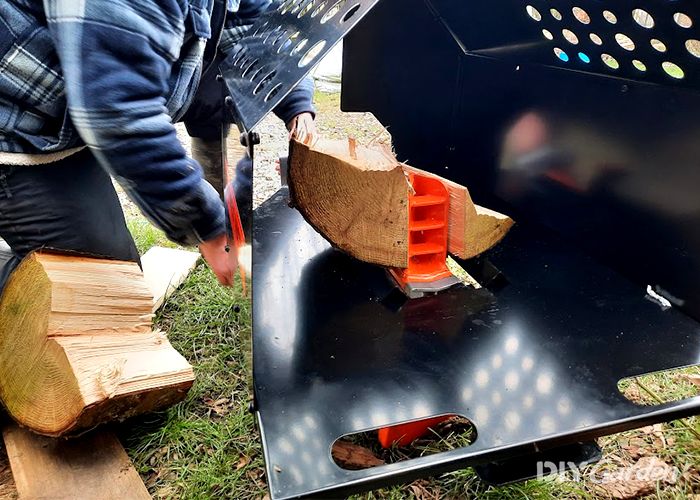 The only exception was with very knotty wood. It still managed to split most of the knotty logs that I gave it, but there were a few pieces that remained attached together by their knots. However, a single bash with an axe finished the job off! It's worth mentioning that Forest Master sells an additional blade (called the DUOCUT), which has two contact points that are designed to split knotty wood. However, this reduces the length of the wood that you can cut from 30cm down to 23cm. For me, the attachment wouldn't be worth it, as I was more than happy with the machine's performance, even on knotty wood, without it.
In terms of speed, this log splitter has a 9-second cycle time. However, if you're quick when swapping logs over, you don't actually need to wait for the machine to cycle back to the start before you push the lever again, which saves a fair bit of time overall.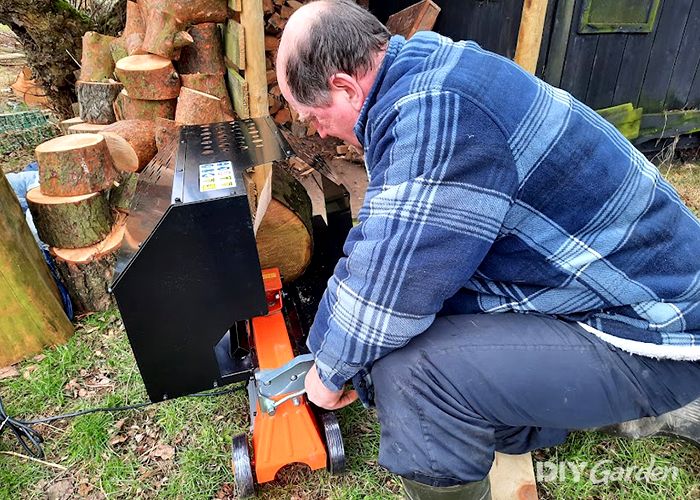 Chances are that you'll need to move your log splitter around each time you use it, even if this is simply taking it out from its storage area and moving it over to your working area. At 32kg (or 47kg if you have the safety cage on), this log splitter isn't light, so its wheels and handle are definitely useful. The wheels weren't great to use on uneven ground, but this didn't really affect me too much since I was only moving the machine a short distance each time.
Some of the larger log splitters that I've used in the past require two people to operate them. As you can imagine, this can be a bit of a pain, so I was happy to see that this log splitter could be operated by just one person. That said, you'll still need to use both hands, which can be a little inconvenient. However, while Forest Master could have easily fitted this machine with a foot pedal for operation, the two-handed requirement is actually important for safety, which I'll discuss later.
Finally, let's talk about the safety cage. Although important in some ways, there's no denying that it does make the log splitter a little more cumbersome to use, as it restricts your movements around it. I found the machine to be much easier to use without the cage, and so this is how I'll likely use it in the future.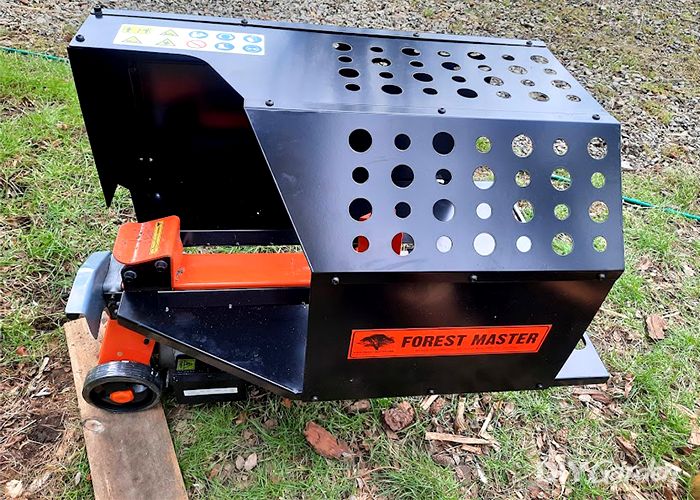 The most obvious safety feature of this log splitter is the large metal cage that sits over the top of the machine. The purpose of this is to block any pieces of wood from flying up and hitting you while you're splitting them. As I mentioned, it's a relatively new feature due to changing EU regulations. I can definitely see the point to the safety cage, especially if you're splitting knotty wood, which is more likely to flip around. However, the log splitter is much easier to use, not to mention lighter to move and smaller to store, without it, so there are definitely both pros and cons to consider.
As I also mentioned, you need to use two hands when using this log splitter; one to press the button that runs the motor, and the other to push the lever that splits the log. You'll find that most log splitters are designed this way because this keeps your hands away from the action. It's all too tempting to want to reach out and give the wood a quick turn to re-balance it while you're trying to split it, but, as you can imagine, this can quickly lead to a serious accident.
For a log splitter, this machine is surprisingly quiet. You can, of course, hear the motor running, but this isn't overly loud. The noisiest part of the job is the crack of each log as it splits, but, again, this is to be expected.
I definitely didn't feel the need to wear ear protection while using the log splitter, even when I had it running for several hours. That said, Forest Master advises that you do so.
For what it does, this log splitter is great value for money – it really will pay for itself after just a few log splitting sessions.
There aren't a whole lot of other competitors to compare this machine to, but I can't imagine that a machine of this quality, that offers five tonnes of pressure through a 2500W motor, could be priced much lower.
It's also worth noting that Forest Master offers a one-year warranty with this log splitter, which helps to add even more to its value.
I've been meaning to treat myself to a log splitter for a while, and I am so glad that this is the one that I've ended up with. It performs fantastically – not only does it cleanly split soft and green wood, just like Forest Master promises, but it also works just as well with hard and dry wood, making it incredibly versatile. It's powerful, robust, and gets the job done quickly – I really couldn't fault this machine at all, and I've used it for several hours now. If you're looking for a compact and easy-to-use log splitter that you'll be able to depend on for years to come, then the Forest Master FM5 Log Splitter would be the perfect choice. 
Why You Can Trust DIY Garden
At DIY Garden, we believe your trust is earned through our knowledge and transparency. Our team of experts has over 75 years collective experience in the gardening and DIY space. Since the website's creation in 2016 we've tested over 275 products, ensuring our recommendations are based on real experience. We're open about what we've tried and what we've researched, and this is clearly labelled in our product reviews. Every year, we revisit and update our suggestions to include worthy new additions to the market. Our aim is to give you straightforward, honest, and helpful recommendations, so you can confidently choose the best tools and equipment for your projects.
Forest Master Electric Hydraulic FM5 Log Splitter Price Comparison
Price History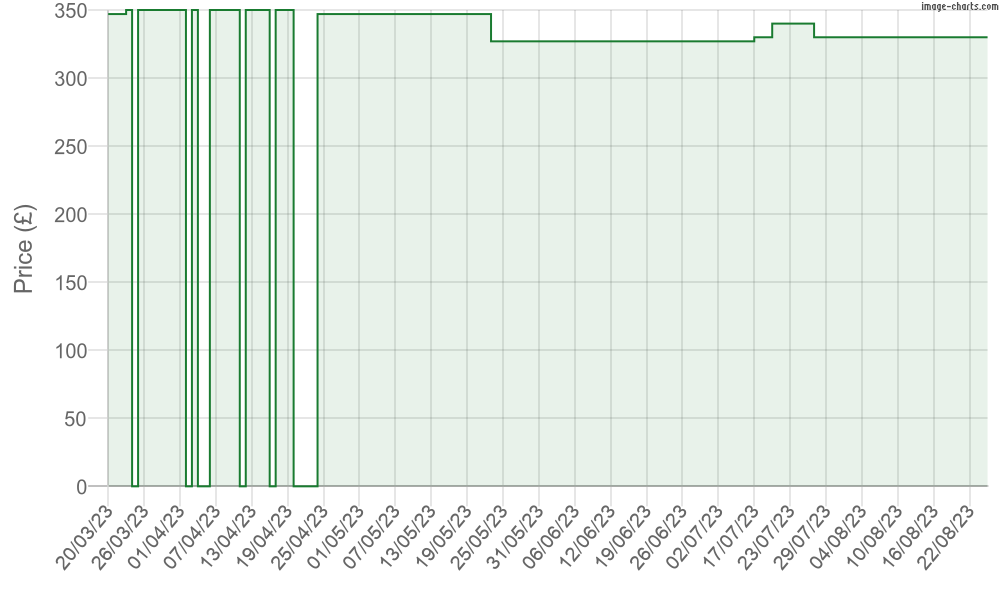 About Your Guides
Derek Smith has been farming all of his life, and is an professional landscape gardener with over 22 years experience. He owns a 25-acre farm in Aberdeenshire with a focus on self-sufficiency, living off the land, and working with nature.

Sarah's role as chief editor at DIY Garden is about more than just making sure we're literally dotting the i's and crossing the t's (although she's a stickler for detail, so it's certainly about that too!). It's about proof-reading, fact-checking and continuously researching everything we publish, ensuring that it adheres to our

editorial standards

, so that everyone can really get the most out of their green space.
You May Be Interested In These Other Log Splitter Reviews