Our
Forest Master USBB Firewood Kindling Log Splitter

Review

This wood splitter is a simple but clever tool. It's easy to use and will help you to produce plenty of kindling in a short time frame. If you have a small to medium fire/stove that you use on a regular basis, then the Forest Master USBB Firewood Kindling Log Splitter is a tool that you'll soon come to rely on.

B01N7MOT7N

3630774931148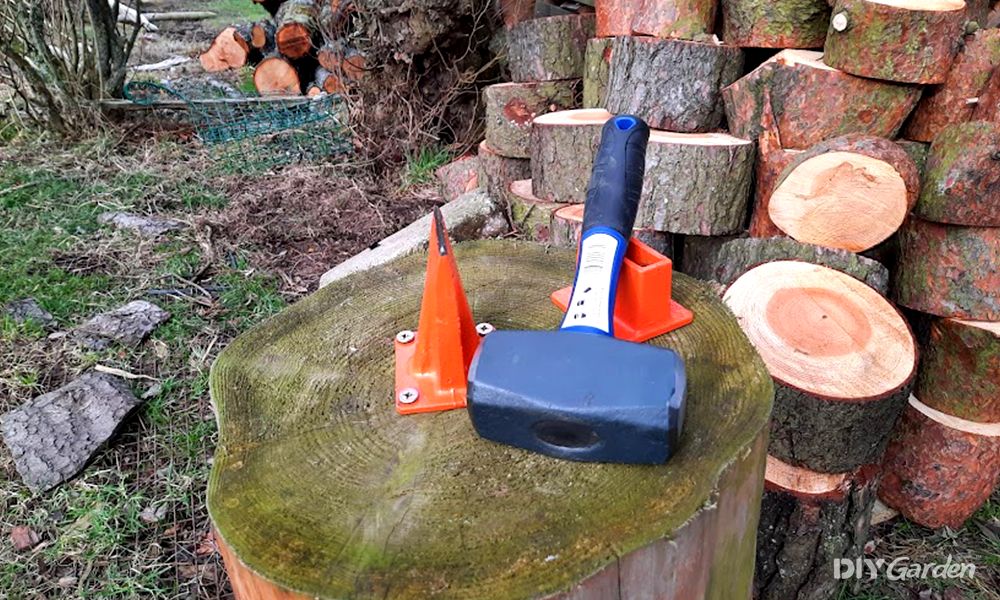 When it comes to splitting wood to make kindling, an axe is usually the tool of choice. However, there's no denying that this can feel like backbreaking work at times, especially when splitting knotty wood. Take to the internet and do a search for kindling splitters and the Forest Master USBB Firewood Kindling Log Splitter will be a top-rated result. Why? That's exactly what I wanted to find out, and, thanks to all of the storms we've had this windy winter, there was plenty of extra wood waiting to be split for my kindling store.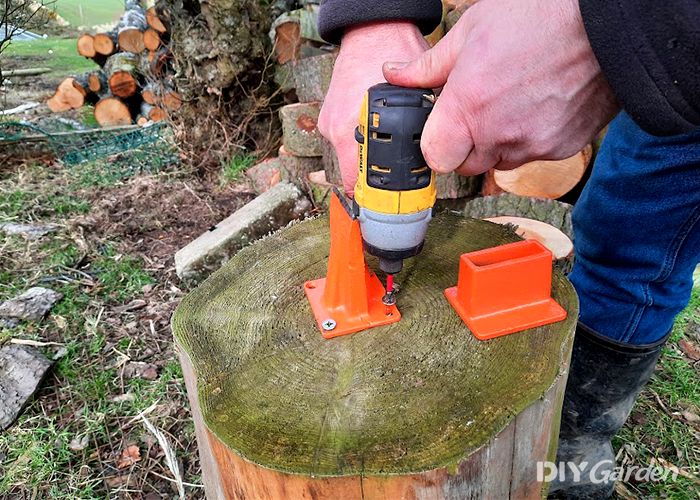 Assembling this wood splitter was extremely easy. All you need to do is drill it onto a large log with the four screws provided. The log that you drill it onto will basically act as your cutting block – you'll be splitting all of your wood on top of this. While your cutting block log doesn't need to be particularly large, it does help if it is. I chose to use quite a tall log, so that I didn't have to bend over while working.
What does slightly confuse the assembly process is the chrome pipe that's included in the box with this wood splitter. However, if you're using the wood splitter as is, then the pipe isn't needed. It's an extra part that's only required if you have a Smart Splitter blade, which splits wood from both ends rather than just one.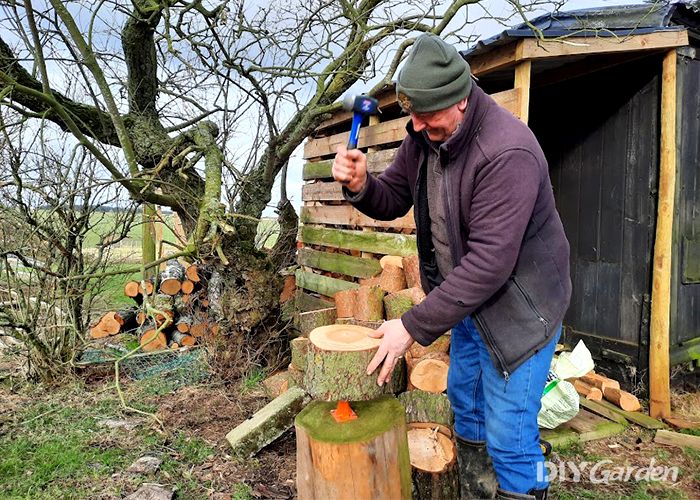 Forest Master has designed this wood splitter to be extremely simple, and that's not a bad thing. It's small but sturdy, and its bright orange colour means that it'll always stand out amongst wood. Is it too small? I would say no – after all, it has been designed to split already-cut logs into kindling, so you wouldn't really need it to be any bigger.
Thanks to how it's made from metal, it's also very stable once attached to your cutting block log. It may not initially look like much, but it's a strong little device with a very sharp blade.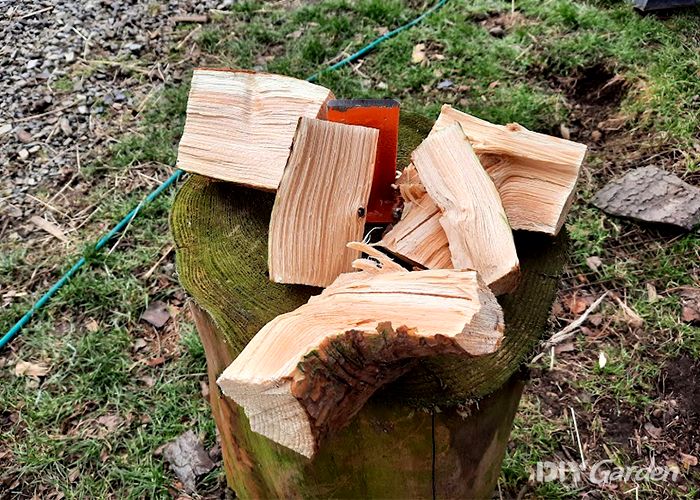 As mentioned, this wood splitter is designed to be used on logs that have already been split – it won't work well on anything that's too big. I'd say that it performs best when used with logs that are around 6-8 inches in diameter.
You can use this wood splitter on both wet or dry wood, although I found that dry wood splits much more easily than wet. Either way, you can tell from the very first log that you split that this tool's blade is very effective. It doesn't seem to blunt easily either, and it would be easy to sharpen if it did.
Overall, I was happy with this wood splitter's performance. It enabled me to split a large amount of kindling in a short period of time, which is always the goal!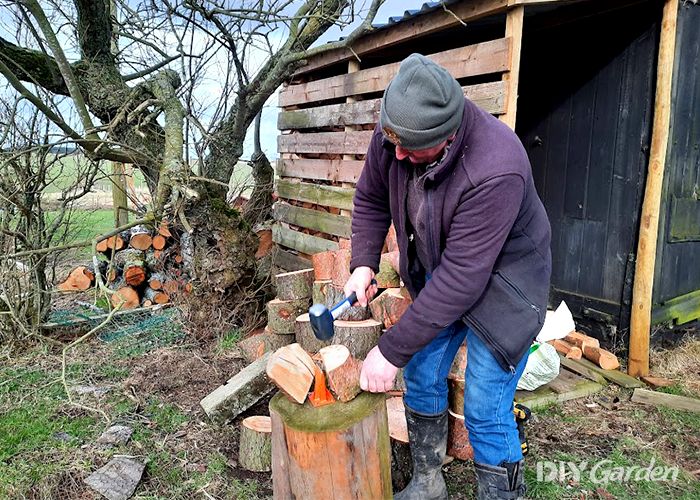 Using this wood splitter is pretty straightforward. You balance your log over the top of the blade, and then, according to Forest Master, "tap with a mallet". Their description slightly downplays things – it needs a bit more than a tap. However, the amount of force that you'll need to use will vary depending on the type of wood that you're cutting, as well as if it's wet or dry. Having said that, whichever you're working with, this tool is much gentler on the back than an axe!
I appreciated this tool's simplicity, and its size is also quite convenient – you can simply leave it on your cutting block log for good, rather than unscrewing it once you're done and then screwing it back in when you need it again. That said, make sure that you keep it out of the rain if you don't want it to rust.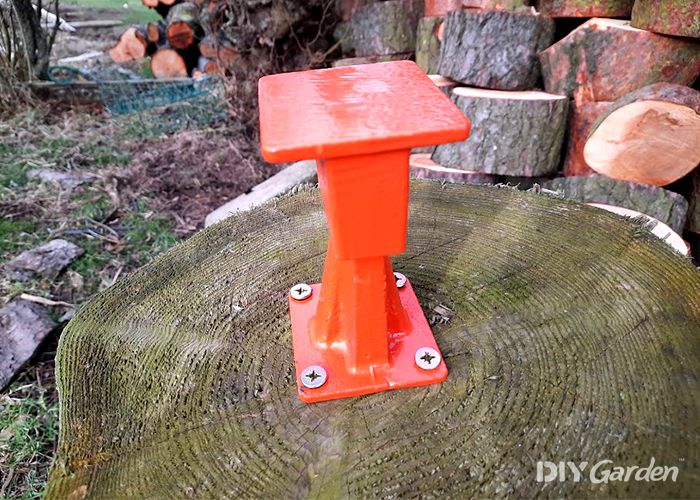 When it comes to a tool as simple as this, there aren't many safety features that can really be included. The most important is preventing any accidents around the blade, and, for this, Forest Master has provided a strong metal safety cap that neatly fits over the blade. Even if you were to accidentally fall onto it, you wouldn't have to worry about the blade injuring you.
This wood splitter isn't particularly loud – it's slightly quieter than using an axe to split wood. You definitely won't need to wear any ear protection when using this tool!
What may put people off from buying this wood splitter is how much it costs – you could buy yourself a kindling axe for less than half the price. That said, while it may be more expensive than an axe, it's worth it for those who go through a lot of kindling – it'll make your life so much easier.
What helps to add to its value is the fact that the blade can easily be sharpened at home, and its robust metal structure will no doubt last the years.
This wood splitter is a simple but clever tool. It's easy to use and will help you to produce plenty of kindling in a short time frame. If you have a small to medium fire/stove that you use on a regular basis, then the Forest Master USBB Firewood Kindling Log Splitter is a tool that you'll soon come to rely on.
Why You Can Trust DIY Garden
At DIY Garden, we believe your trust is earned through our knowledge and transparency. Our team of experts has over 75 years collective experience in the gardening and DIY space. Since the website's creation in 2016 we've tested over 275 products, ensuring our recommendations are based on real experience. We're open about what we've tried and what we've researched, and this is clearly labelled in our product reviews. Every year, we revisit and update our suggestions to include worthy new additions to the market. Our aim is to give you straightforward, honest, and helpful recommendations, so you can confidently choose the best tools and equipment for your projects.
Forest Master USBB Firewood Kindling Log Splitter Price Comparison
Price History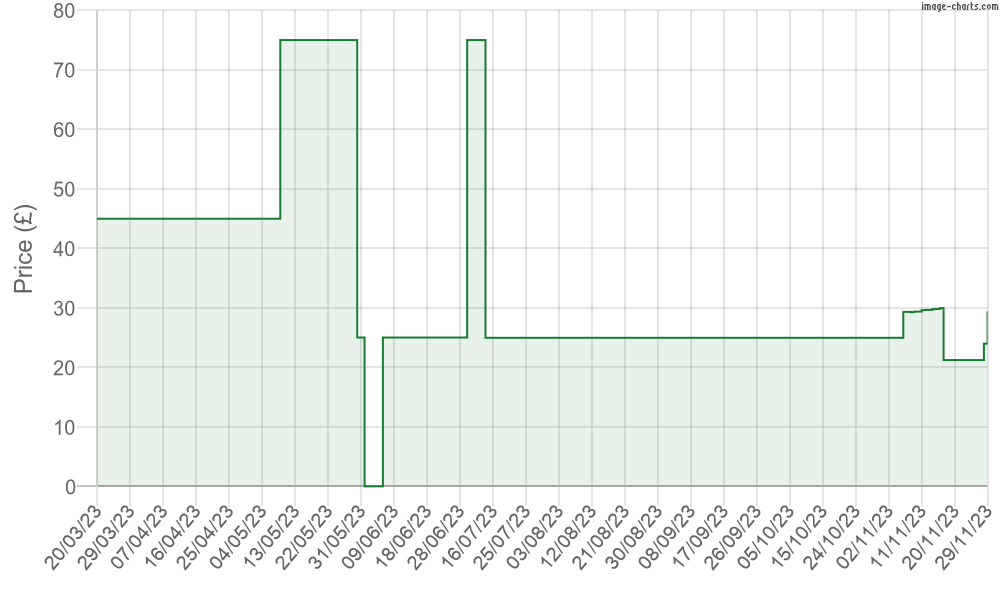 About Your Guides
Derek Smith has been farming all of his life, and is an professional landscape gardener with over 22 years experience. He owns a 25-acre farm in Aberdeenshire with a focus on self-sufficiency, living off the land, and working with nature.

Sarah's role as chief editor at DIY Garden is about more than just making sure we're literally dotting the i's and crossing the t's (although she's a stickler for detail, so it's certainly about that too!). It's about proof-reading, fact-checking and continuously researching everything we publish, ensuring that it adheres to our

editorial standards

, so that everyone can really get the most out of their green space.
You May Be Interested In These Other Log Splitter Reviews